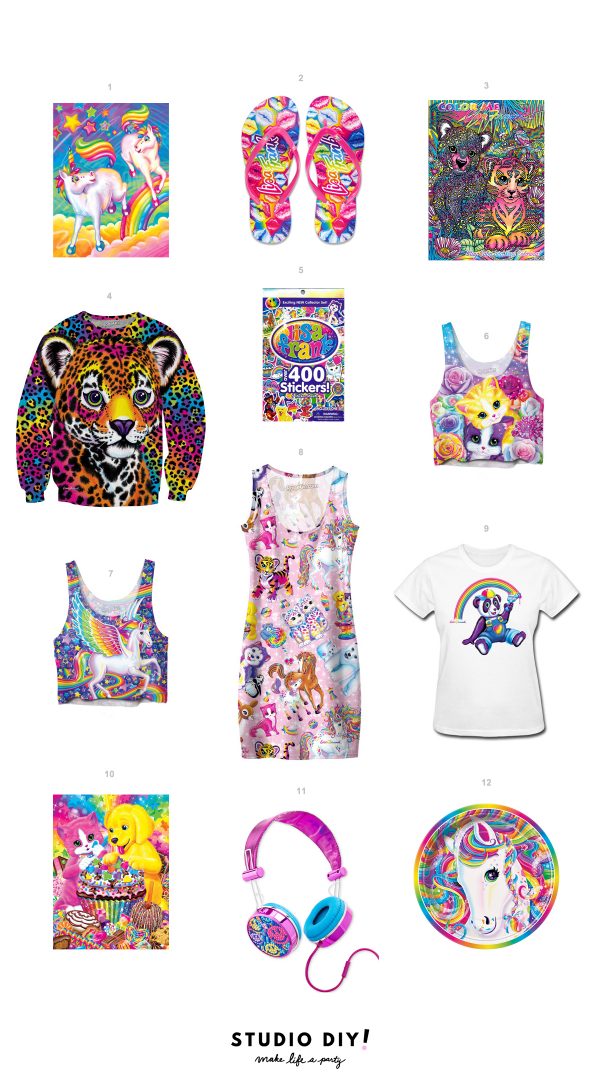 I first discovered Lisa Frank was still active on Facebook back when we did our Halloween Costumes and ever since I have just been DYING for them to capitalize on the fact that their style is now SO back in style. And now… they are!! Lisa Frank has rolled out SO many new products lately that I just had to round up some of my faves for you guys. I MEAN!! THE CROP TOPS!!!!!!! I'm dying.
No. 1 Markie Art Print | No. 2 Lisa Frank Flip Flops
No. 3 Lisa Frank Adult Coloring Book (Found at your local Dollar Tree!) | No. 4 Hunter Sweatshirt
No. 5 Lisa Frank Sticker Book | No. 6 Kitten Crop Top
No. 7 Skye Crop Top | No. 8 Collage Dress
No.9 Painter Panda Tee | No. 10 Cupcake Art Print
No. 11 Lisa Frank Headphones | No. 12 Lisa Frank Party Supplies
I restrained myself and only ordered ONE of the clothing items above, which one do you think it is!? I am eagerly awaiting its arrival!!!!