Hello readers! I hope you all enjoyed your weekend. It was a rainy one, but fun nonetheless. I checked out a great small market at Soho House and kicked off my new challenge, a gluten free diet test (after many months of resistance). To kick off this week I am very excited to introduce you to Studio DIY's newest sponsors showing their lovely wares in the vendor guides! These "Partners in Craft" are so awesome and perfect for your events, so lets get right down to business and say hello…
Garnish
Let's be honest, what is the essential element at every event? Food. Lucky for you, Garnish's shop is stocked with fun items to help you bake, prepare and present your party treats with ease, and awesome style. The products are awesome for DIY-ers like us because many provide a blank canvas, great for simplistic presentation, but also perfect for jazzing them up to fit any palette or theme. I'm a particular fan of the wooden cutlery, favor bags and berry boxes. You can check out all of their products right here and (Bonus!) be sure to check out their blog too for lots of DIY ideas.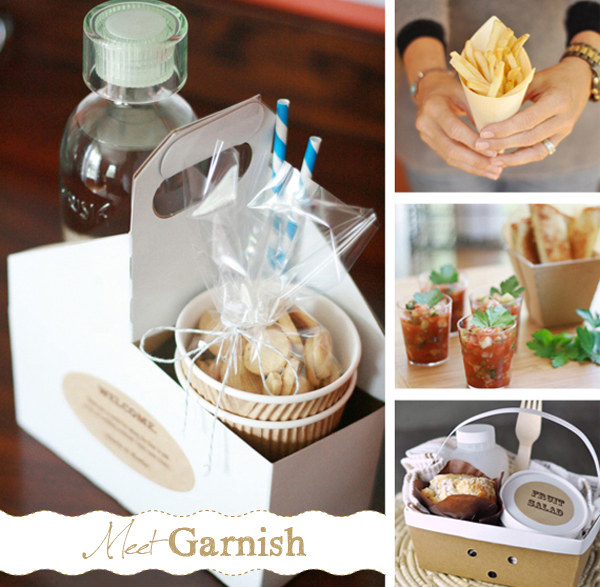 All Photos from Garnish
Lemon Bird Jams
I'm lucky enough to have Lemon Bird Jams right in my stomping grounds, so I've sampled many a jam at local craft events. The combinations are unbelievable, new and refreshing and all of their jam and pickle products are made with natural ingredients. Jams are the perfect favor for a wedding or event, and they'd also be so fabulous at a brunch bar or accompanying a cheese bar. Hello crowd-pleaser. Personal favorites, from experience? The blood orange jam and apricot with sage honey and pistachio. You can check out their full delectable selection right here.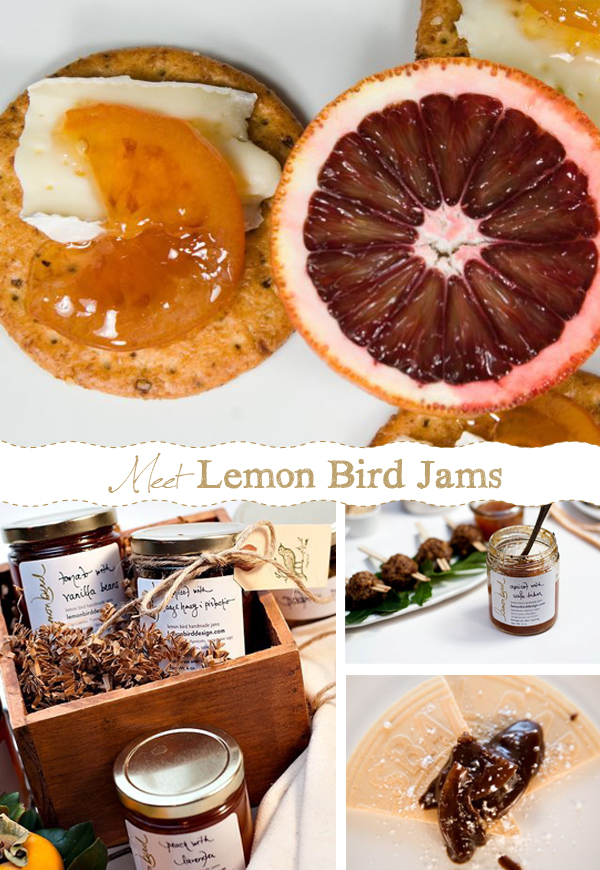 All Photos from Lemon Bird Jams
Kirsten Kuehn Designs
I love a pop of sparkle almost as much as I love a pop of color and Kirsten Kuehn Designs' accessories are perfect for just that. If you're getting married, you're going to want to take a look. Vintage glamour-inspired bouquet wraps, sashes and jewelry are great items for the big day that you can actually wear again and again. Of course, if you aren't getting married but rather throwing a fabulous cocktail party, or looking for a great sparkly gift to give, you'll want to have a look at the full selection too. Something I have my eye on? One of the new colorful everyday headbands!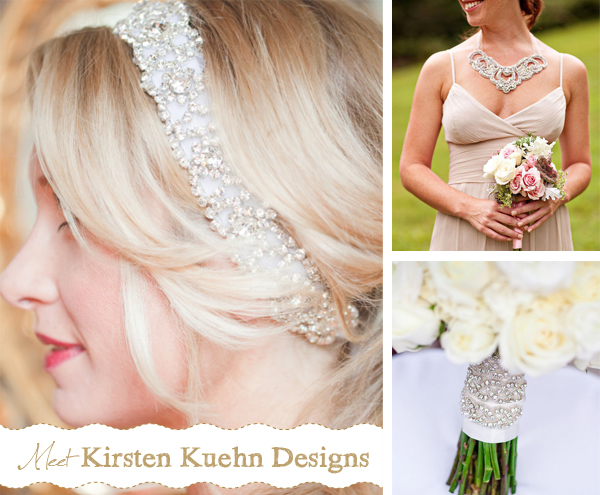 All Photos by Kirsten Kuehn Designs
Flores del Sol
I go gaga for floral designs daily. They're yet another must have for an event. But I always get so very sad when they only last a few days after the guests have gone home, don't you? Now, Flores del Sol, creates stunning dried floral arrangements and these beauties will have your attention for quite some time. I'd love to see one of these designs used at a modern shower or intimate wedding. Of course, with my strong affection for yellow, this billy ball beauty is calling my name!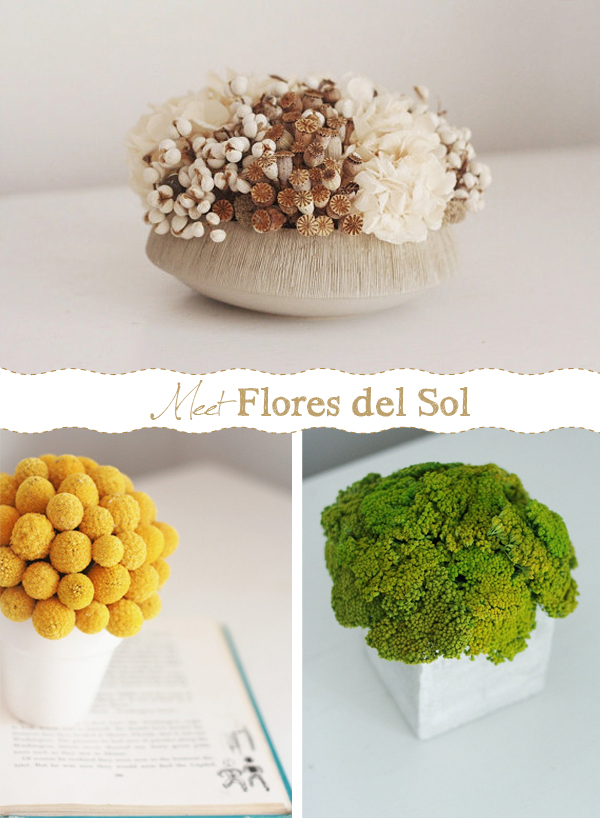 All Photos by Flores del Sol
Be sure to stop by, get inspired and spread the DIY love with all these lovely companies! And if you're looking for even more!? You can check out the full Handmade Vendor Guide, Craft Supply Guide and Handmade Gift Guide for a whole lot of goodness.
Interested in becoming a Partner in Craft on Studio DIY? Click here to learn more about joining the crafty fun!