Writing that "four" number up there just scared the BLEEP out of me! Time. Is. FLYING. We are starting to get into the design details of everything which is exciting! BUT HOLY COW WE HAVE SO MUCH TO DO. So here we go….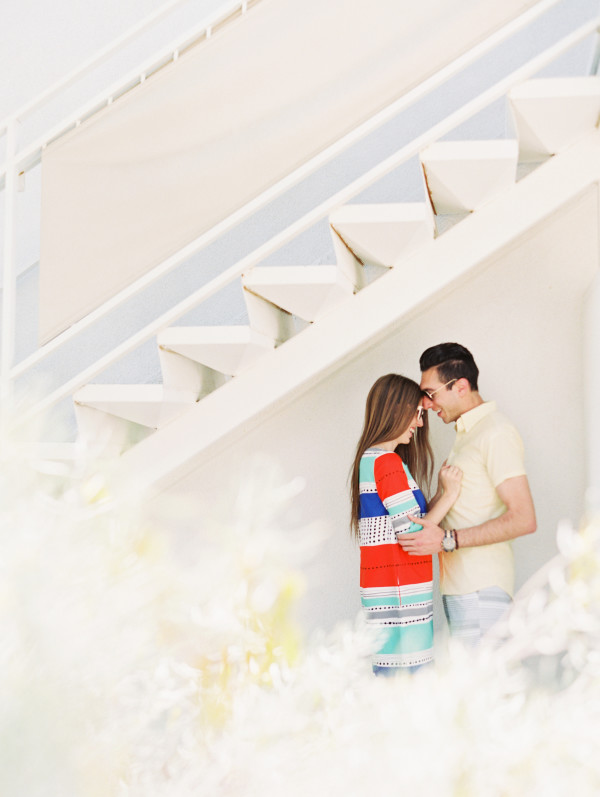 A sneak peek from our engagement session with Katie Stoops as I just HAD to share one! Shout out to Marimekko for that awesome dress!
What We've Done
A walk through. We met our planners and our rental folks (Classic Party Rentals) at our venue last week for a walk through. They took measurements to get a final layout going… and I'm really excited because it looks like we may be able to get that super-long table look I really want after all! The venue is separated into three areas… the front lawn, which will be used for our ceremony; the courtyard, which will be used for cocktail hour (and is what sold us on the venue); and the back lawn, which will be used for the reception! The back lawn is very weirdly shaped so that's why the long table look we want is in question… but it's looking up!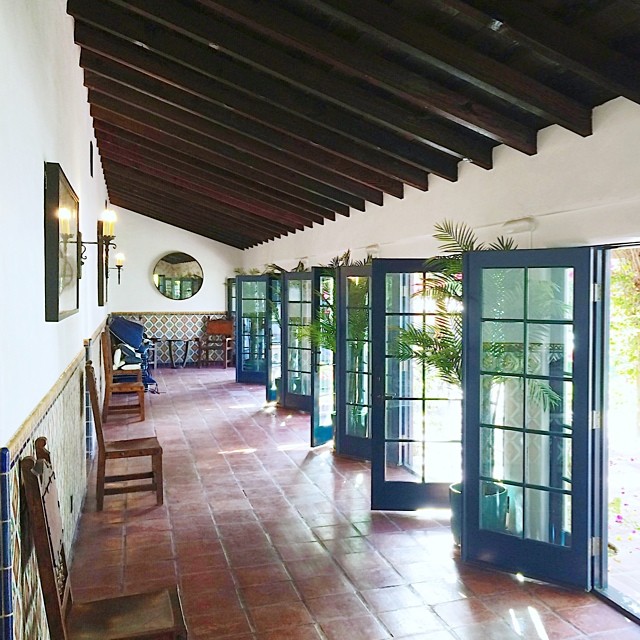 Just outside those doors is the courtyard where our cocktail hour will be! EEEP THOSE DOORS!
And that brings me to rentals. I went to Bash's office last week to start making some rental decisions. Originally we had wanted wood tables, but it turns out that you can't get everything you want because OMG rentals are so pricey!! So we are going with our backup plan, which is to use a natural linen in a long drape-y style (a la this). I'm actually excited about this because it's allowing us to bring in wood elements in other ways, like our chairs! For tableware, we're using gold… surprised!? We're mixing and matching a few patterns, and adding gold flatware from Hostess Haven. We'll be doing gold rimmed wine glasses and champagne coupes (YES!!! I LOVE COUPES!) and then, wait for it…. pink water glasses! SHA-ZAM! We're also working on an amazing idea Bash came up with that combines favors, place cards and chargers. Can't wait for you all to see it!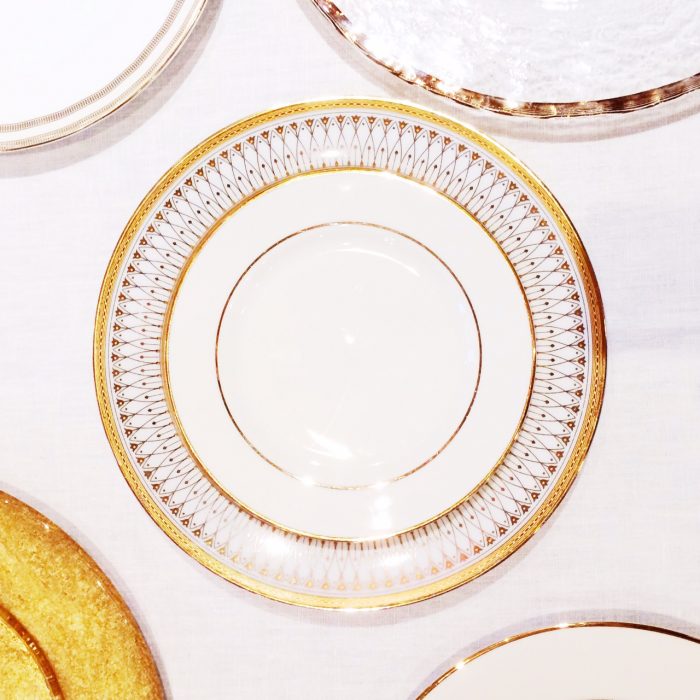 A sample of the plate combination we are considering! Gold trumps all.
Flowers. Our flower situation is a bit different than normal as my floral designer, Holly Chapple, is a) a good friend and b) on the other side of the country! I've started by sending a list of all the flowers we need to her (how many people in the bridal party, parents/grandparents, table estimates and cake flowers) along with my Pinterest board (which, let's face it, is basically all flowers.) and she's looking that over now. Luckily I trust her with my life so I'm not worried! JUST SO EXCITED ABOUT FLOWERS!
My dress has arrived… except I haven't seen it yet! Eeeep! It's at the bridal store waiting for my first fitting which will be coming up in August. THE ANTICIPATION!
We've written some basic wording for our wedding invites, but still aren't sold on it as we go into the design process. As I mentioned on Instagram, it all feels so stuffy! We want to include my parent's names on the invitation, so it automatically has a formal feel, but that's important to us so we aren't willing to compromise on it. We are going to see what we come up with as the design comes together. We determined that we don't need a details card within the invitation suite as we'll be giving that information to everyone in welcome bags (which I am ridiculously excited about! I love welcome bags!). Instead, we'll be adding a small insert reminding everyone of our wedding website. We are also considering RSVP postcards to eliminate the need for a second envelope. Still debating on that one! Bash will be doing our invitations in-house with some added calligraphy elements. When we had our rental meeting I also got to check out the 5000 different versions of gold foil and see some color palette mock-ups. Oohhh gold, I love you so. WOOT!
What We Need To Do
My bridal shower! My shower is this month and I am SO excited about it! It'll be great to see everyone and celebrate, without the craziness of the wedding day! Can't wait to share it all with you guys!!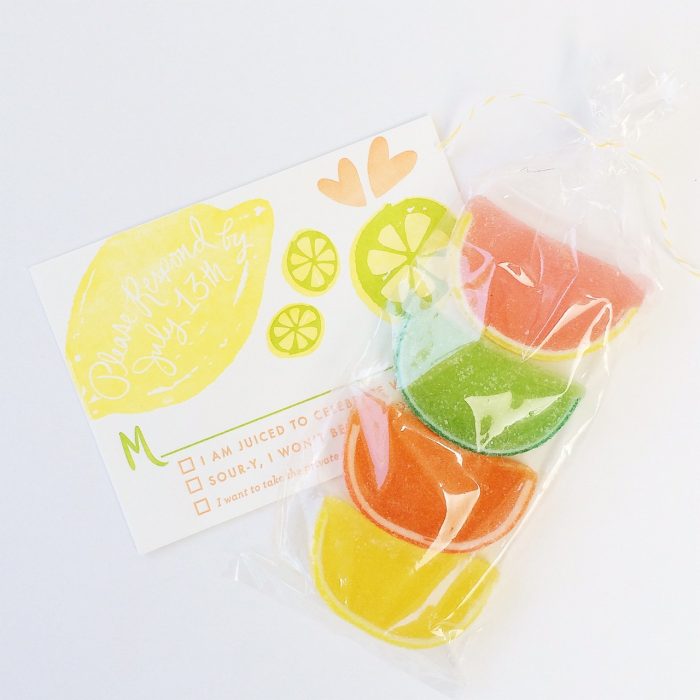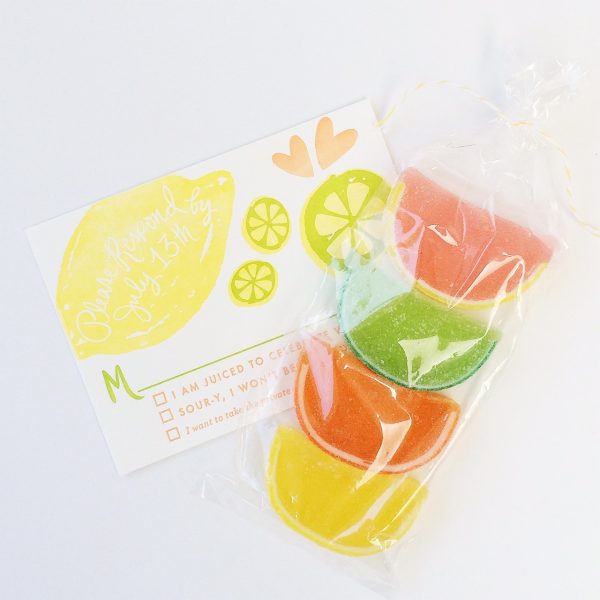 A sneaky peek at my shower invites!! They were designed by Isabel of 9th Letter Press who I am OBSESSED WITH! And any invite that comes with sugar is fine by me!
Shoes. I need shoes. Since my first dress fitting will be next month, I need shoes before that. And MAN finding not-super-casual, not-ugly, not-bridal-y wedges is HARD! Even though I really don't want wedges, I have to be pretty adamant about getting them so I don't sink into the grass as I'm trying to say my vows. (And I don't want flats as I don't like dancing in flats! Weird, I know.) So here's the scoop. I can't share my dress because you know who is looking, but I'll just say this… I'm looking for nude, gold, pink or floral print wedges. I found these (the ones below) when they were over $700 and LOVED them but couldn't swing that much money. Now they are on sale, but basically sold out everywhere! I called the designer's NYC store and they have one in each size. If they still have one in my size by some miracle when I'm there in a few weeks, I may swing by… otherwise it looks like I'm saying BUH-BYE to these babies. (*cries*) I've also found THESE (Nude) and THESE. What do we think? So many wedges are so clunky, but I don't just want a boring wedge pump either. It needs to be on the dressier side but NO bling. I'd like a little something going on though. Hoping I have some luck searching online and in stores soon!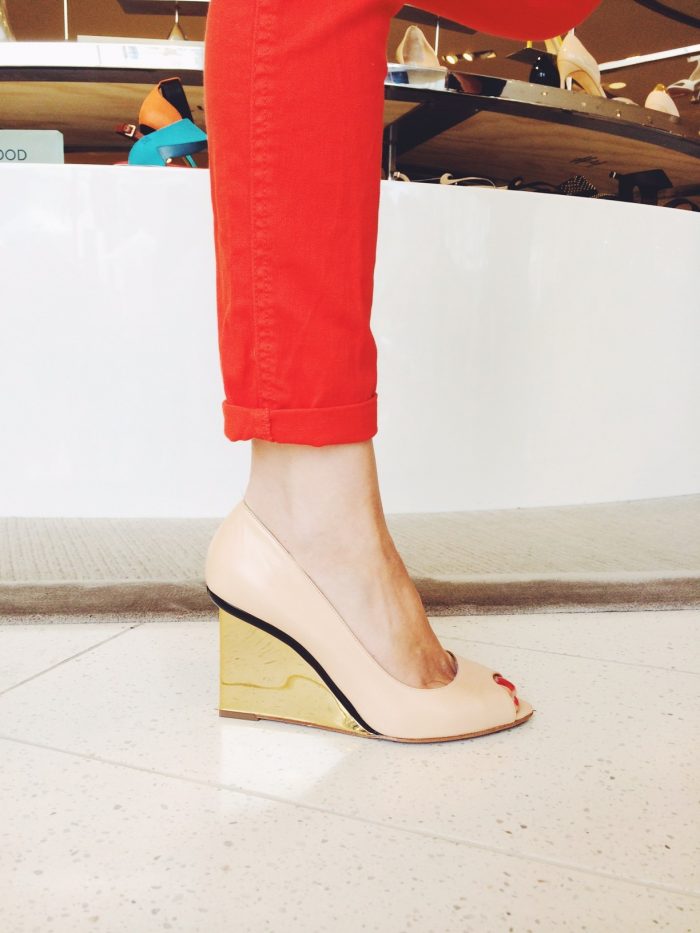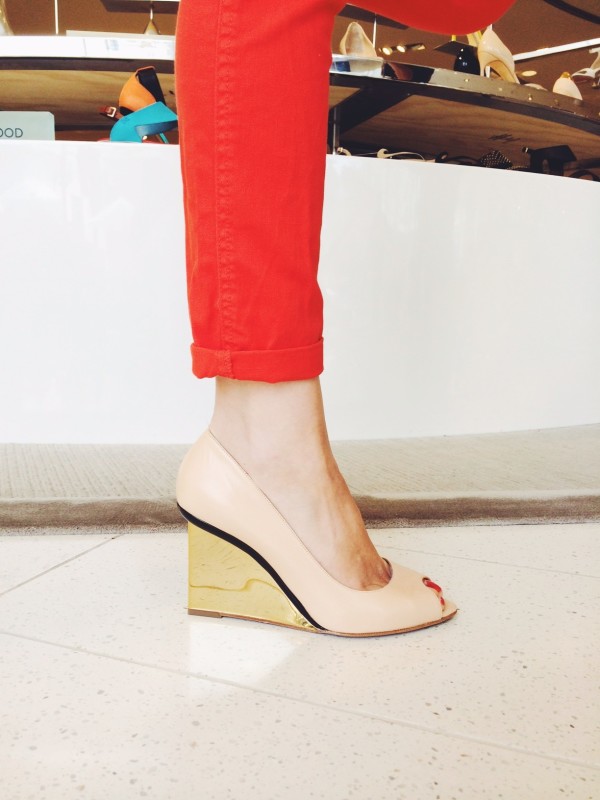 The shoes I love but left behind. Fingers crossed NYC pulls through for me!
Book a hotel for the wedding night! We still haven't figured out where us newlyweds will be staying the night of the wedding, so we're gonna get to booking that this month! We're looking at The Parker and the Korakia Pensione right now, but if you have any suggestions.. let us know!
We still haven't figured out what the rest of the bridal party is wearing. How's that for procrastination!? Luckily I'm getting some major face time with my MOH and Jeff with his Best Man this month so we are hoping to actually knock this out so I can stop telling you guys every month that we're going to do it.
We need to start conceptualizing some of the other decor details, like escort cards, menus and a ceremony backdrop. There's also approximately nine MILLION other things to conceptualize, but if I write that all out I might start to cry. SO MUCH TO DO!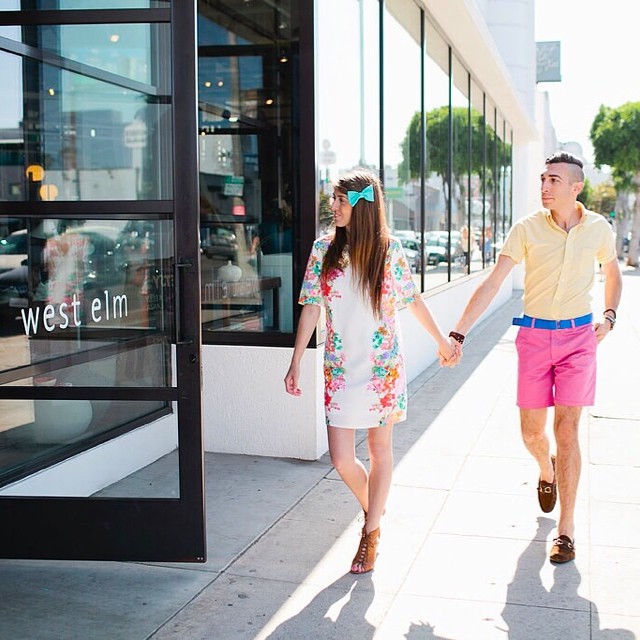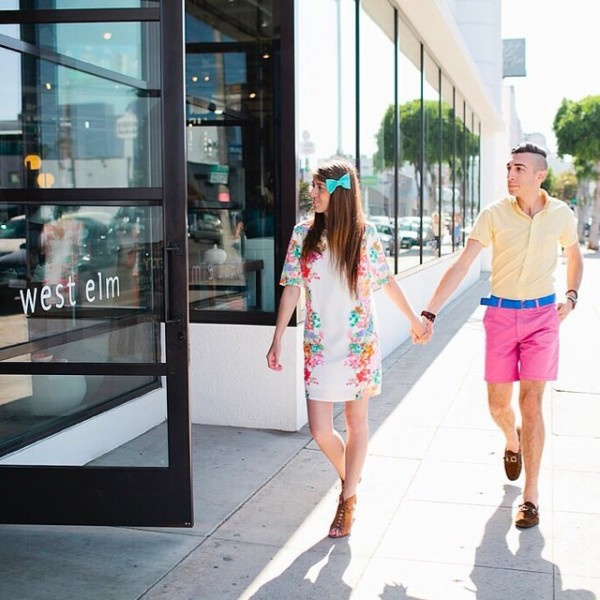 We did a fun feature with West Elm on their new registry (which is amazing!).. check it out here! Photo by Megan Welker, and my dress is from ASOS here!
How We're Feeling
We're feeling like time is starting to run out! We just sat down last night and game-planned everything that needs to be done before the big day. It's a big list, but I'm glad we finally sat down and made one together.
After the save the dates and bridal shower invites went out, we found we were, in fact, getting some push back about our wedding registry. There wasn't enough variety or enough items. As I mentioned in several posts, we kept our registry small on purpose. We were pretty frustrated at first as we didn't want to be forced to register for items we don't need or already have (which is a lot). We're mainly sticking to our guns here as, frankly, we just don't have the space for the normal amount of registry "stuff" in our house. We've added a few additional items and will do so as they come up. Otherwise, we're really excited about the items we did register for! Like, really excited.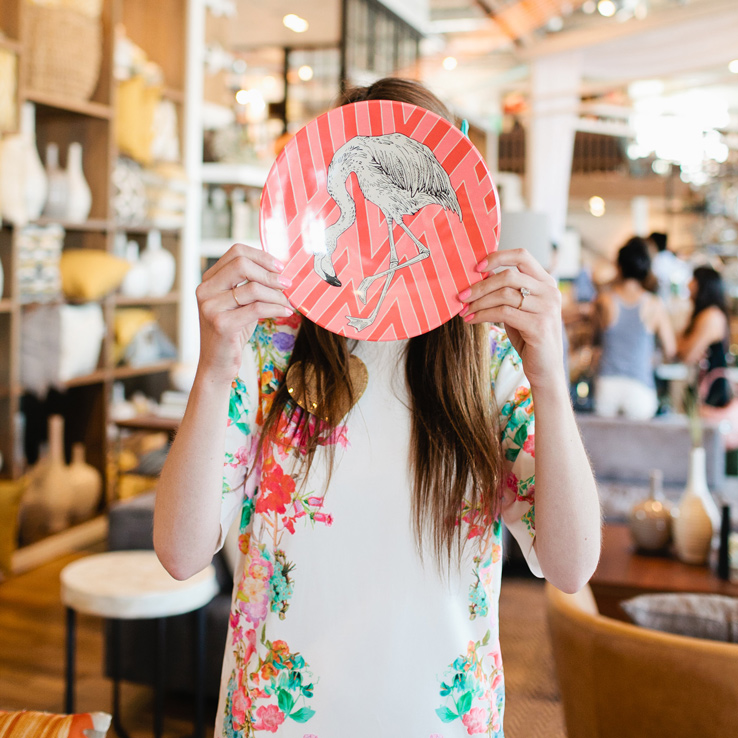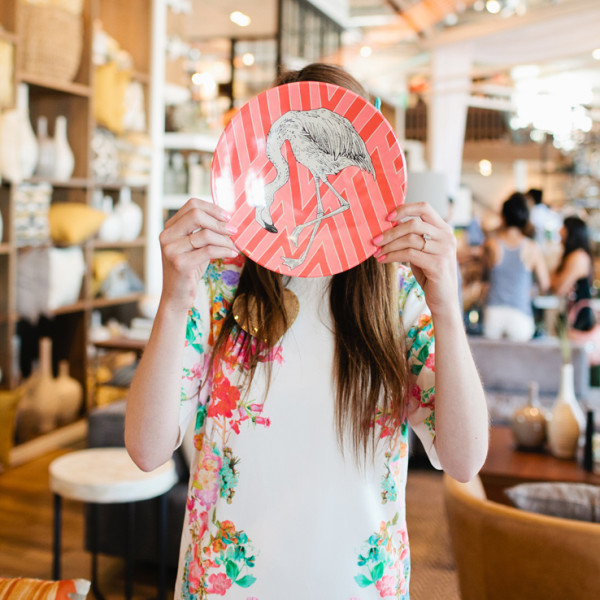 These flamingo plates! A registry must. Photo by Megan Welker!
Help! (Or, Questions for You Hitched Folks!)
We're starting to think about the day after the wedding and I'm curious… did you all have a formal day-after brunch?
Originally, that was our plan. However, of the few guests that have already booked flights, it seems most are going to be booking it out of the hotel early to catch a morning flight. So, we fear if we do a formal brunch, we're going to be stuck with a food & beverage minimum that we can't meet. We were debating, instead, about having more of a take-away style continental breakfast at the hotel we've rented out for close family and friends. Pastries, juice and coffee that guests can grab on their way out, swing by and pick-up from the other hotel or sit down around the pool if they have a little more leeway in their travel schedule. What do you think? We don't want guests who are staying to feel like they have to find their own breakfast, but we also don't want to provide a breakfast that not many people will be able to attend. We're thinking this could be a great compromise, but I'd love to know your thoughts!
I'm also curious… if you did have a brunch, did you and your new husband or wife attend the day-after brunch? I've been to a few where the newlyweds did and a few where they didn't.
That's it for today! See you on the flip side!