I've talked a lot about our wedding registry. How we weren't going to have one, how people were confused by the one we did have and how it frankly wasn't the easiest or smoothest experience. After all was said and done, I shared a few tips over on West Elm's blog about our theory behind it, but I also wanted to share a little more about our registry over here! As I've mentioned, we decided to register for the items we did need using MyRegistry. Overall, we've really had a great experience with the site! It allowed us to register from any and every site we wanted to, which was great because I wanted to register from a lot of independent sites that didn't have their own registries. (And no, this post is not sponsored by them, I just really like the concept.) So I thought today I'd share some of the items we chose and some of the resources I used for sourcing these items! Let's do it.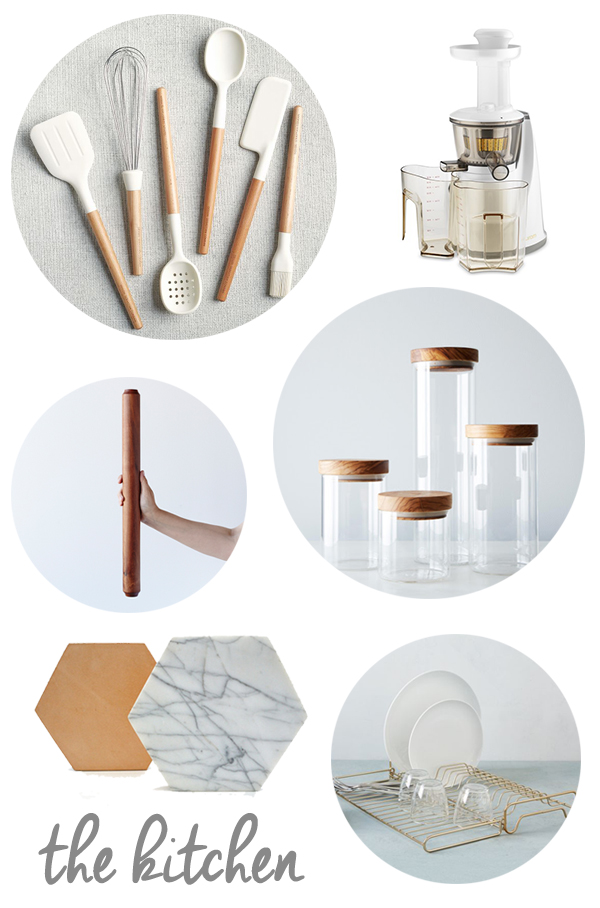 The Kitchen
Silicone Utensils from West Elm | Hurom Slow Juicer from Williams Sonoma | Glass + Wood Jars from Broadway Panhandler on Food52 (I am obsessed with these.) | Maple Rolling Pin from Herriott Grace | Marble Trivets from Fort Standard | Foldable Gold Dish Rack from West Elm (AMAZING!)
Jeff and I are trying to be very particular about the items we bring into our home. Our current apartment is a loft style and that means we have approximately zero storage space. That means that any item we do bring into the house, needs to appeal to us aesthetically because it's going to be out on display all day, every day. While I love all things colorful, I really have no idea what colors we'll use in our someday home and since I only get one chance to register, I decided to keep most of our items in four neutral categories: white, gold, marble and wood. Those elements have remained my go-to ones for years, so I figured I was safe with those. Of course, there are a few exceptions (like this blanket, this mixing bowl in pink and these champagne coupes) but overall, I thought it best to stick to the basics, and add in color down the road once I had a better idea of the style of our home.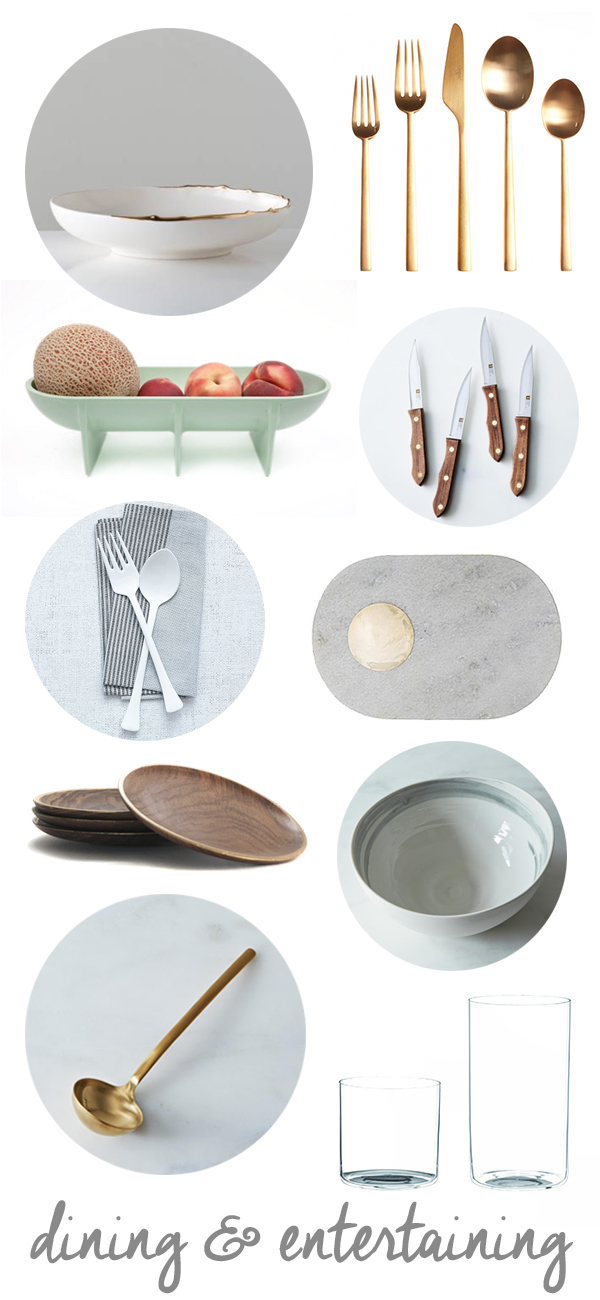 Dining & Entertaining
Gold Plated Bowl from Gretel | Rondo Gold Cutlery from Horne (FYI This flatware goes out of stock almost immediately after it gets restocked. It is in stock at the time of posting, but if it's not when you click through sign up to be notified when it is back in and then JUMP! I may or may not be getting married solely so I could get this flatware.) | Mint Standing Bowl from Fort Standard | Steak Knives from R. Murphy Knives for Food52 (Love the gold rivets!) | Enamel Servers from West Elm | Stone Chopping Board from GARDE | Teak + Gold Appetizer Plates from Grandiflora | Brushstroke Serving Bowl from Suite One Studio on Food52 | Gold Ladle from Mepra on Food52 | Riedel Water Glasses
and Highball Glasses
from Amazon (I've been looking and looking for straight, thin glasses. These fit the bill perfectly!)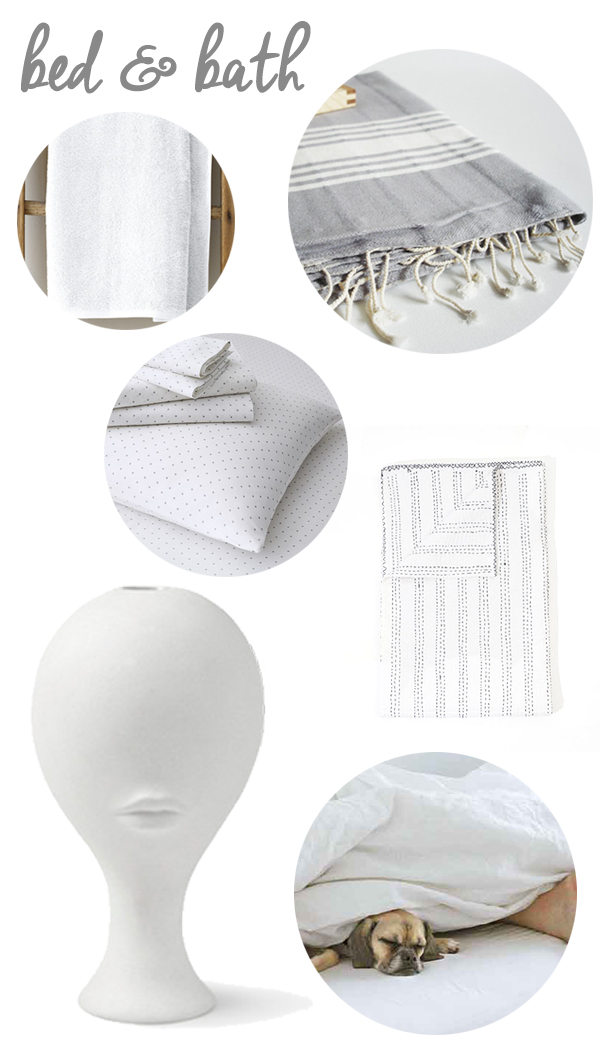 Bed & Bath
White Towels from Garnet Hill | Turkish Bath Towels from Bathstyle | Polka Dot Sheets from West Elm | Quilt from Gypsya (We registered for this design in a king to use for guests, but it sold out. This listing is for a twin.) | Muse Misia Vase from Jonathan Adler at Amara (This isn't really bed or bath, but I love it. So it's in here.) | Linen Duvet Cover from Rough Linen
How did I find all these things!? Well, let me tell you.
Pinterest: If you have a favorite blogger or pinner who's style aligns with yours, scour their home or "wanted" boards on Pinterest. I found Wit + Delight's "For the Home" board and Oh Joy's "For The Home" board to be really awesome resources. Even if the item they pinned is outdated or sold out, it can lead you to a great independent shop to explore.
Food52: Hands. Down. Provisions by Food52 is the most well curated shop I have ever laid eyes on. So much of our registry came from there. The items are high quality, non-traditional and a lot of them are exclusive to Food 52, which I loved.
Blogs: Shocker, huh!? While I'll be honest that I went to Pinterest before going directly to blogs, I found that reviews like this one were helpful for items like my juicer. Food blogs often have FAQ pages or shops of their own where they curate their favorite kitchen tools. USE 'EM!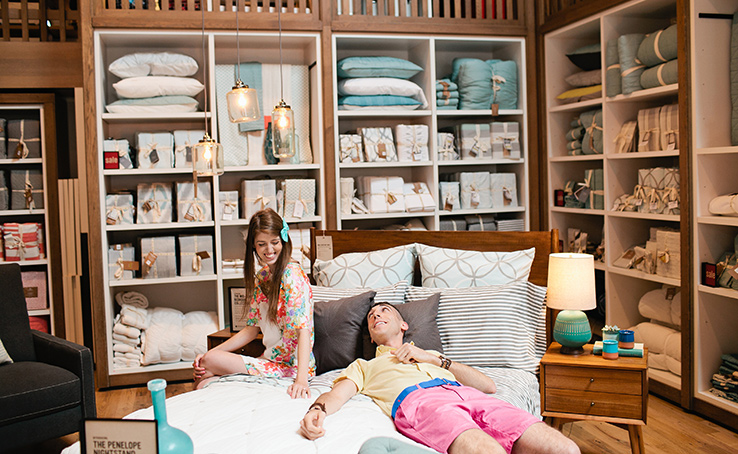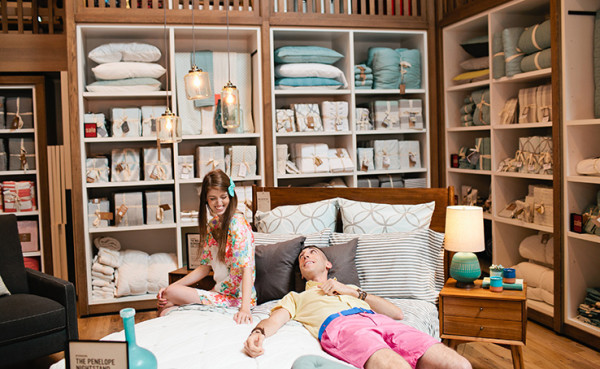 Photo by Megan Welker
There's a few items I'm still on the hunt for. If you have any good sources, let me know! I'll try to update this post when I find these items, too.
-A glass cake dome tall enough for a 3 layer cake. I have a 9″ cake stand I'd love for it to fit, but I'd be willing to buy a new one if I could just find a darn dome I like! They are all very short, and I tend to only make/buy tall cakes.
-A laundry basket: I really want an awesome laundry basket, preferably handmade or from an independent seller. Something woven with an interesting print or pattern could be great. I just haven't found one large enough yet!
-Pots and Pans: I have a set of pots and pans from Giada's Target line that are holding up pretty well. But I'm sure I could use to buy a really nice pan or two. Any recommendations for ones you really love? There's so many options in this category I'm kind of lost!
-China: Now, I'm actually not registering for this. At least, not all of it. My mom's wedding/shower gift to us is a set of vintage china. However, I haven't found what I want yet! I kind of would love a layered look like this. I'd love for it to have some color, either that green or some pink and it has to have gold to coordinate with the flatware. I found 7 of these salad plates (I'd really like 12) for $3 each and bought them in Brooklyn last week. My mom found that site which has pretty extensive inventory of replacement items for dishes, but those aren't currently in stock. Cool site though, huh? I'm not sold on this pattern but scooped 'em up anyway since they were cheap! I'm not in any rush at all for this as we have no room, but if you have any great online sources for vintage dishes or any local sources in LA, let me know!
Phew, and there you have it! Our non-traditional registry! It's worth mentioning that this is not all the items we are registered for. However, we did not register for the typical amount of items a couple does. We have about 60 items total. I'll be sharing another wedding update in the next week or two, and can't wait to share all the details of my bridal shower with you too!
For more wedding posts, click here.