This post is sponsored by Squarespace.
Hooray!! I'm excited to finally share our finished wedding website with you all! Back when I had you guys vote for your favorite Squarespace template, FORTE was the clear front runner in your eyes.. and in ours too, actually! Ding, ding, ding! We have a winner! We love the simplicity of it and how it really showcases the amazing photos Luke + Katherine took! So now that our website is all wrapped up, I wanted to share a little peek at our different pages, the tools we used and our favorite things we came across during this process using Squarespace!
**To view each image larger, just click on the image!**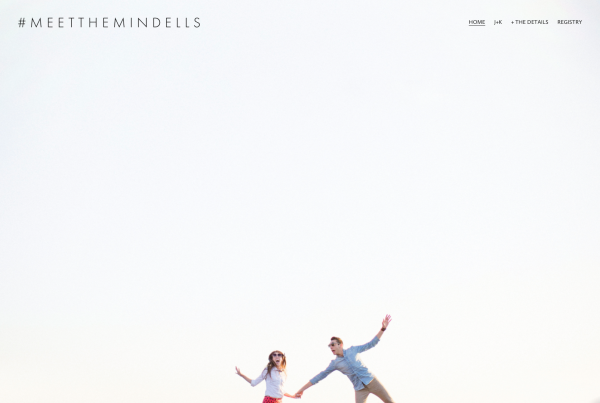 1. Custom Domain Names: It was a priority to us to have to have a custom URL (i.e. instead of one that said ournames.squarespace.com or something of the like) so that when we wrote it on our save the dates, it was simple, clear and easy to get to! Luckily, Squarespace provides that service for you right within the platform. In fact, every annual account receives a free custom domain! With a few clicks we had our custom ".com" URL all set and ready to go! WIN!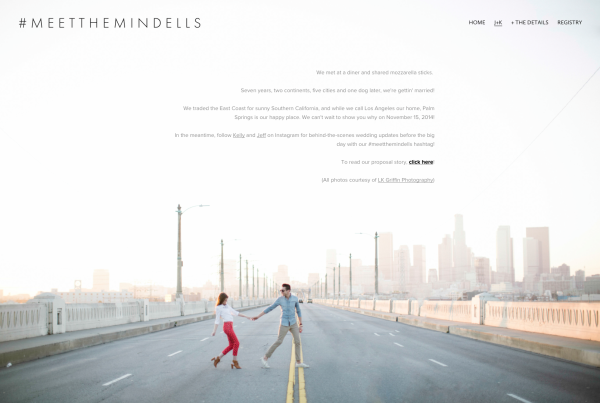 2. Gallery Options: We wanted to show our guests our wedding venue that we're so excited about to really get them in the Palm Springs spirit! Squarespace has options for creating galleries within a page and that was perfect for popping up all the venue photos! Look at that schnazy pool! We're currently taking bets on who ends up falling in it first! 😉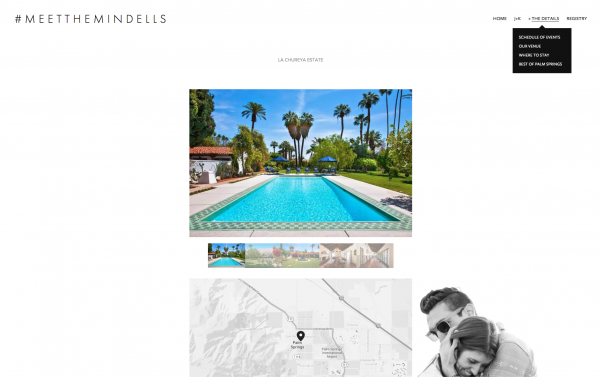 3. Custom Cash Gift Registry: We talked a lot about our decision to register for a down payment in previous wedding updates, and we were really excited that Squarespace had a tool for doing so right within our website! Their cash donation feature can be adapted to act as a honeymoon registry, a down payment registry or any other cash gift registry you may have in mind for your wedding! It pops a button right up on your registry page (where we also included a bit about why we chose a down payment registry and how important creating a home was to us, as well as a link to our traditional registry, too). The button takes you to a page where guests can select the amount they want to gift and securely enter their information, too.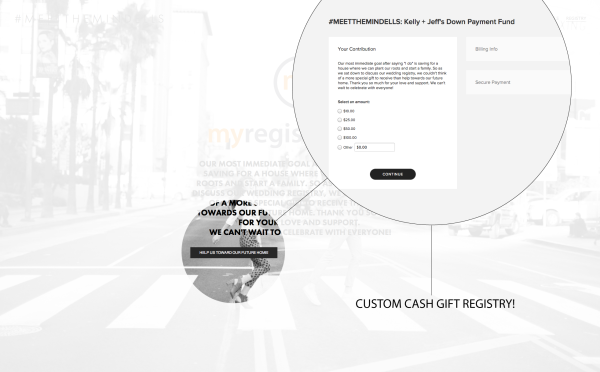 4. Mailing Address Collection: One other notable feature has to be the ease of collecting mailing addresses for your guests! We didn't do this because we had started the (tedious) process of collecting our guest's addresses one by one long before we even thought about our website, but MAN do I wish we had used this! Essentially, you can direct guests to this form on your site where they can enter their mailing information and you'll have it all in one place. Think of it as a pre-RSVP. After doing this the old fashioned way, I'll be the first one to say what a lifesaver this would be!
A few other items we included were a list of Palm Springs activities and sights to see, a page dedicated to hotel information (with a link to our hotel block) and a schedule of events since we'll be having both a welcome reception and a day-after brunch, too. On our "J+K" page, we talked about how we met and shared a link to this post so those guests who don't already know could read about our proposal story! So what do you think!?!? Any other pages you had on your wedding website that you think we should add before we send out this link with our Save the Dates? We are just beyond happy with how simple and clean our site turned out, and considering wedding planning really is a fulltime job, we're darn thankful that Squarespace was so easy to navigate while putting this together!
All Photos by LK Griffin Photography

This post, and event, is sponsored by Squarespace. All content and opinions are that of my own! Thank you for supporting the sponsors that keep the Studio DIY party going! Read more about my editorial policies here.