We'll be talking about the survey results later in the week, but one thing you guys asked for was more collaborations and features on other creatives! Luckily, I already had several in the works, including a series of round-ups I'm going to start about my favorite people to follow on Instagram, Pinterest, Snapchat, etc! I did this once before and everyone really liked it, so here we go! This time, I'm talking about my favorite bakers, cake makers and fellow sugar addicts that leave me running for the nearest baked good! Readyyyy??
@alanajonesmann
You've seen me talk about Alana before on Instagram but she is my cake making HERO! Alana makes some of the most innovative cakes and treats I've seen of late, like her wallpaper cake, cactus cupcakes, cross stitch cake and geode cookies. I MEAN! I love that everything is quirky but modern, it's so different than most cake decorating styles you see nowadays. You can follow along with all her adventures on her blog, Instagram AND she's moving to LA so you better bet you're gonna see some EPIC collabs between us once she does.
Cookiesssss!!!! I've always been too intimidated to make sugar cookies but that's ok because I don't really need to since Holly makes some of the most EPIC ones of all time! Her use of color is spot on and I love that all her Instagram shots involve dozens and dozens of them. It's like a pile of sugary masterpieces!
I discovered Jonathan's work through a Buzzfeed feature and spoiler alert, he's only 17!!!! As a teen entrepreneur myself, I always love seeing people like Jonathan following his dreams at such a young age. And his desserts are EPIC! Sugar High couldn't be a more fitting name.
If there was ever a unicorn that went into baking, that unicorn would be Katherine Sabbath. She's inspired a whole movement of these fancifuly topped cakes and I cannot get ENOUGH! Think drippy ice cream cones, lollipops, and neon-rainbow-bright-amazingness! Mhm. Unicorn, I told you!
Lyndsay is a personal hero of mine. I fell in love with her very distinct style of cakes. So distinct, that I could spot them from a mile away! She does a lot of amazing piping as well as turning cakes into other things, like pineapples and puppies. She shares the tutorials on her blog, but you should follow her on Instagram too… because uh YUM! Lyndsay also happens to be a fellow cancer fighter and her story since her diagnosis has only gotten more inspiring. I admire her honesty and openness in sharing the ins and outs of her treatment, and can't imagine how many people she's helped along the way!
I'm not sure how I stumbled upon Caroline's account, but I'm glad I did. Her profile says "dessert design" and I couldn't think of a more perfect way to describe her sweet treats! All the goodies she makes are so well designed and there is never a shortage of pink on her feed so…. need I say more? She has a really special knack for making even the tiniest macarons look like works of art.
If there was any other company that embraced "more is more" as much as we do, it's Kayter Co! They are the home of the coconut tower and the cronut tower, which basically means stacks of sweet things on top of other sweet things so basically HEAVEN. Candy bars on top of cronuts on top of coconuts. Can you even handle it!?!?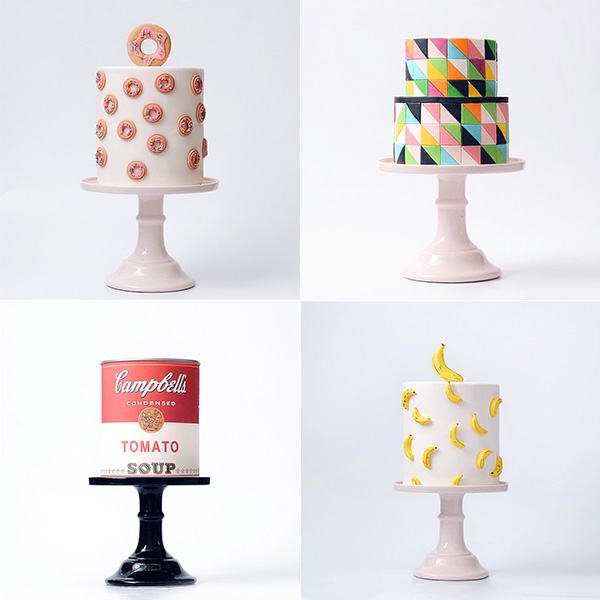 @tortikannuchka
I only just discovered Tortik Annushka's feed last week but LOOK. AT. THOSE. CAKES. The banana one is everything I want in life and more, and I also love how clean and simple all the photos are. Cake masterpieces!!!!!!
What are you favorite dessert filled feeds on Instagram!?
p.s. My fave colorful instagram feeds!