Welcome to the best week of the year! Cake Week! As I mentioned on Friday, this week will be all about the best part of a party… cake! It's in honor of the first day of summer (Wednesday) and my birthday (Thursday), two fabulous reasons to celebrate! To kick things off, a supply guide that would make the best cake decorating or cake tasting party. For an intimate bridal shower or for a little aspiring baker's birthday, with some fun toppings and feminine décor, it's about time you get one of these neapolitan inspired events on your calendar!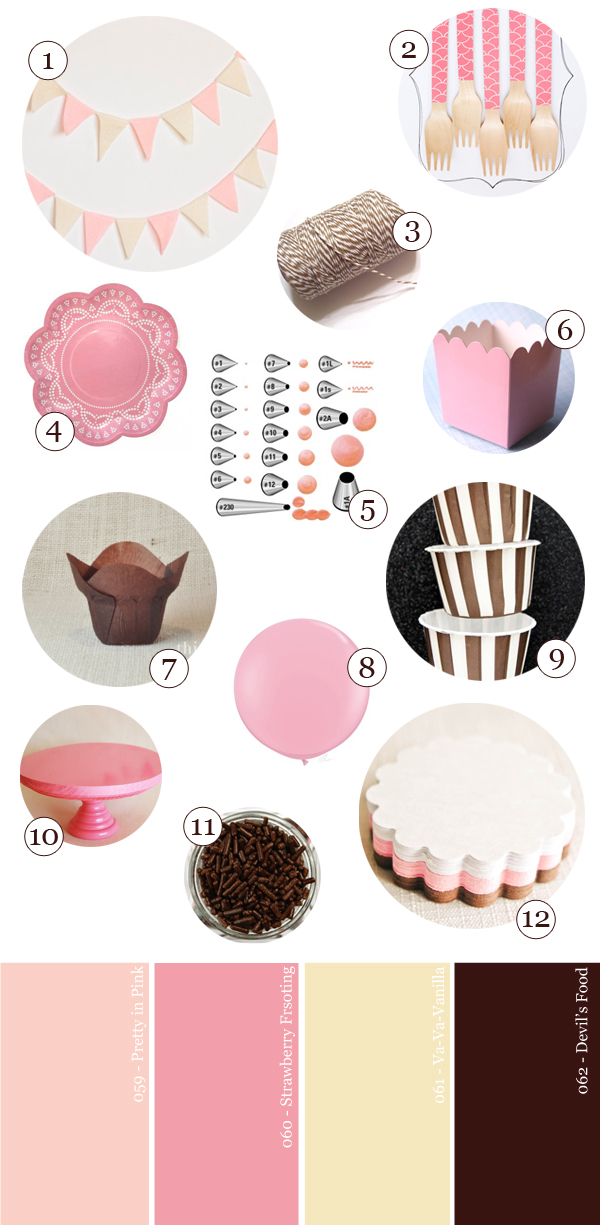 Neapolitan Cake Tasting Party Supply Guide
1. Mini Felt Bunting from Steph Loves Ben
2. Pink Wooden Forks from Sucre Shop
3. Brown and White Baker's Twine from The Twinery
4. Pink Lace Paper Plates from Party&Co
5. Cake Decorating Tips from Gygi
6. Scalloped Pink Boxes from Sweet Estelle
7. Brown Cupcake Liners from Garnish
8. Round Pink Balloons from Shop Sweet Lulu
9. Brown Stripe Candy Cups from Cupcake Social
10. Pink Cake Stand by A Fabulous Fete
11. Sprinkles from Layer Cake Shop
12. Neapolitan Scalloped Tags from Recycled by Brynne
Don't forget to check out the vendor guides for a full listing of handmade vendors and craft suppliers!
*Garnish is one of Studio DIY's crafty sponsors. For more information on sponsorship opportunities, click here.