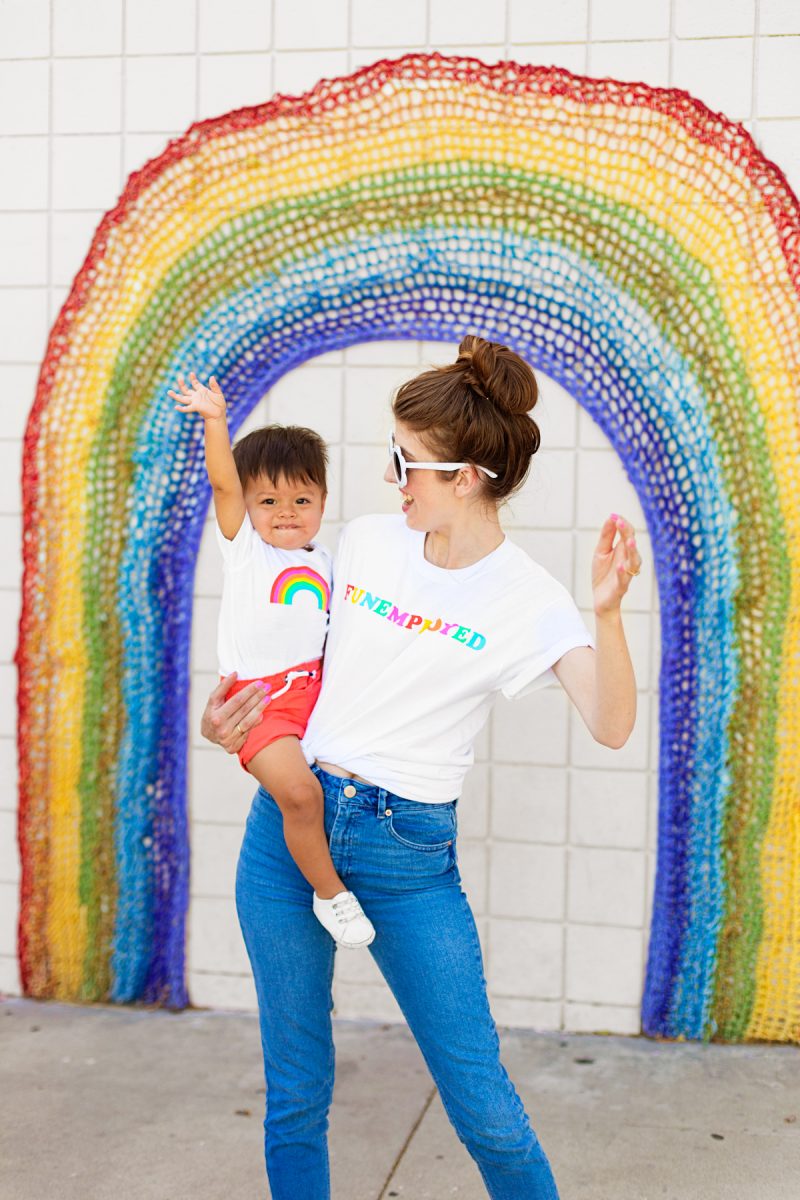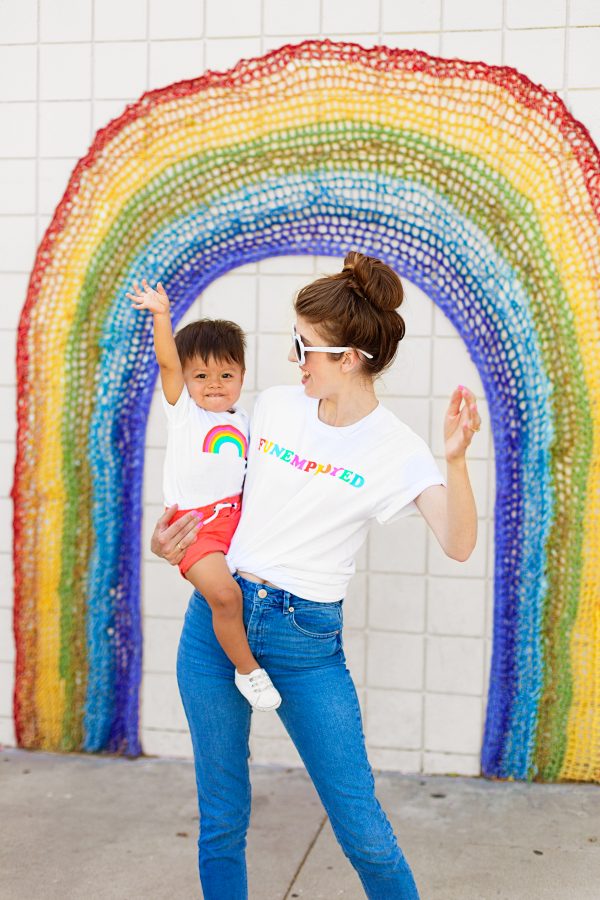 Our newest product collection launched today! Like… right now!!! Can I tell you a bit about it?? We have several collections launching over the next few months and they're all themed because LOVE A THEME. For this first one, we wanted to build on our *clear* love for rainbows that was already present in the shop but with all new items for YOU! US! Hustling entrepreneurs, busy mamas and everyone in-between. I designed + curated a collection of pieces for your work day and your days off and while I kind of already spilled the beans on all of them on Instagram yesterday, I wanted to share a bit more about the WHY behind each one. Ready!?
First up, let's start with some weekday faves to get you through that workday!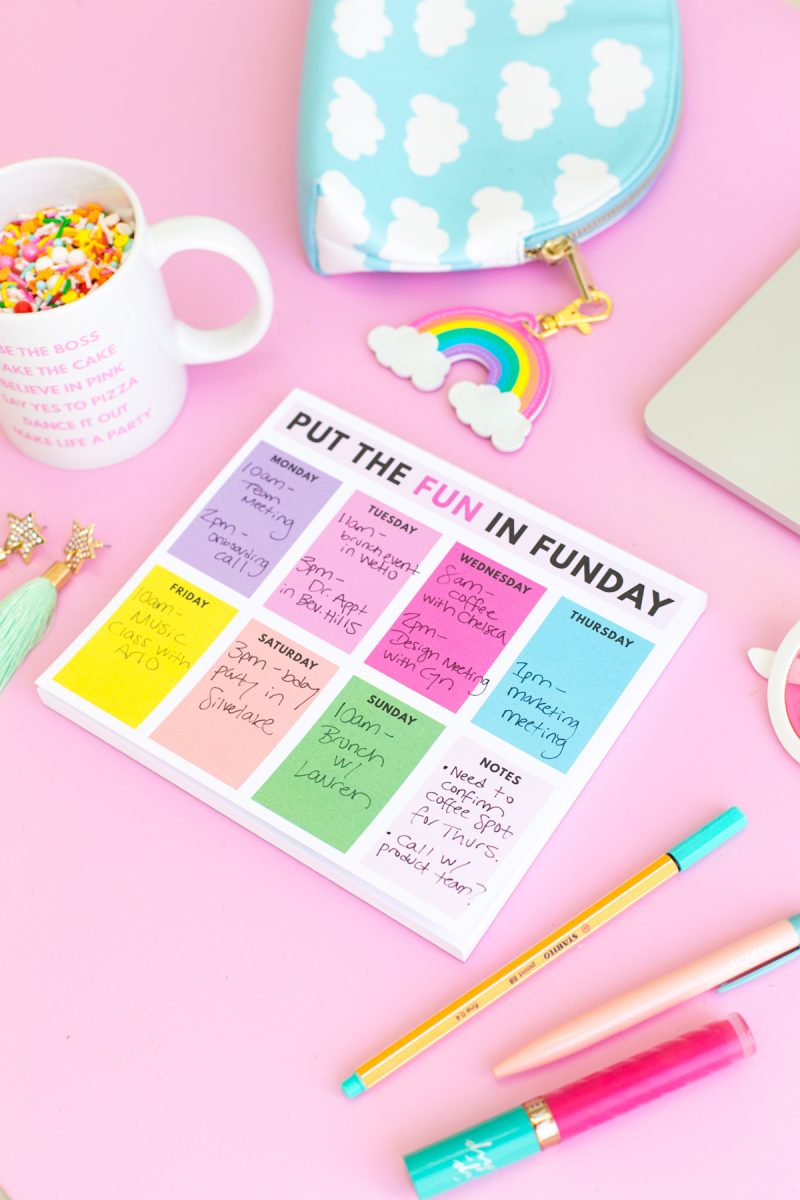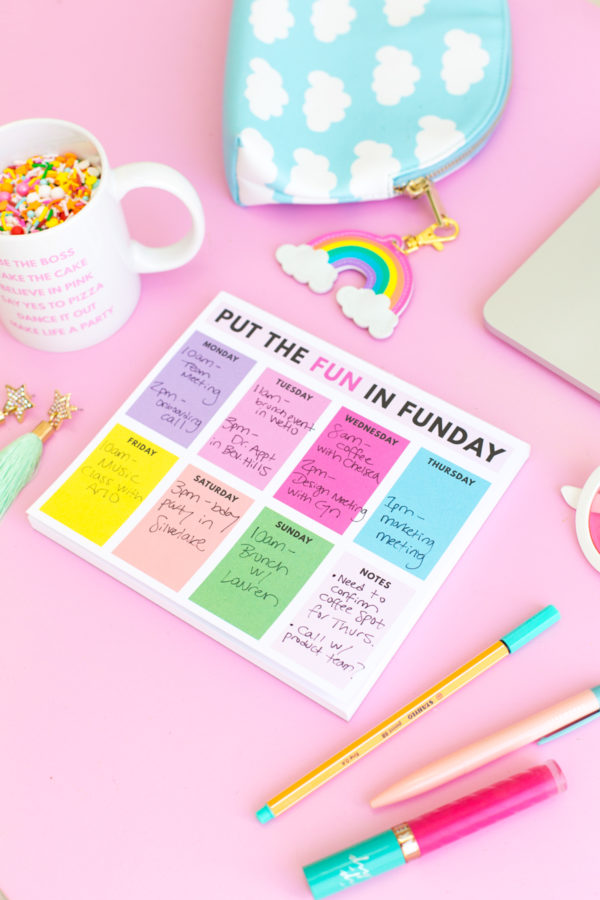 First up is the FUNDAY notepad, designed by me!!! This is gonna be a long one because I'm so PASSIONATE about this and how it's helped me! I've talked a lot about how I have a really hard time staying organized or sticking to a planner. Still workin' on that overall in my life but this notepad has been a GAME CHANGER for a few things so far…
First, my daily meetings. We have a digital calendar where we keep a list of anything and everything happening in a given day, but I've been using this notepad to give me an overview of my major meetings and events for the week. I keep it on my desk and glance at it a zillion times a day to see the major things that are coming up, then build my to-do list around it. Next, meal planning. I pull one sheet off the pad each week (The pages are thick cardstock you guys, so it's super durable!) and pop it on the fridge with a general goal of what I want to have on hand for dinner each night. Last, I use it as an Instagram planner. I write down the major things I know I need to share or push to Instagram each day so I don't forget! BAM! You can grab your own FUNDAY planner right here.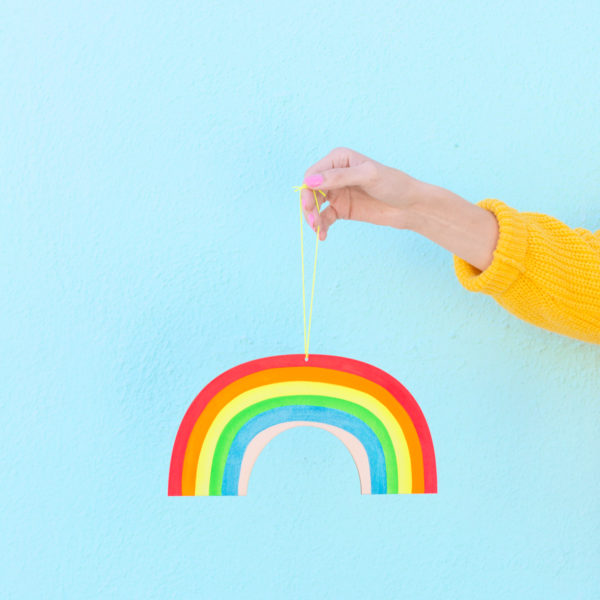 Next, the rainbow wall charm… picked by YOU GUYS! Grab it here!!! I asked you to vote on your fave color way a few months back and you picked "bright"! (Shocker, haha!) It's by one of my favorite quirky companies, The Great Lakes Goods and it's the perfect pop of color for your cubicle… or your kids room!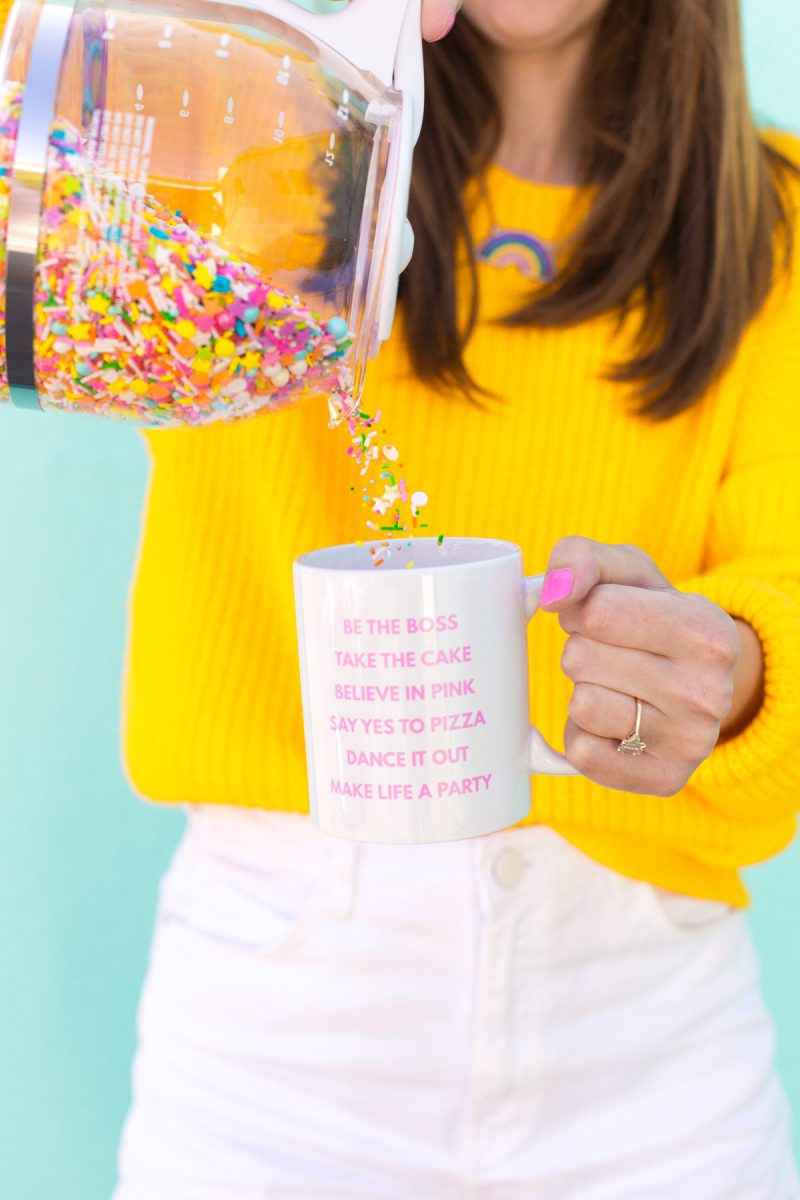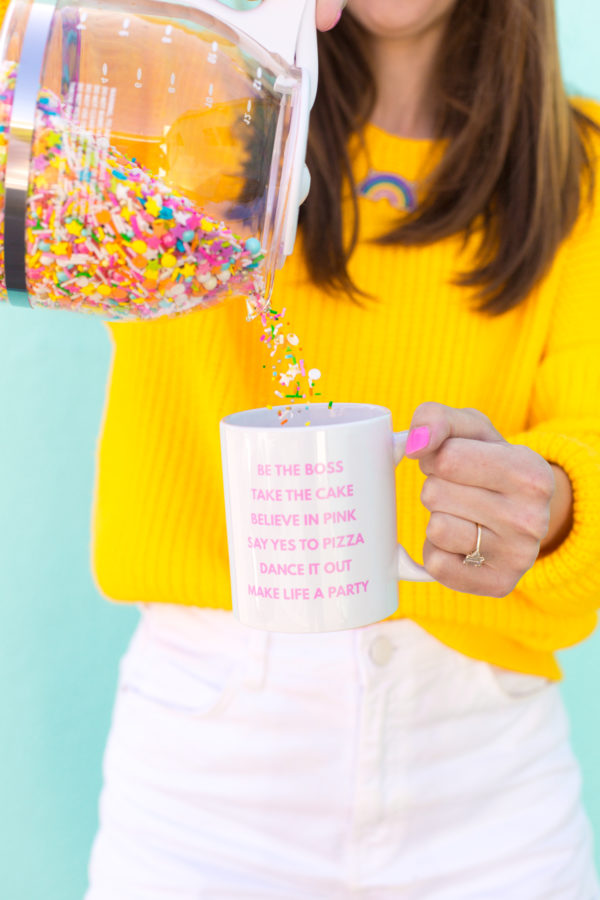 Meet our mantra mug! The words we live by here at Studio DIY, right there for you to wake up with every morning, when you often need them most. Don't think I need to say much else about that!!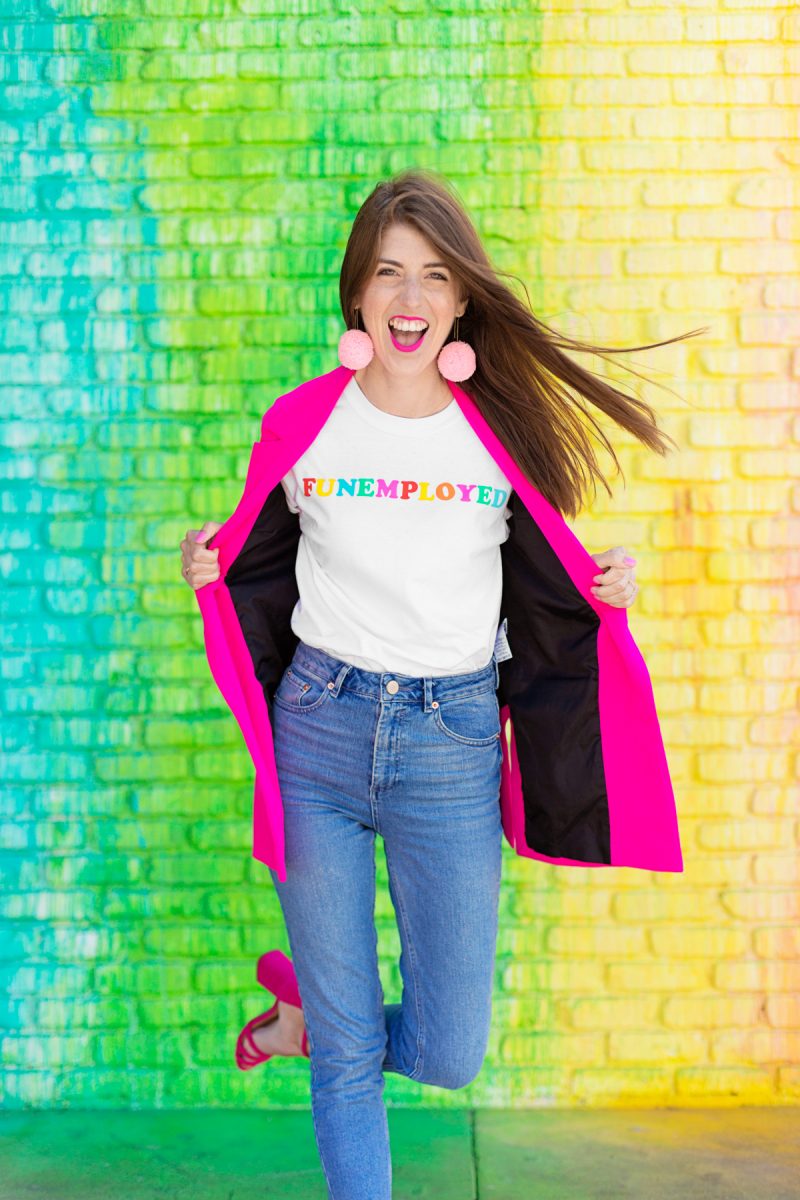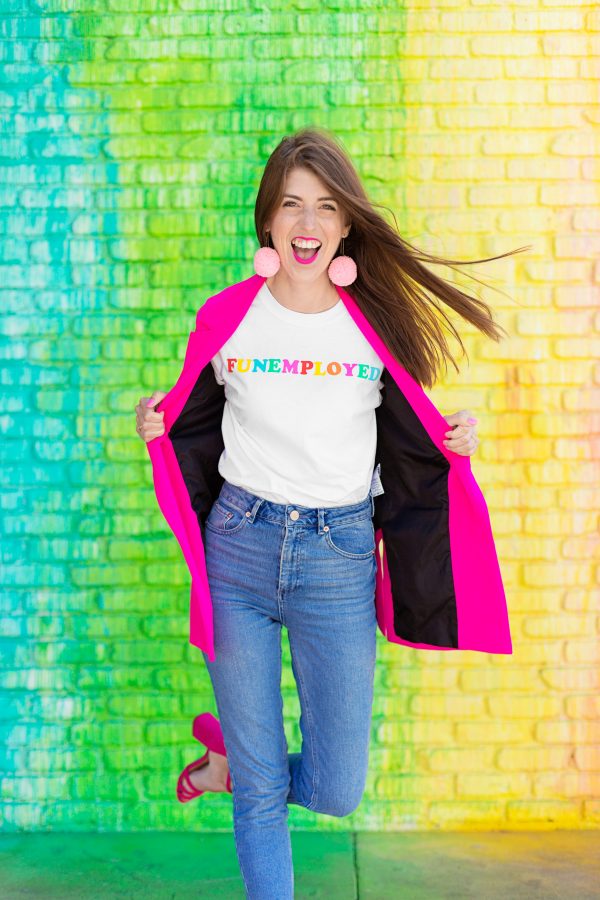 Ok, ok, the Funemployed tee!! I already told you the story behind this over on Instagram but I wasn't kidding that quantities are limited on our tees so if you want one, go grab it FAST!!!! Can't wait to see you ROCKIN' it!!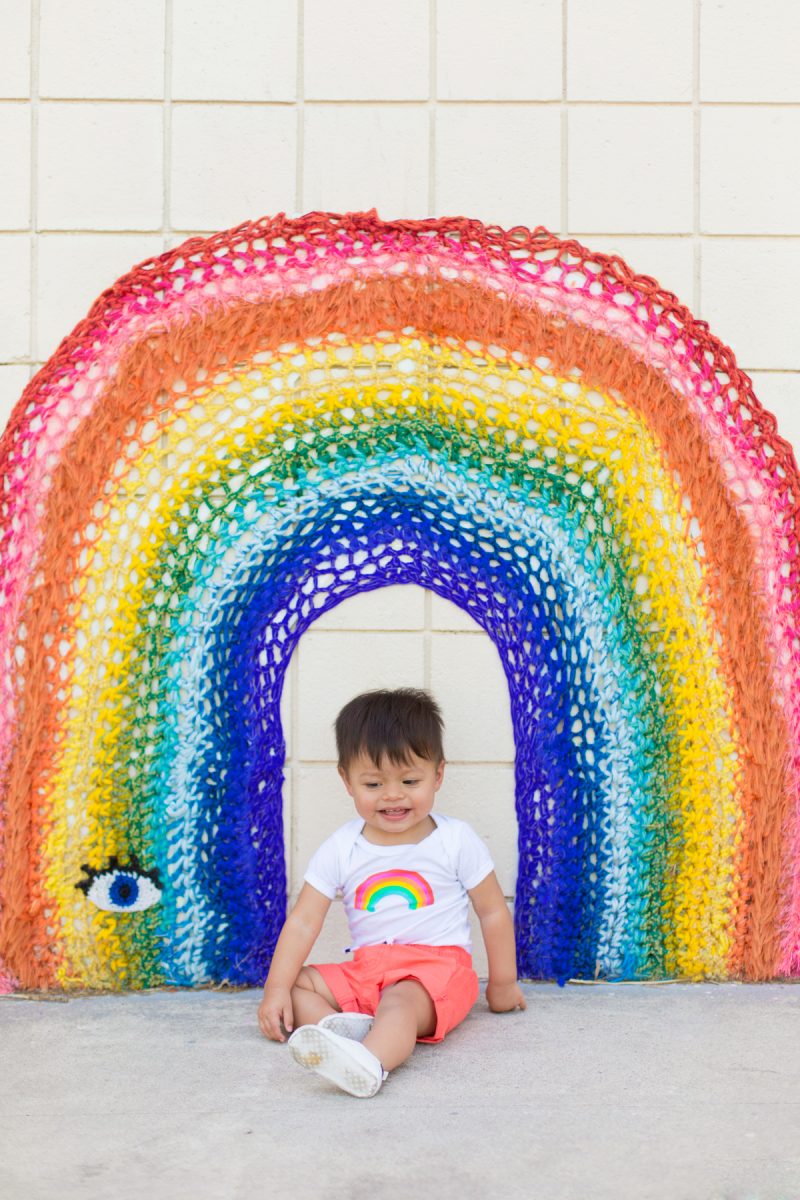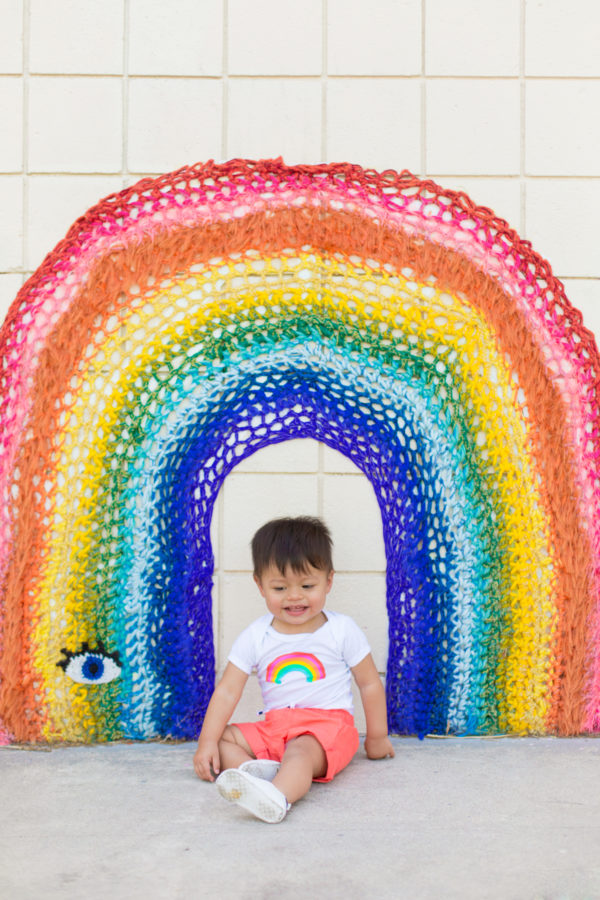 While we're talkin' tees, let's talk rainbow onesies! I'm not gonna get all mushy here but it means a lot to me. I know I just generally love rainbows, but since Arlo is our rainbow baby, they have extra meaning when it comes to our little man. I created this onesie for Arlo's birthday, inspired by his rainbow wall hanging in his room. And then immediately knew I had to make it available for all of you. It'll be so cute on any babe, but would be a really special gift for anyone you know who has a miracle rainbow babe.
(And yes, it matches the colors of the Funemployed tee because mommy and me matching couldn't be more fun!) You can grab the onesie here. And if your babe is a bit older and you want the toddler tee version, you can head here and hit "notify me" to be notified when it launches SOON! (Sorry for the delay on that you guys, we had a shipping issue. WAHHH!)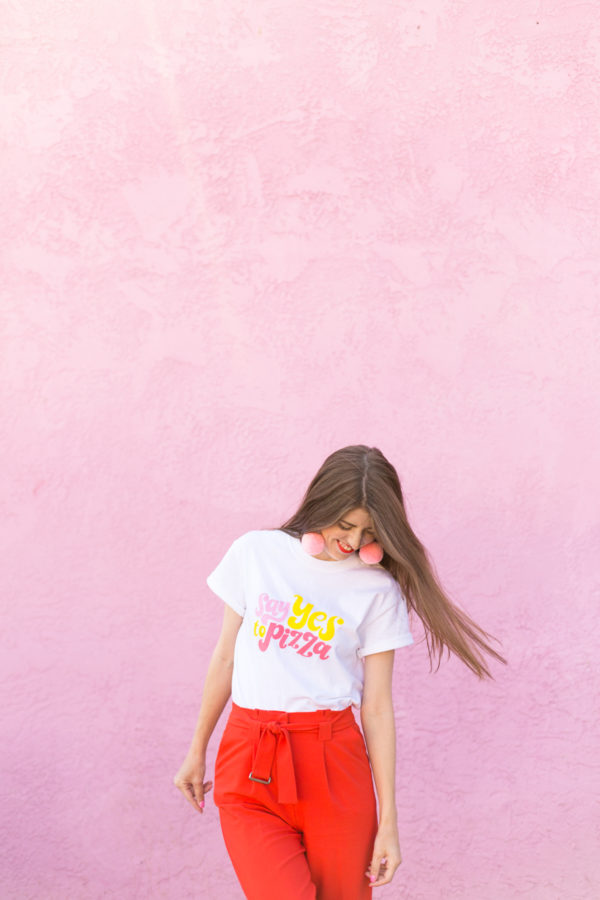 Pulled some inspo from our mantra for the second (exclusive!) tee in this collection, Say Yes To Pizza!!! Rainbows with a side of pizza seems like my current life motto so if you agree, head here to grab the pizza tee!!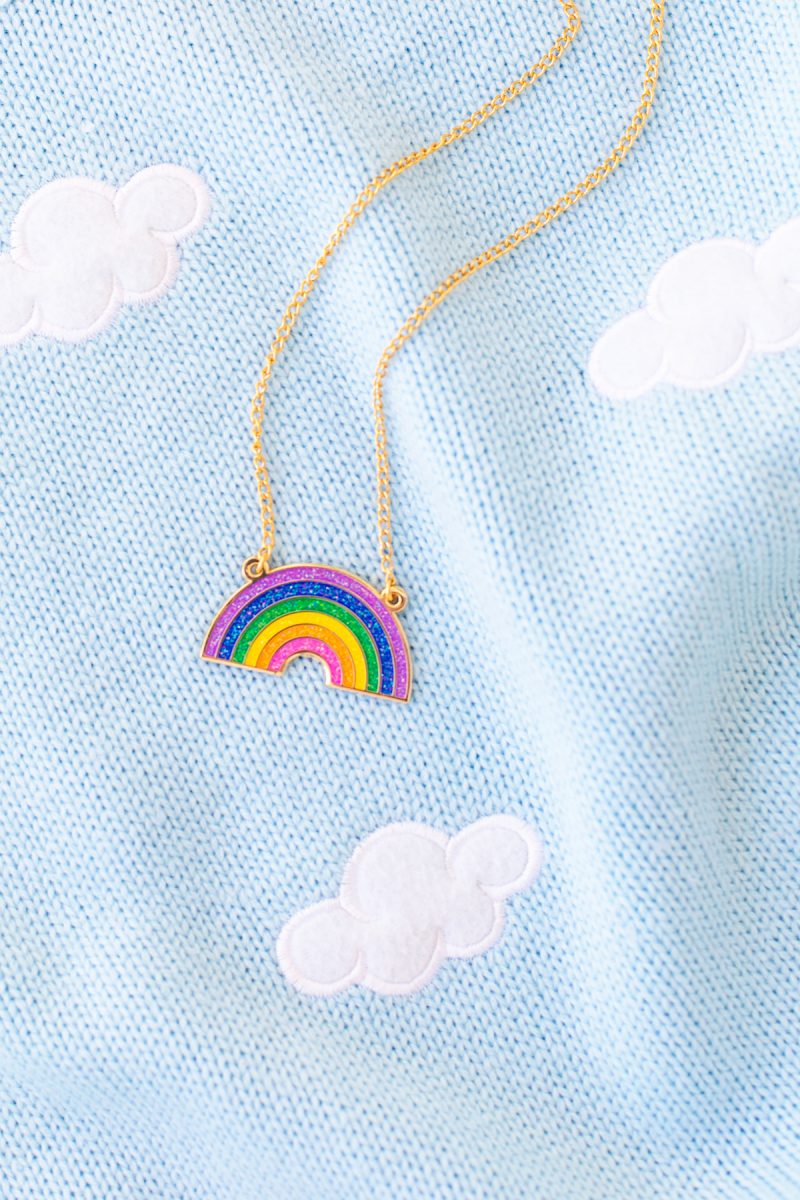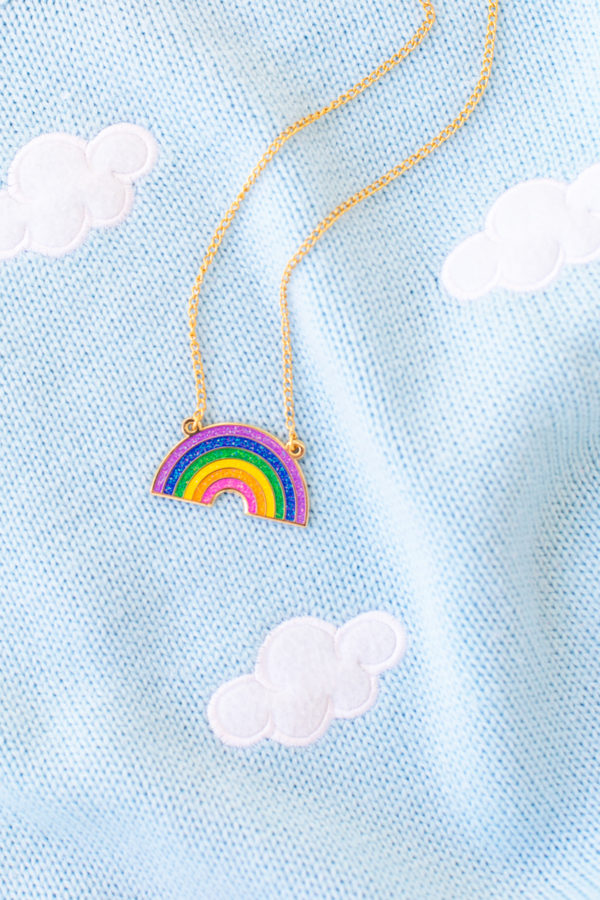 We got *lots* of requests for glitter, so I had to get this glitter rainbow necklace from my friend Martha of Buried Diamond for you!! It's so sparkly and a perfect length to wear with t-shirts and button downs, AKA my entire wardrobe.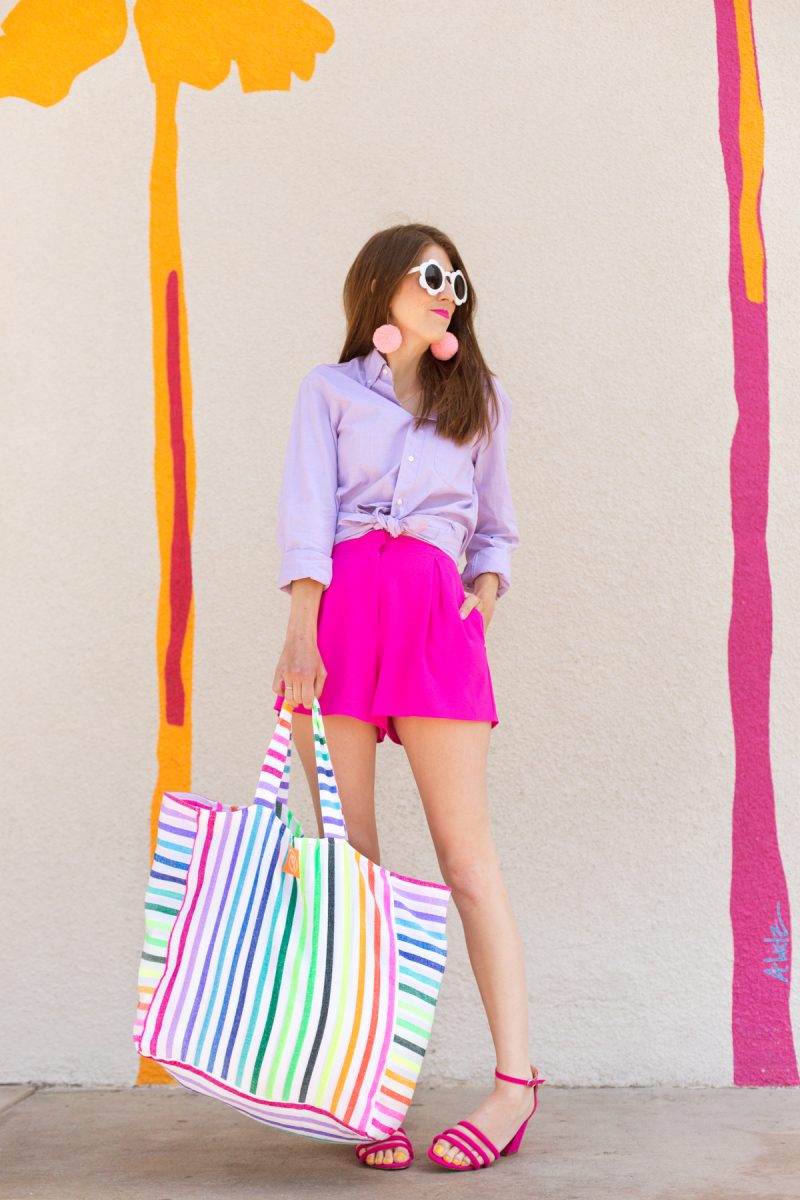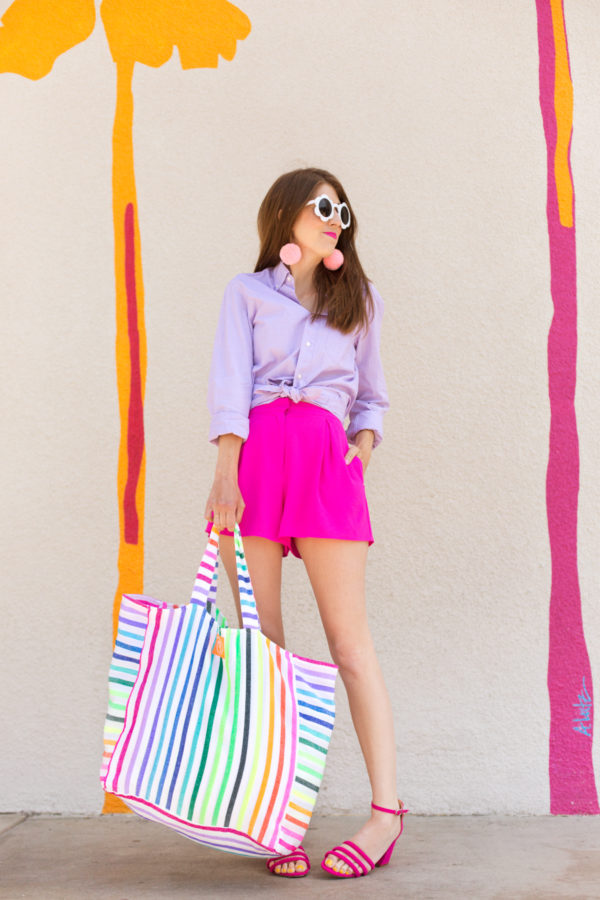 Finally! The rainbow bag is available HERE!! This bag is made by Las Bayadas in Mexico from recycled cotton and the quality is 10/10!!! It is great for everyone, but man if you are a MOM you NEED it. It's big and fits literally everything. I actually used this instead of a suitcase for our 48 hour Disney trip. It's also the perfect beach bag because it's big enough to fit your towel so you don't have to carry that separately, but it also folds down super small if you do need to store it in a suitcase as you jet to your destination!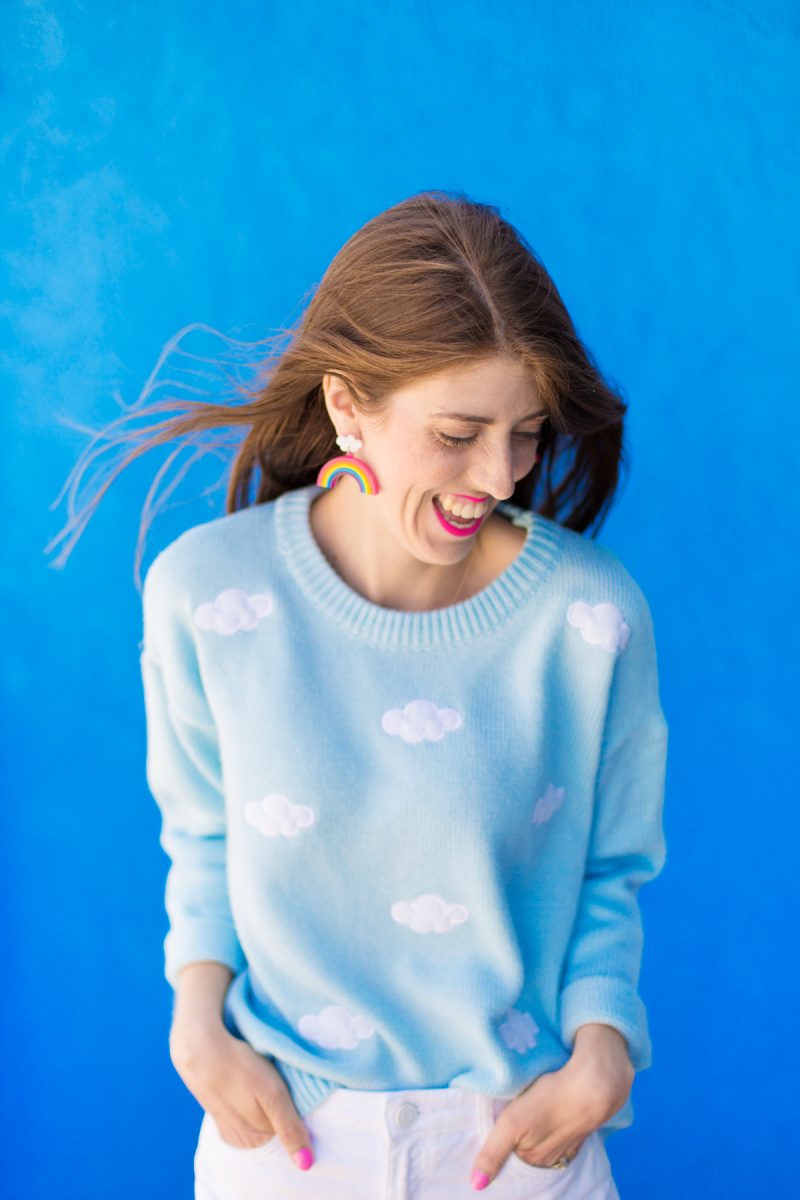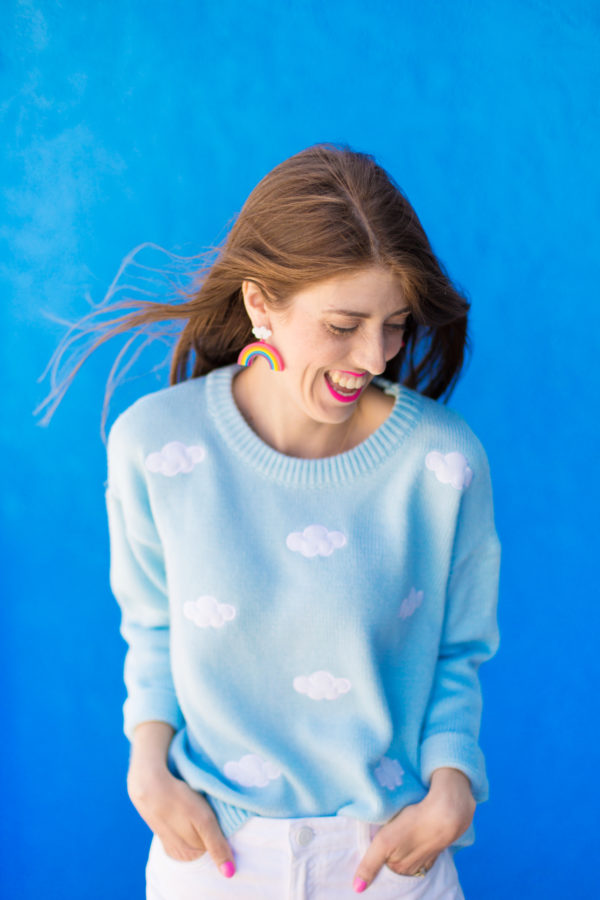 And last but certainly not least, these rainbow earrings. Oh man, THESE EARRINGS! They're handmade in England by Lorelai Lorelai and what I love most about them is how light they are because they are made of acrylic. I know lots of you have been eyeing 'em since you saw 'em on Instagram so head here to grab a pair!
And that's the new collection!!!! I hope you love it!! After you place your order (because I don't want you to miss something!!), come back and let me know what you grabbed below!!! Thank you, as always, for supporting this small little dream of mine. Excited for us to spread the happiness TOGETHER with this one!!!
SaveSave
SaveSave
SaveSaveSaveSaveSaveSaveSaveSave
SaveSave
SaveSave