Whether you're throwing an Earth Day bash or not, recycling (or should I say upcycling) something old into something new for your next celebration goes a long way in helping our planet… and making your event pretty too! After we all got inspired by Caine's Arcade yesterday, I've rounded up a few of my favorite uses for cardboard that was about to be tossed and can guarantee nobody will be thinking "trash" when they see these. No, no, no.. they'll be too busy buried in fun and confetti!
First up, party crafts for the adults and the kids! Cereal box piñatas, toilet paper roll confetti poppers and ornaments and saran wrap roll napkin rings!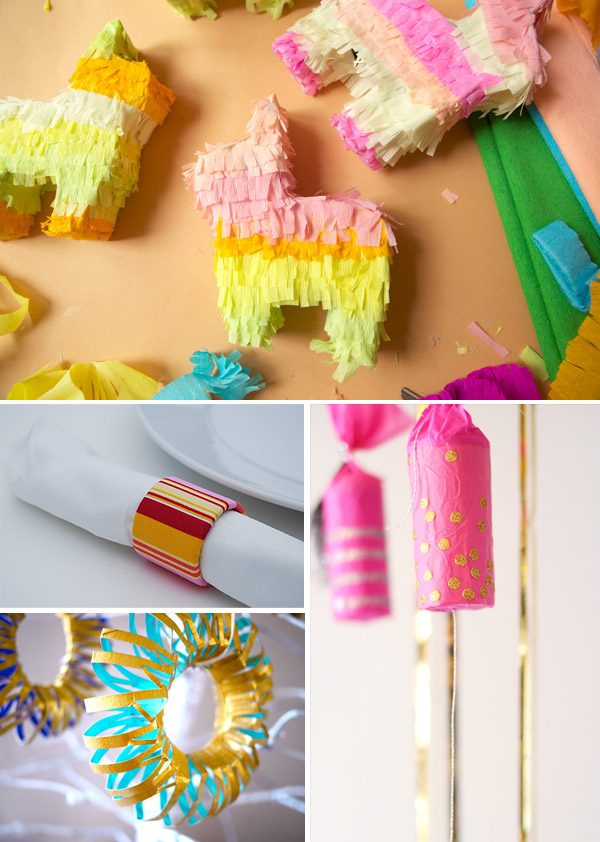 Clockwise from top: Cereal Box Mini Piñatas via Oh Happy Day, Toilet Paper Roll Confetti Poppers via Ruffled, Toilet Paper Roll Ornaments via Michele Made Me, Saran Wrap Tube Napkin Rings via Merriment Design
Now a little something just for the kiddos too. Party hats and crowns, a faux fire for a camping party and a cardboard box airplane… perfect for a kids photo booth! Tip from my very own childhood: At my birthday parties, my dad would take a picture of each party guest in a special outfit or setting and turn them into thank you postcards that I'd mail out post-birthday!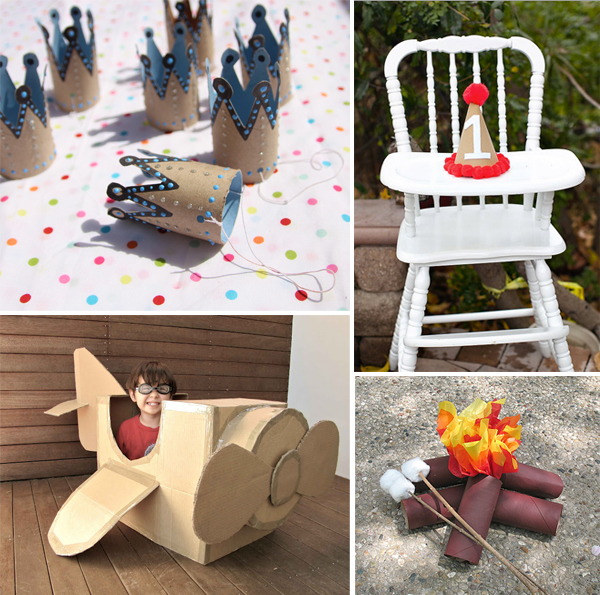 Clockwise from top left: Toilet Paper Tube Crowns via Creative Jewish Mom, Cardboard Party Hat (p.s. this entire party is made of cardboard!) Photo by Sean Walker via On To Baby, Cardboard Tube Campfire via Family Corner, Cardboard Box Airplane via Mini Mocha
Reduce, reuse, recycle, PARTY!
Looking for more DIY projects? Check out the Project Gallery and Free Printable Gallery!