Hello, hello! How was everyone's weekend? We ended up going strawberry picking and it was awesome. I want to live in the smell of those strawberry fields. But I'm not here to talk about strawberries, I'm here to talk about a safari party! Or a zoo party, if you'd rather call it that. Toy animals on the tables, pails filled with "animal food" (read: candy), zebra favor bags, and you're ready to go on an adventure!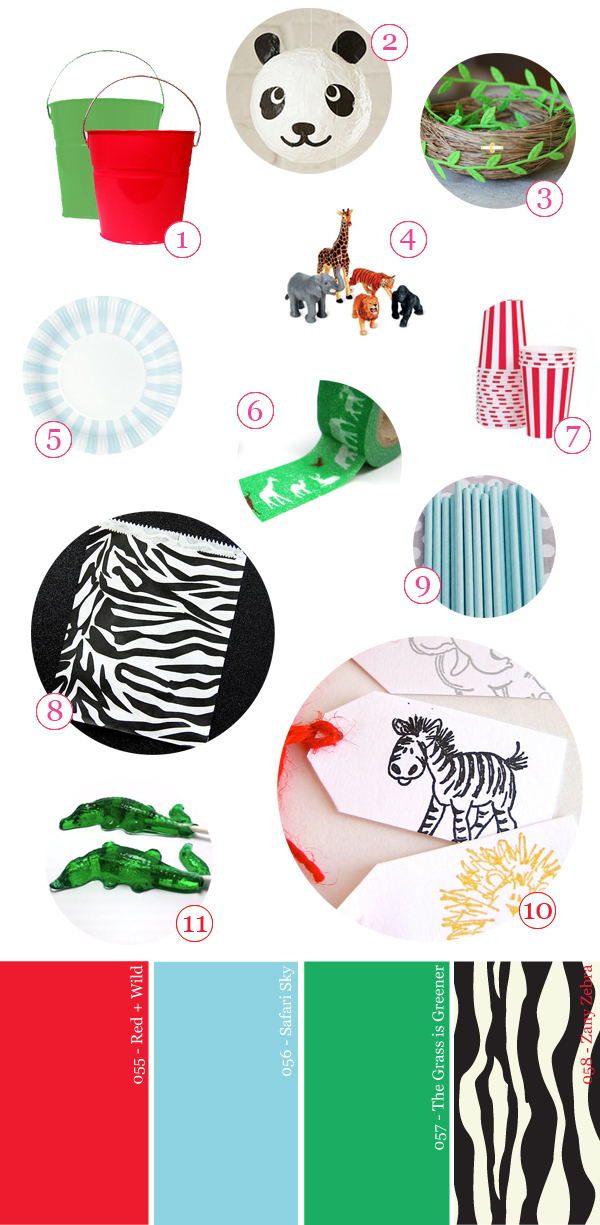 Red, Green + Zebra Safari Party Supply Guide
1. Red and Green Pails from Bucket Outlet
2. Japanese Paper Balloons from molly-meg
3. Green Leaf Garland from Caramelos
4. Jumbo Zoo Animals from Learning Resources

5. Blue Striped Paper Plates from Shop Sweet Lulu
6. Zoo Animal Tape from Chickydoddle
7. Red Striped Paper Cups from Shop Sweet Lulu
8. Zebra Gift Bags from Cupcake Social
9. Blue Paper Straws from Shop Sweet Lulu
10. Zoo Animal Gift Tags from Madge & Mabel
11. Alligator Lollipops from Candied Cake
Don't forget to check out the vendor guides for a full listing of handmade vendors and craft suppliers!