Hello, hello! We had a rainy weekend (again) in LA so I depended on putting this party supply guide together to brighten my mood! With color blocking being a big trend this year, and Tangerine Tango being the color, I'm positive this sorbet-inspired palette will be popping up everywhere over the next few months in party land! I see these colors pairing fantastically with graphic shapes and a pop of gold. Those gold mailers? I'd love to see them turned into menu holders, unique invitation "envelopes," or a party time capsule. And I couldn't resist those little orange baskets since Easter is right around the corner. But we'll get into that tomorrow. For now, we're talking SUMMER!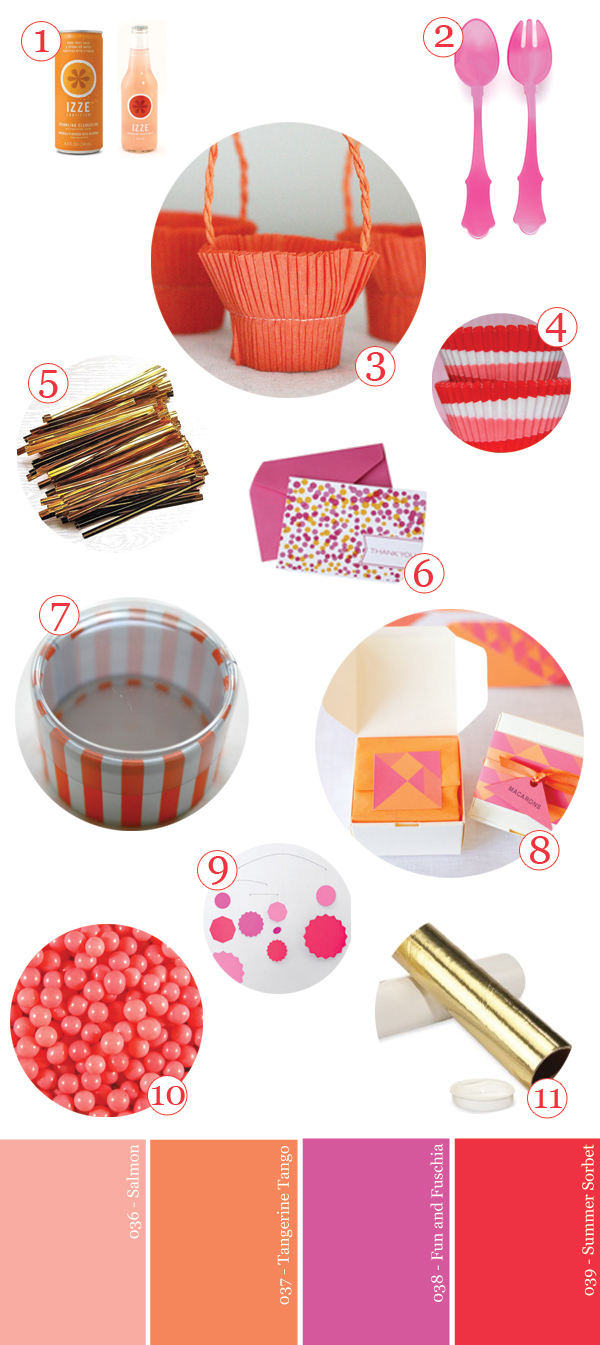 Say It With Sorbet Party Supply Guide
1. IZZE Grapefruit + Clementine from Beverages Direct
2. Fuchsia Serving Set from LEIF
3. Nut Cups from Caramelos
4. Swirl Baking Cups from Layer Cake Shop
5. Gold Twist Ties from Heyday Supplies
6. Dot Thank You Cards from Target
7. Orange Stripe Favor Boxes from In The Clear
8. Tangram Party Printables from Melangerie NYC
9. Mobile by Frazier & Wing
10. Pink Sugar Pearls from Layer Cake Shop
11. Gold Gift Mailers from The Container Store
Don't forget to check out the vendor guides for a full listing of handmade vendors and craft suppliers!