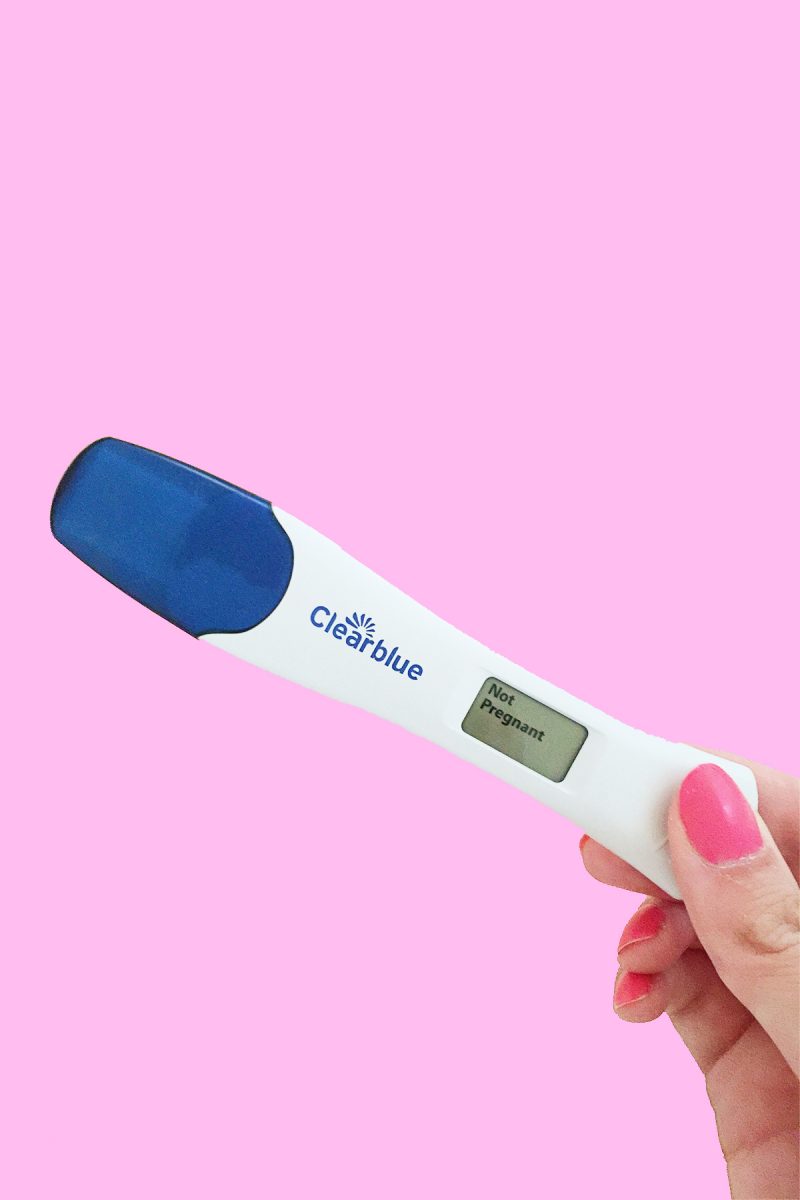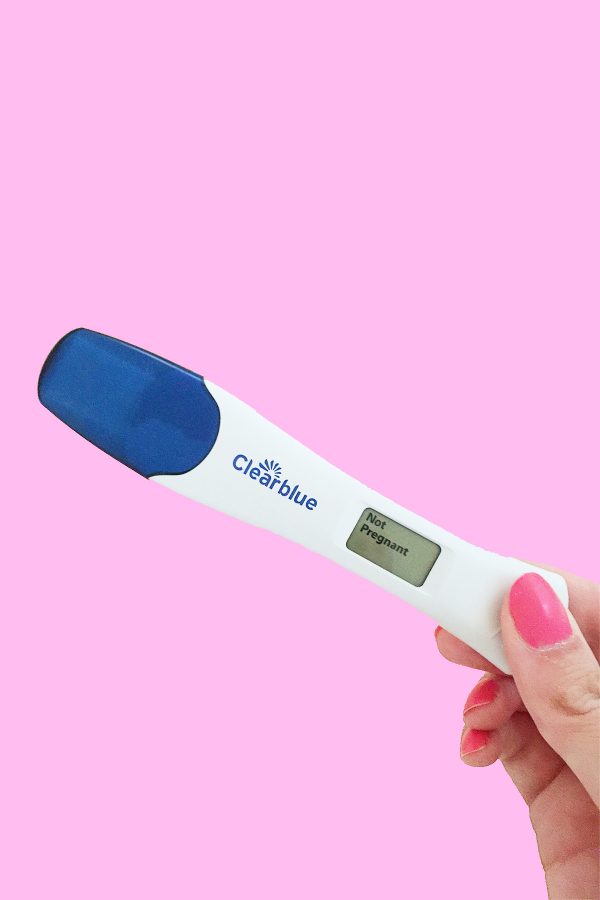 I've been taking photos of all our negative tests, so that if and when we get a positive one, we can look back and see how far we've come and how hard we've worked.
Hey-oooooo! Well, folks, there's still no baby in this belly. WHOMP WHOMP! It's been about three months since I talked about our fertility struggle and miscarriage and I thought it was time to share an update. One, because a lot of you have been kind enough to ask how we're doing. Two, because I find it really helpful and interesting to read about other people's journeys myself and perhaps you feel the same. And three, because I don't know about you, but I've been seeing near-daily pregnancy announcements and maybe some of you, or even just one of you, out there need to see that you're not the only one staring at a test that looks more like the one above instead. And that it's OK to be happy for them but sad for yourself, too. We're all in this together, right? You're not alone!
For those of you that just like the DIY content, just skip right along! haha This is gonna be a long one.
Since I wrote my last post, we've done one failed round of Letrozole (the drug I got pregnant on the first time) and three failed rounds of Clomid (the more common fertility drug).
After I didn't respond at all to the Letrozole, we had an unbelievably smooth first round of Clomid. I felt almost completely fine on it, unlike most people I've talked to. I cried basically around the clock though. Anything from a TV show to a dance video on YouTube to Jeff walking around the corner when I wasn't expecting it made me SOB… ha! But otherwise, my face just broke out a little and that was it.
All signs were pointing to positive results with our first round of Clomid and I'd say, as a result, this is the round where we most got our hopes up. But a few negative at-home tests and a blood test confirmed that it was a no-go. That was probably the hardest "no" we've gotten. C'est la vie!
After that first round, my emotions seemed to stabilize, which I'm sure Jeff was thankful for. 😉 We were right in the middle of our second round of Clomid when Jeff's grandma passed away, and I wasn't able to attend the funeral because we had to schedule an IUI for the same weekend. I also ended up seeing a cardiologist after our second round, as I was having some heart fluttering, but have been assured that all is ok for now. Basically, those few weeks just really sucked.
We finished our last "two week wait" period (the two weeks between when I ovulate and when I can take a pregnancy test) last week which, every time, has been absolute torture. Since we've now done four rounds of drugs, our doctors have decided that it's time to up the ante so… bring on the fertility shots! Of course, I have a pesky cyst lingering from the Clomid, so we are in a holding period right now. We can't start shots until it is gone!
The added layer of challenge as we jump into the next level of things is the doctors are pretty confident that I can not carry multiples (twins, triplets, etc.). Since my body doesn't properly absorb nutrients, it will be hard enough on me to carry one healthy baby. Of course, with fertility treatments, the risk of multiples is significantly higher. Like 20% high.
That means that we have to start the shots and treatment at a much slower pace than most people do. That's also why I was kept on such a low dose of Clomid. Is there still a risk? Yes, but we're trying to minimize it as much as possible. We're totally terrified but trying to remain positive!
But… it's been a really tough few months, if I'm being honest. Jeff is doing better than I am. I'm a very driven person and when I set my mind to something, I work my BUTT off to make it happen. So the fact that I can do everything in my power and still not get pregnant has been a lot to take in. Luckily we got good news yesterday after an HSG x-ray that both my fallopian tubes are OPEN are ready to rumble! HAHA! So at least there's that. (If they were blocked, IVF would be our only option.)
Am I rambling???????? Yes.
If it was up to me and me alone, I probably would have already moved on to the adoption process as it's really taxing for me to handle the rejection of more negative tests or the stress of more two-week waits. Luckily, I have a slightly more level headed husband who is reminding me that everything is worth trying once and of how rewarding this process has the potential to be. AND! Of the fact that I did get pregnant once, so it's not impossible.
That said, we have some heavy decisions to make in the coming months. Our insurance doesn't cover infertility so every appointment we have is completely out of pocket. Yowza. I'd say so far we've spent about $7,000. Each round of shots will cost upwards of $1,000 and IVF, should we need/choose to pursue it (we still aren't sure we will), is about $15-20k a pop. And remember how I can't have multiples? Now, doesn't all that sound FUN!?
Since I'm the kind of person that needs to be doing everything I can, I've started some initial research into the adoption process and am anxious to start talking to some friends and contacts I have who have been through it. As the days go by, I get more and more excited about the prospect of adoption. Even if I do get pregnant this time, there's a good chance we will still adopt in the future. And we truly look forward to giving a child (or children!) a loving, good home if and when that day comes.
I know compared to a lot of people fighting this fight, we're still newbies, but here's what I've learned so far…
1. Sometimes people just don't know what to say. Here are a few things that aren't helpful:
"If you just stop thinking about it, you'll get pregnant." I liken this to telling someone "If you just stop eating, you'll lose weight." It's a NO DUH kind of solution but also a completely impractical and impossible one.
"You're so young, you have time." This one, I understand the reasoning behind. We are very lucky that we have time on our side, and we're the youngest of everyone I see at the fertility doctor, but it doesn't make the rejection and stress much easier. Plus we're watching our equally-young peers pop out babies like damn pez dispensers.
"Be patient." LOL for obvious reasons, this makes me want to bang my head into a wall repeatedly.
A simple "we're thinking about you" or "we're sending baby vibes" is a good way to go. =)
2. Patience is something I need to work on. To completely contradict the above, I am aware that I need to work on my patience levels. I don't, however, like when anyone else tells me that! #stubborn
3. It really does help to talk about it. I've been very glad that I've shared openly about the miscarriage and this fertility insanity. It's been nice to have a support system, have people asking us how we're doing and to just not be hiding it or ashamed of it. It's NOTHING to be ashamed of!
4. Fertility forums are the devil. I fall down a rabbit hole of googling every "symptom" I think I have which is a slippery slope. On those forums, you can basically convince yourself you're pregnant or you'll never be pregnant all in one thread. It's bad news.
And that's where we're at. TMI much!? Haha! You guys asked for more personal posts so be careful what you wish for!!!! 😉 If any of you are going through something similar, I'm sending you love and hugs and SO many baby vibes. Thanks for letting me share my experience with you! Fingers crossed for some better news SOON!
Dose of reality, over and OUT!