It's finally October!!!! To all you "I won't think about Halloween until October" readers out there, welcome. You can catch up on the Halloweenery you missed here. Today I'm sharing the supply guide to match the spooky meets sprinkles palette from Friday. Drinks disguised as potions, decor masquerading as shadows, and orange sneaking in here and there. Now, be sure to come back later and VOTE so you can help plan a real life Halloween party! Up first will be the theme selection, and I'm really gonna need some decisive minds on that one! Catch ya in a bit!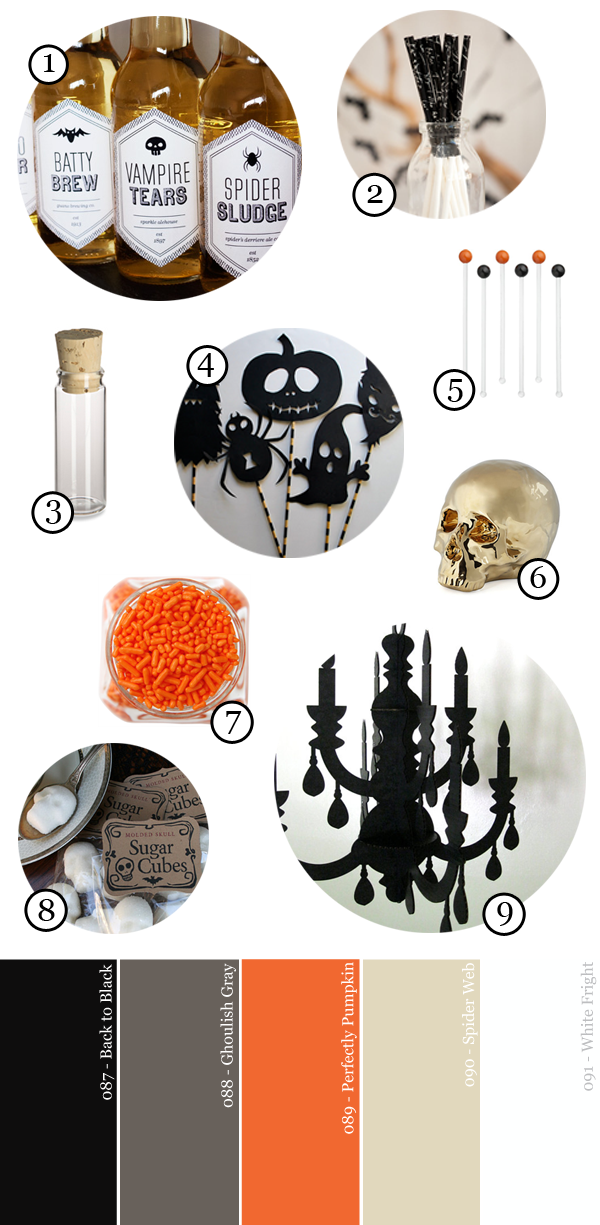 A Sprinkle of Spook, A Dash of Darkness Party Supply Guide
1. Printable Halloween Beverage Labels from k.becca
2. Halloween Treat Sticks from The Papered Nest
3. Glass Vials from Specialty Bottle
4. Shadow Puppets from Chez Beeper Bebe
5. Halloween Stir Sticks from Crate & Barrel
6. Gold Skull from Z Gallerie
7. Orange Sprinkles from Layer Cake Shop
8. Skull Sugar Cubes from Dem Bones
9. Black Cardboard Chandelier from Seequin
Planning on another party palette? Check out more party supply guides here!