Starting Monday it's going to get pretty Irish around here! I just love St. Patrick's Day (Ha, surprise, surprise, right!?). Since I'll be throwing a new project at you every day for two weeks, I wanted to make sure you were prepared! Armed and ready to get your lucky craft on. Starting with St. Patty's (Paddy's? What do you say?) and continuing with every big celebration here on out, I'll be sharing my ideal Holiday Tool Kit with you. This will include a bunch of items that you'll be seeing in upcoming projects, so you can get yourselves ready, and maybe try to take a guess at what's to come!? I'm pretty excited about this holiday, so let's get shopping!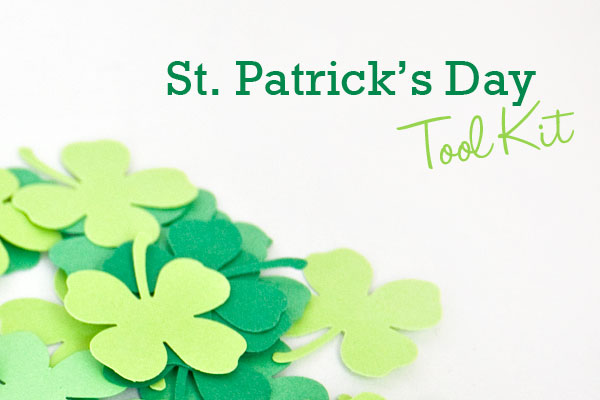 1. A Clover Punch: Paper punches make the easiest confetti and little embellishments for party tables. This guy will also be staring in a cake project!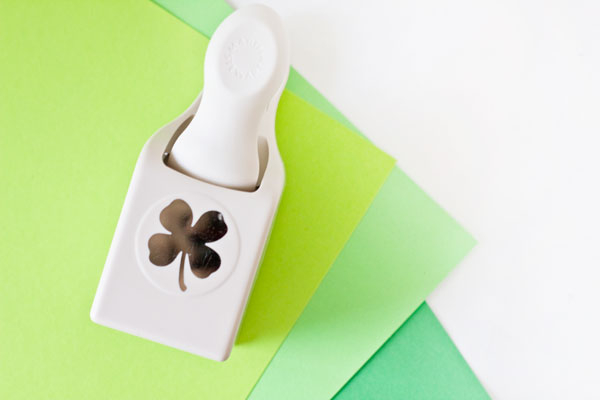 Buy It: I love my Martha Stewart 4 Leaf Clover Punch. You can buy this and similar ones at your local craft store too.
2. Rainbow Rock Candy: Because rock candy is the bomb dot com. Can it be any prettier!? If you don't use it for the DIY I have in mind, you can certainly use it for a candy bar, or just for an after school surprise for the kiddos on March 17th!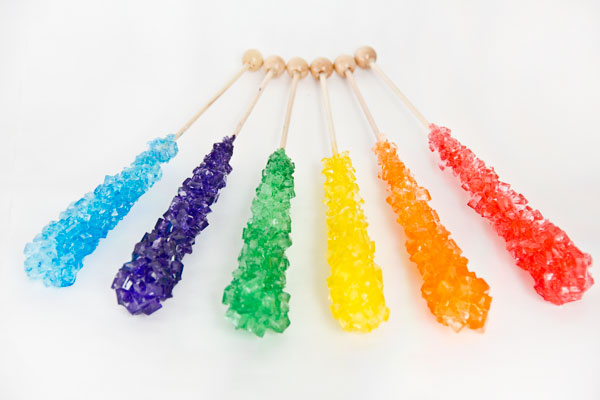 Buy It: World Market sells rock candy, so I'd check there if you have one around. Otherwise, search out a candy store! I got these at Dylan's Candy Bar (Edible prop heaven!).
3. Magnifying Glasses: Say what!? I know, you're probably curious about this one but it's a secret! Just know that you are definitely going to want these for what might be my favorite upcoming St. Patty's craft.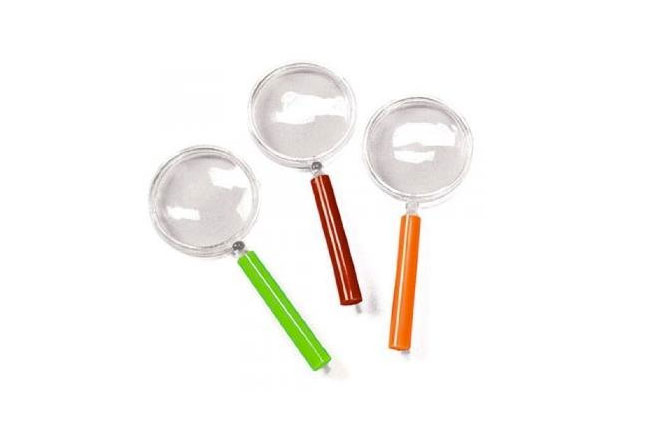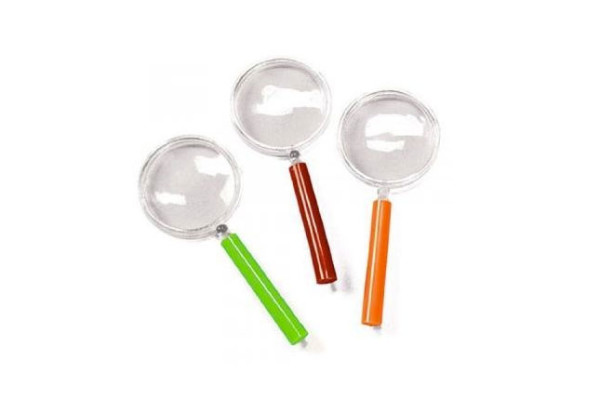 Buy It: You can buy these plastic magnifying glasses here
(They come by the dozen!) or check a local party store or perhaps Target if you want to shop locally.
4. Rainbow Tissue Paper: Per usual, I'm using a ton of tissue paper in my crafting! Shocker! You'll get a preview of one of the projects if you check in the sidebar tomorrow, but that's not all I have in store for this tool kit essential!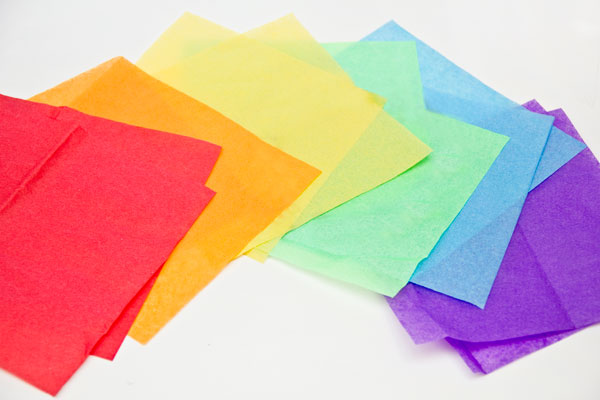 Buy It: I typically buy packs of multicolor tissue at Michaels or just at my local party store or drugstore.
5. Green Crepe Paper: If you've been following along for awhile now, you probably have a good idea of what the crepe paper is for, so stock up! Streamers are the easiest to find, but I recommend buying crepe paper rolls or folds if you can swing it. It will come in handy!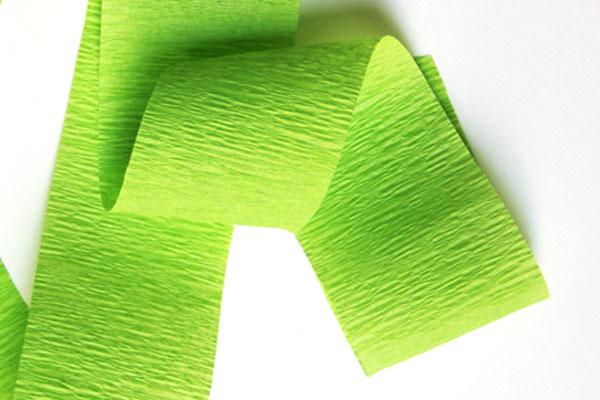 Buy It: You can buy streamers at any local party store and at Target. To buy crepe paper folds, if your party store doesn't have it, I recommend Paper Mart or Cartefini.
6. A Plain White Frosted Cake: I have not one but two cake topper ideas comin' at ya in the next two weeks. I think they both look smashing on a white frosted cake, but that doesn't mean you can't rainbow-i-fy it underneath! Or perhaps some green? Man, I love cake.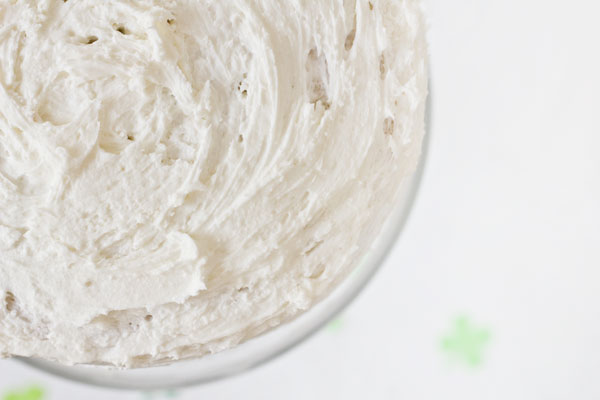 Buy It/Make It: No instructions for this really! Bake up a cake or source at a simple frosted one at your favorite bakery!
7. Shamrock String Lights: Alright, we totally aren't crafting with these but they can be found at the Target Dollar Spot so you just need to pick up a few strands. Aren't they so cute!? You may see them popping up as prop-age around these parts quite soon.
Buy It: Target Dollar Spot, aisle of champions.
8. Gold Mylar: Ahh, be still my gold loving heart. Can there be any better way to better represent those pots of gold at the end of the rainbow than with gold mylar!? I think not.
Buy It: I prefer buying mylar in rolls so I avoid all the nasty folds it comes with otherwise. My favorite color gold I've found so far is from Paper Mart!
9. Rainbow Baker's Twine: Baker's Twine is good to have whether you're crafting for St. Patty's or not. I use it for everything, hanging piñatas, packaging gifts, stringing garlands. Hop to it!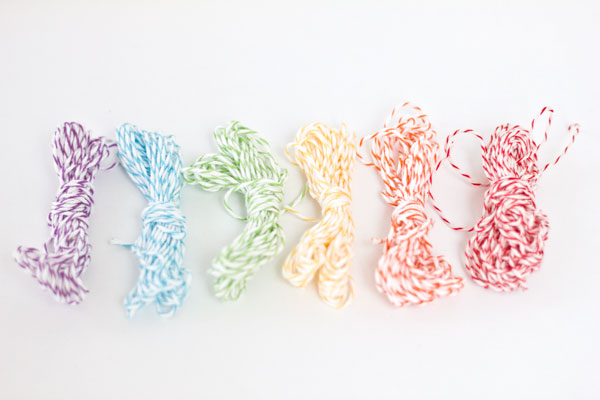 Buy It: It seems you can buy baker's twine everywhere nowadays! If you don't need mass amounts of twine in all the colors, you can get some great sampler packs from The Twinery.
10. Green Balloons: We got crazy with pink balloons for Valentine's Day. How about we see what we can make of green ones this go around!?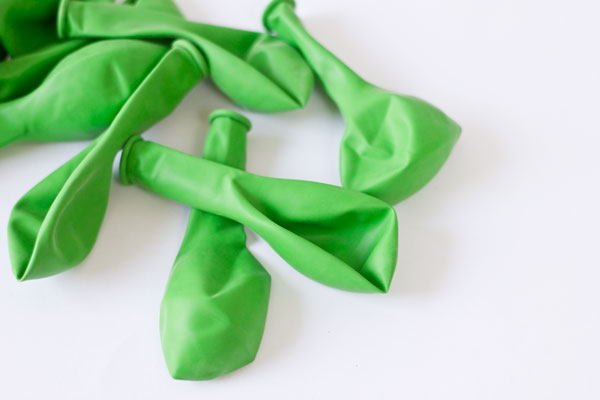 Buy It: I bought these at The 99cent Store (20 9″ balloons for $1! Bam!) You can of course find them at Target and the party store too, but I'd check your dollar store first!
And there you have it! 10 St. Patty's crafting essentials! Do you have any to add? Let me know below!
If you can't wait until next week to get started, check out a few of last year's St. Patricks Day projects!