Thank you SO much to everyone who participated in this year's reader survey! Ya rockstars!! It is SO helpful to hear your thoughts. I've done a little round-up of them here, along with some answers to the various questions and suggestions you shared! (And the giveaway winner is announced over on the original post here.)
What was your favorite in 2014 + what do you want to see on Studio DIY in 2015?

Once again, balloons won your heart!! And as far as new content, you guys were totally split and interested in seemingly all the items I listed for new content next year! With personal posts and product round-ups tying for the favorite. I'm excited about that and I can't wait to get to work on sharing some broader content topics this year! As far as personal posts go, I'm still working on a way to make these fit with the rest of the content on Studio DIY… now that I don't have a wedding to talk about and all…
And for those of you in SoCal, I asked your opinion on workshops. You guys were equally as split there with calligraphy topping the list by just 1%! Excited to get to work on these too. If you haven't subscribed to the local event newsletter list yet, please do so on this post.
Newsletter? Videos?

Looks like both of those are a yes!! If you haven't subscribed to the future newsletter list yet, please do so on this post.
What should the next "It" item be on Studio DIY?
I loved reading your answers to that question! Here's some of the ideas you all had…
Click through for the rest of the results + my answers to a lot of your questions!
Improvements
In this section I asked you to tell me where I could improve. Here's what you said!
Studio DIY "It" Items: Predictable or Awesome?
If there's one thing this survey told me, it's that you guys are an opinionated bunch! Which I LOVE because I am pretty darn opinionated too. Some of you LOVE that I post donut after donut project and some of you would really be ok with not seeing any more donuts ever. (Say what!?) Here is my solution: I am making a conscious effort to diversify the "it" products that I become obsessed with and post about always. I can tell you now that donut and other themed projects will likely never go away because they are a big part of the brand I've built, but in 2015 they will be more selectively chosen and placed. And for those of you disappointed by that news, I will continue to do "Donut Week" every June leading up to National Donut Day!
"Practical" DIYs
The word "practical" came up in many of your comments about what to improve. And I TOTALLY get that! You mean, you don't want to make a 3 foot taco piñata to hang in your house? Weird. 😉 This is an area in which I struggle. The brand I've built here is all about living life large, bold and out-there, but at the same time… most of us live real life and often don't have room or time for some of the more outlandish ideas I post. I'm excited to bring the Studio DIY style more down to earth this year in some posts. And I would love to know, from those of you who asked for more practical projects… was there anything in particular you had in mind?
Wider Variety of Posts
I was glad to hear that a lot of you were itching to see a wider variety of content, including beauty, fashion and personal posts. The personal posts are where I am still struggling to find a balance. This was far and away what was most asked for, and in the personal posts I have posted, they are some of the most commented on! Here are my thoughts: I loved sharing our wedding planning and some more personal thoughts with you in 2014. I haven't decided how, outside of the wedding, personal posts would fit in here but I am searching for a solution. At the same time, as we start to grow our family, I am undecided about how much I will share about our kids' life so that is something I am seriously considering before setting a precedent for the future here.
Home Decor
You may have noticed that I left "home decor" DIYs out of my list of areas to expand to. But, a lot of you requested it. Here's the short of it: I never see myself as a furniture builder, remodel-er or wall painter. In the future as we decorate nurseries, buy a home, etc. I am sure those topics will creep in and be discussed, but I never see this blog as being home-focused as I think there are plenty of AWESOME home blogs out there that do that industry more justice than I ever could. At the same time, small home DIYs like pillows and tableware are totally fair game.
Show Us Some New Skills
Some of you want to see some new skills showcased here! I love that! Let's all learn together! Can you tell me what you'd like to see? How do we feel about sewing?
Reader Project Gallery
Several of you want to see the Studio DIY projects other readers make! I do have a reader gallery on the site right now, but it hasn't been functioning properly and hasn't been updated in some time. In 2015 I'm hoping to link up the #troopstudiodiy Instagram feed so it auto-updates. If you've made a project, be sure to use the hashtag so we can all see it!
International Readers
I love having a large international following. HELLO WORLD! Several of you asked for the content to be more conscious to that fact, or that I cover some holidays that are celebrated in other places besides the US. I would LOVE to do that. But I need help… International followers, what holidays do you celebrate that you'd love to see projects or ideas for on Studio DIY?
Ask/Tell Me Anything
Here was your chance to ask/tell me anything on your mind! I couldn't answer every question, but here goes!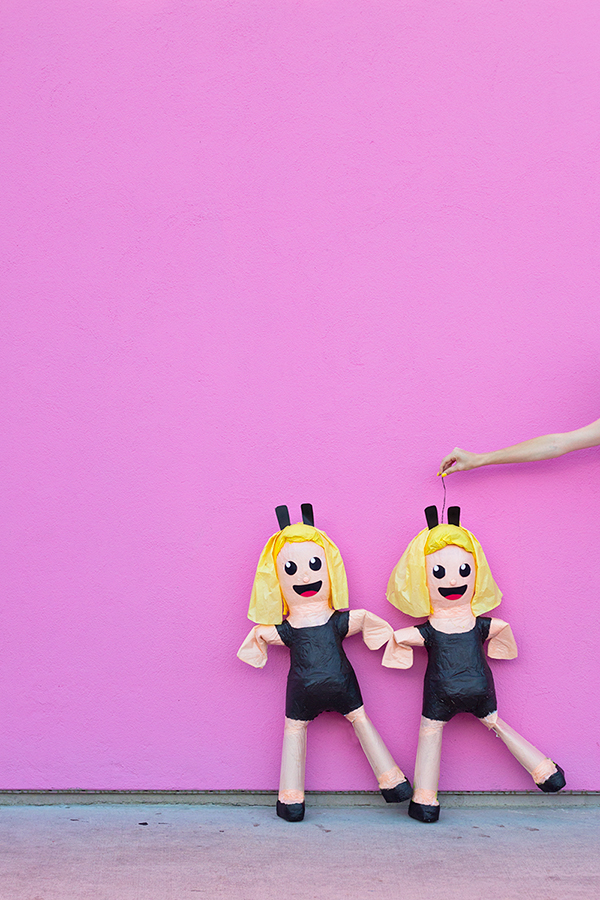 DIY Dancing Girls Emoji Piñata
How do you beat blogger burnout?
Burnout, of any kind, is ROUGH. And I've gone through it often in the last year. And frankly, right now I'm suffering from it. I wish I had a quick solution but I don't. Sometimes I just ride it out until I find something that sparks a new idea (maybe it's an upcoming holiday or new product I come across) and sometimes I sit down and try to do a major brainstorm of words, themes or other things that might spark an idea.
Can I buy Emoji Balloons (+ other things) from you?
I can't tell you how many requests I get to buy the Emoji Balloons, and several other projects from the site. I'm glad you all are excited about some of the items and 100% understand that for specialty items like that, you'd prefer to buy vs. make. At the moment though, I am not making custom orders or selling any of my DIY projects. However, I definitely have products on the brain. =) Stay tuned!
Any tips for bloggers about working with sponsors?
Getting started working with sponsors is tough! I found social media to be a great help. Reaching out via social media (Twitter or Instagram are my go-tos) and asking for an email contact is a great way to get in touch. But don't be pushy. If they don't respond, let it be. Balloon Time and I first connected over Twitter! Just be sure the sponsors you work with fit with your brand, are products you actually like, and that they are willing to compensate you appropriately. Having an audience is very valuable to a brand, and don't let them (or anyone else) convince you otherwise!
How do you "do it all" + stay organized?
I don't. Plain and simple. I don't sleep much and my apartment and studio look like a bomb hit it most days. This year I'm excited to be bringing on an Operations Manager to help with the organizational and administrative aspects of the business so I can be less of a maniac always. The biggest lesson I've had to learn in business is know what you aren't good at and HIRE IT OUT!
I loved your wedding./When are you sharing more?/How much did it cost?/Where are those cutting board chargers from!?
First of all thank you! So glad you are all so stoked on the wedding!! I don't know when I will share more but know that I'll share what I can as soon as I can, so stay tuned! My wedding budget is one thing I'm not comfortable disclosing since it was not my money to discuss and since, frankly, I'm a little embarrassed by how much we spent. And those chargers you all love…. we partnered with Wayfair on those and you can find them here. I'm excited to work with Wayfair this year to share more about them and some other fun things too!
Can we work together/can I guest blog/contribute for you?
At this time, I am not accepting guest bloggers or contributors for the site. However, I am always looking for artists or illustrators to work with on various projects, so you are welcome to email me at [email protected] if you are an artist and think your style would fit with the Studio DIY brand!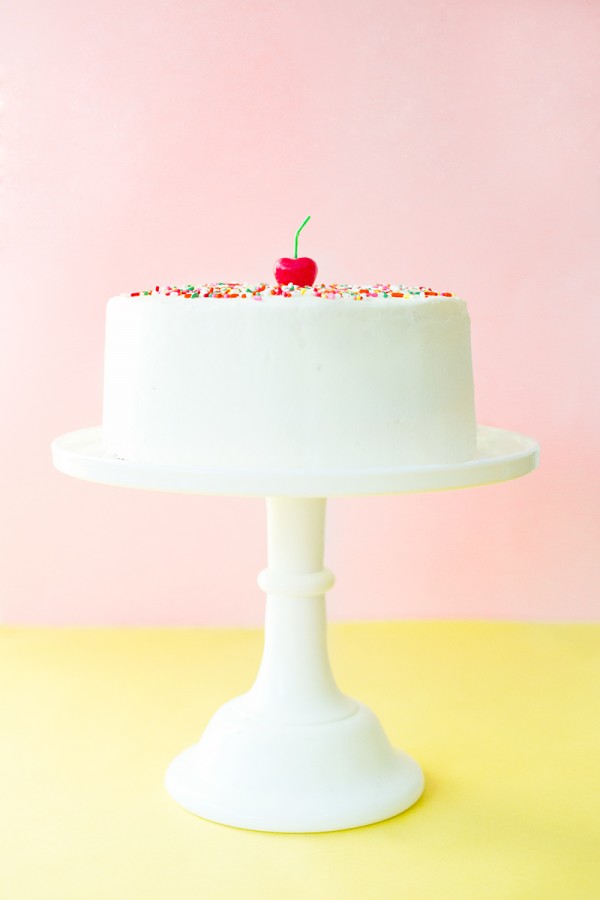 How to Frost the Best Birthday Cake Ever
Is Jeff a full-time photographer?
No, not yet! Jeff has a day job but his end goal is to be a full-time photographer. Wanna work with him? You can reach out to him via his website here. #shamelessplug
Do you ever feel strange about seeing people copy/use your work as inspiration?
This has been a weird topic to handle. I put my ideas out there to inspire other people, of course! But this year, when others have taken my ideas and begun making money off of them… that's been a little bit of a tough pill to swallow. But! Barring anything really obscene, I'm trying to let go of the copycats this year and not focus on them!
Do you ever just have no idea what you are going to post for the day? If so, what do you do?
YEP! More often than I care to admit, actually. I used to rush a post together or publish something I wasn't 100% happy with, but now I will just skip the day or post my weekend post early and cut out for the week. I'm at the point where I'd rather not post than post something I don't love 100%.
Do you come up with your project ideas yourself?
Sure do! While I work with people who help me execute the ideas, I come up with about 99% of them. For printables, I come up with a concept or wording I want incorporated and let the illustrators bring it to life in their own way. On topics like beauty, I help dictate the direction I want the post to go and let the experts share their ideas that fall under that direction!
When are you having babies? Can you have babies due to your medical history? How did you know you were ready for kids?
Lots of baby questions. Yay babies! I touched on it a few times, but the answer is as soon as the stork wants to deliver us some! 😉 A few of you asked about pregnancy and my medical history. All my doctors have said they saw no reason why I couldn't have children, but there's also very little information on a case like mine so it's kind of a "we'll see what happens" situation. If and when I'm lucky enough to know what will happen, I'm sure I'll discuss it here. =) And to the last question, Jeff and I have always wanted kids. I think from the first week I met him I ensured he wanted kids because it was non-negotiable for me. We knew we wanted to be married and self-sufficient, income-wise, before starting a family, which we are. We also knew we wanted to be young parents. I don't think we'll ever feel 100% "ready" but I see it kind of as we'll just figure it out once it happens.
Have you considered translating your blog into other languages?
I think that would be AWESOME as I have a large Spanish-speaking audience especially, but due to the logistics of it, I won't be able to do so anytime soon. Someday though!
What is your religion?
I was raised Presbyterian. Jeff was raised Armenian Apostolic. His Dad is Jewish, hence the last name. So we're a little melting pot of a family over here! We are not currently active members of any church.
Can you host more events in my city/country?
I wish I could! Mexico, Australia, Malaysia, NYC… you guys ROCK! Sounds like a great life to me, jetting to all those places. Just let it be known, that if the opportunity to travel to any place and host a workshop or event presents itself, I'll be JUMPING on it, and you'll be the first to know!
Where do you see yourself in 5 years?
In 5 years, I see Studio DIY as being a brand bigger than just the blog. I hope to expand it into an overarching lifestyle brand and share the colorful and playful style in many, many ways including through editorial content like you see now and through products, among other things! I see having a large team making it all happen. And I see a couple of kids thrown in there too. =)
And there you have it! It's gonna be a good year thanks to you guys!!!!!