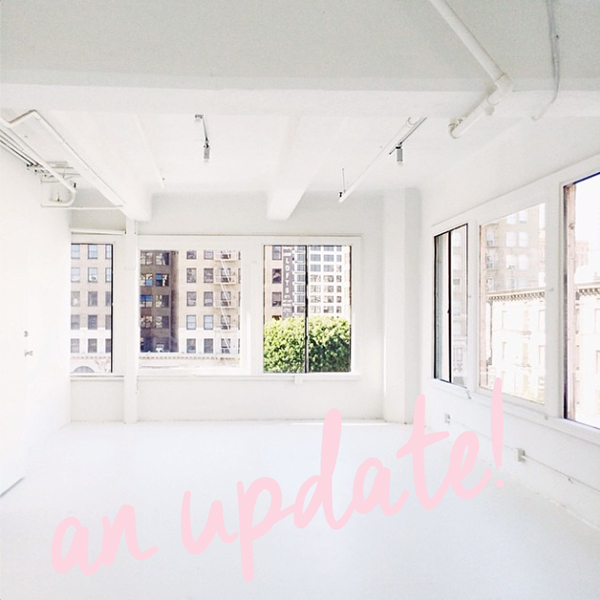 Remember that time I announced I had leased a studio space and then I virtually stopped talking about it here!? Well, it turns out… furnishing a nearly 900 sq. ft space is tougher than one (ehm, I) might think! I've had the space for a few months now and it still largely looks the same other than the addition of WHITE floors! YAY! But everything is finally coming together this month and I'm starting to get REALLY excited about it! So, I thought I'd do a little (dance) update on some pieces I have my eye on… and some dream pieces too. Because, ya know, this girl likes to dream!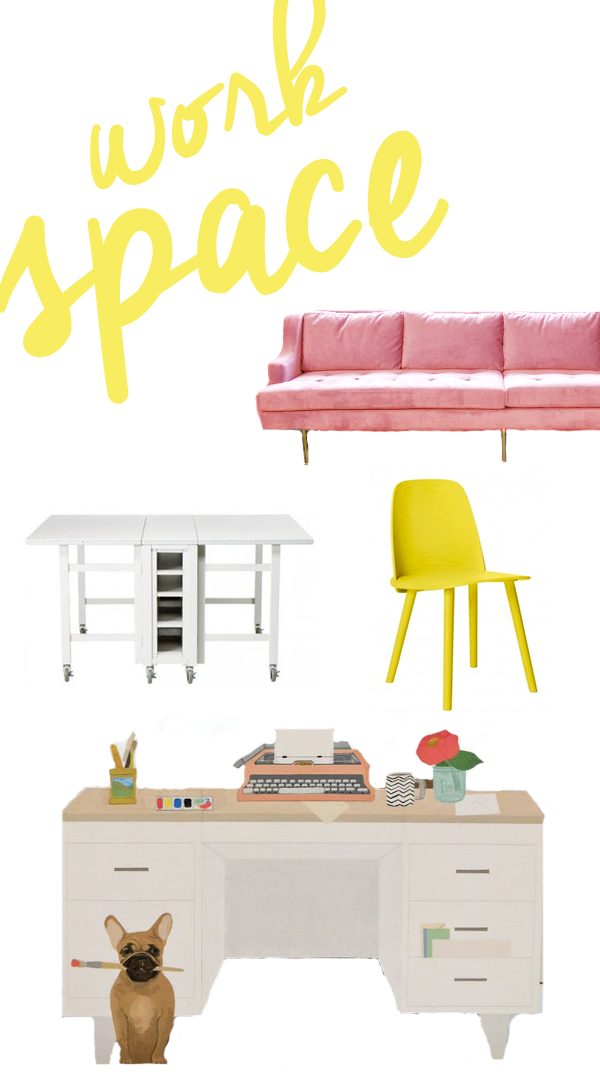 Custom Sofa from Viesso (Color manipulated by moi! Stay tuned!), Collapsible Craft Table from Martha Stewart Living Craft Space, Chair from Viesso, Desk Facade designed by Dear Hancock
The studio will serve two main purposes.. a work/photography space and an event space. The work space needs to be functional, but easy to change and move around, so the work tables will be collapsible and on casters. Of course, we'll need to balance out the work with some donut snacking on a…. wait for it… pink couch!!!! On the other side, the event space needs to fit a typical workshop size which is about 10-20 people… so I'm hoping to get my paint on to make some stackable chairs the colors of my dreams! Oh, and that hot pink gem speaker is necessary for spontaneous workshop dance parties… you've been warned.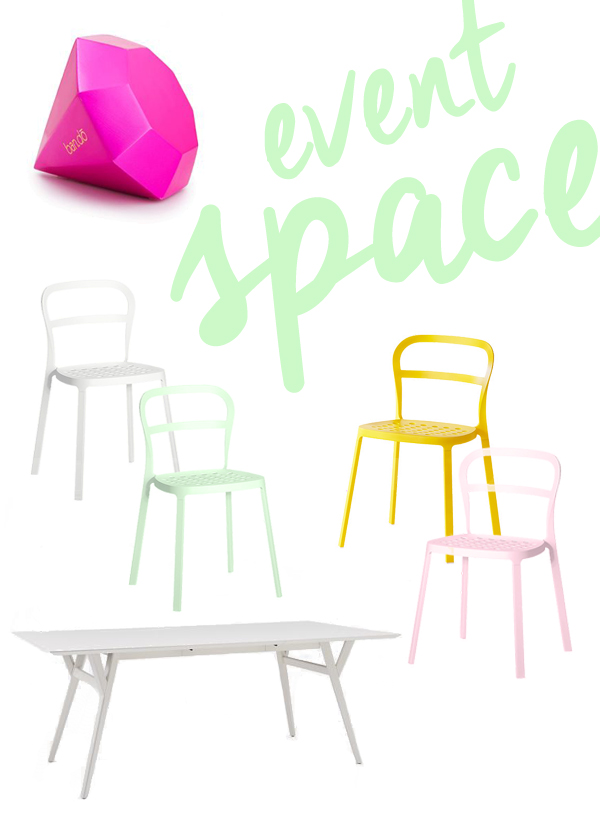 Gem Speaker from Ban.do, Chairs from Ikea (Yellow here, white here, pink + mint manipulated by moi!), Table from West Elm
Overall, since I'll be using the space for lots of shoots (and renting it out as well to others), I need the walls to remain white. Floors too, ha! Which is a joke seeing as the second anyone steps on white floors they are dirty! (Does anyone know if they make a swiffer style magic eraser!?) However, I'm contemplating a little gallery wall somewhere in the space where I can showcase some of the prints and cards I've collected, and contemplate if my dreams for some of the other pieces below will ever come true! It's pretty fun designing your dream art wall when it doesn't have to appease a boy's taste too! 😉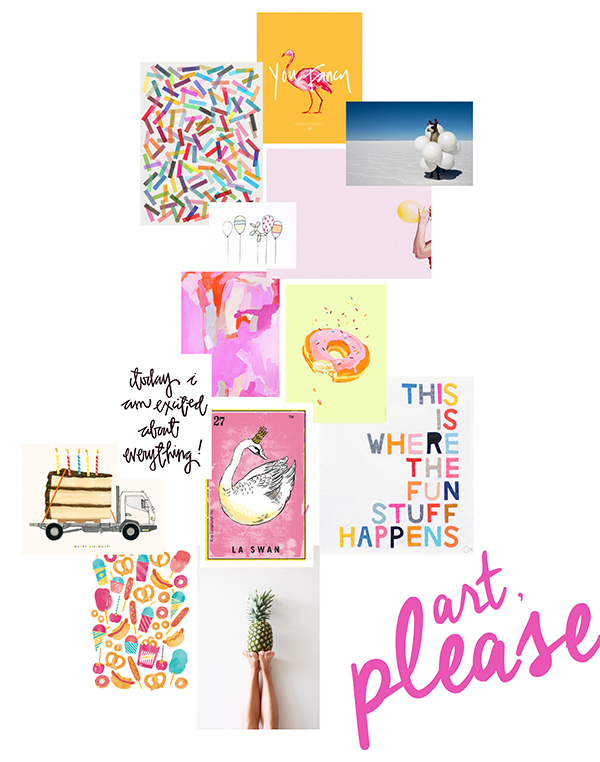 Top to Bottom: Flamingo from Ashley Brooke Designs, Confetti from Garima Dhawan, Llama from Gray Malin, Yellow Balloon from Max Wanger Print Shop, Balloon Animal from Hartland Brooklyn, Abstract from Emily Rickard, Donut from Kali Ciesemier, Birthday Cake Truck from Dear Hancock, Excited About Everything from Hello Maypole, Swan via The Painted Blackbird, Fun Stuff from Castle, Summer Pattern from Jacqui Lee, Pineapple from Kim Fearheiley Photography
As you can see, the palette is gonna be a lot of white, with some heavy pops of Studio DIY's brand colors… and gold. Duh. Don't worry, there will be your fair share of all classic things Studio DIY, too, but I gotta save some of the fun stuff for the reveal! You've already seen the (still unnamed) flamingo in residence. And the giant pineapple, too. I've also got some major storage plans in the works, so I can finally turn my living-room-turned-craft-room back into a usable space. WOOT! Most intimidating to me now is filling in with other decor. Rugs are always my toughest choice, but I definitely need one under my couch and coffee table, right!? Suggestions!? I'm the worst rug shopper.
It's been kind of fun to put on my interior design hat for a bit, even if most of the time I'm feeling a little lost pulling it all together! I had never thought about how Studio DIY would translate into an actual space, and I can't wait to see how it all turns out! And if you want to be one of the first ones to see it, be sure to check out the Brand Market Workshop we're hosting here in June! It's gonna be awesome, and I'd love to meet some of you!!