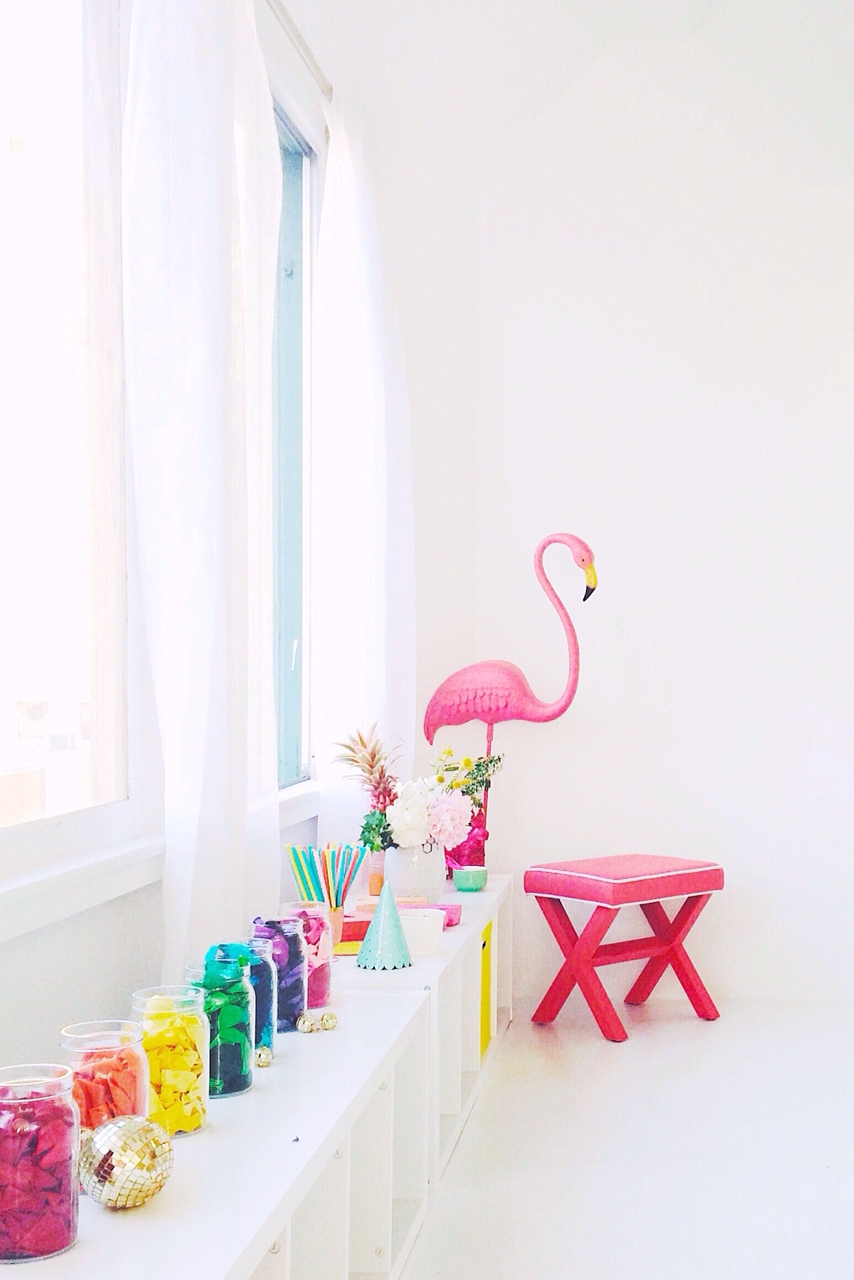 SO MUCH has happened since my last studio update! Furniture has arrived, stools have been donut-ed (DIY coming soon!), fringe has been hung and confetti has been thrown. Now that I've gotten some real furniture, and moved all my supplies into the space, I'm getting ready to get some final pieces to finish it off. I always find that you need to live (or craft? or party?) in a space for a little while before you know what you really need, don't you? Luckily, Target's got my back. Which is great, seeing as Target is my second home. They know me there, especially in the party aisle. I'm the girl always asking for helium tanks. But today, I teamed up with them to go on an adventure to the home section and check out Target's revamped Room Essentials line which they debuted this summer! Behold a few of my fave pieces…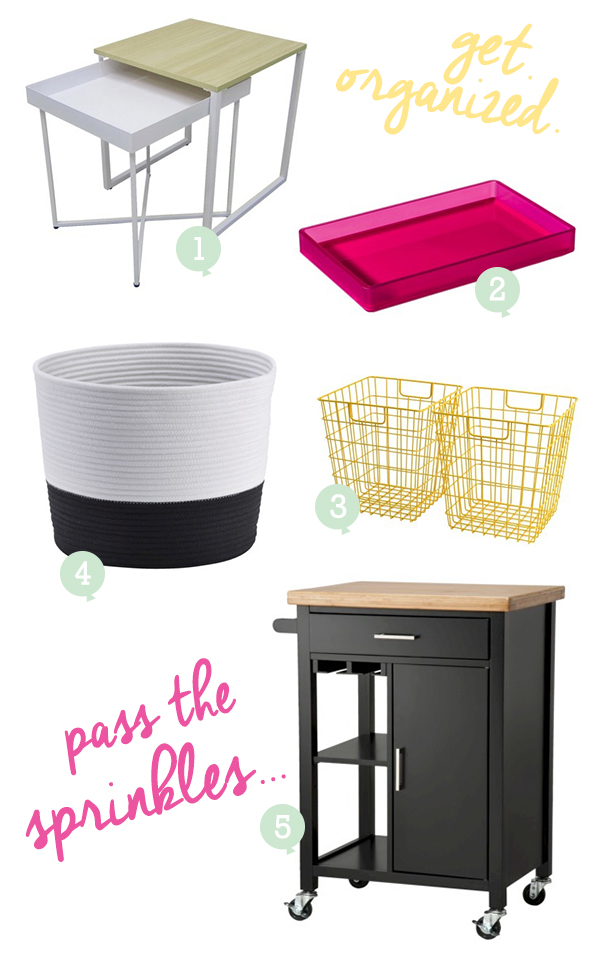 Modern, simple, functional and affordable. Oh Target, you just get it. Have you guys checked it out yet? The line is great for apartments and studio spaces, or just for those of you looking for some basics that aren't the boring norm. Bonus points for me.. so many pieces already came in Studio DIY colors! Shazam! Since I've found that I'm in need of two things, pretty storage pieces and a kitchen, I'm focusing in on those areas now. Let's discuss.
Storage and Display: I bought several already but those filled up fast. (This always happens, right?) I chose to go with almost entirely open storage units for the space (to force myself to keep it all clean and pretty! Eep!) so I need my storage containers to be pretty. Ehm… CHECK! I love those black and white baskets SO much and the yellow wire ones will fit perfectly in the cubby spaces I've placed below the windows.
A Kitchen: Ok, so I can't actually build a kitchen since I need it to be mobile in case we need to clear the space for a shoot. I have a fridge (More on that soon too!) but I need some prep space. Enter the kitchen cart. That's my jam right there! It's perfect for holding supplies for food (read: sugar) shoots and for storing some lunch essentials (eating lunch out every day is not in the budget anymore, my friends!). I also love that it's already on wheels (I've made sure most pieces in the space are) because I can wheel it over to where I'm shooting for as needed. I think I could make this guy look pretty schnazy with some Studio DIY touches. Sprinkles!? Gold!? I bet you guys would have some amazing ideas for it… what do you think!?
I think once I get these final pieces in place and hang some of the awesome art I've gathered, I'll finally (finally!) be able to share the finished space. It's like, real good folks. I've been asked if it's a kindergarten and a preschool by various delivery men. That tells you the amount of color, donuts and flamingos I have going on. So stay tuned! I'll be giving a makeover to one of those pieces above and then it'll be time for the big reveal. The ooohs! The ahhs! I can't wait to share!
This post is sponsored by Target. Shop Room Essentials to make modern life easier.