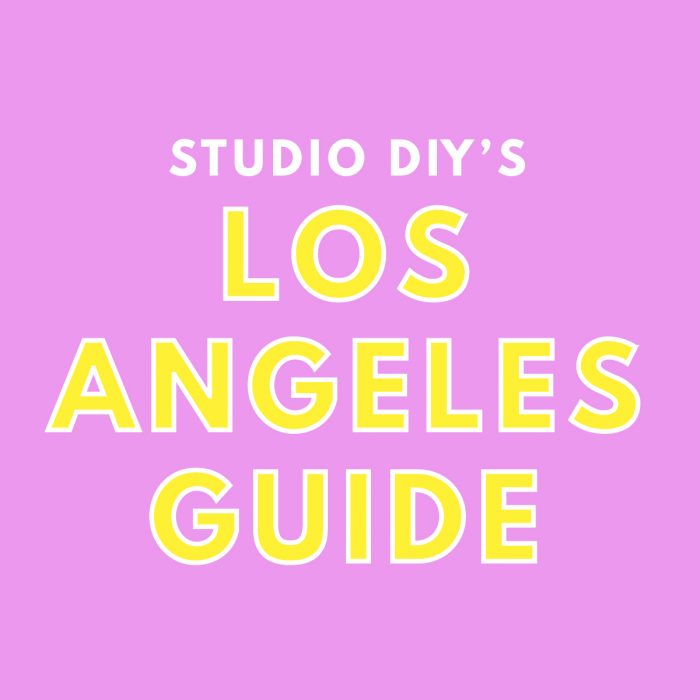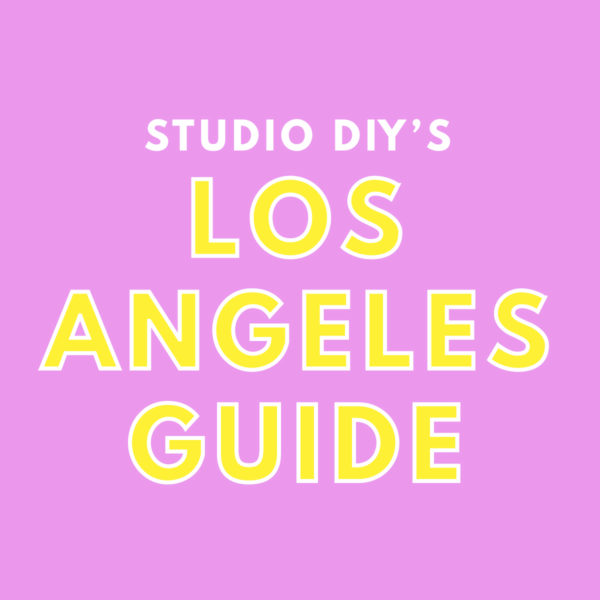 We get so many emails and questions from those of you who are planning a trip to LA that we thought we'd finally (FINALLY!) make an official Studio DIY Los Angeles Guide! We've outlined all our favorite places to stay, eat, shop and visit and will update it as new favorites arise!! Happy LA-ing!
WHERE TO STAY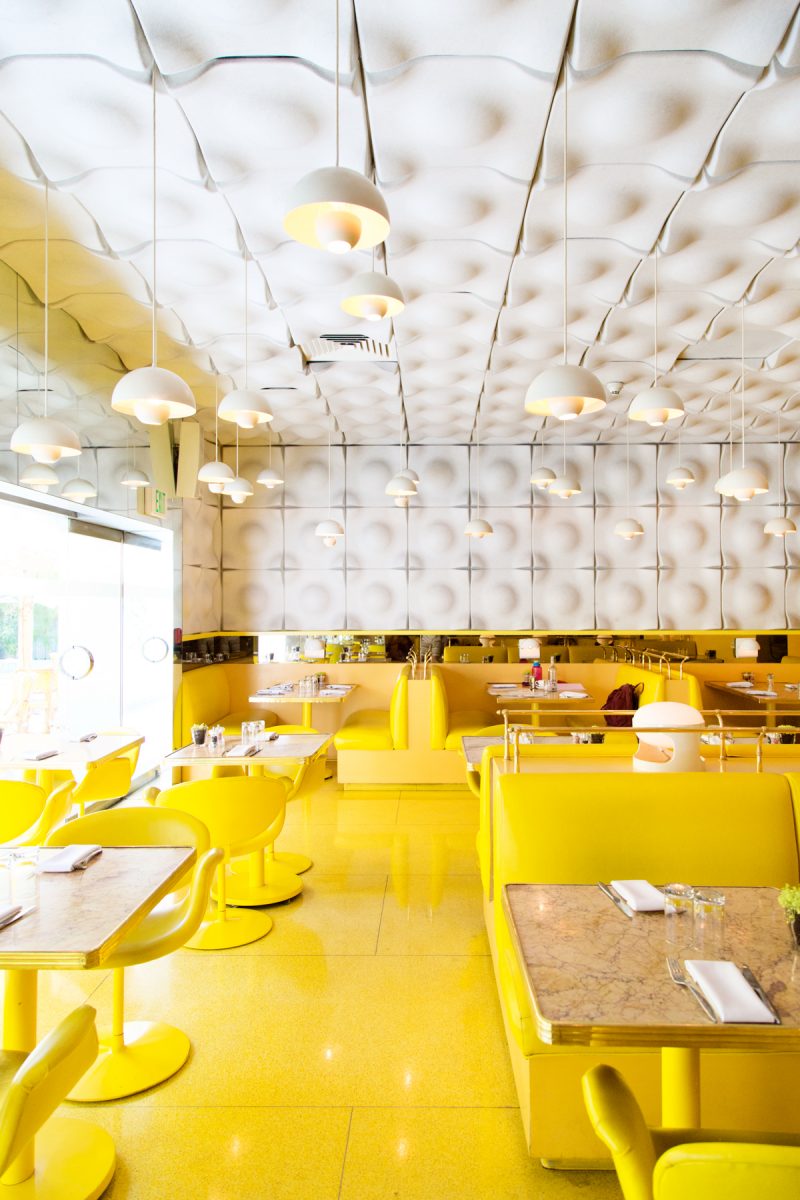 The Line Hotel (Koreatown)
The rooms here have floor-to-ceiling windows overlooking LA and a vibe unlike any other hotel I've been to. The restaurants are also delish and the location in Koreatown is pretty central to mid-city, downtown, Silver Lake, etc.
Hotel Covell (Los Feliz)
A splurge for sure, but the "Chapter 4" suite has a malachite-inspired wall and a claw foot tub that is EVERY-THING. All of the rooms are incredible though and if you're into design this hotel is for you. Located in Los Feliz, right above our favorite breakfast taco place (which you can get through room service!).
Ace Hotel (Downtown)
Great restaurant, amazing rooftop bar, and it's in a fun up-and-coming DTLA location.
The Standard (Downtown)
Not gonna lie, The Standard's all yellow restaurant is what sold me on this hotel. But it's in a great DTLA location, too!
WHAT TO EAT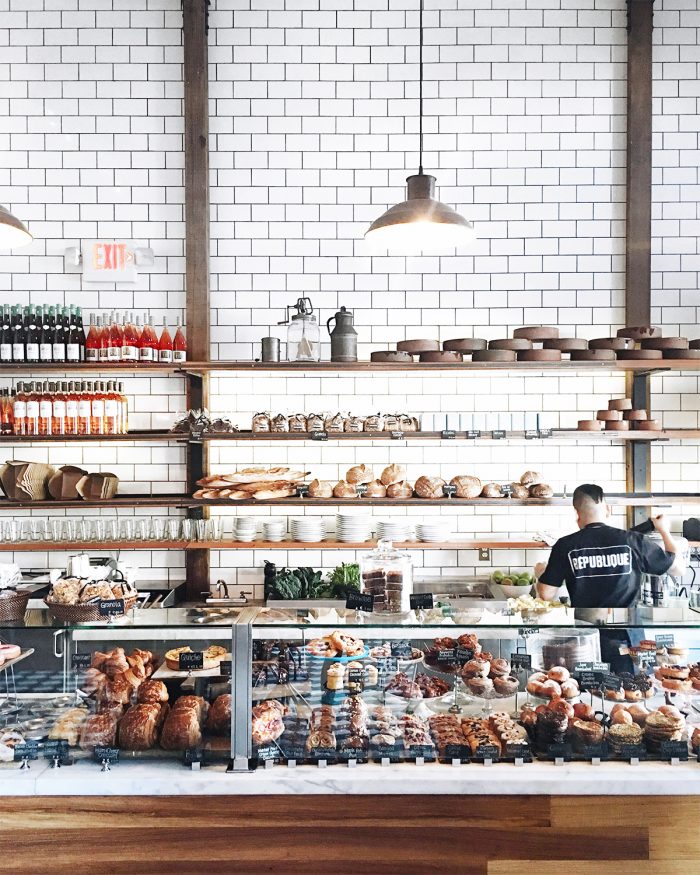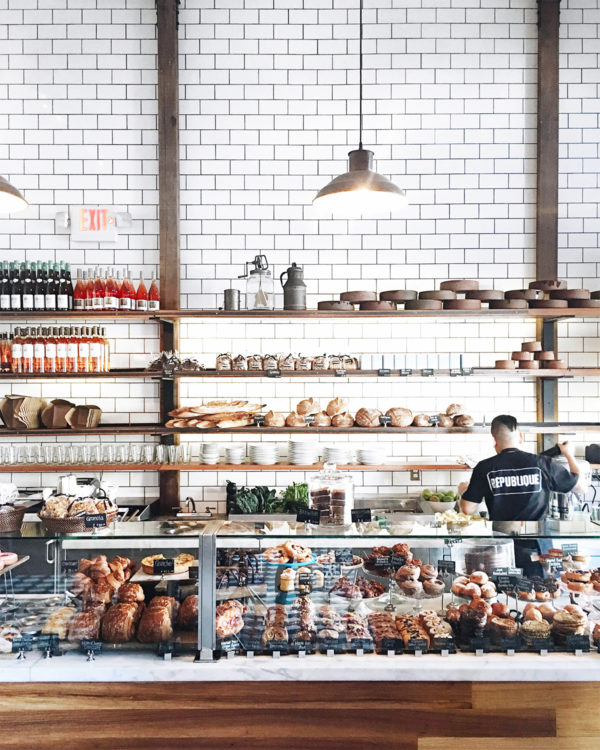 For Breakfast
Home State (Los Feliz)
Some of the best breakfast tacos I've ever had! Try the Trinity and Neches tacos or the Migas.
Egg Slut (Downtown)
Amazing breakfast sandwiches and in the super fun Grand Central Market alongside lots of other yummy eats. There is always a line, so plan extra time when visiting this spot.
Sidecar Donuts (Santa Monica)
My newest, favorite donut in Los Angeles is the butter & salt donut from Sidecar. Perhaps the best donut I've ever had.
Dinette (Echo Park)
This is a walk-up style window on the side of the road in Echo Park but their food is so great. They're famous for their waffles, but their breakfast pizza, avocado toast and veggie sandwich are also awesome. And I love their baked goods!!!
Square One
I've only ever been to their Fountain location which is off the beaten path, but so delicious. Apparently they have a Silver Lake location now too! They have great French Toast, great egg dishes and yummy scones.
Huckleberry
For a westside breakfast, check out Huckleberry for their baked goods and their brisket hash!
Republique (Hancock Park)
Republique has a great weekend brunch but it is super packed! Luckily, they serve breakfast until 3pm on weekdays, in addition to a bunch of great salads and sandwiches on their lunch menu. And, more importantly, they have an EPIC bakery. EPIC! The kouign-amann is amazing. But so is everything else.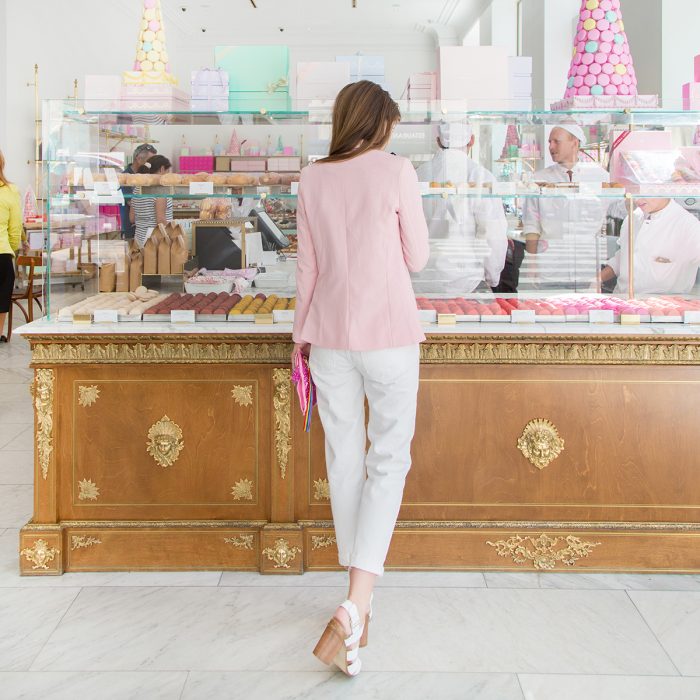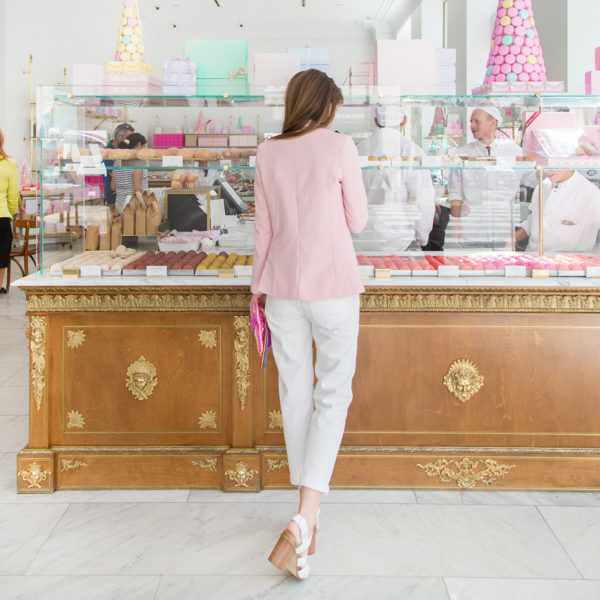 For Lunch
Larchmont Wine & Cheese (Larchmont)
The best sandwiches in the city, if you ask us (and a lot of people). This is a wine shop that sells a small menu of sandwiches for a few hours each day. We love the #4, but they're all seriously great.
Best Fish Taco (Los Feliz)
This is located in Los Feliz and is a great place for a cheap and easy, but super yummy lunch! They only have three things on the menu- fish tacos, shrimp tacos, and potato tacos; but everything is made fresh and you get to top it with whatever you want from their toppings bar. Think- different kind of fresh salsa, crema, shredded cabbage, etc. We recommend getting their horchata to drink and eating outside on the patio!

Escuela Taqueria (Fairfax)
This is perhaps my favorite guacamole in the city. The tacos are freaking delicious too. Great lunch or dinner spot, and it's right nearby a few of my favorite shops! (Pygmy Hippo and Heath, see below!)
Bottega Louie (Downtown)
I struggled with where to put this because I love Bottega for all meals, but lunch is a great option because you really need to see this place in the daylight. If I could live in a restaurant, it would be this one. You need to go here just to look at it, if nothing else. I really like their pizza and at Christmas they put a giant bow over their pizza oven. Ah. Divine.
Food Lab (West Hollywood)
Really great selection of unique sandwiches and salads that you won't find anywhere else! It's a few doors down from Max & Moritz, one of my favorite shops.
Kogi (Multiple Locations)
Korean BBQ meets Tacos. This food truck is one of Jeff's favorites. Since it's a truck, you have to check the schedule to know where it's going to be, but we most often catch it on Abbot Kinney on the weekends!
Bay Cities (Santa Monica)
This is an old school Italian Market with STELLAR sandwiches in Santa Monica. Get the Godmother!
For Dinner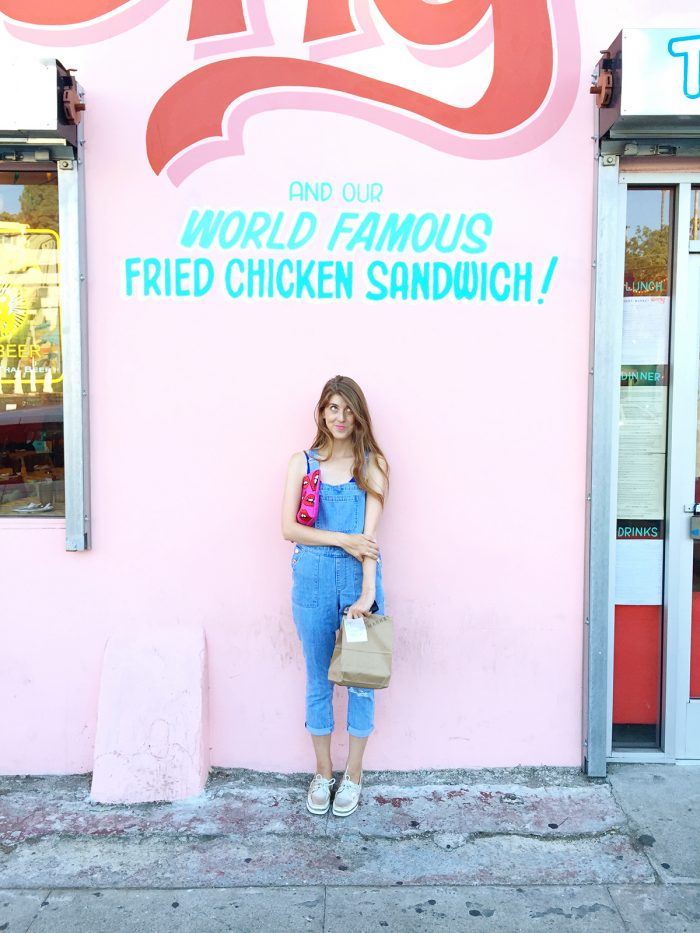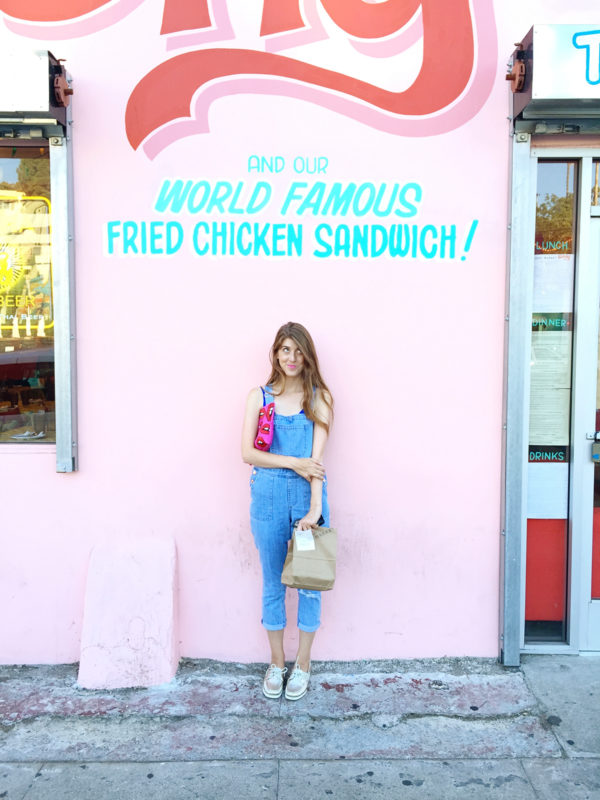 Gracias Madre (West Hollywood)
Hands down, my favorite restaurant in the city. It's a vegan Mexican restaurant but DON'T LET THAT DETER YOU if you aren't vegan. Everything is so delicious you don't even realize you're not eating any meat or real cheese. The flautas. Get. The. Flautas. And the guacamole. And they have super fun snow cone cocktails, too. It's also gorgeous. Gosh, I love that place.
Jay's Bar (Silverlake)
When you pull up to this place you will probably think we're crazy because it's in the middle of strip mall, but Samantha swears it is the best burger in LA. Like, asks us every week if we've been there yet because we seriously need to try their burger, kind of swears. The best part about this place is that it's still pretty unknown so even on a Friday or Saturday night you can get a seat and not have to deal with a wait or crowd. Samantha says to get the Jay's Burger with cheese + french fries and you can thank her later.

El Coyote (Fairfax)
This is a dive-y Mexican restaurant that's near and dear to my family's heart. The food is just your typical Mexican food, but the margaritas are what this place is allllll about. They're Jeff's absolute fave. El Coyote is a block away from Milk, so you can grab ice cream sandwiches after, too.
Ostrich Farm (Echo Park)
Basically one of the most beautiful restaurants with it's emerald green leather benches and brass everywhere. GAH! Luckily, the food is also delicious. The menu is constantly changing but it's all yummy. And if you can't go for dinner, they have a great breakfast/brunch menu as well!
Night + Market Song (Silverlake)
The outside of this place is painted pink so you really don't need any other reason to go there, but lucky for you the food is also ah-mazing! They're known for their Thai street-food style dishes which tend to be spicy, but they also have several items on the menu that are more traditional, like Pad Thai and Pad-See-Ew, for those of you who might not be feeling as adventurous. Almost all of their dishes can be made anywhere from mild to hot so don't be afraid to try something new! We've never had a single bad bite to eat there!

Bestia (Arts District)
Get there early and sit at the bar if you don't have reservations. Get the bone marrow gnocchi!

Gjelina (Venice)
Gjelina is an Abbot Kinney staple. Try the squash blossom pizza!
Father's Office (Culver City)
This place is very well known for it's burger and for good REASON! It's amazing. As are their sweet potato fries. This place is 21+ only (They check IDs at the door), so no kiddos allowed!
Sugarfish (Multiple Locations)
While I don't eat sushi, the rest of the team (and LA, basically) has long called Sugarfish their favorite in the city! There's a few locations across the city to check out, too.
Yuca's (Los Feliz)
Hands-down the best authentic tacos in LA (well, at least according to Samantha!). It's cash only but there's a convenience store in the same parking lot that has an ATM you can use. She loves the asada and carnitas tacos and if you like things a little spicy you can add jalapenos! The best part of this place is that Yuca herself is usually there and she handwrites your order on the back of your plate. How. cute. is. that???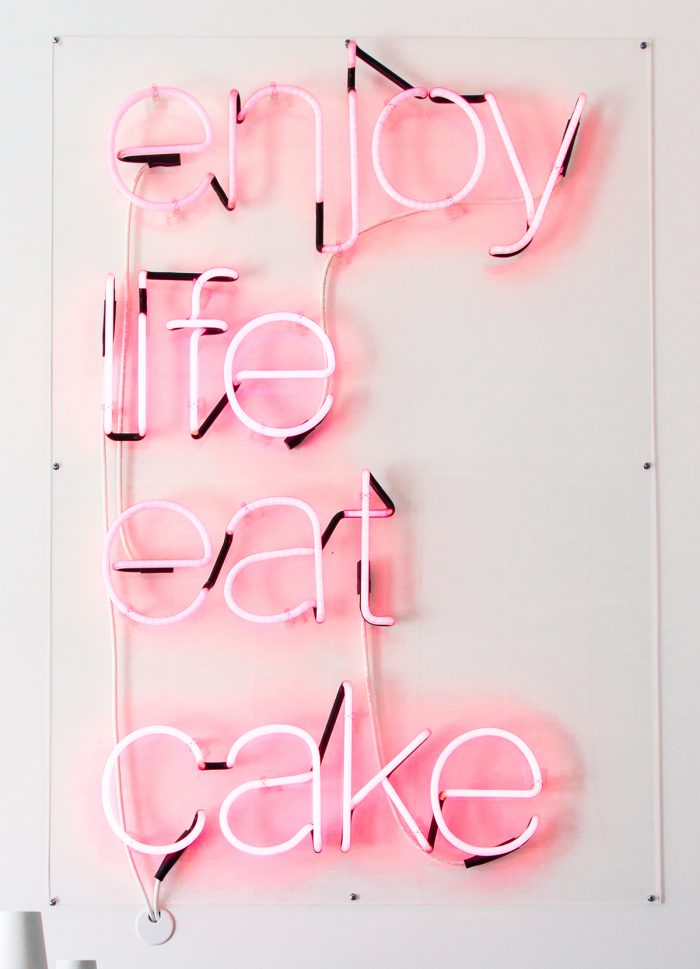 For Dessert
We have comprehensive dessert guides on the site, if you're into one particular kind of dessert! They're linked below, along with a few of our absolute, absolute faves below that!
LA's Best Cookies
LA's Best Pie
LA's Best Donuts
LA's Best Cake
LA's Best Ice Cream
Milk Jar Cookies (Miracle Mile)
My favorite cookies in the whole wide world. Yep, I said it! Their chocolate chip and their chocolate peanut butter cookies are what dreams are made of. If you're going to get one dessert in LA, it should be this one.
Susie Cakes (Multiple Locations)
Their funfetti cake was the winner for a few of the girls in the office during our cake tasting. Samantha even requested it for her birthday! It's pretty delish and they have locations all over the city!
Jeni's Ice Cream (Los Feliz)
Not exclusive to LA, but delicious nonetheless!
Salt & Straw (Larchmont)
Jeff's favorite ice cream in the city! He loves the Salted Malted Chocolate Chip Cookie Dough but they also have a ton of seasonal flavors and lots of collaborations with local companies.
Sugarfina (Multiple Locations)
The prettiest candy shop with the prettiest candies and lots of fun gift items too! The best thing about their candy is it's as delicious as it is pretty. Their candy comes in cute little boxes and would make great gifts and great souvenirs!
Sockerbit (Fairfax)
Sockerbit sells Scandinavian candy that are all made with high quality ingredients, with natural colors and no GMOs! They have so many unique options that I've never seen anywhere else, so it's perfect for the candy connoisseur.
Diddy Riese (Westwood)
A total classic. In the LA age of expensive desserts, Diddy Riese still sells cookies for $.50 and I love them for that. Of course, they're famous for their build-your-own ice cream sammies, but when we go we just buy a dozen cookies. And eat them ALL!
Fred 62 (Los Feliz)
This place has been open 24 hours a day, 7 days a week for almost 20 straight years and its the perfect place for a late-night meal or for a no-fuss breakfast. The real highlight of Fred62 is their milkshakes, though! You can mix and match all of their flavors to create your own custom shake. Think- chocolate, peanut butter, strawberry, cookies and cream, and chai! Samantha recommends sitting at the counter! If you have your milkshake there instead of getting it to-go they give you the extra milkshake that didn't fit in your glass to eat with a spoon! #moreismore right??

Bottega Louie (Downtown)
I already gushed about Bottega above, but their macarons are also my favorite in the city. And their PACKAGING IS DIVINE. In fact, you'll spend more money than you want just so you can get the pretty box. Hey, at least I warned you!
California Donuts (Koreatown)
Now Insta-famous, California Donuts has a crazy selection of donuts with so many fun flavors. Their cronuts are pretty awesome, too!
Compartes (Melrose)
Compartes makes the prettiest chocolate and has a cute little shop tucked away on Melrose Place. Their packaging is as pretty and yummy as their chocolate bars are and it's definitely worth a visit for you chocolate lovers.
Cake Monkey (Fairfax)
I love Cake Monkey for it's new takes on old classics, like pop tarts, yodels and oreos. It's also super cute and pink with an amazing neon sign (see above!) and wallpaper made from old recipes!
Sidecar Donuts (Santa Monica)
This was already listed in the breakfast section, but since it's my favorite donut in Los Angeles, had to list it twice! Get the butter & salt donut. Perhaps the best donut I've ever had.
Mr. Holmes Bakehouse (Highland Park)
The SF famed bakery is now in LA. The cruffins, the CRUFFINS! Gotta try 'em.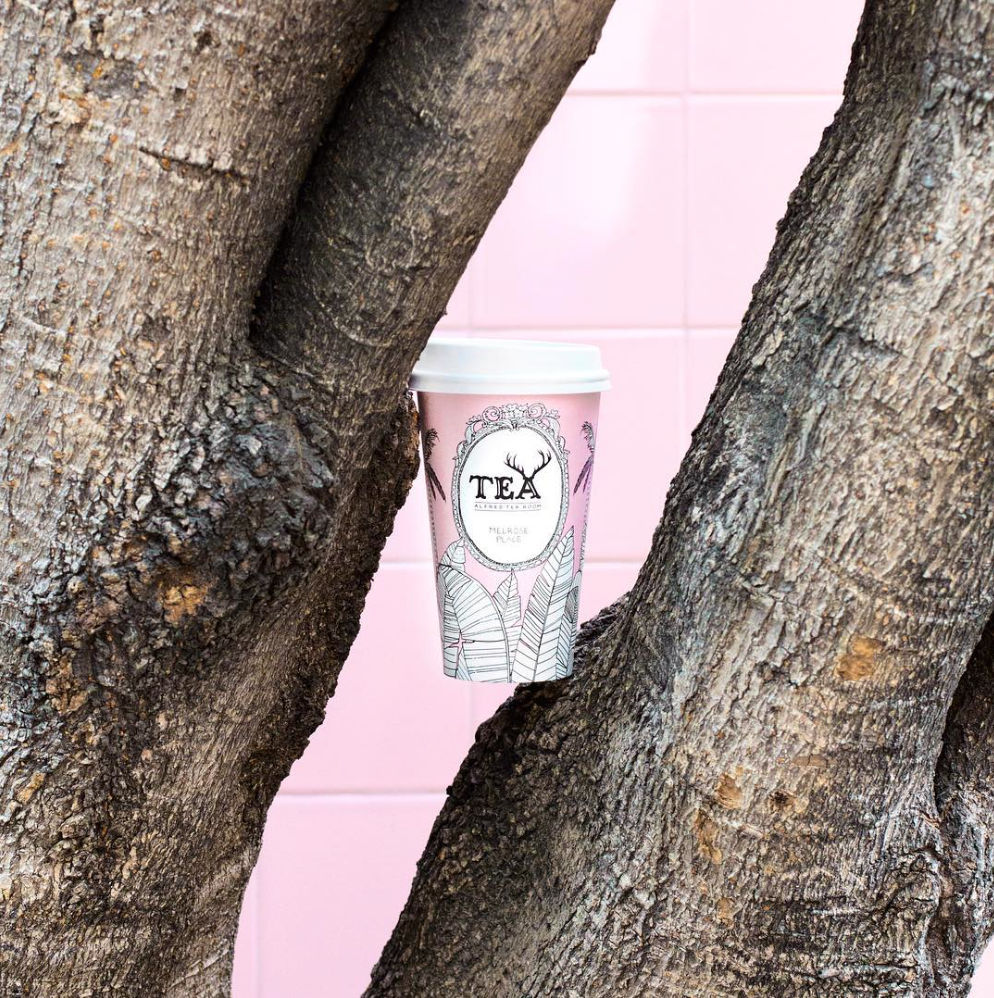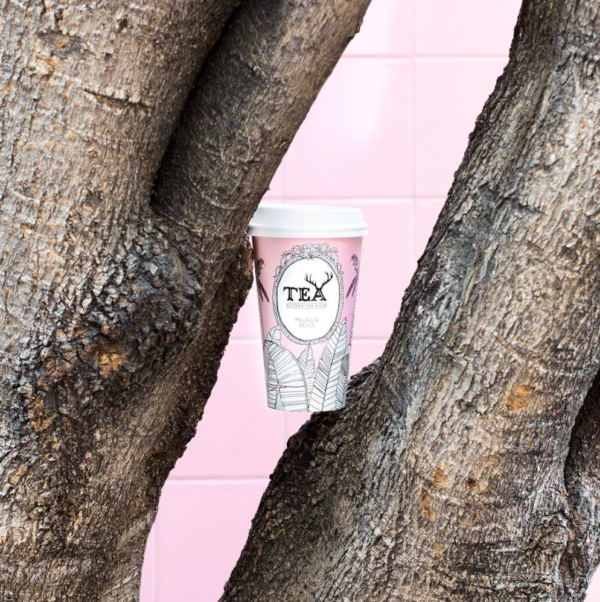 For Coffee + Tea
Verve (Melrose)
Verve has many locations across the city, but the Melrose one is Jeff's favorite. Their Nitro Tap is his fave. Beautiful indoor and outdoor space, designed by Commune design who also designed the Ace!
Go Get 'Em Tiger (Larchmont)
This is Jeff's favorite coffee shop in the city. His favorite is the drink they're famous for, the Iced Almond-Macadamia Milk Latte with house-made almond-macadamia nut milk. When I tag along for breakfast, I love their breakfast sandwich and Jeff loves their avocado toast and their waffles. They also sell delish donuts!
Alfred (Melrose)
Melrose Place is a quaint little area of West Hollywood with lots of high-end shops, and the Alfred there feels like you're in a little bungalow. Great people watching, too. Jeff loves the Chai Tea Latte and Compartes (that I mentioned above) is located inside the shop!
Alfred Tea Room (Melrose)
Alfred just opened an ALL PINK tea room, so if you prefer tea (or just the color pink), it's definitely a spot you need to hit!
WHERE TO SHOP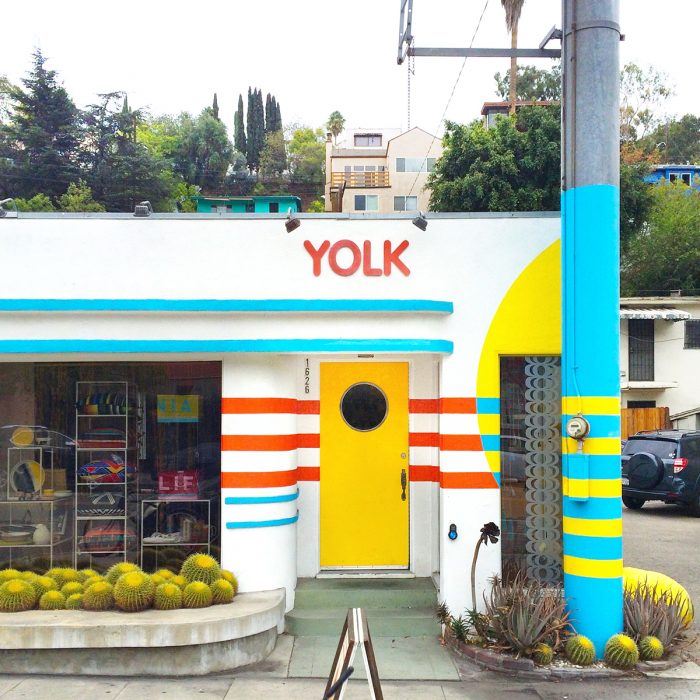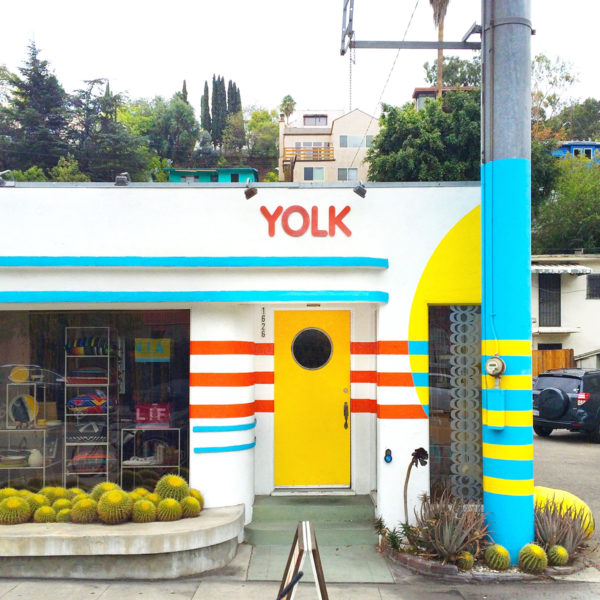 Urbanic (Venice)
Hands down, my favorite shop in the city. This shop is a stationery nerd's DREAM with the best selection of cards, but they also have a ton of fun gift and party items too. Urbanic is also on the cutest street in Venice called Abbot Kinney. You could spend a whole day wandering around here!
Burro (Venice)
A few blocks down from Urbanic is Burro and Baby Burro. Burro has a great selection of books, decor, stationery, apparel, accessories and jewelry and Baby Burro has the cutest selection of children's items. I love them both!!
Poketo (Koreatown + Arts District)
Located in the Arts District (with a smaller shop in The Line hotel!), Poketo has a curated selection of home decor, office/stationery and fashion items. Each piece they have is so beautifully designed, and the shop is pretty cute itself too!
Pygmy Hippo Shoppe (Fairfax)
This store is about the size of a closet but it's the CUTEST CLOSET EVER! For such a small little area, they've packed in the cutest, quirkiest selection of jewelry, gifts and other hand-made goods. I love how kooky this little shop is, and there's also an amazing wall by Chris Uphues around the back of it!!!!
Glitter Death (Hollywood)
How could you not visit a store called Glitter Death!? Part vintage shop, part crazy accessories/gifts from local and independent businesses, it's a fun shop to pop into if you're in the area.
Sticker Planet (The Grove)
Tucked inside the famous Farmer's Market at The Grove is a shop that ONLY SELLS STICKERS! It's perhaps LA's best kept secret and your inner 5 year old will lose HER MIND inside. Any and every sticker you could ever want, lining every single wall of this little shop. Plus! Bob's Donuts is just a few storefronts away and has one of my favorite donuts in the city- the glazed devil's food cake donut.
Shout & About (Echo Park)
Down the street from Dinette in Echo Park, you'll find the cute and colorful gift shop, Shout & About! Great selection of cards, jewelry, home decor items and party wares.
Sugar Paper (Brentwood)
If you're on the westside, definitely hit up the Brentwood Country Mart because inside it, you'll find Sugar Paper! Another great stationery store by the now-famed Sugar Paper ladies (Have you seen their Target collection!?) where they sell their own products along with a selection of other independent makers and stationers.
Yolk (Silverlake)
This shop ones for coolest-looking storefront. Literally, you HAVE to go just to see it in it's colorful glory! They have a great kids selection with toys and clothes but also a ton of stuff for us adults, from homewares to jewelry to other accessories.
Wacko (Los Feliz)
Located right across the street from Homestate (mentioned above), this is a fun place to wander around or to pick up a super quirky souvenir for those hard-to-shop-for people in your life. Not to mention the awesome mural on the side of the building!
A+R (La Brea)
Their website says "Global design. Edited." which I think is a great description of the homewares and furniture A+R sells. While a lot of them come at a hefty price point, it's SO fun to check out the unique furniture pieces and home decor they carry. They have a very modern style with lots of fun color. And everything is sourced from all corners of the world!
Shorthand (Highland Park)
A brand new shop by my friend Rosanna who also runs the letterpress company Iron Curtain Press. In case you haven't noticed, I love stationery shops and this one is no exception. It's located in Highland Park which has quickly become one of the trendiest, coolest neighborhoods in the city. Donut Friend is nearby, too!
Max & Moritz (West Hollywood)
They stock dinnerware in every color of the rainbow. If that's not enough to sell you, there's a good amount of gold, high-end housewares and quirky touches here and there.
Heath Ceramics (Fairfax)
If you're a Heath Ceramics lover, this is the place to see their beautiful items in all their glory! In addition to stocking their huge range of products, they also have a curated selection of other independent designer goods.
The Social Type (Silverlake)
My favorite stationer now has a store in Silverlake! Outside of having the BEST cards, stationery and matchboxes, the store is one of the most well merchandised shops I've ever been to. I mean, it's organized by color!!! Enough said.
WHAT TO DO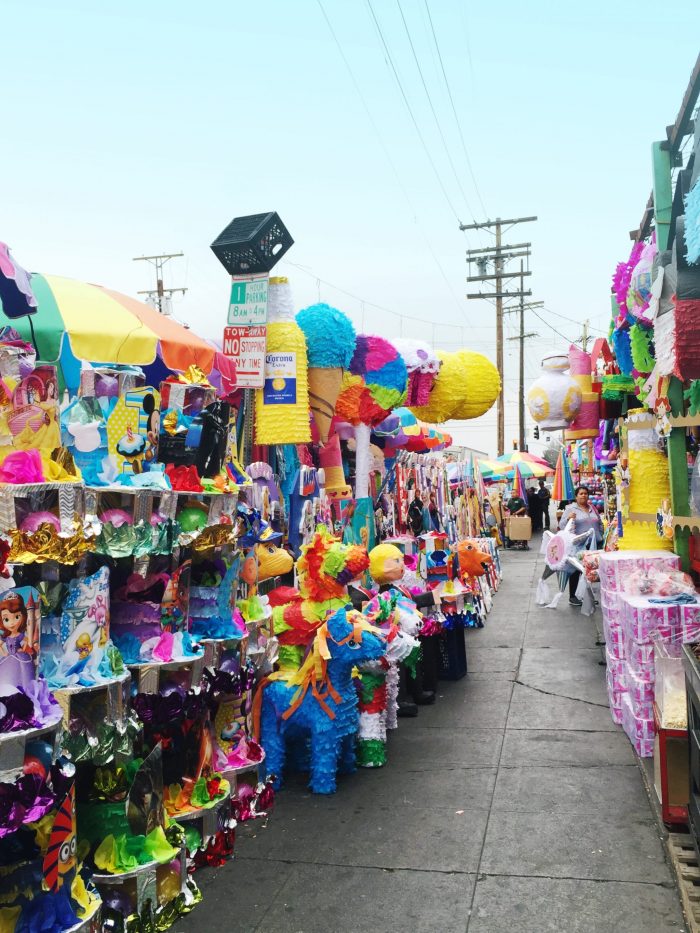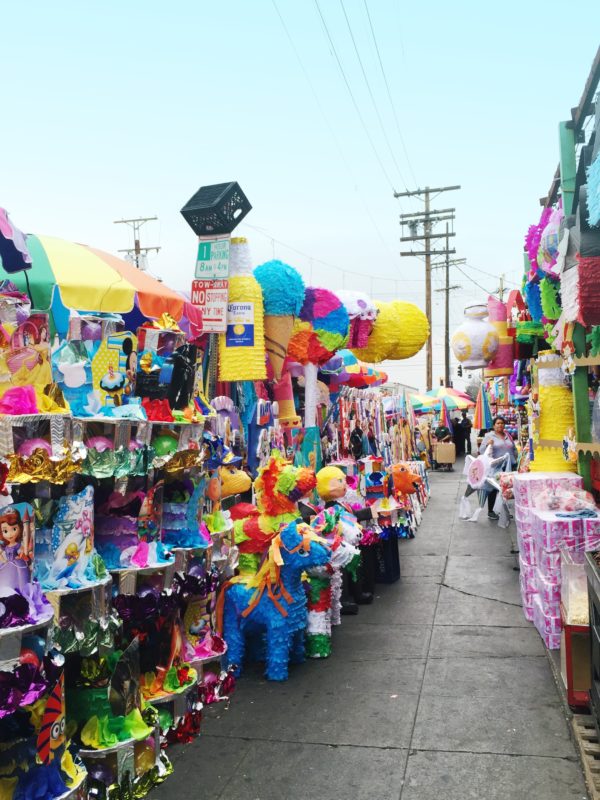 The Broad (Downtown)
The Broad is a great, great, GREAT art museum in Downtown. They have several Jeff Koons pieces and a crazy-awesome infinity mirror room, alongside a slew of other awesome exhibits and artists.
LACMA (Miracle Mile)
Another great LA museum. I'm sure you've seen their famous Urban Light instillation or the yellow "Penetrable" instillation in many a photo, but the whole museum is worth a visit too. They have a lot of various free or discounted admission days, too.
Piñata District (Downtown)
Yes, LA has a piñata district and it's quite the experience. The heart of it is located on Olympic between Central Ave and Koehler St. You won't be able to miss it, as there are piñatas literally lining the streets! You can park on Central and walk around and into the stores, where there's even more piñatas. Just a couple blocks down from Central is Joker Party Supply which is where I get a lot of the balloons you see in my posts. They have an amazing selection there!
The Flower Market (Downtown)
If you're an early riser and a flower lover, you can hit the LA flower market! It's pretty spectacular with every type of flower you could imagine. This is where the local floral designers source most, if not all, of their flowers! It is open to the public after 6am or 8am (depending on the day) and costs $2 (cash only) to enter. The hours are different each day, but most days the sellers are packing up by 10am.
The Fashion District (Downtown)
The Fashion District in Downtown is lined with fabric, trim and bead stores. If you're a crafter, it's a blast to walk around. The bulk of the shops are on Wall and Maple, between 8th and 9th. There's also Michael Levine, one of the more notable fabric stores, on Maple between 9th and Olympic.
Moskatels (Downtown)
Not too far from The Flower Market and Fashion District is Moskatels, which is basically a Michaels craft store on steroids. It's where we buy a lot of our faux flowers and a ton of our craft supplies. There's aisle upon aisle of craft supplies, fake flowers and fruit, disco balls, vases, party items… you name it, they have it! It's really fun to walk through if you're in the area.
Little Tokyo Photo Booth (Little Tokyo)
Samantha found this (somewhat) hidden gem when her BFF was in town and came into work the next day talking about it non-stop! It's tucked inside a shop in the Little Tokyo Mall and there are two different booths you can go into. Both of them have multiple stations where you take your photos, add phrases and designs, and then print! They are totally over the top and in the end you have a fun little souvenir! Make sure you bring cash though as the machines don't take cards.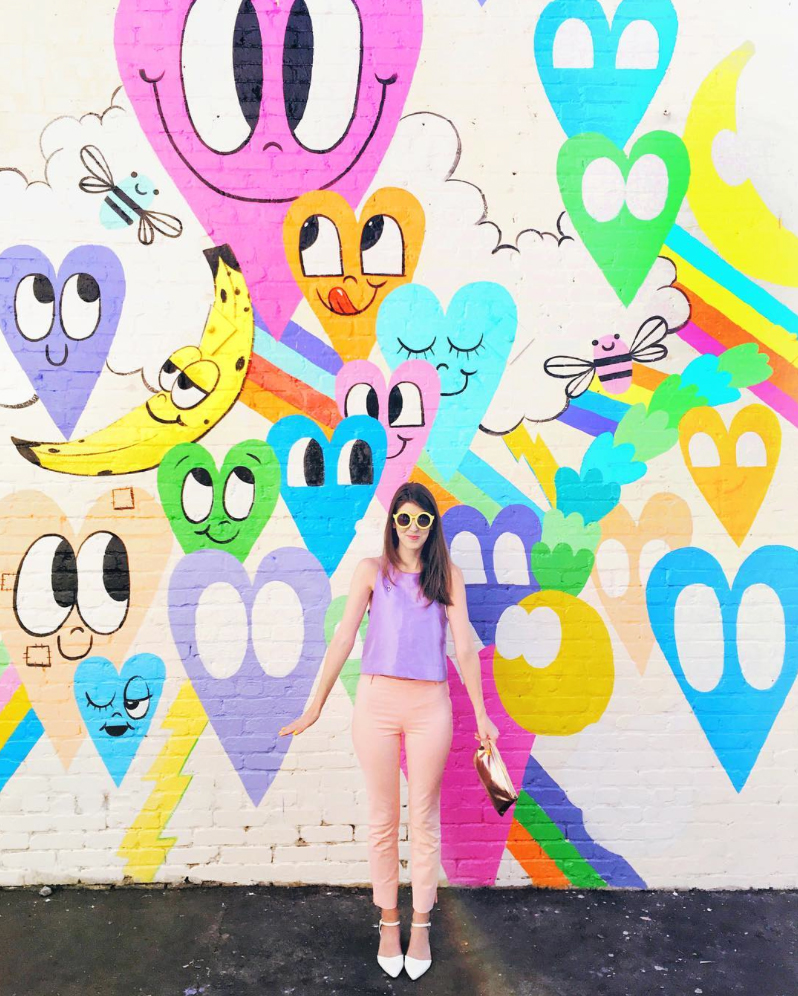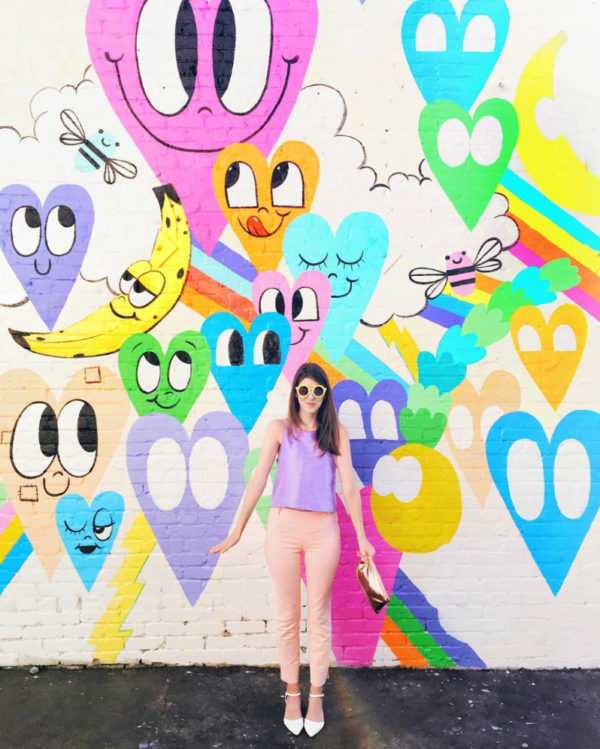 Plus, you can check out our Los Angeles Wall Crawl here!
SaveSave