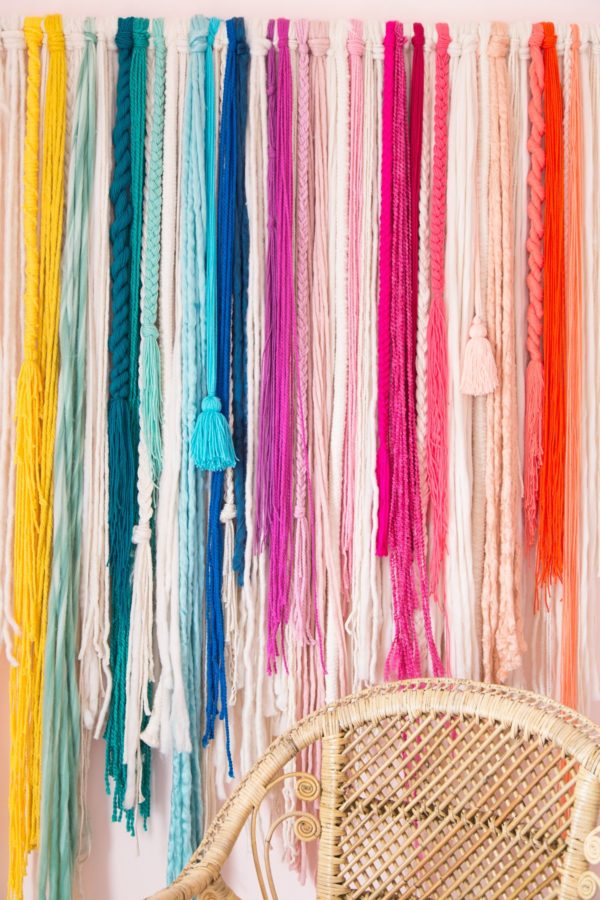 Figured I'd get this tutorial up quick before you guys come hunt me down for it!! Haha! I'm SO glad you love this no-weave rainbow wall hanging we made so much!!! Cyn and I had been brainstorming and brainstorming on first a mural and then a wall hanging for my office space. After a LOT of trial and error we finally landed on this. I love it because it was super easy to create (no weaving, no latch-hooking, no gluing), has a lot of room for error and has so much texture and dimension.
That said, the reason it looks so good is because of that texture which means, we had to buy a LOT of yarn and it isn't exactly a budget friendly project. I believe we spent somewhere between $250-300 on it. Which, if you compare it to weavings you can buy at this size (it's about 4'x6′ AKA huge), it's a lot more affordable. Of course if you weren't making it this large, it would be cheaper too! Just wanted to warn ya! Also, craft stores tend to run really great sales on yarn so wait for one of those and it'll save you a bunch! Here's the how-to!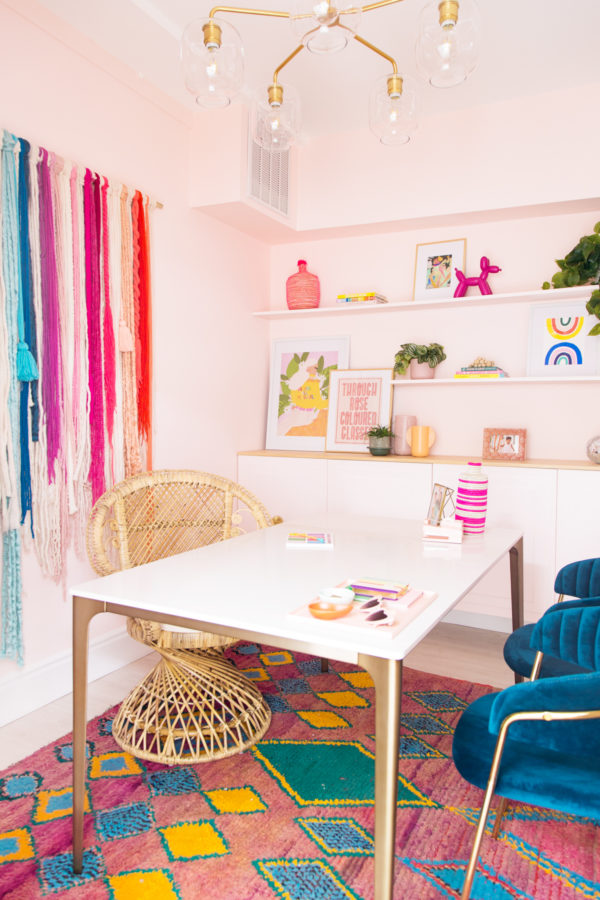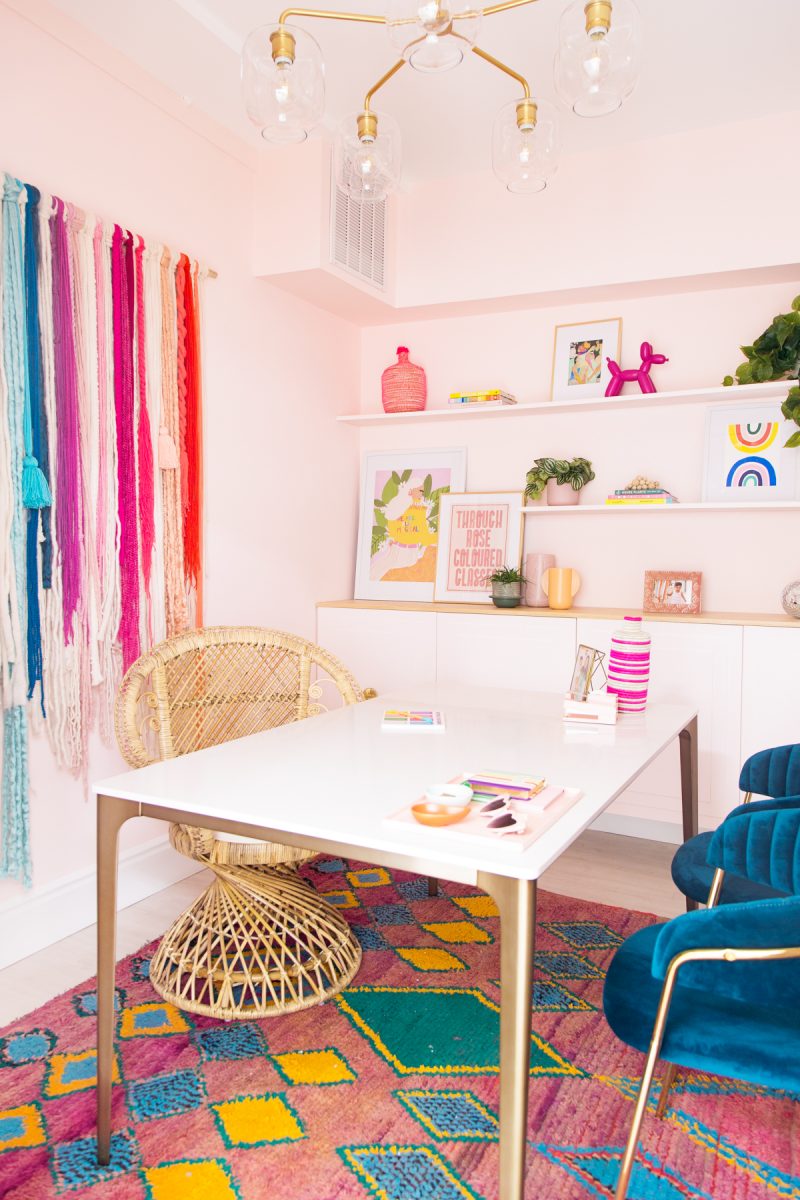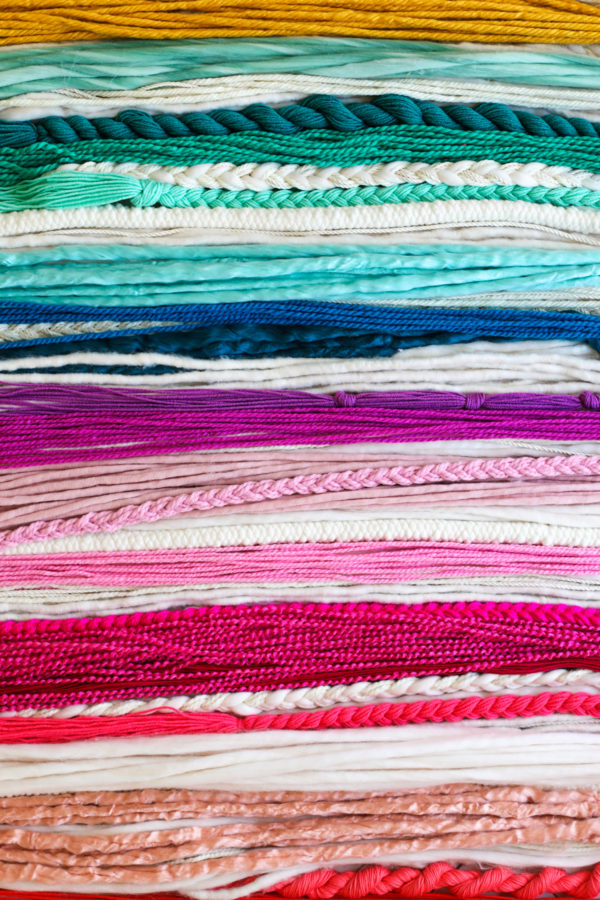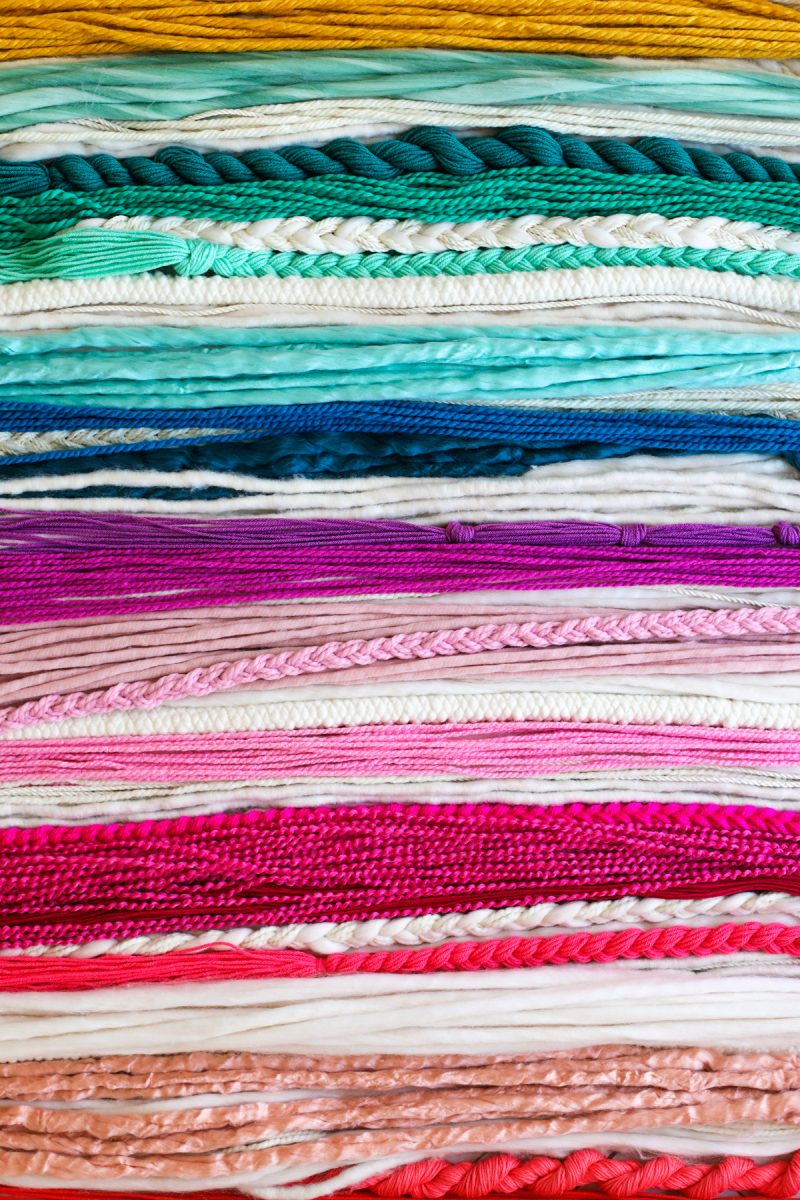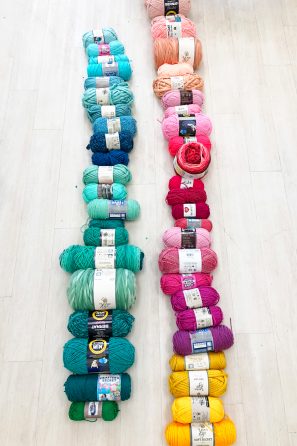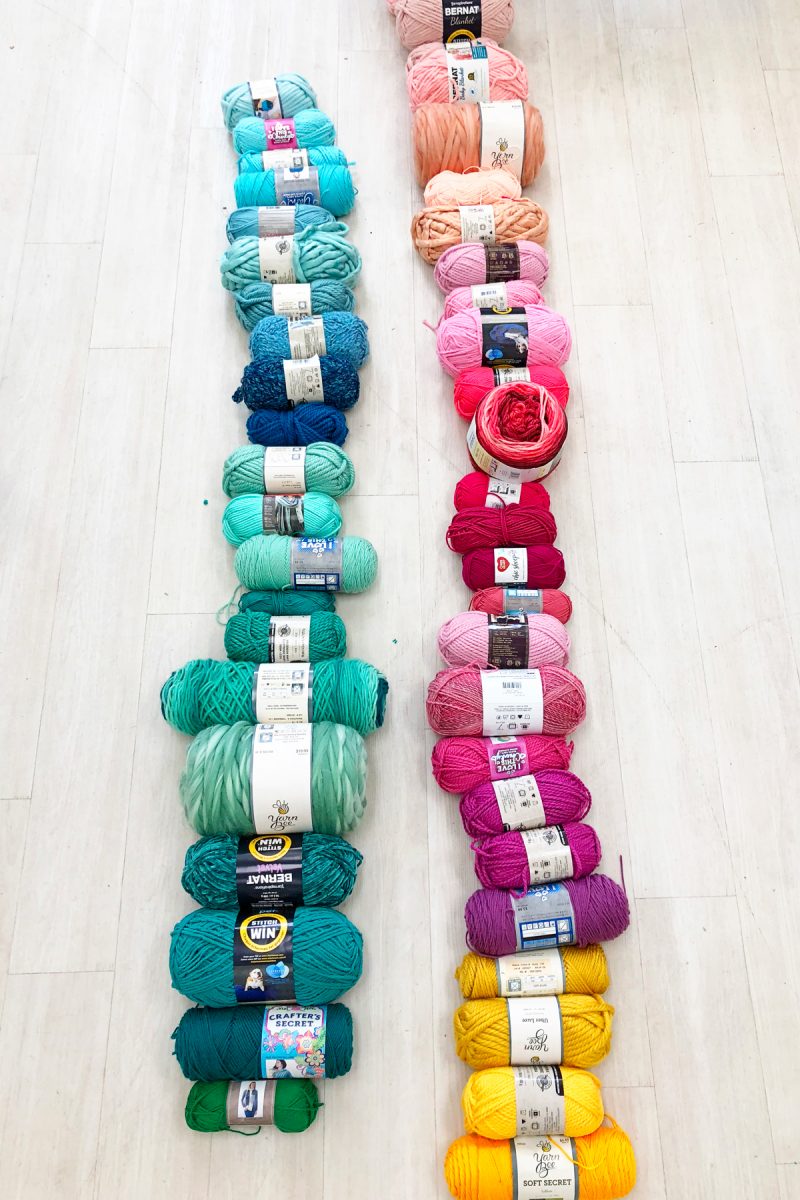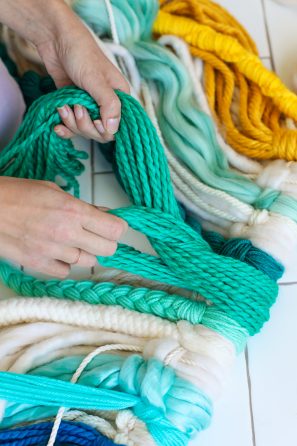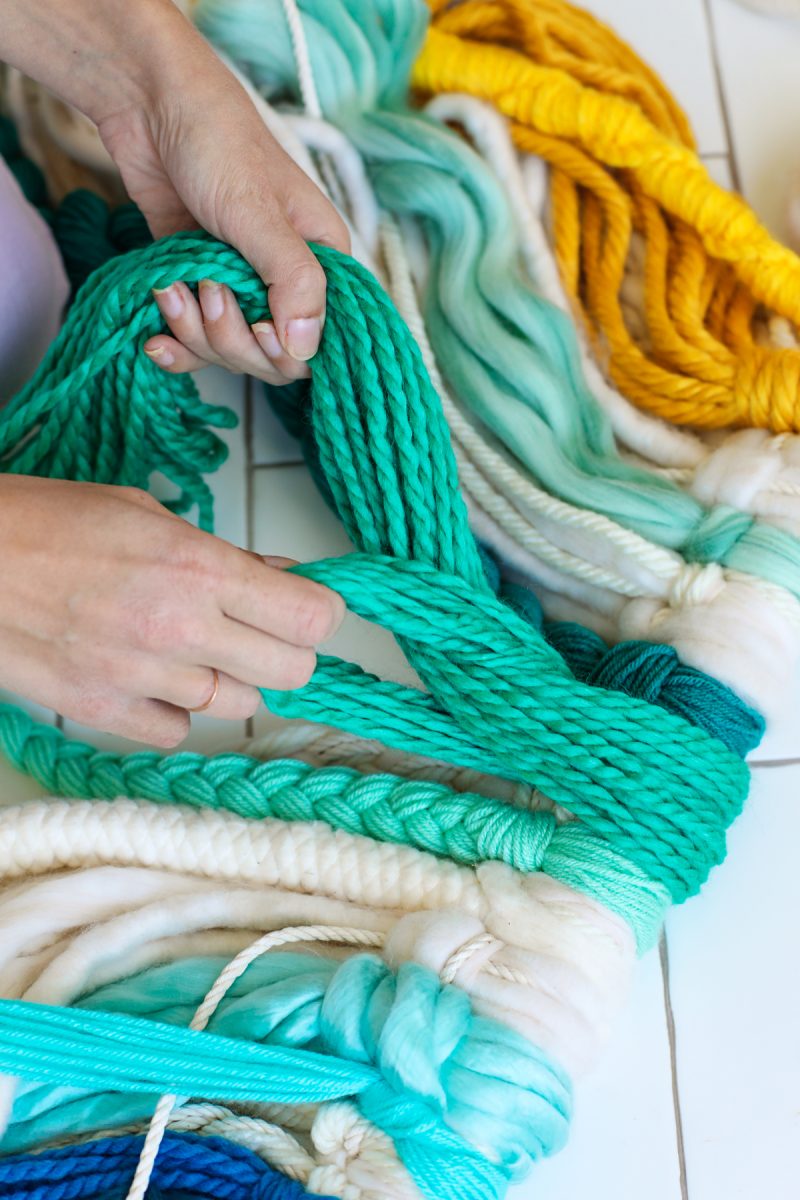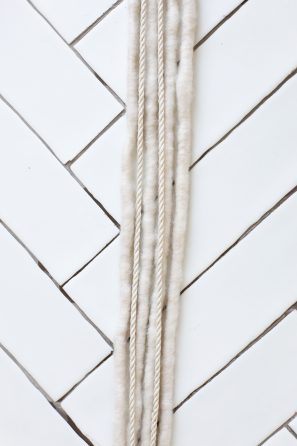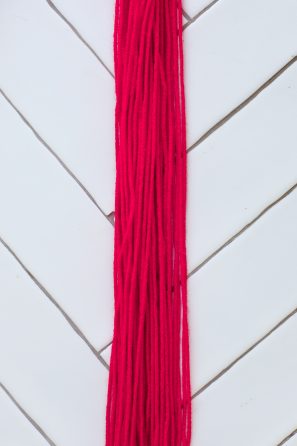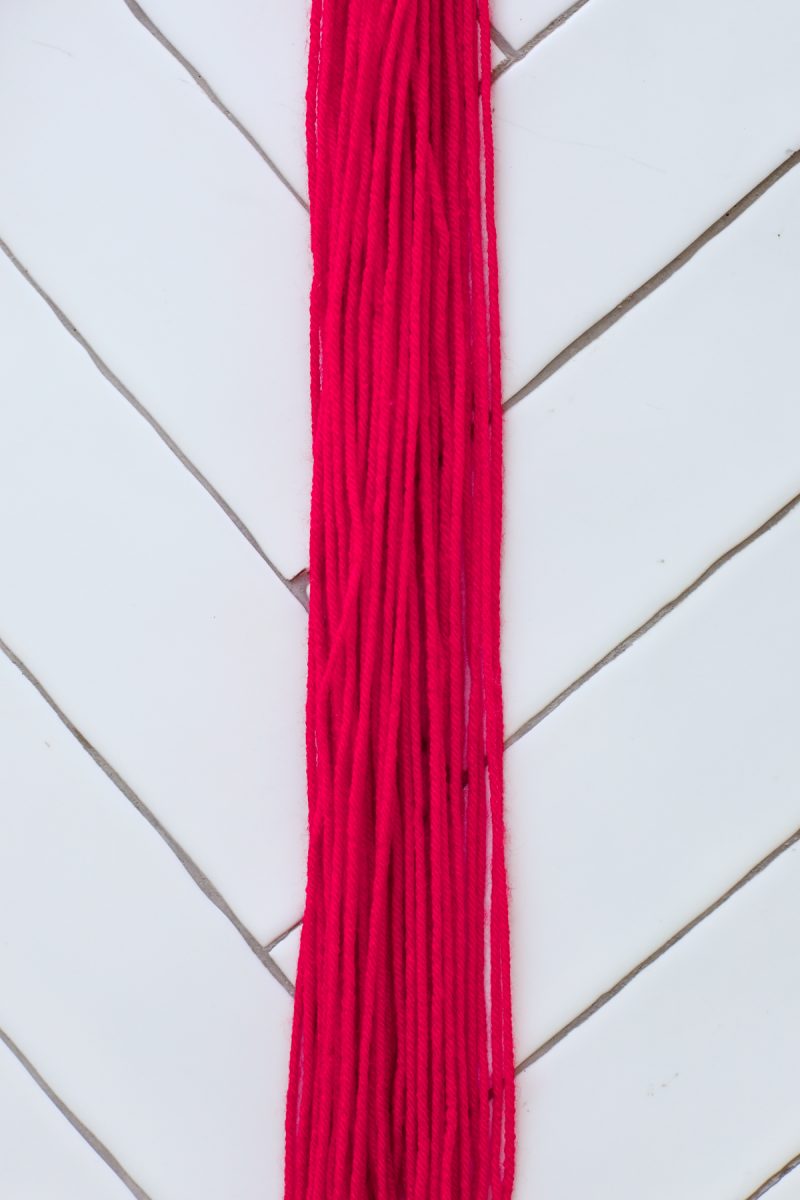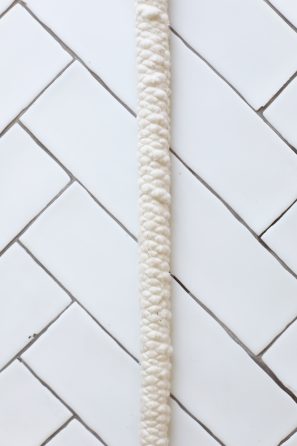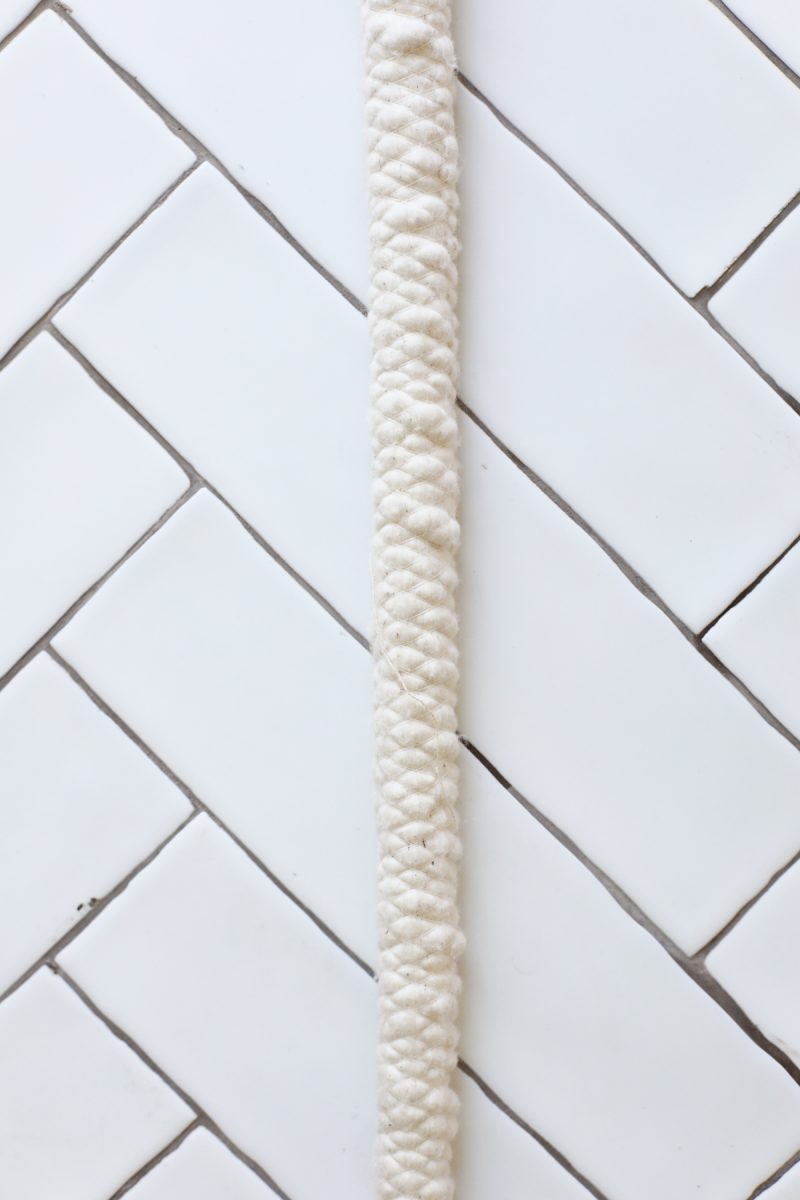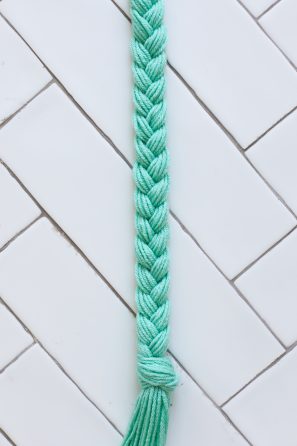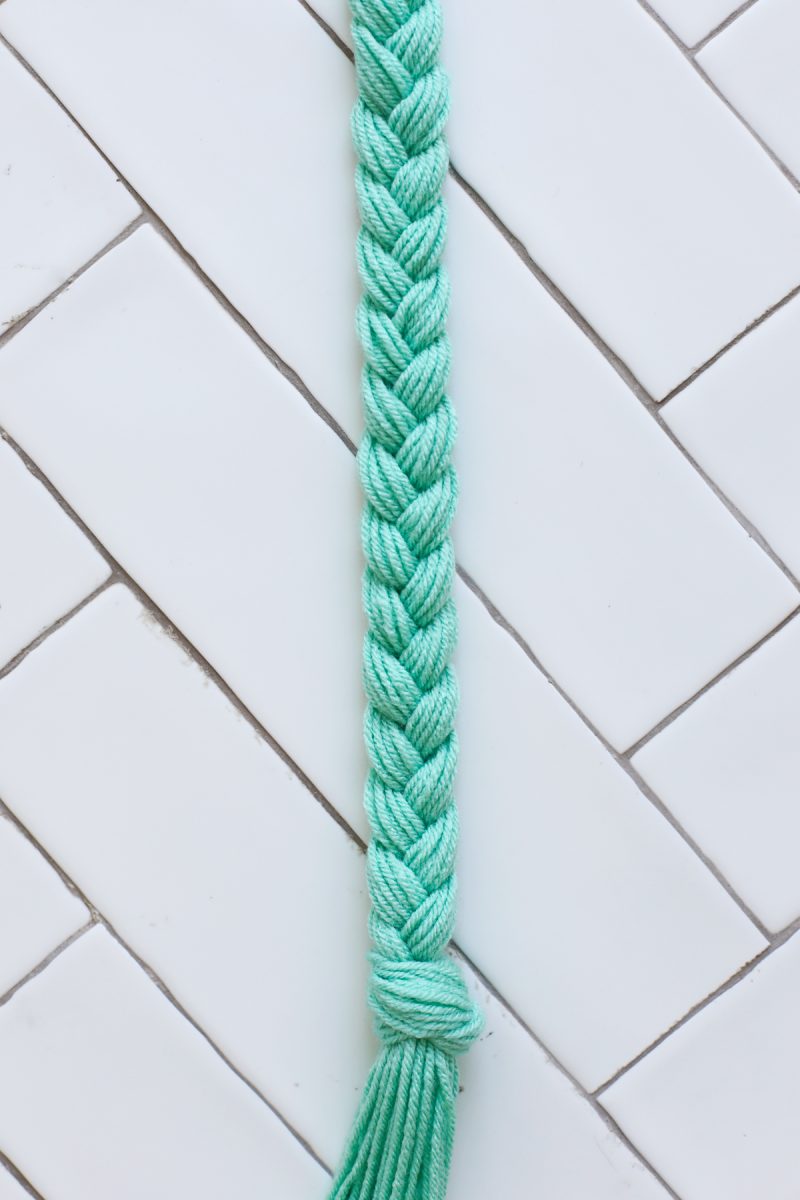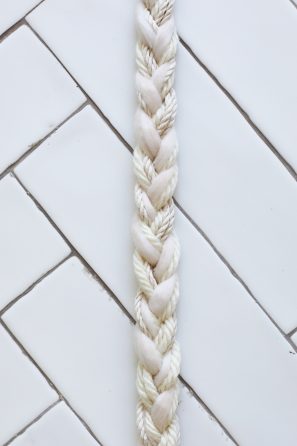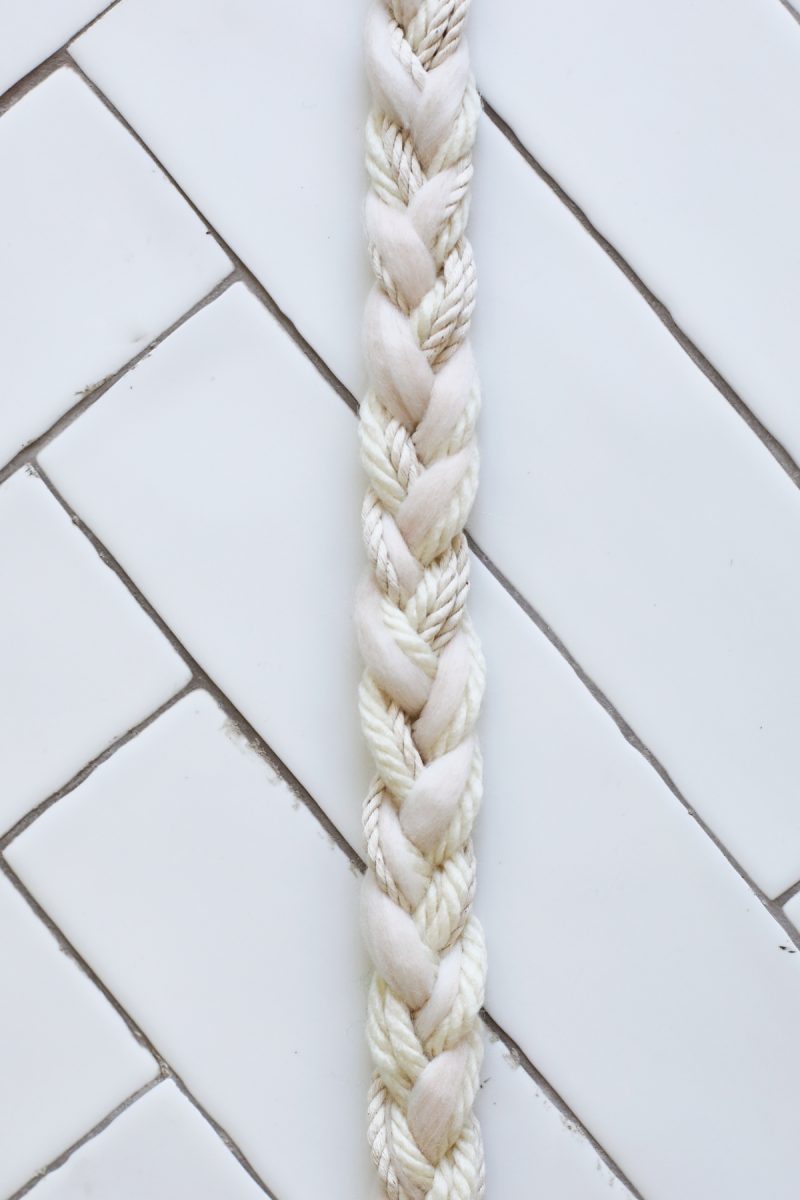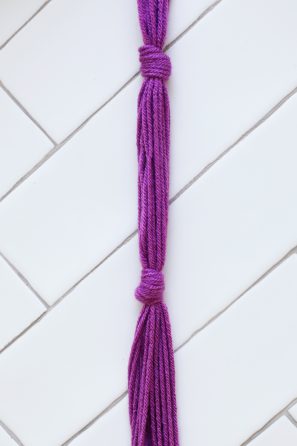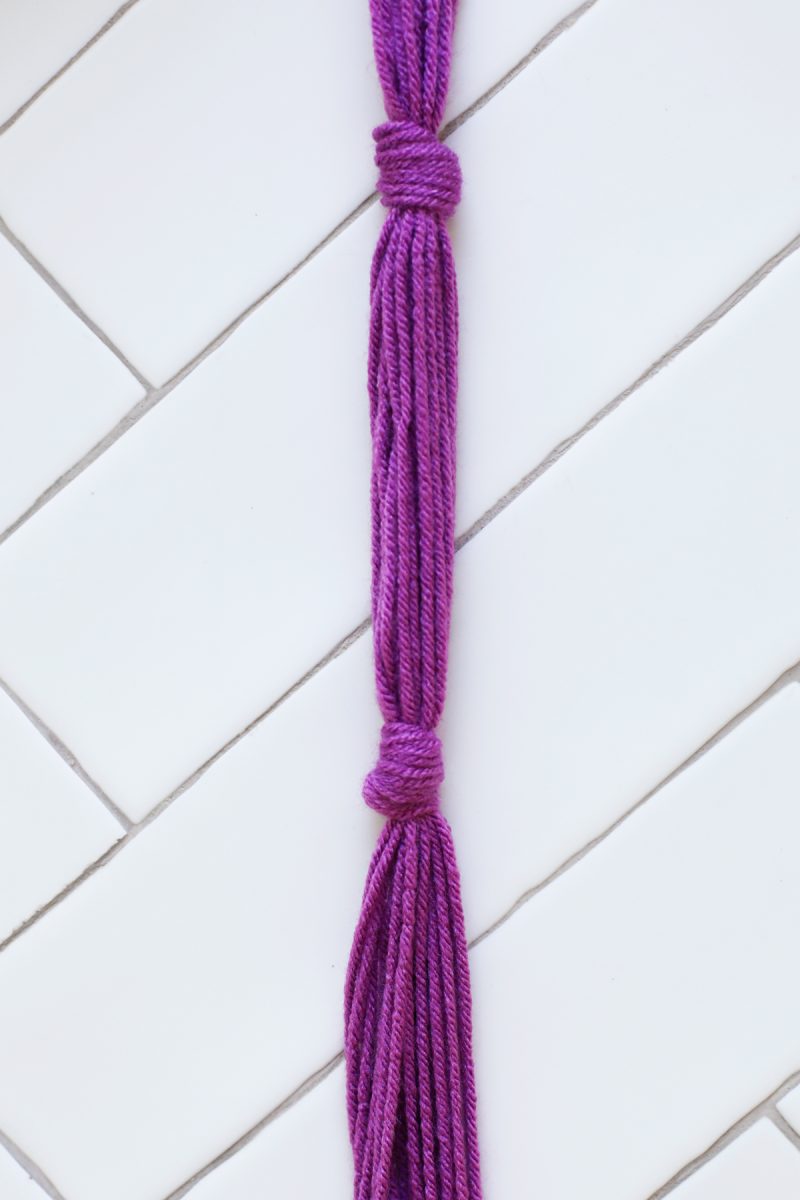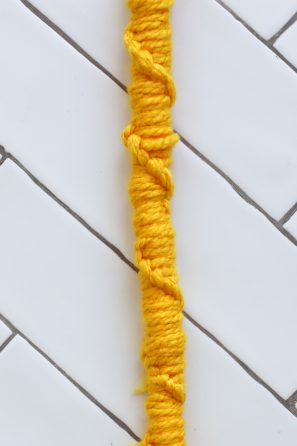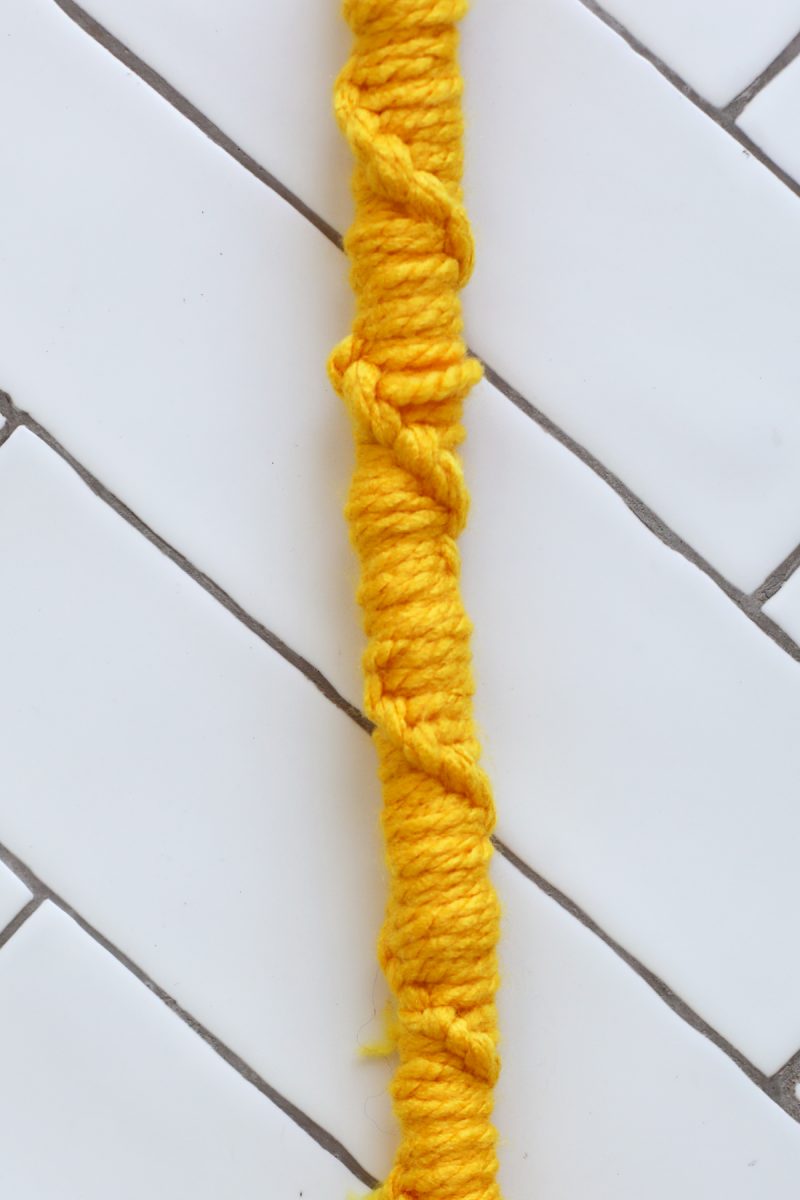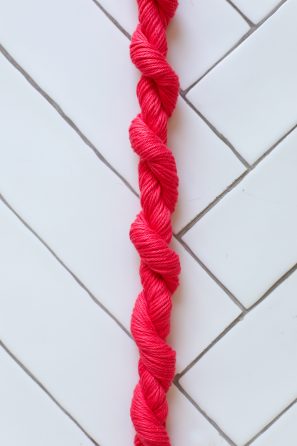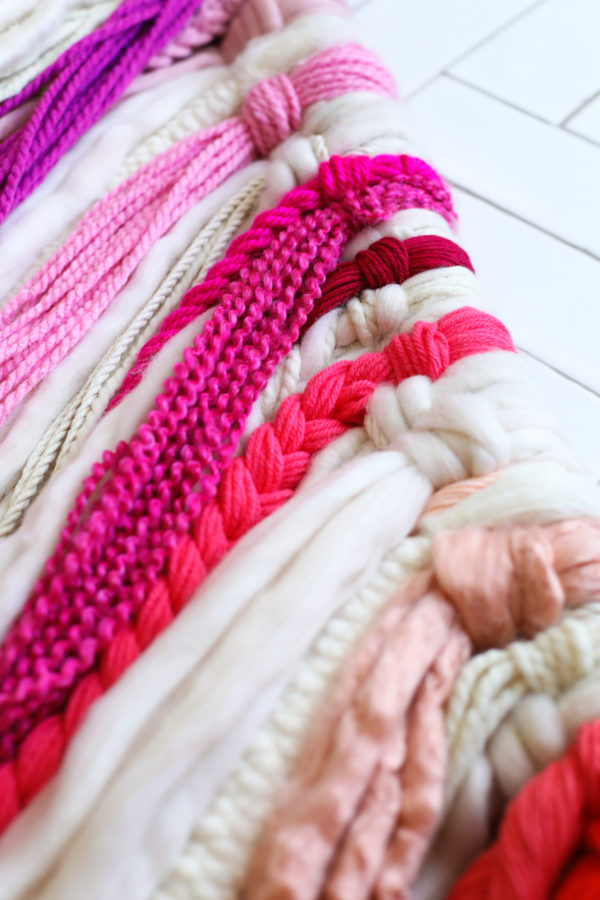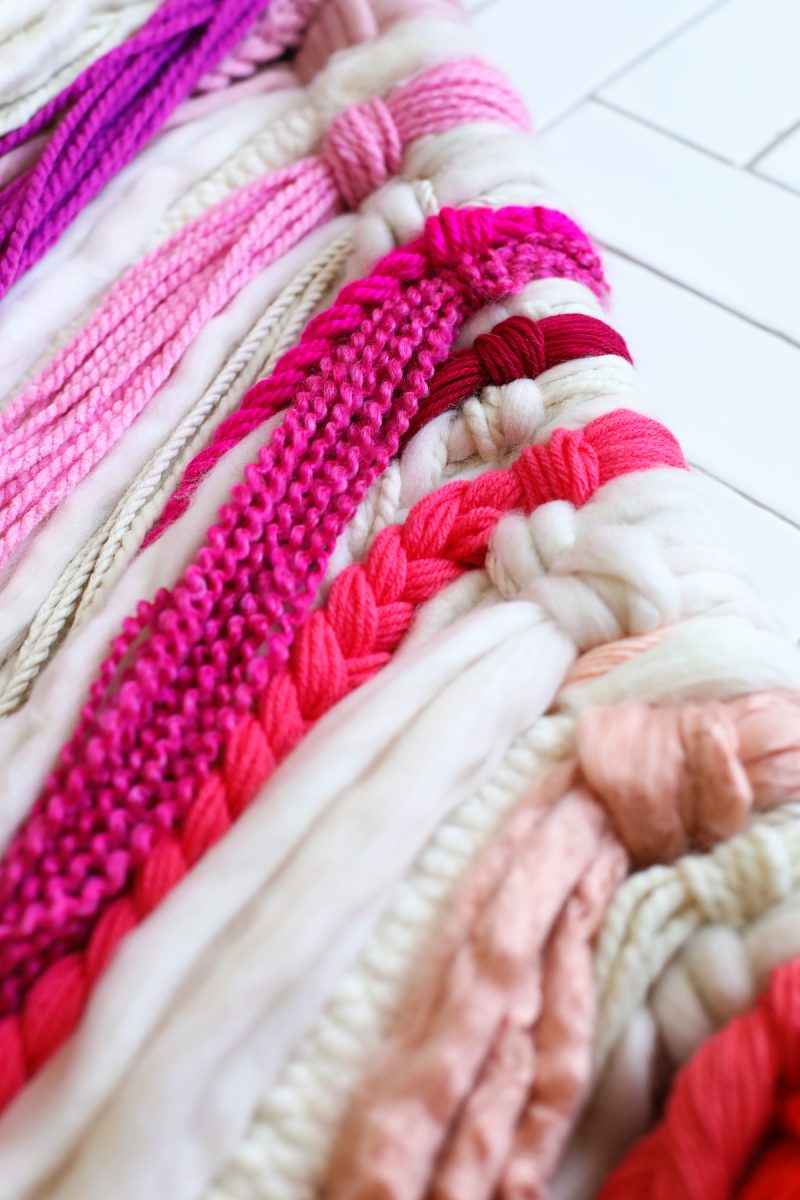 DIY No-Weave Rainbow Wall Hanging
Total Time: 5-10 Hours (Depending on how detailed you get + how big yours will be!)
Supplies
Yarn in All Textures/Styles (If you're going for the same look I did, you're going to want a variety of textures within each color, including the white! (It's really hard to say how much because it is completely dependent on how you choose to make yours. I say buy way more and return.)
Rope (Optional, we added it for a different texture!)
Cotton Piping (I loved how chunky this was, again for more texture!)
Wooden Dowel
Directions
1. Lay out all your yarn in the color order you want, varying up the textures within each color.
2. I recommend hanging your dowel up somewhere as you're attaching the yarn to make this easiest! We tied ours to a clothing rack.
3. I'm going to walk through all the different styles we did. Essentially, we just varied them up throughout the piece, trying to space each style out so there were no two identical ones next to each other. White was our base, so we put one or several different white sections in between all the colors.
4. To attach each one, find the middle of your strands of yarn and fold all the strands in half. Pull the loop over to the front of the dowel from behind, and then pull the ends of the strands through the loop. Then you will proceed with your design. (Unless otherwise noted below.) Work your way across the dowel.
5. Here are the different techniques we used:
- Mixed Texture Strands: Cut 4-8 long strands of different yarn. Each strand was double the length you want the final piece to be.
- Single Texture Strands: Cut 6-12 long strands of the same yarn. Each strand should be double the length you want the final piece to be.
- Cotton Piping: This comes pre-made but is MUCH thicker than yarn and adds a great contrast. You can find it at fabric stores and it's cut by the yard. For this one, you'll want to remove the thread it's incased in at the top and separate the fibers into two sections, then tie the sections around the dowel.
- Single Texture Braid: Cut at least 10-12 strands of a single yarn, at least one and half times the final length you want it to be. Loop the yarn around the dowel as instructed above and then separate the strands into three sections. Braid and end with a knot.
- Mixed Texture Braid: Same as above but make 2-4 of the strands a different yarn or rope. When separating the sections make sure you have at least one strand of the contrasting texture in each of the three braid sections.
- Knots: Follow the same instructions as the "single texture strands" but once on the dowel, knot them every 4-6" all the way down.
- Spiral Wrap: This is the same as those spiral wrap friendship bracelets I feel like we've all made!? I suggesting watching a video tutorial for this one if you aren't familiar with the technique!
- Twist: This one takes the most yarn, about an entire skein. Cut several dozen strands of yarn about 2.5x the final length you want it to be. Wrap them around the dowel and divide in two sections. Twist each section separately and then twist the two together. and knot at the bottom.
- Tassel: I didn't get a pick of this but you will make a tassel of yarn just like how I made these tassels here. Then tie the tassel around the end of a loop of single texture strands!
6. Look at your piece and adjust or add as needed. Trim if desired, but I loved the uneven lengths at the bottom!
7. How you hang the piece will depend on the type of walls you have and how large/heavy it ends up being. We hung ours on three large nails in the wall.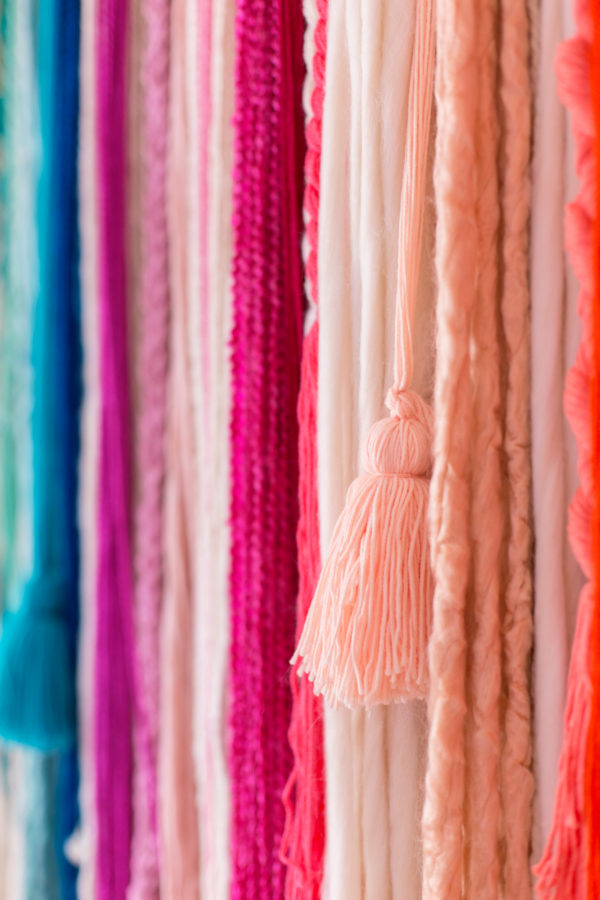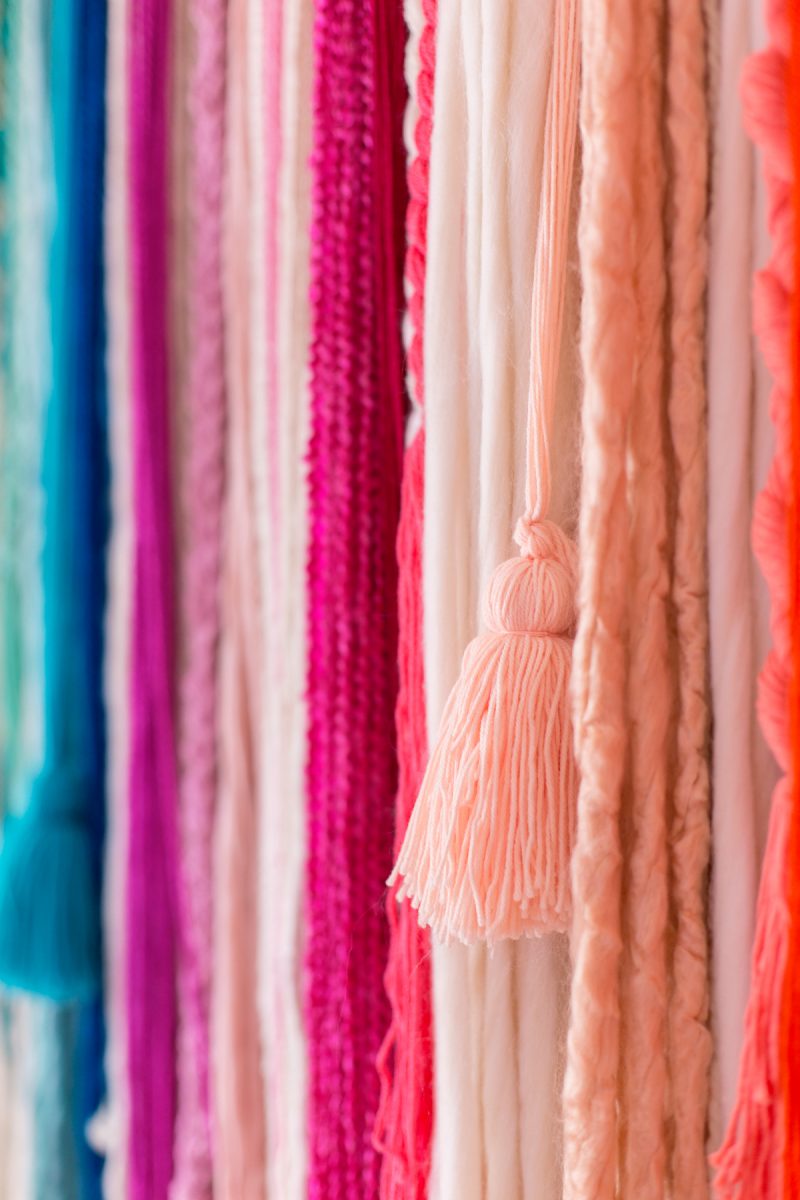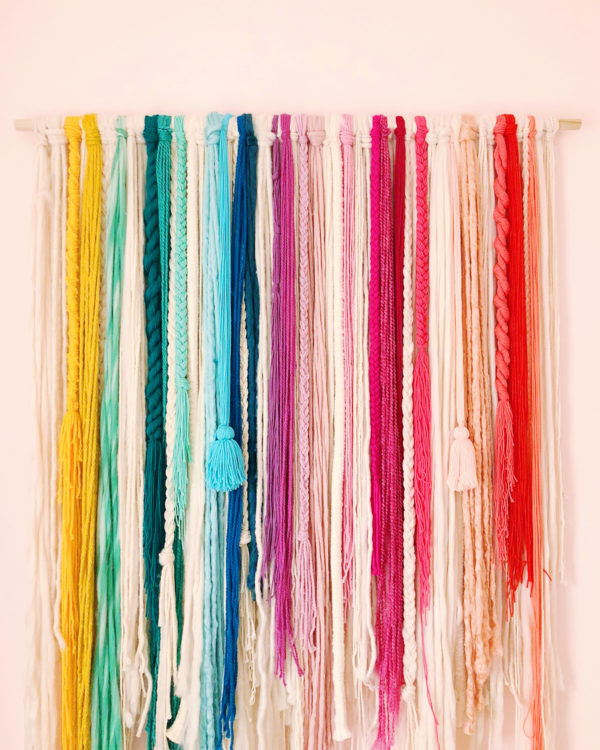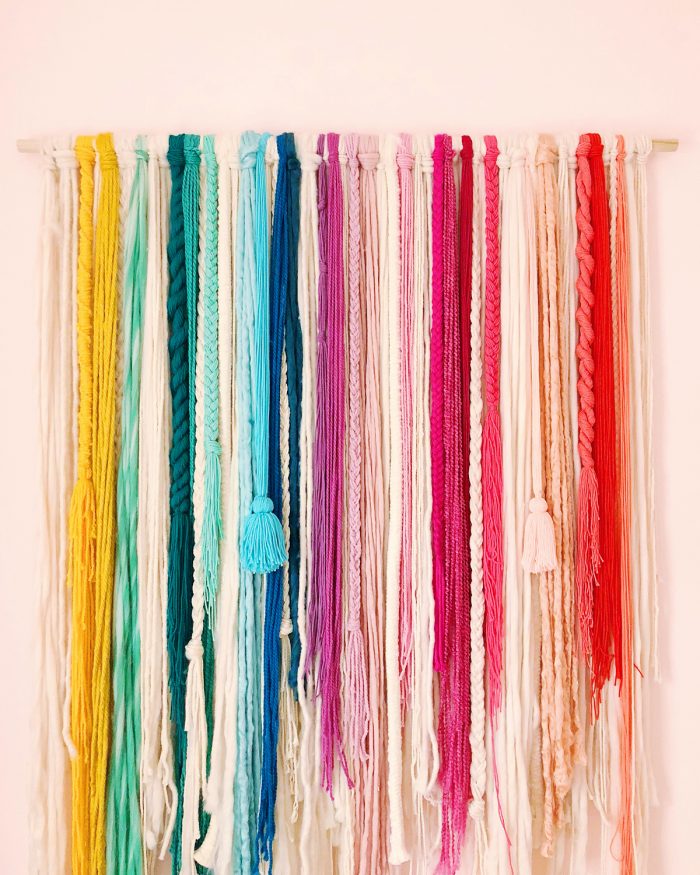 Photos by Jeff Mindell
The moral of the story with this project is that there is no perfect formula or technique. The more you vary everything, the better it looks! I love how imperfect it is. Can't wait to see the versions you make!!!!
SaveSave
SaveSave
SaveSave
SaveSave
SaveSave
SaveSave
SaveSave
SaveSave