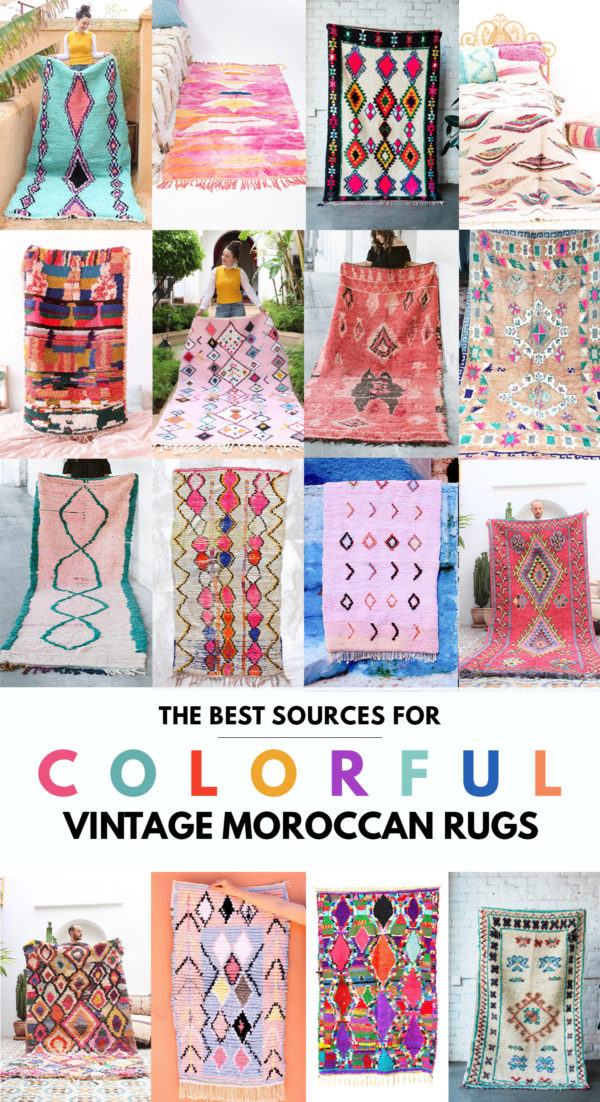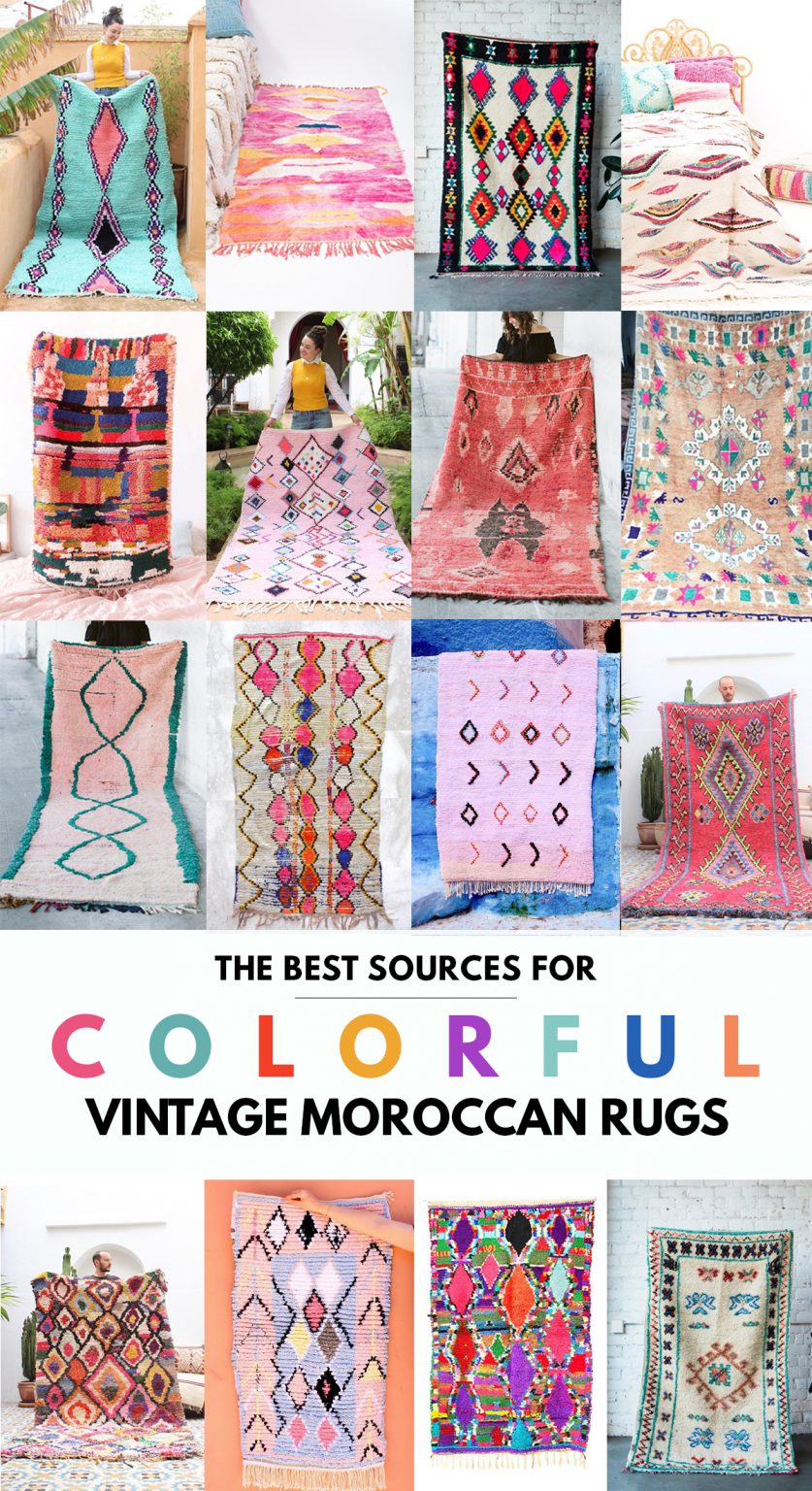 I have a rug buying problem. Vintage moroccan rugs, to be exact. I love the rugs. I want to buy all of them. But Jeff told me I need to stop seeing as we now have more rugs than we have rooms in our house so I decided to write this post. A post about where to buy colorful vintage rugs, my favorite sources, so that hopefully you guys will buy all of them and there will be none left for me. Selfish, I know, but help a girl out!? Haha!
For real though, I've spent days (not hours, days) scouring Etsy and the internet for the perfect rugs and I wanted to share my favorite ones I've found. Each one I've listed has a very specific style so you know what you're getting, which is why I love them. Sure, there's a ton of vendors on Etsy and elsewhere that stock hundreds of vintage rugs but sometimes it's nice to have your go-to spots and not have to sift through a bazillion. So that's what I'm here for! In addition to being here for me and keeping my marriage in tact. 😉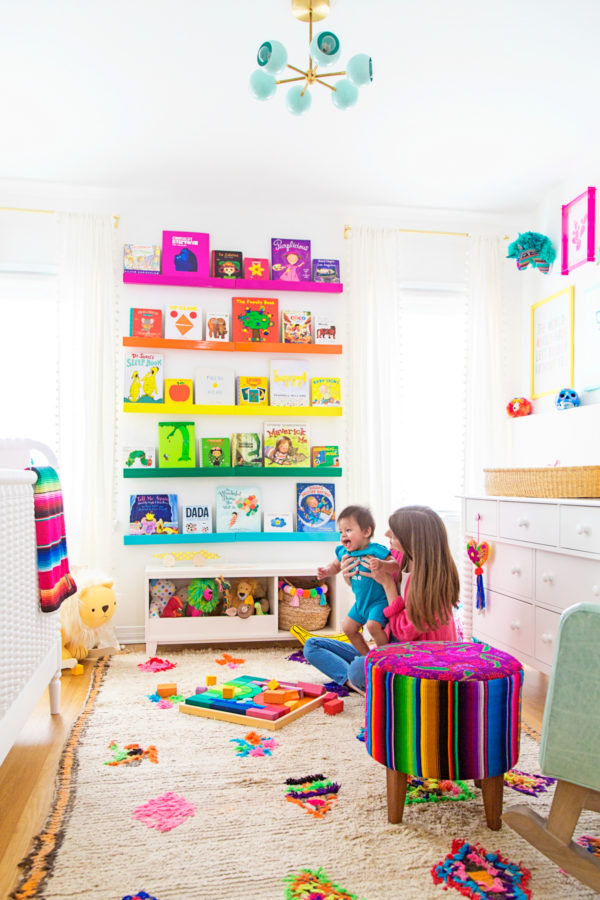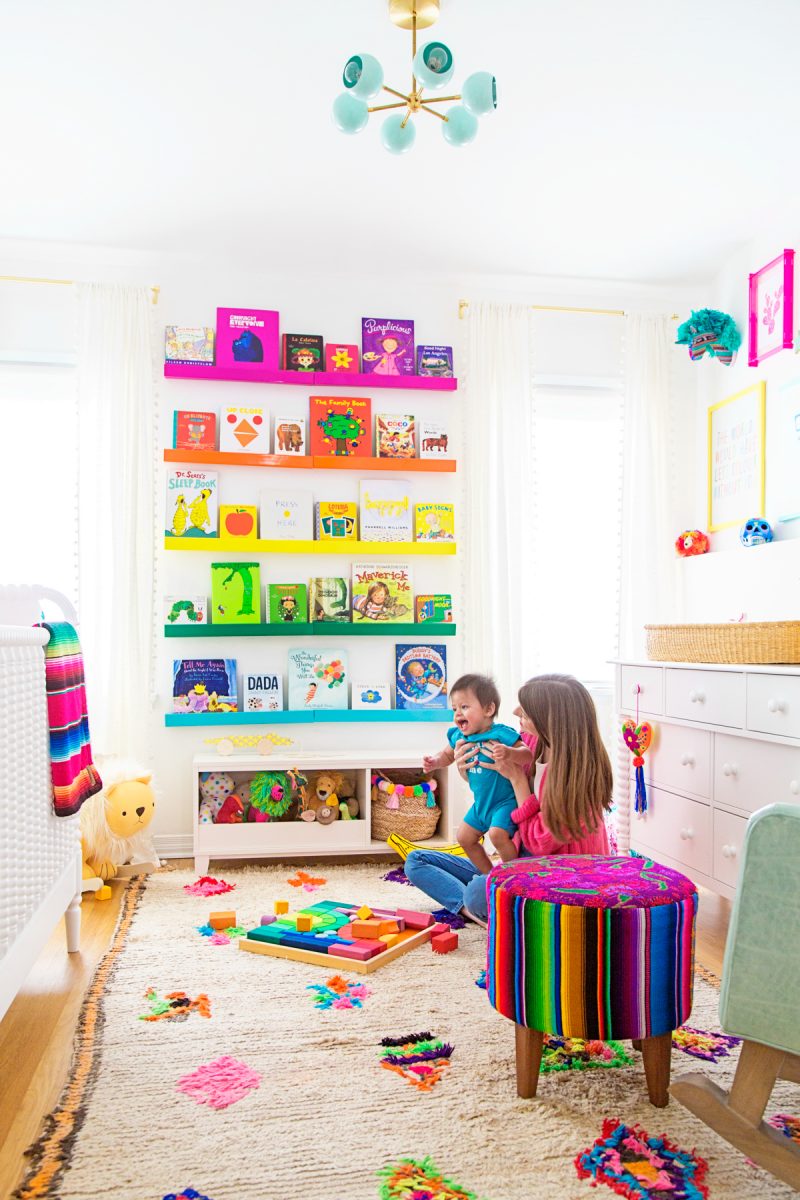 Coco Carpets is run by my friend Caroline and it's where Arlo's rug (pictured above) is from and where the one in our master bedroom is from! What I love about Coco is she sources a lot of rugs with SUPER bright colors and lots of neons. (There's neutral ones too for you neutral lovers too!) Caroline is very conscious of passing along the story and history behind each rug. She'll tell you about the tribe that made it and it's approximate age, as well as any special meaning behind it.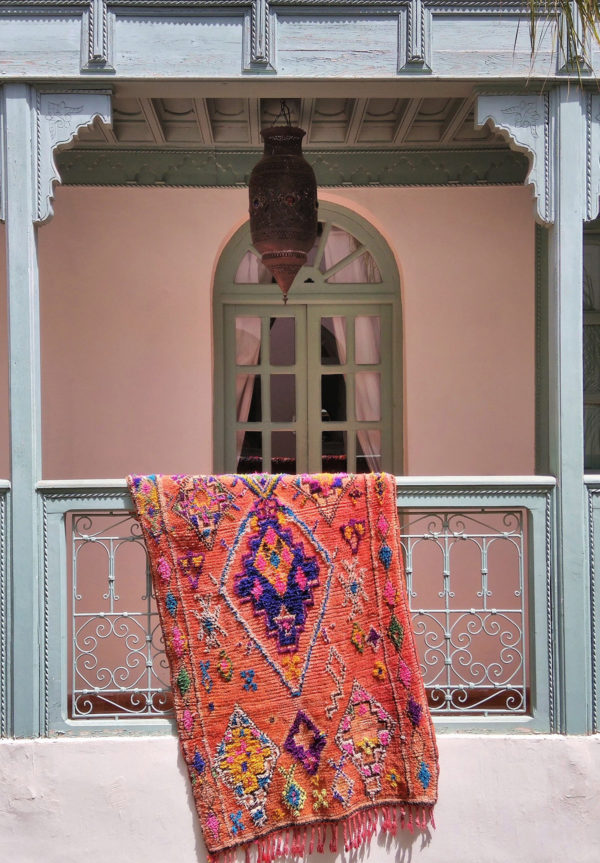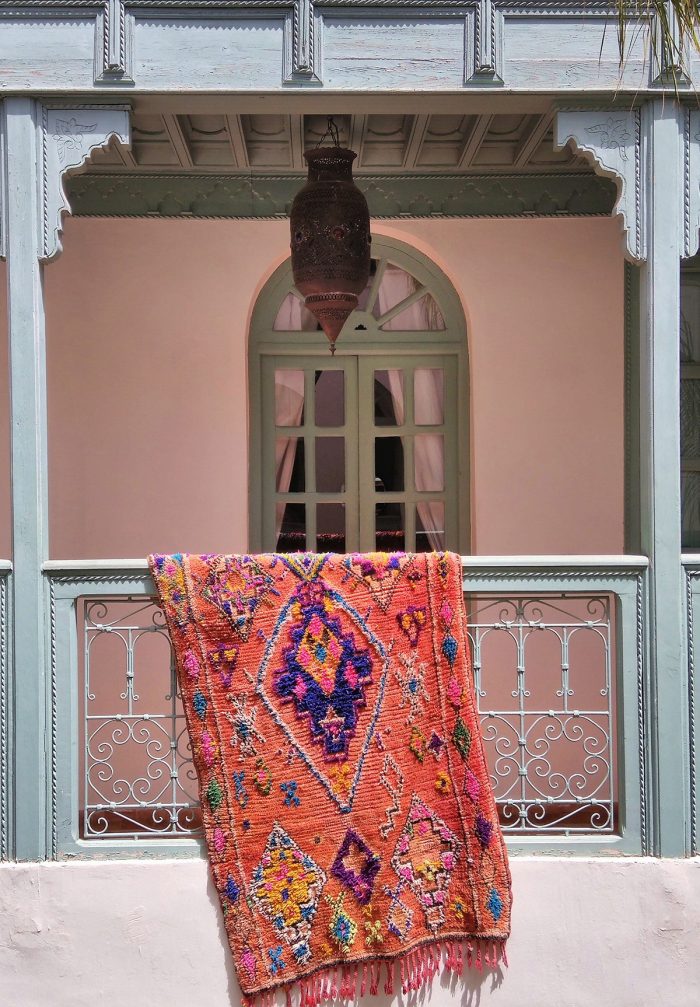 SHKOON is where the small rug (the one pictured above!) in our hallway is from. I love following Mario on Instagram because he actually lives in Morocco and will take you on his excursions to source his beautiful rugs. His prices are SO GOOD and he often has patterns and styles I've never seen anywhere else. Lots of great large, neutral rugs but some real colorful gems too. He'll also have some Instagram-exculsive deals so keep an eye out for those.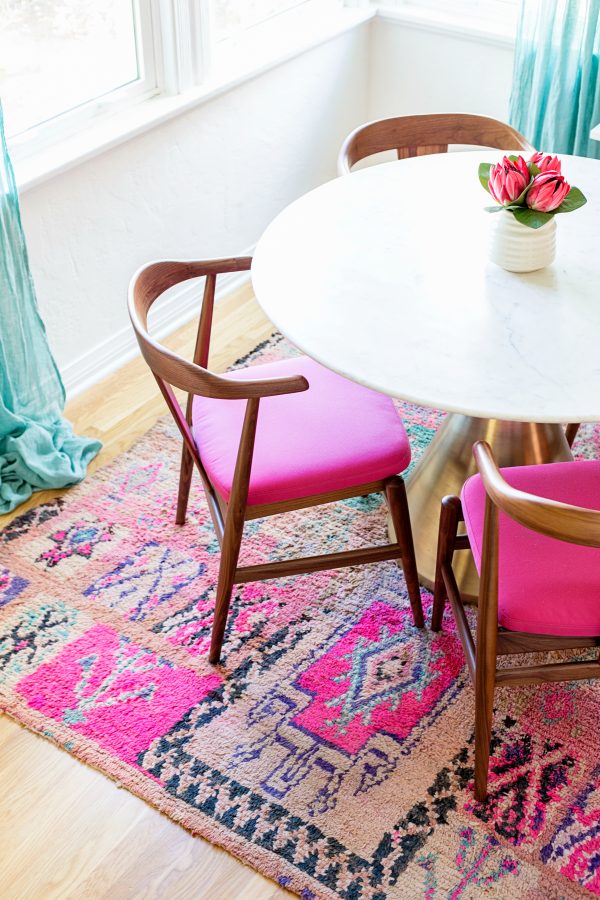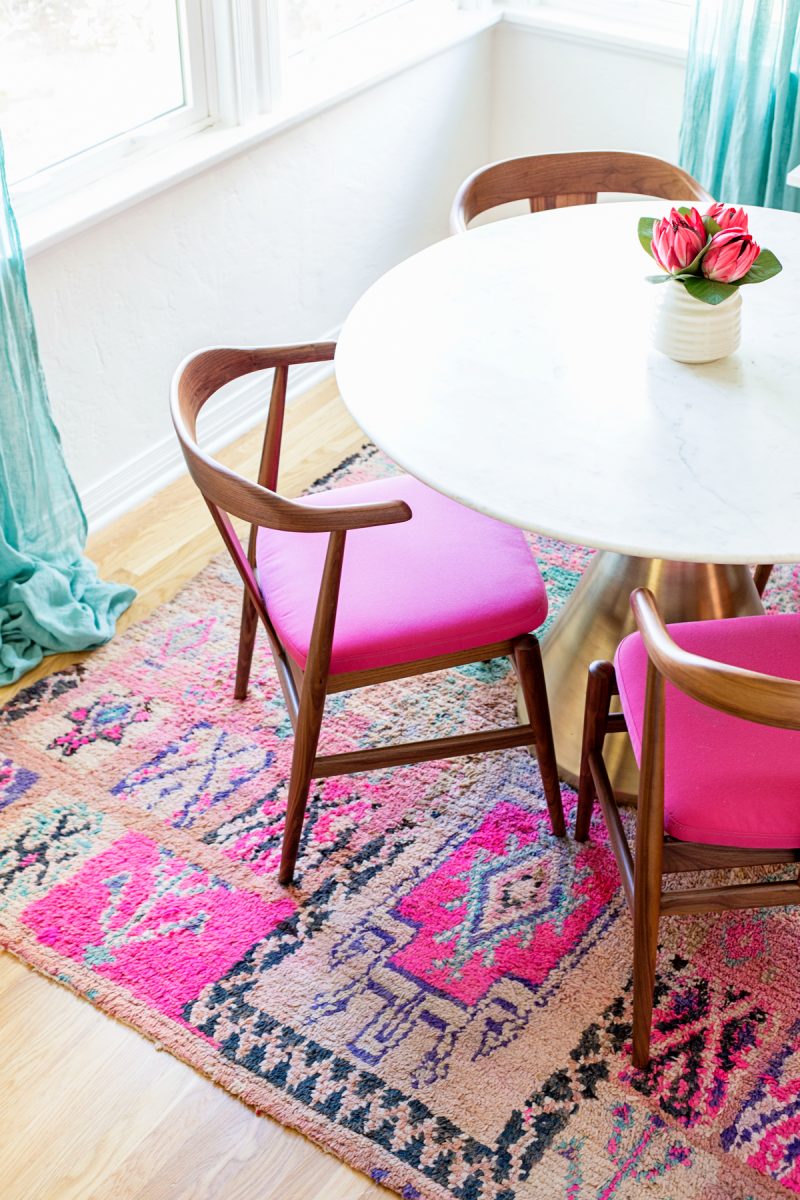 Flea Market Fab is where our dining room rug (pictured above) is from that you guys ask about ALL the time. They always have a lot of pinks and pink and teal combos so if you love our rug, even though it's one-of-a-kind, you're likely to find another similar one here. They also have a lot of great more muted but still colorful pieces. In addition to rugs, they make poufs and pillows which are GORGEOUS.
They have a shop but their Instagram sales are where it's at. It's honestly addicting so YOU HAVE BEEN WARNED! But they'll list rugs and poufs and all the details about them and the first person to comment "SOLD" is sent a PayPal invoice to purchase it. Shipping in the US is FREE which is awesome, too. I have notifications turned on for them because I never want to miss a good one, and that's exactly how I scored our dining room one!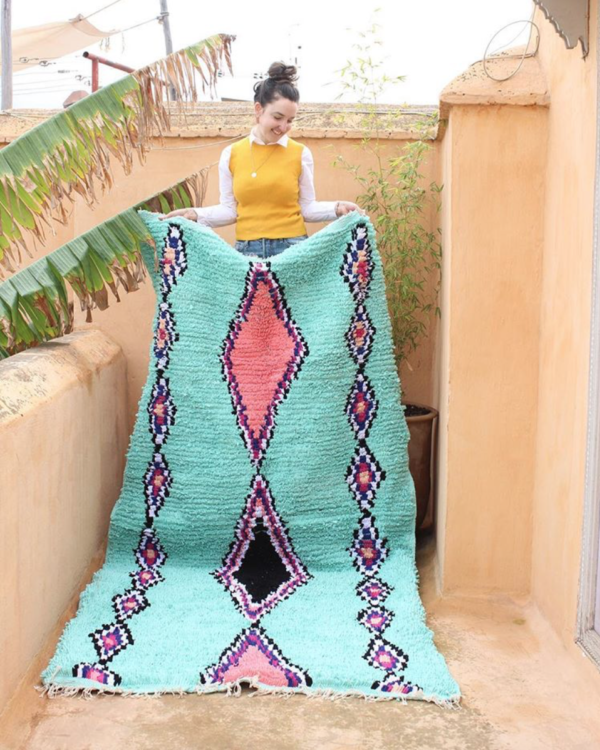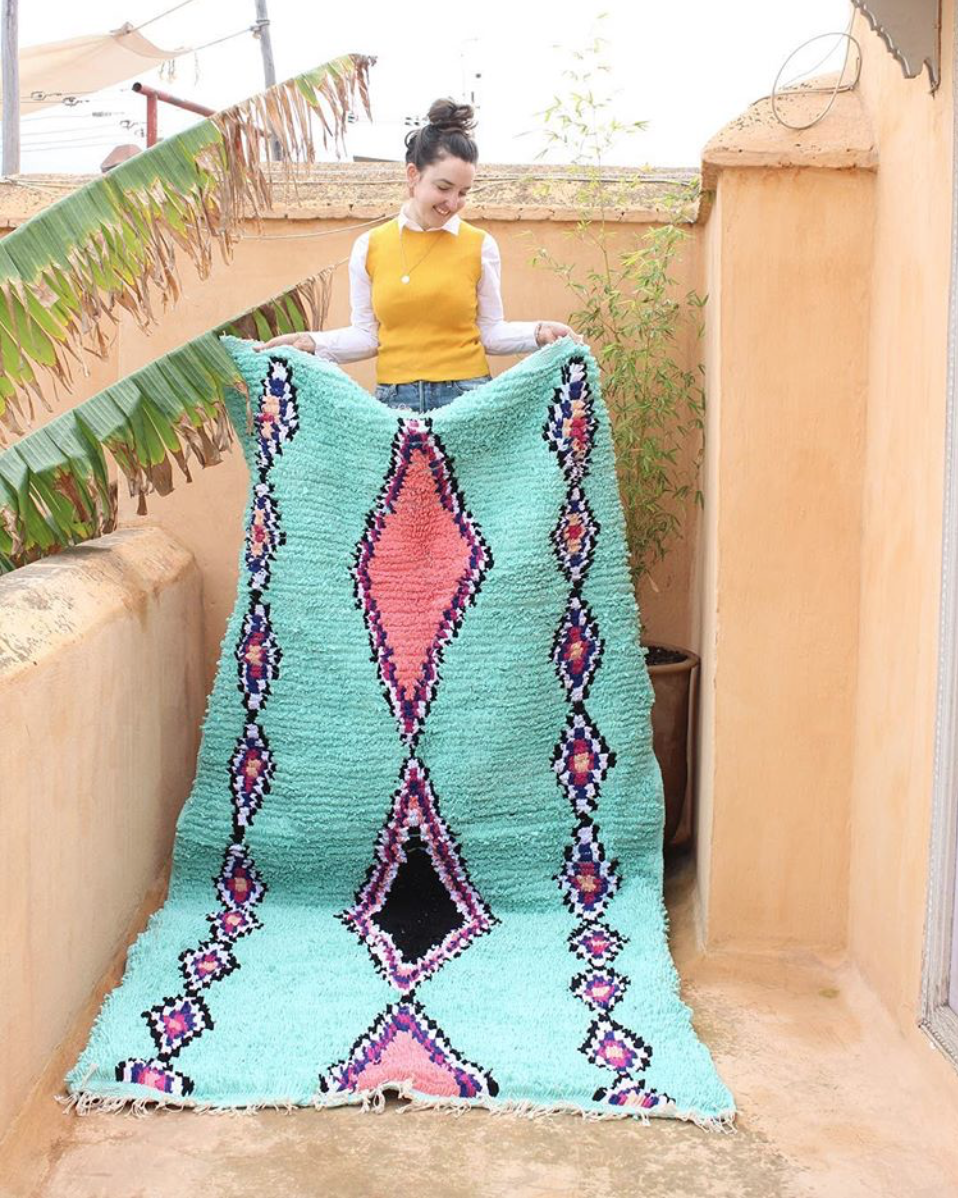 Pastel lovers, you're gonna wanna hear this one. I've loved Baba Souk for a long time but they've recently launched an Instagram account where they have Instagram-exclusive sales and again, it's addicting. What I love most is their rugs on there are almost all pastel-based, which is a palette I don't often see. I'm definitely buying one of their rugs when we do our second nursery (LOL are you judging me for planning that already!?) and might snag one for our office too.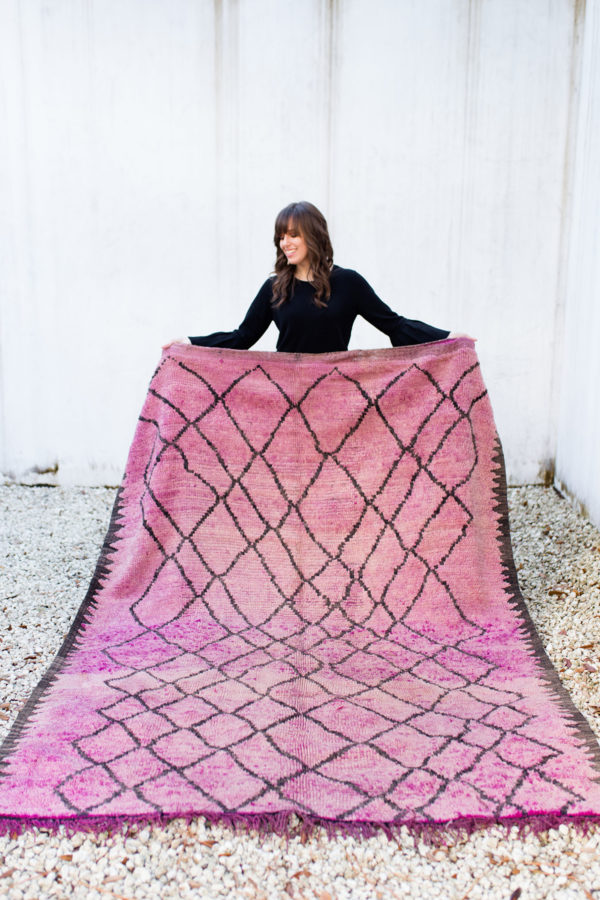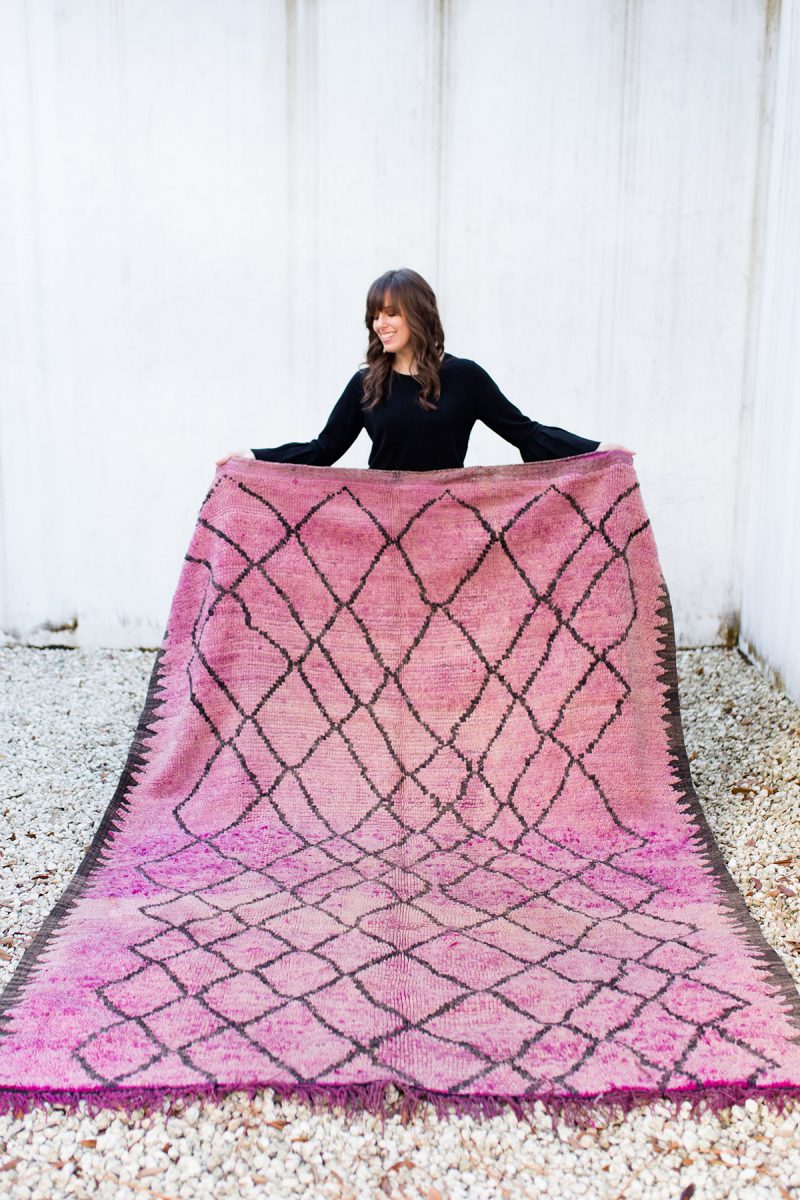 Drift Home Collection had a rug that I went back to a million times for our closet and then when I finally was ready to commit it was GONE and I'll always regret it. (HA, moral of the story, never hesitate when it comes to rugs!) Here's what I love about Drift, they give back 10% of their profits to a charity in the country the product originated from. She is incredibly selective about the rugs she brings in and has lots of great large rugs, which can be really hard to find. Plus, orders of $500 ship free in the US! I love free shipping!!!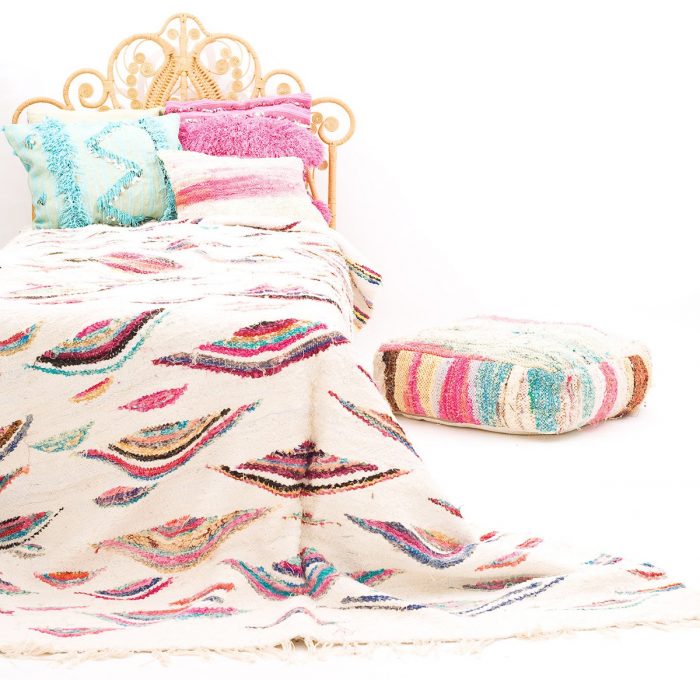 The Roomery has this one rug (yep, that one up there!) that looks like it has little rainbows on it and I'm only telling you because I don't have a place for it and I want it so bad that I just need one of you to buy it. Haha! Anyway, they have another incredibly unique selection, unlike the others linked above, especially of boucherouite kilim rugs. LOOK AT THOSE COLORS! Also including them because they have a gorgeous selection of bright pillows that I'll be hitting up when we re-do our living room.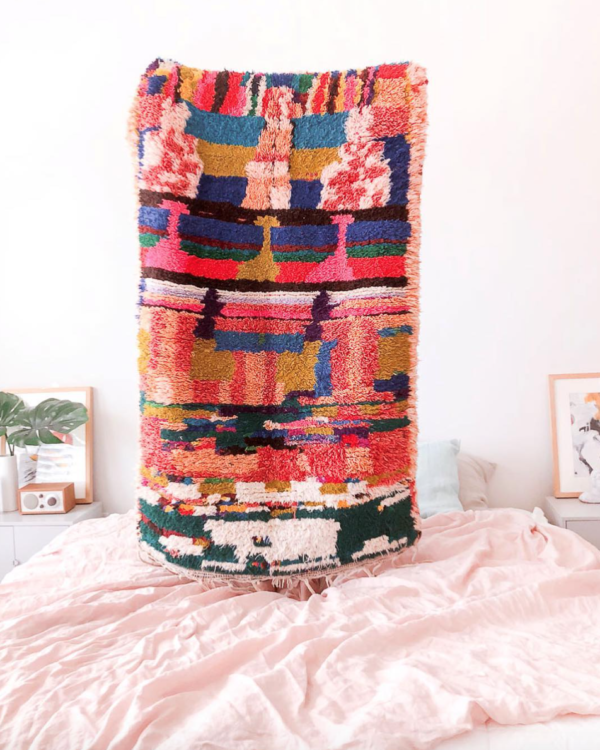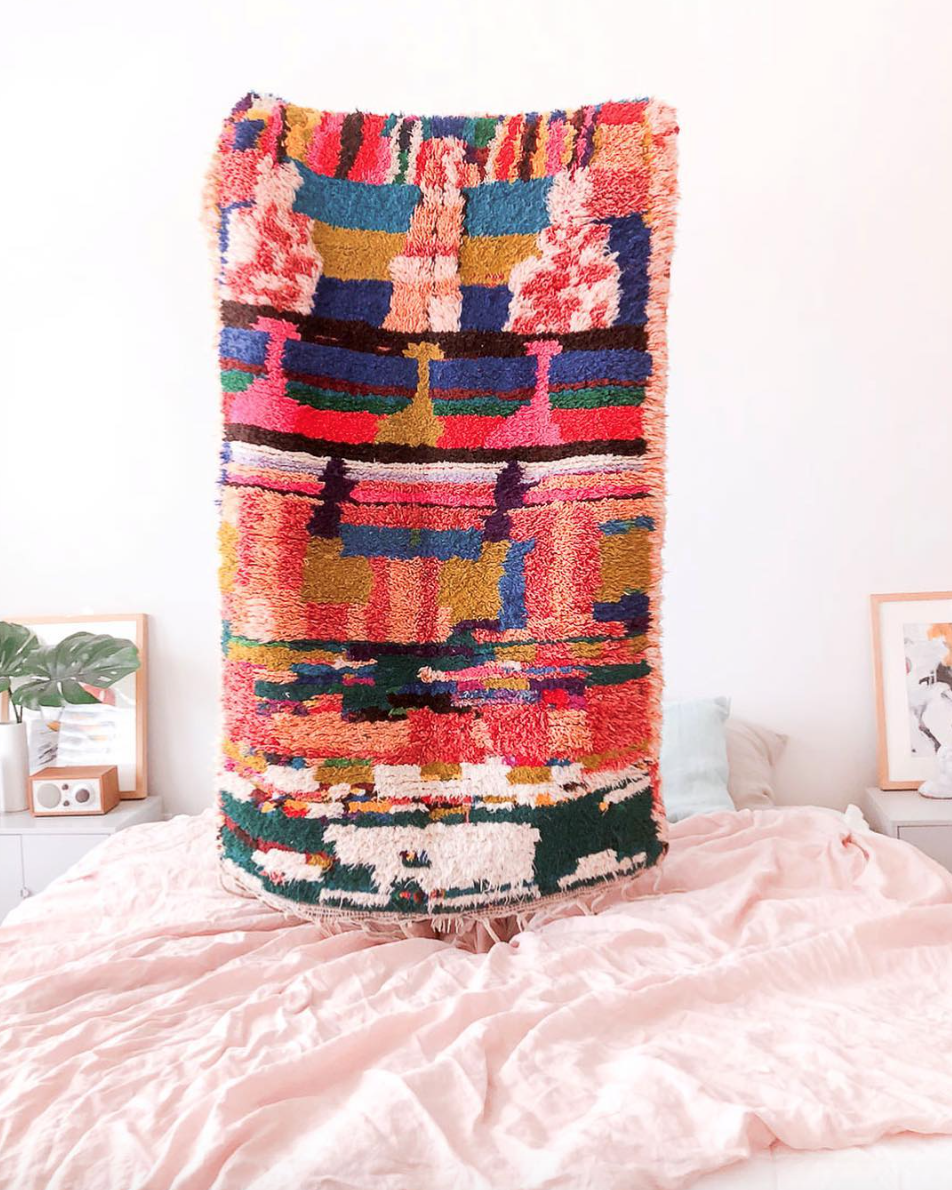 This is where I got that rug up there. For our closet, that didn't work in our closet, so my friend Brittni (photo above is hers!) is now the proud owner of it. BUT I STILL LOVE IT SO MUCH. This shop may actually be THE most colorful of the bunch, like jaw drops to the floor bold. Lots of really beautiful runners and smaller boucherouite rugs that are just PACKED with super unique color combinations.
Which style is your fave?? Hope this post was helpful! Let me know below if you'd like to see more home-oriented round-ups. I'm getting really good at spending days on the internet searching for stuff for the house so I'll happily use the excuse that it's "for work" too. 😉
I regularly curate my favorite rugs, you can find them all here:
Vol 1, Vol 2, Vol 3, Vol 4, Vol 5, Vol 6, Vol 7, Vol 8, Vol 9, Vol 10, Vol 11, Vol 12, Vol 13, Vol 14SaveSaveSaveSaveSaveSaveSaveSave