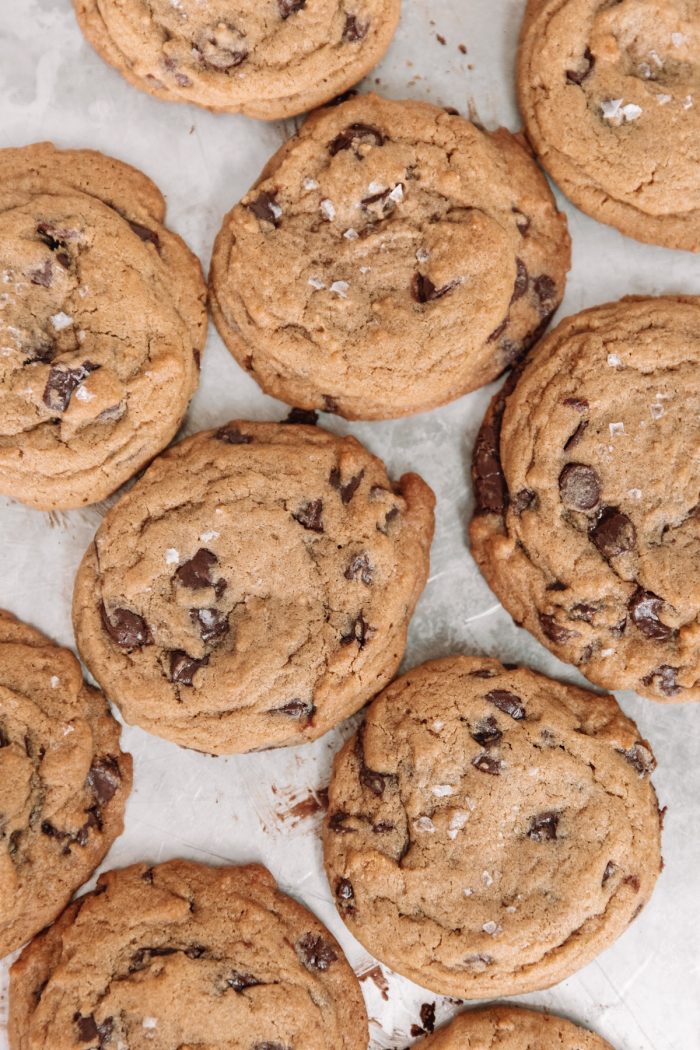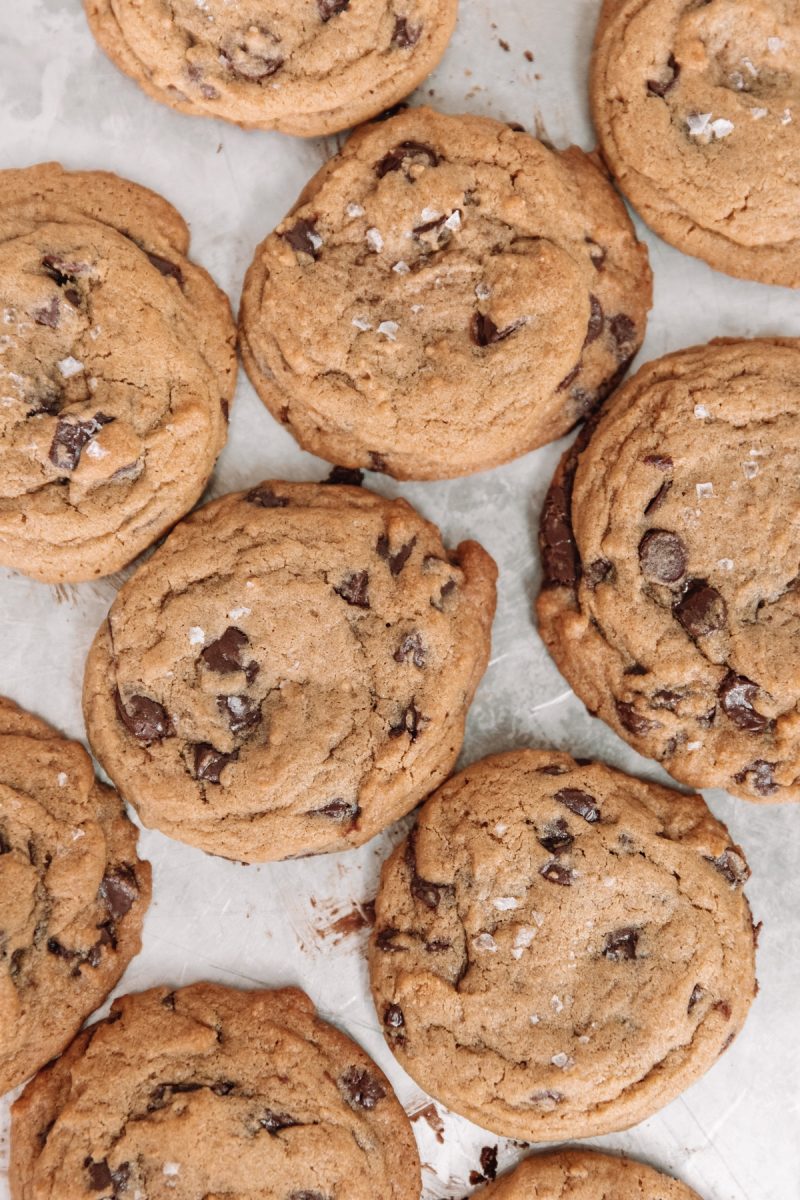 As my best friend, Lauren, and I approached our 30th birthdays last year, we decided there was one important thing we wanted to know as we embarked on our 30s: the best ever chocolate chip cookies.
So we spent almost a year testing every "famed" chocolate chip cookie recipe and comparing our results and thoughts. We tried specialty ingredients, and different baking techniques but none of them ever felt right. And then, we looked to the simplest of places, the back of the chocolate chip bag, and found our favorite.
We both simultaneously texted that it had to be "the one" and after baking them several more times (than I'd like to admit, haha!) and making our own adjustments to the original, I can officially confirm, it's the best. Easy, delicious, reliable.
So today, I wanted to share it with you, along with lots of notes on the why and how it came to be the very best.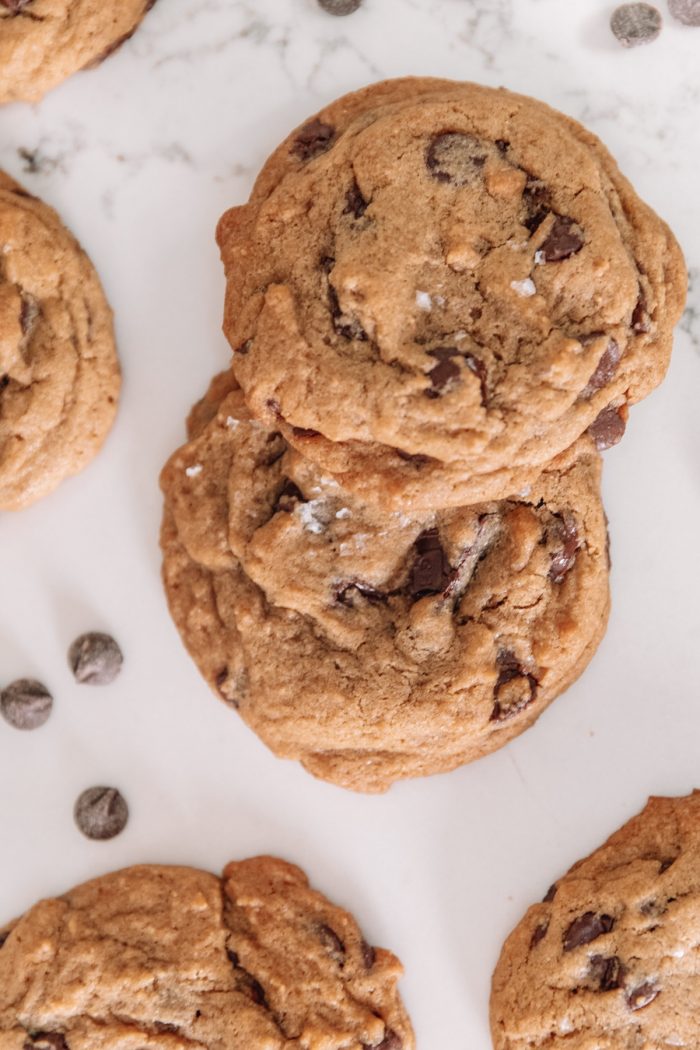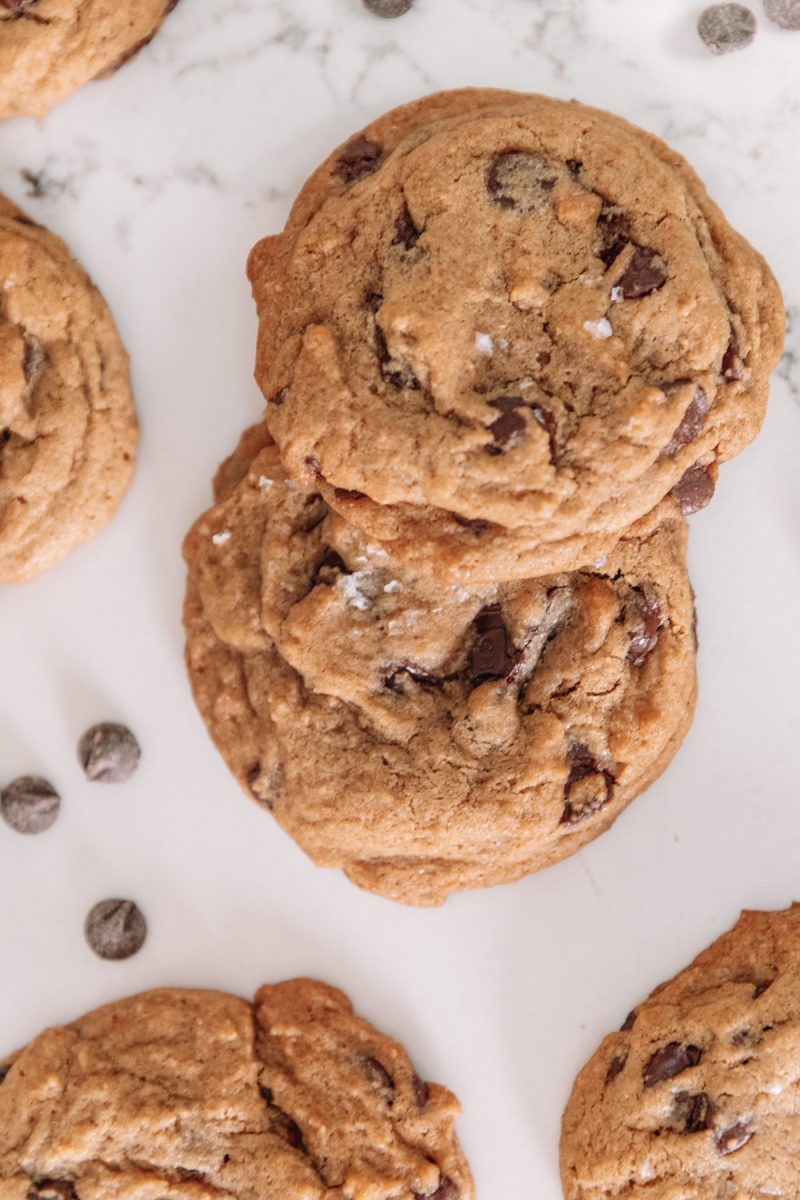 Why These Are The Best – (Hint: EASY + NOT FANCY!)
I've tried many MANY chocolate chip cookie recipes. Lots of them require special flours or minuscule amounts of odd ingredients that then waste away in my pantry. Others require days of refrigeration to be at their best. I made The NY Times chocolate chip cookies in college and they truly were incredible, but the wait and the ingredients were so impractical.
(For the record, I know that refrigerating any cookie can make it better, but WHO in the world gets the urge to make chocolate chip cookies and then is cool with waiting 48 hours to eat them? Not I, my friends.)
That's why I love this cookie recipe. They require NO special ingredients and no wait time and minimal labor/equipment to be absolutely amazing. They have almost a bakery-kind of look, are substantial, slightly crisp edges and chewy centers.
Consistency is Key
Several other recipes we tried, we'd share photos of our respective cookies and they'd each look like they came from different planets.
Now, we're not professional bakers so we can take some of the blame for that, but most of us aren't, right!?
These cookies look the same every time, not just between batches but between the two of us too. Consistency is key!! I want a reliable recipe, not one that's going to fail because my toddler added a little too much of this or got a little agressive with the stirring. 😉
This one delivers!!!
My Thoughts On Sugars
The original recipe calls for 3/4 cup each of granulated sugar and brown sugar, but I'm always looking for ways to cut down on sugar in recipes. That's why you'll see in my recipe, I only use 1/2 a cup of white sugar (we use organic cane sugar, it yields the best results in my opinion) and you could even use a little less honestly, because they are still perfectly sweet.
As far as brown sugar goes, if you want those bakery-style cookies… use DARK brown sugar. It makes a HUGE difference in getting that pretty golden tone.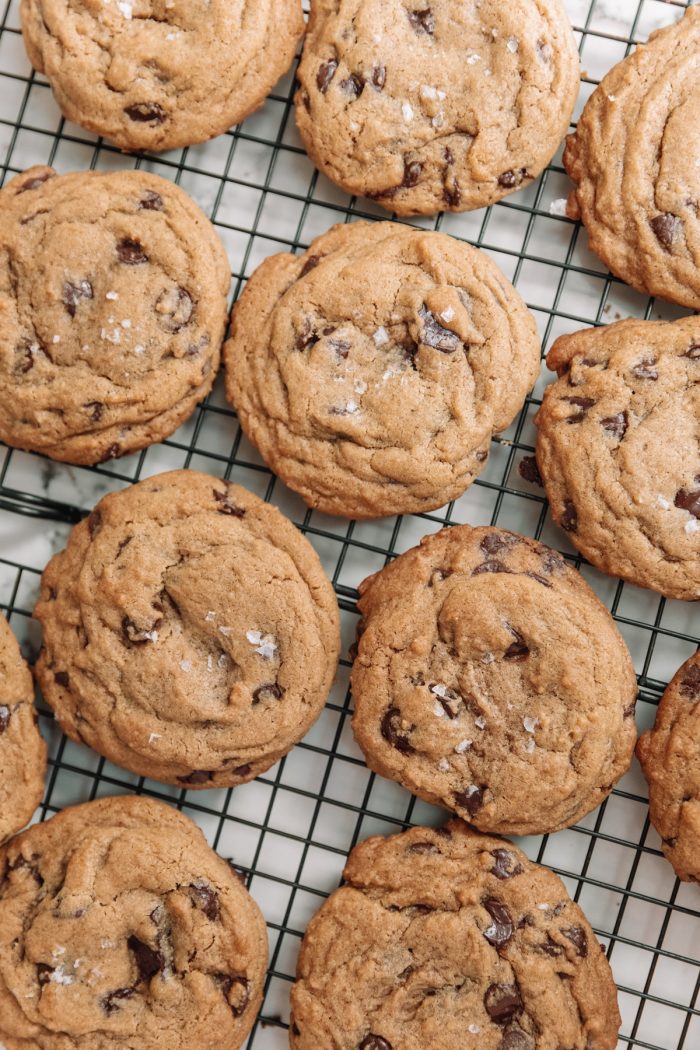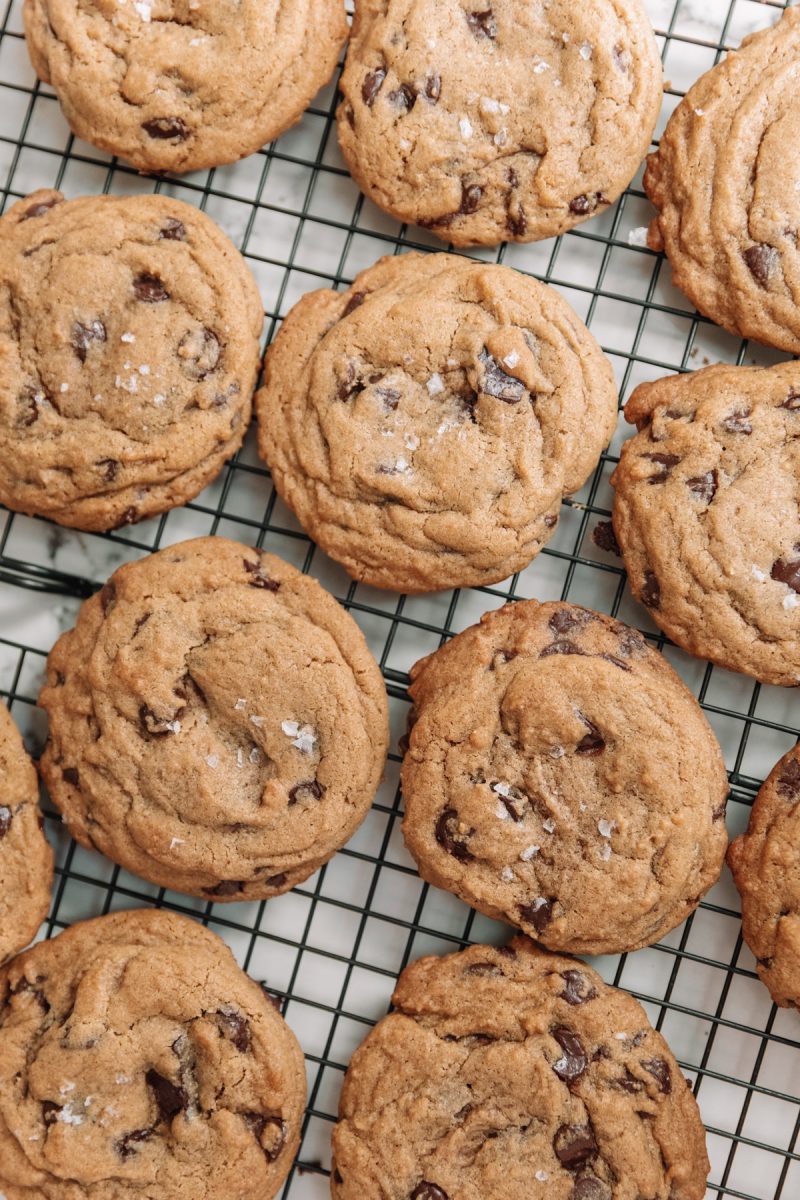 What Chocolate Chips To Use
We are a split household when it comes to chocolate chips! Jeff likes milk chocolate or semi-sweet, and I prefer bittersweet. I also love the Ghiradelli bittersweet chips because they are larger and make for bigger chocolate "pools" in the cookies.
You can also create that look by chopping up a bar of chocolate in place of some or all of your chocolate chips.
The cookies pictured here were a combination of semi-sweet chocolate chips and a bar of dark chocolate, because that's what we had!
How Flaked Salt Changed My Life
Ok I know I just said these require no fancy ingredients, because they don't, but hear me out.
I've always just given my cookies a few cranks of our Himalayan salt grinder to top them off, and they've been great! But one day I finally broke down and bought the fancy flaked salt I saw all the food bloggers using.
AND WOW. It's just incredible. It takes the cookies to the next level and also does give them that bakery vibe.
I also now occasionally add it to avocado toast or other treats we make to jazz them up a little.
The best part about salt is it lasts a long time so you don't have to worry about it going bad, even if you just use a little. Highly recommend if you can swing it, but totally and completely not necessary.
Ideal Cookie Size (+ My Fave Cookie Scoop!)
I like bigger cookies. The original recipe I adapted this from says it makes four dozen cookies. Those must be teeny tiny miniature cookies because I've never gotten close to that amount!
I use THIS ice cream scoop and do heaping scoops of dough to get the size cookies I prefer. That's what I reference in the recipe below.
Mom Hack: Kid Sized Cookies
I typically make about 12-15 large cookies for us adults, and then I make a separate batch of cookies for our son.
Here' the thing, have you ever tried to give a kid a half of a cookie? NO WAY will they have it! They need "the whole thing" or "their own" but when you (the parent) like to make giant cookies, that's not super ideal.
So I started using the rest of my dough to make kid-sized cookies (I fill the ice cream scoop about 3/4 of the way) and I use less chocolate chips in them (usually I'm not great at mixing the chips all the way through, so this automatically happens by the time I get to the bottom. Ha!) and it works like a charm!
He gets his own (kid-sized) cookies, and we get our own (adult-size) cookies. Boom!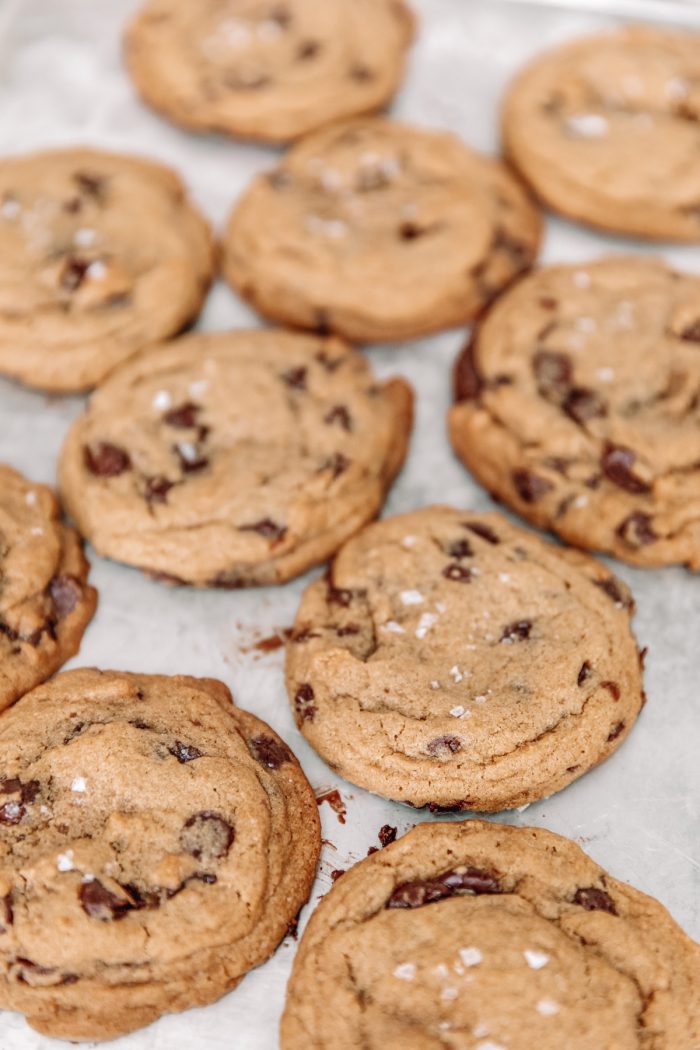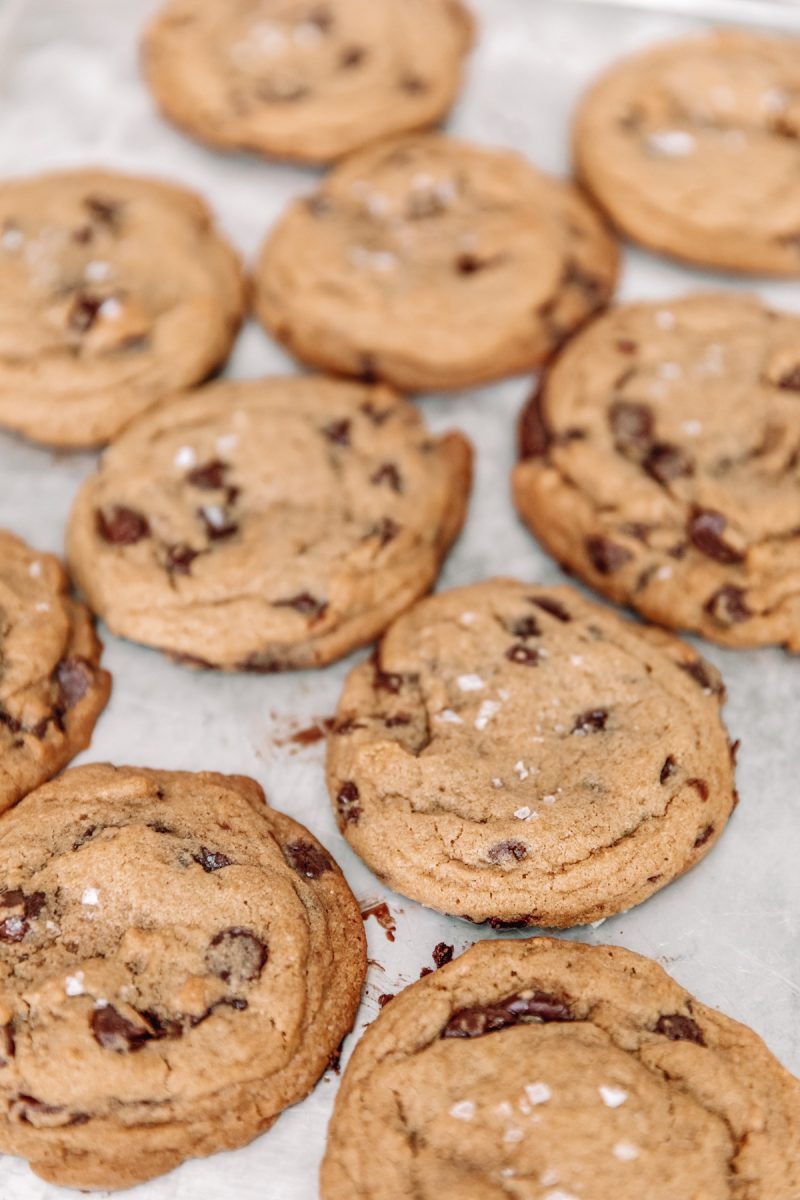 Best Ever Chocolate Chip Cookies
The best every chocolate chip cookie recipe that is easy and fast, with no wait time in the fridge or specialty ingredients! This recipe was adapted from the Ghiradelli recipe on the back of their chocolate chip bags!
Ingredients
2 1/4

cups

all purpose flour

1

teaspoon

baking soda

1/2

teaspoon

salt

1

cup (2 sticks)

butter, softened

1/2

cup

cane sugar

3/4

cup

dark brown sugar, packed

2

teaspoons

vanilla extract

2

eggs

2

cups+

semi-sweet or bittersweet chocolate chips

Sea Salt or Salt Flakes (for topping)
Instructions
Preheat the oven to 375°F.

Combine flour, baking soda and salt in a medium bowl. Set aside.

Beat butter, sugar and brown sugar until light and creamy.

Add vanilla and eggs, one at a time. Mix until incorporated.

Slowly add dry ingredients into the butter and sugar mixture until just incorporated.

Drop large heaping scoops (I use an ice cream scoop) of dough onto an ungreased cookie sheet. Top with sea salt flakes. (You can also add the salt flakes after baking for a prettier look, but I prefer to do before so they stick a little better.)

Bake for 10-12 minutes or until the edges are golden.

Allow to cool for a few minutes before transferring to a cooling rack.
And there it is! I hope you try it and love it too! Enjoy!!!! Prefer double chocolate chip cookies? Try these!