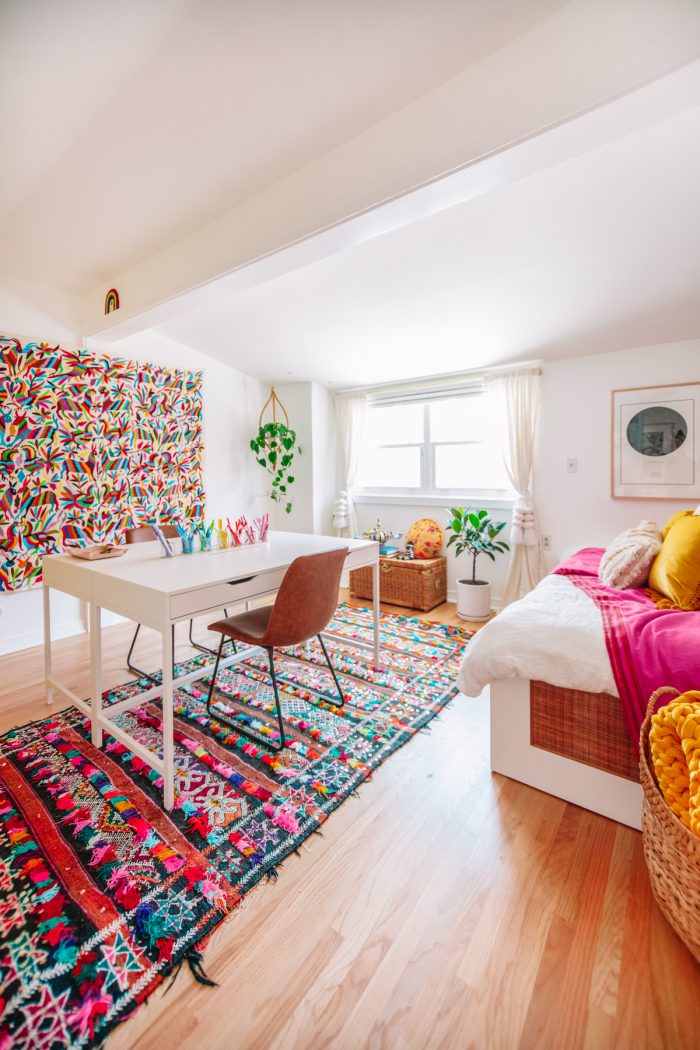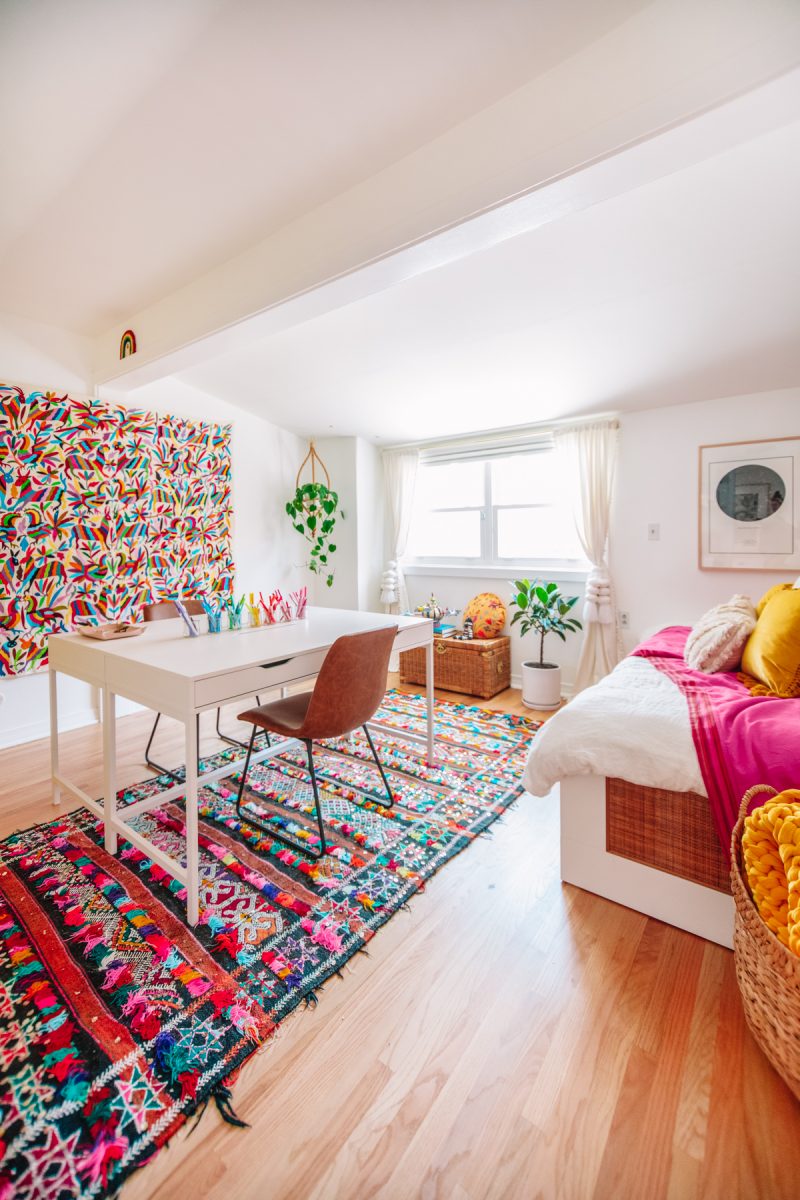 The final room of our house, the largest room, has been the hardest to design. It needed to have so many functions – craft room, home office, guest room. How do you design a multipurpose room? How do you commit!?
Well, I finally committed. By not committing for so long, this room became overrun with "stuff." And it was finally time to make use of this space. I also wanted to challenge myself to use mostly items I had already collected, or items that I was hoarding in our garage that needed a real home.
So meet our colorful home office guest room! I bought the desks, chairs and bed but almost everything else was an item we already owned!! I'm really proud of how I approached this room. I'd never choose to make one room have so many functions, but I imagine many of you are in the same situation, where we just don't have enough rooms for all the functions we need in our home!
I hope some of these tips for creating a functional home office that converts to a guest room will help those of you in similar situations! Let's go.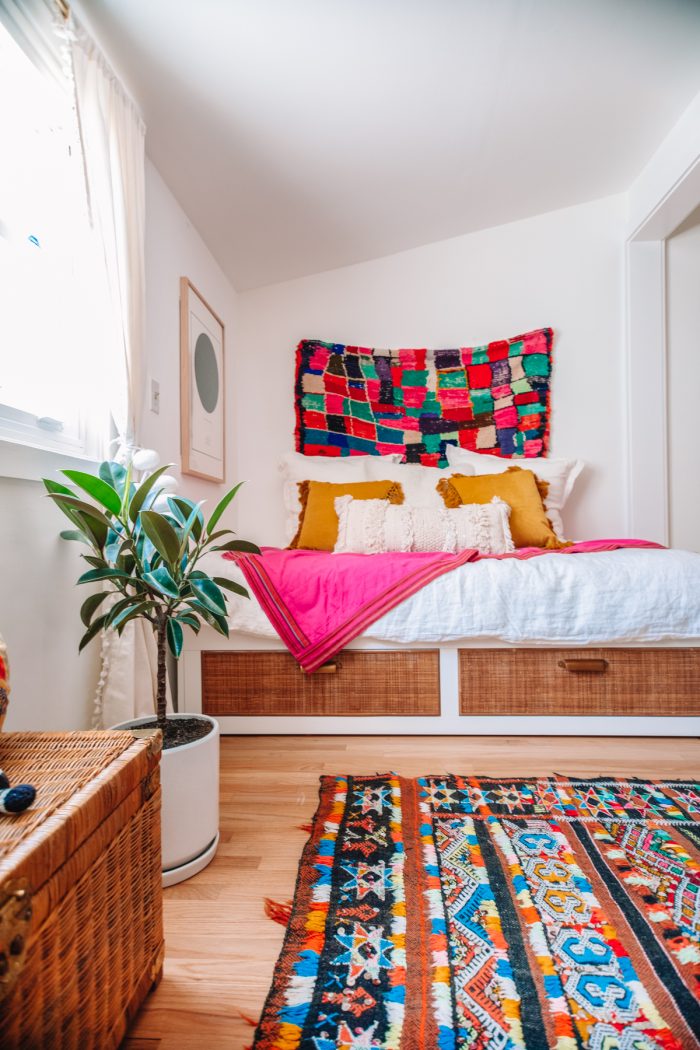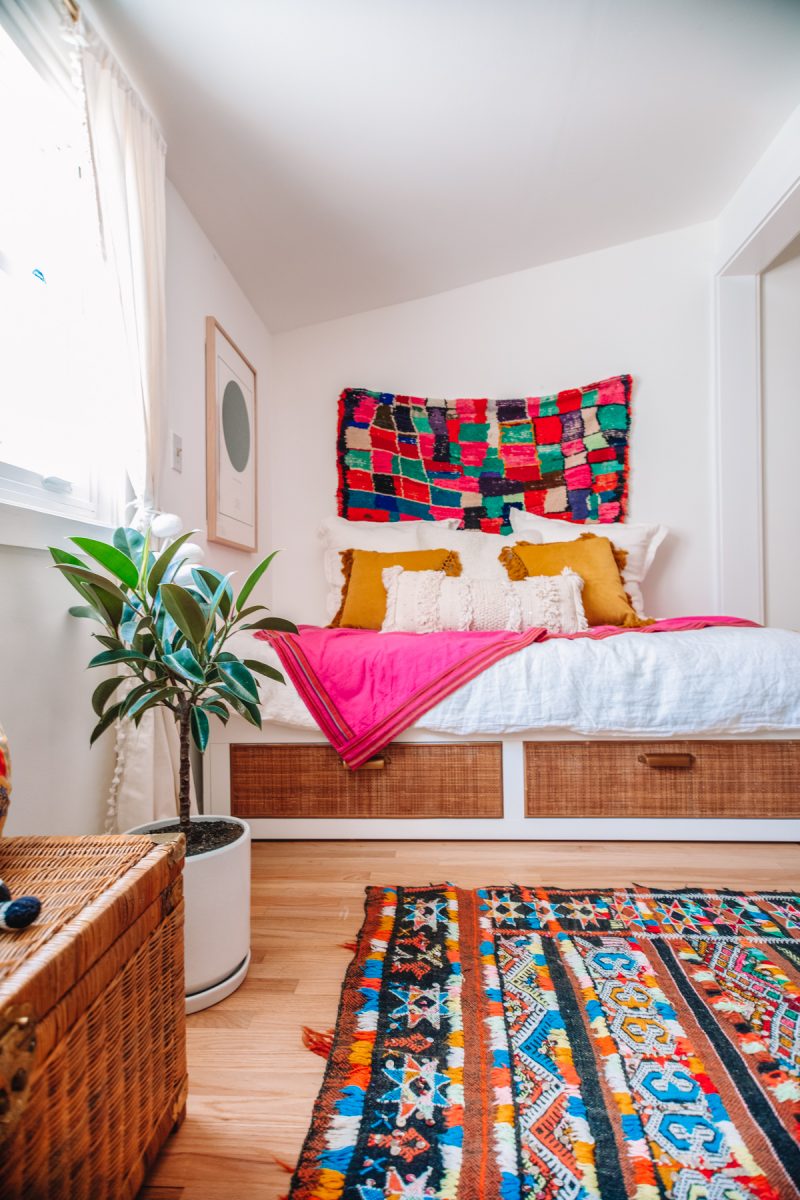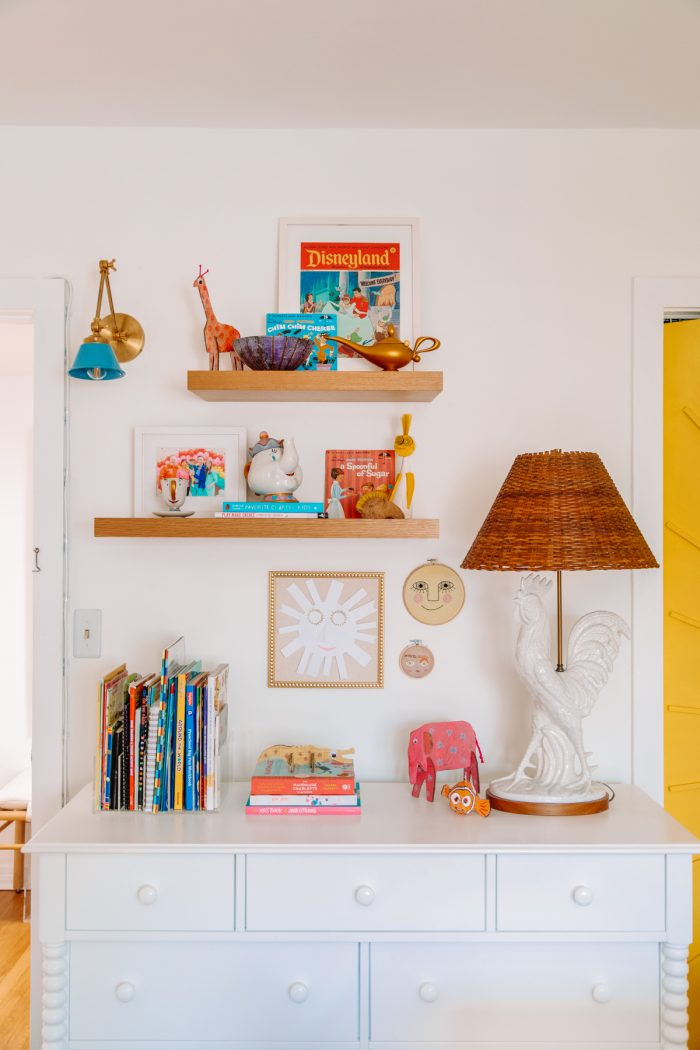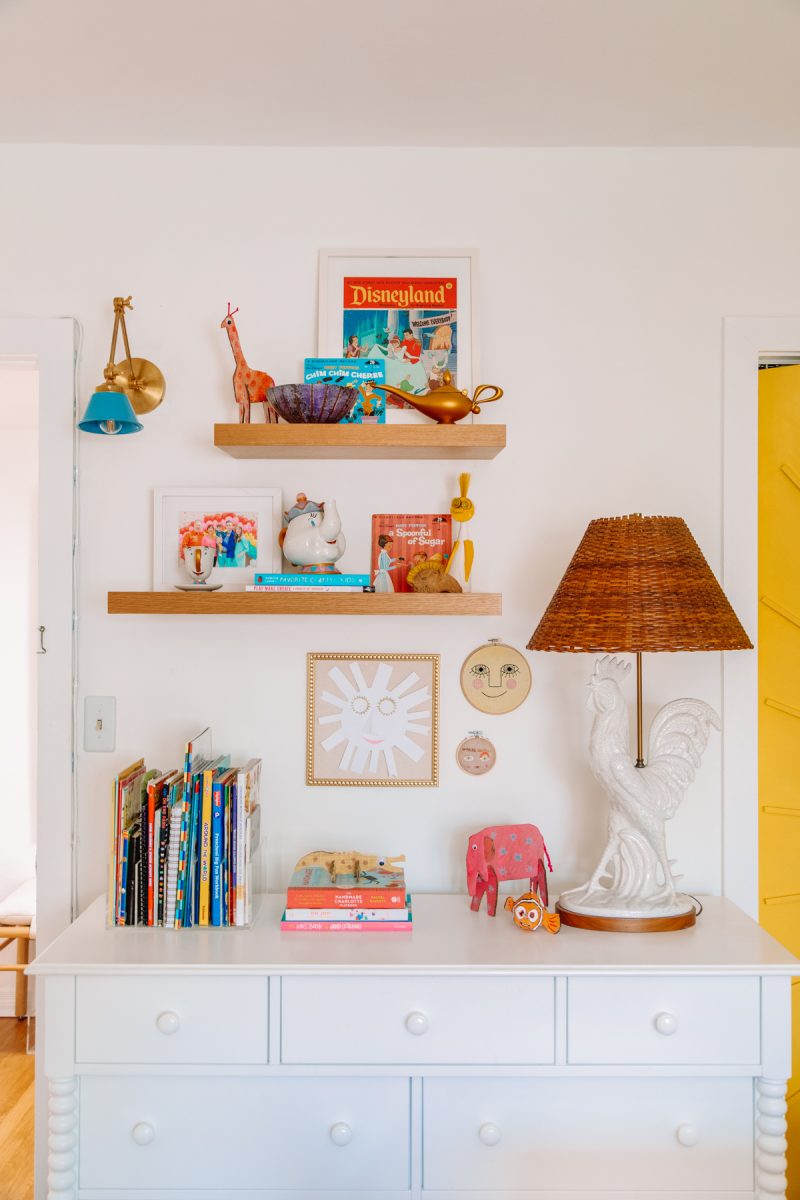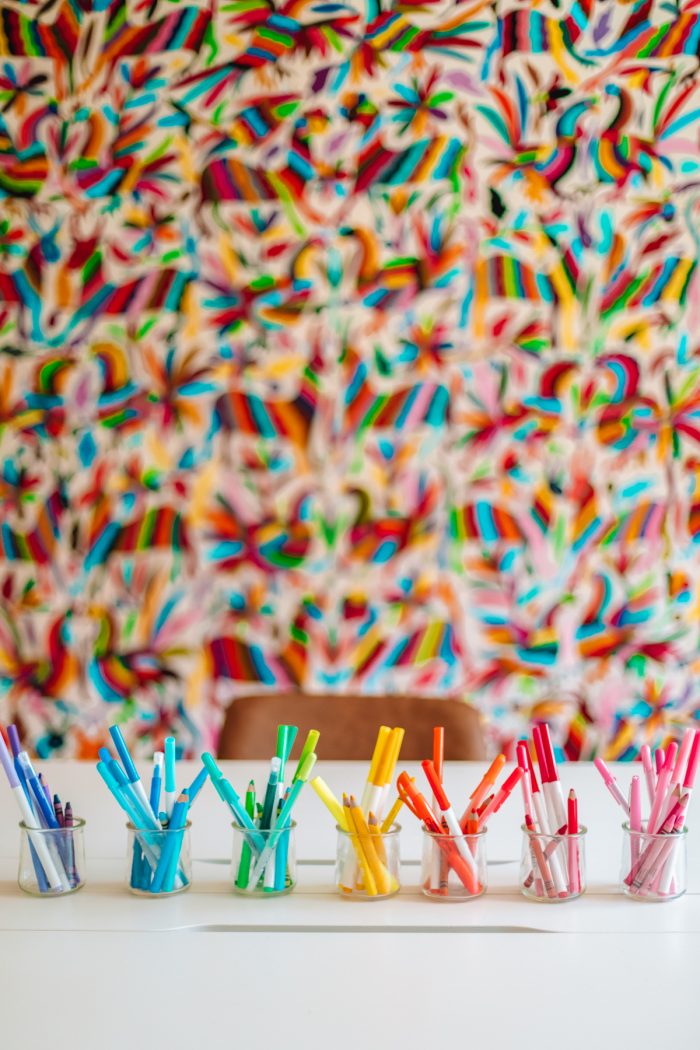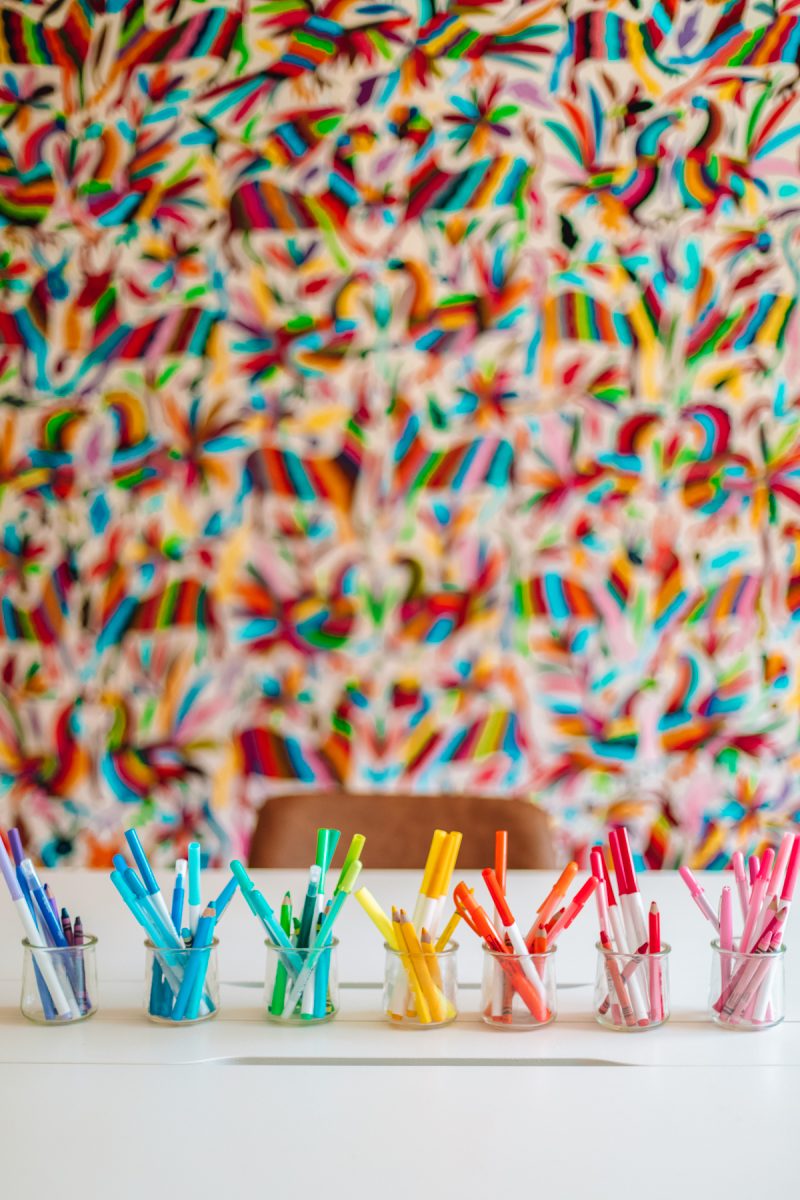 Choose A Functional, Space Saving Bed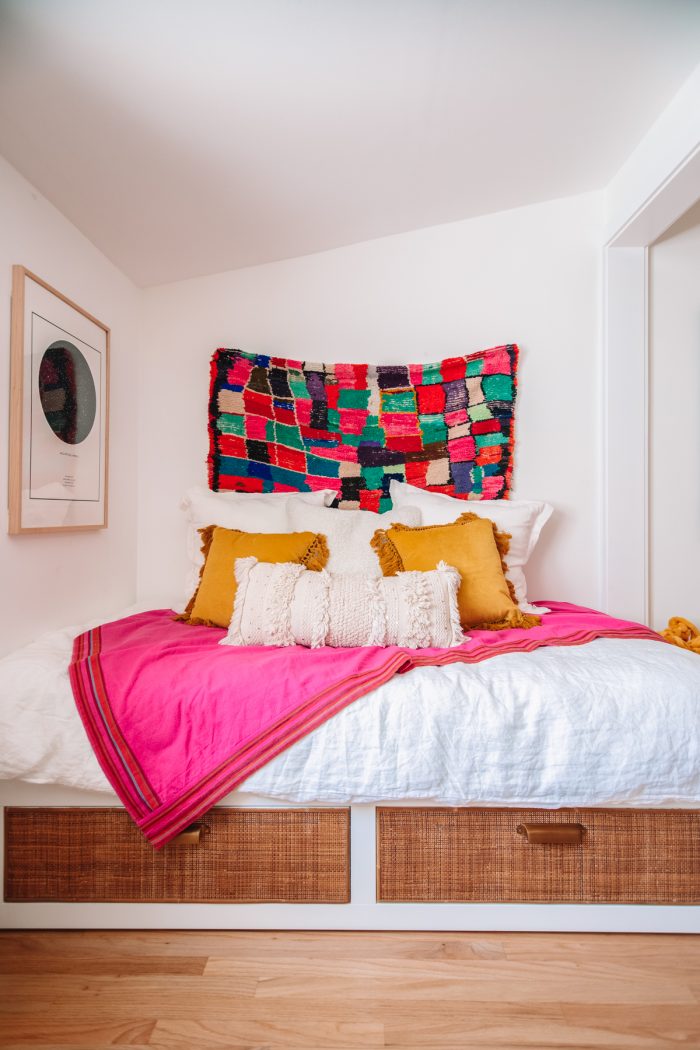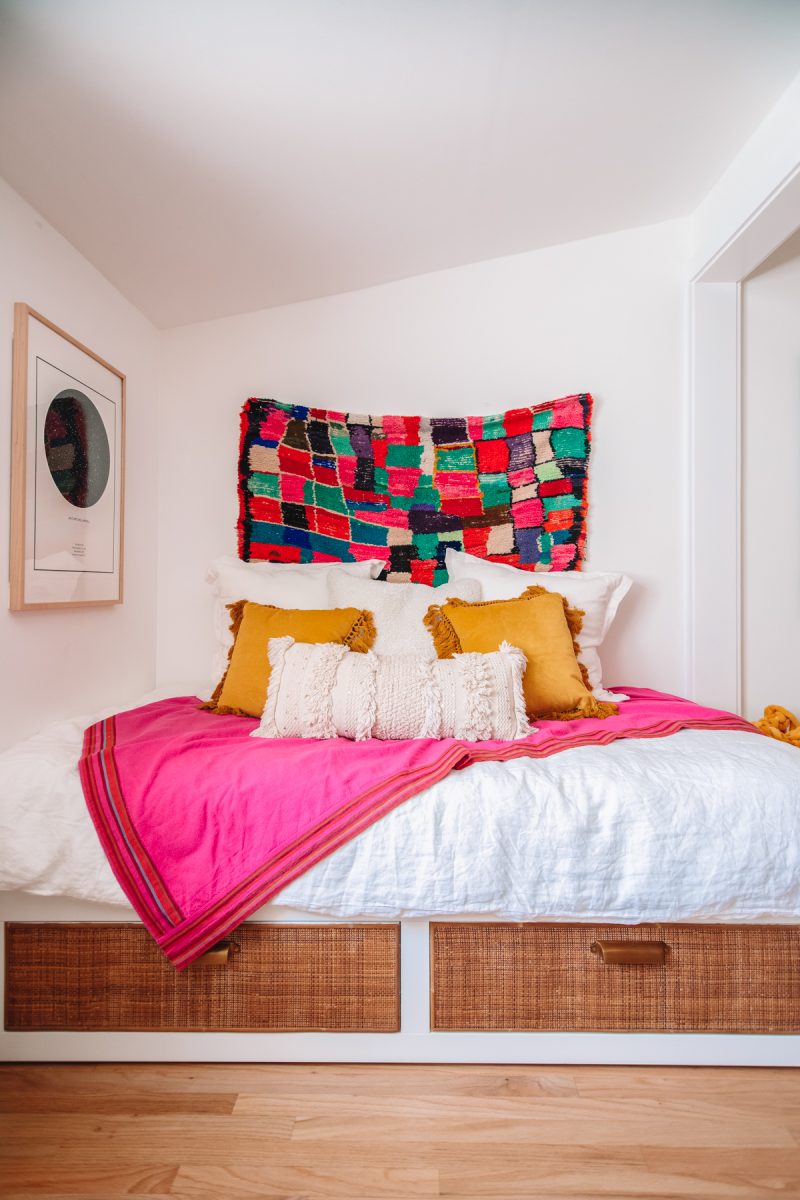 Most likely your home office guest room will function as a home office most of the time. For that reason, choosing a space saving bed, that is still able to sleep two people when needed, is your best option. That could mean a pull out couch or, what we went with, a trundle bed that converts into a king size bed!
I chose the IKEA BRIMNES trundle day bed because it served three purposes:
It was a twin size day bed that could function, and be styled, as a "couch" on the days we didn't have guests. The two twin mattresses just stack on top of each other!
It had large storage drawers underneath for storing bedding needed for when it is used as a bed (It's even big enough to store our extra air mattress!
It has a trundle that pulls out to a king size bed that is still a normal bed height so two guests can sleep next to each other on the same height, and the bed can be made using king sized bedding!
I then did an IKEA hack on the bed and added caning to elevate the look of it a bit. Will share a full tutorial soon, but you can see my other IKEA cane hack here! Spoiler alert: the bed was MUCH easier!
Find more day bed, sofa bed and trundle bed options here!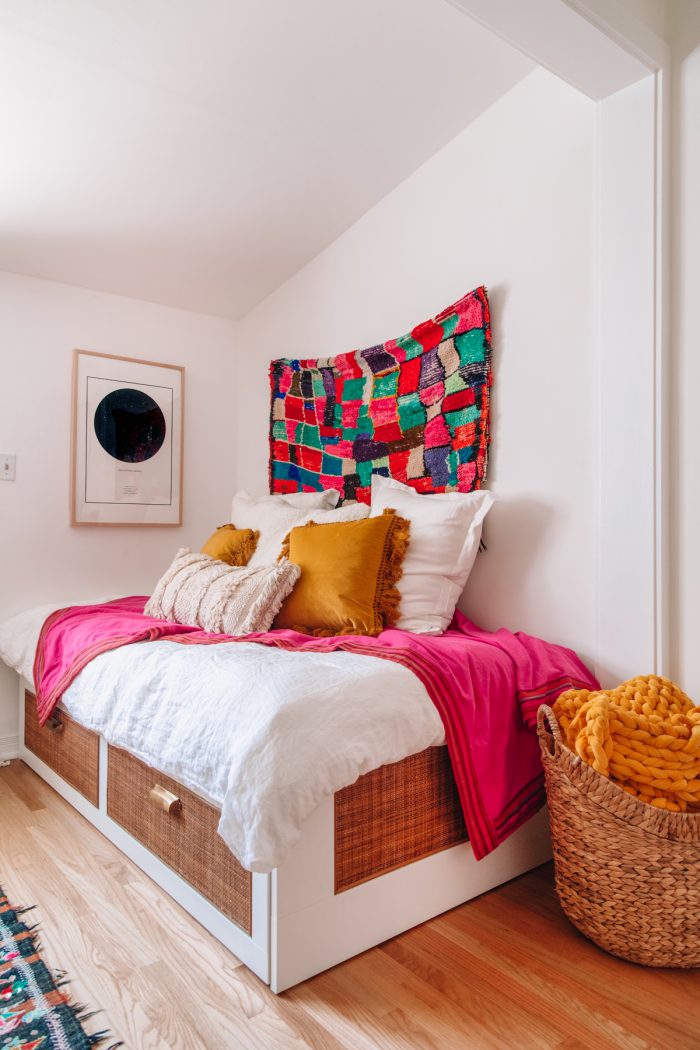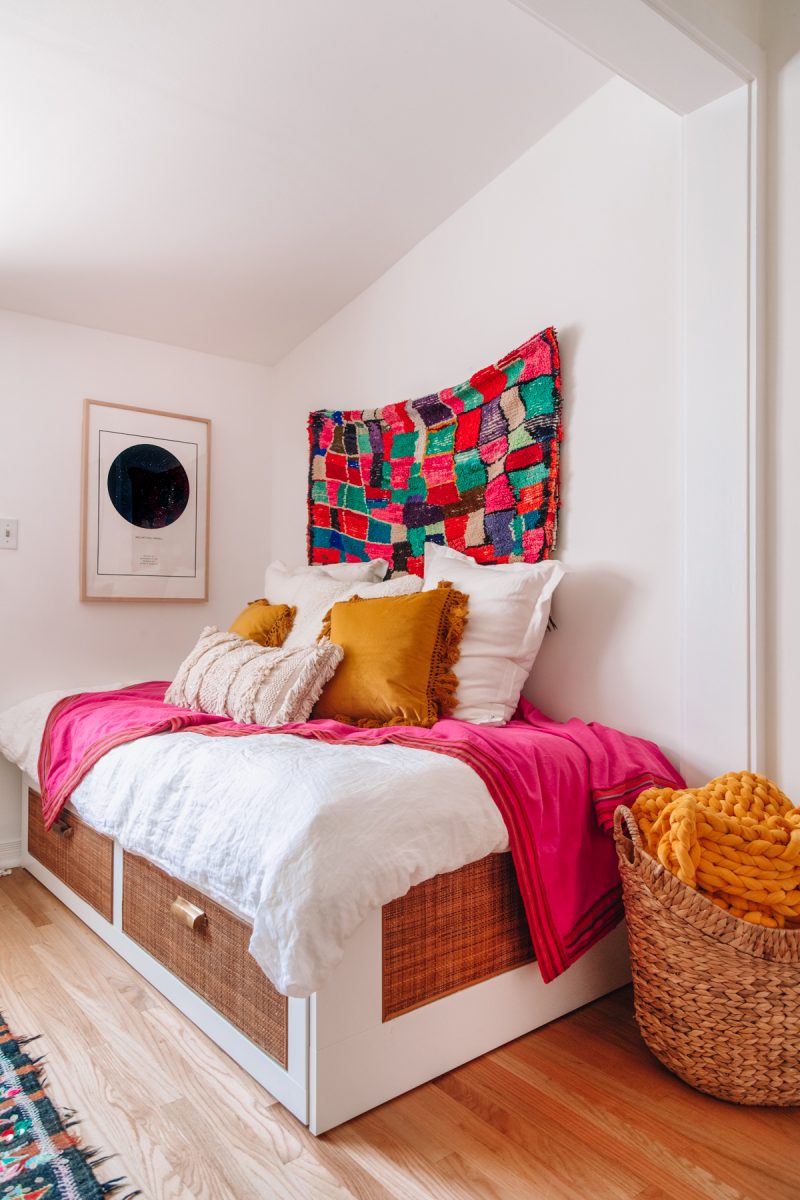 You can choose to make your bed up with just a sheet or blanket when it's being used as a day bed, or you can fold over the king size comforter or blanket in half (which is what I did above!) so you don't have to have two sets of bedding handy!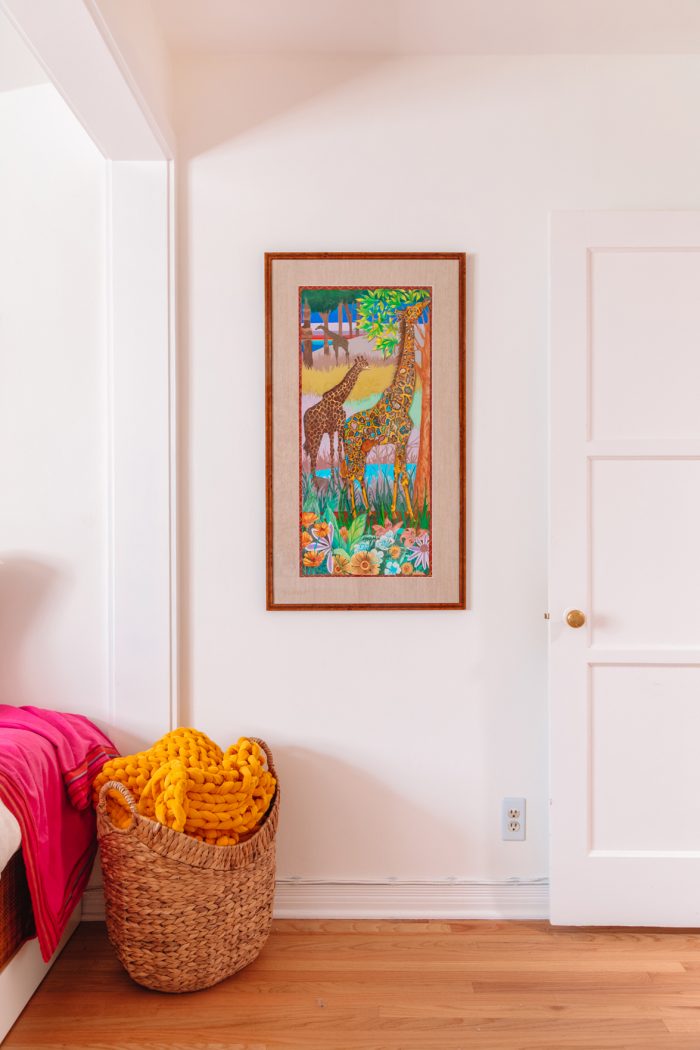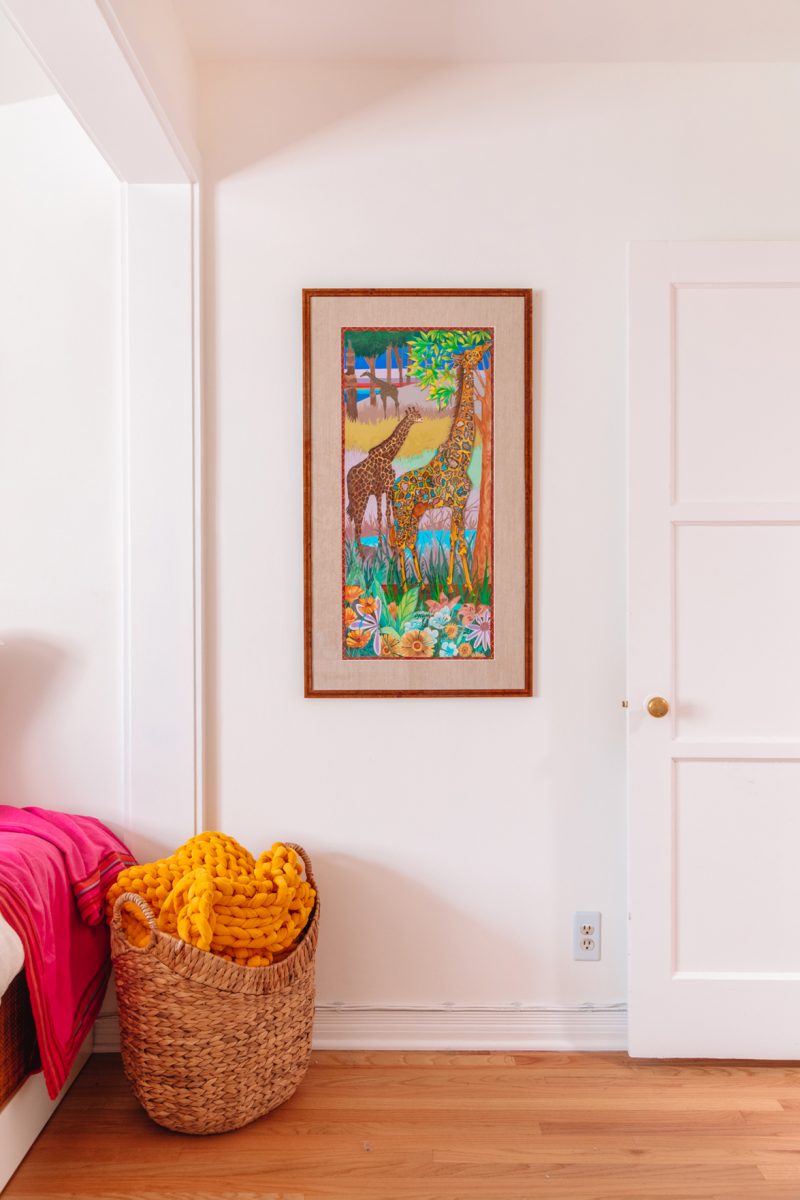 Choose A Moveable Desk
Because a huge part of my work involves working on creative projects, I wanted a large work surface. However, I needed to be able to move said surface when we have guests so we can pull the bed out to it's full size.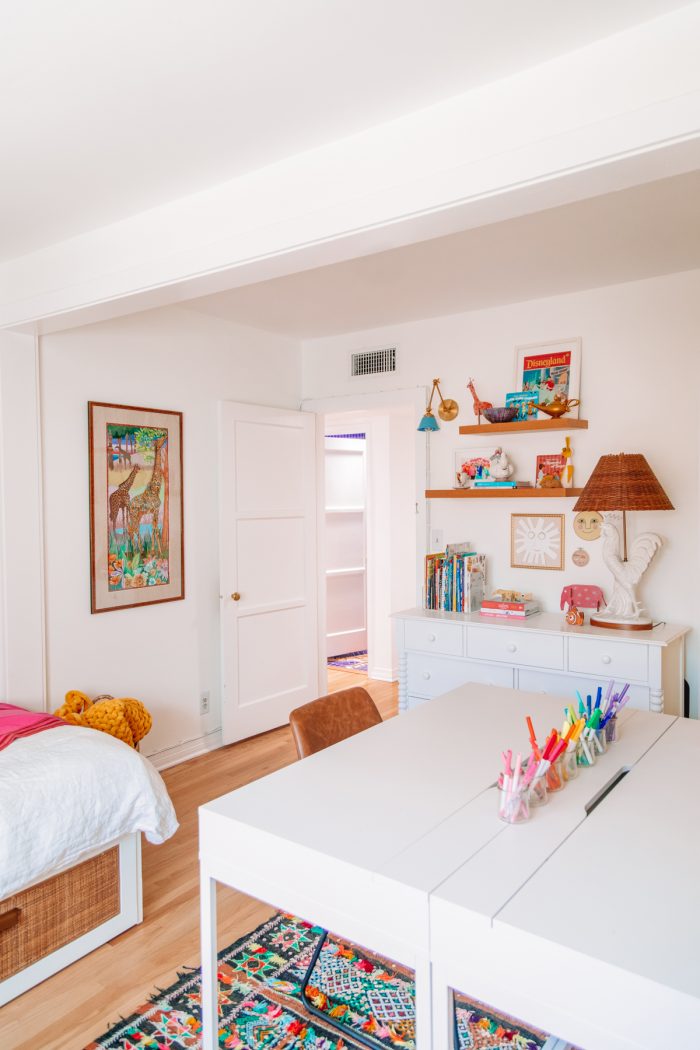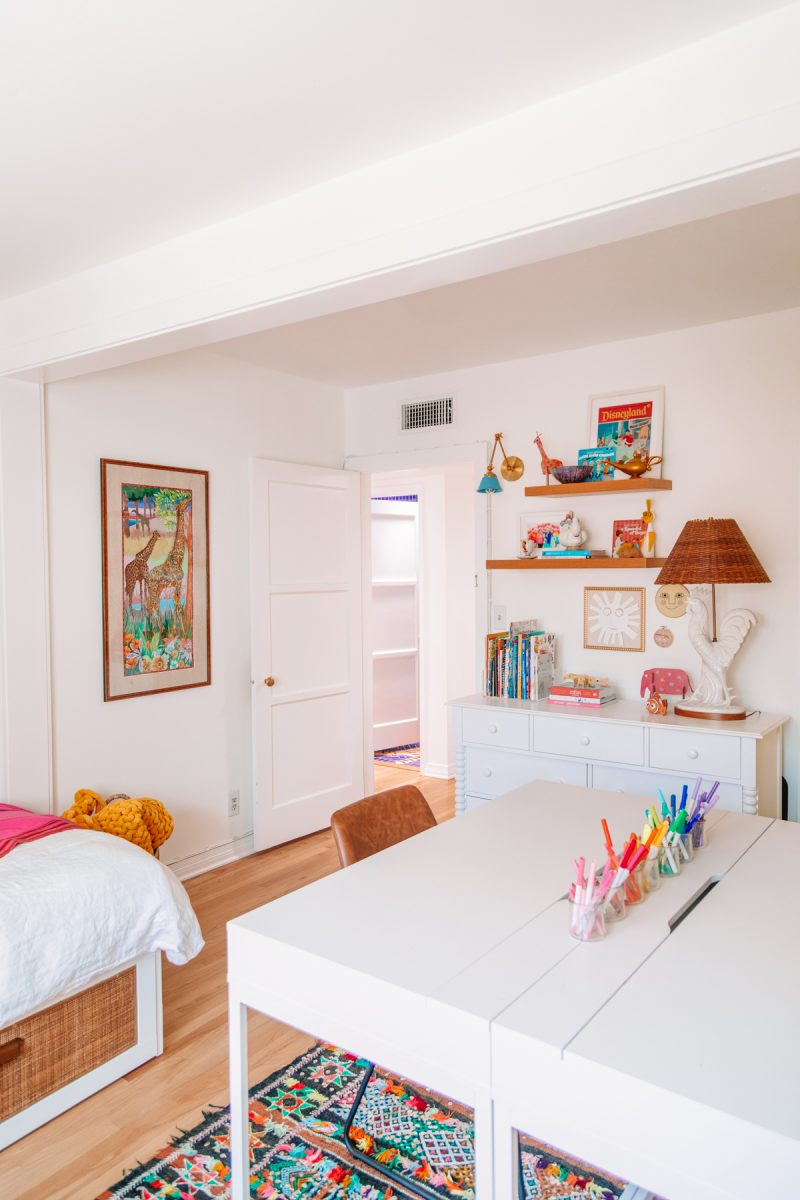 So I decided to go with two simple desks, again with storage, that could be pushed together to make one large surface in the center of the room most days. This also allows my husband and I to both work while facing "out" to see the room and a window, instead of facing a wall which was not appealing to either of us.
However, we can then move them against the wall, side by side, when using the room for guests!
The desks are the IKEA ALEX desk and I love that they have an opening to run cords through below them. They also have two deep drawers for storage, though be sure to by an organizer for each so they don't quickly become disorganized! I upcycle Oui yogurt glass jars for office supplies on top of the desk (and in the craft closet), for additional storage.
I found my desks for much cheaper on Facebook Marketplace, and they were the darker colors this desk comes in so I ended up painting them an off white – French White by Dunn Edwards! The (faux) leather chairs we added are the MOST comfortable chairs in our house.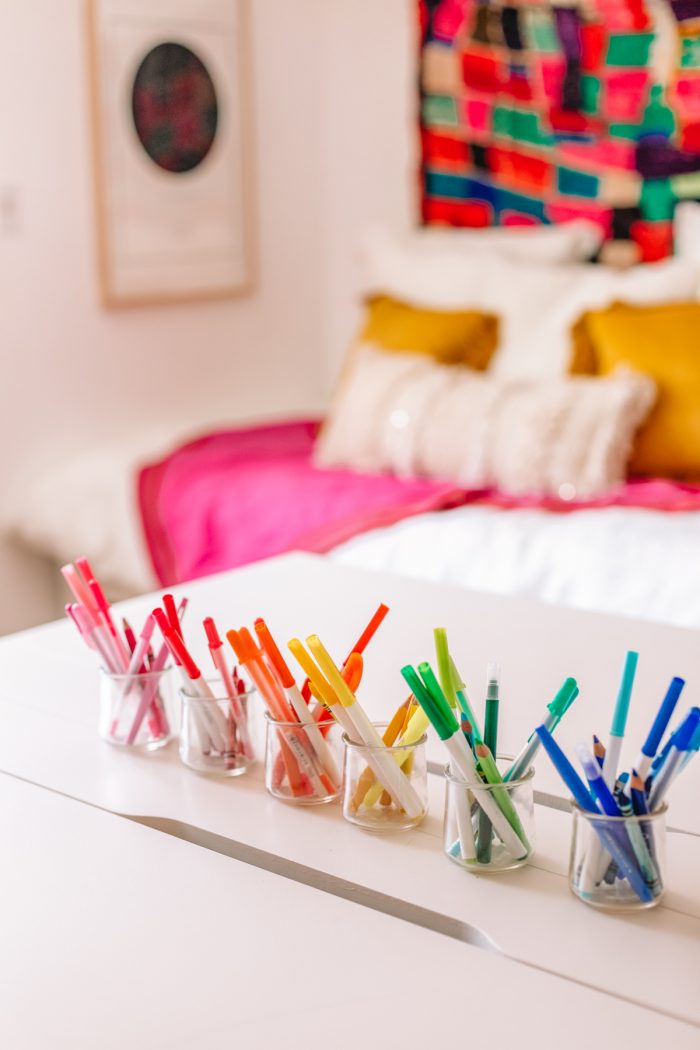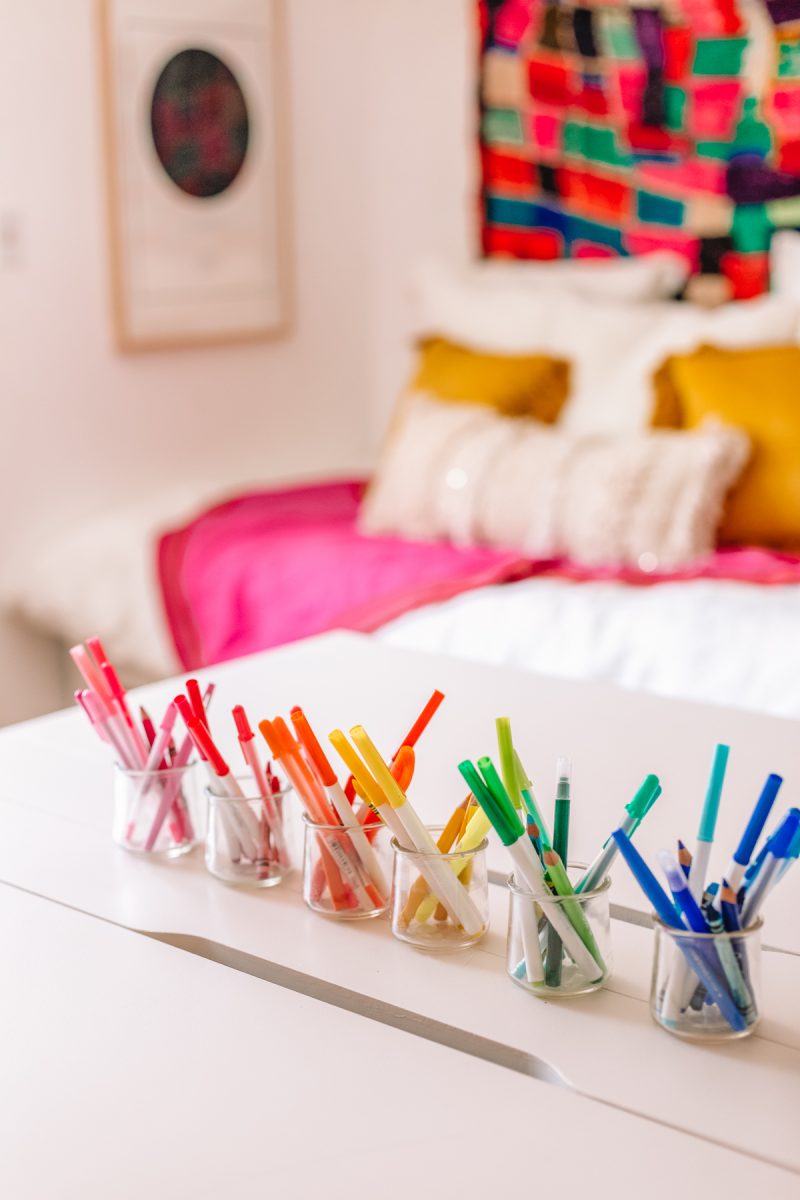 I hung a large Otomi tapestry from Lola y Tula behind the desk as a bold backdrop, that would also be able to easily fall behind the desks when pushed against the wall. I LOVE the pop of pattern it adds to the room!
And if that wasn't enough, I added my most favorite colorful vintage Moroccan rug underneath.
Plus, if you ever have a corner that needs some more height, always consider a hanging plant!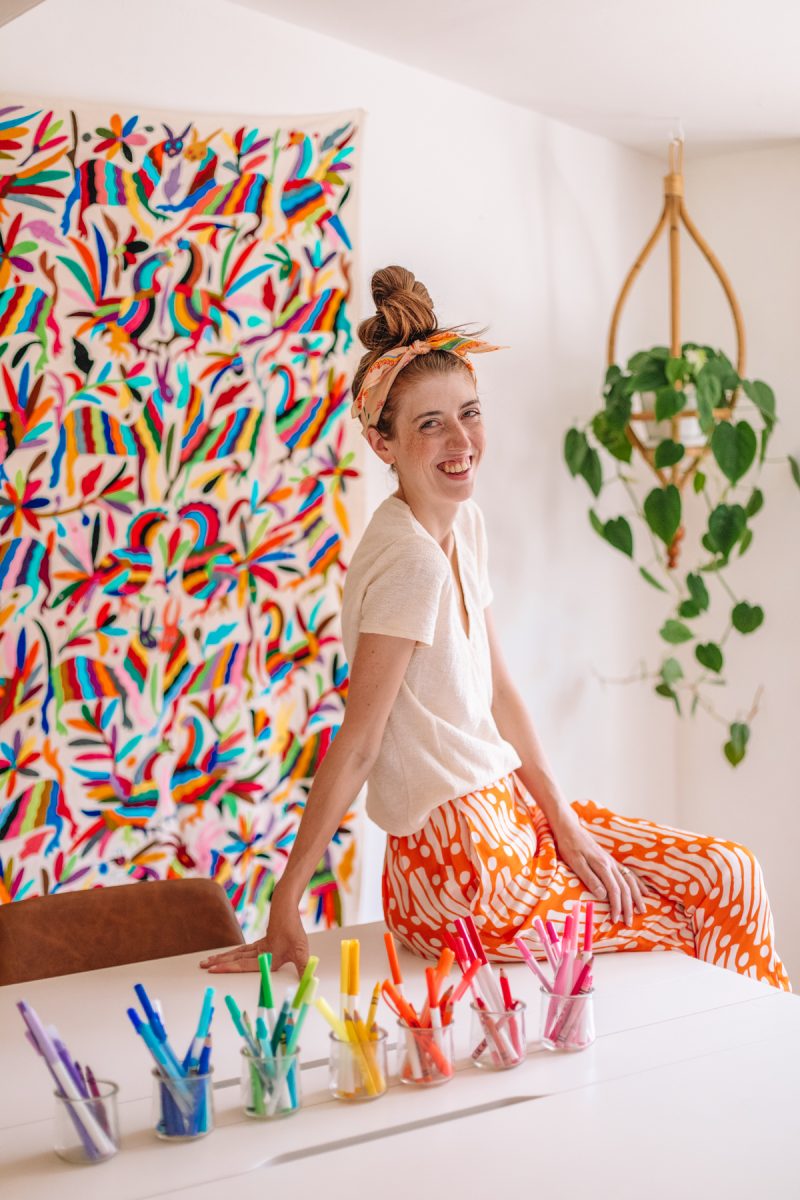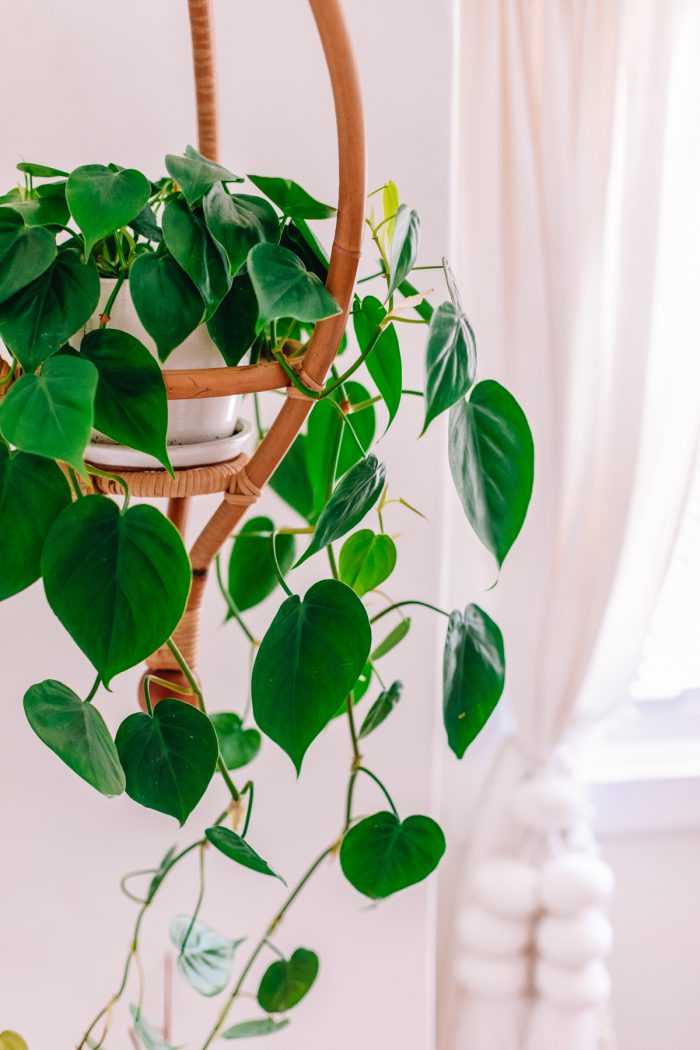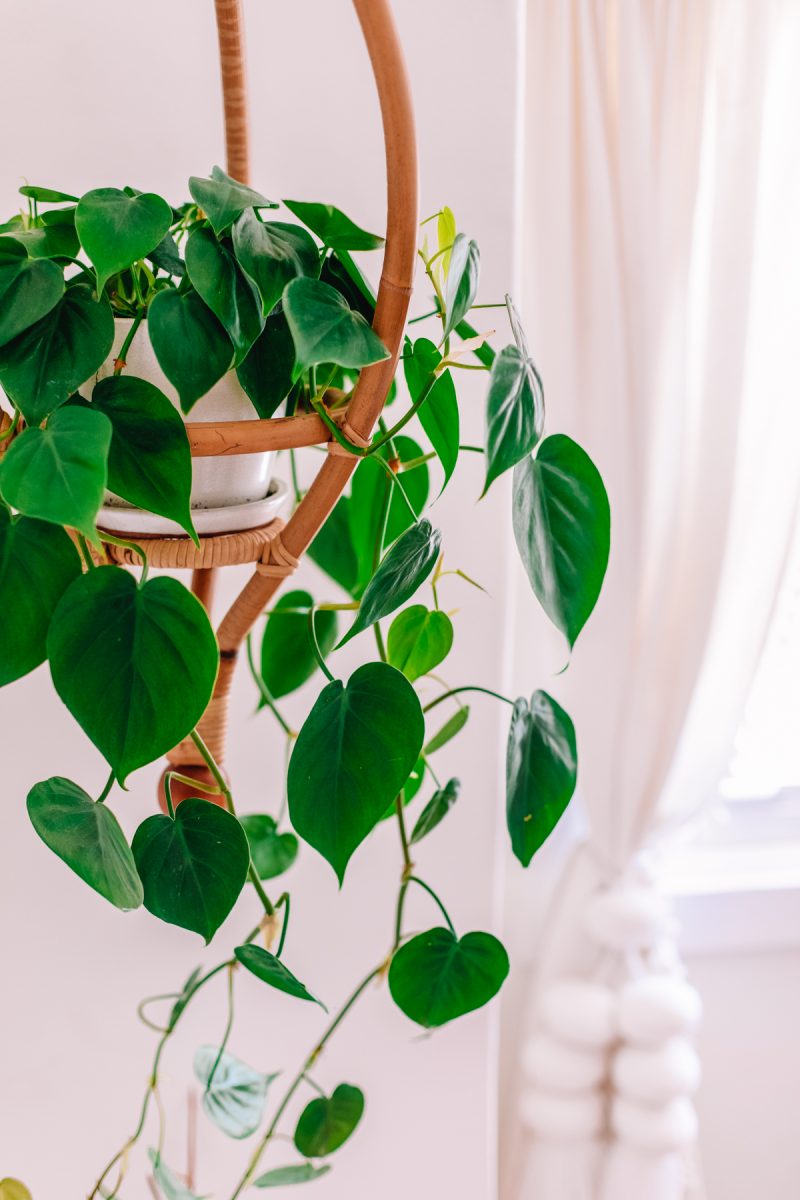 Multipurpose Storage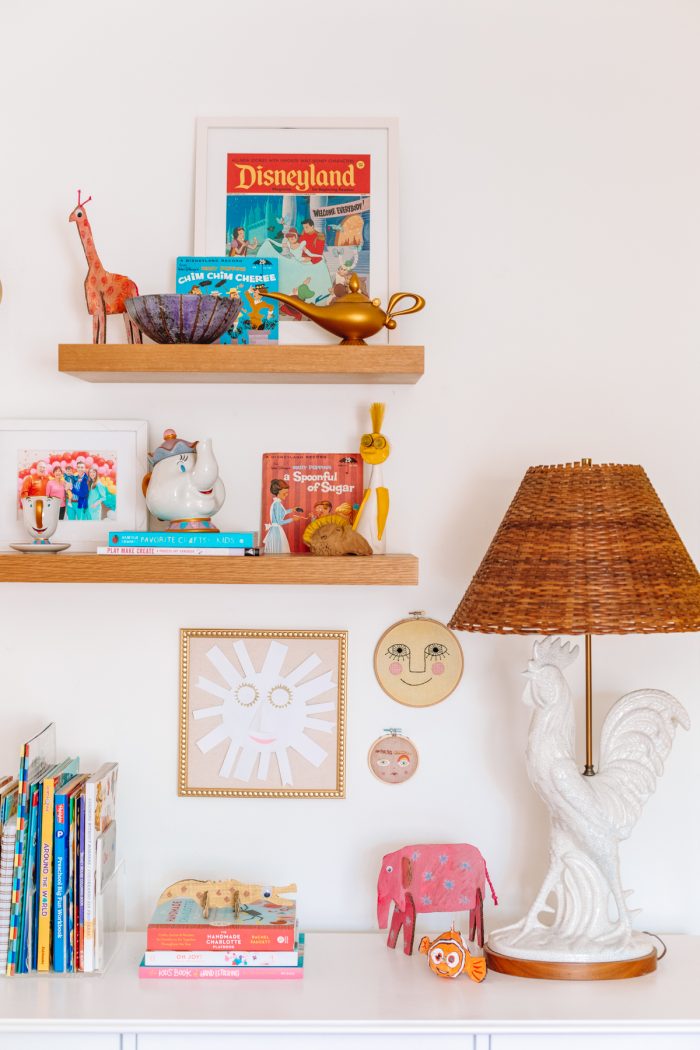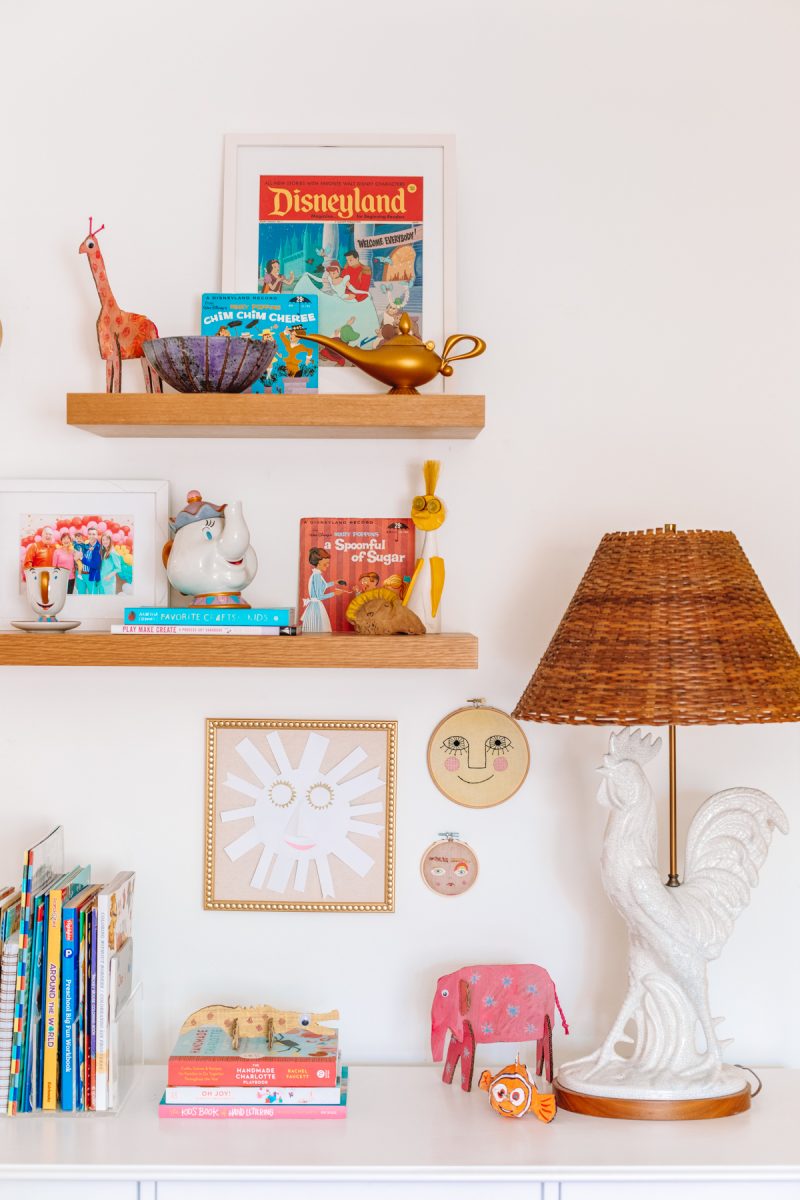 Have any storage pieces that need a home in your house? We ended up with an extra two floating shelves from our kitchen renovation and a dresser after it couldn't fit in our son's room once we upgraded him to a twin bed!
A home office guest room is the perfect spot to get creative with using those pieces. I hung the floating shelves to display some of our favorite Disney memorabilia and some craft projects, because it's part craft room after all! I filled in the extra space with a custom sconce from Sazerac Stitches, repurposed from Arlo's fort!
Then, I split the use of the dresser. I'm storing office and gift wrap supplies in most of the drawers, but leaving two open for guests who want to unpack. Not necessary, but super convenient for those visitors!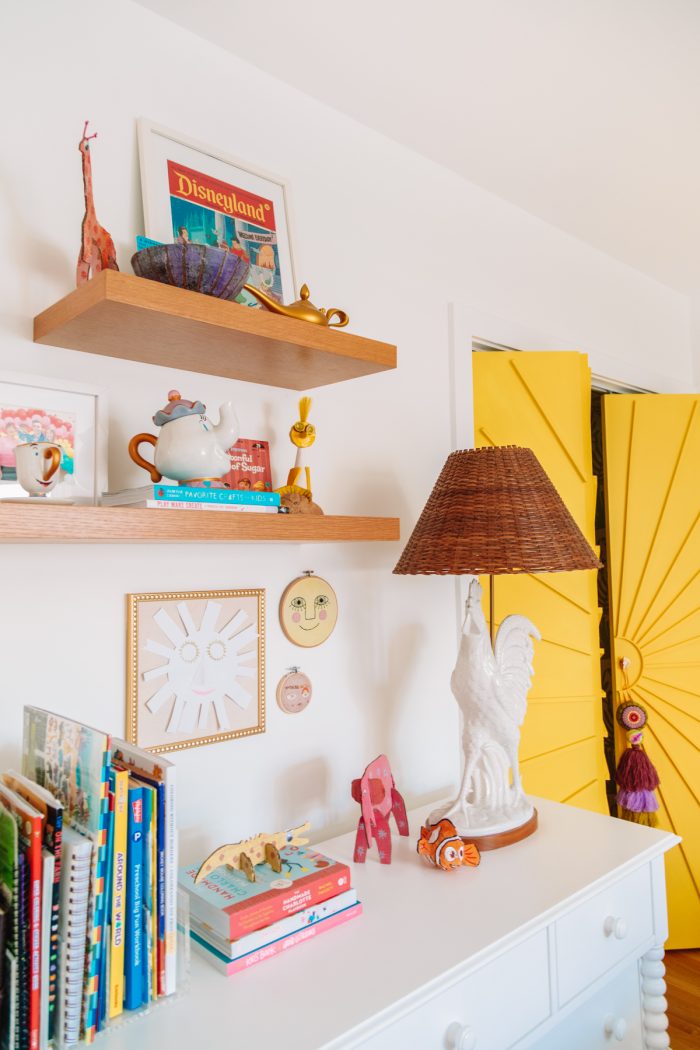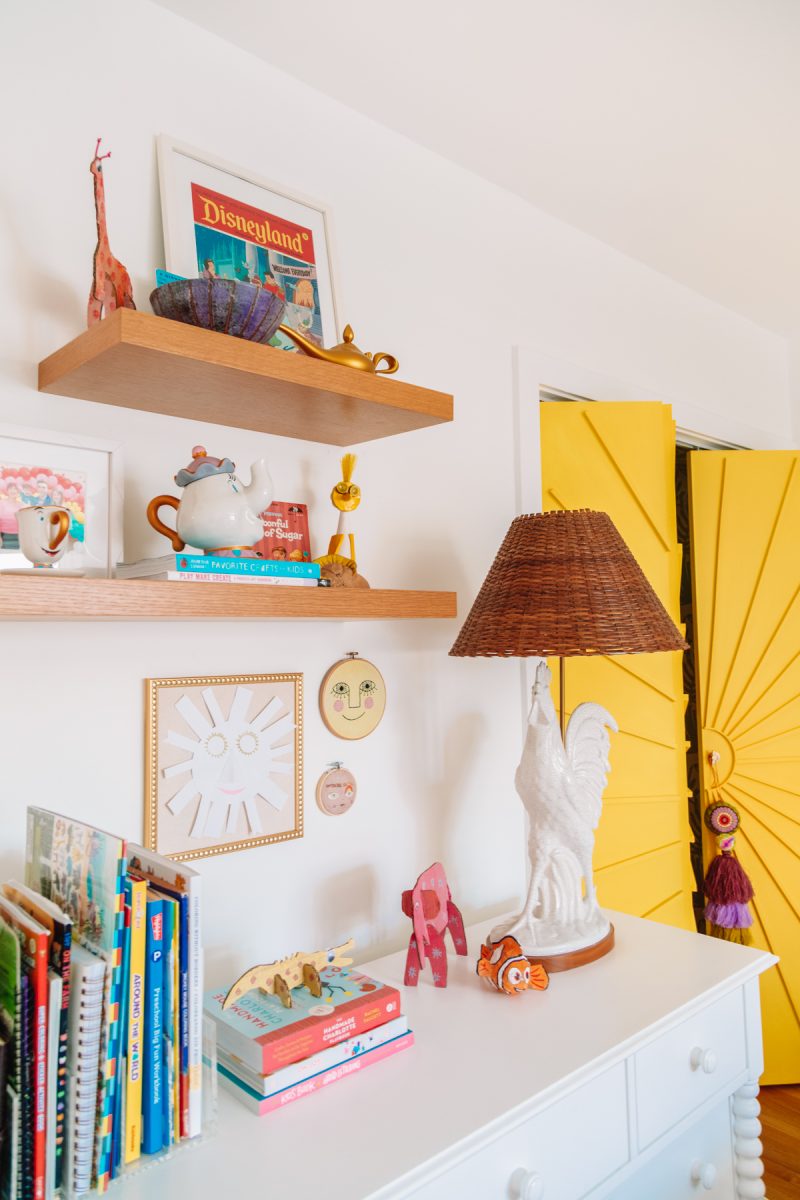 That lamp up there is particularly sentimental for me, it was my grandpa's favorite lamp! While "roosters" may not be my typical style, I added a wicker lampshade to tie it into the room and love how it looks, and the meaning behind it!
I also wrapped the glass of that frame on the wall with some linen fabric and turned it into an easily changable display for my son's artwork! Including kiddo art work in gallery walls is always a fun way to get their crafts up on the walls.
The top of the desk acts as additional storage for notebooks, work books and our favorite craft books.
How should I organize a closet in a multipurpose guest room?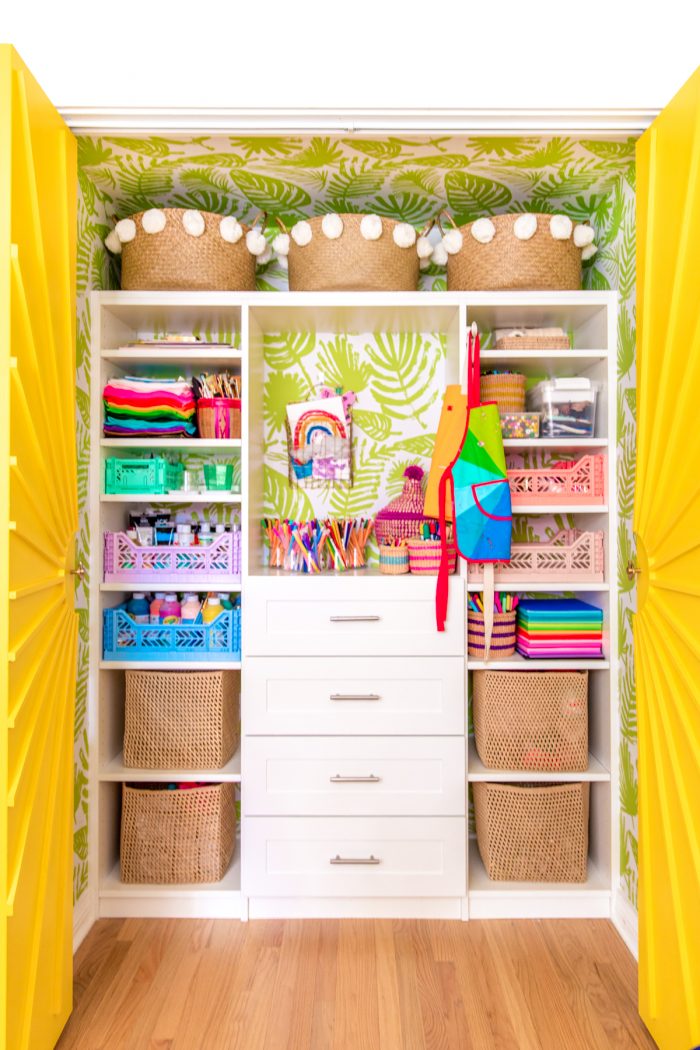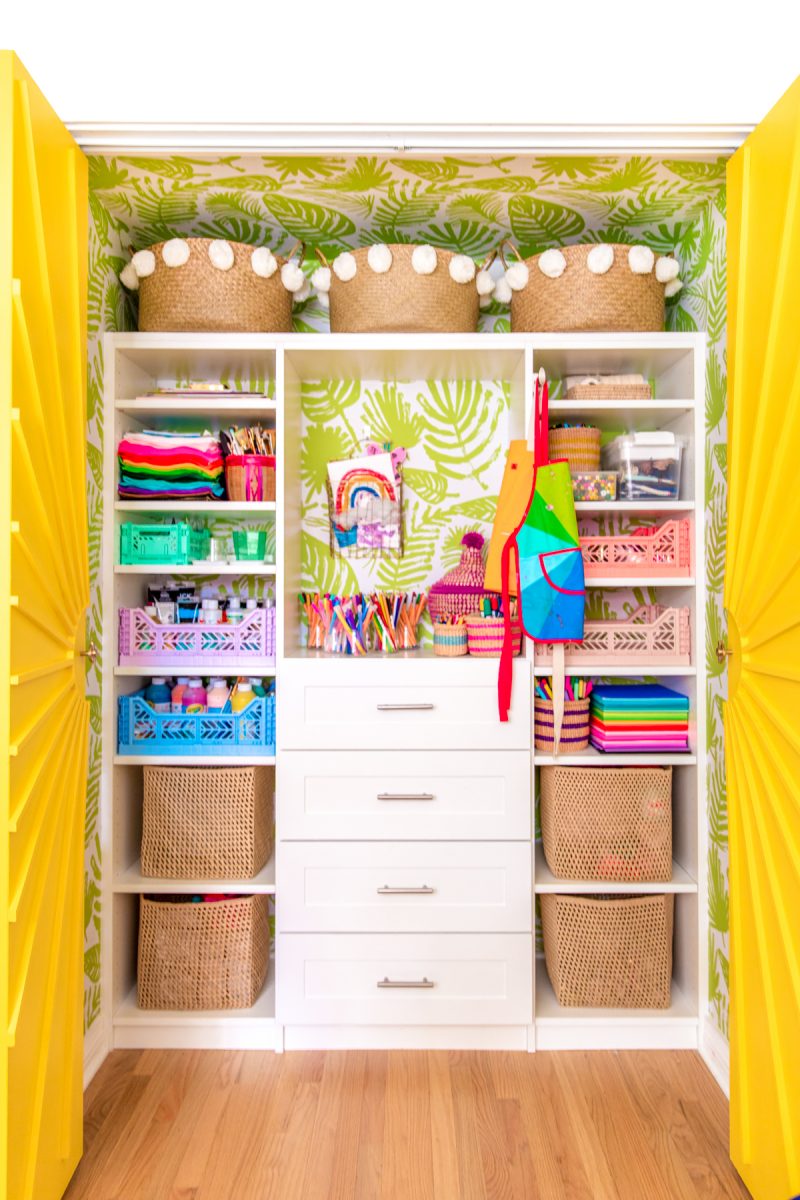 It didn't make sense to devote a closet to guests in this home, we just don't have enough storage space! We use the closet in the room as a craft closet (you can see a tour of the closet, and my favorite craft supplies here!) but the center space does have a rod that we can pop in if we want to give our guests some (albeit, short) hanging space!
The closet doors were a DIY project to replace the mirrored closet doors the house came with, and you can learn how to make your own sunburst closet doors here! Bifold doors are great for space saving, if you don't have room for a full door to open outward.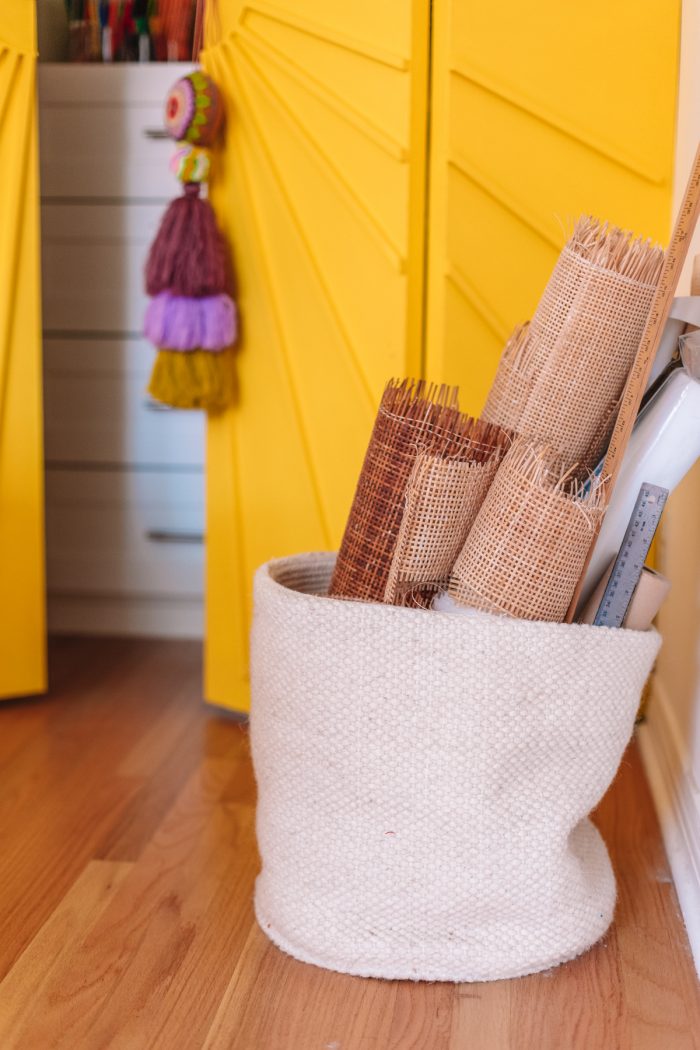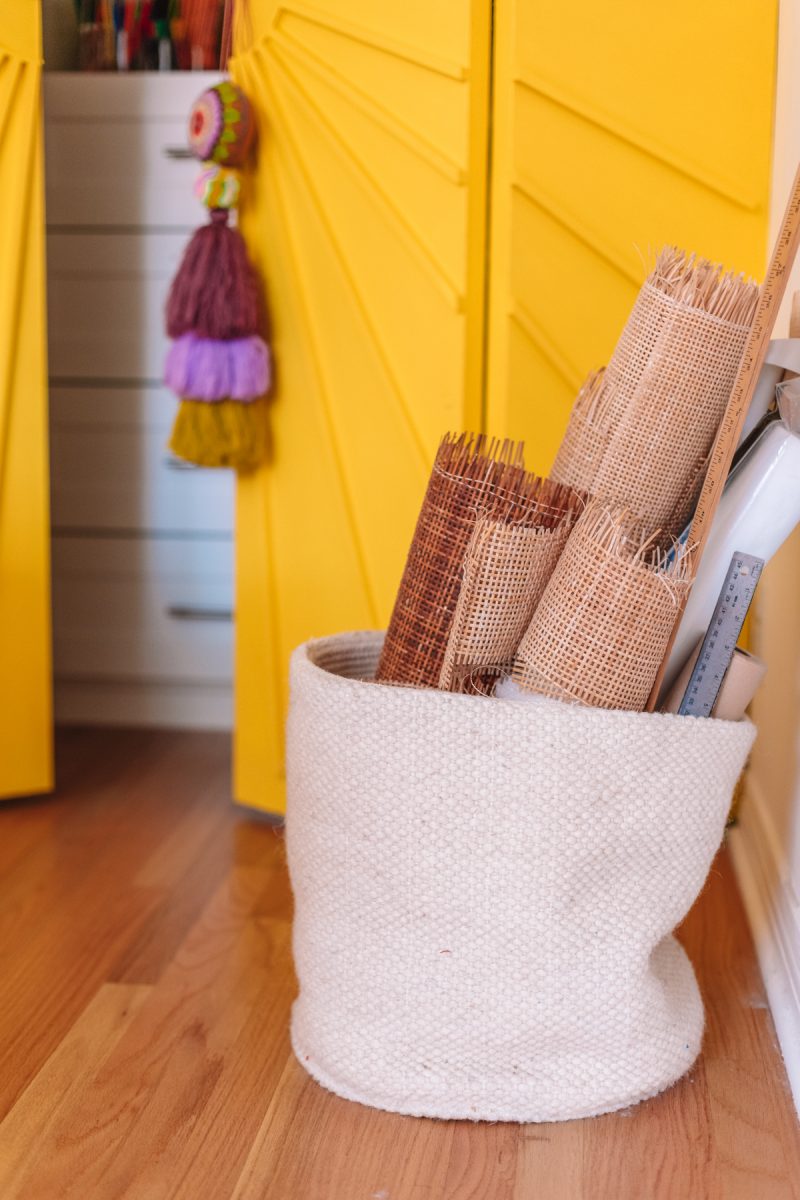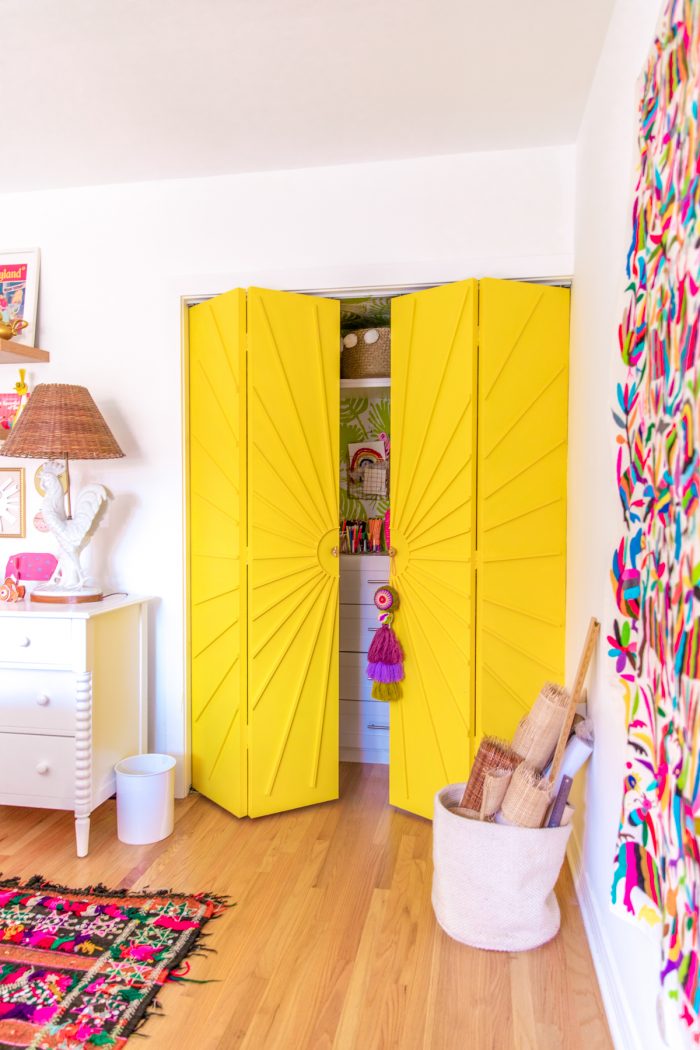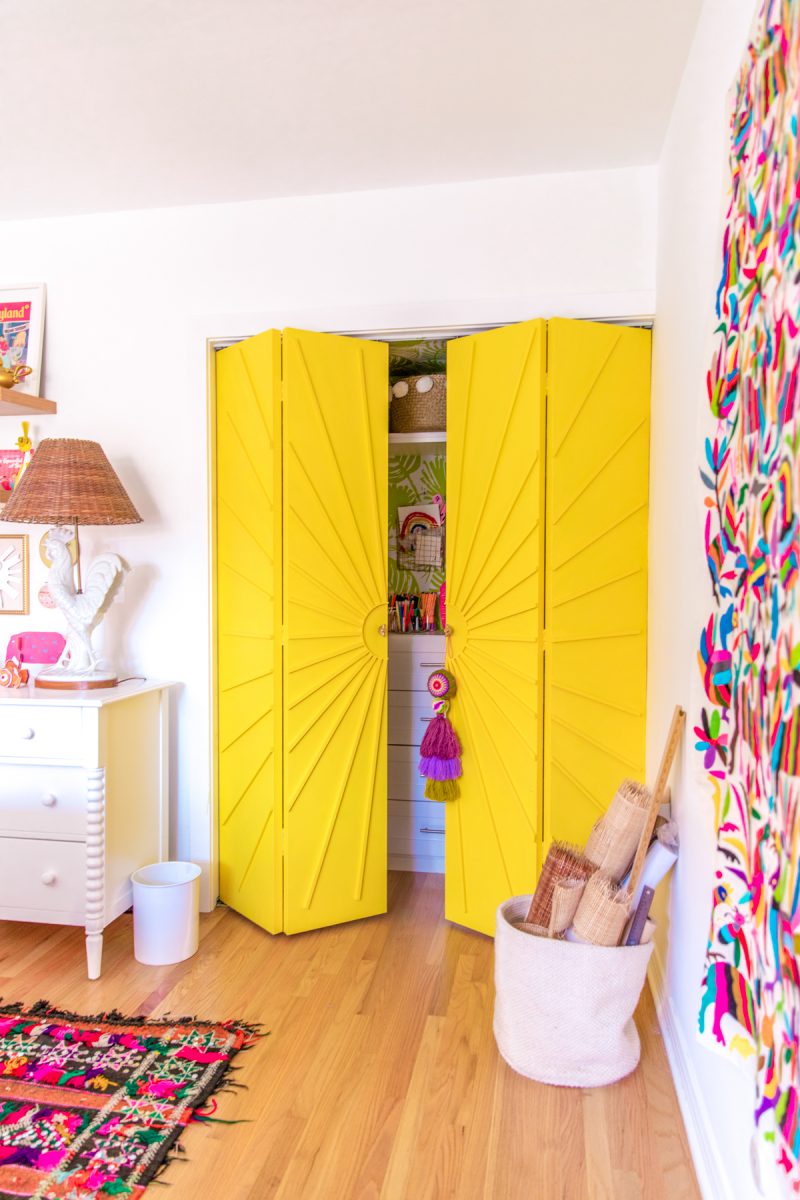 A Few More Whimsical Details…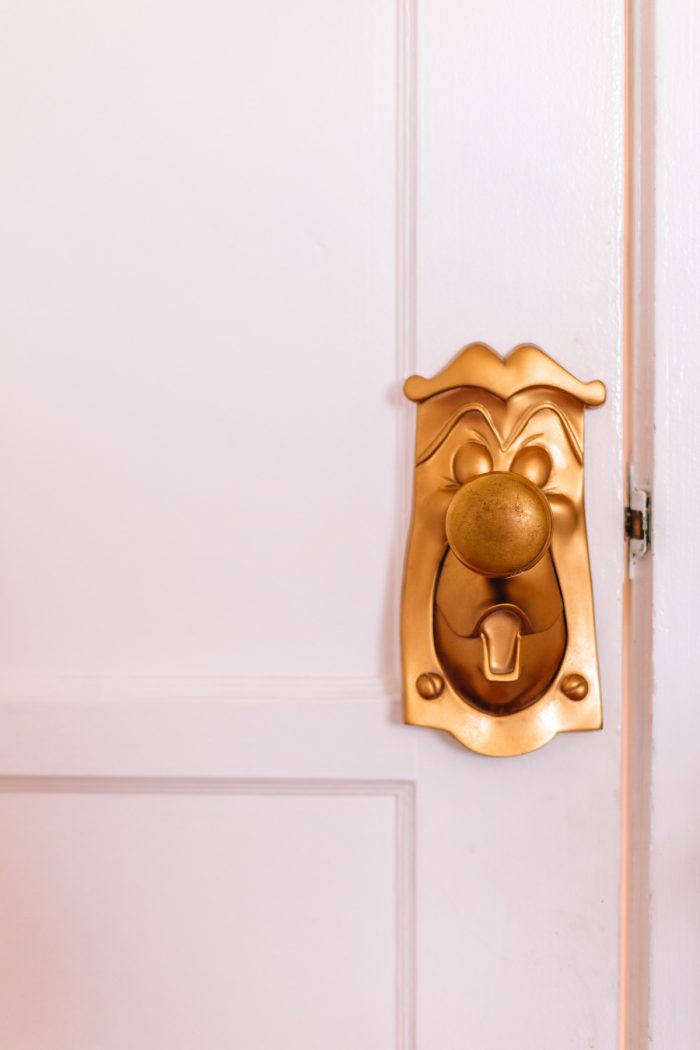 Because this will not only be a guest room and home office, but also a craft space we'll use with our little one (why NOT add one more title to this multipurpose room!?), I wanted to add some whimsical details I knew he'd love.
I bought this incredible Alice In Wonderland door handle, that slipped right over our existing handle and I love that it's a little "secret" you wouldn't know unless you closed the door in the room.
And because this room has this awkward beam running through it, and we didn't have the budget to remove it, we decided to embrace it and add a little fairy door up at the very top! It makes this strange feature feel perfectly magical.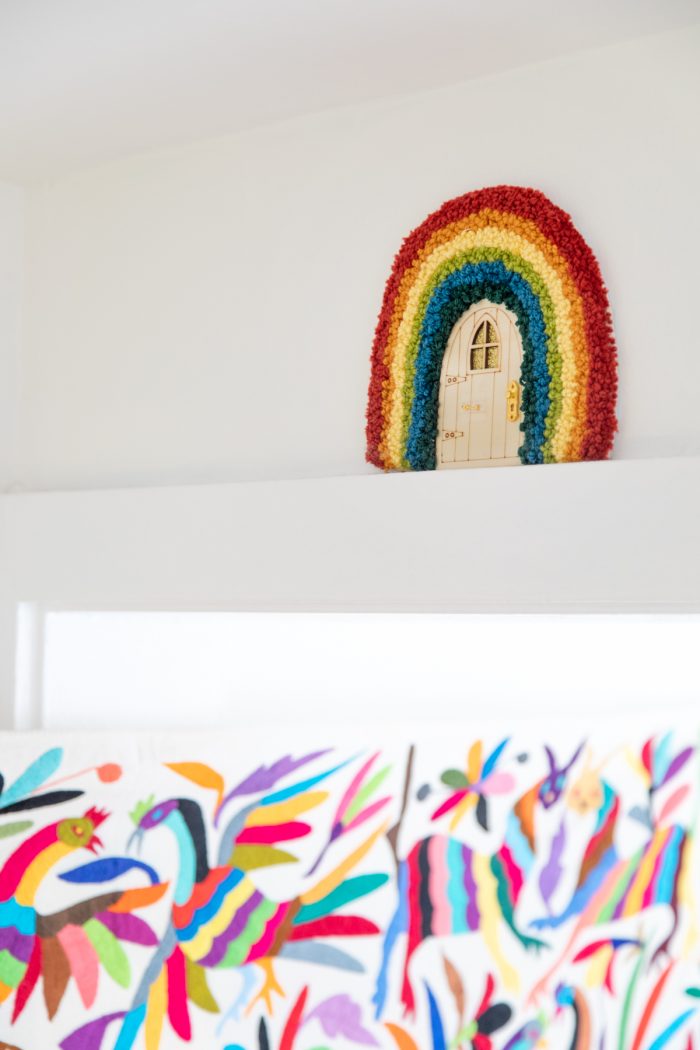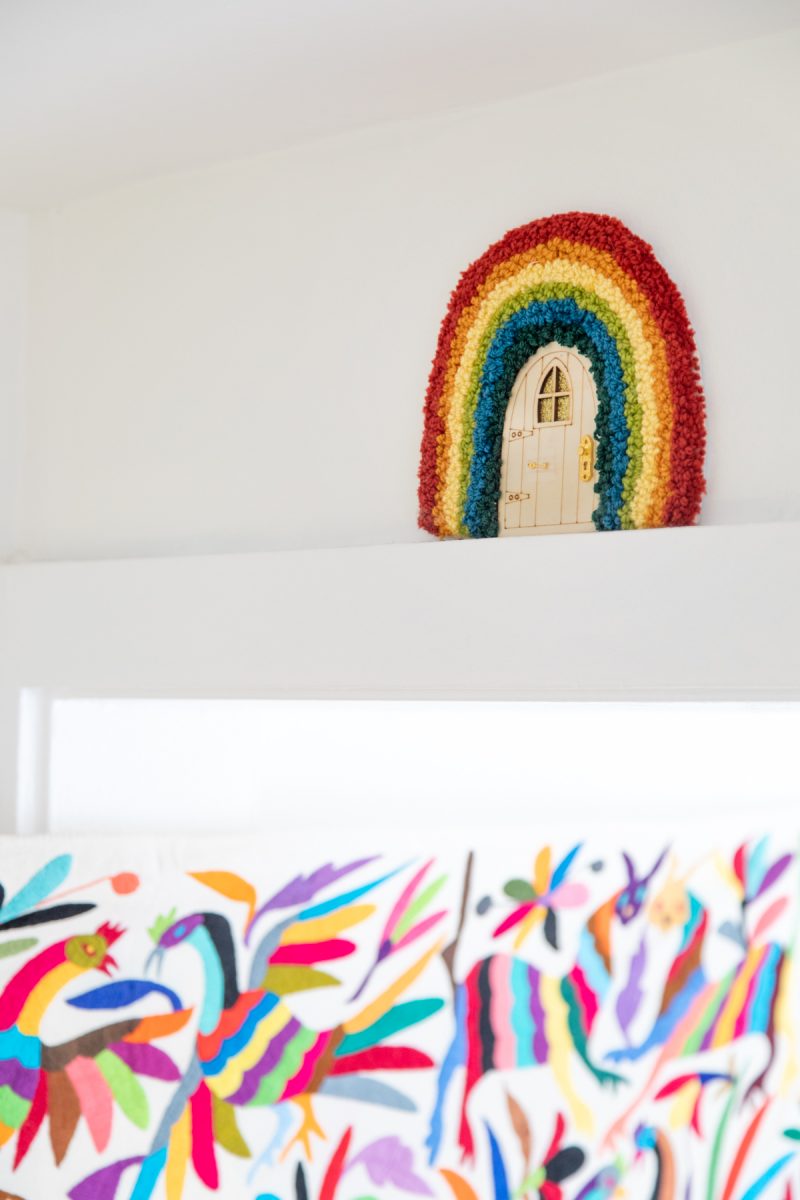 Because this window is high, I knew we needed something to go underneath it. It seemed like the perfect spot for a bench, but I often find benches are just beautiful places to collect STUFF. So, I opted for a vintage wicker trunk instead!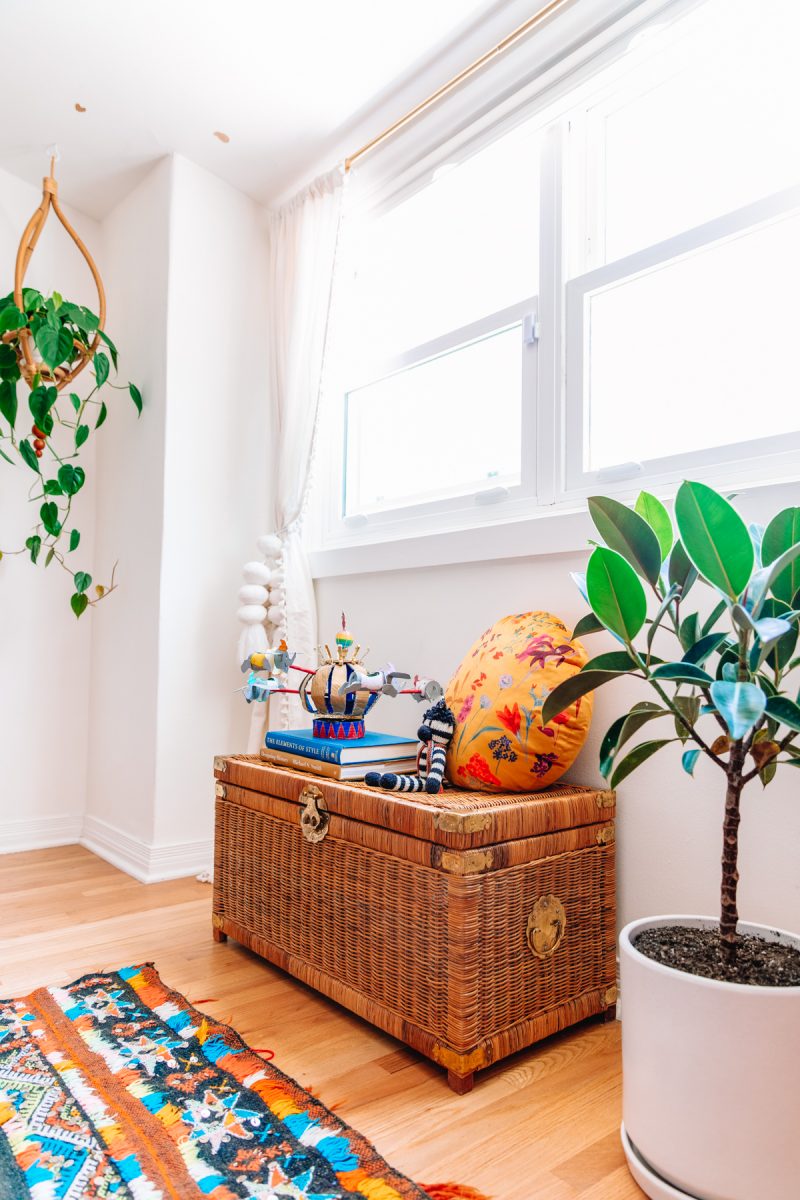 As it turns out, I brought it home and my husband had the same one in his house growing up! I store a lot of my memory keeping supplies in it, and added a plant next to it to bring some more greenery into the room and fill in the space!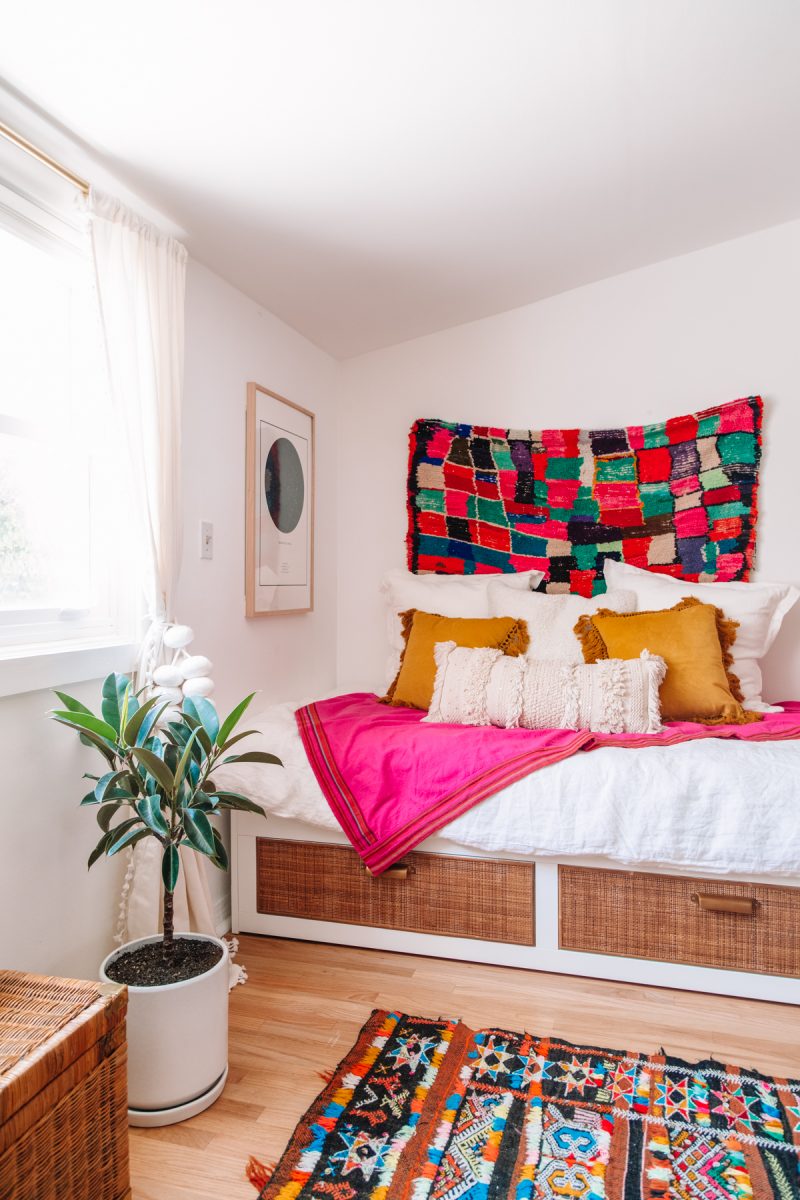 That print hanging above the bed is a print of what the night sky looked like the night our son was born.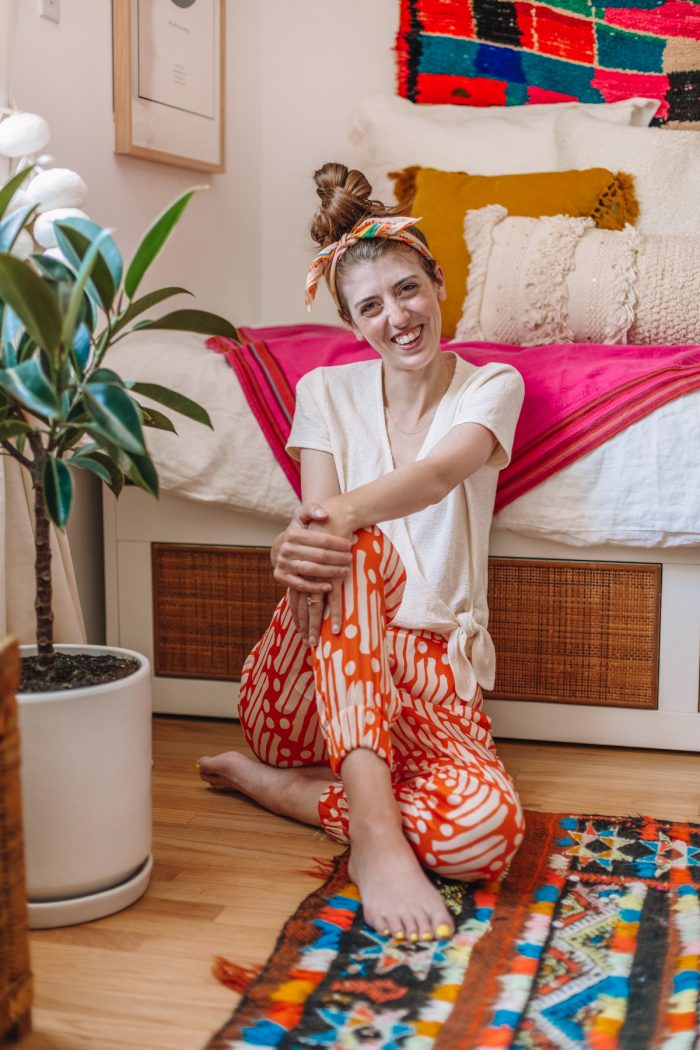 Photos by Jeff Mindell
I hope this post gave you some ideas for how to design a multipurpose room, or even just a little inspiration for adding color and whimsy to any room in your house!
Home Office Guest Room Product Source Guide
Furniture & Lighting
IKEA BRIMNES Day Bed | MEISTERVIK Mattresses | IKEA ALEX Desks
Desks painted with 'French White' from Dunn Edwards using this method!
Faux Leather Desk Chairs | Jenny Lind Dresser*
Blue Sconce* | Rooster Lamp vintage family heirloom
Textiles
Moroccan Rug vintage from Azul Bereber | Otomi Tapestry from Lola y Tula (custom sourced)
Moroccan Rug (on wall) vintage from Demaroc Home
Fringe Curtains | Pom Pom Curtain Tie Backs
Storage
Custom Floating Shelves* | Wicker Trunk vintage from Facebook Marketplace
Acrylic File Holder
Glass jars on desk are repurposed from Oui yogurts*
You can find the storage sources for the closet here!
Bedding
White Linen Duvet Cover | White Down Comforter Insert
Pink Blanket vintage from Pakistan (c/o @amaliqbal)
White Linen Euro Pillows | White Boucle Euro Pillow
Mustard Pillows | Lumbar Pillow from Target, past season
Art, Plants & Decor
Rubber Tree & Planter | Rattan Hanging Planter from Jungalow, past season
Yellow Floral Pillow from Anthropologie past season
Weighted Blanket (Our color is a past season) | Large Wicker Basket
Giraffe Art Piece from my late art teacher
Yellow Sun Embroidery Piece | Embroidered Face with Rainbow*
Gold Frame | Birch Frame
Custom Night Sky Print | Brass Curtain Rod
Ceramic Lion | Ceramic Yellow Bird
Alice In Wonderland Door Handle | Rainbow Fairy Door
Craft & DIY Projects Pictured
Cardboard Dumbo Ride | Cardboard Animals | Paper Mache Nemo
Sunburst Closet Door
*indicates an item that was gifted in exchange for coverage on Studio DIY's blog and social media. All opinions are my own.