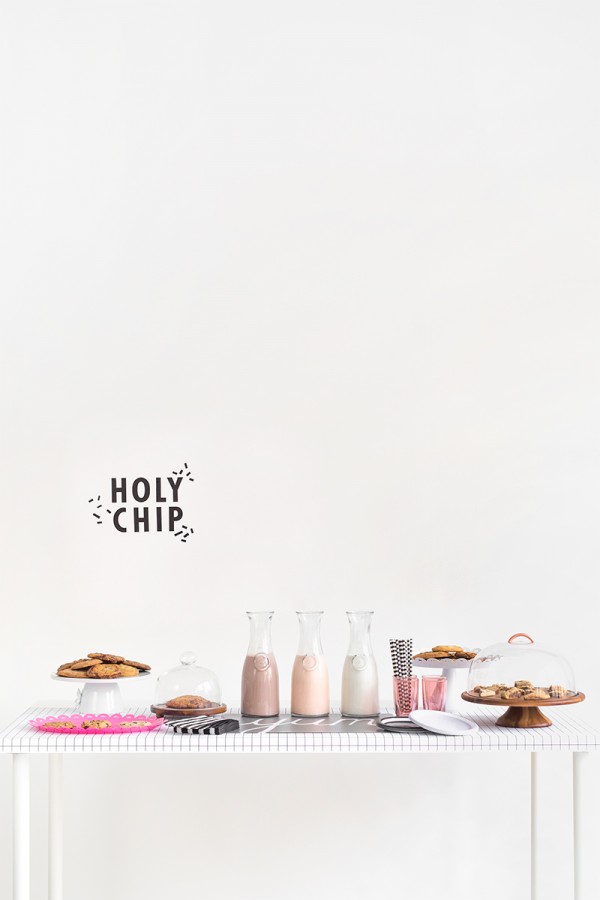 First true fact: I'm not that into sports. Second true fact: I secretly love March Madness. Not because I like basketball all that much, or because I even think I know who might win, but because I just LOVE filling out that darn bracket. I'm actually not half bad at guessing either, believe it or not. But if I'm going to throw a March Madness party, like Target Style challenged me to do, I'm gonna involve something where I have slightly better odds at winning. And that, my friends, involves chocolate chip cookies. Yep, we're taking the bracket to the food and having the ULTIMATE March Madness Chocolate Chip Cookie taste off. We used cookies from all OVER Los Angeles, but you could invite your guests to bake their own, or you could choose another food entirely. Pizza? Dips? DONUTS? Let's do this.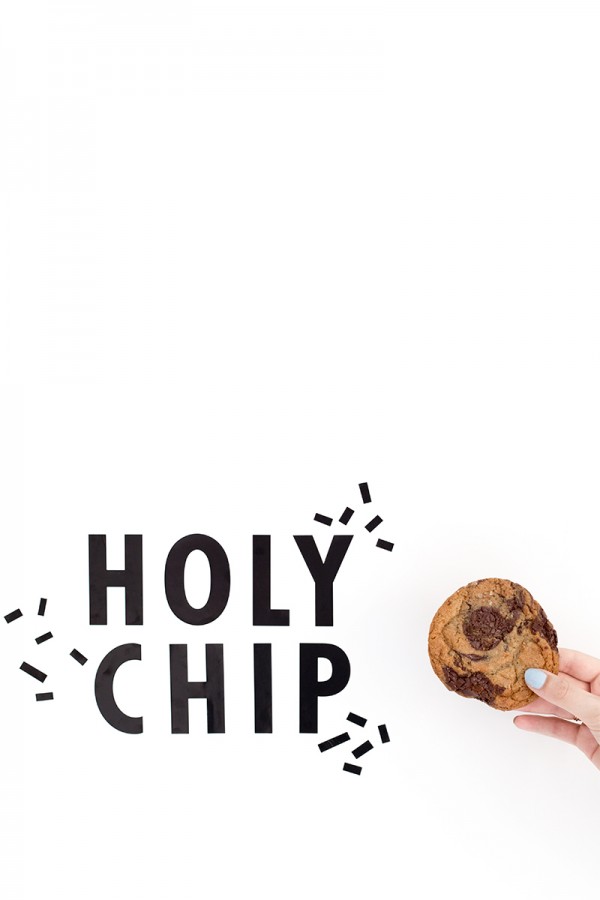 Save out a couple cookies for the big March Madness taste off and place the rest of the cookies on a dessert bar so guests can enjoy their favorites as they kick back and watch the games! We used a variety of cake plates and trays from Target to display the cookies, plus disposable Spritz plates for easy cleanup and OF COURSE, some big ol' jars of milk. We also gave a nod to those referees with black and white striped napkins and straws! Come on, you KNOW I love a theme! The "Holy Chip" sign was made with poster letters that we also purchased at Target (we cut up some letters to make the "chips").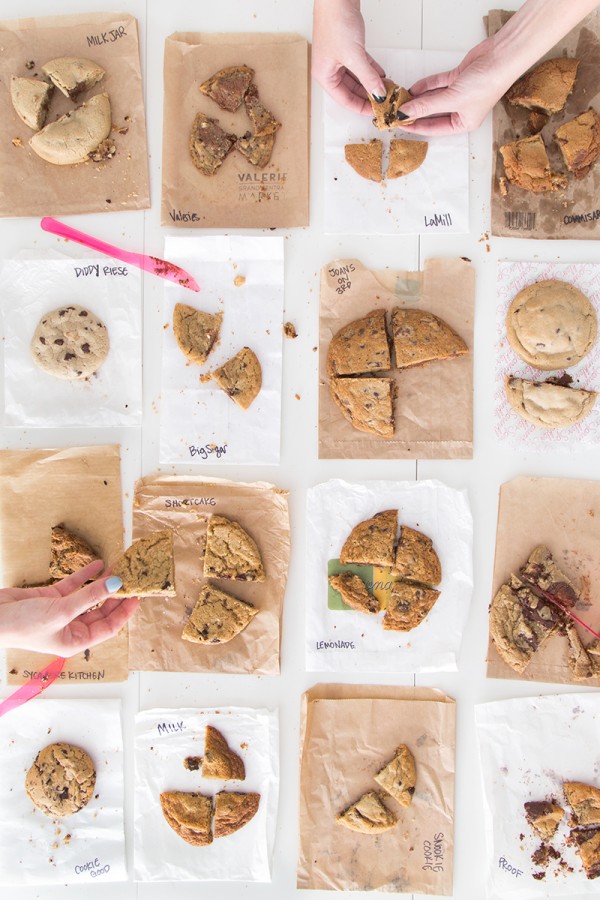 And HERE'S how you make this madness happen! Decide on your competition food of choice. For us, we chose chocolate chip cookies. Invite each guest to buy or bake their favorite version. (Make sure, if they're buying, that there are no duplicates!) Ideally, you'll start with 16 or 8 versions, a la the bracket. Print off the March Madness bracket below or create your own life size version using washi tape and fill in all the cookie bakeries (or bakers!). Cut up the cookies you saved out into quarters and invite guests to taste one of each and cast their votes on their favorite! Tally up the scores, pitting cookie against cookie (madness style!) until you have a WINNER!
To print your bracket, CLICK HERE!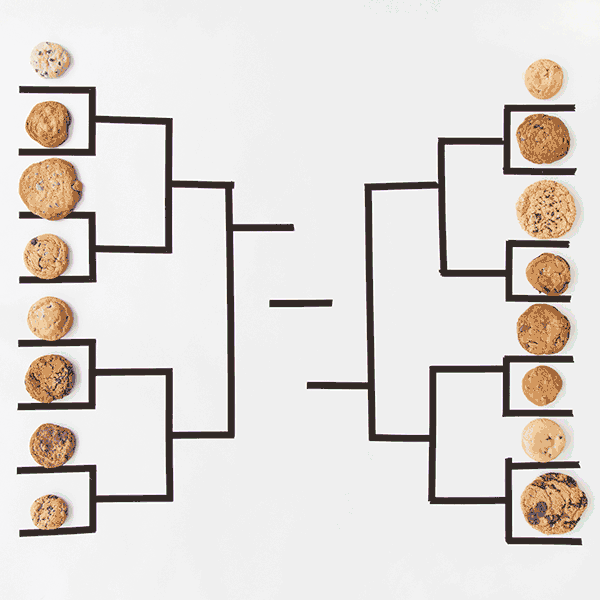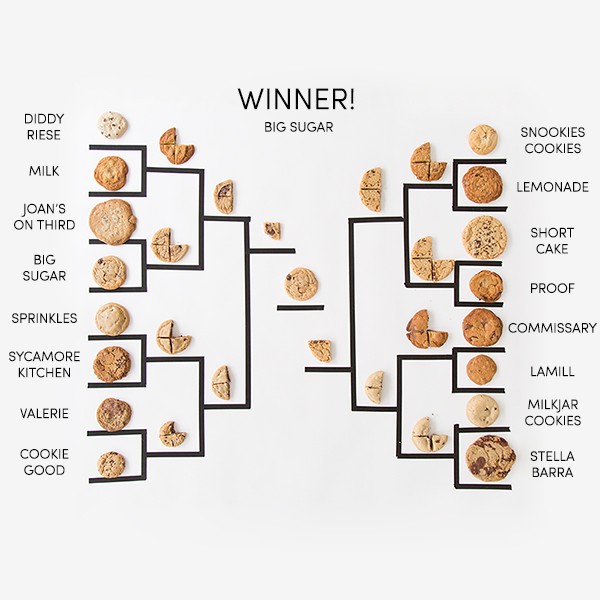 Photos by Jeff Mindell / Concept Development + Styling by Beautilitarian / Creative Direction by Studio DIY
Large Wood Cake Plate + Dome / Small Wood Serving Plate + Dome / Ceramic Cake Plate
Scalloped Cake Plate / Pink Scalloped Tray / Pink Glasses / YUM Placemats
Glass Carafes / Striped Napkins /Disposable Plates
So if YOU could do a March Madness taste off of any food what would it be!?
(psst… We'll be sharing all about the results of our LA cookie taste off tomorrow for those of you in SoCal! WOOT!)
This post is brought to you by Target Style. Shop the new Home collection in stores and online.