Fruit. Slice. Umbrellas. OH YES! I'm so excited about my latest fruit escapade. I teamed up with ScotchBlue™ Painter's Tape to turn some plain umbrellas into ones that look good enough to eat! A lemon, a watermelon and a kiwi… because nobody ever gives any love to the little ol' kiwi! Am I right!? Let's make some gigantic fruit slices!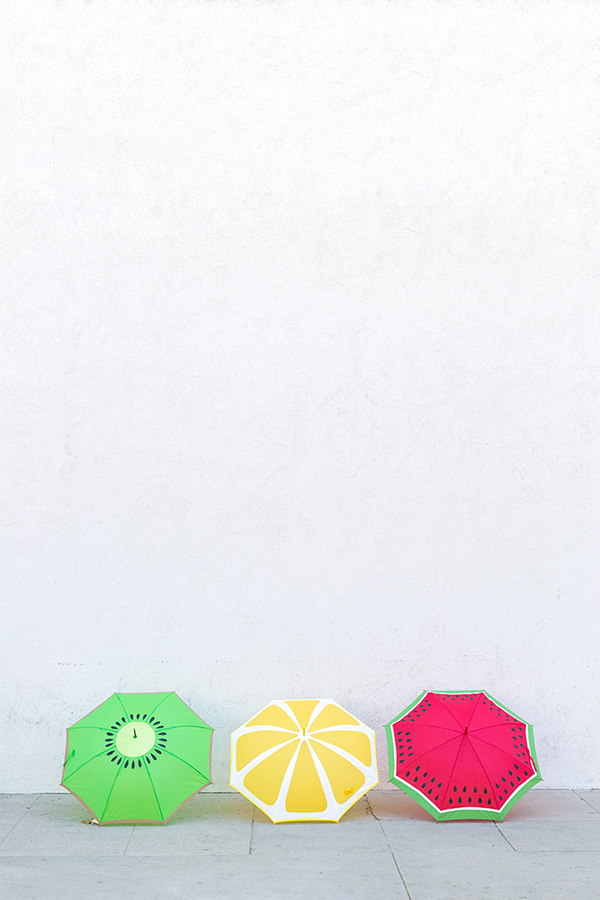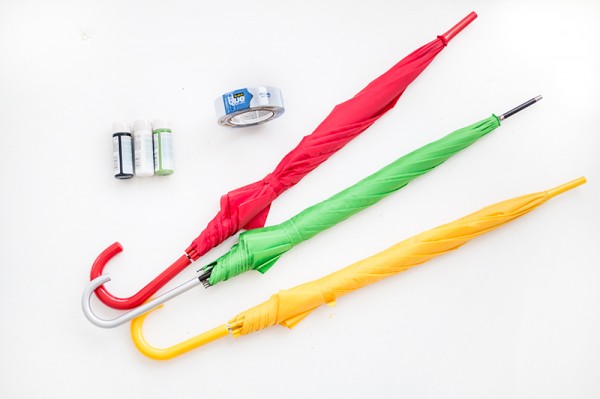 Umbrellas (I found mine here and here!)
Scotch Blue™ Painter's Tape Original Multi-Use (2090)
Fabric-safe Craft Paint
Scissors
I have a step-by-step for each umbrella so skip on down to the fruit of your choice, or make 'em all!!!
Lemon Slice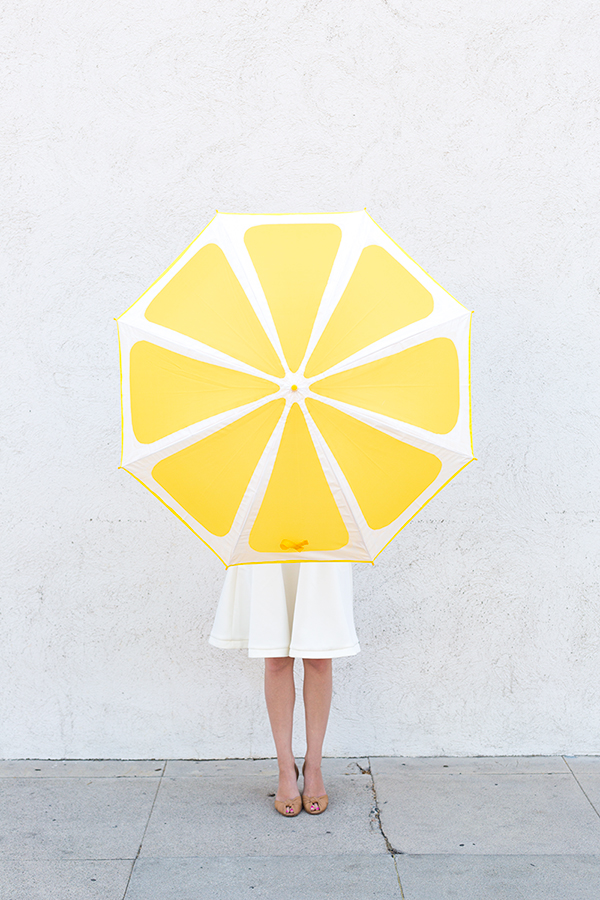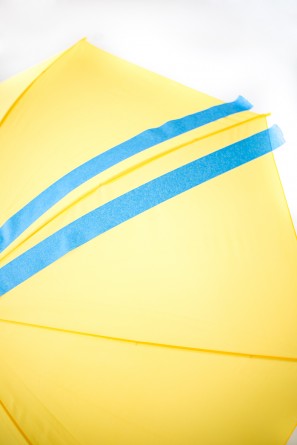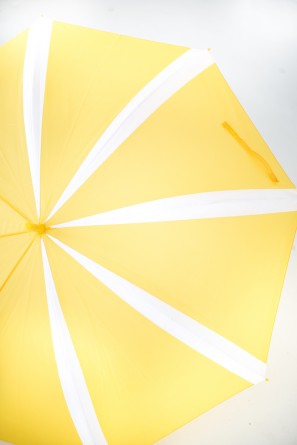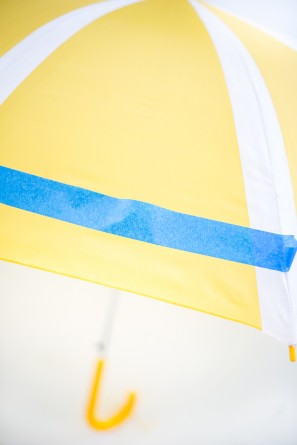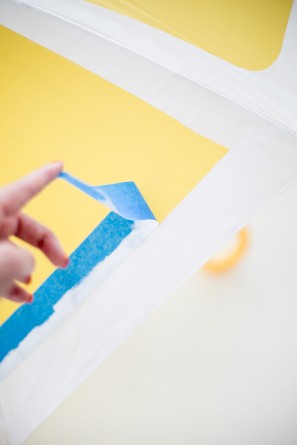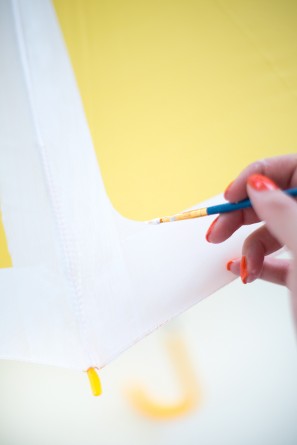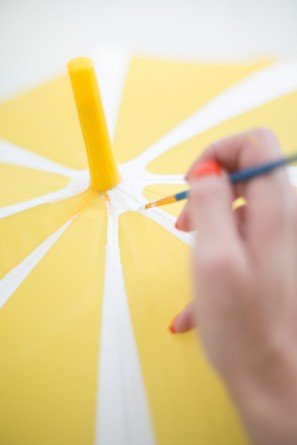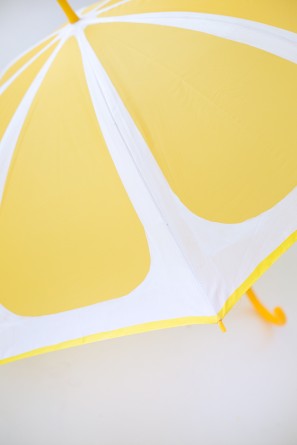 1. Tape off a section around one spoke of the umbrella. It should start at a point at the top of the umbrella and widen to about a 2″ section at the bottom.
2. Paint within your tape lines using white or pale yellow paint. Peel off your tape and tada! Perfect.
3. Repeat this with each spoke of the umbrella. It's best to go one by one, versus taping all sections at once, so you aren't running into any tape overlapping at the top.
4. Now you're going to create the white rind around the bottom! To do this, run a piece of tape a few inches from the bottom of each section of the umbrella (Again, I recommend doing this section by section.), curving it slightly if desired.
5. Paint the entire section below your tape and remove! Repeat with each section.
6. To give a curved look to each "wedge", I went back in with a small paint brush and hand-painted a slight curve on each corner. This gave it a more realistic lemon look!
7. I also curved the top point of each wedge and filled in the center around the umbrella's peak with paint too.
8. To finish it off, I painted a small strip of yellow along the bottom of each to look like the edge of the lemon peel!
Watermelon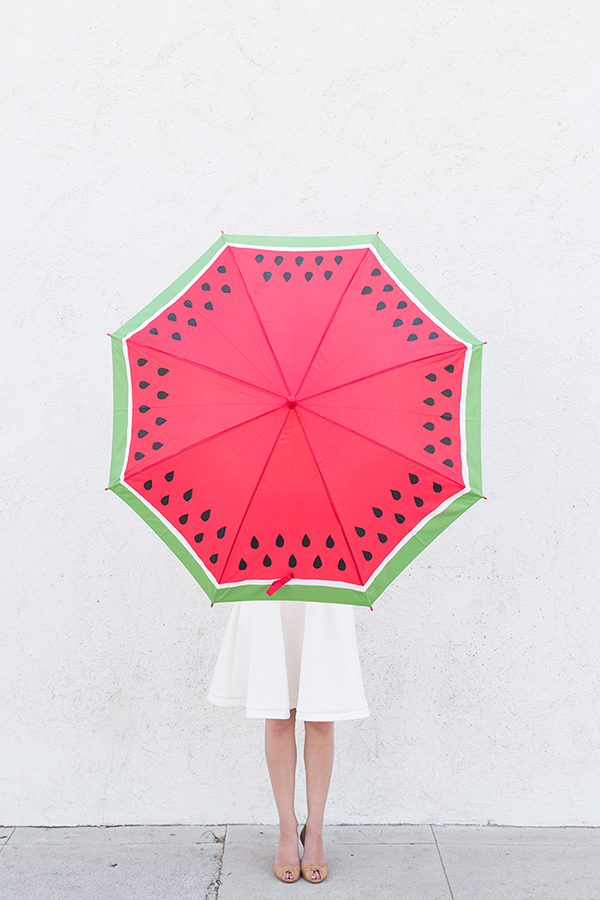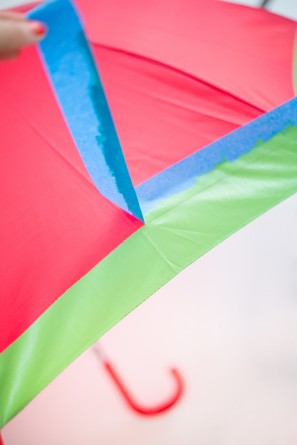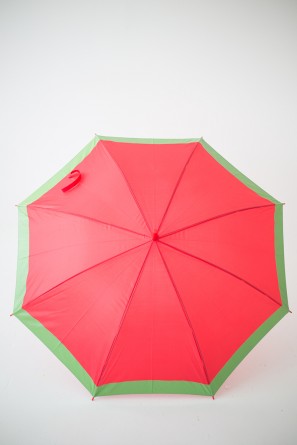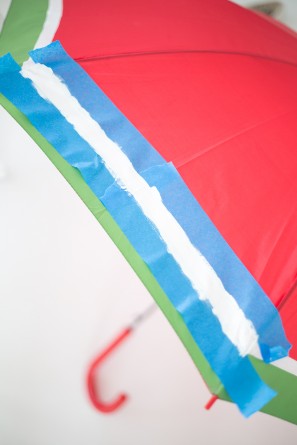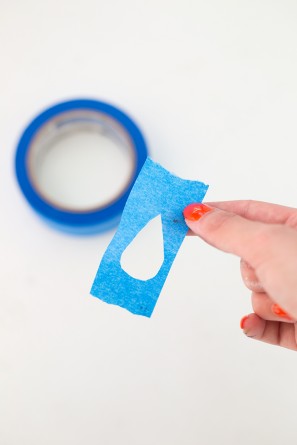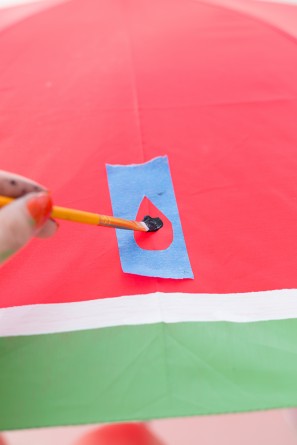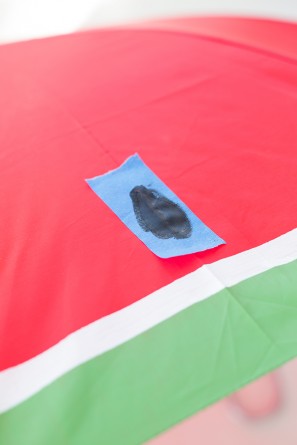 1. To paint the bottom edges green like a watermelon rind, run a strip of tape a few inches from the bottom of each section (working in individual sections). Paint everything below the tape green and remove.
2. Repeat with each section, following the curve of the bottom of the umbrella. Let dry.
3. Now to add the white! Run a piece of tape along the top edge of your green section, just below the edge so that you don't have any red peeking through. Then run a second piece of tape about an inch above it. Paint the section in between white and repeat all the way around the umbrella.
4. Seed time! I wanted my seeds to be uniform so I used the tape to create an adhesive stencil by cutting out a seed shape. You'll need a few of these as there's lots of seeds to paint! To make multiple stencils at once, layer a few pieces of tape on top of one another and cut through all of them, then carefully peel and separate.
5. Place the stencil where desired and paint with black paint.
6. Repeat with as many seeds as you want. I started in the middle of each section then worked my way out, creating two layers of seeds with five on the bottom and four on the top. Done!
Kiwi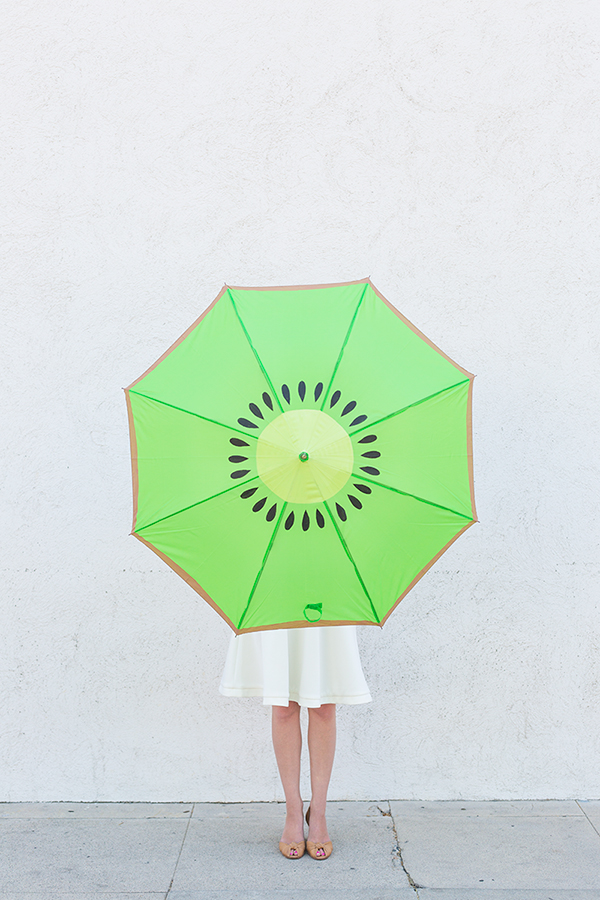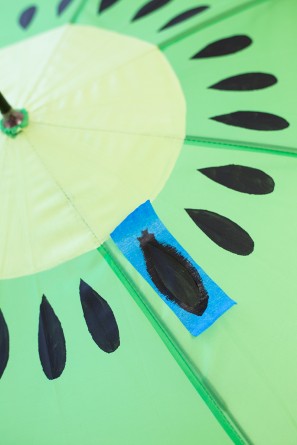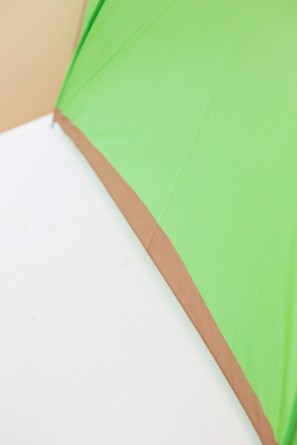 1. To create the center of the kiwi, paint a circle of white or light green around the center of your umbrella. I poked a hole through a paper plate, slipped it on top of the umbrella and traced it, then freehand painted within the guideline I made. Then it was time to add seeds! I cut a seed shape out of tape to make a stencil (see above for how to create multiple stencils at once!). Work your way around the inner circle, painting each seed black. I painted three seeds in each umbrella section.
2. To finish off the kiwi, run a piece of tape about an inch from the bottom of each umbrella section and paint brown below your tape line. Done!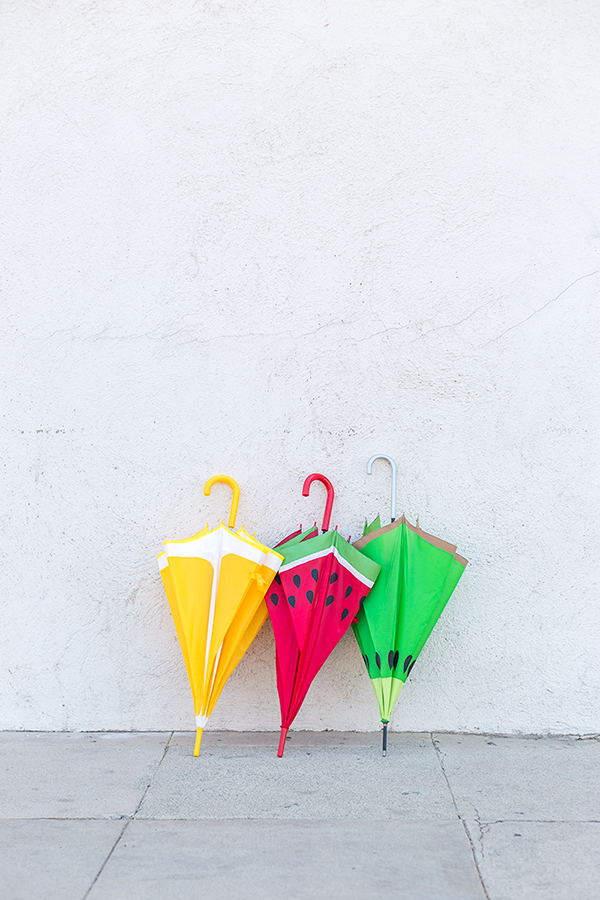 Don't they look just as cute all folded up!? Make sure you let them dry fully before collapsing them, though!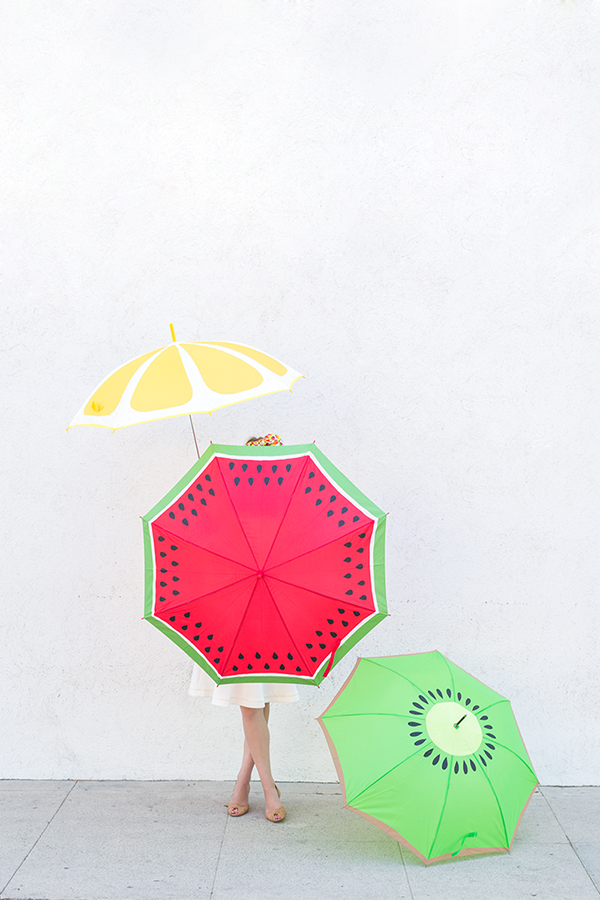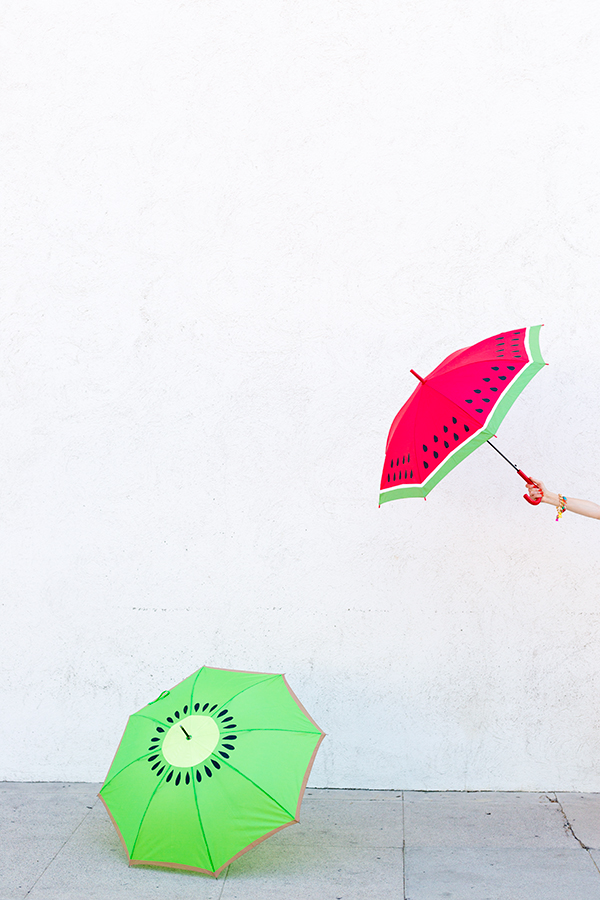 All Photos by Jeff Mindell for Studio DIY
I think it would be awesome to do a whole citrus variety, with orange and lime slices too! What would be your umbrella fruit of choice!? Hope you're all spinning around on the side of the road with some fruity umbrellas SOON!
I am proud to be a 3M sponsored blogger, and, as part of my responsibilities, I get the opportunity to evaluate ScotchBlue™ Painter's Tape. Opinions are my own and additional products used in the project were selected by me.