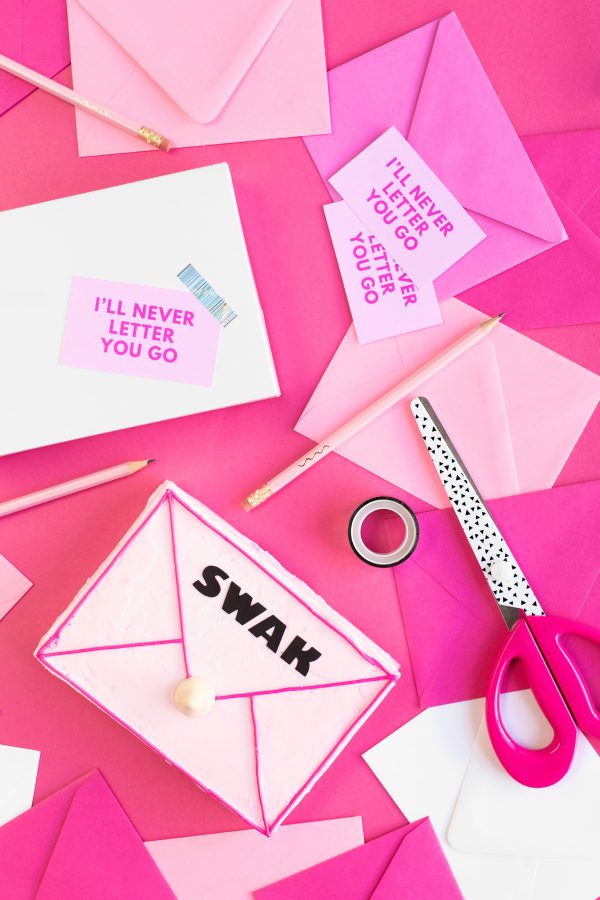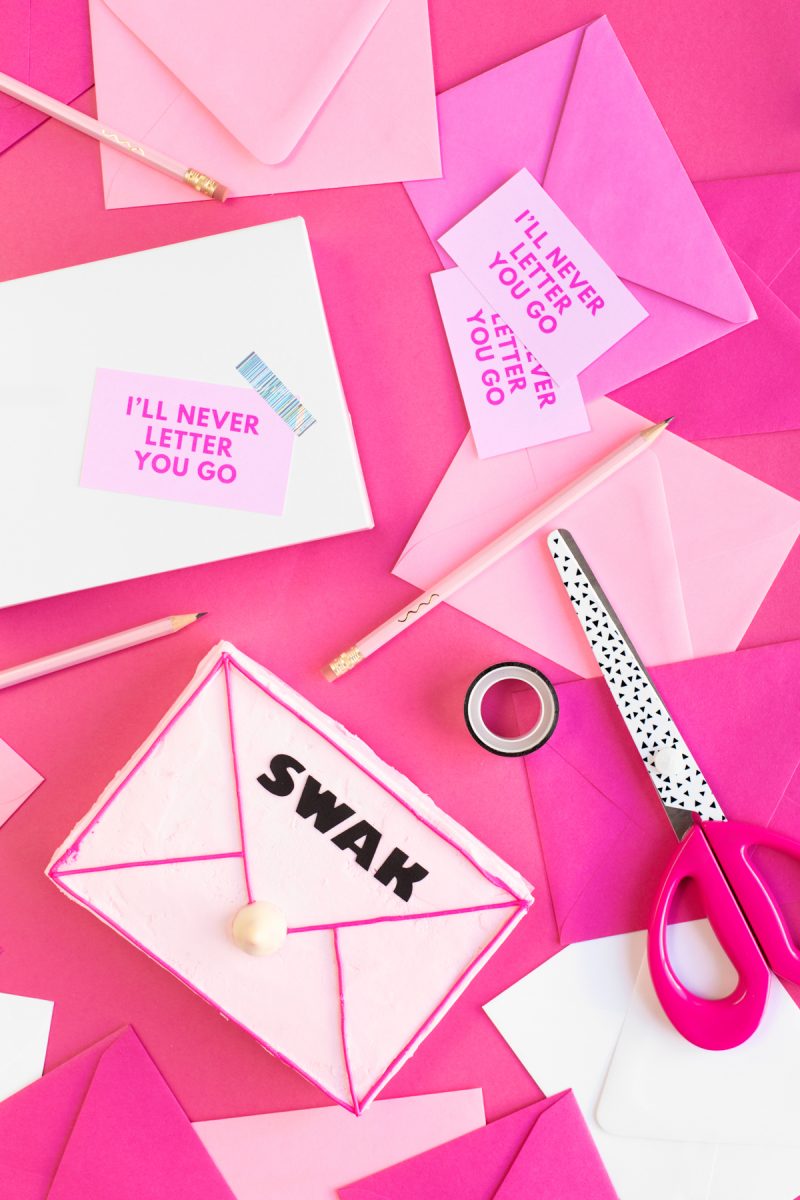 Raise your hand if you wrote S.W.A.K. on allll those notes you used to pass in school!? *Raises hand.* Well, since passing notes in adulthood isn't quite as accepted… how about passing love note CAKES!? You can make four of these cute little cakes with just ONE sheet cake and a batch of buttercream and then literally seal them with a kiss. An edible kiss! HERSHEY'S KISSES candy!!!
We've teamed up with The Hershey Company today for this recipe. They're launching a new flavor of KISSES candy, HERSHEY'S Cupcake KISSES Candies available exclusively at Target that (you guessed it!) taste like a cupcake!!! It's white cookie cupcake flavored with pink cookie bits inside and it's basically my dream. Haha! It was the perfect finishing touch to our cute little cakes. And if the recipe wasn't enough, we've even got a cute free printable for you to package 'em up with that can double as a gift tag or card! We just took care of all your Valentine's Day needs right there. You can thank us later. 😉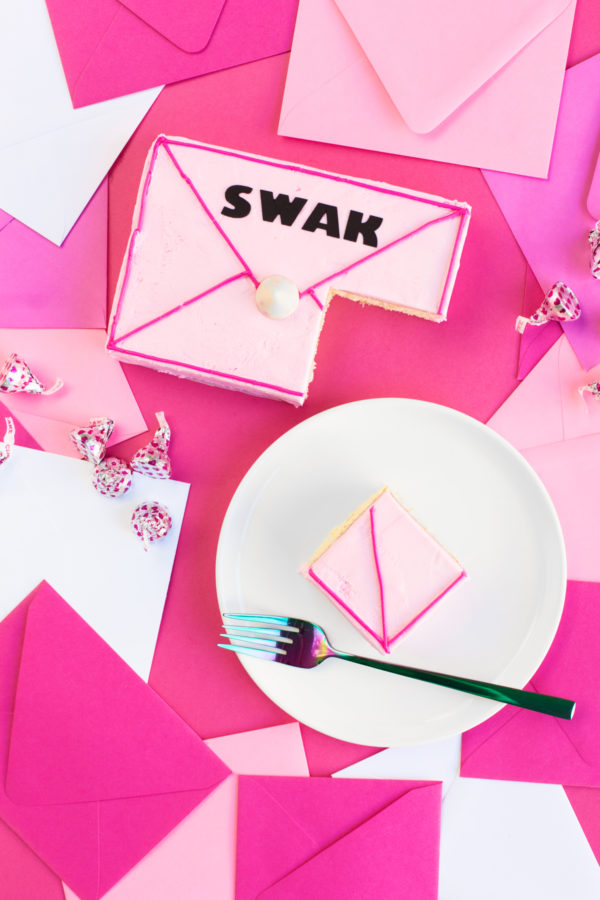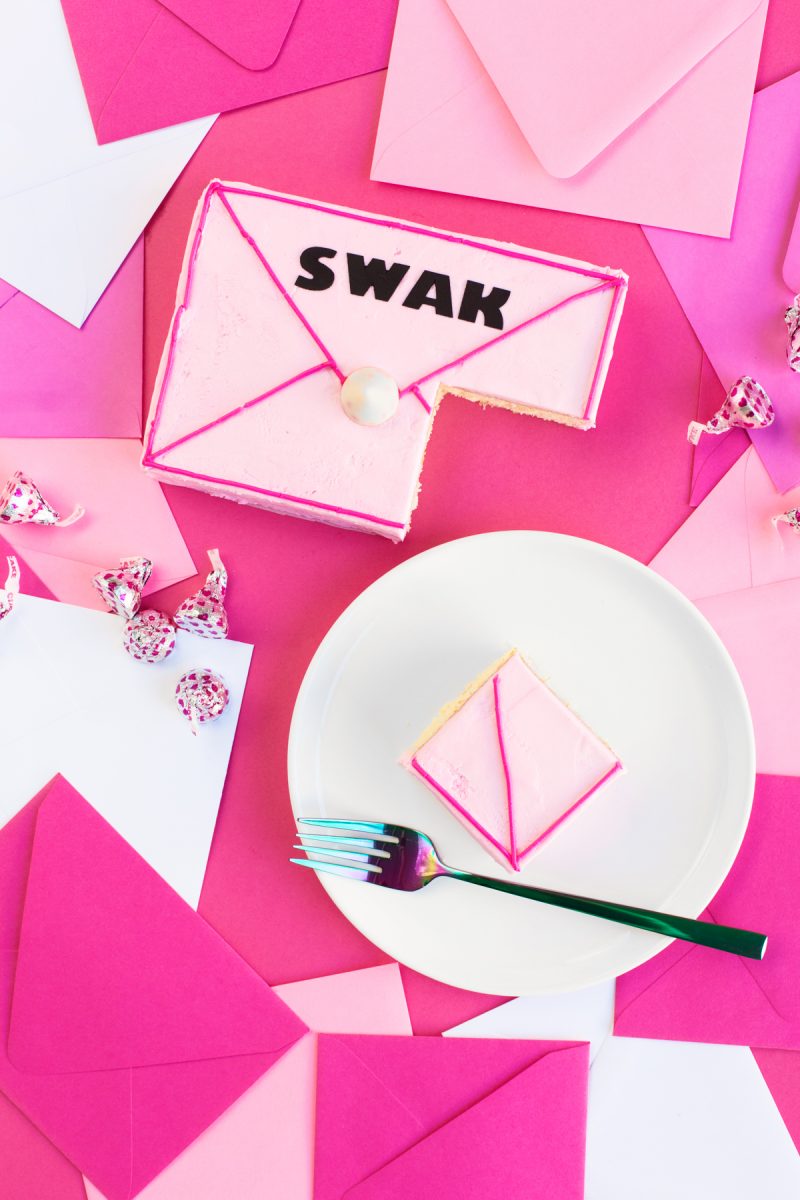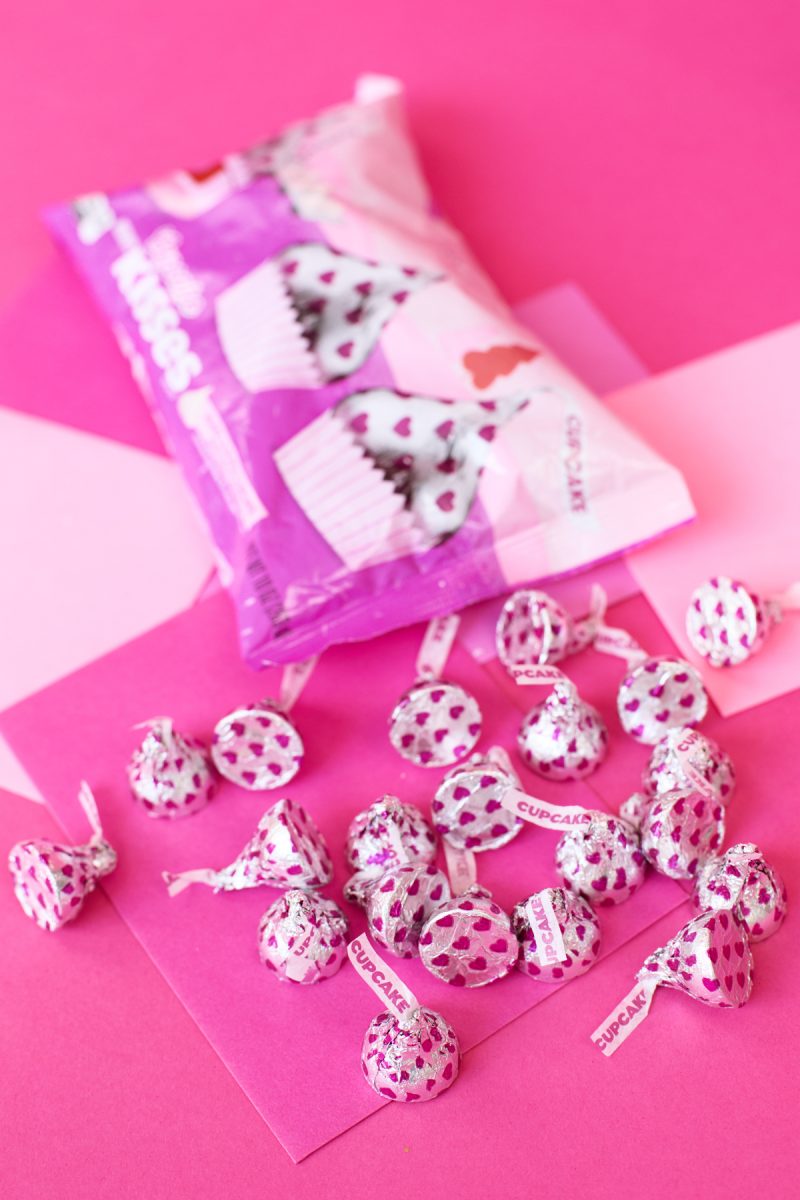 DIY Love Note Cakes
Total Time: 1 Hour (Plus Baking and Cooling Time)
Supplies
13x9 inch Cake (Box mix or your favorite recipe!)
Pink Buttercream Frosting
Sugar Letters (You can get these at your local craft store!)
HERSHEY'S Cupcake Kisses
Serrated Knife
Piping Bag
Directions
1. Cut a cooled 13 by 9 inch cake into four 4 1/2 by 6 1/2 inch rectangles. If your cake is rounded on the top, use the serrated knife to level and flatten the top.
2. Lightly crumb coat the rectangles with light pink buttercream. Chill for 10 minutes to set.
3. Frost the cakes and smooth with an offset spatula. Let chill for another 10 minutes.
4. Using the straight edge of a knife, spatula, etc., make straight lines on the cakes as guides for piping the envelope.
5. Place hot pink buttercream in a piping bag fitted with a small round tip.
6. Carefully pipe along the guidelines with the hot pink buttercream.
7. Place sugar letters onto the cake and gently press down to secure.
8. Finish off with a Hersey's kiss.
Click here to print the "I'll Never Letter You Go" card!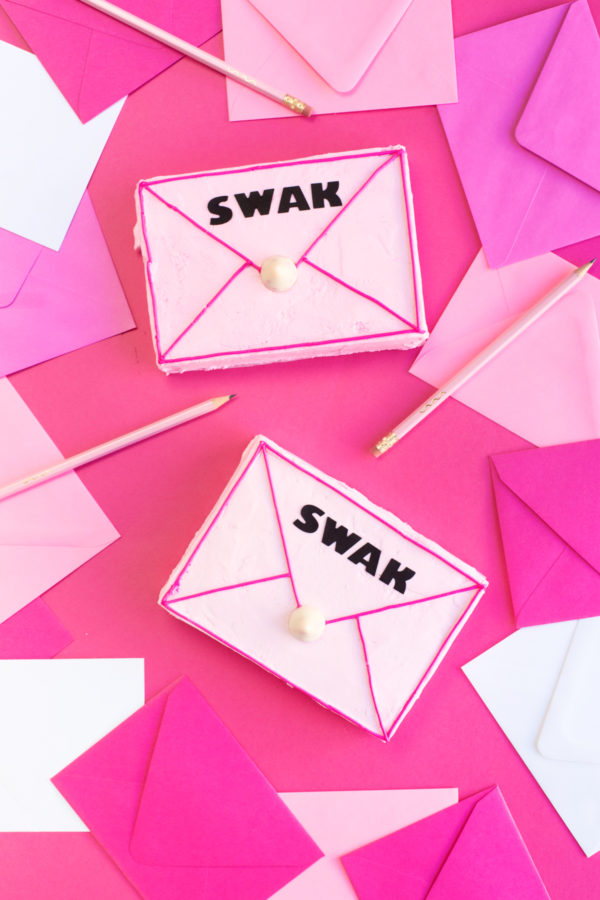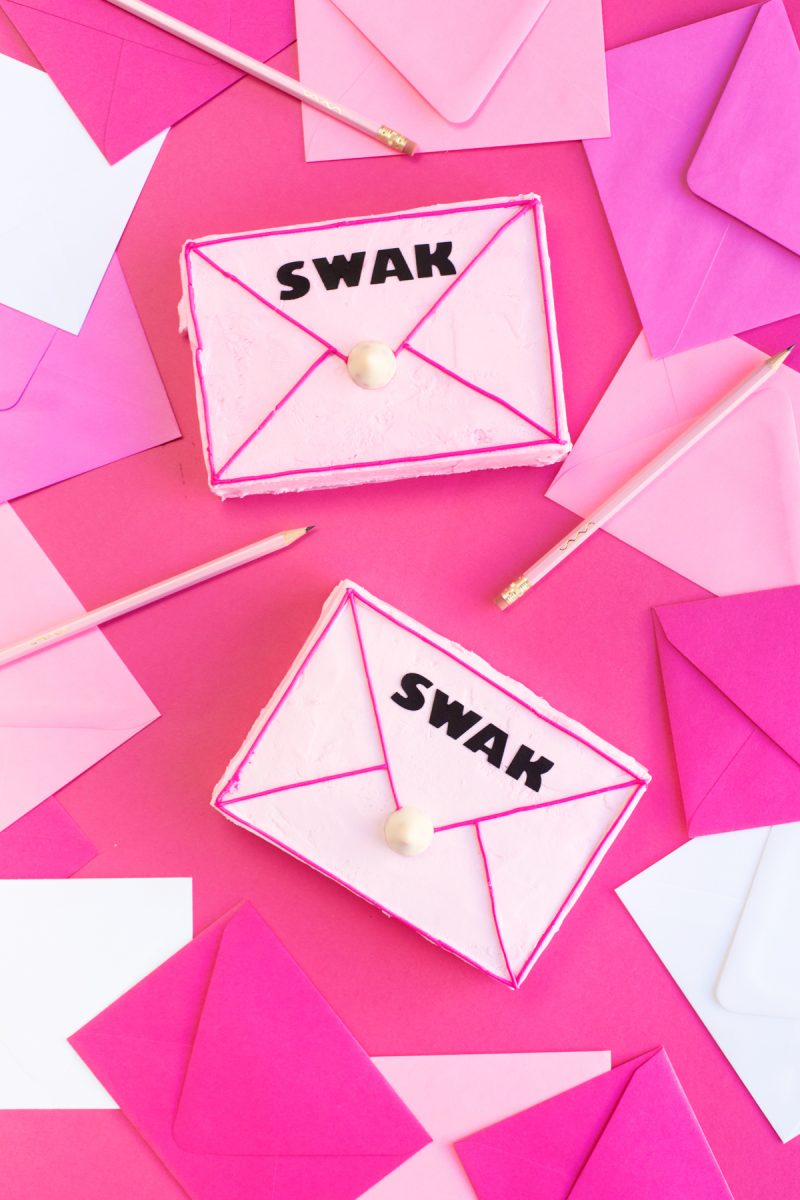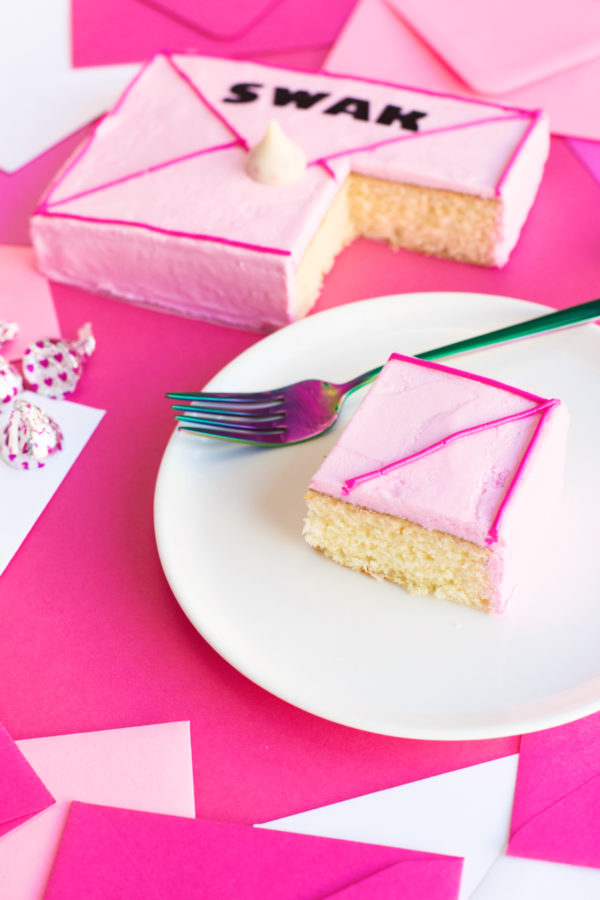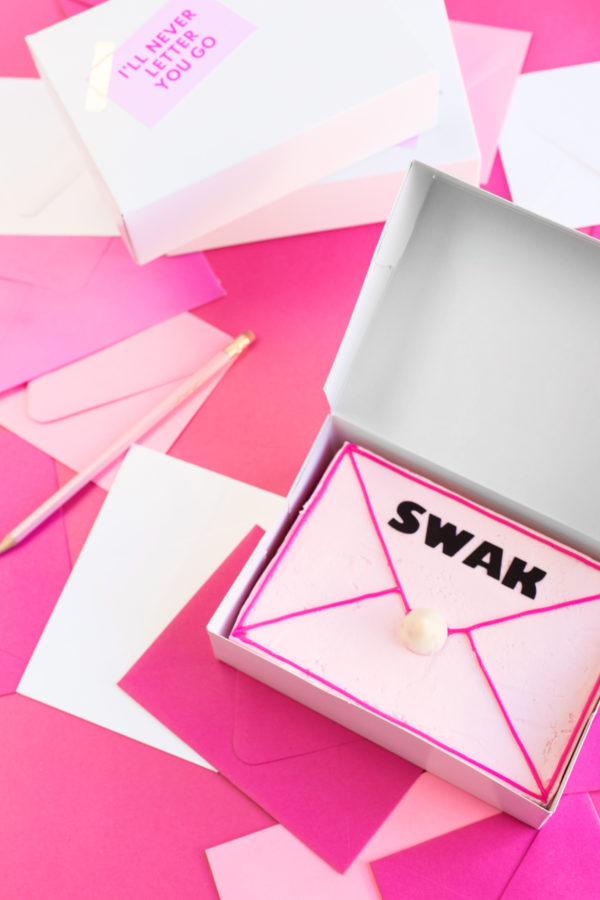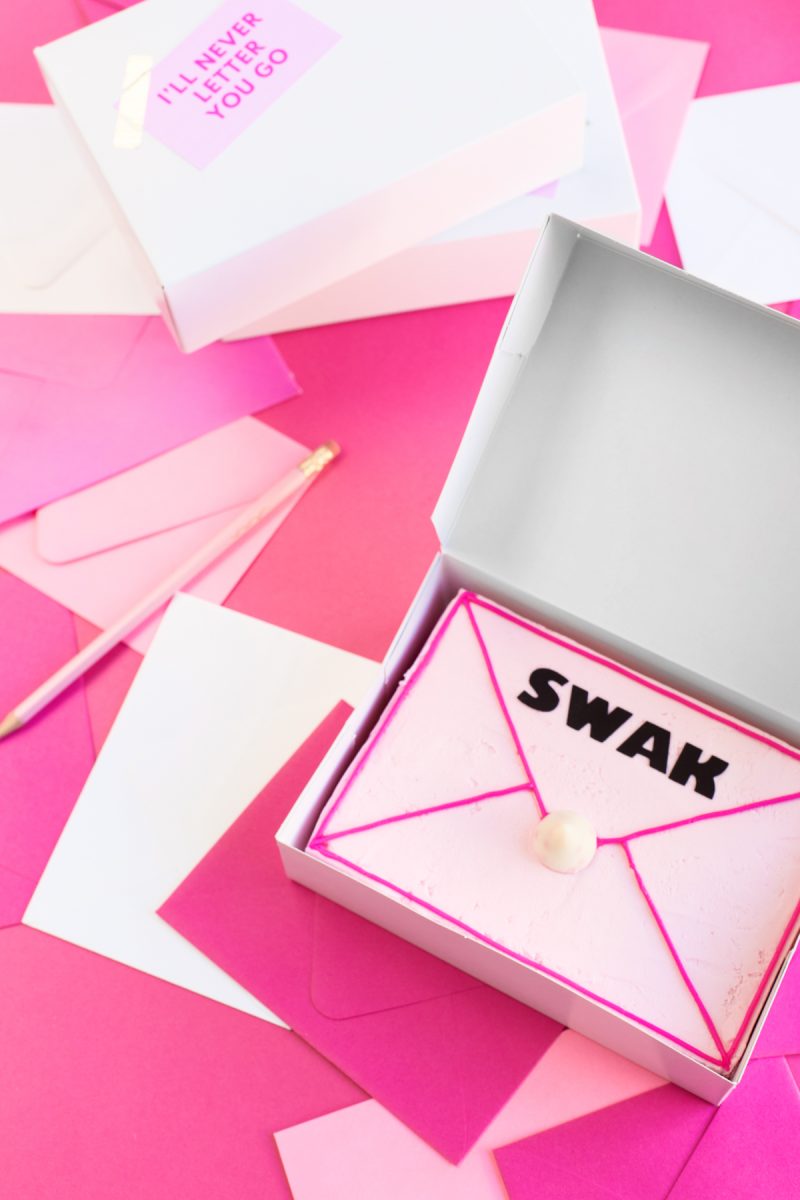 Photos by Jeff Mindell | Recipe by Theresa Rountree
FYI "I'll never letter you go" is a new pun favorite of mine. As are these cakes. Go make 'em!!!
This is a sponsored conversation written by me on behalf of HERSHEY'S. The opinions and text are all mine.