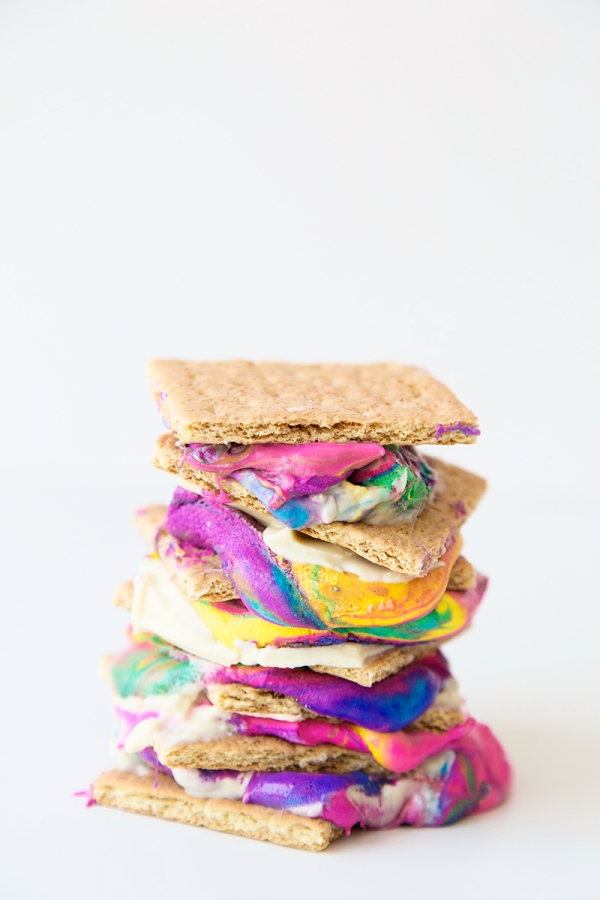 RAINBOW UNICORN TIE DYE S'MORES, EVERYONE! Who. Is. Excited? *THIS GIRL!* I wish you all could have been in the studio while we were shooting these. Poor Jeff, surrounded by three girls squealing over how fun, colorful and AMAZING these are. We knew we had to go big or go home for the upcoming National S'mores Day (August 10th!) so we went big. And we went home. And now, we shall all vow to eat more colorful s'mores. Here's how…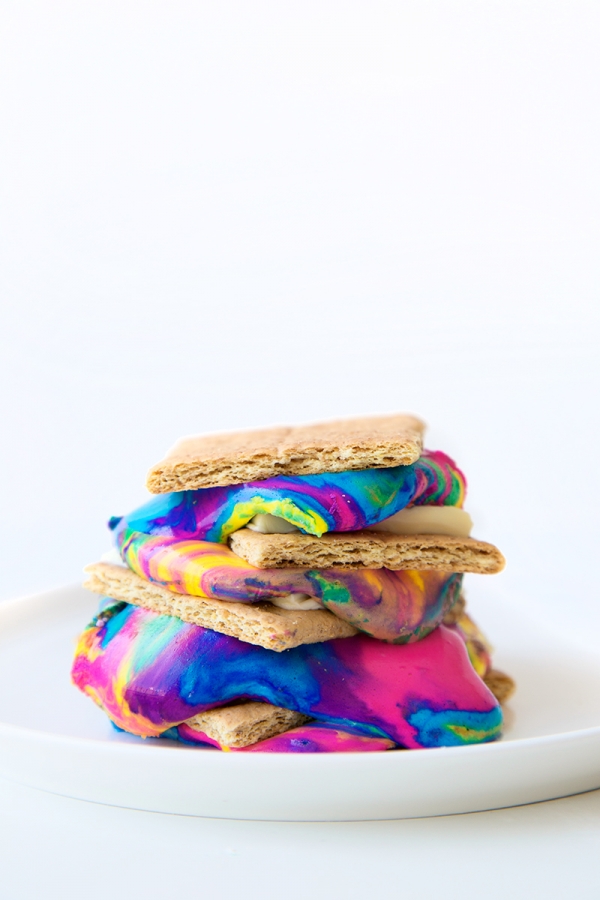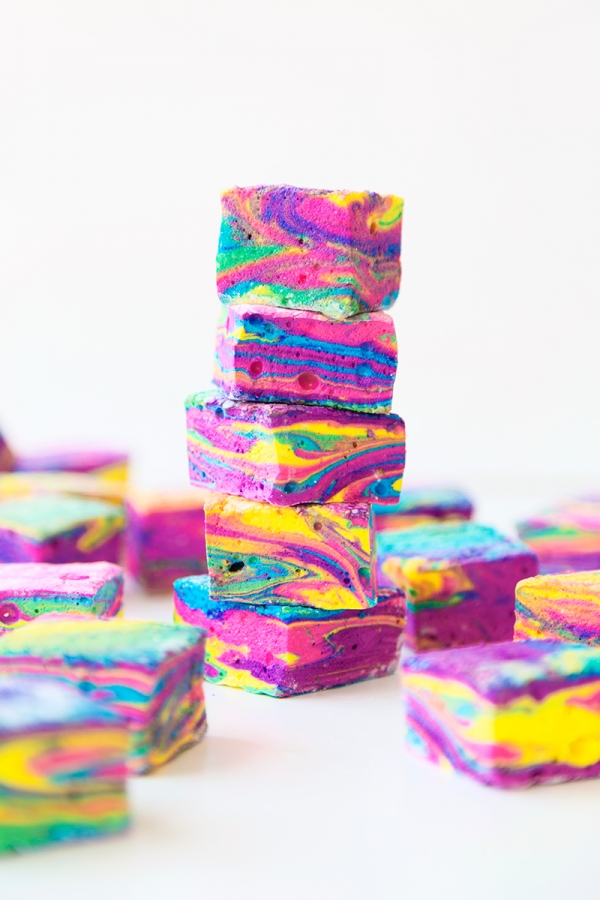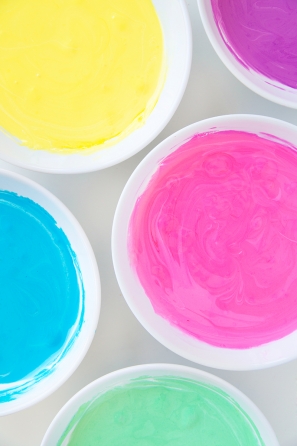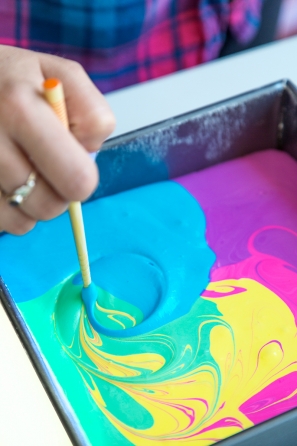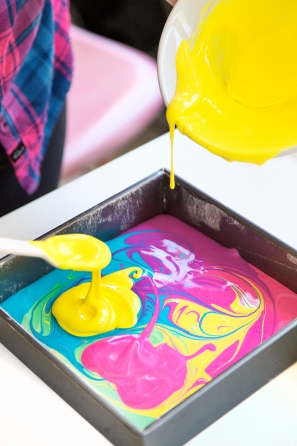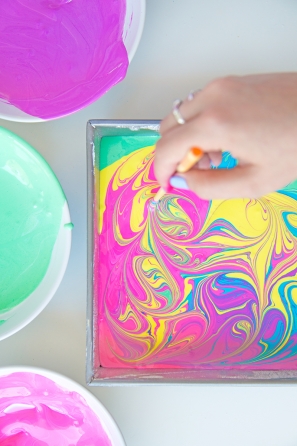 3 packages unflavored gelatin (1/4 ounce packets)
1 1/4 cup water, divided
2 cups sugar
1 cup corn syrup
2 tablespoons vanilla extract
Powdered sugar
Gel food coloring (electric pink, electric blue, electric purple, turquoise green, yellow)
8×8″ Pan
1. In the bowl of a stand mixer, place the powdered unflavored gelatin with 3/4 cup cold water. Let sit.
2. In a small sized pot, combine the sugar, corn syrup and remaining 1/2 cup of water. Heat over medium and bring to a boil. Once boiling, raise heat to high and cook until the mixture reaches 240 degrees.
3. Using a fine mesh sieve, completely cover the bottom of an 8-inch square baking pan with a solid layer of powdered sugar. Have five bowls and five spoons ready before whipping the marshmallow.
4. Turn stand mixer to low and carefully pour the hot sugar mixture into the gelatin. Turn the speed up to high and whip for 5 to 7 minutes. Add vanilla and mix till combined. (If making plain white marshmallows, continue to whip for a total of 15 minutes. In order to make and swirl the different colors, you need the marshmallow mixture to be a little softer, so only whip for 5 to 7 minutes.)
5. Once you have whipped the mixture, quickly divide the marshmallow into the 5 bowls and color each one with the different gel food colorings. Work quickly as the mixture will set fast.
6. You are going to pour the marshmallow into the pan in 2 layers. For the first layer, in a clockwise direction, place half of the purple in one corner, then half of the pink next to it, followed by half of the yellow, half of the green and ending with half of the blue which should also connect back to the purple.
7. Using a stick of any kind (a chopstick works perfectly!), begin to swirl the colors into each other, careful not to completely mix the colors together. This is the fun part! Every batch will be different.
8. Repeat the process on top of your first layer but start the purple in a different spot than before. This just helps to ensure that every marshmallow will have a little bit of every color. Gently swirl the colors only in the new top layer.
9. With the fine mesh sieve, cover generously with powdered sugar and flatten the surface with your hands. Let sit uncovered overnight to set.
10. Run a knife along the edges. Remove the marshmallows from the pan and cut into squares.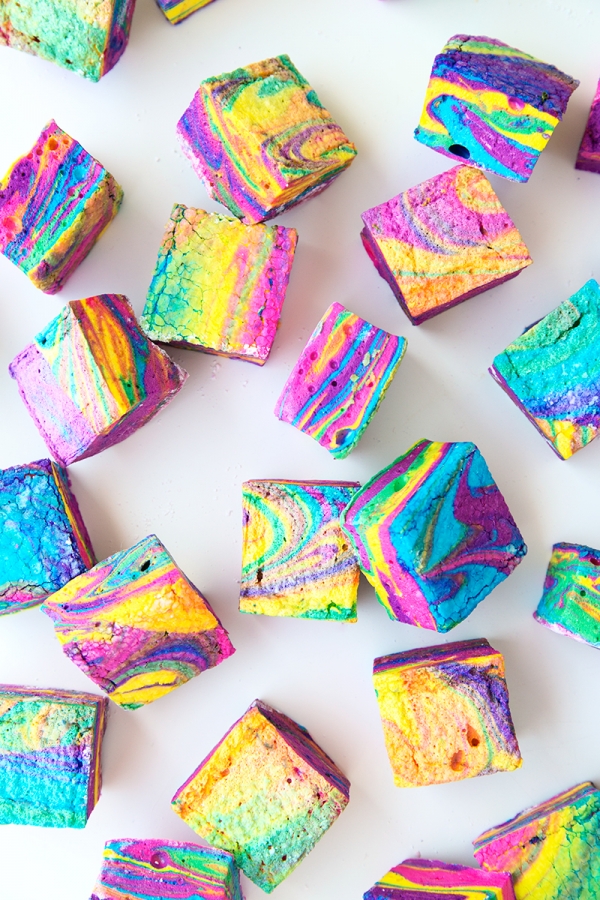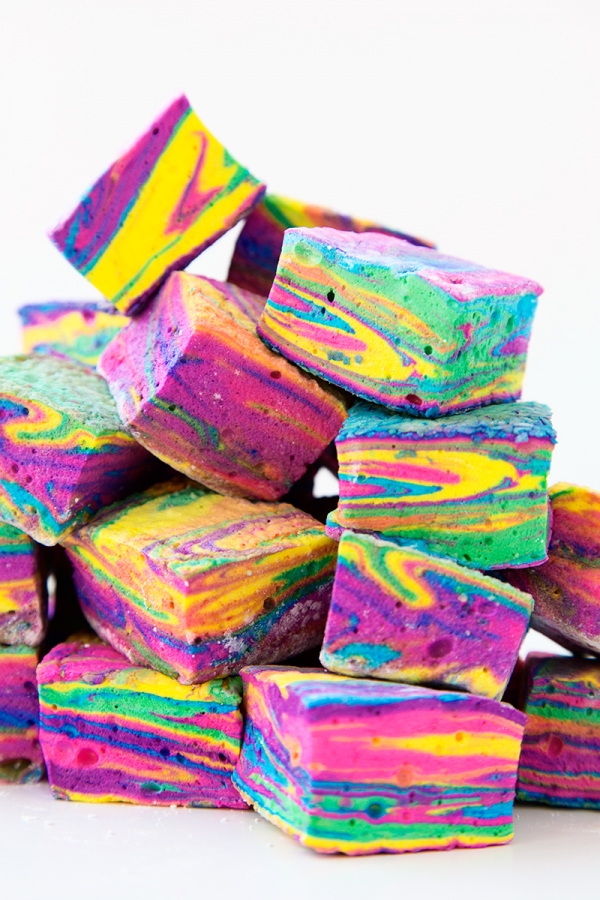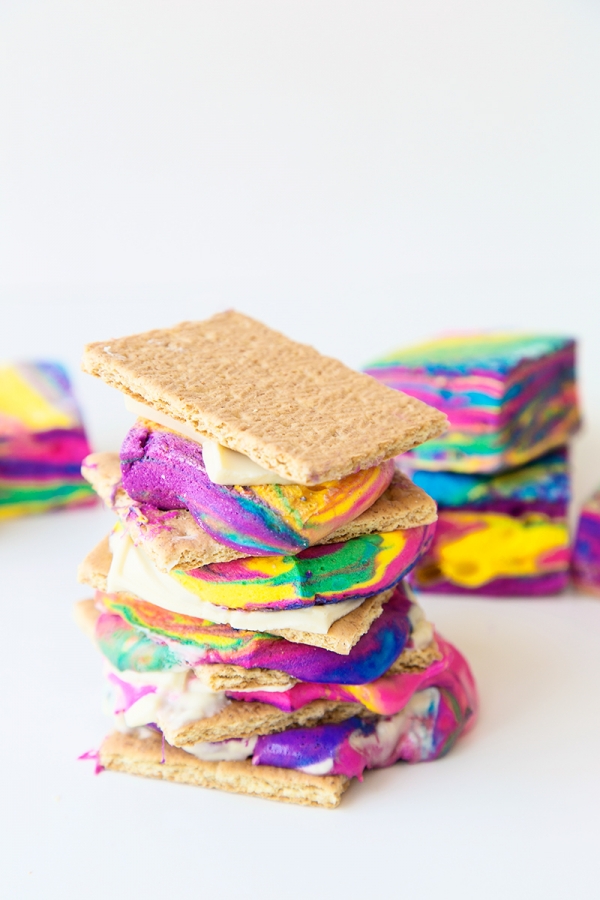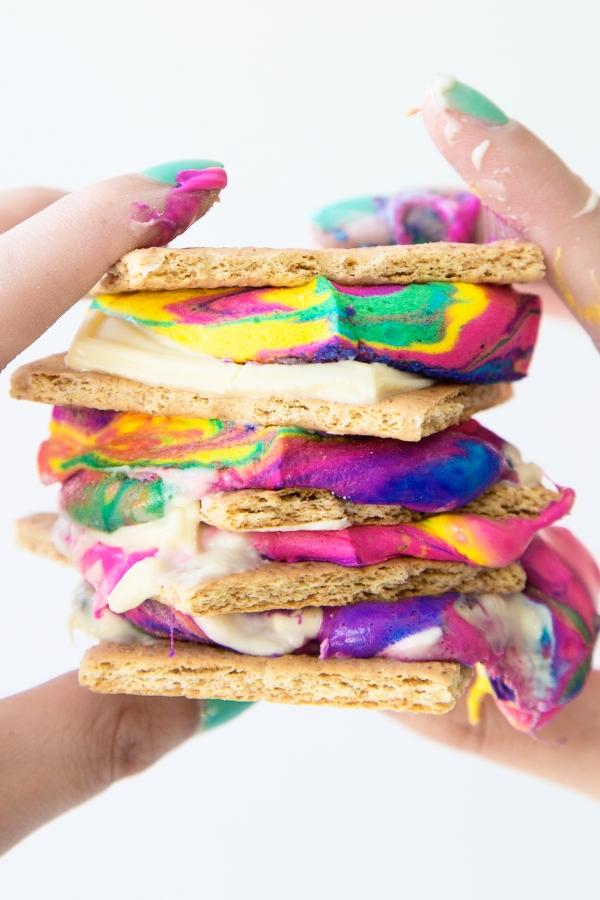 Photos by Jeff Mindell | Recipe by Theresa Rountree | Creative Direction + Styling by Kelly Mindell
In case you're wondering, the marshmallows taste a lot like Peeps! Sugary, colorful marshmallow goodness.
To learn how to make bright natural food dyes, click here! And for more sweets + treats, click here.
psst… We just wrapped a REALLY fun (and also colorful!) project with Natasha of Violet Tinder and she did her own take on colorful s'mores!! I just had to share them so we could all have one big technicolor marshmallow PAR-TAY!