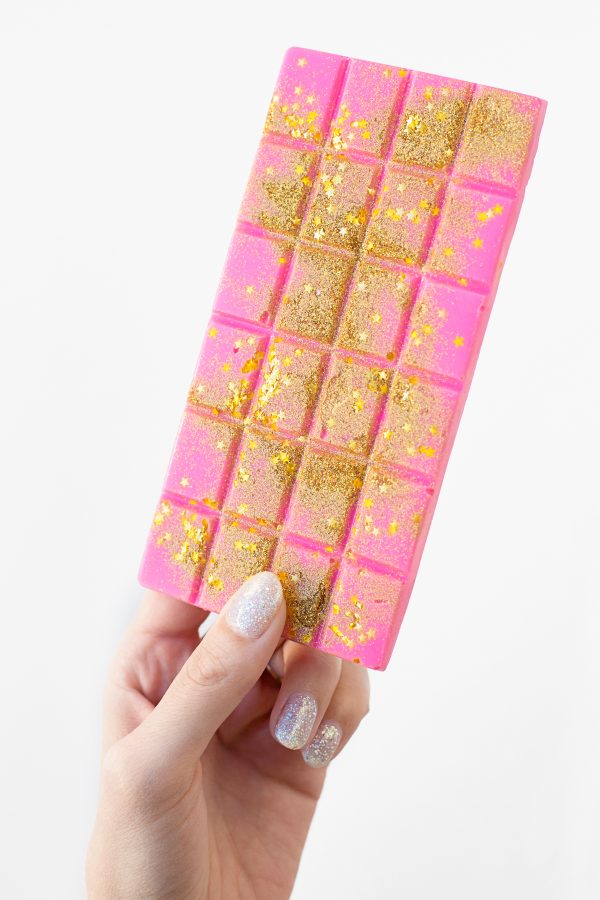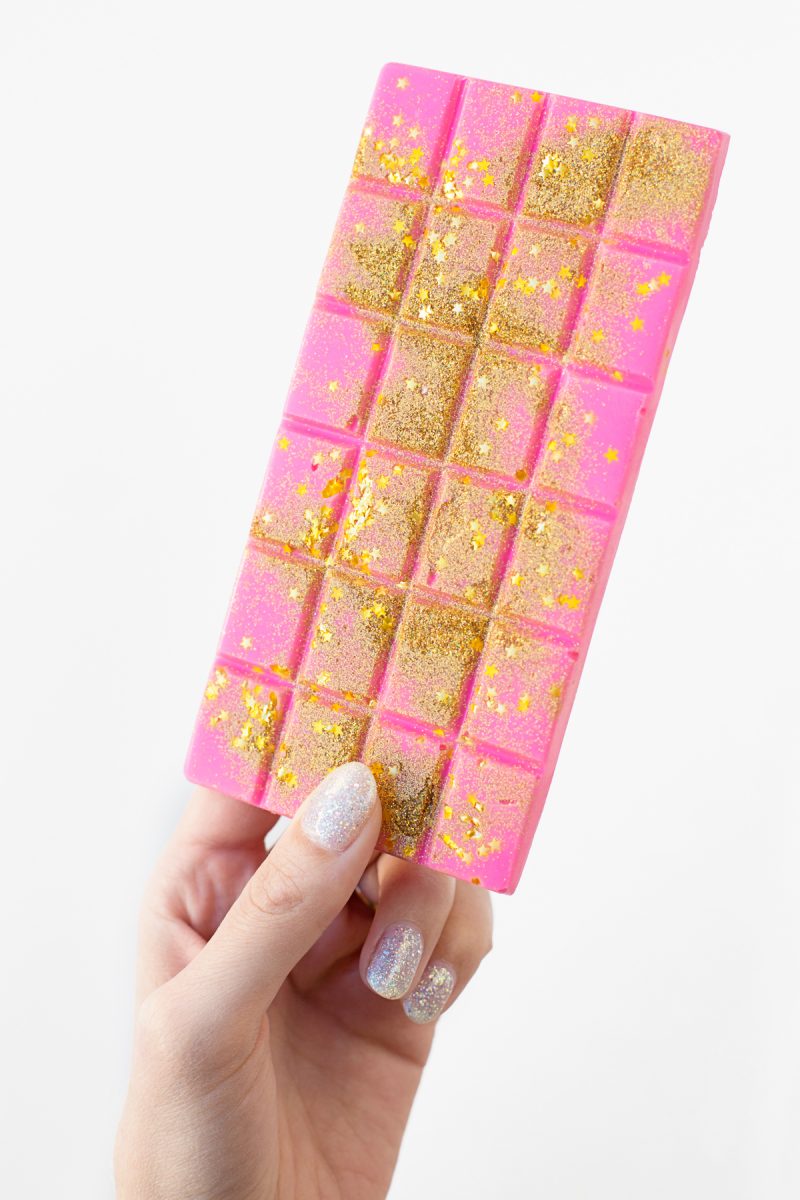 Glitter. Chocolate. Bars.
That's all.
No, haha let's chat about these guys and about the insanity that is edible glitter! Ready for some fast facts? Not all "edible glitter" is actually edible. Did you know that? I didn't. But in my research for this post, I learned! And I figured I'd be honest with you about it, because I bet I'm not the only one who didn't know.
I knew I wanted to make glitter chocolate bars because, that seemed like something that just needed to exist and I'm completely obsessed with these chocolate bar molds I bought. And after we made 'em (HOW PRETTY ARE THEY!) we learned that one of the "edible" glitters we used, is actually just "non-toxic." i.e. You shouldn't really eat it. But the GOOD NEWS is, alongside the tutorial for making this sparkly chocolate, I've got a whole huge giant list of actual edible glitter, too. Ready!?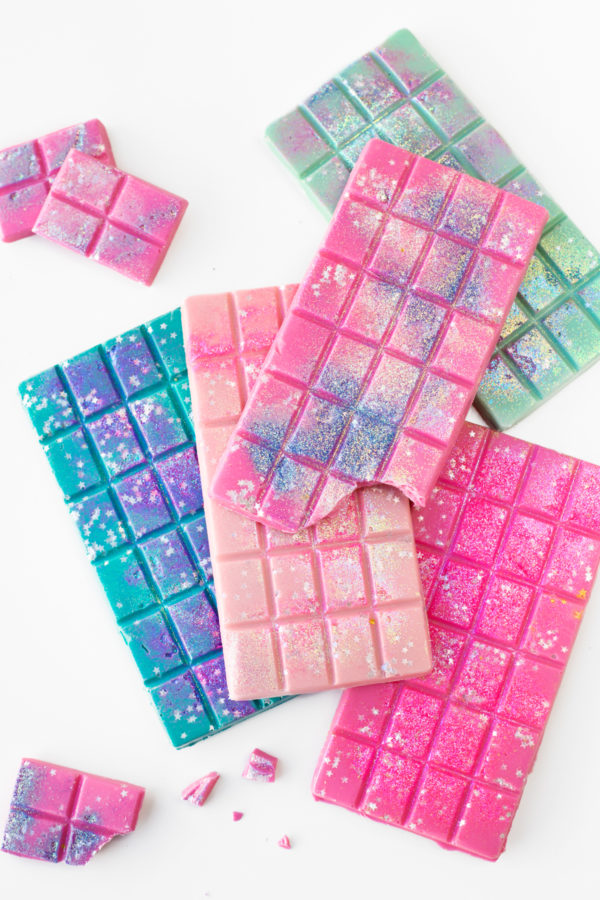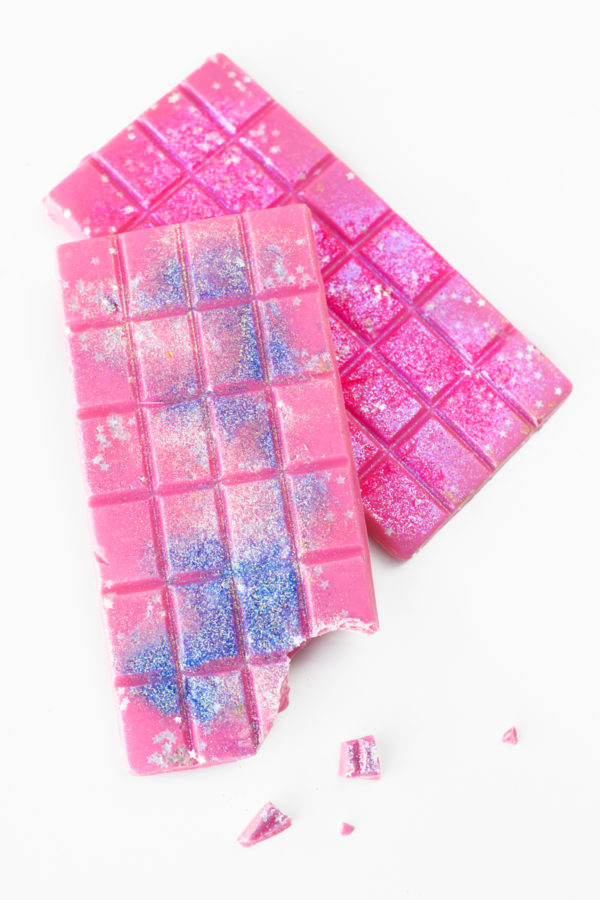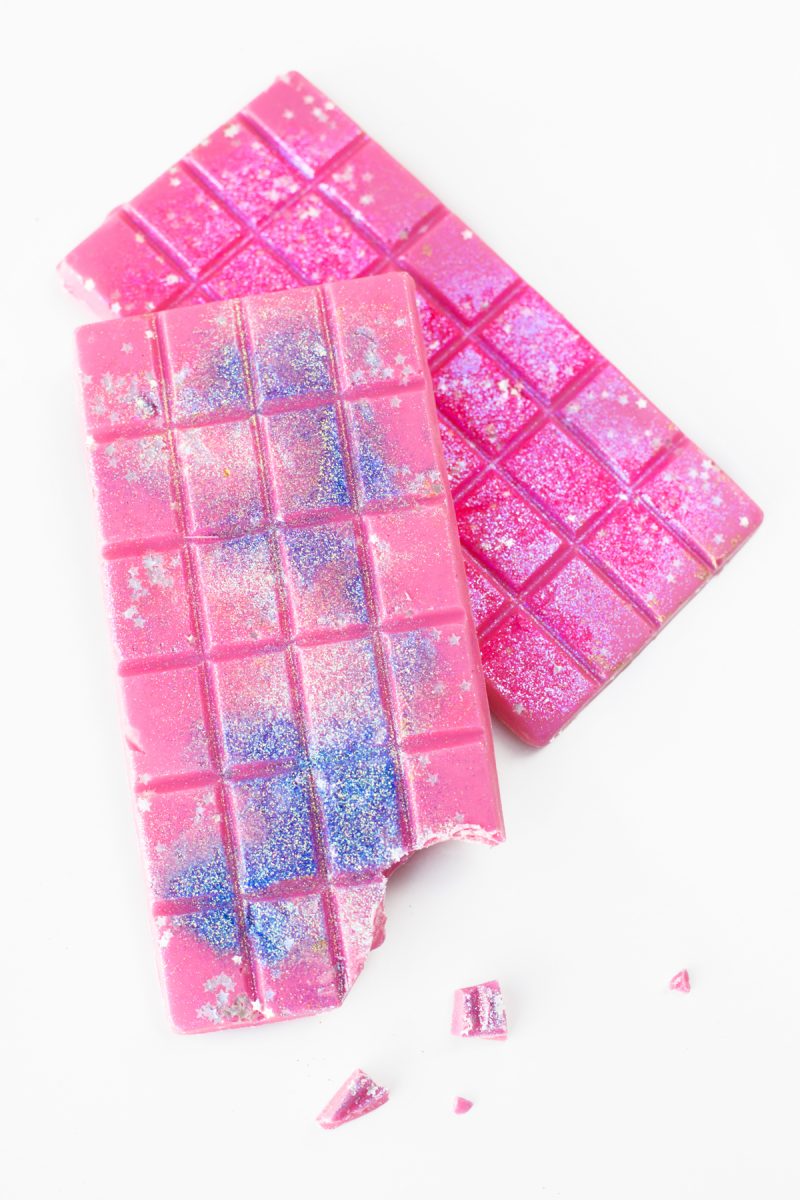 Edible Glitter Chocolate Bars
Ingredients
White Chocolate and/or Candy Melts

Edible Glitter

See further down in the post for our full list! Be sure to only use EDIBLE glitters like the ones listed below, not "disco dust" or "disco glitter" which is just labeled as "non-toxic" and meant to only be decorative!
Instructions
First, you gotta pick your glitter! Check out our list below and make your favorite combo. We like to combine finer shimmer dusts with a chunkier glitter and some metallic stars.

For finer shimmer dusts, pour a small amount onto a spoon and lightly sprinkle it over the chocolate bar mold. I like to leave some parts of the mold without glitter so you can see the chocolate peeking through. For chunkier glitters, grab a pinch of them with your fingers and sprinkle over the molds until you have your desired glitter situation.

Now, to melt your chocolate! I like to use a combination of white chocolate and candy melts for both the best flavor and the best pastel colors. Melt in a microwave-safe bowl at 30 second intervals, stirring in-between until the chocolate is completely melted.

Immediately pour the melted chocolate into the mold, overtop the glitter.

Move to the fridge to set for 30-60 minutes. Remove from chocolate molds and eat!!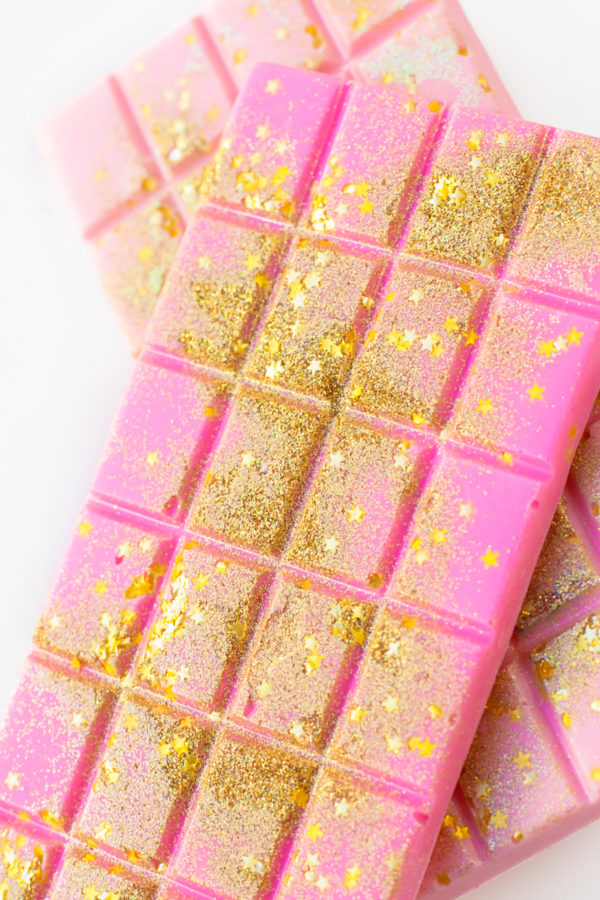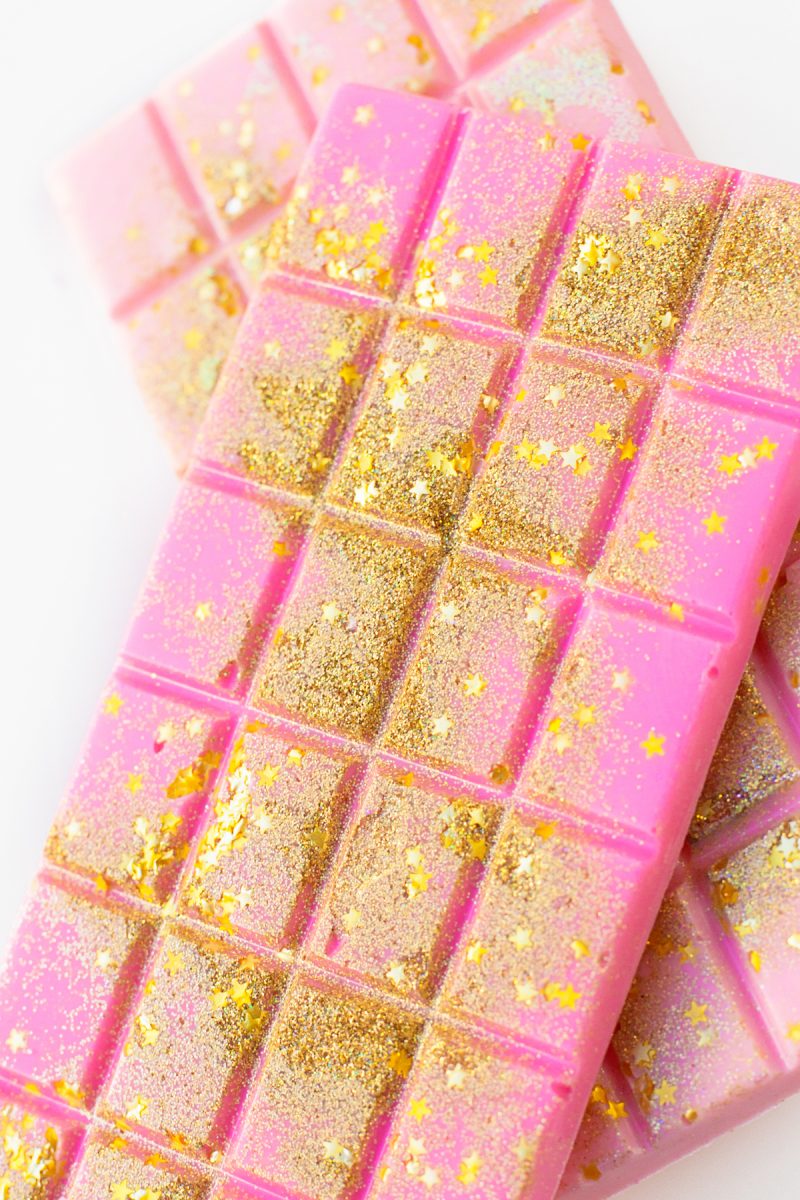 Our Favorite (Actually, for real) Edible Glitters
Gold Pearl Dust | Silver Pearl Dust
Pink Glitter Sugar | Iridescent Glitter Sugar
Purple Glitter Sugar | Gold Glitter Sugar
Edible Gold Stars | Edible Silver Stars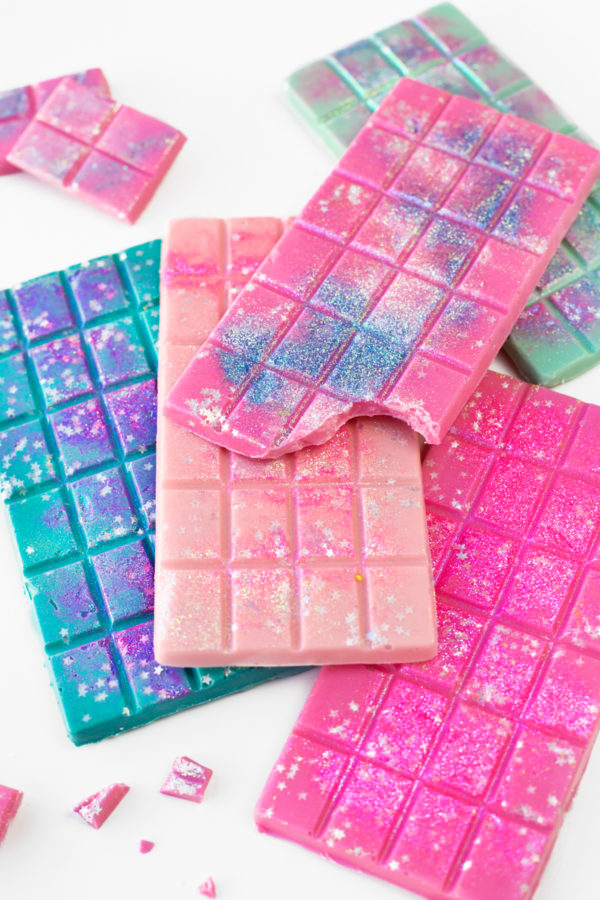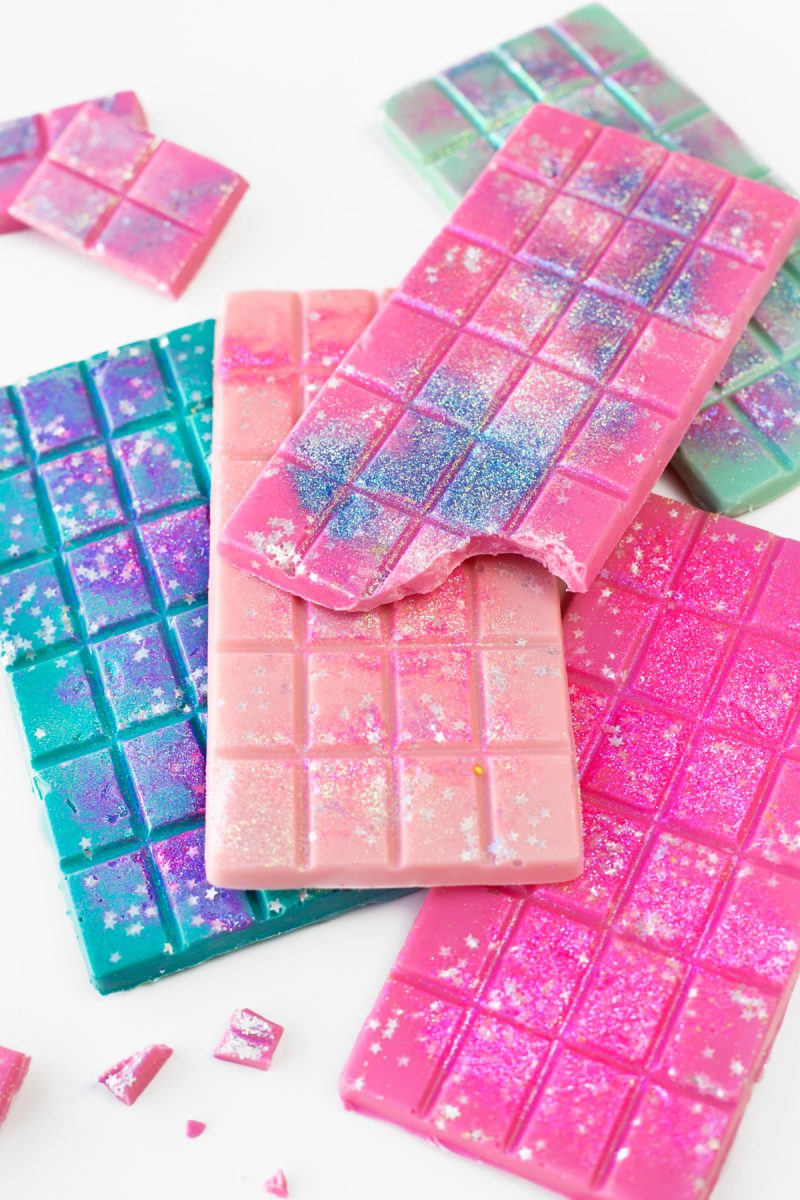 Photos by Jeff Mindell
For those who might be wondering, the blue-purple color in our bars above is the non-edible "disco dust." Be sure when you are ordering edible glitter that it reads "edible" like the ones in our list above, and not just "non-toxic." Hope those tips were helpful and that you're off to make some sparkly chocolate bars for your next party/chocolate craving!!
Check out more of our colorful desserts here!