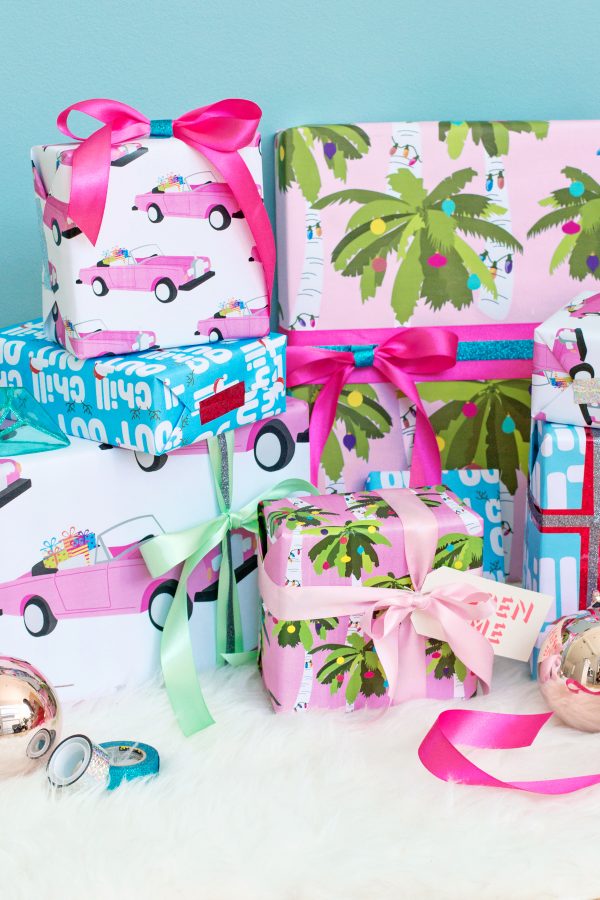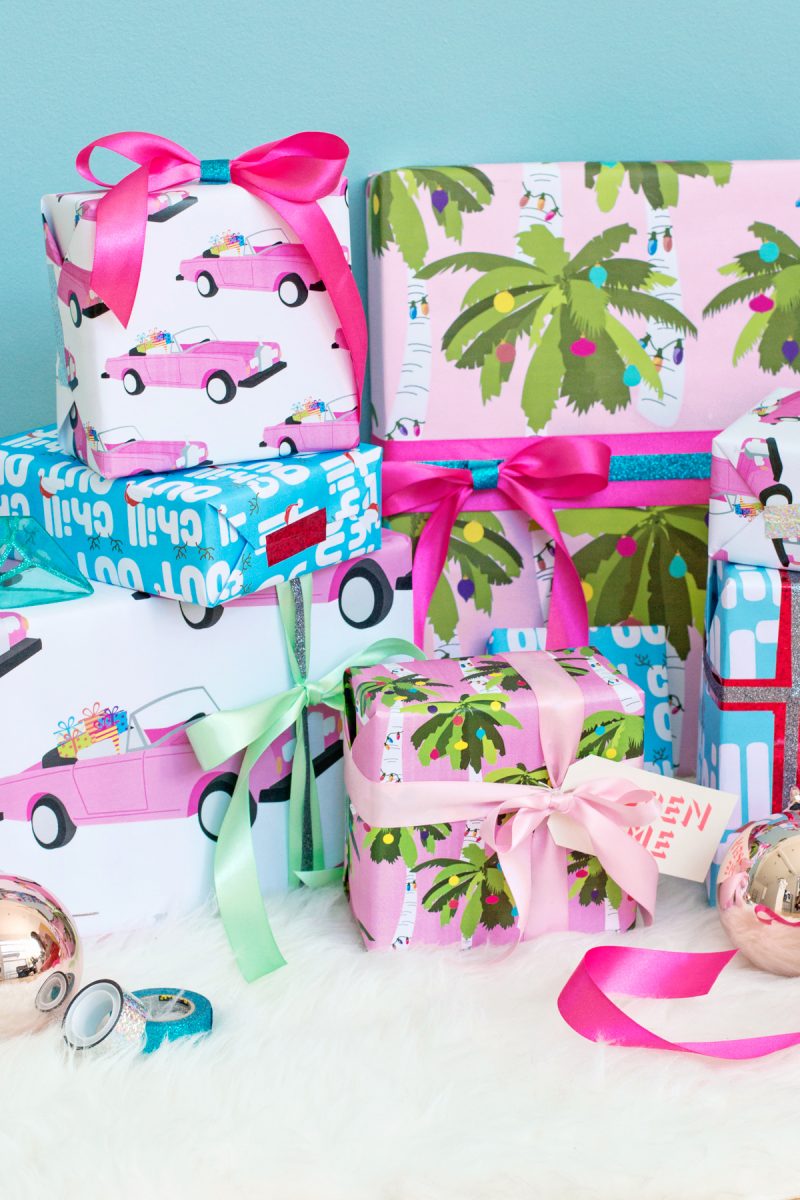 As a girl who loves Christmas as much as she loves summer… why should I have to choose?! Excited to team up with the Scotch™ Brand today to share these printable tropical holiday wrapping papers and a few fun ways to jazz 'em up! Read: Metallic and GLITTER tape! Because what even IS Christmas without glitter??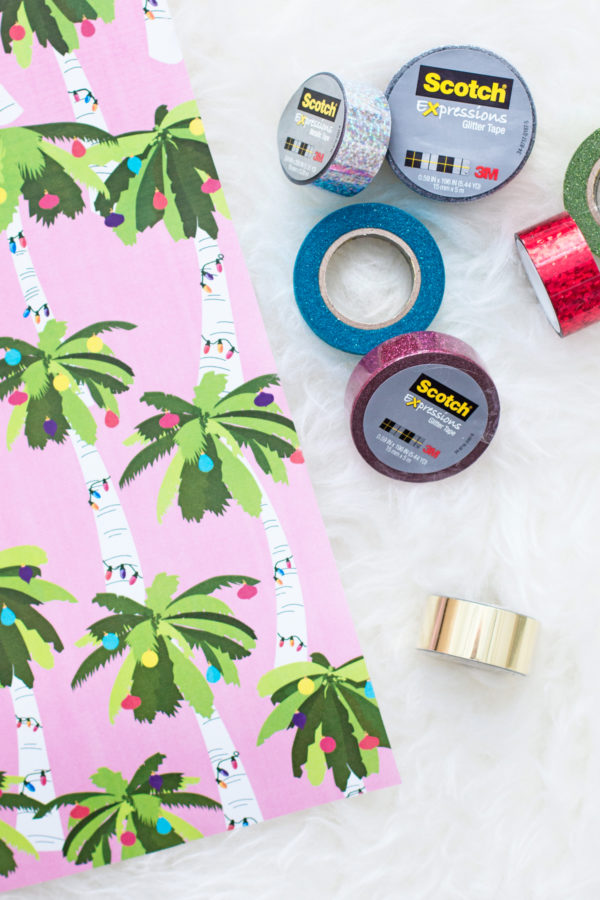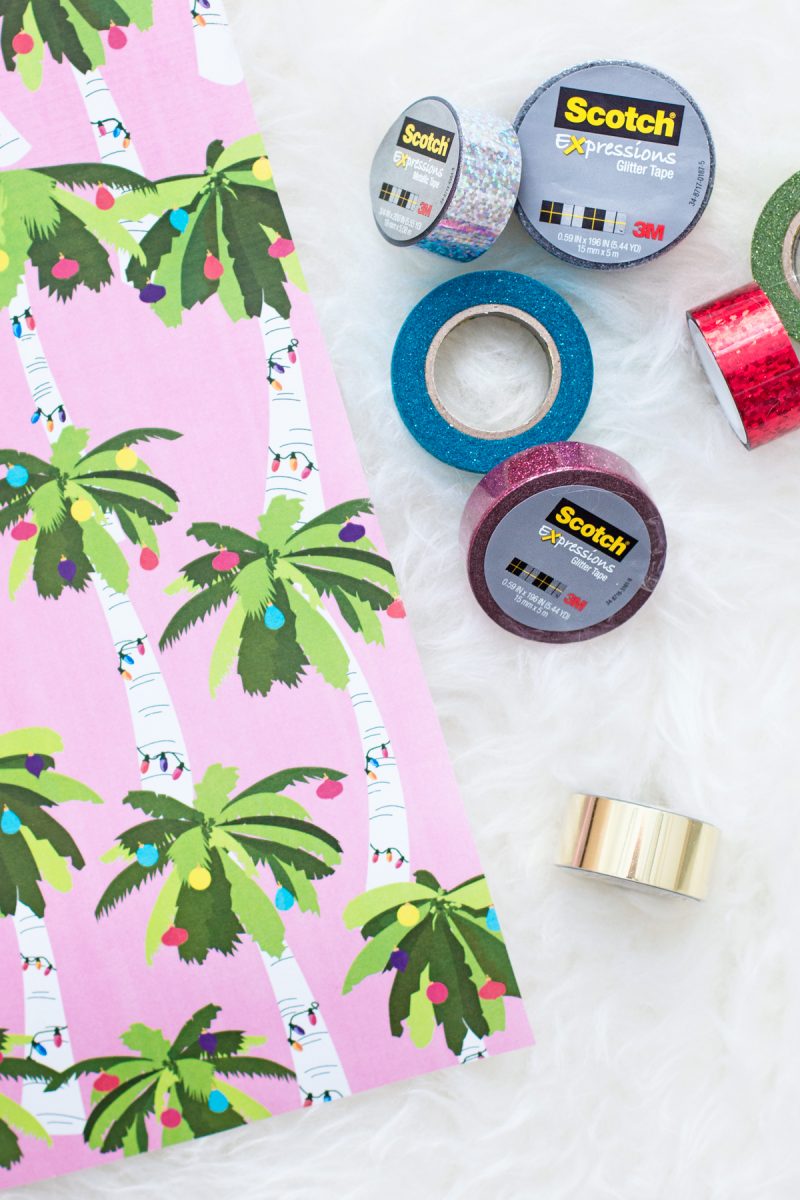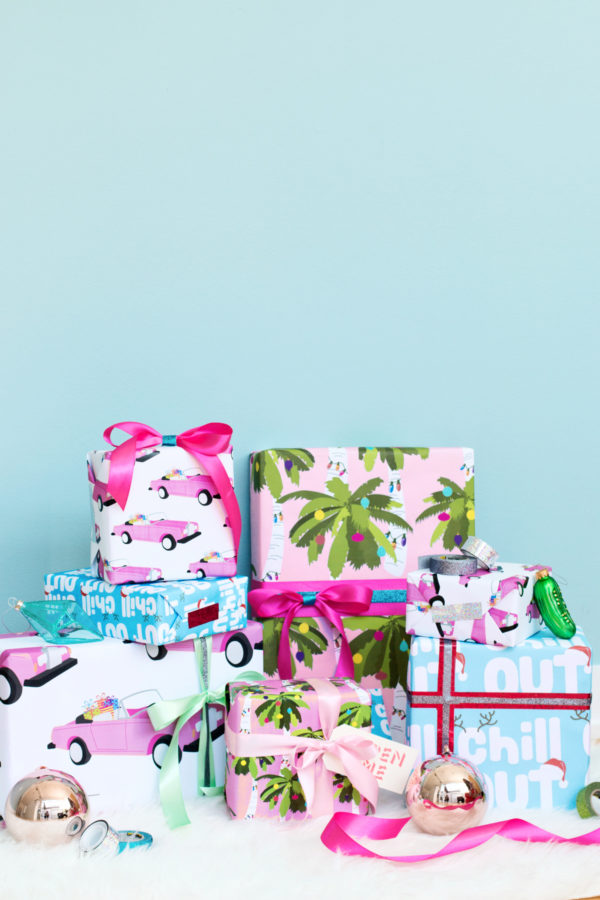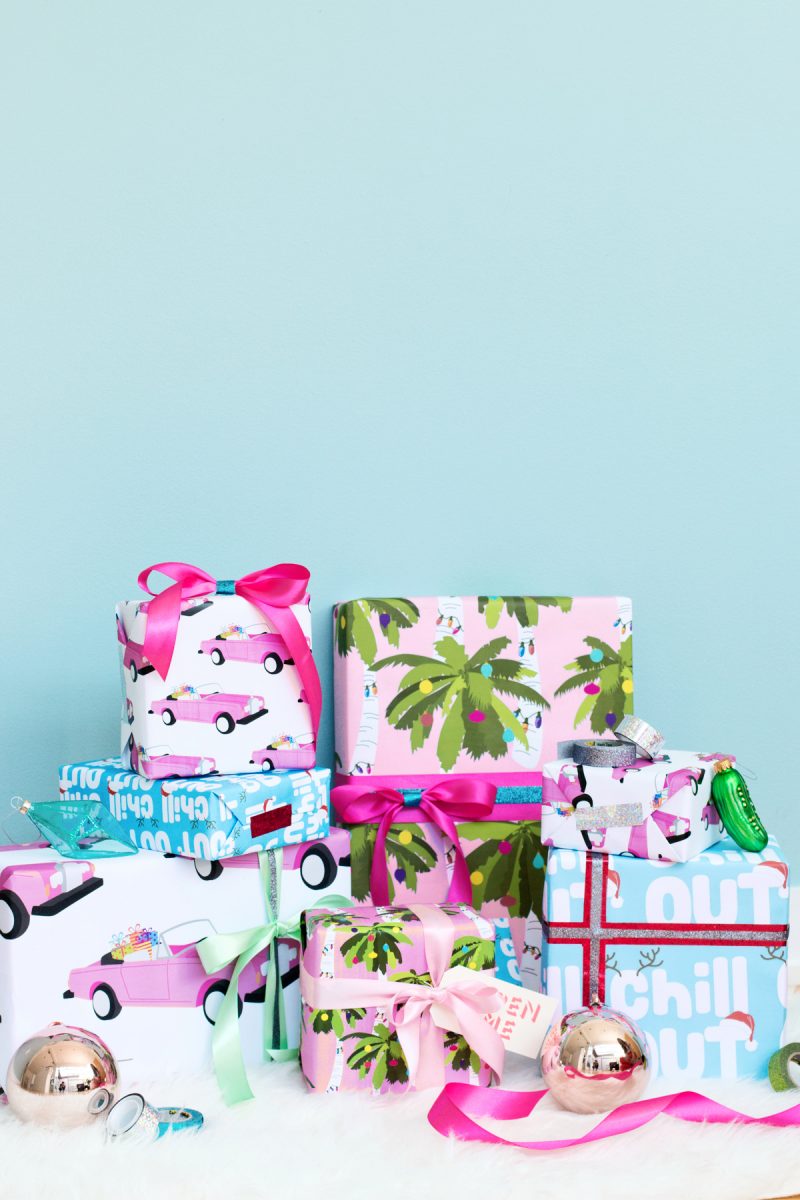 First, let's get you some snazzy gift wrap. Do you prefer pink convertibles or palm trees parading as Christmas trees? Click the links below to download the wrapping paper!
Pink Convertible Paper
Palm Trees Paper
Chill Out Paper
This paper can be printed as large as 24″x36″. If printing at a large size, I recommend printing colored engineer prints at your local print shop for the most cost effective option. You can also print on 11×17″ paper for smaller gifts!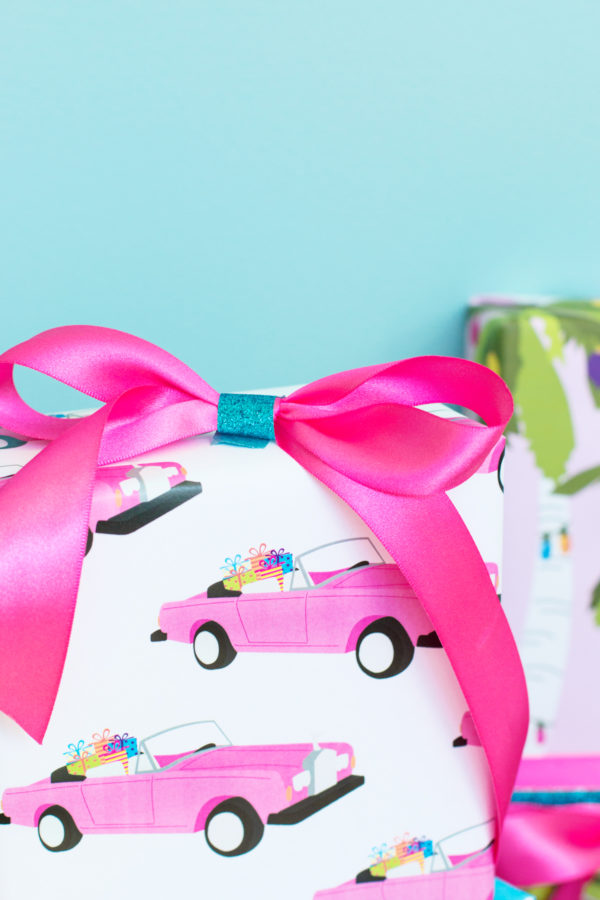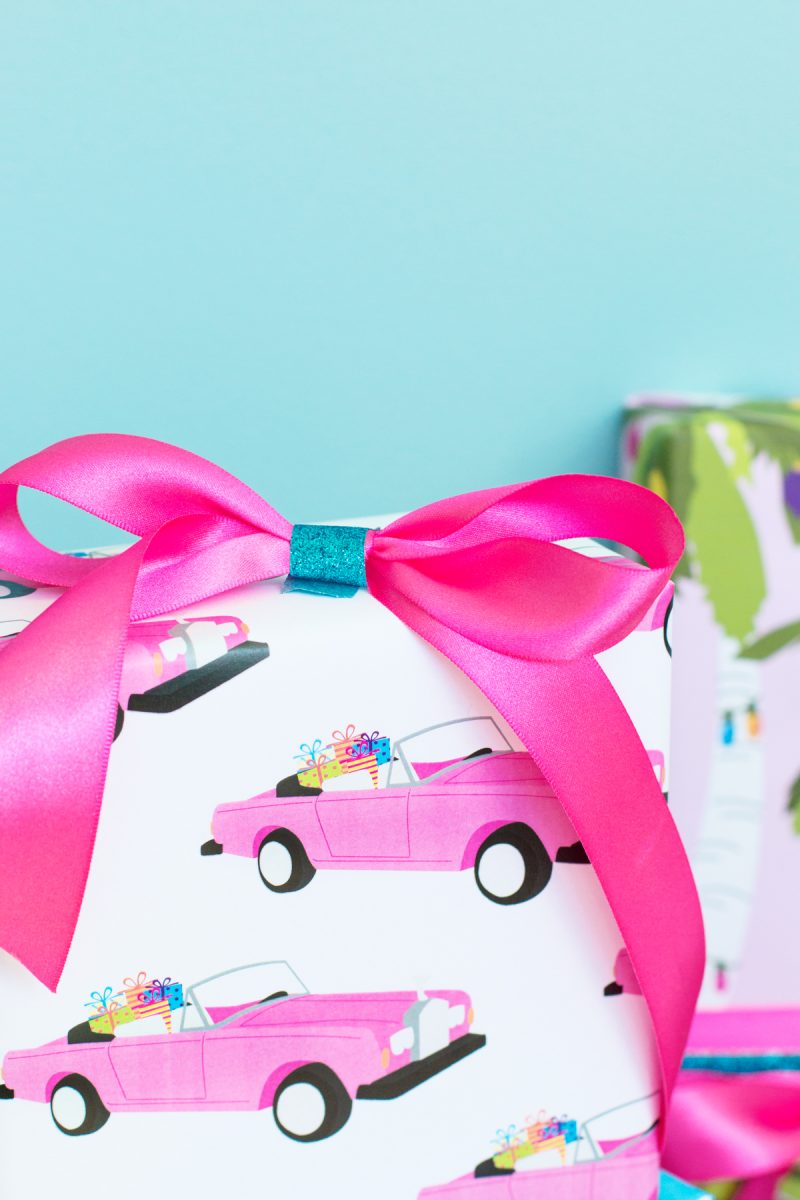 Now let's talk decorating, shall we!?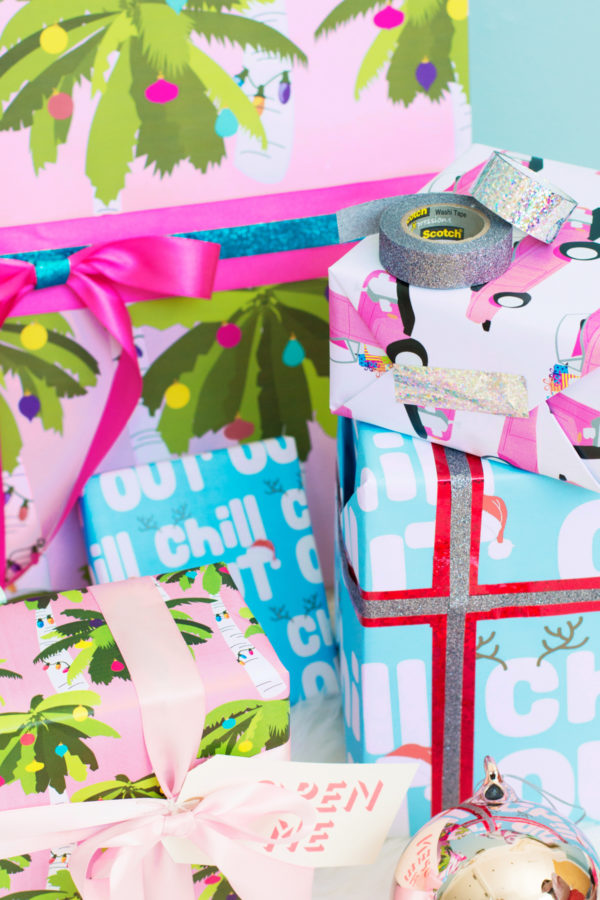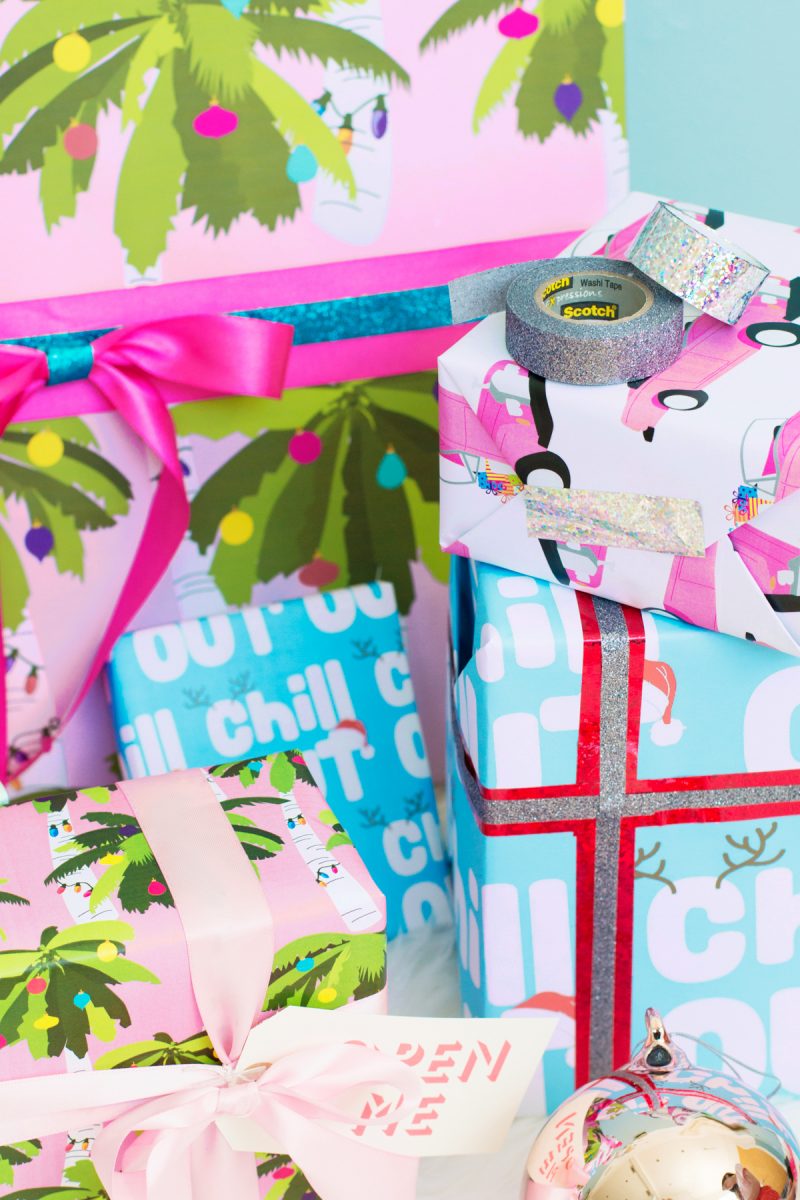 I love a good layered ribbon look, but it's a PAIN to get those ribbons to look perfect sometimes, so I have a little trick! I like to use tape instead!!! Try adhering Scotch® Expressions Glitter Tape overtop the Scotch® Expressions Metallic Tape for the same look that stays in place! SO much easier.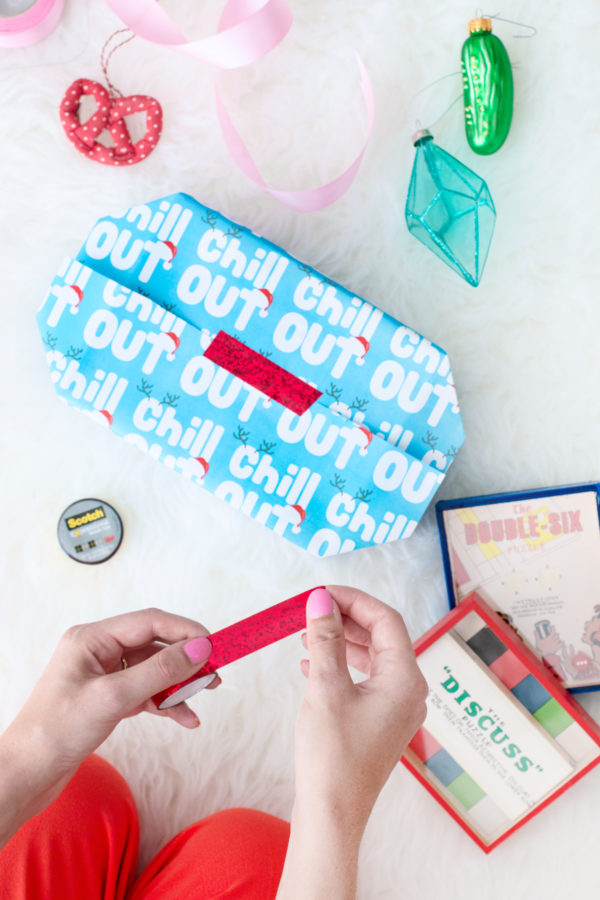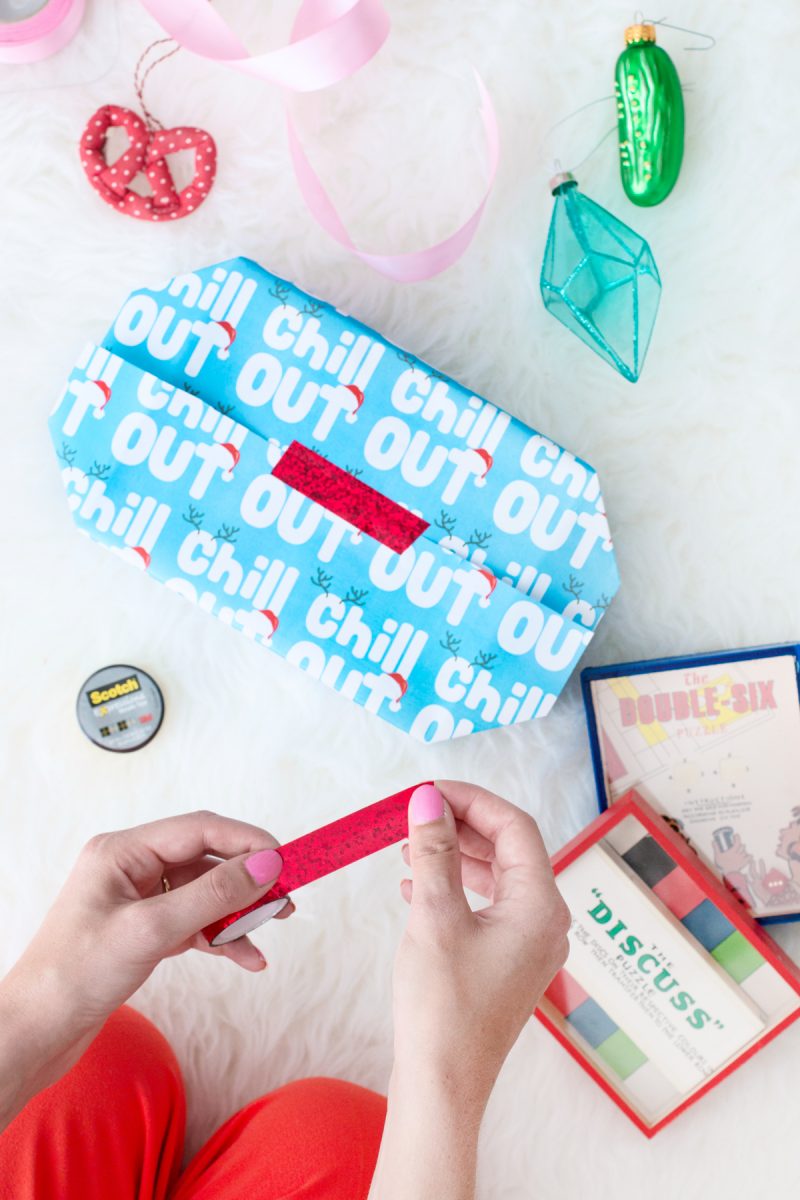 Second, I think it's fun to embrace the tape that is actually necessary to seal up the package, and make it stand out on it's own by using a contrasting color! I used Scotch® Expressions Metallic Tapes here because.. HELLO! Holographic for the win.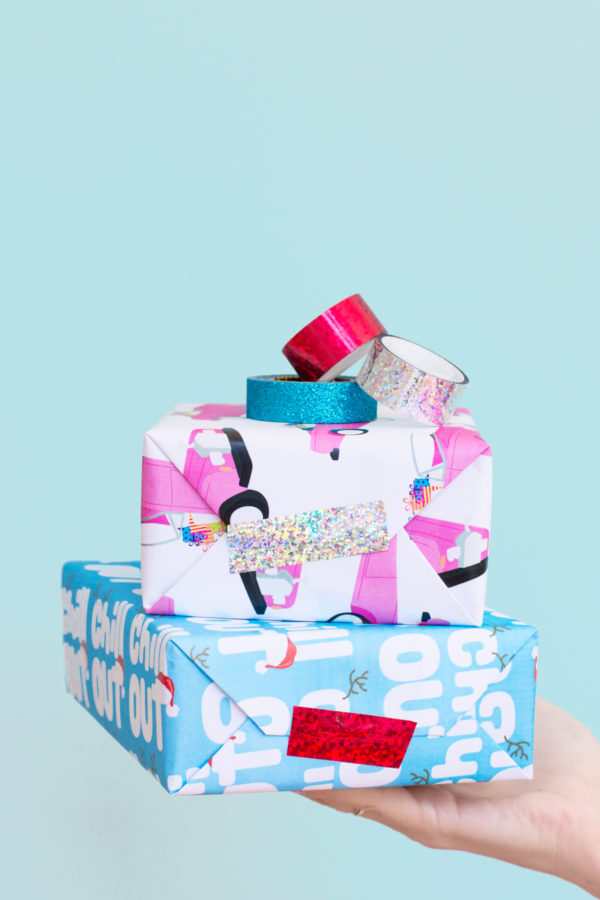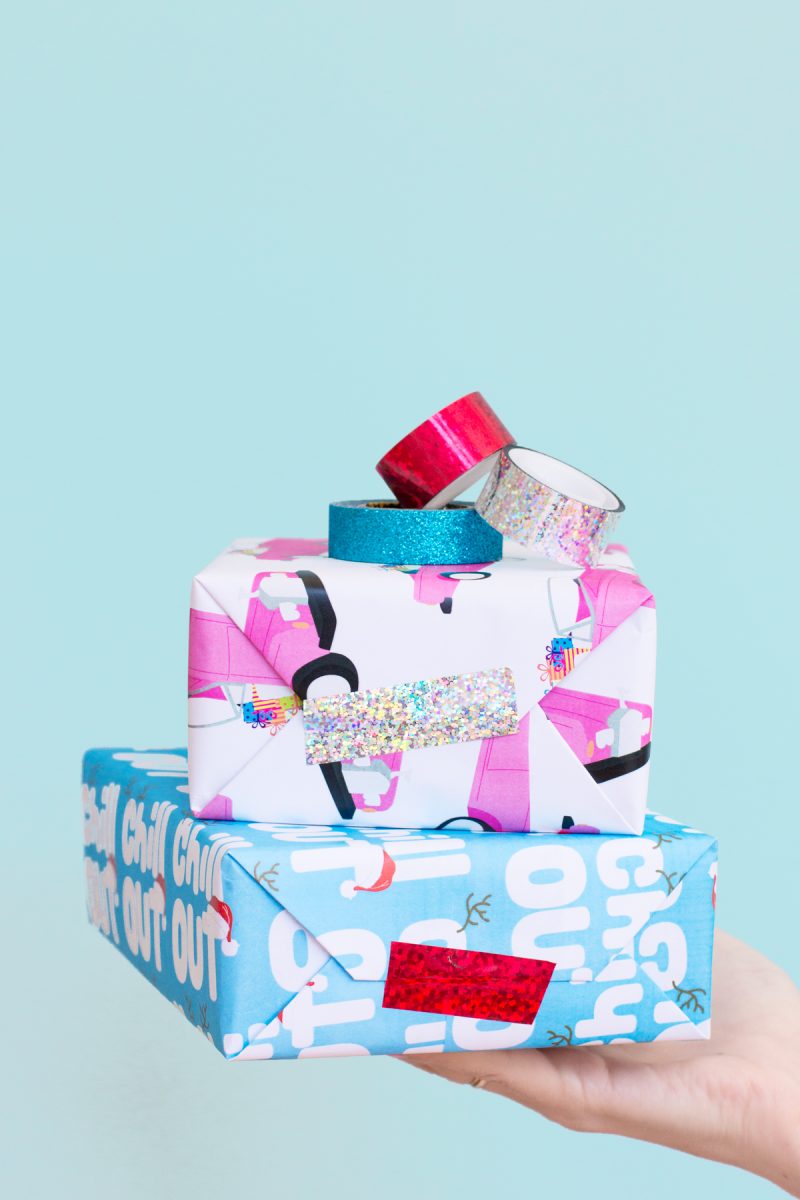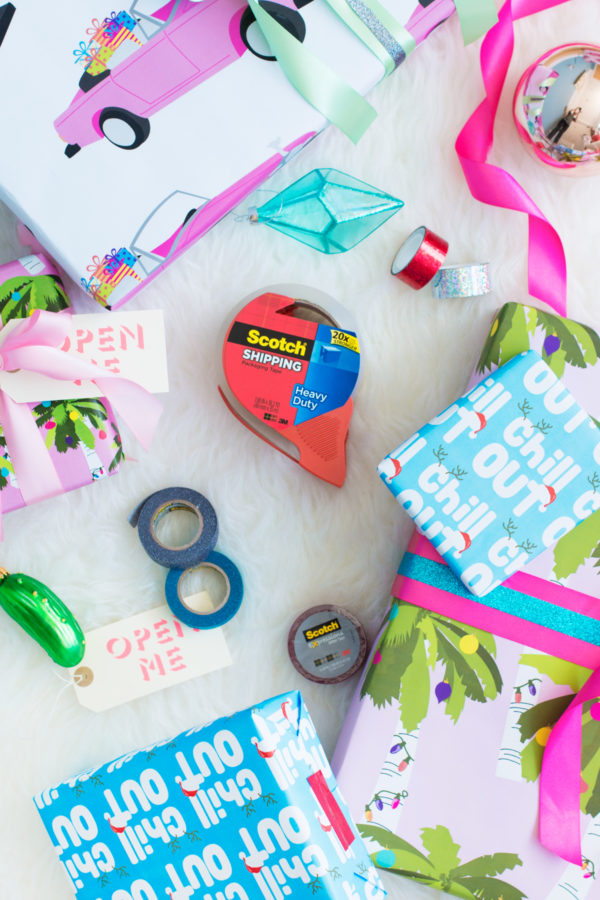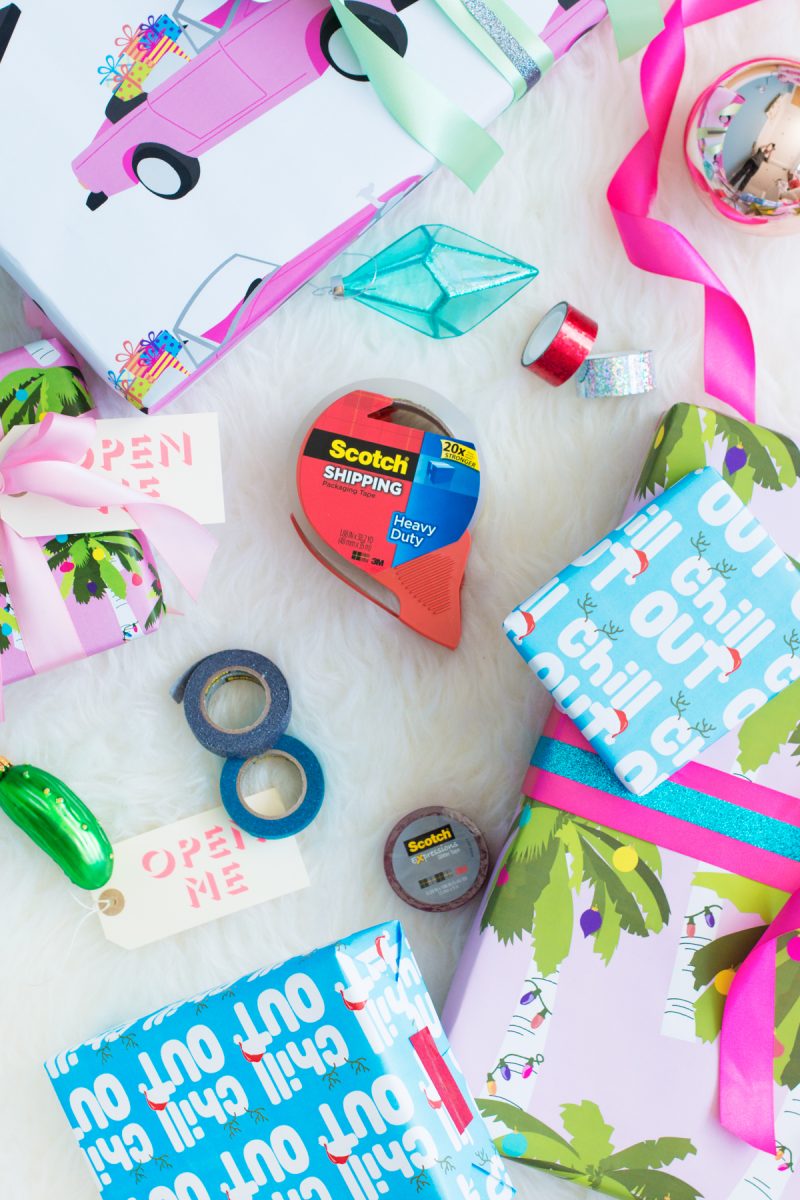 Pro Tip: Seal up your boxes with Scotch® Heavy Duty Shipping Tape before wrapping so nobody can take an early little sneak peek from Santa! (It also helps smooth over any edges from lids so it's easier to wrap.)
Photos by Jeff Mindell | Wrapping Paper Designed by Threadhoney
Everyone ready for a tropical Christmas with a side of glitter? I think that's going to be my holiday motto this year…
By the way, every holiday season, the Scotch™ Brand has the Scotch® Most Gift Wrapper™ Contest and not joking, every year I look forward to seeing the entires! If you want to enter, head right over here for more details!
Enter the Scotch® Most Gifted Wrapper™ Contest for the opportunity to win up to $10,000!
Enter at: MostGiftedWrapper.com between November 1, 2016 and December 1, 2016.LEGAL RESIDENTS OF THE U.S. and D.C. (excluding AZ, CO, NE, MD, NJ, ND, TN and VT), who are 18 (19 in AL and 21 in MS) and older. Ends 12/1/16.
To enter and for Official Rules (including prize descriptions), visit mostgiftedwrapper.com. Void where prohibited.
This post was created in partnership with the Scotch™ Brand. All content and opinions are that of my own! Thank you for supporting the sponsors that keep the Studio DIY party going! Read more about my editorial policies here.