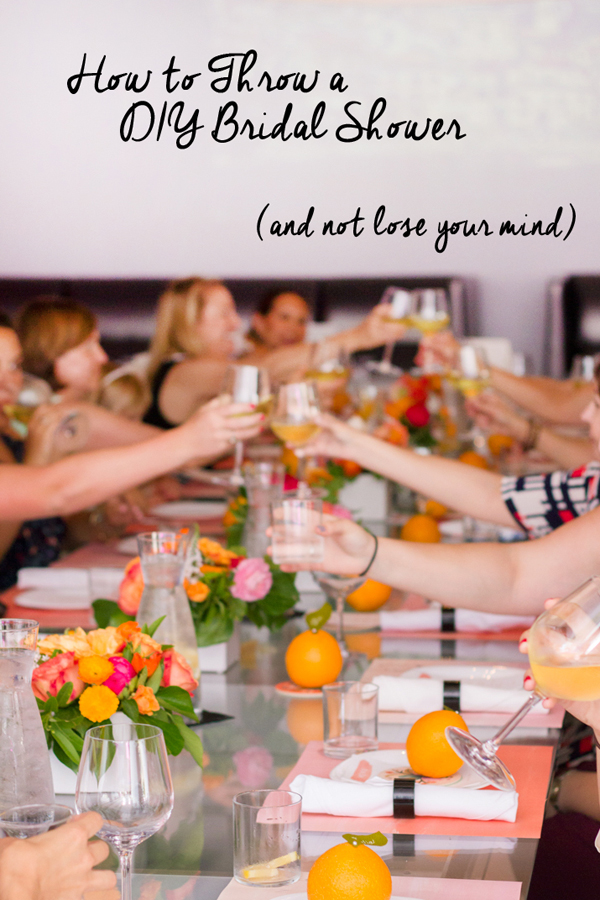 I had the honor of co-hosting a bridal shower for my best friend Lauren in Chicago a few weekends ago! This was my second time throwing a bridal shower, but my first time really heading it up and I learned a lot! It's funny, despite the fact that I run a party blog, the thought of throwing full blown parties actually really intimidates me at first! Bringing all parts of a party together takes a lot of thought and planning, especially when most of it is DIY. This was the first party I've ever thrown where I didn't have a full-blown nervous breakdown a few days before. (Do I get fired from my job now? It's the truth! It happens to the best of us, right?) So, I thought I'd share a few tips for throwing a DIY bridal shower while still keeping your sanity.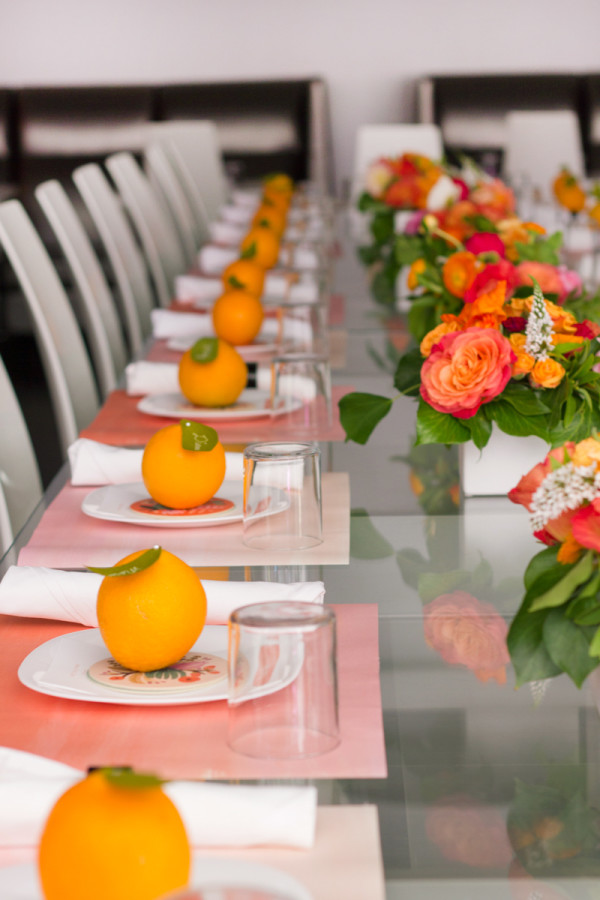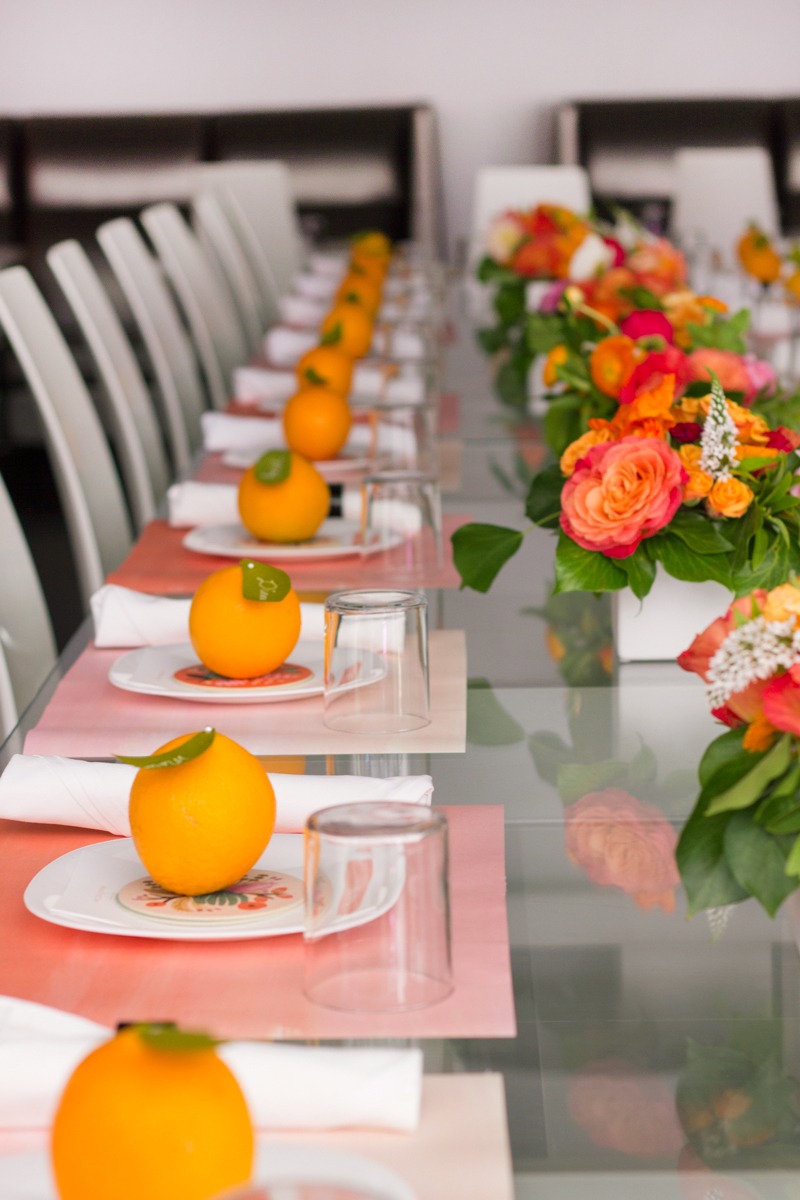 Tip #1: Delegate
This is the hardest part for my fellow control freaks out there. Bridal showers are a funny thing. You're often co-hosting with people you may not know well (family members of the bride, friends from other times in her life), you're often not all in the same city and you often have different ideas of how much you want to spend and what style you want it to be. I actually lucked out having Lauren's friend Maria as my co-host, who very much shared my vision for the shower and was on the ground in Chicago to scope a few things out. A few other family members and friends wanted to be involved as well. So, Maria and I came up with an overall theme for the shower (coral and orange colors) and I delegated other tasks from there. Here are the main items to keep in mind, and how we delegated them:
Venue – I did the searching, Maria and Lauren's parents did the scouting. (More below!)
Food + Drink – I was the point person on food, and Lauren's aunt handled dessert.
Paper Goods – I recruited Floating Specks to help us with this task. (More below!)
Decor – We kept decor so simple in the DIY realm and then, together with a family friend, brought in the experts, Field & Florist, for the florals.
Games – Maria and Lauren's sister Amelia handled these.
Gifts – We utilized the invitation to handle this! (More below!)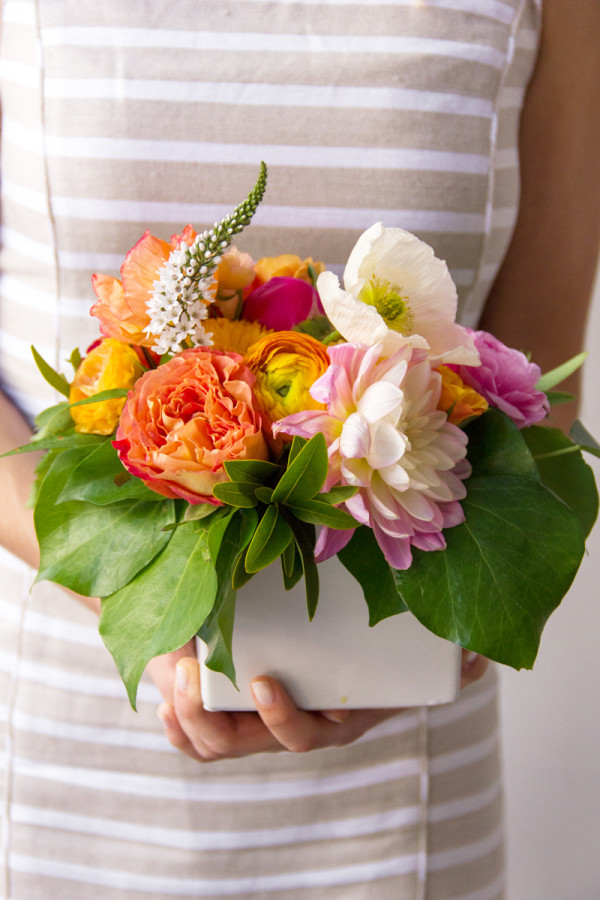 Tip #2: Get Specific to Find the Right Venue
A lot of bridal showers are held at friends or family's homes, so if that's your plan, you can skip right over this! That wasn't an option for us, however. My biggest tip on this front is to find a venue that already works with your vision for the day, or be willing to adapt your plan to go with the venue. This will save you BAZILLIONS! We wanted clean and modern, and Lauren wanted pizza. To find this, I searched "modern Italian restaurants Chicago" and eventually found Tocco Chicago which worked perfectly. Using words like "modern" easily eliminated the typical "pizzeria" look which would have worked against our decor. Keep keywords in mind like modern, rustic, industrial, organic or vegetarian to easily narrow your search depending on what you're looking for.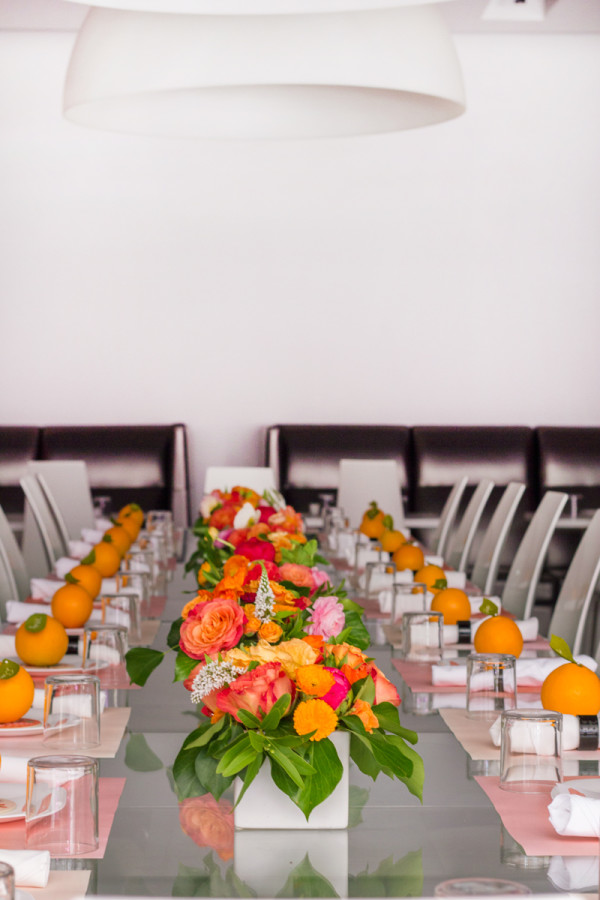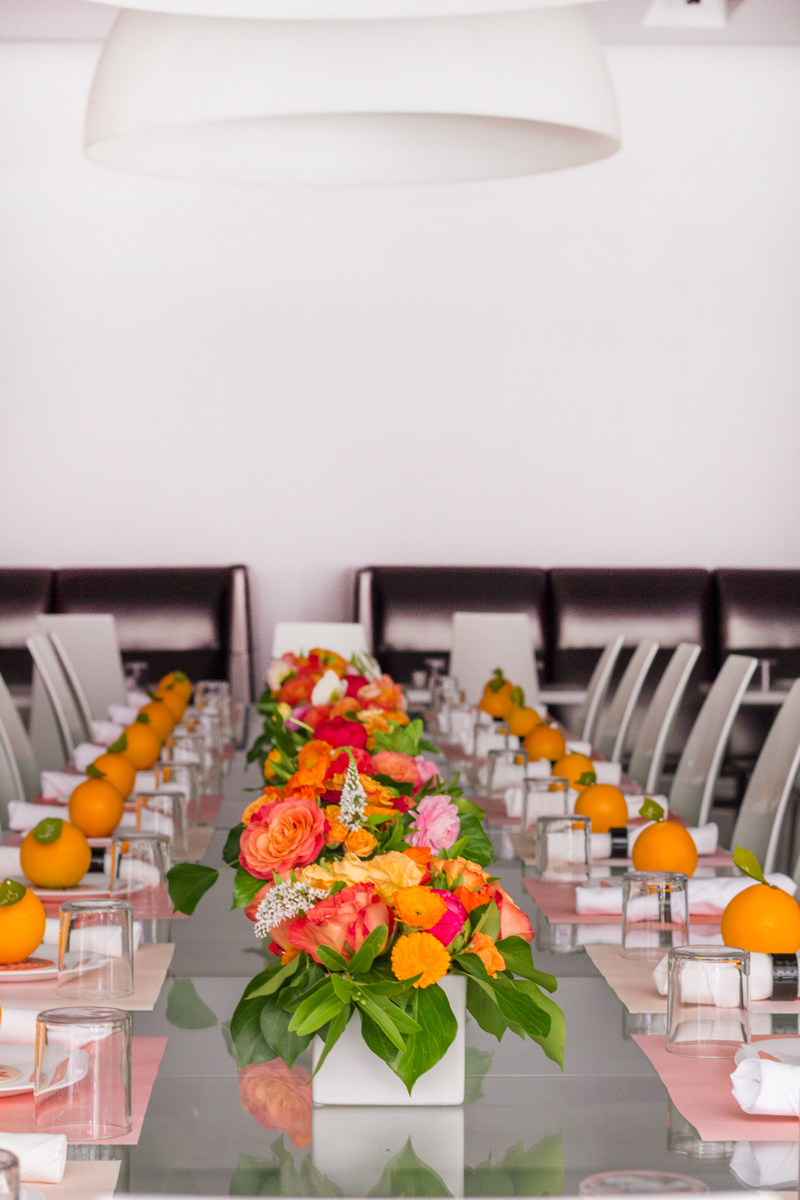 Tip #3: Choose Affordable Paper Goods
I knew I wanted something custom, but we didn't have the budget to have a stationer design, print and package our invitations from scratch. So, instead, we went for a custom printable route. I had seen a card design on Floating Specks website that I loved, so I emailed Nicole asking if she could adapt that design into a shower invitation and menu. I provided her with all of the wording and she provided me with the stationery files which I then printed myself at my local office supply store. My one tip, if you go this route and want to take it up one notch, is to splurge a little on paper and use the thickest cardstock your printer will allow. I used 110 lb. cotton stock I had and it looked beautiful. You'd never know they were printed at Office Depot! I then purchased envelopes and wrapping paper at Paper Source and made my own envelope liners out of the Rifle paper. (Rifle is one of Lauren's faves!)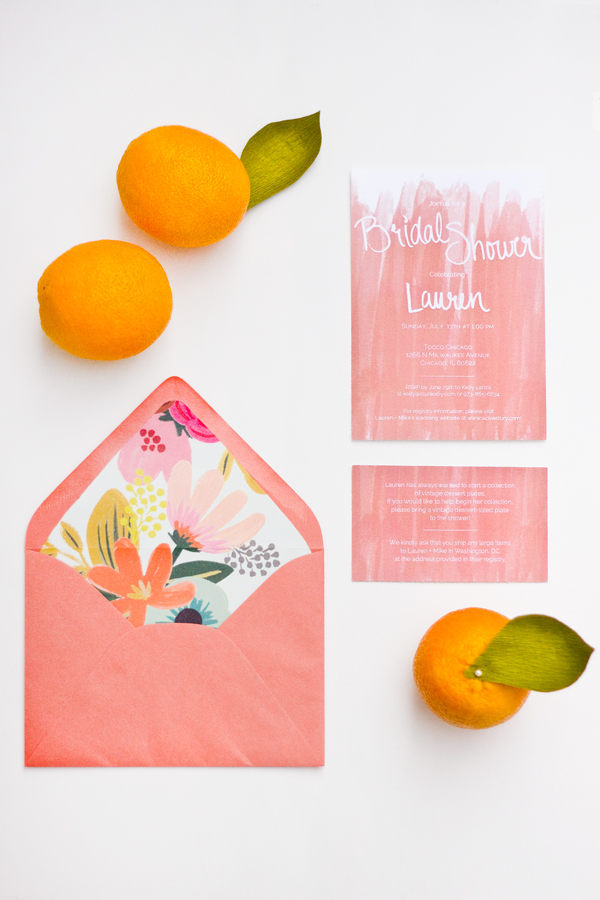 Tip #4: Collaborate + Bring in the Experts
I think the decor is where people often get in trouble and overwhelmed because they try to DIY every single thing. Don't. Do. It. Unless you are a robot. We knew we primarily wanted to focus on the place settings and the centerpieces, since the restaurant's simple decor provided a nice background that didn't need much fancy-ing up for things like a gift table and cake table. Here's what we did:
Place Cards: Maria had the idea to put an orange at each place setting, and I suggested turning paper leaves into place cards. So that's just what we did! We used doublette crepe paper (that's just what I had! Any crepe would work.) and a white gel pen, and attached each leaf to the oranges with sewing pins.
Place Mats: I found this wrapping paper which coordinated with our colors. I cut each sheet in half and trimmed the white off and it was the perfect size for a place mat.
Favors: To play off the envelope liners, we purchased sets of Rifle coasters and gave each guest two coasters as their favor. We placed them on top of the menus, under the oranges.
Tableware: We utilized the restaurant's items for all of this, which was a great money saver!
Florals: I knew I'd go nuts, and they wouldn't look good, if I did florals myself, so this is where we brought in the experts. (I am a HUGE proponent of bringing in experts on areas you aren't an expert in.) I had three separate people recommend Field & Florist to me and they were amazing. They used modern white vessels and they tied in our color palette combining corals, pinks and orange florals. These really made the table and I am SO glad I brought them in to do this task.
Balloons: Because they make such a statement, we brought in a few giant white balloons around the room and weighted them with grapefruits (you could also use oranges) by wrapping the string around the fruit and using several pins to attach it. (Tip: Party City is the cheapest place I've found to fill the 36″ balloons, outside of grocery stores if you can convince them. On weekends, they are busy, so make sure you bring in your balloons ahead of time or go early and be prepared to wait. You can fit two in the back seat of a sedan.)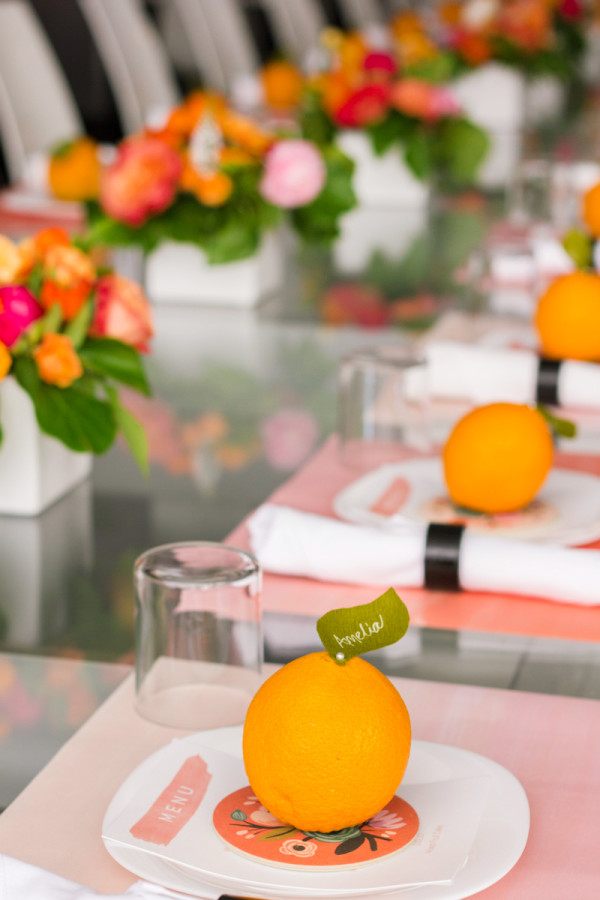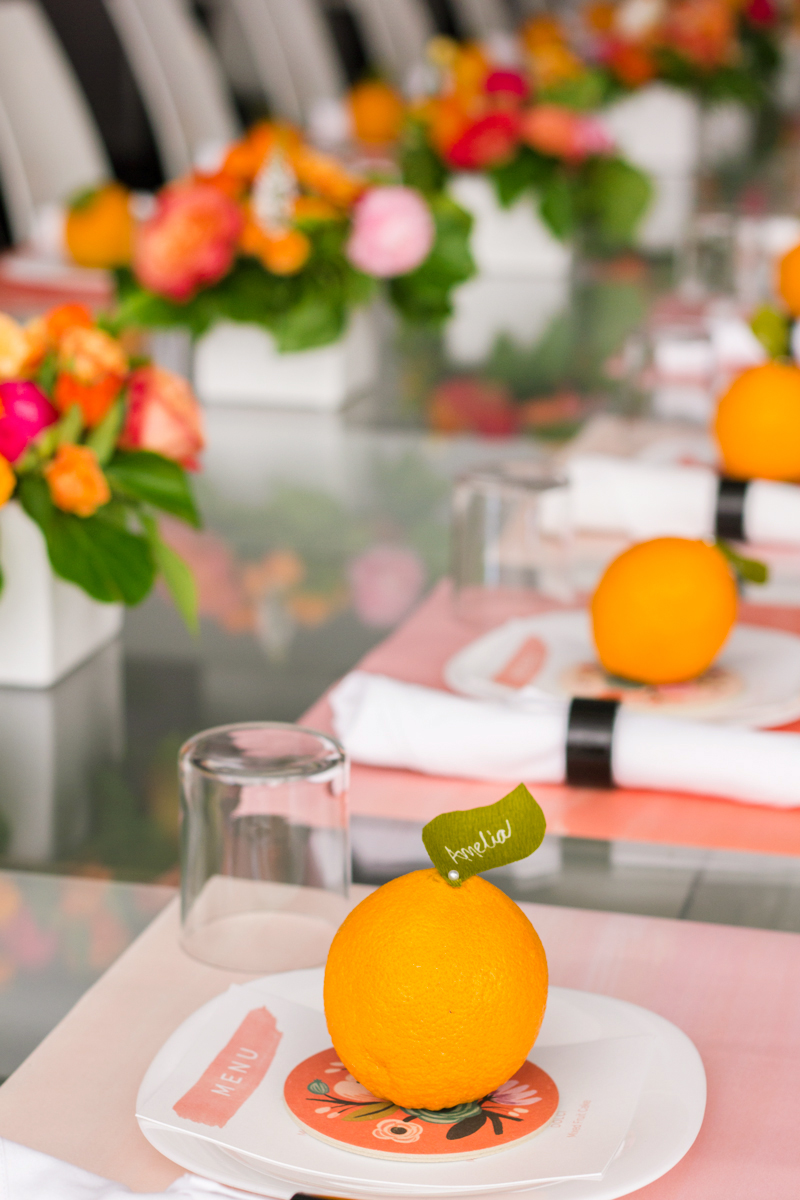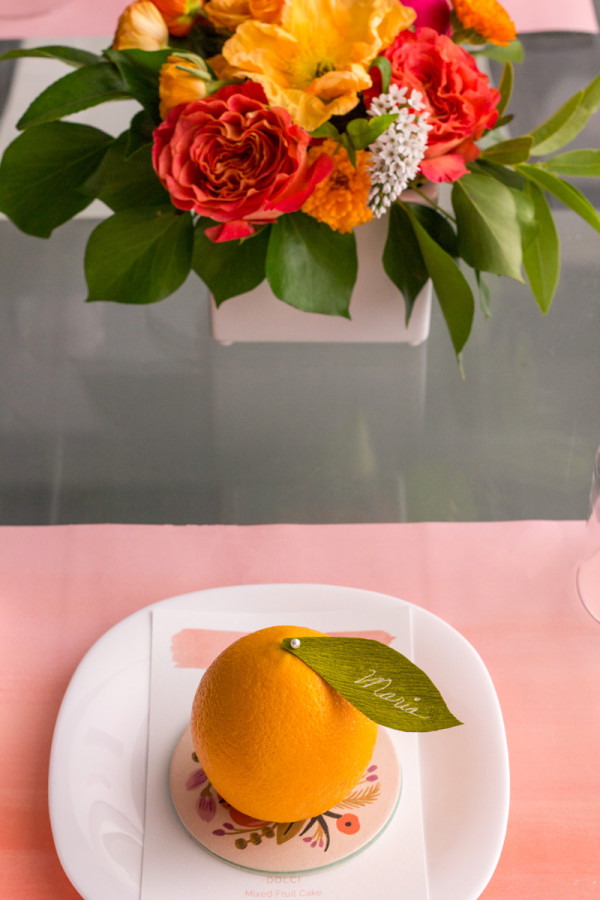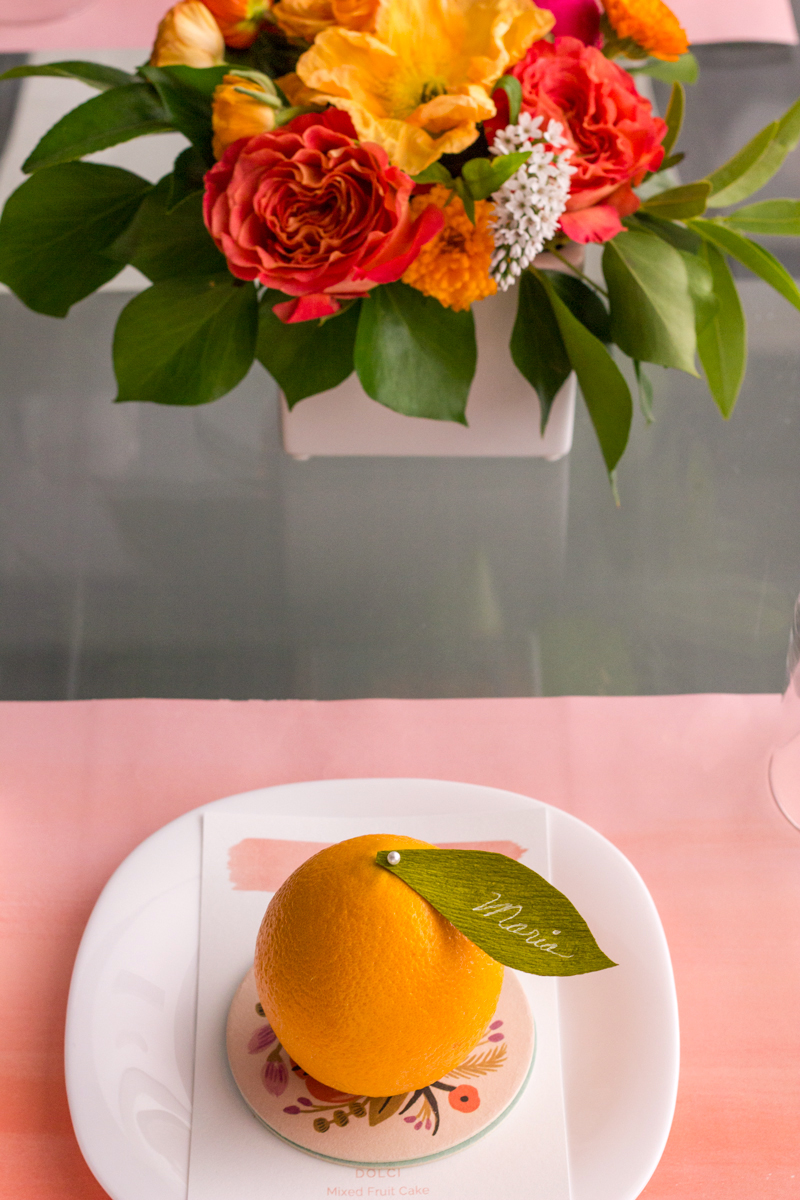 Tip #5: Keep the Bride in Mind for Game Planning
Games are always a funny topic when it comes to shower. So many are so corny and so many put the bride on the spot. Lauren is just like me and gets overwhelmed by the fact that all these people are there JUST FOR YOU! She doesn't like to be in the spotlight. (Anyone else feel the same?) So, I knew I didn't want any games that drew more attention to her, like the newlywed game where she'd have to answer questions on the spot. Instead, we came up with two great options:
"They were HOW old!?": Maria rounded up eight pictures each of Mike (her fiancee) and Lauren and pasted them onto the invitation background from Floating Specks. We made game boards for each person, numbered 1-8, and numbered each photo. Then we passed out the game boards and had everyone pass the photos around, writing down their answers.
Trivia!: We came up with questions about Lauren, Mike and their relationship and divided the table into teams to answer them. We had pre-determined the answers, so Lauren wasn't on the spot to come up with them (Like how many states they had visited together!).
Both games were great, and we handed out Rifle notepads as prizes.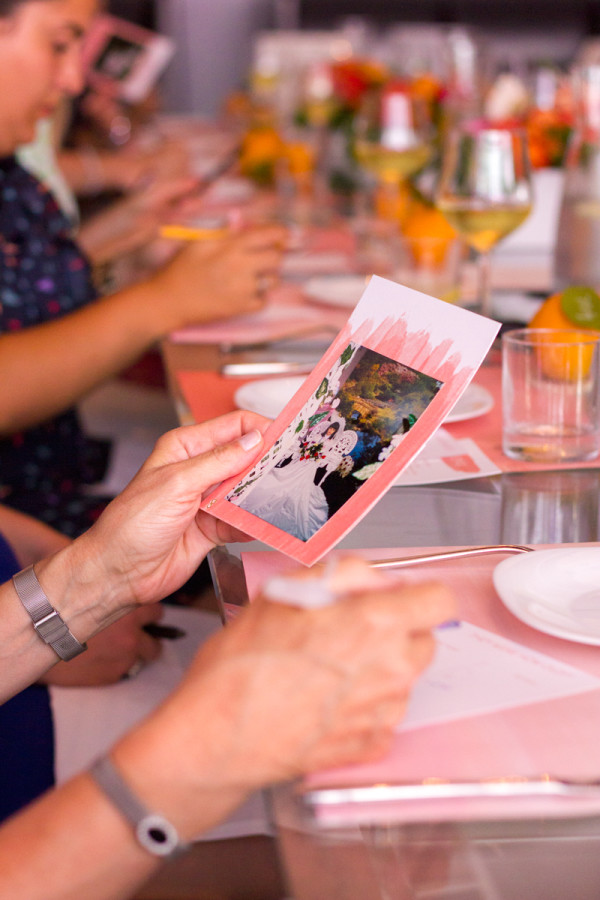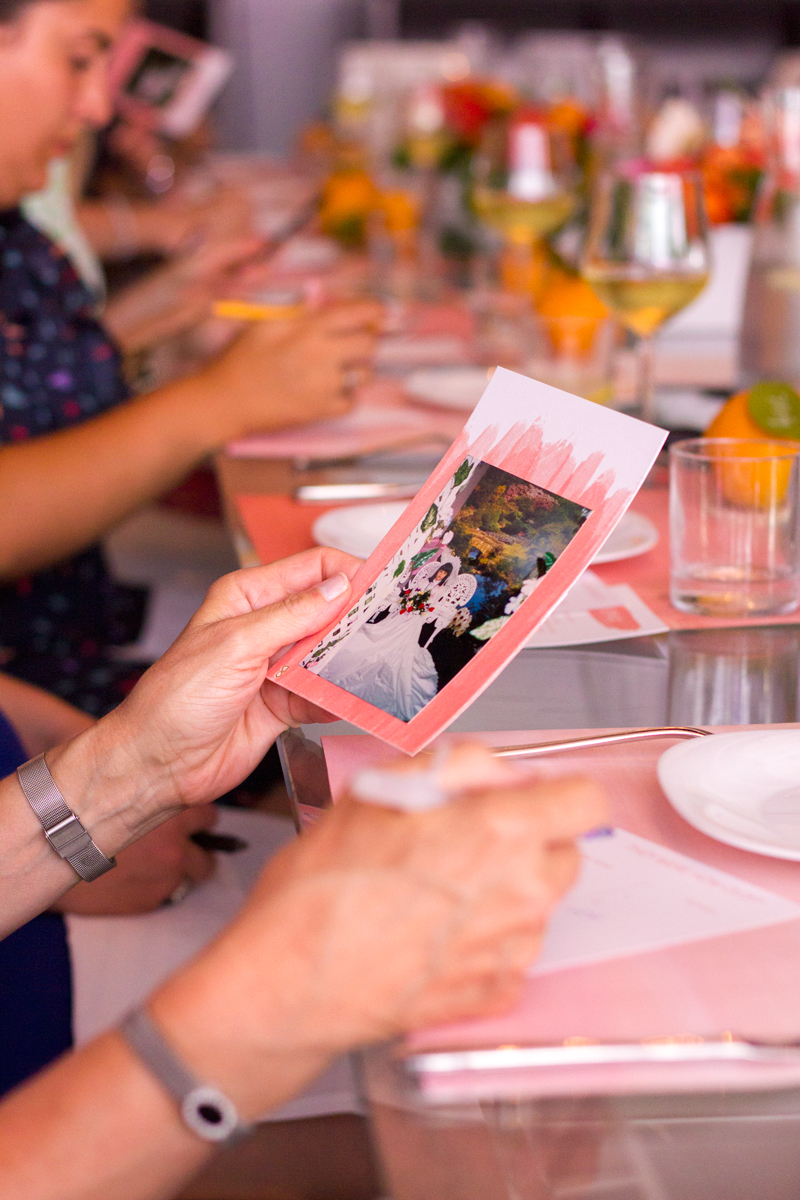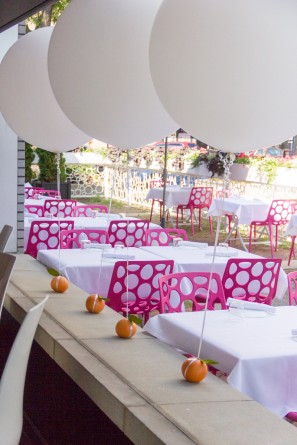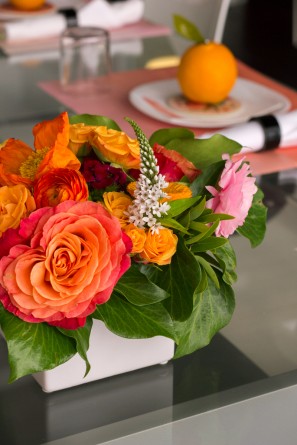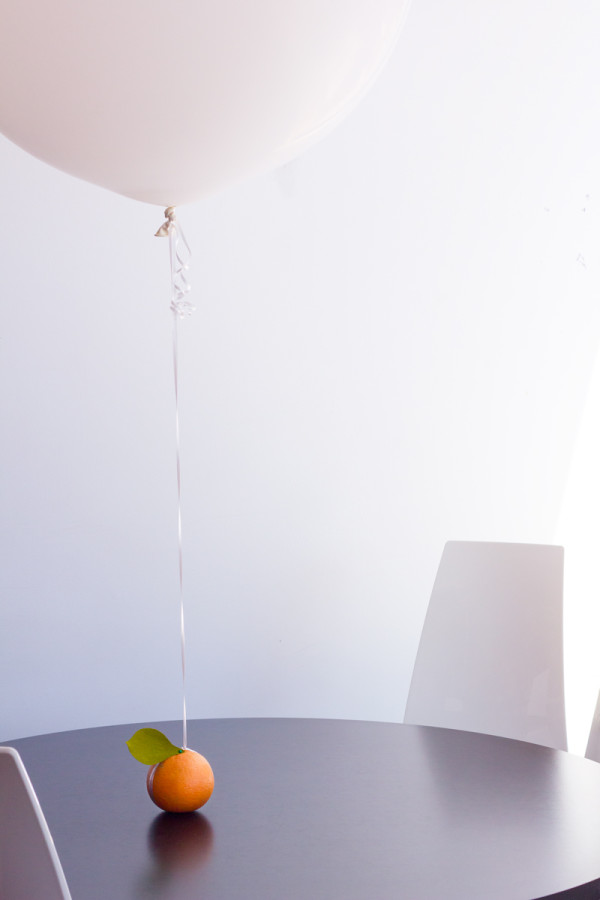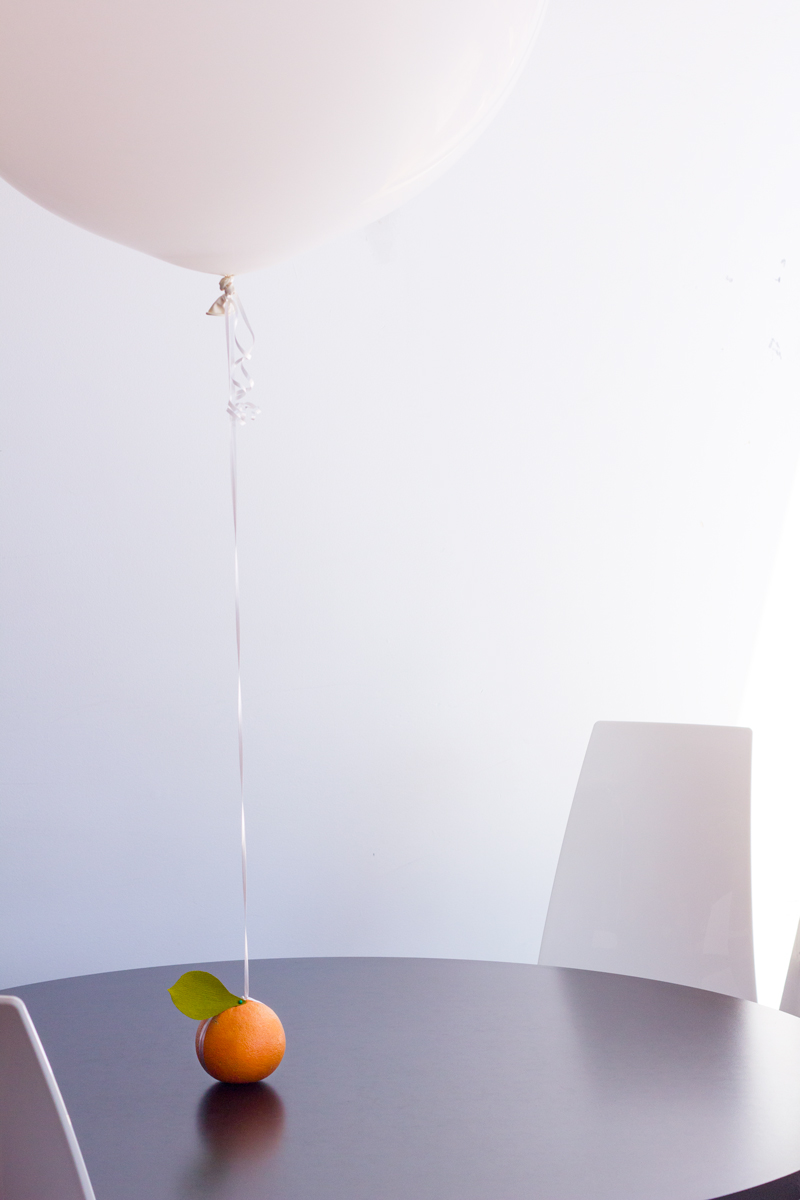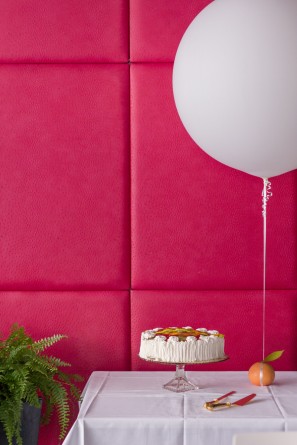 Tip #6: Get Creative with Gifts!
Nowadays, it's not rare that the bride doesn't live in the same city where her shower is. (Lauren and I are both in that boat!) So, we asked guests to ship all gifts to her home in DC. But I still wanted her to have something to open! Luckily, Lauren had given me a great idea back in college when we'd chat about our someday wedding. Lauren had always wanted to start a collection of vintage dessert plates. She loved the idea of being able to mix and match these smaller plates, against a simple dinner plate. (This is why we're friends FYI!) So on the invitation insert, I asked each guest, if they so desired, to bring a vintage dessert plate of their choice and begin Lauren's collection. It was SO FUN seeing what everyone chose and where they sourced them (their own collections, thrift shops, antique malls). She ended up with a great collection and a memory for each one.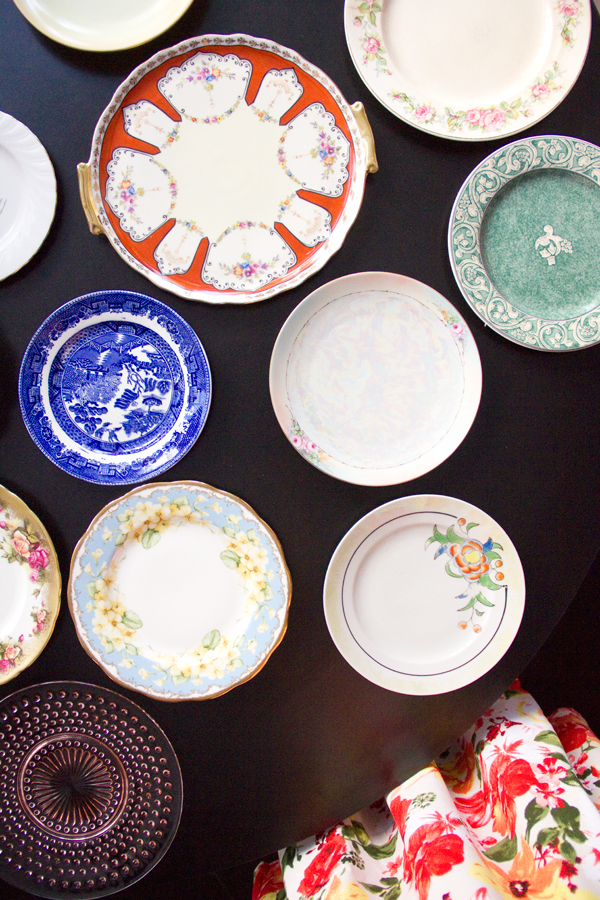 All Photos by Studio DIY
Phew! Did you stick with me through all that? It was really nice to keep things simple this time, to actually let other people help and share in the joy of planning an event, and to just be able to put on this event for my BFF! She's up next, co-hosting mine in NYC this weekend and I can't WAIT! And then… it's the countdown to our weddings!
Have you ever thrown a bridal shower? What are your top tips?