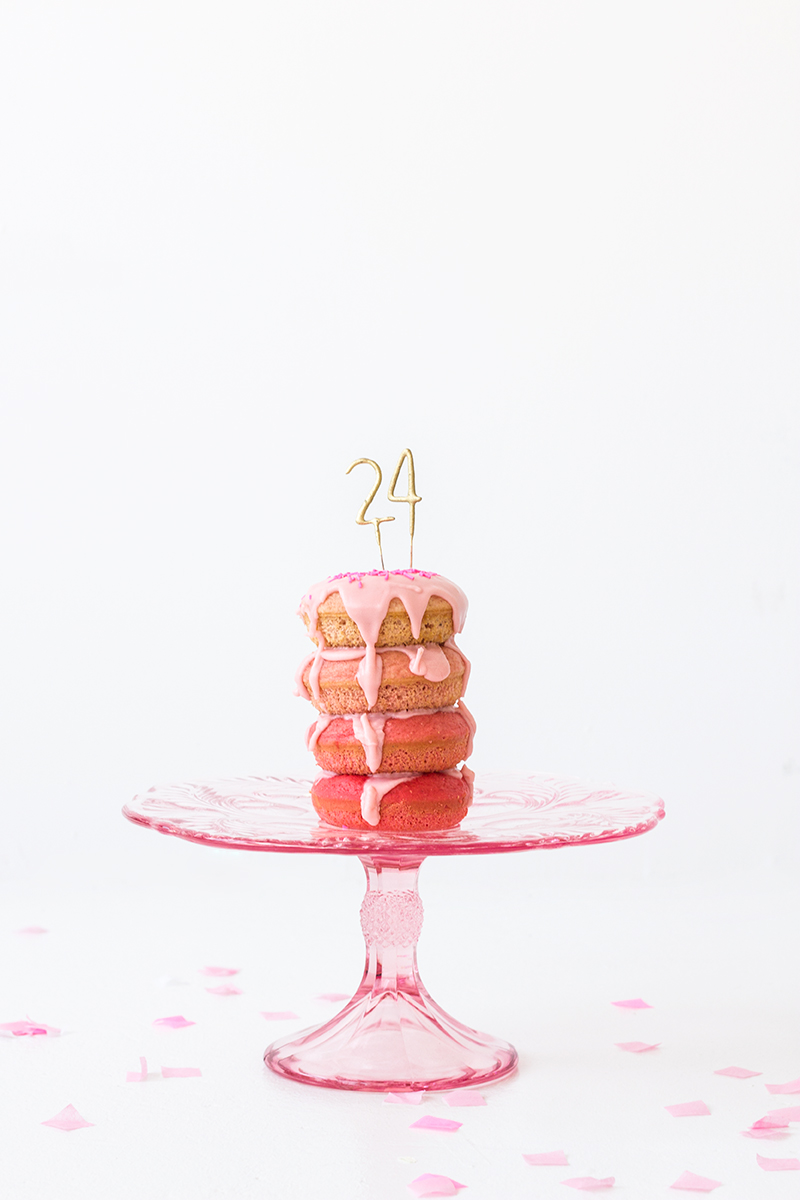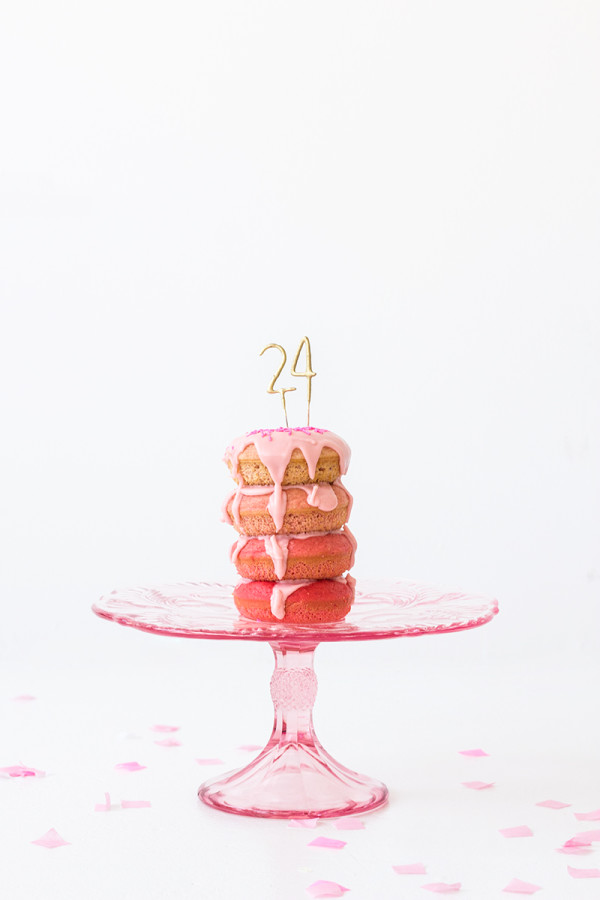 So yesterday, Jamie walked into the studio with this surprise pink ombre donut layer cake for my birthday and I about LOST it! AMAZING! So instead of doing the work we were supposed to be doing… we had a donut layer cake photo shoot, and then we ate it. Priorities, people. I had to share it with you guys! Jamie told me how she made it so you all can make one too! And then eat it. Again, priorities.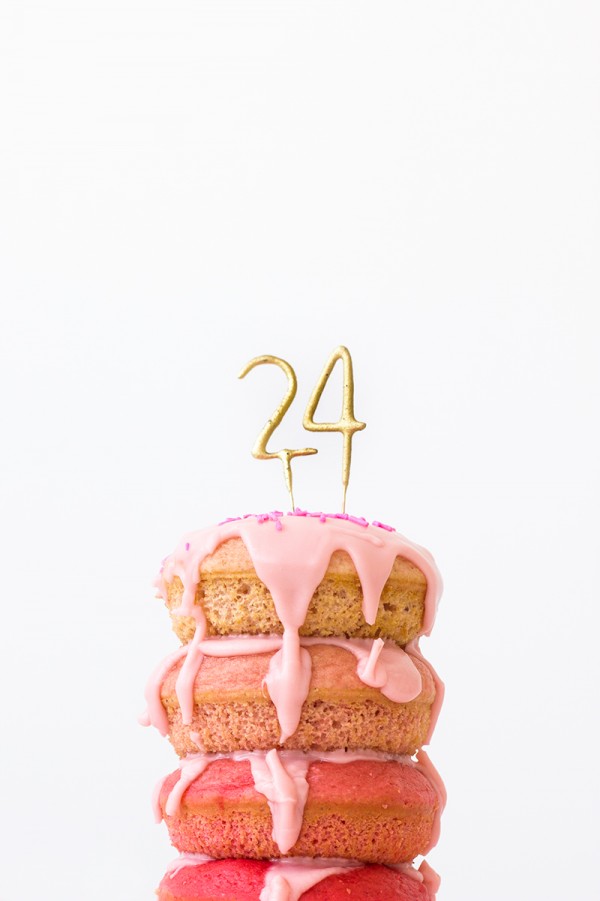 Your Fave Baked Vanilla Donut Recipe (If you need some inspiration, check out my Dreaming of Donuts board!)
Your Fave Glaze/Icing Recipe
Donut Pan
Red Food Coloring
Toothpicks
Sprinkles (DUH!)
1.Make up your donut batter, than divide it up into however many bowls as you want different shades (four in this case). Add different amounts of food coloring to each bowl (2 drops, 3 drops, 4 drops, 5 drops, etc.) and fill your donut cavities. Bake per the recipe instructions.
2. Make up your icing and add three drops of red food coloring (for a color similar to the one here!).
3. Assemble! Place the darkest donut ontop of your stand or plate. Drizzle on icing. Place next darkest donut on top and repeat with all your donuts, darkest to lightest. (FYI I don't think I'd go much higher than four stacked!) Drizzle some extra icing on the top one, letting it drip down the sides and finish with sprinkles! TADA!
*For extra stability, if you are transporting your donut layer cake, you can add toothpicks between the donut layers. Just make sure the recipient knows they are there! =)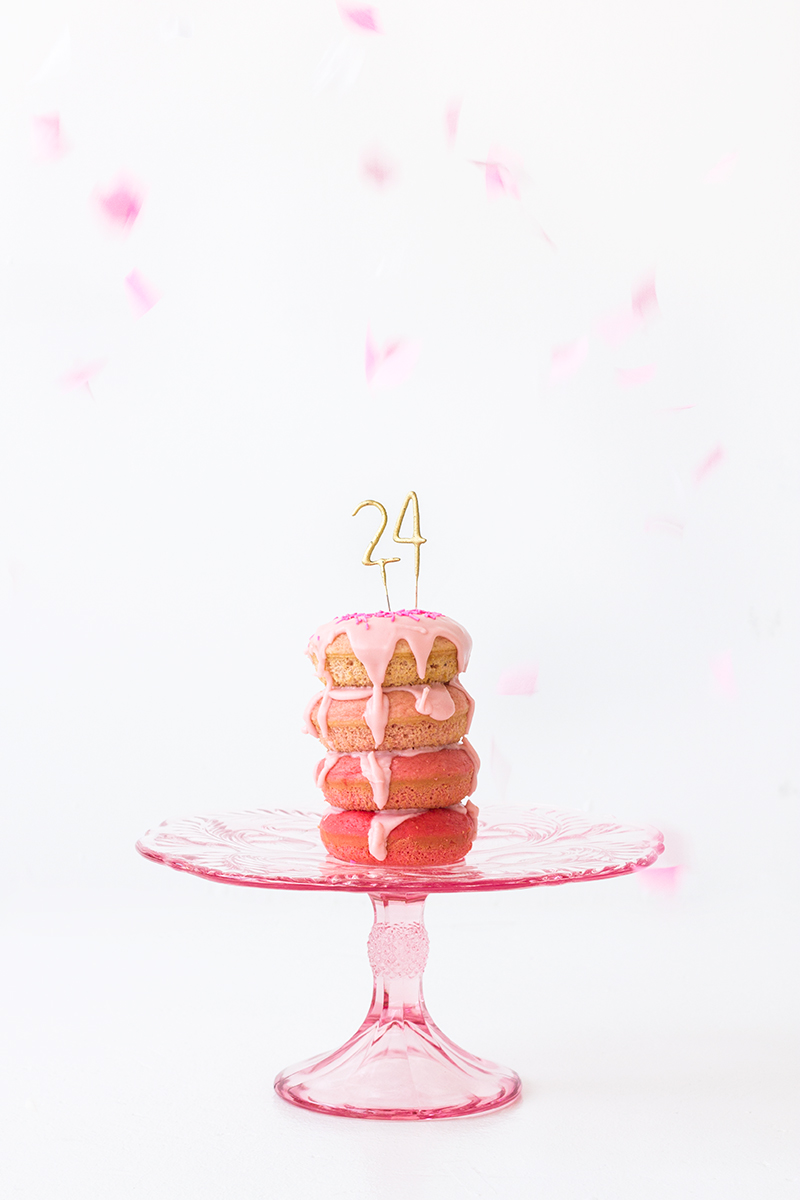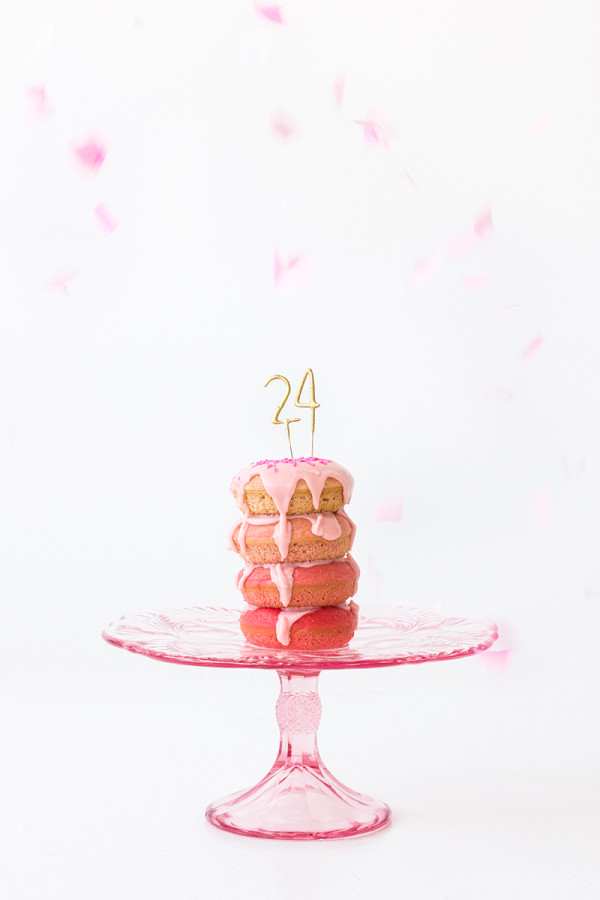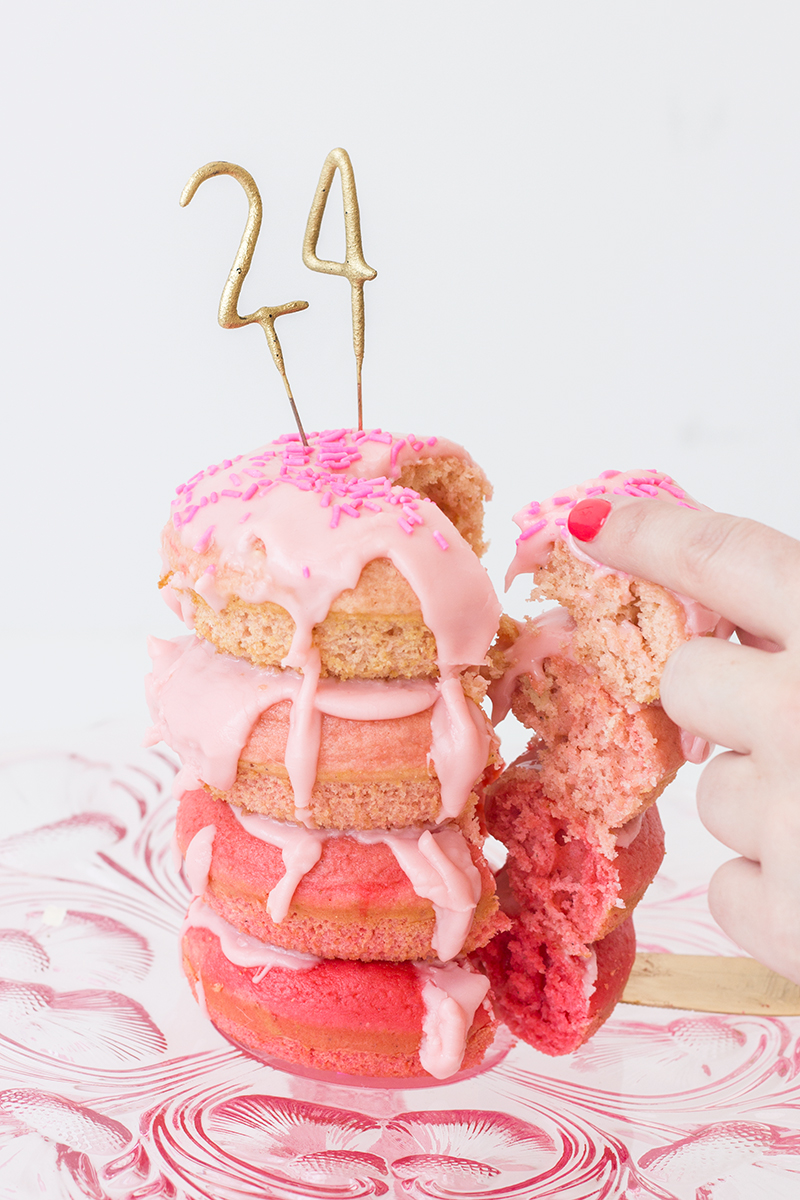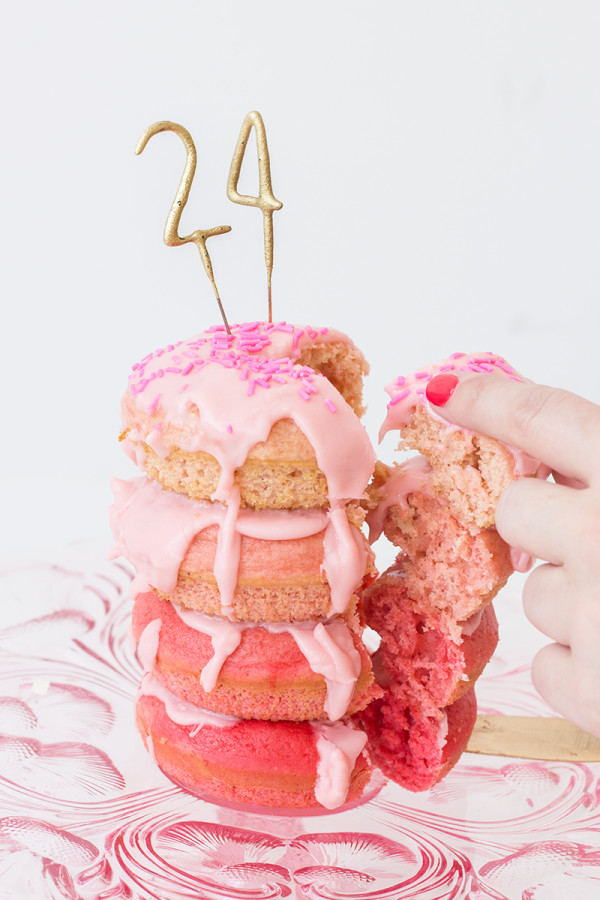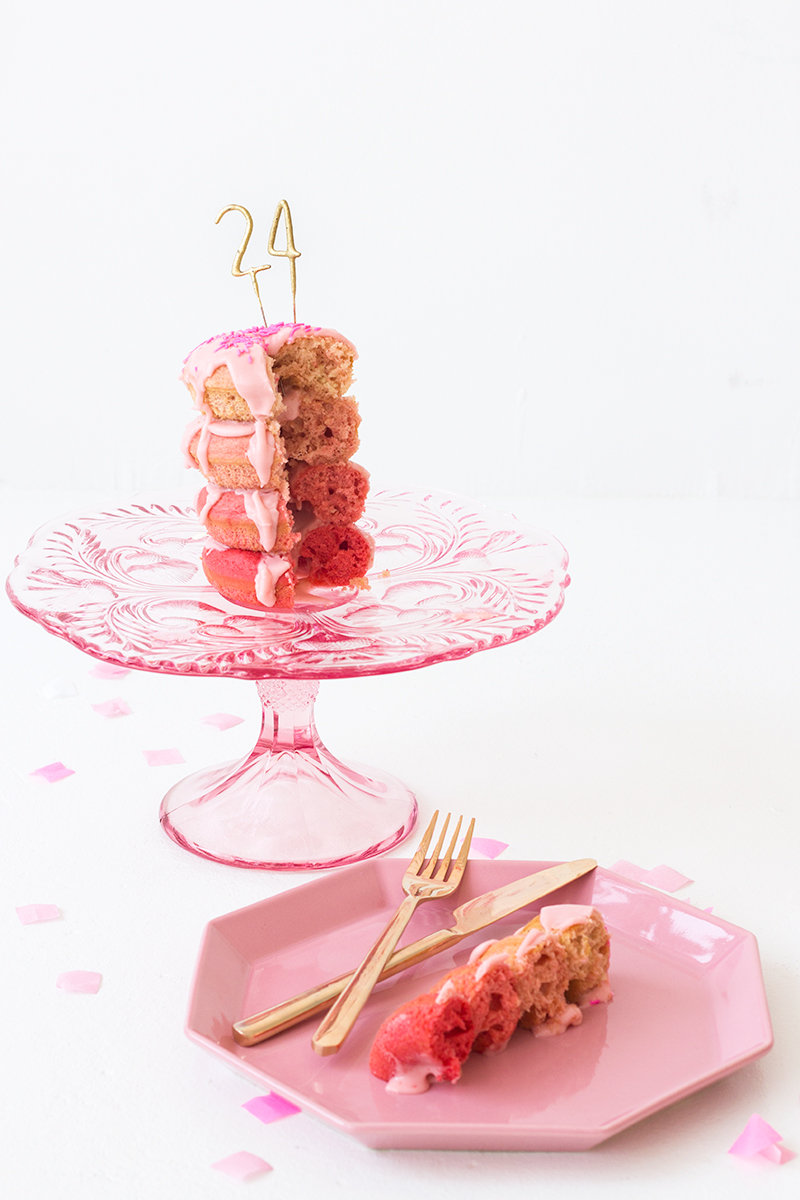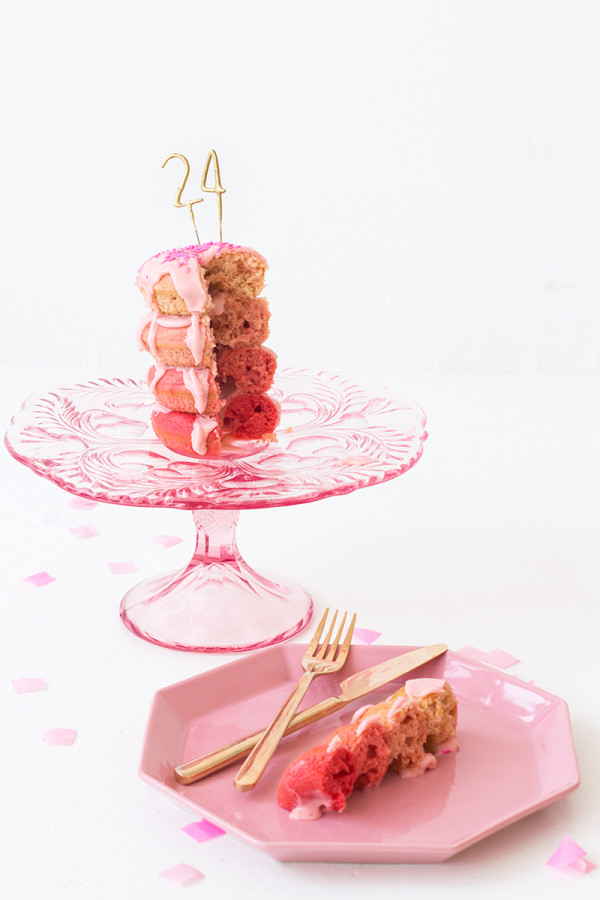 Donut Cake by Jamie of Paint the Gown Red, All Photos by Studio DIY
A HUGE thank you to Jamie for making me this awesome cake… and making this post possible! Fun fact: if you are wondering why I mentioned yesterday that I was turning 25 and this cake says 24… I promise I'm not losing my mind or in denial. It's because the only sparklers I had were from New Year's 2014! HA! So I celebrated my current age for one more day… Work with what you have, folks! In the name of donuts.
For more donut love, head here!
p.s. That gorgeous pink cake stand up there? Keep an eye out in the coming weeks.. one may be up for grabs with a few other fun things! Ooooh!