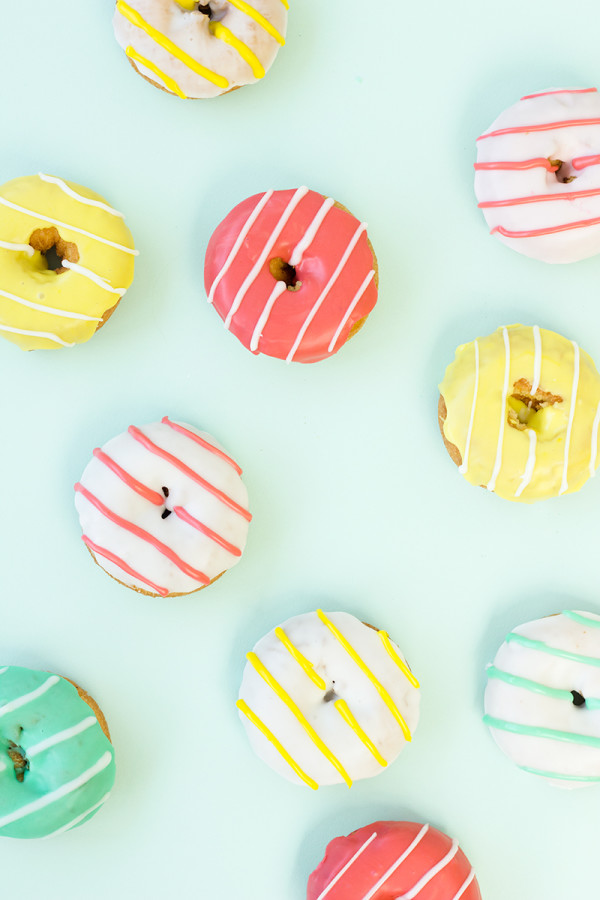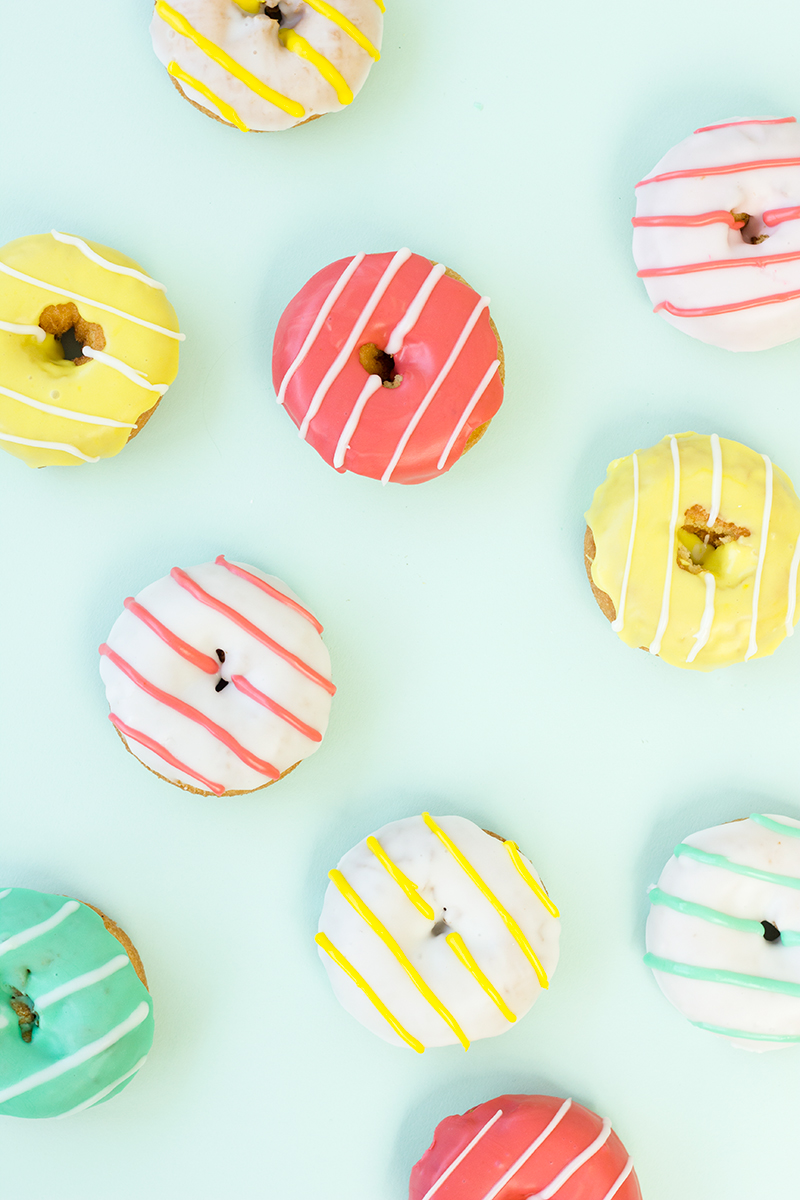 It's the final post of Donut Week before the big giveaway tomorrow, and I figured I should probably show some real donuts some love, too! I decided to forgo sprinkles for this one (the HORROR!) and break out another favorite of mine… stripes! Voila! Striped donuts. Really fun for summer, or just for any day you feel like pattern-i-fying your donuts.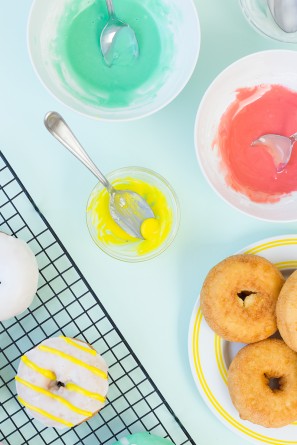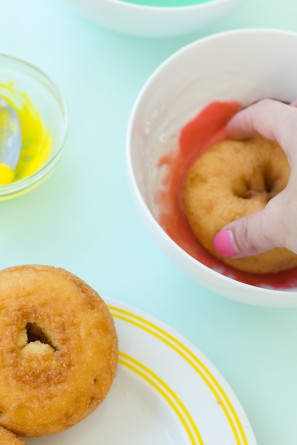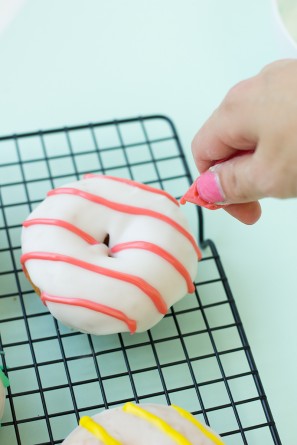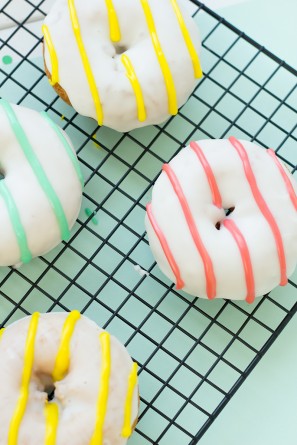 Donuts (I purchased plain cake donuts, but you could make your own too!)
Powdered Sugar
Milk
Extract (Vanilla, Almond or Lemon, perhaps!)
Food Coloring (I have this set and love it!)
Piping Bag (Or a plastic sandwich bag + scissors… my piping bag of choice!
Make your glaze. I typically work with a ratio of one cup powdered to 1-2 tbsp milk + 1/2 tsp extract. Divide and color accordingly for your glaze. Then dip each donut in said glaze and let it set up a bit. Spoon your remaining glaze in your desired stripe color into a piping (read: sandwich) bag. Snip off the end and carefully pipe stripes on the donuts! I recommend starting in the middle and working your way out. If you were feeling really fancy you could go both ways and make plaid or gingham! You could also do multiple colors on one donut for rainbow stripes!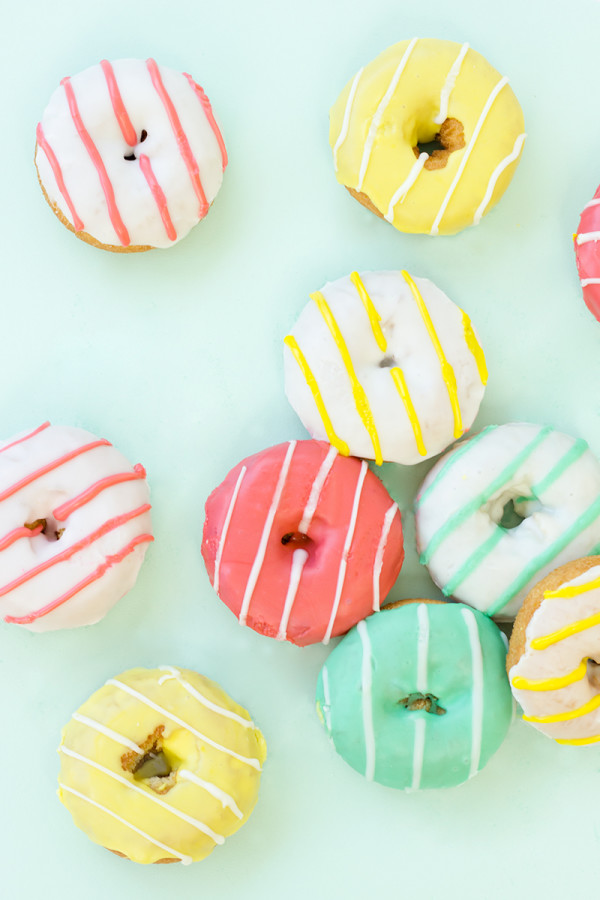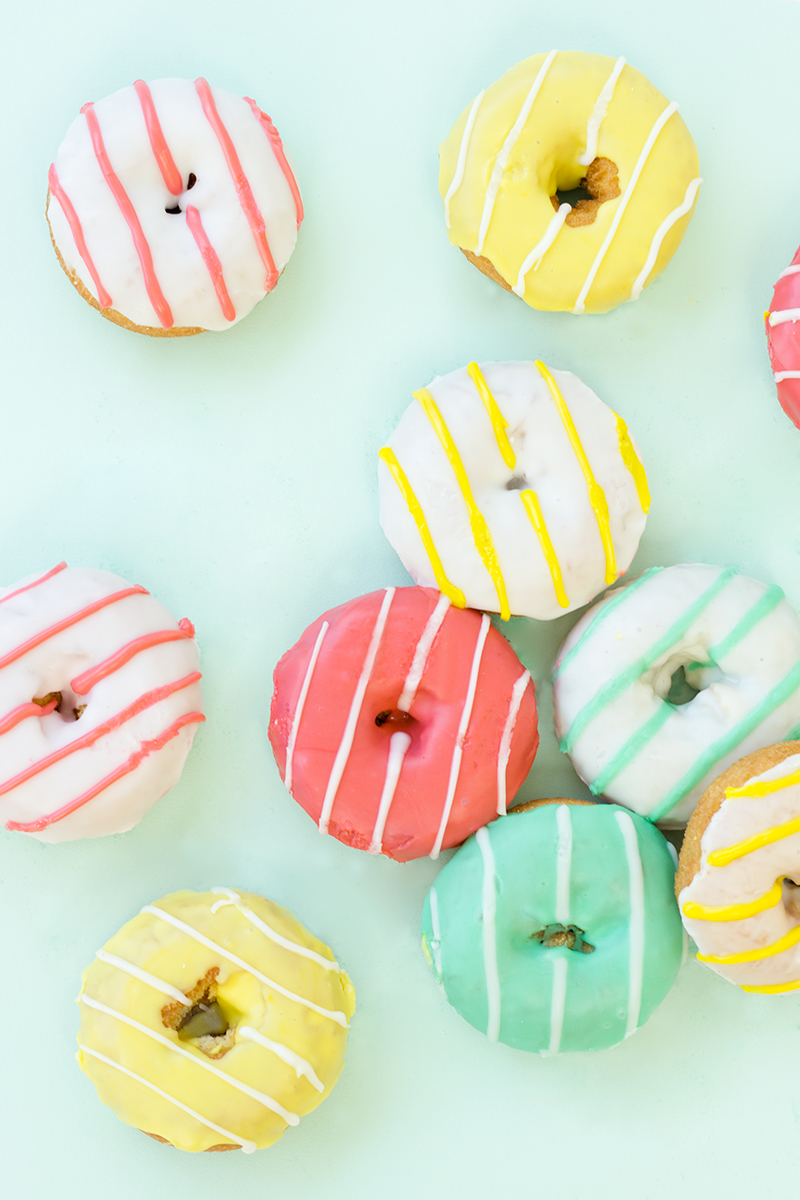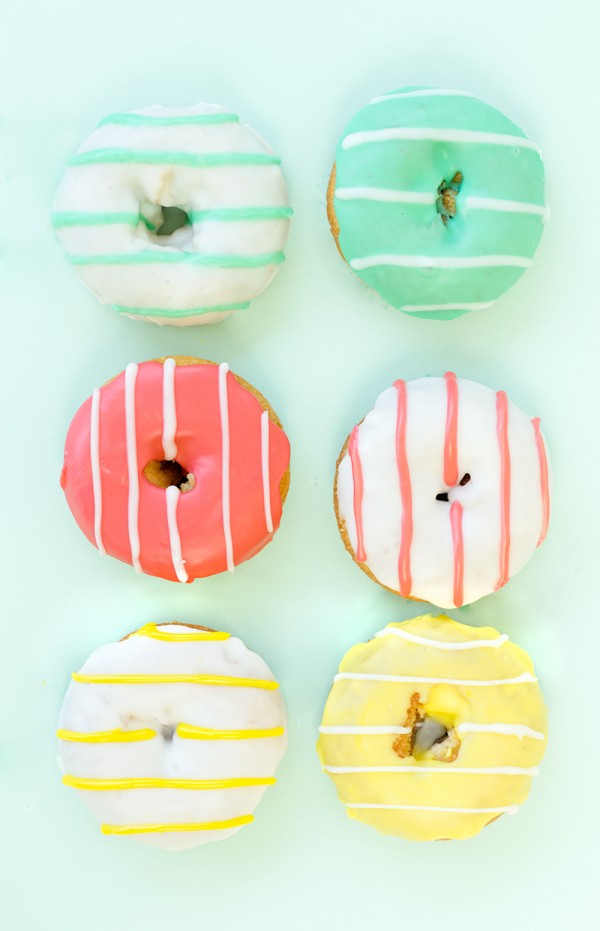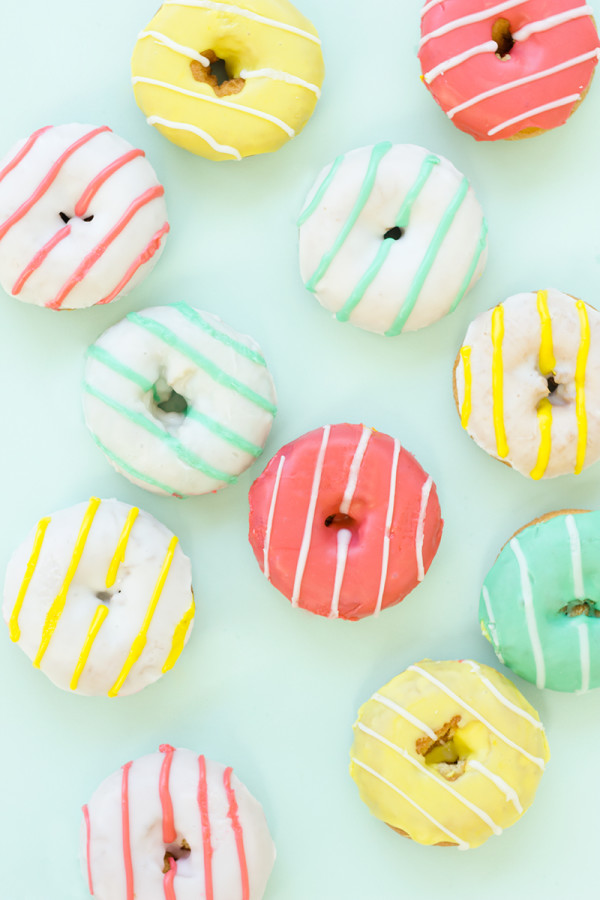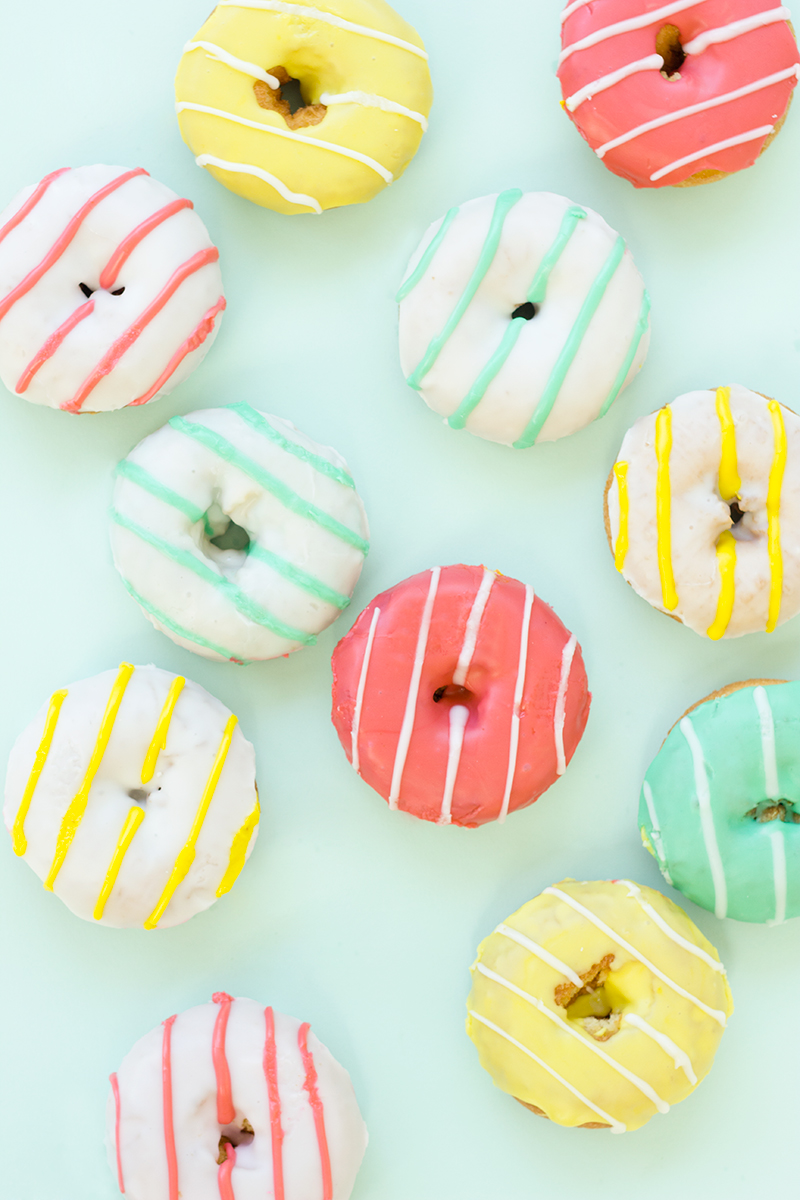 All Photos by Studio DIY
Guess what!? I have a bonus in this post… MORE DONUTS! A bunch of awesome folks are gettin' their donut on this week for the holiday and it is a big donut party up in HERE! These folks are real food bloggers (I'm just an imposter who loves donuts… hence the half-homemade donuts here.), so they have some awesome recipes to try… and I bet you could even stripe up a few of these too! Check 'em out (I'll update the links as they come in).
The Faux Martha | Mix + Match Donuts!
Coco Cake Land | Milk Tea Donuts
I Am A Food Blog | Waffle Donuts
My Name is Yeh | Biscuit Donuts with Naturally Colored Glazes!
Hummingbird High | Sour Cream Donuts – Two Ways!
Wit + Vinegar
Edible Perspective | Samoa Baked Donuts
A Cozy Kitchen
Head right back here for a big donut giveaway tomorrow!! And in the meantime, more donut DIYs right here!