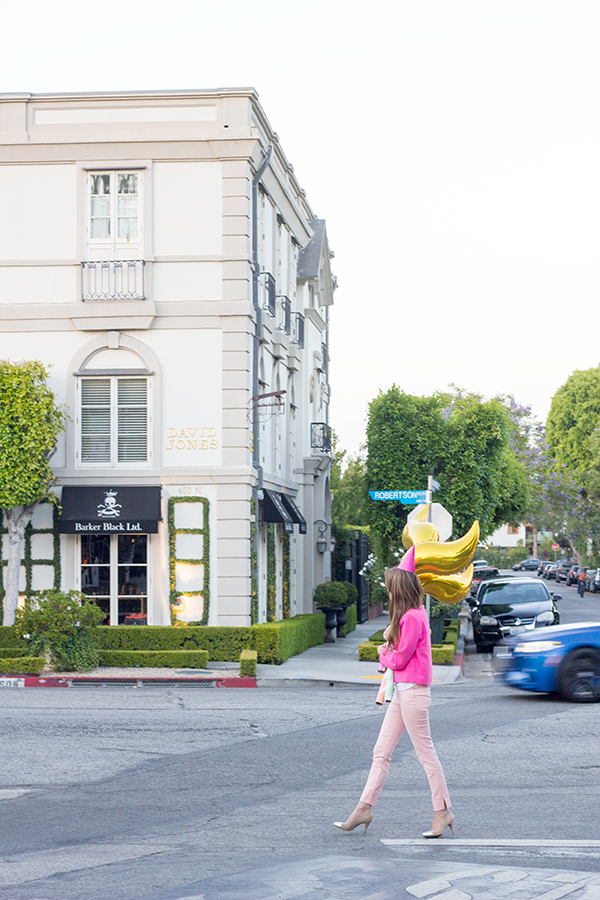 This picture makes me feel like The Birthday Fairy.
I'm always the last one to come in with a year-end recap, but I am weirdly superstitious about talking about the year before it's 100% over. So, here I am! Time to reflect on the year, share what your (seemingly) favorite posts were and talk about what I've got cookin' for 2015!
Most Popular Posts of 2014!
(Says Instagram, Pinterest + Google Analytics, unscientifically combined to make this list, in no particular order!)


DIY Fruit Slice Umbrellas / DIY Emoji Balloons
DIY Strawberry Costume / Pre-gaming With Pastries
DIY Clock Balloons / Popsicle Cakes
DIY Donut Hat / DIY Taco Piñata
DIY Conversation Heart Balloons / Striped Donuts
Did you have any favorites? I'd say the emoji balloons and taco piñata were two of my tops!
Click through for my long-winded thoughts on 2014 and goals for 2015.
And Just a Few More Things
At the end of 2013, I shared my long and intense health saga but I was lucky that 2014 wasn't as turbulent medically. Unfortunately for me, doctors, MRIs and the like will always be a part of my "normal" but I'm thankful that was the bulk of it for the year. So instead, I thought I'd share a very real glimpse into my 2014. As I mentioned last year, I strive to keep things positive and happy in this space. But after many articles this year about blogger burnout, I thought it time to add my two cents and share both the big ups and crazy downs of my year, along with some outtakes to embarrass myself because… why not.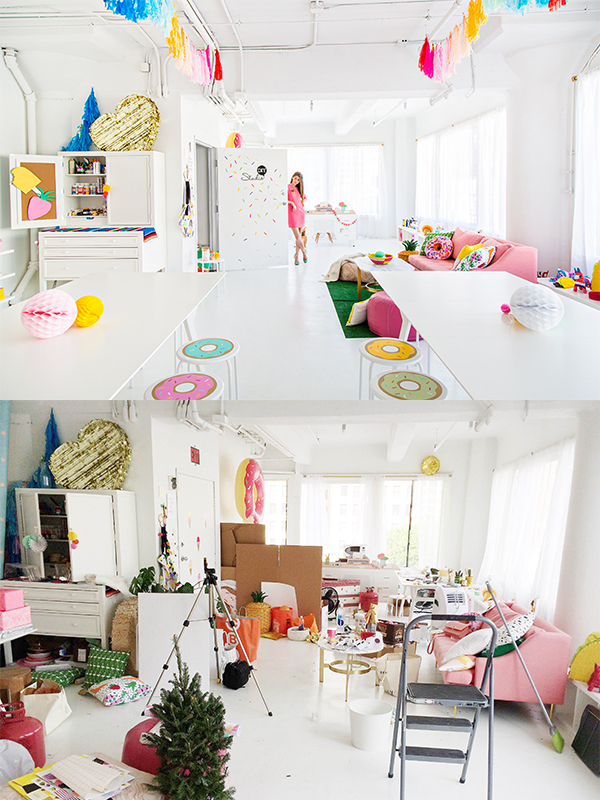 Shoot Day vs. Real Day. How's that for reality!?
I had a lot thrown at me in 2014 that I wasn't prepared for. I had a wedding to plan and a business that was growing quicker than I could keep up. Perhaps the most "first world" problem I could complain about, but the stress of everything relating to our wedding this year really destroyed 2014 for me. While I am so in awe of and so grateful for our wedding day (it was truly amazing and everything I once "dreamed" of), I would give anything to get 2014 back, without the stress, arguments, decisions and money spent on that one single day. (By the way, I'll be sharing the full post-wedding recap tomorrow!)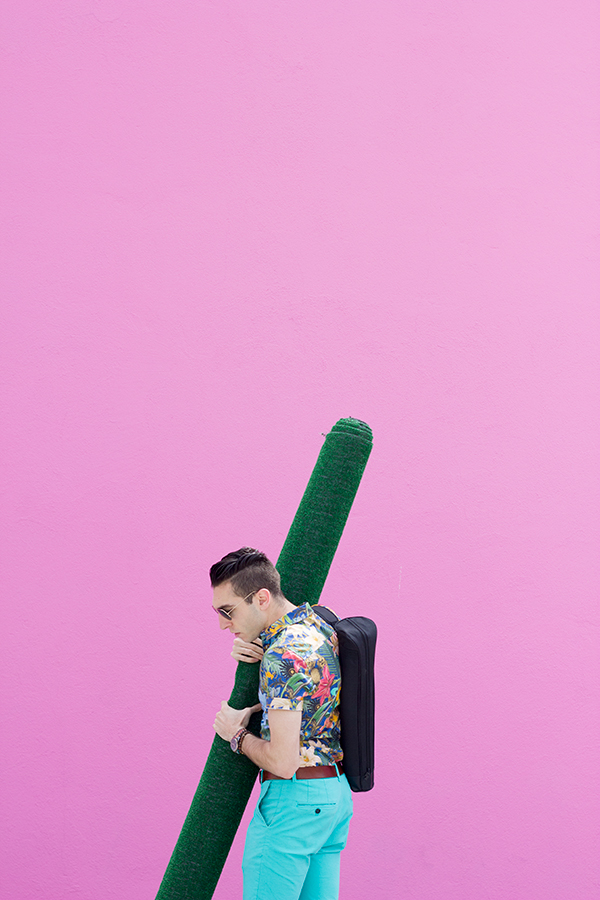 I caught myself a good one, folks.
By the time our wedding day hit, I was in awe and so thankful that Jeff was still standing by my side, cheering me on, 'cause I sure didn't spend many days with my focus on him.
Running a business is no joke. And a blog is no different and it isn't a "get rich quick" scheme either. There isn't much "passive income" when it comes to DIY blogging which means I work my butt off for each and every dollar I earn and post I put up. I'm a perfectionist, and only want to give you guys the best, so I put everything I have into this little corner of the internet. Working 7am – midnight every day is not an exaggeration, it was my 2014 reality and I definitely felt burnt out more than once.
2014 was an investment year for the business, as all businesses have. One where I had to put a good chunk of my time and money into it, and keep very little of both in return. Amidst the wedding insanity this year, I blew right past my 3rd blogging birthday on November 7th and when I see how far I've come and how much I've grown thanks to that hard work, it makes it all largely worth it. So despite the negatives of this year, there have been some HUGE positives too.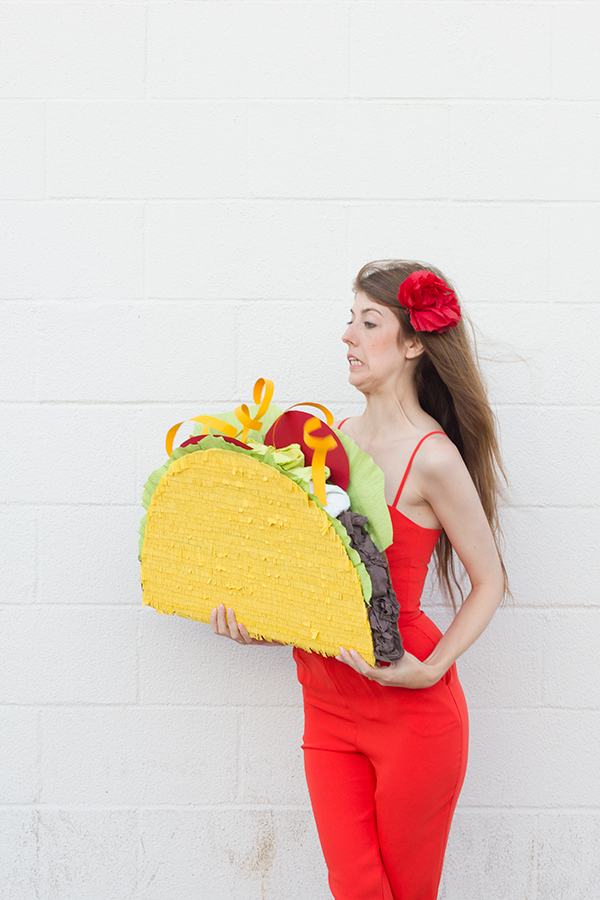 The wind is my enemy.
In 2014, I signed a lease for my very first studio space in downtown LA. That was a crazy exciting, and ultra terrifying, moment, but making it over (And having it featured on Glitter Guide!) sure was stressful fun! Having a space has allowed me to produce content I never would have been able to produce without a space to do so in. I hope in 2015 to use it even more effectively than I have in 2014 for shoots, workshops and as an actual "office" too (no more lazy couch-working for me!).
In 2014, I hired my first employees. This has been an incredible learning curve, but I was lucky to find some great ladies right off the bat. I am an ultra-control freak, and an unorganized one at that, so learning to delegate tasks and let others help with Studio DIY has been a bumpy road, but one that has let me see that light that could (can!) be as I continue to figure the title of "boss" out. I'm excited to grow my team in 2015, too.
In 2014, I worked with some major dream brands. I was on a call the other day and was asked "What are your dream brands to work with?" And, honestly, I was humbled to say I had already worked with so many of them! My partnership with Balloon Time has been so fruitful, and I couldn't think of a brand more fitting for what I do. I've been able to work with Target on several posts which, if you knew how much time I spent in Target, you'd know how awesome that is for me. I partnered with my favorite show, The Today Show, and worked with so many of my favorite brands, Kate Spade Saturday and ban.do included. So. Awesome. In addition to traditional blog posts, I got to design a window display, curate an Etsy pop-up at West Elm, throw a taco party, co-host The Brand Market Workshop LA, experiment with video for the first time, takeover Lowe's Instagram and organize a colorful scavenger hunt at The Saguaro.
Perhaps the coolest part of 2014 came thanks in large part to Instagram. This year I created the #troopstudiodiy hasthag so I could see all of the Studio DIY projects you guys have made yourself and that has FLOORED ME! So fun to see your takes on the projects I share here. On top of that, #studiodiyincostume was probably the highlight of my year. Hundreds (!) of you used my tutorials for your Halloween costumes and it was the coolest thing EVER to see! I have really enjoyed utilizing Instagram this year, in addition to the blog, to chat with you guys, share extra doses of inspiration, and build a true community around the mottos that Studio DIY lives by. Have to give one more THANK YOU to each and every one of you who's been a part of my 2014 here.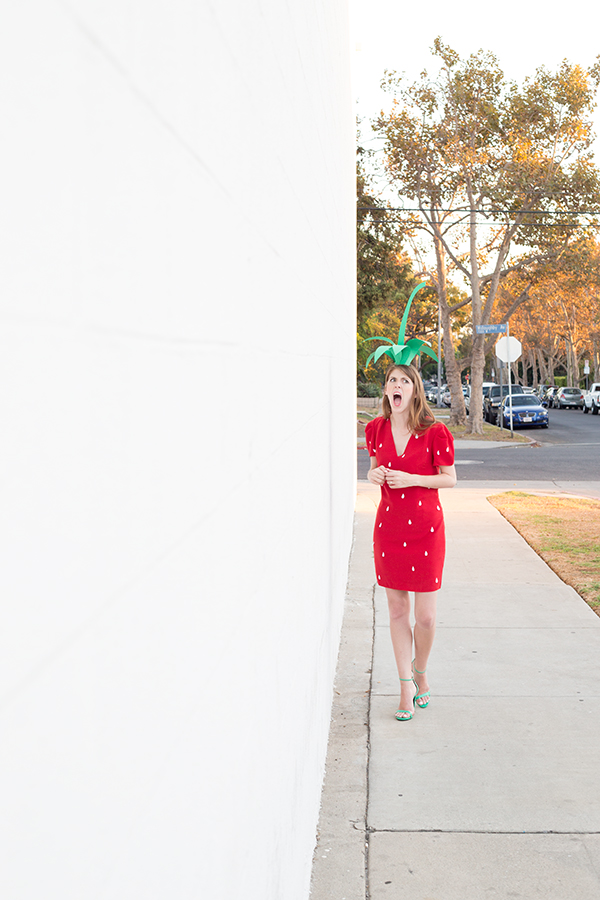 Note to self: When running your hand along a wall trying to look cute, do not scrape your nail against it or your face will look like this instead.
So What's 2015 Going to Look Like?
Like most years, I have big plans for 2015. I can't tell you exactly what to expect because, well, I'm not in the place yet to be that organized. 😉 BUT! I can tell you a few overarching resolutions I'm making, both for the blog and for myself.
1. Diversifying Content: Over the past few years, I've come to realize what I really love about Studio DIY is the "brand" and "feeling" I've built behind it. Colorful, playful, light-hearted, sugar-y, fun. I'm hoping to continue diversifying the content you see here, and exploring what the Studio DIY style means for other areas of life, like fashion, beauty, food, travel and more. I've really enjoyed exploring these areas a bit in 2014 and hope you guys are game to continue the exploration this year! (A reader survey will be coming next week, where you can tell me what you really think.)
2. Refining the Brand: While I pride myself on developing a strong brand for the blog, I still feel there are loose ends that could be tied up, and plan to do so through some slight site modifications and creating a real, true "mission statement" for the brand.
3. More than a "blog": There's been a lot of talk about how long blogs will really "last" in the ever-changing online landscape. I sure hope they last for a long time, but I also have way bigger visions than just a blog for the Studio DIY brand. I hope to start researching and implementing branches of the brand, outside of the blog, this year as well.
3. Remembering to Let It Go (I just used that term so you could all sing the song): I spent a lot of time caught up in stolen photos, copy-cats and missed opportunities this year and have decided to move past that in 2015 (as inspired by some of Sophia's words in #GIRLBOSS), in an effort to focus largely on the positive.
4. Workshops!: I didn't use the studio to it's full potential last year and I really hope to do so this year by hosting a bunch of awesome workshops! So those of you local to SoCal, stay tuned!
5. Efficiency + Growth: It is a huge goal of mine to grow the Studio DIY team this year. To focus on my strengths, and bring in other people to help with my weaknesses so I can bring better content, and do so more efficiently, and so I can spend some time focused on my personal life, too. Please know, it is very important to me at this moment that the blog remain in my voice. I am excited to continue working with awesome people who can help make that little voice of mine even more colorful, powerful and awesome! (Did I just call myself awesome? Hopefully you know what I meant.)
6. Take Better Care of Myself: This is 100% personal, but I hope to take better care of myself in 2015. In 2014, I started wearing makeup (and lipstick!) and real clothes (mhm, no more leggings + sweats every day!) more often and it's funny how those little things made me feel a lot better about myself and more confident. I'm hoping to take that a step further this year and focus on taking better care of my skin, my teeth (The root canal I'm getting on Thursday should convince me of that one…) and my body in general.
7. Give Back: I grew up in a house where giving back was very important, and I feel like I've lost touch with that in recent years. Both personally and professionally, I'm hoping to seek out ways to give back this year.
8. Listen: I did the 2013 reader survey and got some GREAT feedback from you guys… and then I completely dropped the ball on implementing most of it. Fail. After the 2014 survey, which will be a bit more in-depth, I really hope to LISTEN and implement some of your suggestions. Case in point: the most popular question from last year's survey was: What is your background/how did you get to where you are today? I've literally had that post drafted for 9 months. Don't worry, in 2015 I'm ON IT! I also generally need to work on my listening skills, personally. I've inherited a trait of my dad's that my mom (affectionately) calls "selective hearing" and I know it drives Jeff bananas. Time to listen up!
9. Family + Friends: Now that we don't have the excuse of bridal showers and wedding festivities, I want to make it a point to make sure I still see my (faraway) family and friends. We're hoping to start doing destination meet-ups with Lauren + her now-husband Mike instead of constantly going coast to coast to see each other which I'm pretty excited about! I think Austin is topping our list for trip #1 right now…
10. Re-learn an instrument!?: This is a lofty one that likely won't happen but I'm putting it here anyway. (How's that for setting myself up for failure!?) All of my brothers play instruments and we all (try) to sing along. Any trip we go on or gathering we find ourselves at means there is at least one guitar in tow. My fondest family memories involve listening to their late-night music sessions. As Jeff and I think about starting a family, I'm more aware of the fact that, outside of my sweet dancing skills to T-swift, there's a huge absence of (homemade?) music in our lives. I played piano (and flute! ha!) for a good portion of my childhood, and will forever regret stopping (who's with me!?) but I would love to learn, or re-learn, an instrument before too long so our kids can grow up around music, too. Alternatively, I'd like to take up dance classes again, so at the very least I can minimize the emotional scarring of our children. 😉

Lucky for me, I was probably not the weirdest thing those folks saw in Hollywood that day… 😉
2015, only 6 days in, is a scary and exciting year for me. Right now, both professionally and personally, 2015 has a lot of uncertainties. This is the year Jeff and I hope to explore owning a home and starting a family, two things that are largely out of our control. With Studio DIY, there are a lot of big projects I want to take on that I hope will grow the brand into what I see it being in the long run. In case you didn't know, a control freak mixed with lots of big uncertainties is a recipe for insanity, but I am really excited to see what this potentially life-changing year could bring and I'm ready to face it HEAD ON! Let's do this 2015. You ain't got nothing on me.
If you made it this far, I owe you a donut. What are your goals, hopes or dreams for 2015!?