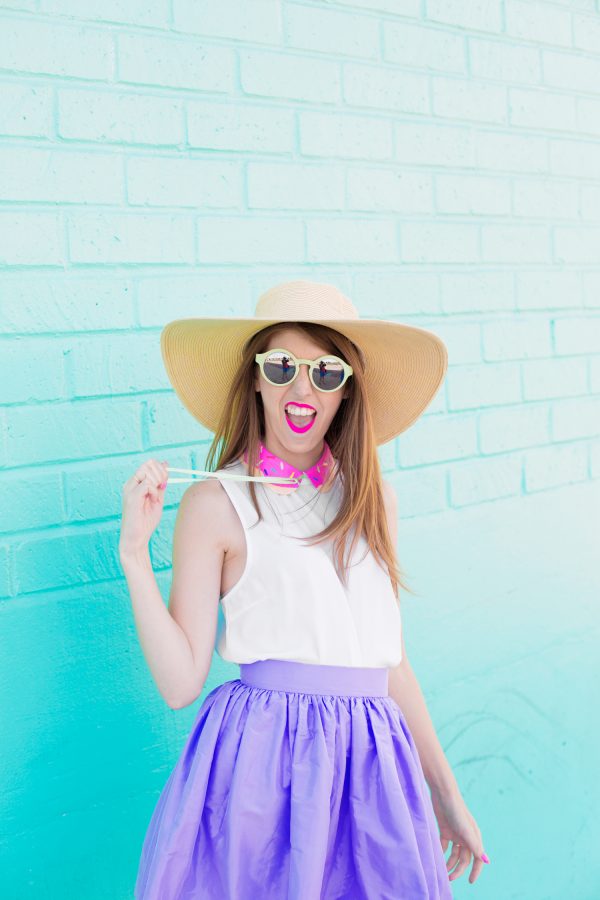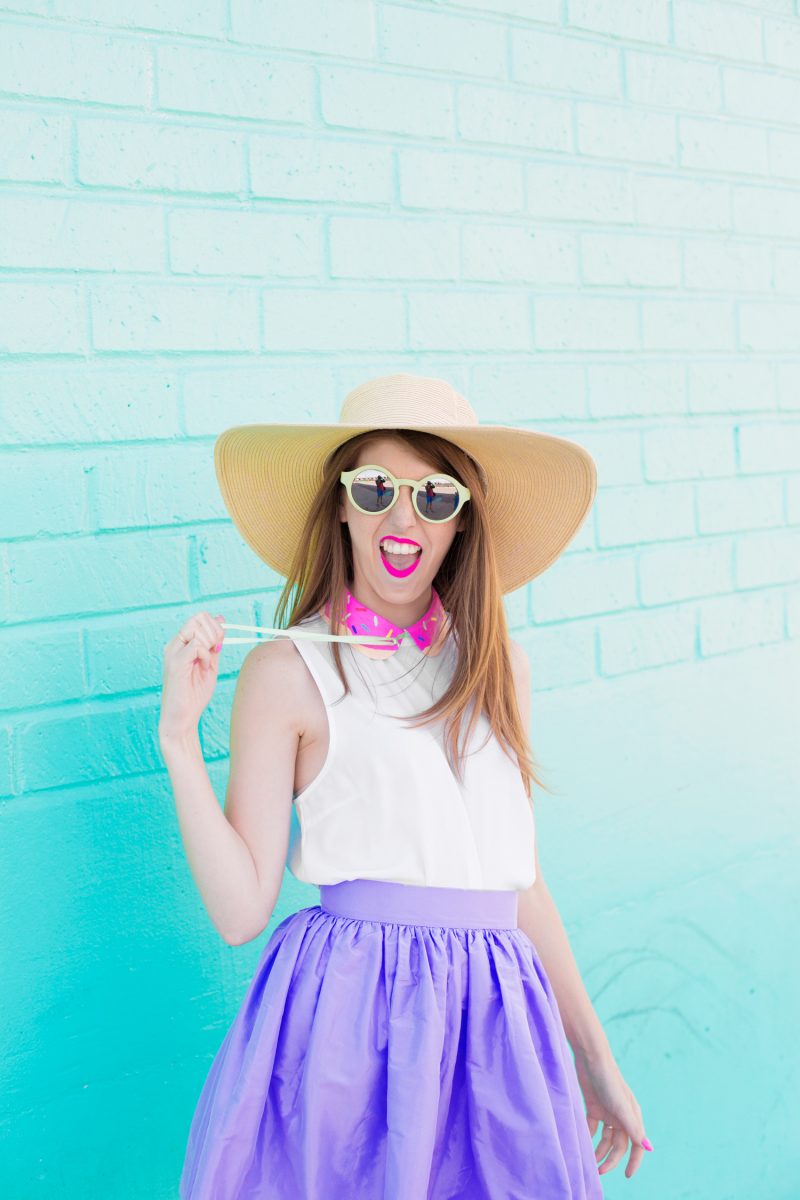 Welcome back you guys! I've tried to start this post about 100 times and all I can think is "wowowowowow." 2016. It was a true doozy wasn't it? On a global level, can't say I'm sad to see 2016 see itself out. And on a personal level, I can't say I'm sad to kiss it goodbye either.
That was an uplifting beginning to a post, huh? In case you're new here, every year, my first post back after the holidays is a little review of the past year (the ups and the downs) and then a bit about my goals for this next year. Oh, and some embarrassing outtakes. This year I have a LOT to share, so there's actually a few posts coming at ya! But for now, let's start with the top posts of the year before I dive into the deep stuff! 😉


In no particular order…
Circus Animal Cookie Pillows | Floating Glitter Tumbler
My Colorful Fall Capsule Wardrobe | Cereal Bowl Cake
Ornament Pillows | Circus Animal Cookie Costume
Graphic Laundry Baskets | Lisa Frank Zebra Cakes
A good mix there, you guys!! I think the ornament pillows were my personal fave. =) Now, let's chat.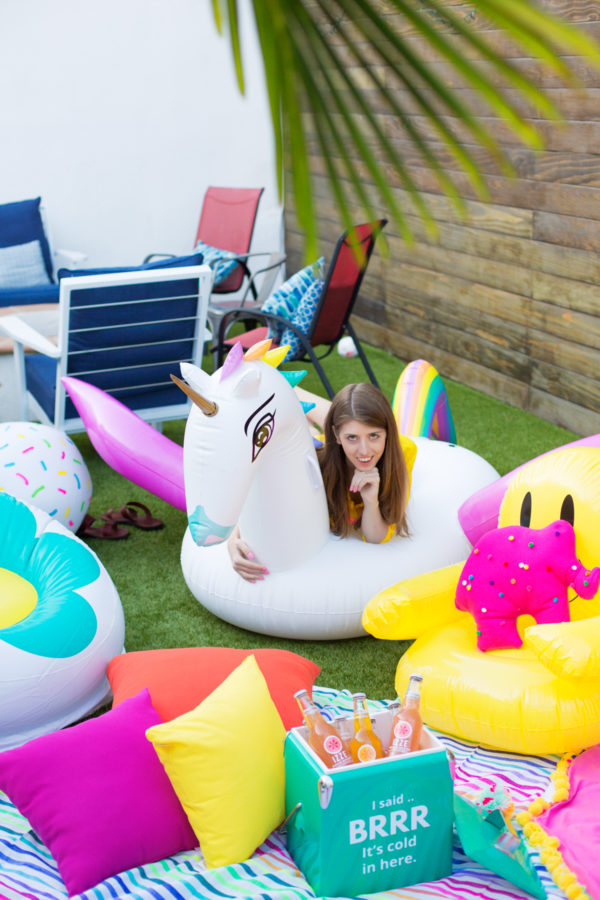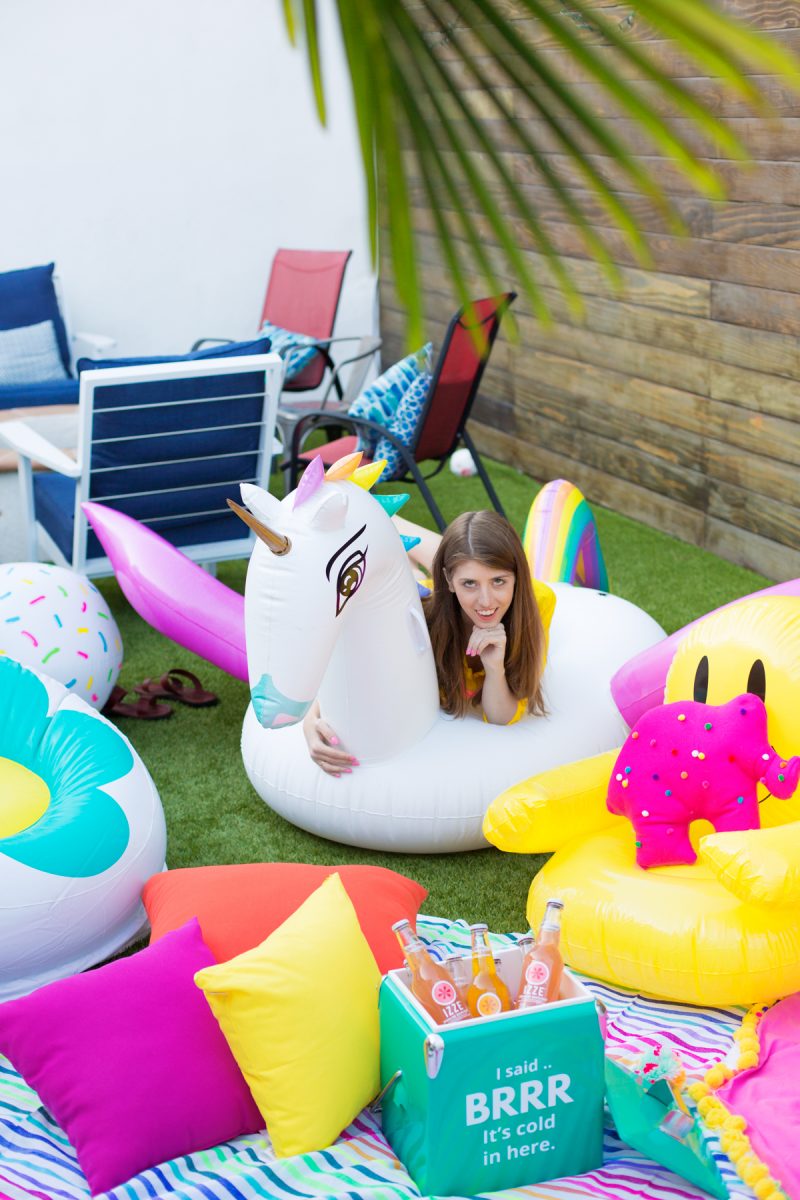 I'm finding the rest of this post hard to write, because honestly, a lot of what I have to say isn't uplifting. But I think it's important sometimes to share this stuff. In a weird, twisted way I think we all get dragged down by social media and how perfect it is. So this post every year is my opportunity to remind you all that while yes, I am very lucky, there's a lot to it that is really really hard, too. We're all in the same boat, gotta keep reminding ourselves that.
I called 2015 "The Year of Growing Pains" and when I thought about 2016, only one word came to mind…. failure.
Yep, failure. Seems ridiculous considering I achieved my dream of launching a product line, I started a YouTube channel, I stayed married to a great guy, I traveled, I worked with some amazing brands, I was able to pay my rent and I grew my team by two people. But as a deep down, true perfectionist, despite all of those amazing things, I felt like my time was strung so thin that I didn't give anything my all and was just a bumbling, stressed out mess. And in a perfectionist mind, that means I failed.
I failed at getting (or, staying) pregnant. Again. I failed at taking care of myself. I failed at remembering things: birthdays, holidays, anniversaries, events, dinners with friends. I failed at meeting deadlines. I failed at being a good wife, a good friend, a good business partner, a good boss. I failed at delivering the content I wanted to deliver here on the blog, I failed at making our YouTube channel what I wanted it to be and I failed at engaging with you all on Instagram the way I wanted to. I failed at figuring out how to do all those things and launch a product line.
Launching my dream of a product line was (is) the hardest thing I have EVER done. E-V-E-R. It is so so so beyond terrifying to put yourself out there in a whole new way and have no idea how people are going to react. It really messed a lot with my mind this year as we prepared to launch.
In my mind, you guys are my friends, my extended family! And I wanted to do everything I could to make them the BEST products for you. Items that you would love, that would push your creativity, that would make you smile on a bad day, that would bring a little bit of Studio DIY into your life even if you didn't have the time to DIY things from scratch. I was a MESS before both launches. Heck, I'm still a mess. I'm crying right now actually, ha!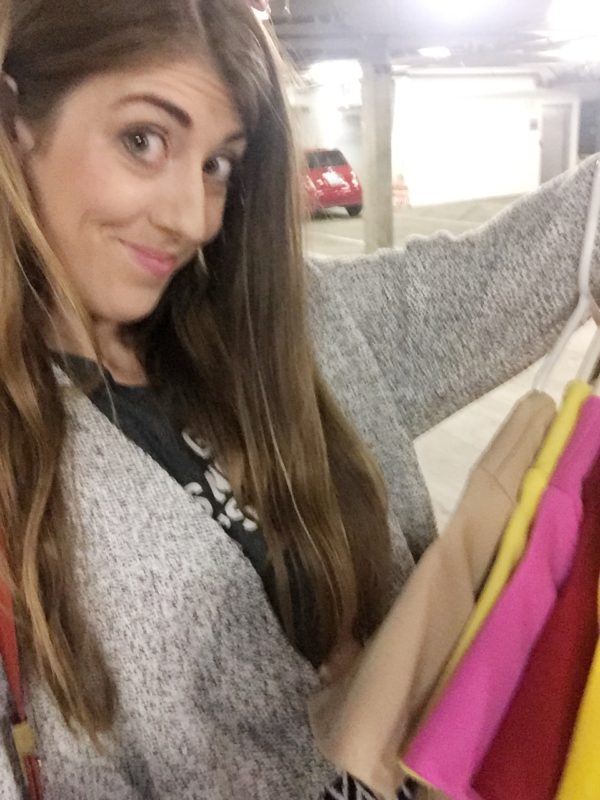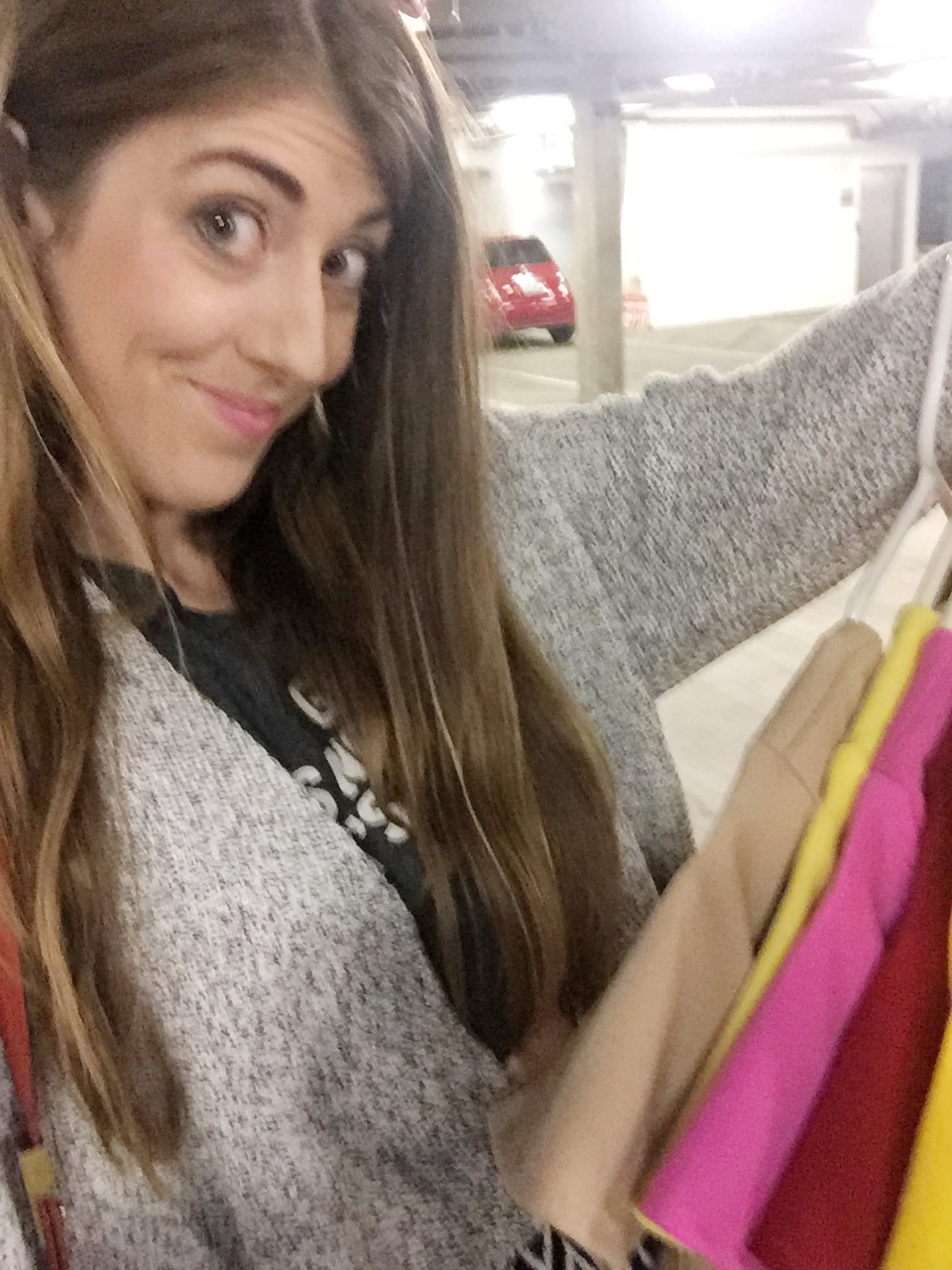 I don't think I ever told you guys this but… about three days before our big photo shoot for our Halloween costume shop, none of our dress samples showed up. We had a team of 10 people and 10 models booked for a shoot and all we had was a black dress test-sample and that wasn't going to cut it. So in addition to preparing 50+ costumes, I pulled two all-nighters to find fabric, deconstruct the black dress, create a pattern and sew all the samples myself to photograph. It was crazy!!! But that's just what I do. I always find a way to make it work.
But let me tell you, it was all worth it. 🙂
I've since cried many a happy tear seeing you guys out in the real world with OUR products!! Things I worked for over a year on, things that I loved while also questioning "Will everyone else love this like I do?" Things I cried over. It feels SO good to have your support and to hear your positive feedback. To know that you put your faith in little ol' me!
It's such a different feeling than putting out blog content and it just really blows my mind, still to this day! Especially in regards to the clutches, and how impressed you all are with the quality of them for the price. When you put it all on the line and make everyone crazy trying to find the best quality but keep the price affordable, it feels really good to hear it was all worth it.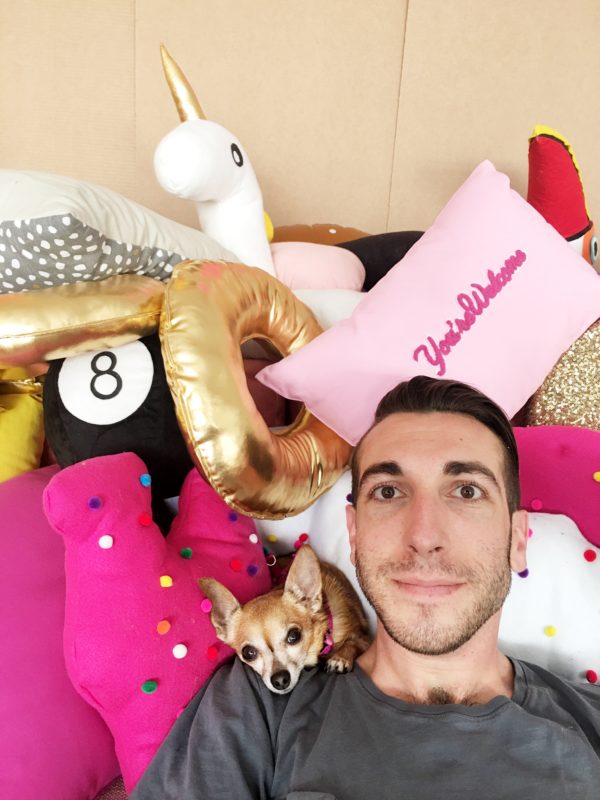 So here's the thing about failure. It's so important. Perhaps the most important, actually. Failure teaches you a lot about yourself, about what you've done, how you've done it and how you want (or need) to move forward. This year, it taught me that I can't run a blog, launch a Youtube Channel and open a shop and do it all gracefully and without failure. I've put so much pressure on myself to grow my business and my income so that when there are kids in the picture, I can actually see them without worrying about my business crumbling.
Usually as the new year hits, I'm feeling ready, with a focused vision for the year ahead. But I haven't quite gotten there yet this year.
I'm still picking up the pieces of myself and my life and figuring out what matters and what I want. I know that I want this business, I still want to share with you and inspire you all every day. That I'm beyond excited about the new products we're launching this year. But I also know that I want friends. I want a husband who I actually say hello to in the morning and not just "Did you edit those photos?" I want a family. So badly. I want a home that feels like home. I want my team to look forward to coming to work every day and to be proud of what they're doing, and for them to see a boss who is proud of it too.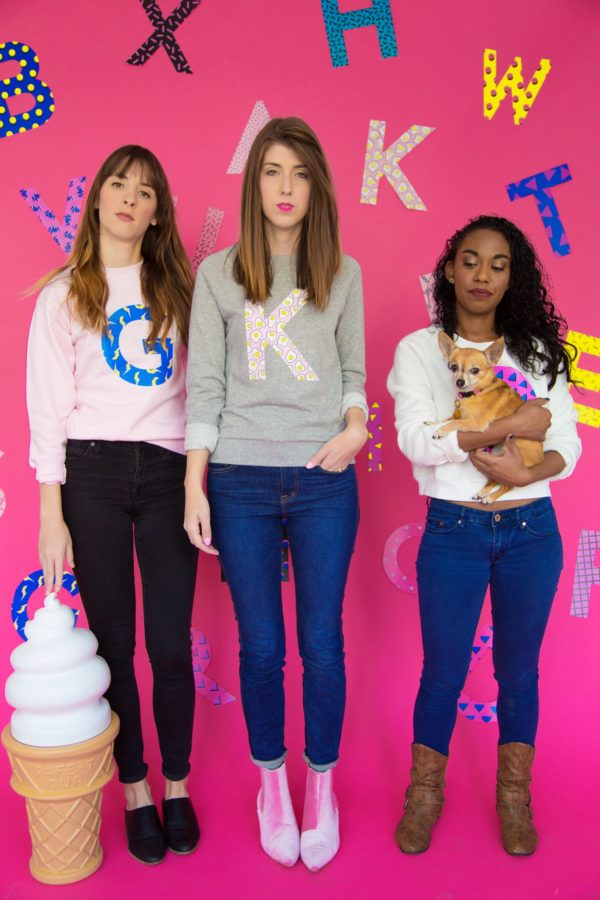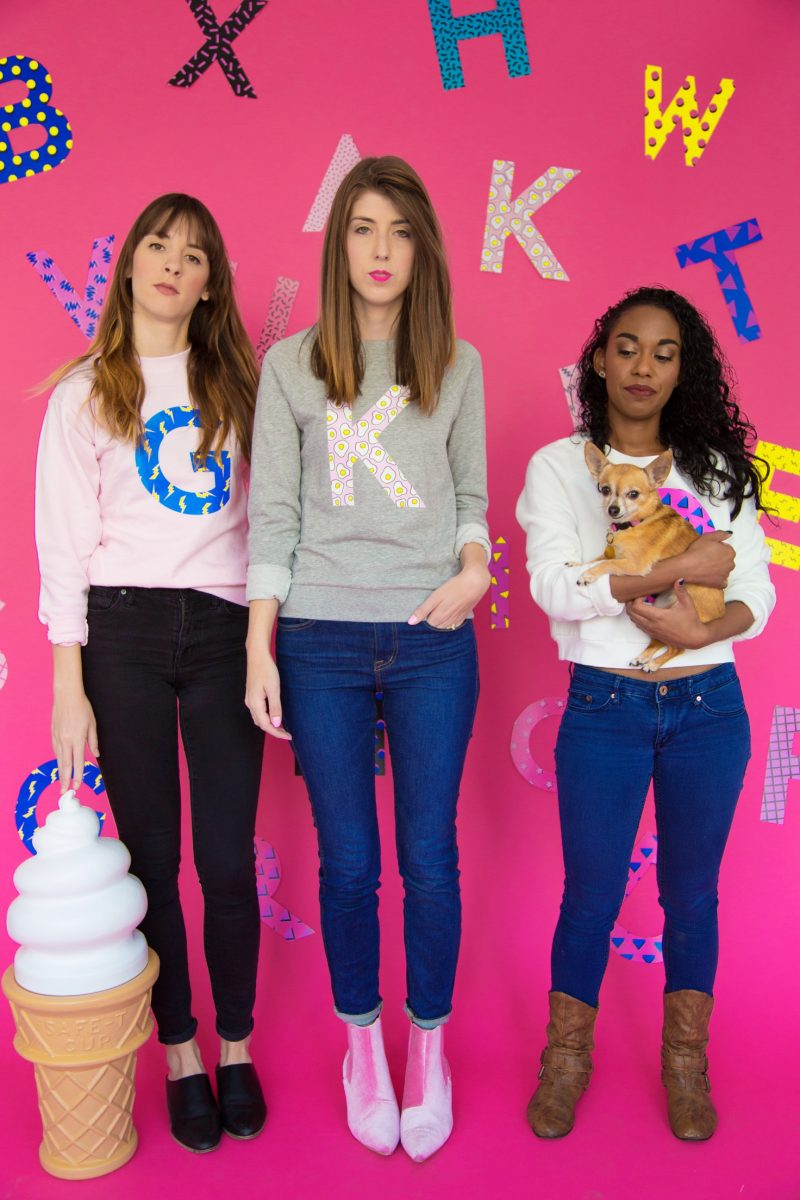 I also want to figure out how to share my life, and everything else I want to share, with you on social media, without feeling like social media owns me. And how to manage producing content and products, so you can bring Studio DIY into your life in more ways than one.
And I'm hoping you'll all stick around as I, probably un-gracefully, figure all this out. As I explore changing up our content a bit this year. To share a bit more of me here on the blog, too. How do you guys feel about that? Still plenty of pretty DIYs and recipes and new products to be excited about, but I also think I'm finally ready to get a little more personal on a regular basis here too.
This is getting long but I just had to get it all out. And it feels good! I had kind of the worst year ever, and I have my work cut out for me in 2017, but I really have YOU all to thank for getting me through it each day! Every photo you tag me in, every message and snap you send me, it builds me up so when I feel like a "failure" I know why it is so worth it to keep going. I don't think you'll ever know how much that means to me!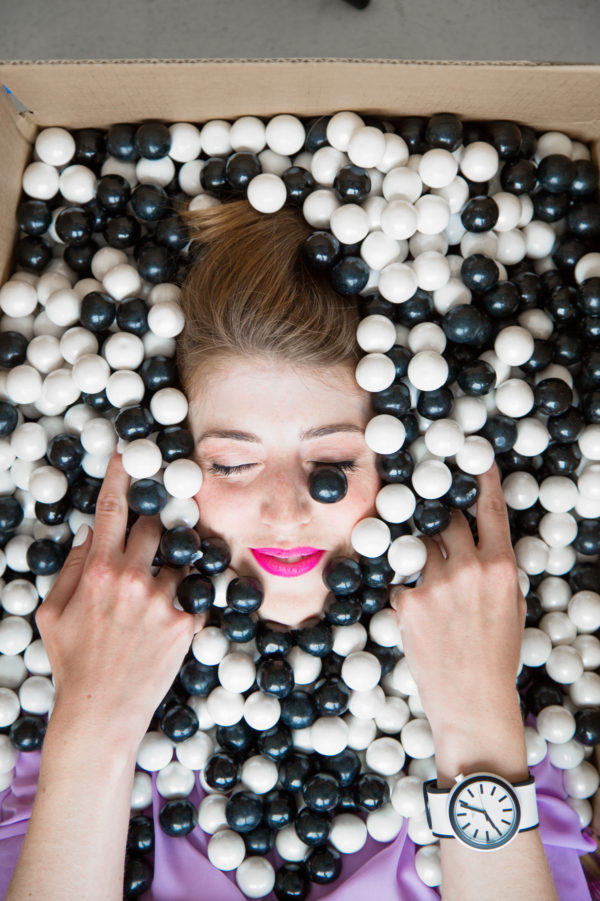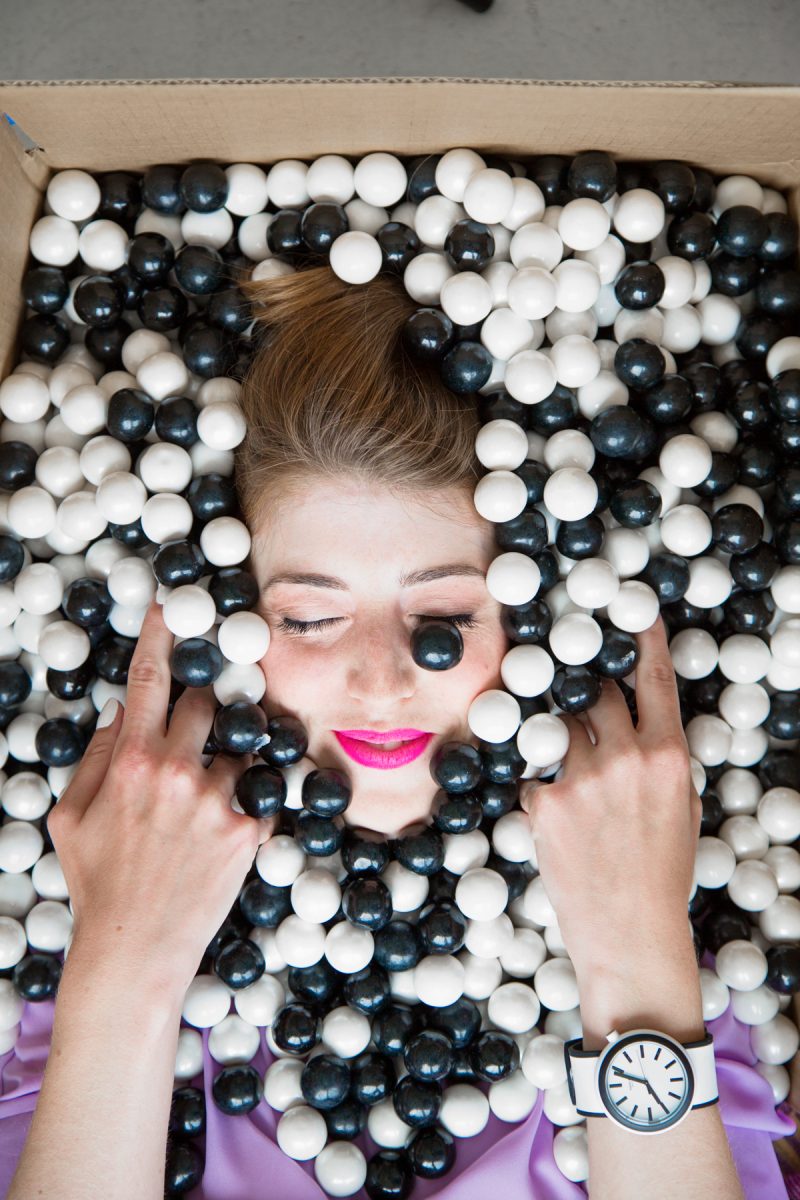 Now for a little review of where I am on last year's goals (bolded in the paragraphs below), and a list of my 2017 goals too.
I'm still not pregnant. I imagine several of you are awaiting a fertility update since my last one and I actually have a separate post planned to discuss where we are with all of that since this post is already long and I have a LOT to update you on. Having my second miscarriage wins as the hardest "failure" of the year. This holiday season was especially tough as a result. We were really hoping to celebrate this Christmas with a baby in our arms, or at least in my belly, and it was not easy to watch all the Instagrams and stories of everyone else who got that chance. More soon.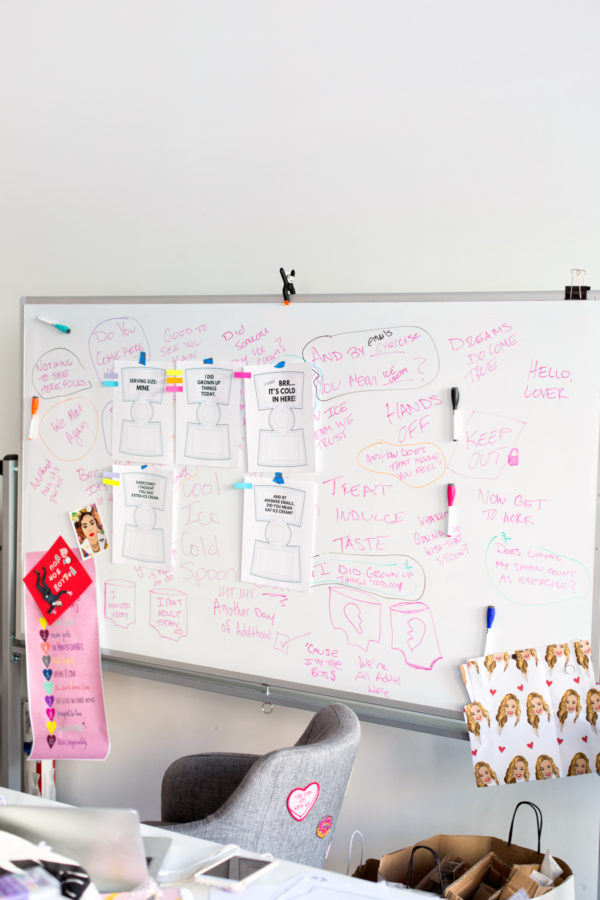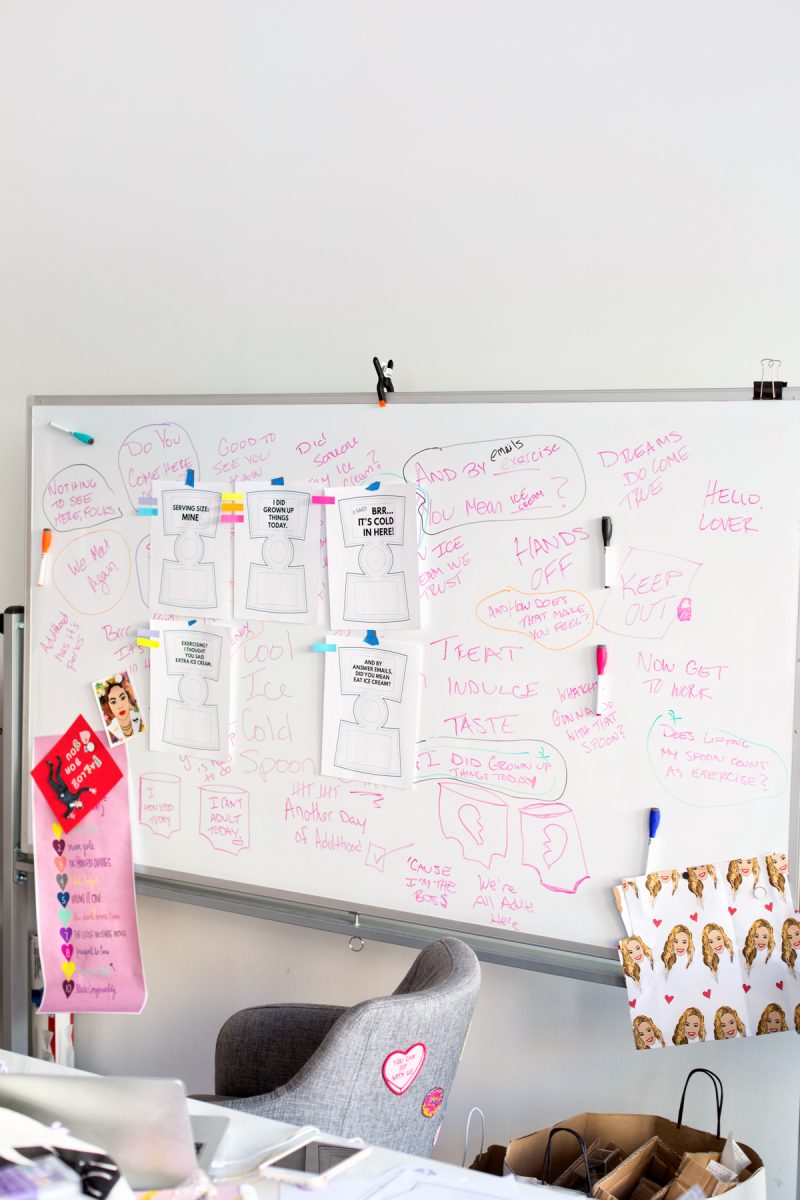 I feel like I did good job diversifying my content and making more useful DIYs, but am still having trouble standing out now that wacky and colorful style is the norm. I actually have a post coming tomorrow about just that, and I'm really hoping you'll weigh in!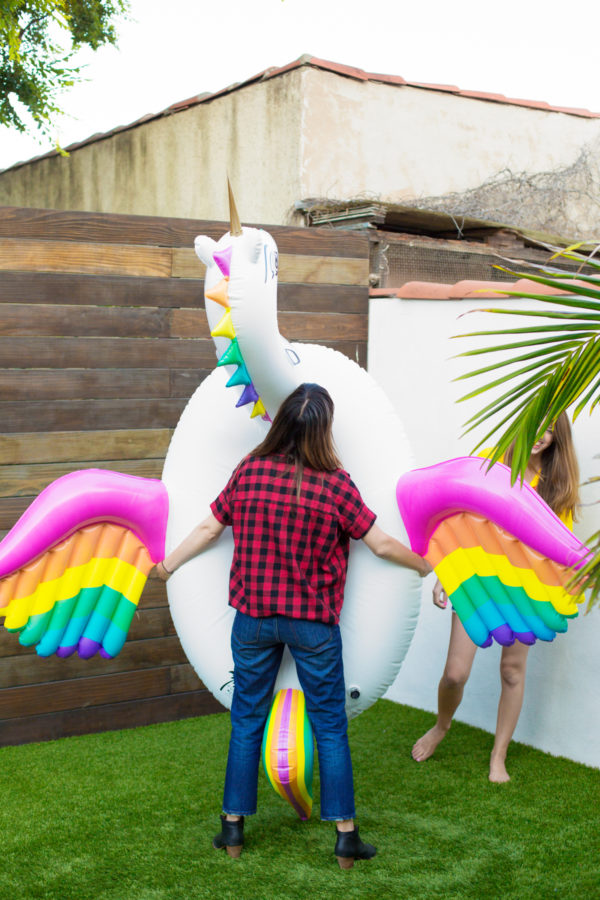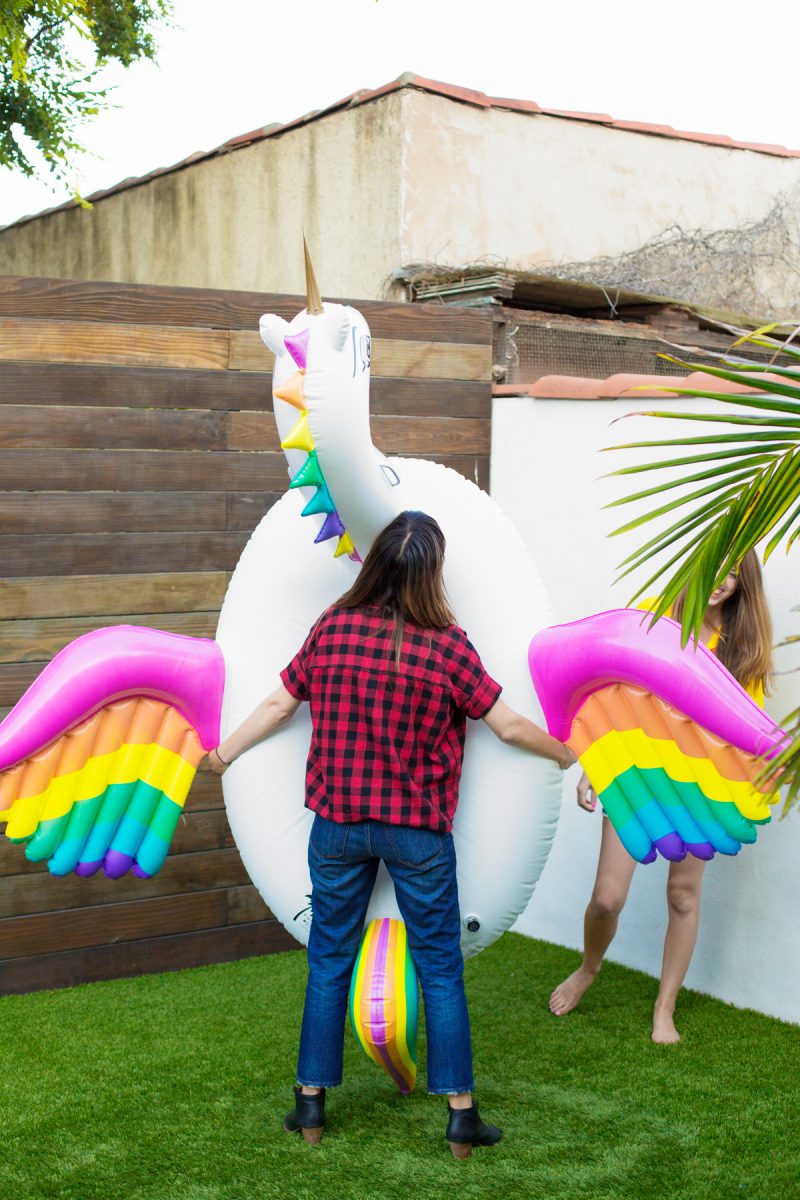 I flossed almost every day this year!!! But that's about where my "take better care of myself" goal ended. I didn't pick up a book once. I've continued to learn a lot about patience but haven't mastered it and sadly didn't get to take a dance class.
I did (!!) succeed in making Studio DIY more than a blog with the launch of our YouTube channel (Have you subscribed yet!?) and shop! I think I've gotten a little better at making decisions but there's still significant room for improvement.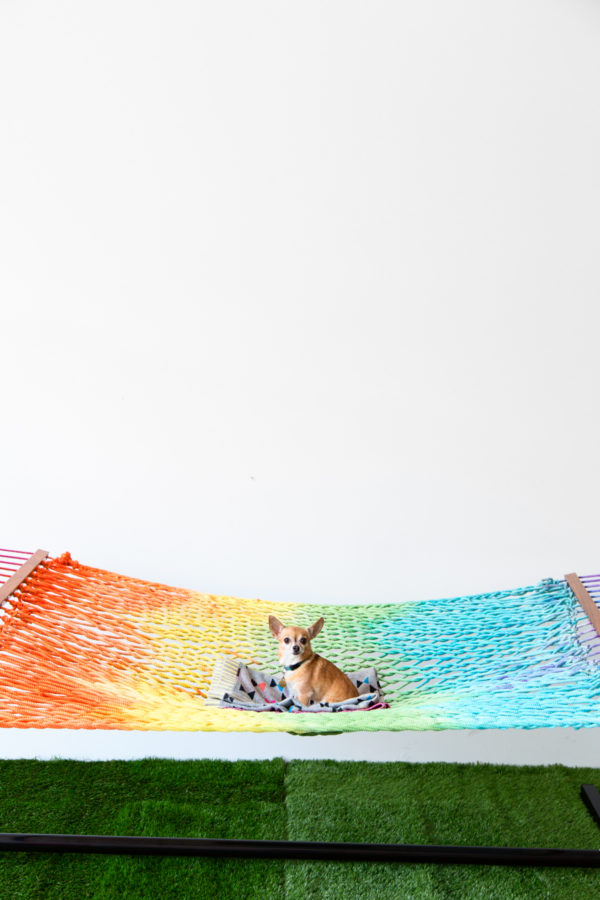 I was REALLY good at sharing your photos for a good part of 2016 and then fell off the wagon. We've also got a post coming about that though too! =) And last, I did a pretty awesome job of kicking my hoarding tendencies in the butt! I cleared out a ton of stuff in my closet, my house and the studio and I'm pretty proud of that.
So now how about 2017!? Here are my goals for the year.
1. Grow Our Family: Third year in a row that this is ranking at the top of my list. Hoping this is our year.
2. Buy A House (!!!): If we're gonna grow that family, we're gonna need some more space to do it in! We are REALLY excited to buy a house this year and document as we renovate and decorate it! I've never don't a ton of home content here but I'm excited to give it a whirl!
3. Dance: I failed at joining a class and don't know if it'll happen this year, so my goal is to just DANCE more. I am never happier than when I'm dancing. I actually just finally joined Musical.ly for fun and am having a blast with it, if you want to follow along there! (I'm @studiodiyofficial NOT @studiodiy, someone is impersonating me on that one.)
4. Read Every Day: This is non-optional this year. I'm debating whether I'm going to read every night before bed or every morning. Do any of you have suggestions for a time or schedule that forces you to read every day? (I'm not good at audio books, I've tried. My mind wanders too much!)
5. Bring More Conversation (and Voices?) to the Blog: There will be more about this in tomorrow's post, but I'm excited to try to bring more conversation back here.
6. Try Monotasking: I am a multi-tasker through and through, but this year I've felt like I get absolutely nothing done anymore because I'm always jumping from thing to thing. I want to try to start blocking my tasks so I'm focused solely on one thing, like writing a blog post (without checking email 10 times) or eating dinner with Jeff (without scrolling Instagram).
7. Document the Good Stuff: I downloaded an app called "1 Second Everyday" per my friend Caroline's recommendation and you record just one second from every day in the year and then come NYE, you have a video of all the good moments from the whole year! Jeff is taking a different route, and filling a jar with notes of the good stuff that happens each day. I think it will be good for us, so we can remember the good amongst what is sure to be another crazy year.
8. Say No: Most people I talk to make a resolution to "say yes" but I've done that and I'm at a point where I need to get better at saying NO. I'm a people pleasing perfectionist and saying "no" to anything is hard for me but I'm trying to learn.
9. Do A Creative Project for Myself: Making my ornament wreath was probably the most fun I had all year because I didn't have to take photos of it for the blog or figure out a tutorial from scratch. It was just really fun to make something for me. Hoping to do this again in 2017, not sure with what though. I have been wanting to make a arm-knit blanket but that seems ambitious. We'll see!!!!
10. Feel More Money Confident: I'm not good with money. It scares me. I always feel like it's running out, even when I know it's not. My go-to whenever I talk to our account or financial advisor is "Umm… sorry I'm not good at this." As we take these big steps in our life, I really want to get better at managing our finances so things don't always feel so unstable. If anyone has any tips or favorite resources on this, I am ALL ears!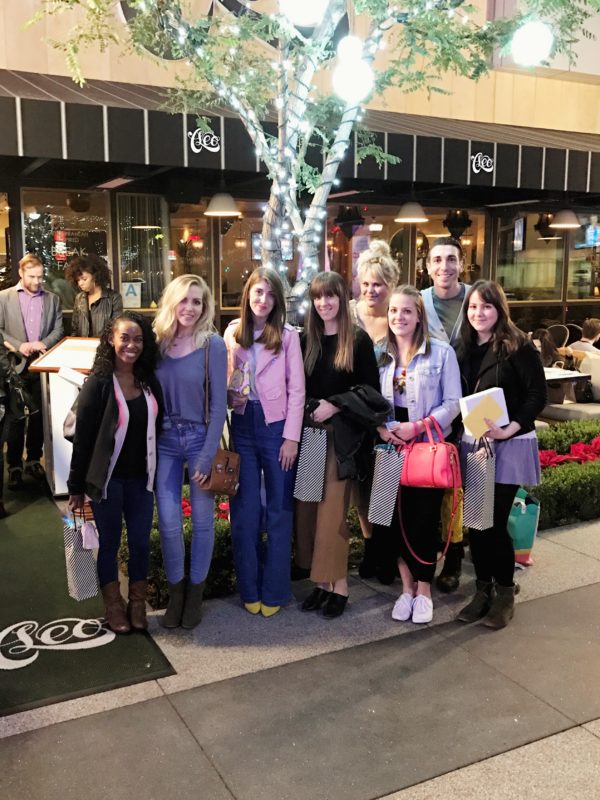 The whole team at our team holiday dinner! I have yet to convince 90% of them to wear color. Hahahahah!
I'm not writing this on the list because it's more of a lifestyle change and less quantifiable, but I'm really hoping to gain a little more balance and perspective in my life this year. I suggest you watch/listen to this video for many reasons. But to focus on one, Jeff and I are both full-fledged phone addicts and we need to change that. Immediately. I'm also hoping to really focus in on the things that I love and the things that you love and cut out all the "fat." I think it's going to be a scary but REALLY exciting year!?!?!?
Thank you always for taking the time to read these crazy long posts. And for letting me be vulnerable and chatty and an emotional basket case. I look forward to sharing more about me this year, and to learning more about YOU too.
So tell me… what are your goals for 2017? Tell me in the comments below! I love you guys so much!!!