The baby naming game is double the fun when you're talking twins! Unique twin boy names can be tricky if you want something a bit traditional, a bit modern and two names that sound good together but aren't too similar either.
We're sharing a mix of both classic names and new that make for the cutest twin boy name pairings. Let's dive in!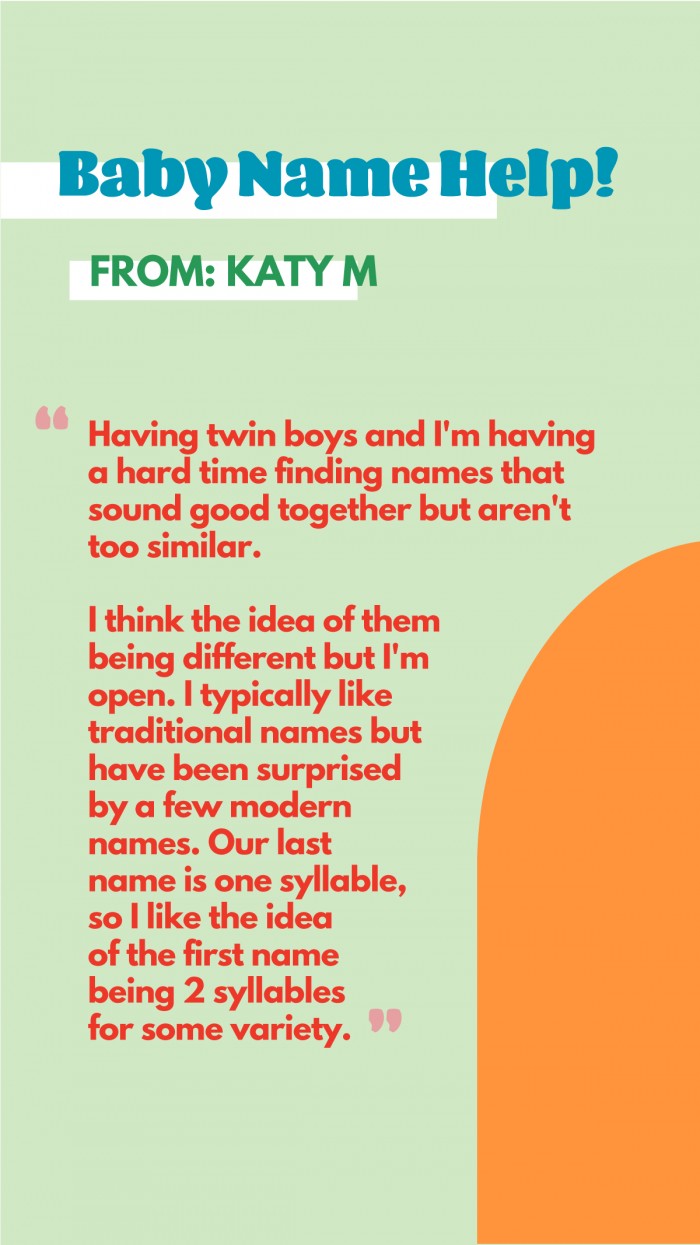 Katy M is expecting twins! Here's what she's looking for in their names:
"Having twin boys and I'm having a hard time finding names that sound good together but aren't too similar. I think the idea of them being different but I'm open. I typically like traditional names but have been surprised by a few modern names. Our last name is one syllable, so I like the idea of the first name being 2 syllables for some variety."
Keep reading for our suggestions!
Traditional & Unique Twin Boy Names
Just because a name is traditional, doesn't mean it needs to be common! There are many classic, old fashioned boy names that aren't frequently heard but will always be timeless baby name options.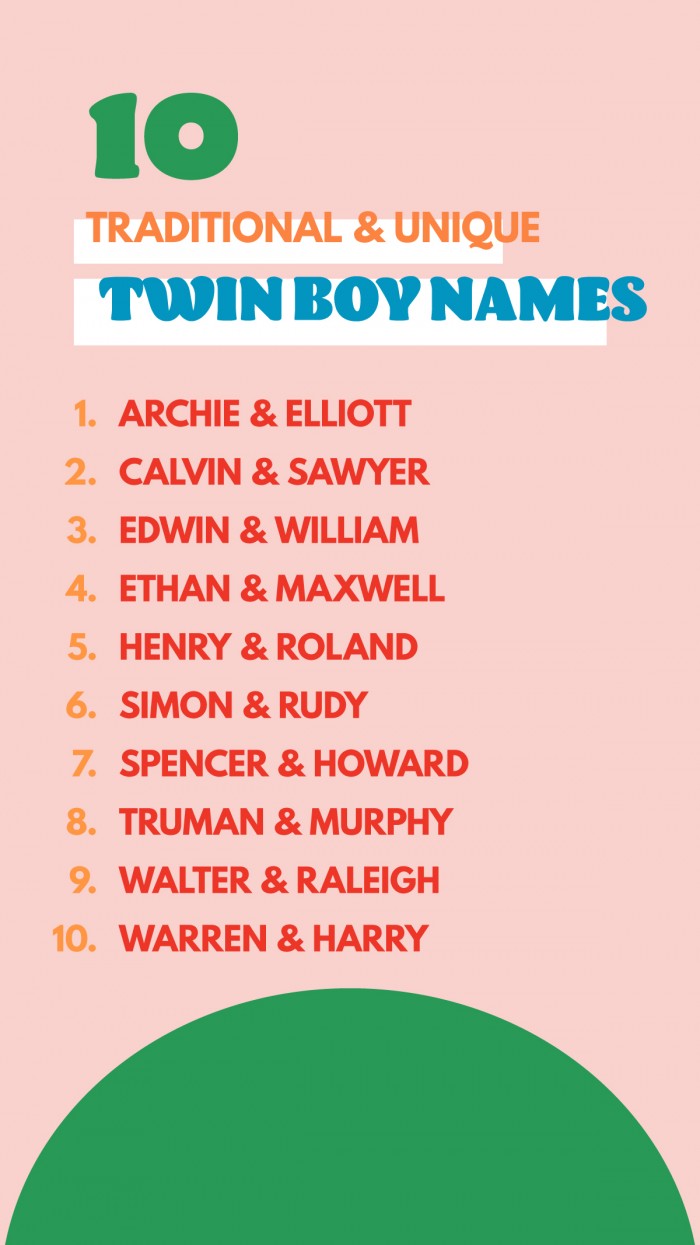 Here are a few traditional baby names that sound great together:
Archie & Elliott
Calvin & Sawyer
Edwin & William
Ethan & Maxwell
Henry & Roland
Simon & Rudy
Spencer & Howard
Truman & Murphy
Walter & Raleigh
Warren & Harry
Modern Twin Boy Names
There are a lot of modern names that sound like slight variations of more traditional names, or ones that have been around for ages but have recently found a new resurgence. Paired together they make for pretty cute sets of twin baby boy names!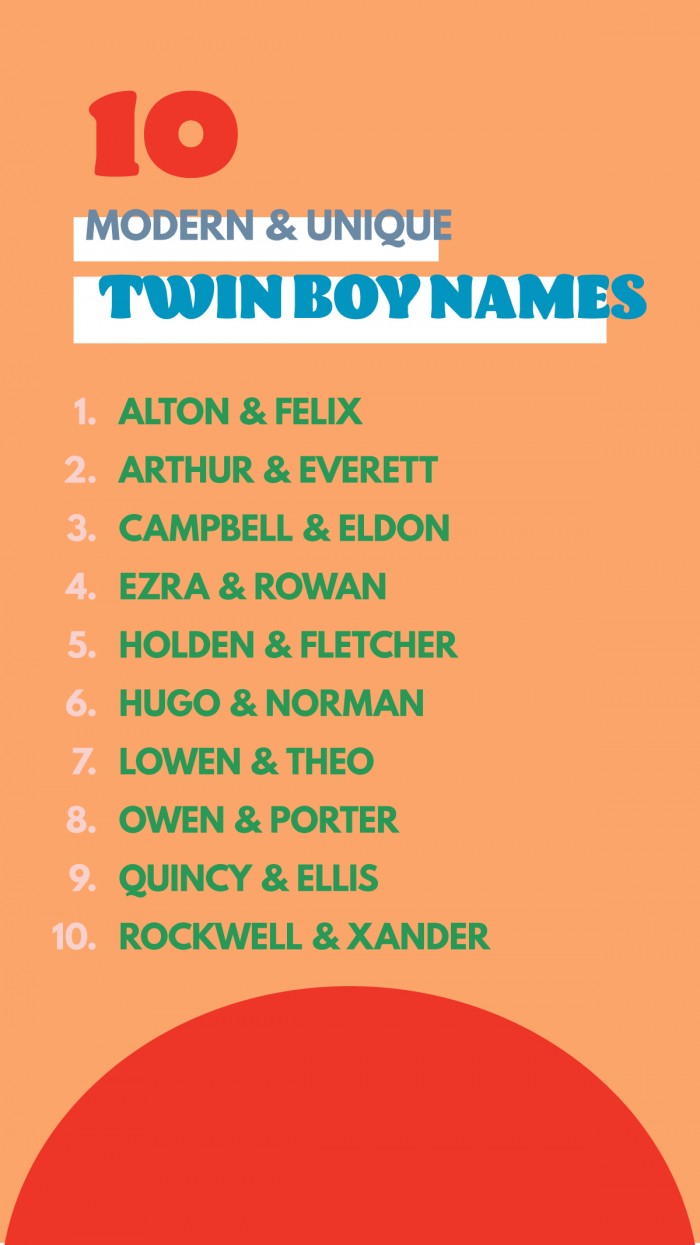 Alton & Felix
Arthur & Everett
Campbell & Eldon
Ezra & Rowan
Holden & Fletcher
Hugo & Norman
Lowen & Theo
Owen & Porter
Quincy & Ellis
Rockwell & Xander
What are your favorite unique twin boy names?
Do you have any favorite cute twin baby boy names that sound great together!? Or, would you remix any of the pairings above for another set? Let's hear them below!
Looking for more name ideas?
Congratulations, Katy! We hope you find a name you love!
If you're expecting or adopting and would like to apply to be a part of the series, click here to fill out this form about your situation and name preferences!!