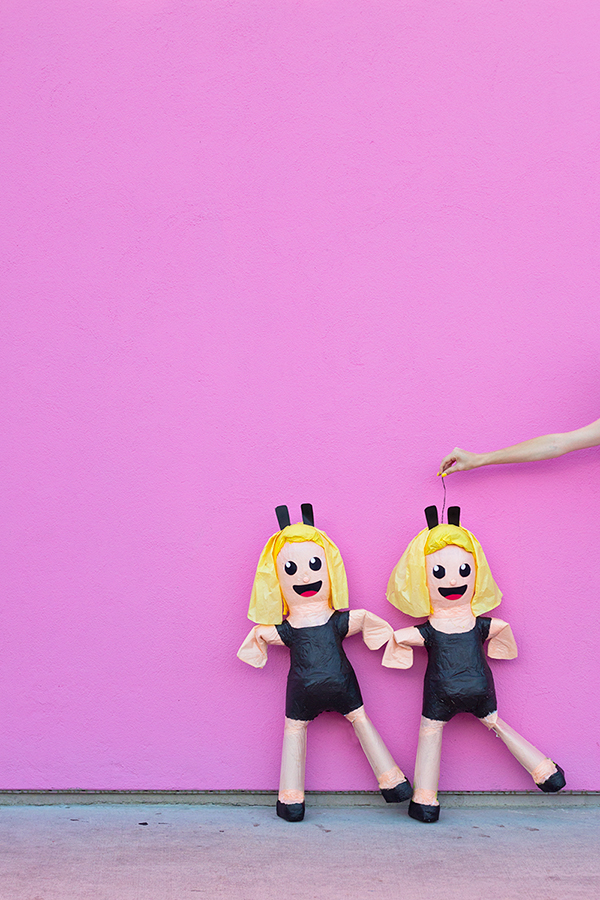 I was late to jump on the emoji bandwagon, but I jumped on HARD when I finally gave in. They just say so much, don't they? Of course, we all have our favorites, but the dancing girls just happen to be one of mine. So when I took a trip to the piñata district in downtown LA and saw some fairy piñatas… I knew I needed to bring those emoji girls to life. SO I DID! And yes, I am aware of the "real" inspiration for the dancing girls. (Do a quick search if you aren't!) And no, it didn't stop me. 'Cause an emoji piñata? It had to happen.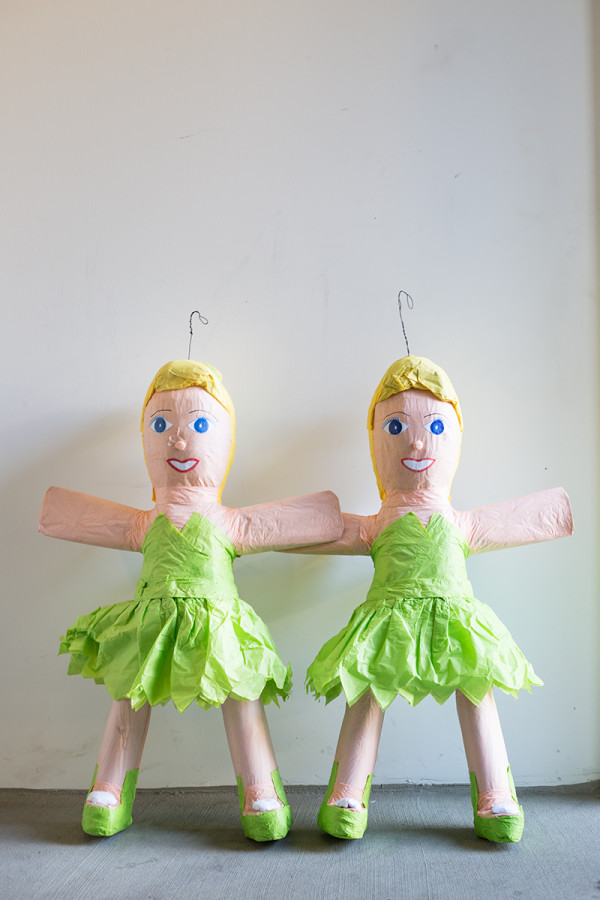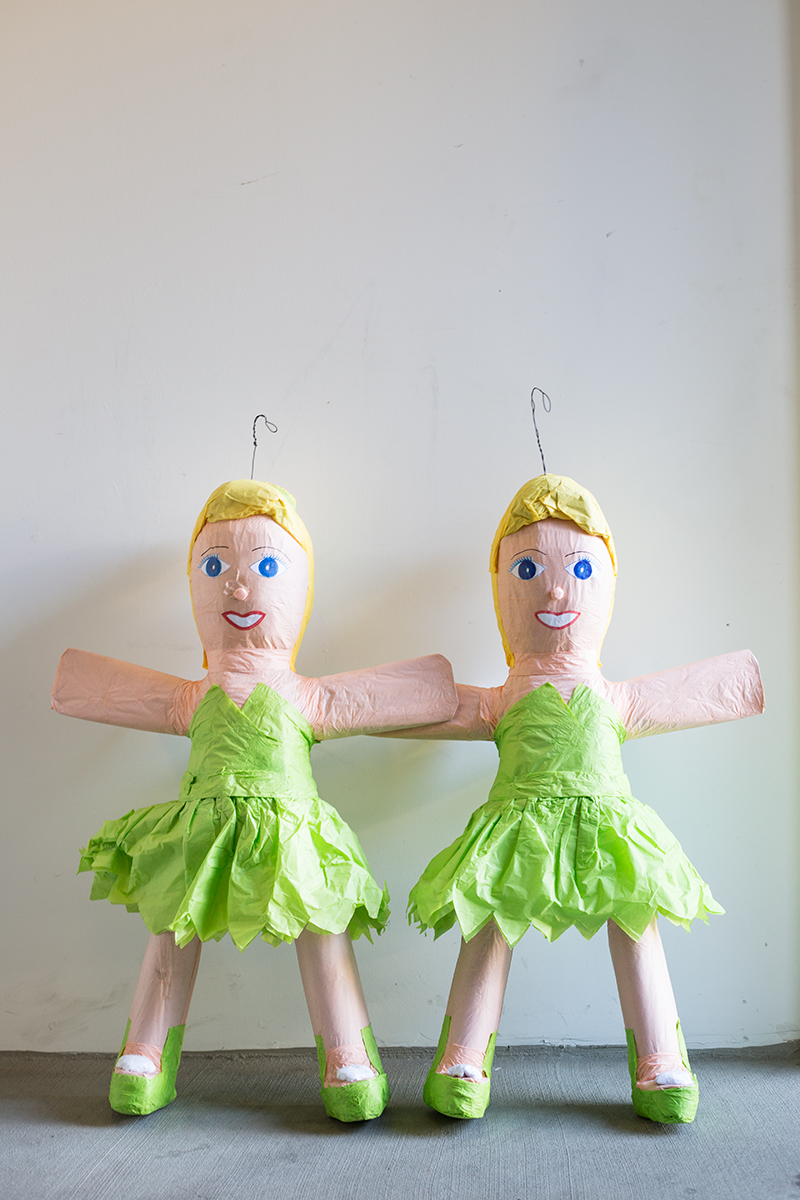 Two Fairy Piñatas
Black Paint + Paintbrush
Yellow Tissue Paper (one sheet)
Black + Red Cardstock
Hot Glue Gun
X-acto Knife
Lollipop Stick
So, it felt really creepy to post photos of me tearing apart a piñata that looks like a human, so I'm just going to write it in words. Cool? OK! Here's what I did to makeover this piñata:
1. Removed the skirt, hair bun, and the white poufs on the shoes/feet. You can basically just pull all of these off carefully. They are glued on but can usually be removed pretty easily.
2. Remove the wings. On these, the wings were a separate piece of cardboard, so I just cut it off and taped over any small gaps in the back of the piñata.
3. Paint a leotard on using your black paint. This will cover up any weird spots where the newspaper might be showing after removing the skirt! Also paint the shoes/feet black.
4. Cut your tissue paper into four equal pieces. Gather one piece at the top and hot glue to the top of one side of the head. Do the same with the other side on each piñata. If the "hair" is sticking out too far, you can glue the edge along the side of the face.
5. Very carefully remove the eyes (creeepy!) if there are any.
6. Cut out eye and mouth shapes that look like whatever version of the emoji you're making. Glue to the face.
7. To make the arms look more like the emoji, I bent them in half and hot glued them.
8. To make the leg kick out, I cut a slit underneath one of the legs, bent that leg out and stuck in a lollipop stick (glued to the leg) to hold it in place. Tada!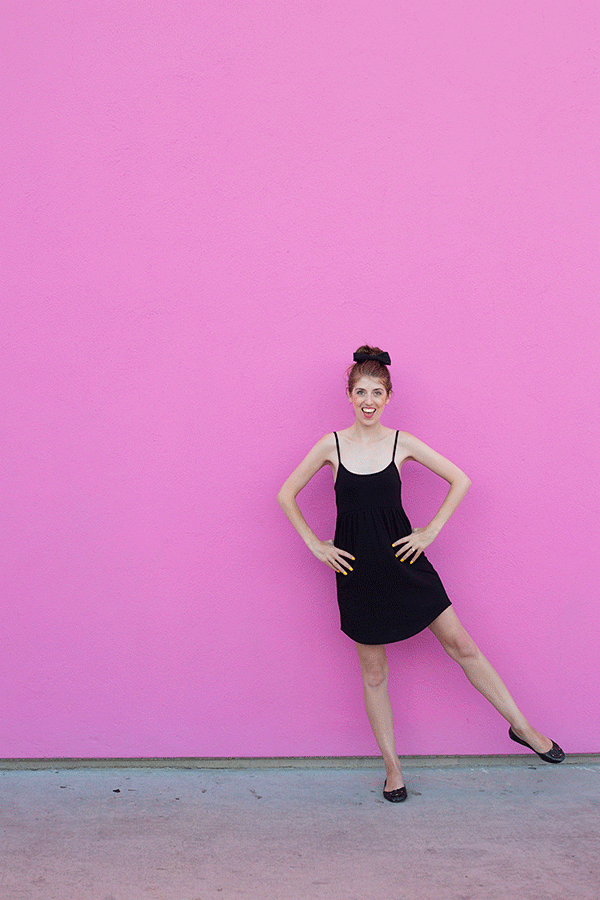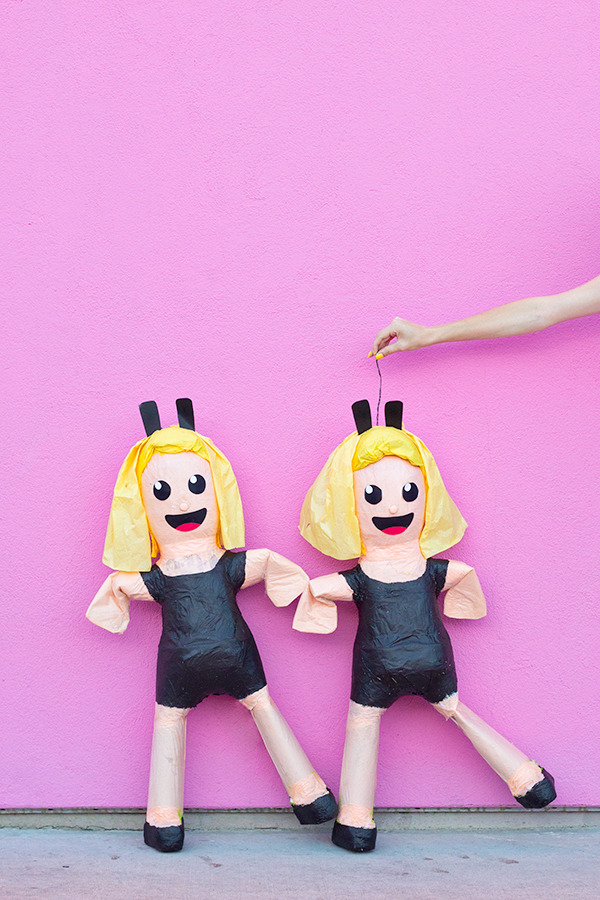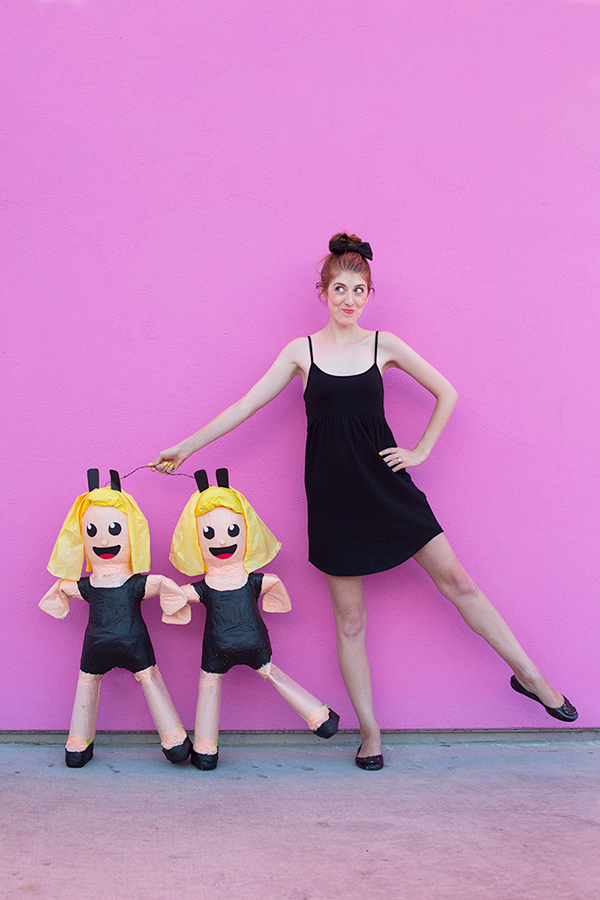 All Photos by Studio DIY
Hehe! These make me smile. They are one part hilarious, one part awesome and maybe one tiny part terrifying. But I am a-ok with that! Happy emoji-ing!
Do you guys have a "spirit emoji"? One that you feel just represents you or just one you LOVE? I think mine is the other dancing gal! But these two, they're always in my frequently used list too.