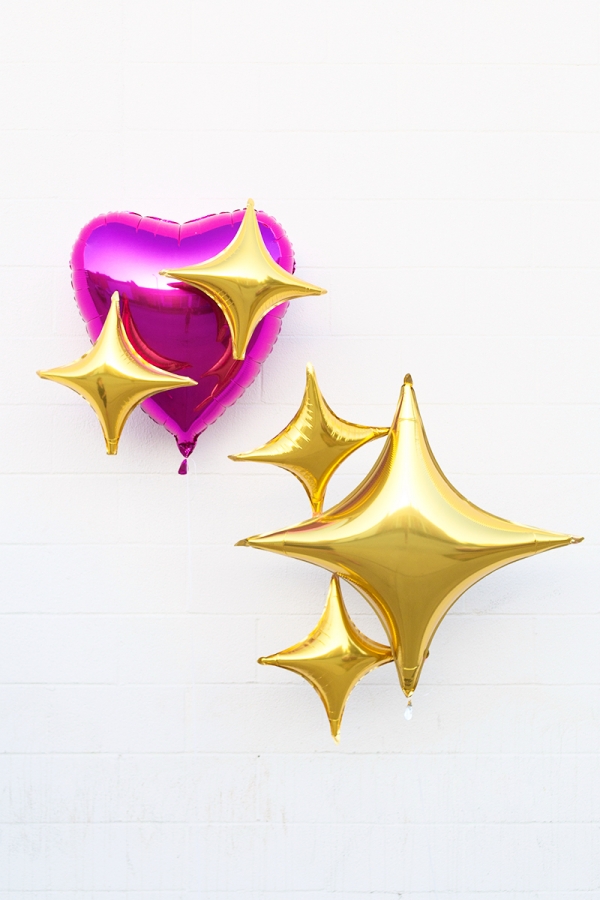 So, I was standing in line at the party store buying balloons for these when I saw these giant pink heart balloons on the wall. And then I saw the gold starbursts next to them. AND THEN I LOST MY FREAKING MIND. You guys… it was the SPARKLY HEART EMOJI just ASKING to be created! Fate, I tell ya. And then I saw the bigger starburst and knew I had to make the sparkles emoji too. Yep. So I did it. And since you guys loved the emoji face balloons so much, I hope you love these TOO! Because I'm pretty darn stoked about them.
p.s. There is a hilarious outtake reel at the end of this post that you gotta see! *Insert laughing emoji.*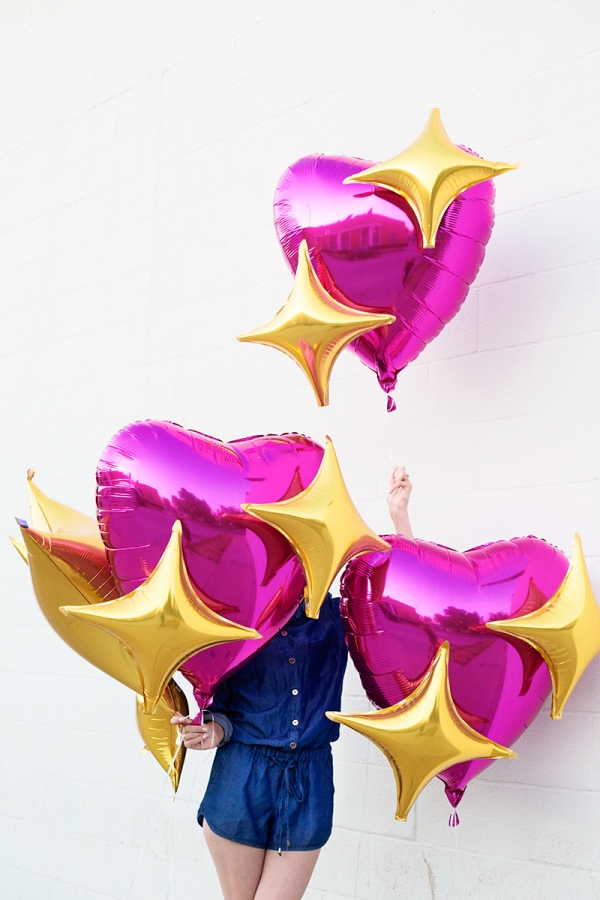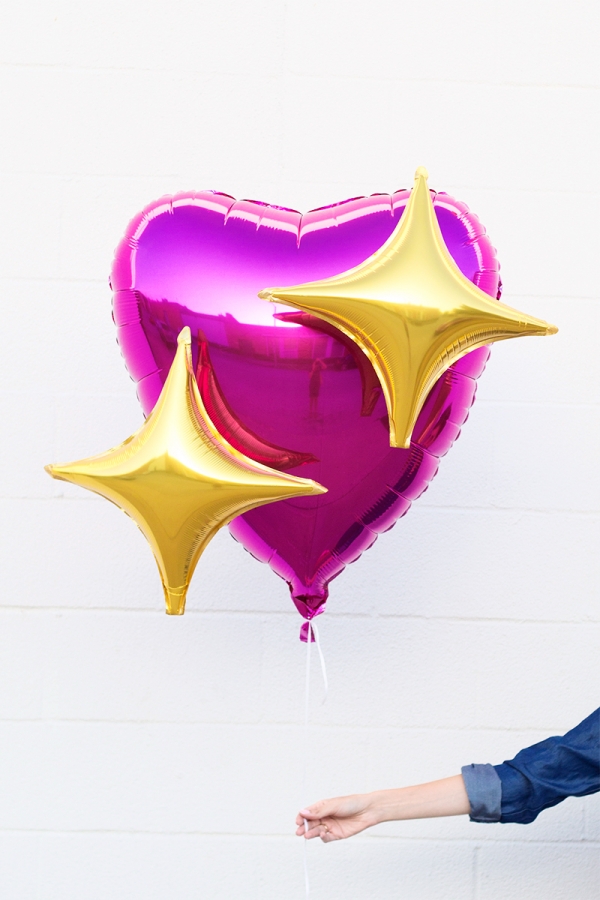 Sparkle Heart Balloon Pack
Sparkle Balloon Pack
Helium
String/Ribbon
Glue Dots, Hot Glue, Tape and/or Strong Adhesive
Scissors
*I bought all my balloons locally at Joker Party Supply, for those of you in LA!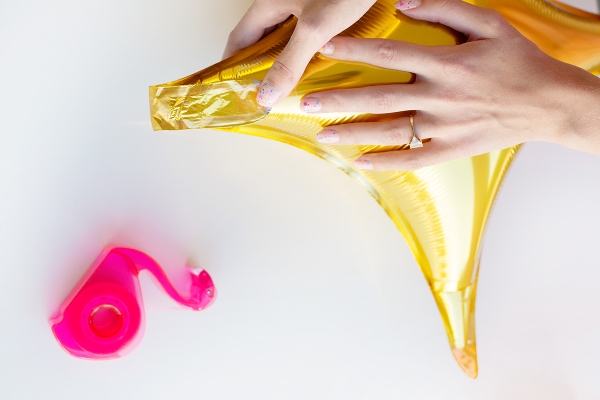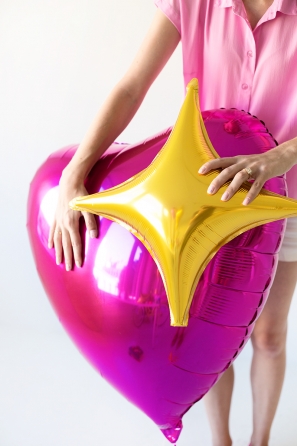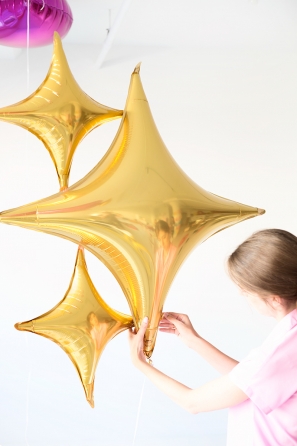 1. Inflate your balloons with helium. The smaller starbursts will not float on their own, so you can inflate those with air instead if you prefer. Tie the heart and/or large star with ribbon.
2. For the heart: Use hot glue (low setting, do not touch the tip of the glue gun directly to the balloon) or glue dots to adhere two mini starbursts to the heart as shown.
3. For the sparkles: Use tape or hot glue to tape one of the small starbursts to the top and left point of the large starburst. Then do the same with another small starburst on the bottom and left points. If you find that the balloon is lopsided, you can add an extra bit of weight to the right-side point of the large starburst. We did this by cutting about 1-2″ off the end of a large popsicle stick and taping it to the very end of the point.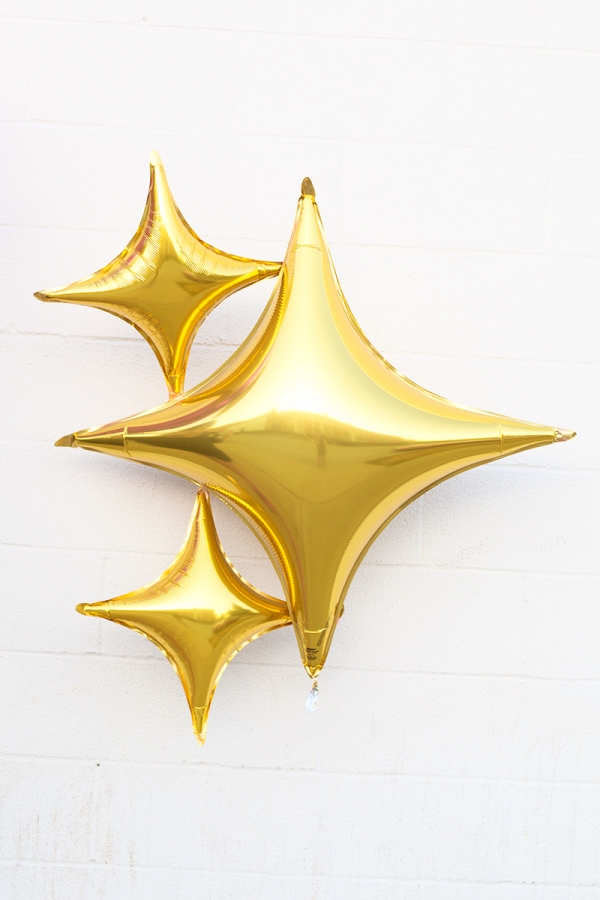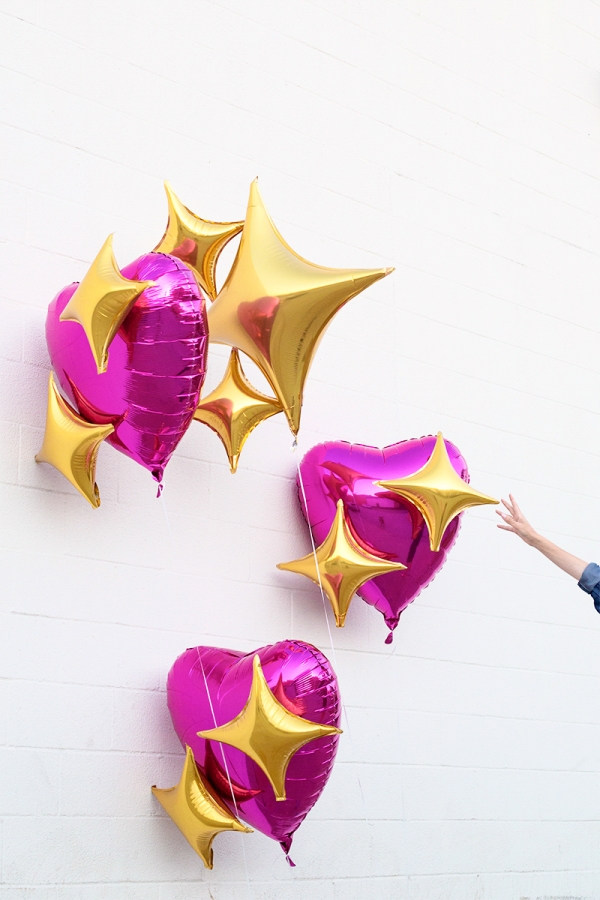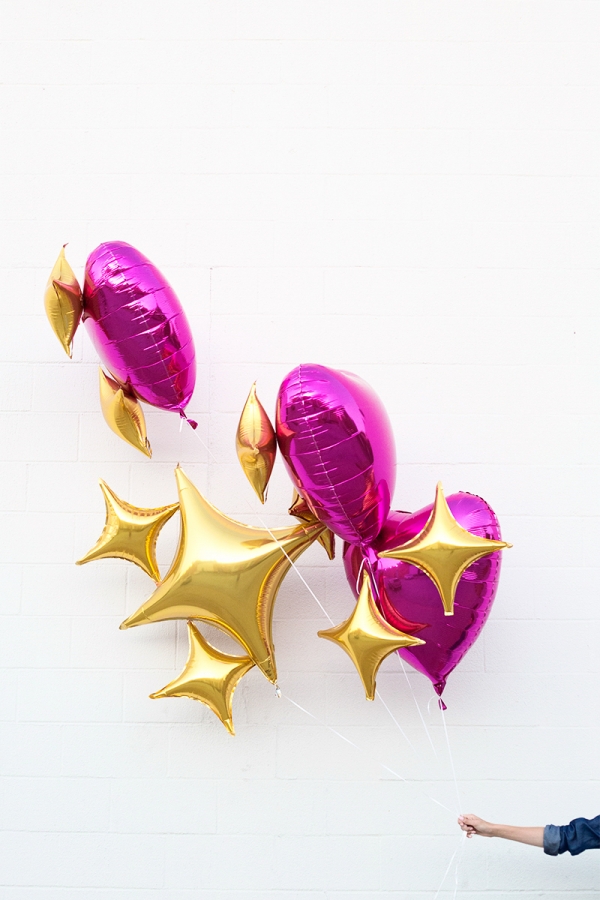 I've talked to a few other people who've tried to do balloon shoots and they always ask how we do it. Well, it takes patience you guys. I'm really stubborn and I like to shoot balloons outside as often as possible, where there's wind and cars and drunk people (No really, there was a guy who had a little too much to drink around the corner from us for part of this shoot. GLAMOROUS!). Jeff generally wants to murder me for this but I think of it as an exercise in patience for us both. HA! We've come up with a bunch of tricks to make our lives easier, but sometimes no matter what you do, you just gotta wait for the moment. So here's an outtake reel from our shoot, 'cause for every one of the photos you see up there, there's about 50 of the ones below. HAPPY DAY!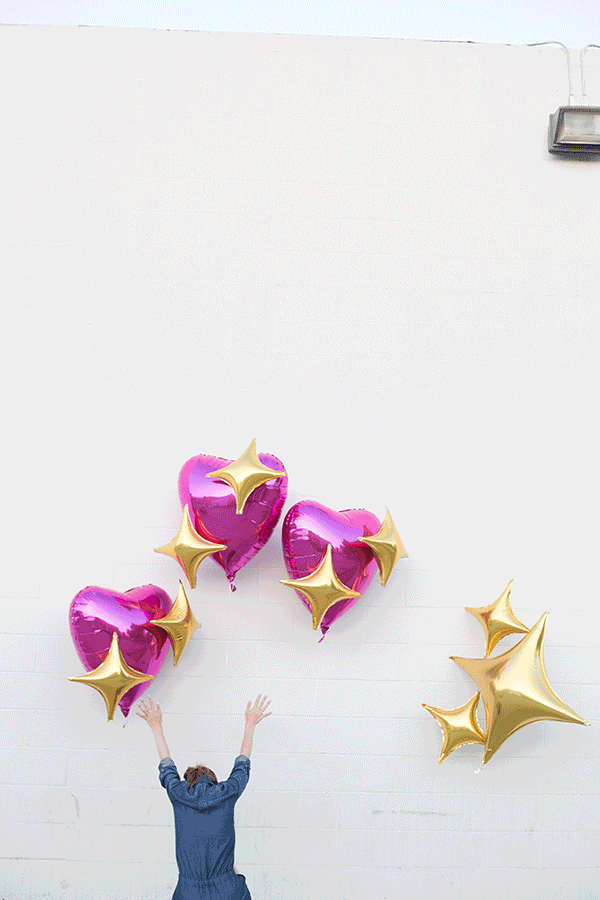 Photos by Jeff Mindell
This emoji combo is by far my fave. Ok, except it really needs the fancy dancing lady. But that would be a bit harder to balloon-ify. I'm working on it though!!!!!! For now, SPARKLY EMOJI BALLOONS!!!
p.s. More emoji balloons!