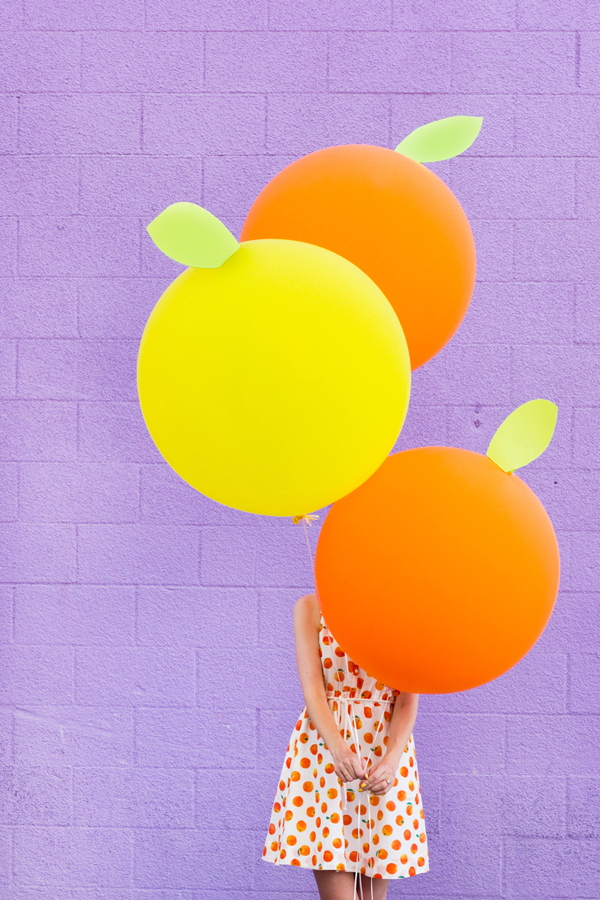 So here's the story behind today's project. Jeff and I had to go to Palm Springs for a walk through at our venue. And when we go to Palm Springs, we like to take advantage of the new environment and the fact that everything in the whole darn city is worth being photographed. So, I was all "We're going to shoot a DIY." And then I failed to prepare anything before hand and proceeded to just throw some cardstock in the car. I knew there was a party store in PS I could hit up. So off we went. It was 108 degrees. And I decided I needed to make citrus balloons. So we went to one party store, and then another and then we had three giant balloons in the back of our car. And then we drove to The Saguaro and I proceeded to craft in the car again. But we actually took pictures this time. So there you have it. THE BIRTH OF THE GIANT CITRUS BALLOONS! And I love them, all 108 degrees worth. I hope you love them 108 degrees worth too.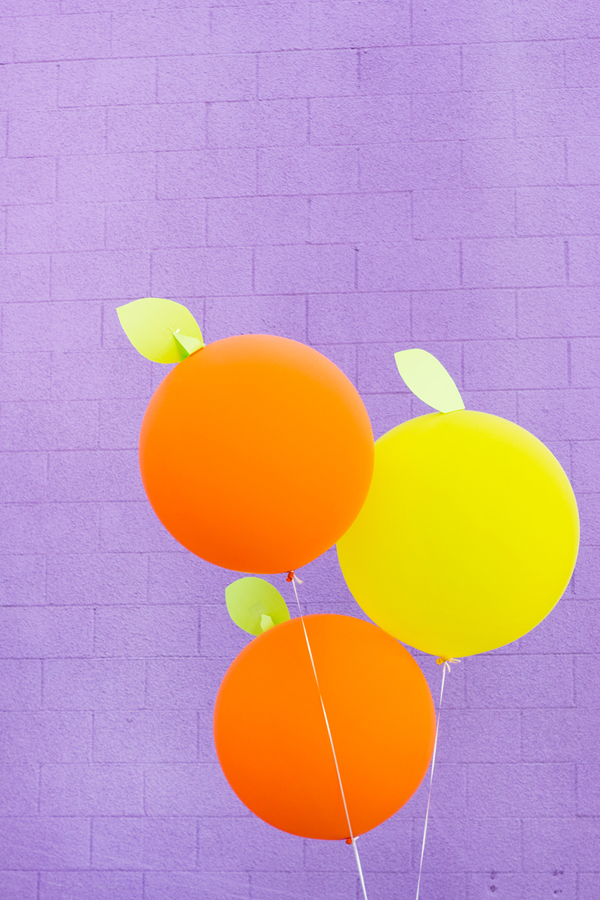 36″ Balloons in Orange
and/or Yellow
filled with Helium (Shout out to Party Lab and Balloony Tunes for repping the PS balloon scene!)
Green Cardstock (The thicker the better people!!)
Clear Shipping Tape
Scissors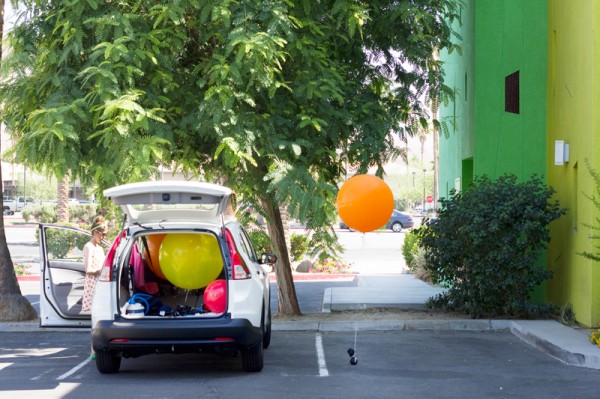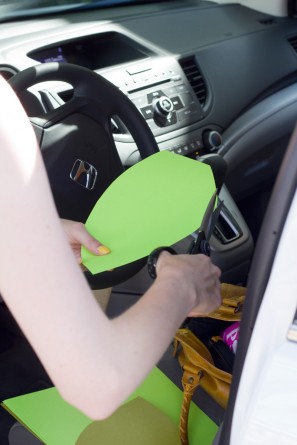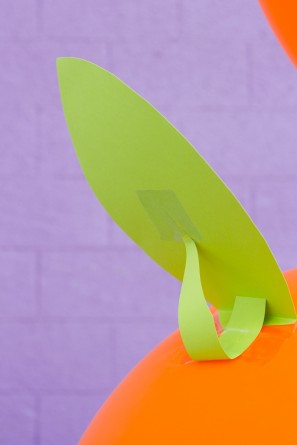 1. Cut out your leaf shapes. At the bottom of each leaf, make sure you leave a little extra to fold back so you can attach it to the balloon.
2. Fold back the tab at the bottom and use a piece of shipping tape to attach to the balloon. Now, if you use super thick cardstock, it may stand up on it's own. If you don't (like me) you'll need to give it a little support. Cut out a tapered strip from my leftover cardstock. Then tape the thicker part on top of the tab you already taped to the balloon. Last, tape the skinny part to the center of your leaf, it should curve in-between like you see above. Problem, solved!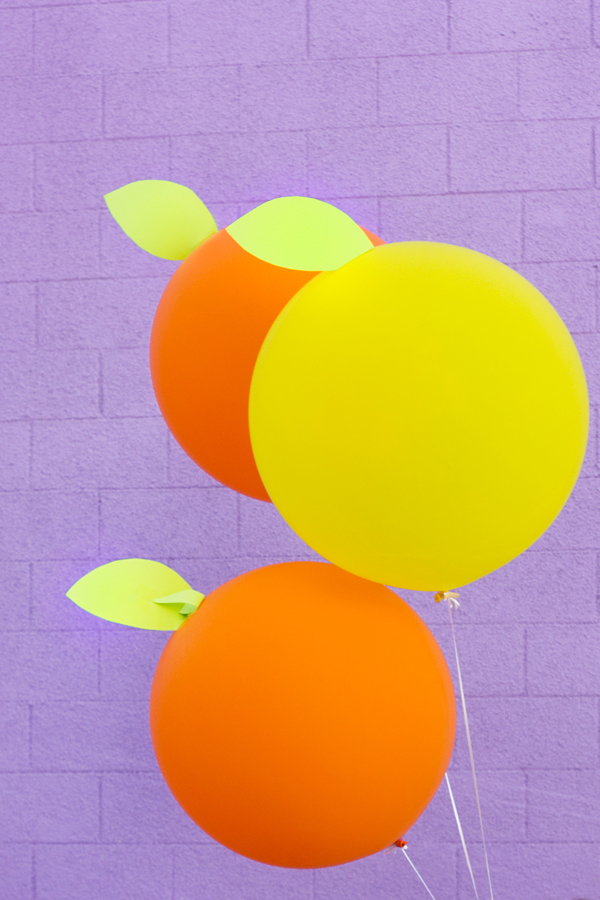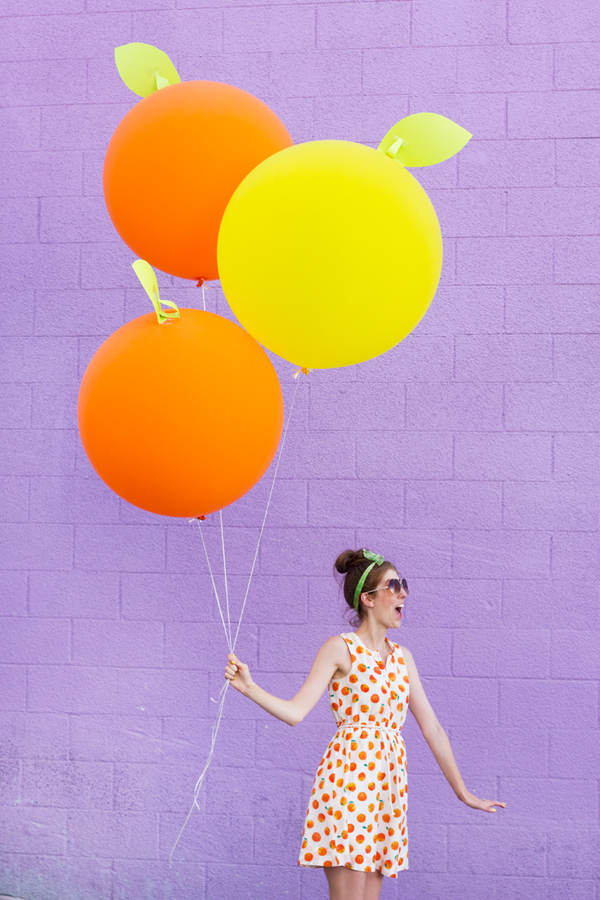 All Photos by Studio DIY
Now, run around a colorful hotel and then proceed to walk into the lobby and offer to leave three giant citrus balloons there, while wearing a citrus dress. Because that's what you do when your fiance forbids you from taking said balloons home to live in your house for the next month. And that is the story of these wonderful balloons and how I am taking spontaneous crafting to a new level.
For more fruit DIYs, squeeze on over here! And more balloon DIYs here! Hehe!
p.s. My dress is from J. Crew Factory kids here.