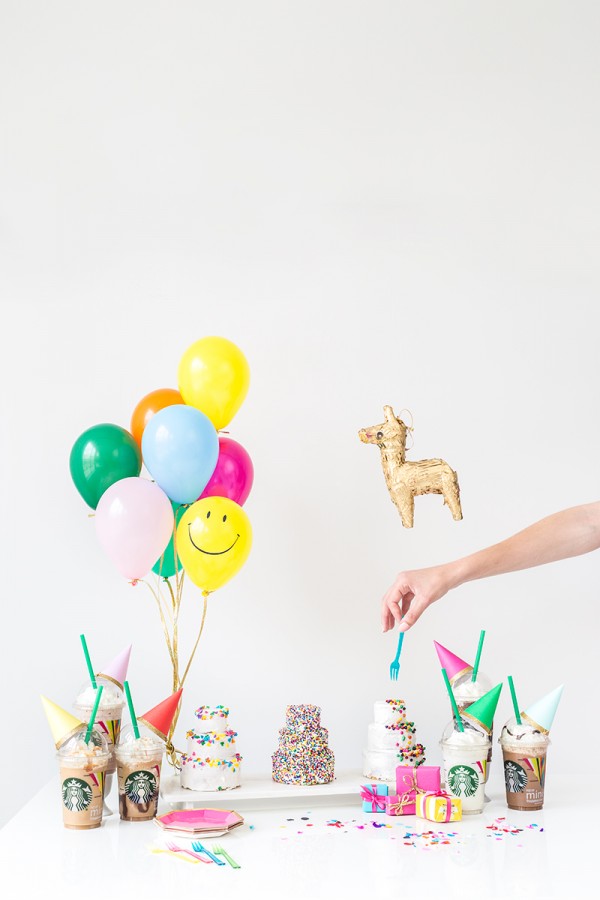 Honey, I shrunk the party! I am BEYOND excited to be teaming up with Starbucks for some crazy fun posts starting.. NOW. Because, in case you didn't know… I live for mini-sized everything. So when Starbucks asked me to do a little somethin' somethin' inspired by their new mini Frappuccino, I was all, "You mean, you want me to throw my dream party?" I know I'm not alone in loving bite-sized everything, so how fun would it be to put on a party where everything, from the balloons to the cakes to the plates (!) to the piñata is itty bitty! That's just what I did and I have all my tips for shrinking your party to off-the-charts cute proportions! Let's do this.
Click through for my tips + DIYs for throwing your very own mini party!
All parties must start with an invitation and fittingly, this one could fit in your pocket! Print out these cute invites and craft some cute tiny envelopes to go with!
To print the mini invitations, click HERE!
To print the mini envelope template, click HERE!
Download the graphic, print and cut it out! Add in your party info on the back, fill-in-the-blank style. Trace the envelope template on some cute paper and cut out. Fold the two side flaps inward and attach with a glue stick. Then fold the bottom flap up and glue. Slip the invite in and seal with a cute sticker or piece of washi!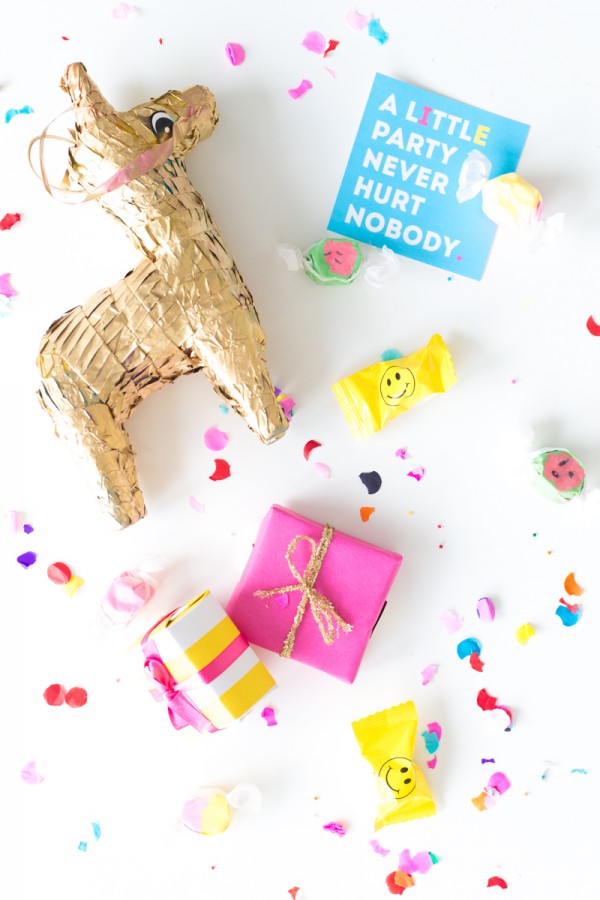 You OF COURSE need a mini piñata too! I purchased these little guys and gave them a good coat of gold spray paint. Then, I stuffed them with confetti, candy and even a tiny wrapped present (ours were cute rubber stamps!). Sure you might not be swinging at this piñata with a bat, but they make perfect party favors.
And now for the most important part, the treats! First of all, let's talk about this mini Frappuccino. It's a cute little 10 ounce guy and you can get any of the Frappuccino flavors in the new petite size! In case you couldn't tell, I have decision making problems so I went with… all of them. And topped them with cute party hats for good measure.
And we happily sampled 'em all alongside our mini cakes and mini cones. Yes, that is a tiny tiered birthday cake. We used this pan to make it and used a funfetti cake mix. To make the sprinkle cake, we popped the frosted cake in the freezer for about 5 minutes, then took it out and placed it in a 13×19″ pan. We then poured sprinkles on top of each tier and used a small icing spatula to press sprinkles into the side of each cake. For the ice cream cones used a melon baller to scoop mini scoops onto these teensy cones. THE CUTEST!
Photos by Jeff Mindell | Printable by Annie Steward | Styling + Creative Direction by Studio DIY
To finish off the party, inflate some 5″ balloons and find the tinniest plates you can… and be ready to show your guests that this little party can pack a BIG punch.
Be sure to share your mini inspired parties with us on Instagram using #MakeSomeFun. Gah! So mini parties, so little time! (Sorry, I can't quit these mini puns.)
This post was created in partnership with Starbucks. All content and opinions are that of my own! Thank you for supporting the sponsors that keep the Studio DIY party going! Read more about my editorial policies here.