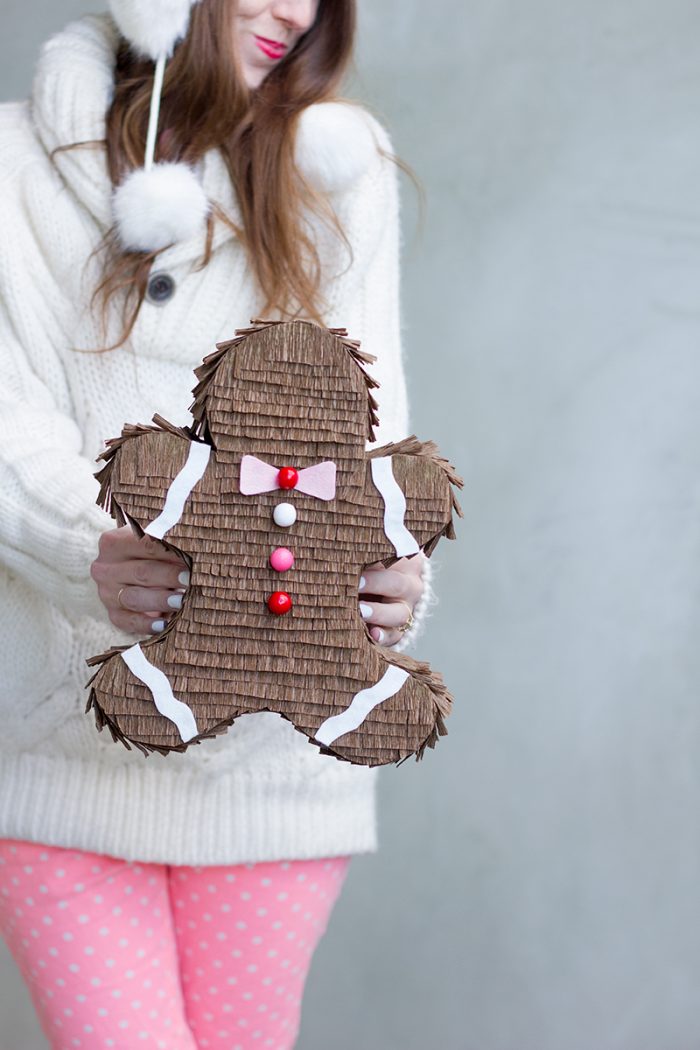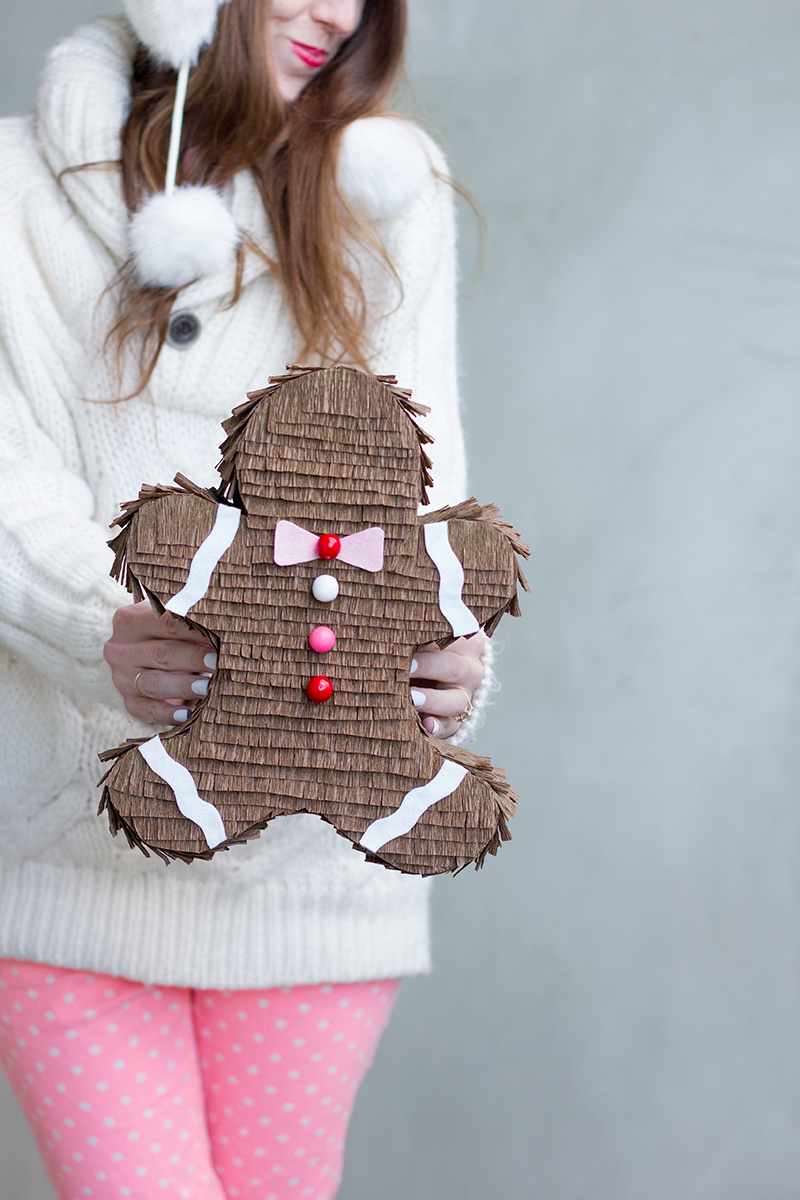 Alright, I may have given the gingerbread man the boot in favor of donuts when it comes to the Christmas cookies… but that doesn't mean I don't think he makes a schnazy piñata!! Hehe!! This guy cracks me UP! (That's normal to say about an inanimate, fringed object, right?) I really just want to make a whole family of gingerbread piñatas at this point. Wouldn't this be a fun way to package a secret santa gift? Or any gift, really. Santa…. are you listening!?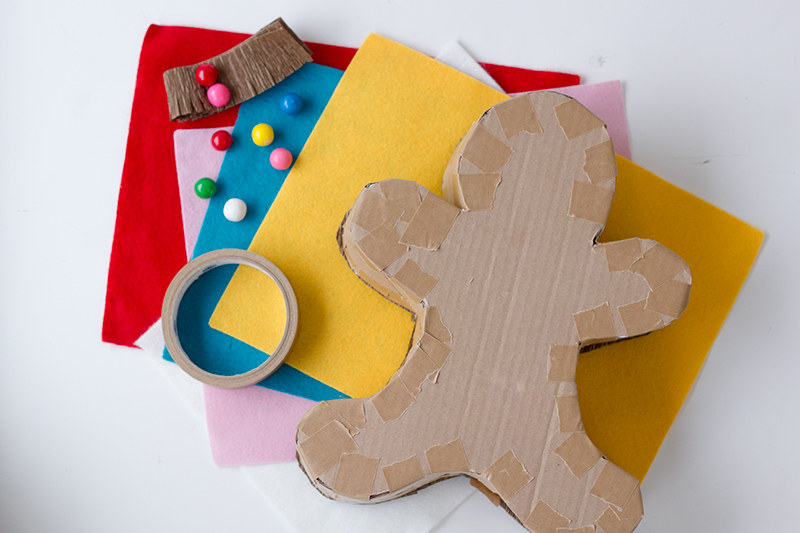 Cardboard
Masking Tape
Brown Crepe Paper
Felt
Gumballs (Optional, If you are giving this piñata to a little kiddo, please use felt for the buttons instead of gumballs to avoid a choking hazard!)
White School/Craft Glue
Hot Glue
As with all piñatas, first thing is first… you have to build your cardboard base. Cut out two gingerbread man shapes (A great way to get this shape is to find an image of one you like online, enlarge it on your company, and trace it right from your screen! (Computers are the best light boxes!) Then, cut some long strips of 3″ wide cardboard for the sides. To put it all together, carefully bend the cardboard strips to fit the curves and bends of your gingerbread shape. Tape it to one gingerbread man cut out, then tape it to the other, leaving a flap if you want to fill with candy or presents.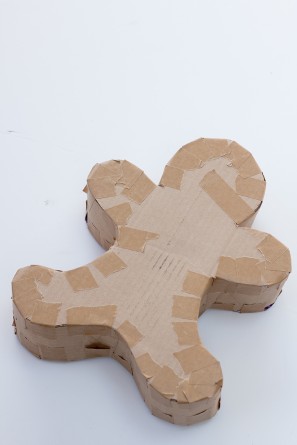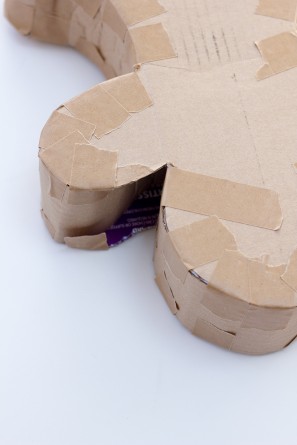 Now it's time to fringe! Cut your crepe paper into long 1 – 1 1/2″ wide strips and fringe them. Then, start at the bottom of one side of your piñata. Begin at the bottom of each foot and run a line of glue along the bottom. Glue on your crepe paper, trim and repeat the steps working your way up the piñata, spacing each row about 1/4″ to 1/2″ apart, depending on how "dense" you want your fringe. You'll notice that you have fringe hanging over the edges of your piñatas curves. Once one side is completely fringed, take your scissors and trim off those edges so you clearly see the silhouette again. Now, repeat with the other side, and finally fringe the sides of the piñata to finish! (I recommend starting at the center bottom, working up one side to the top, and then moving back to the bottom and working your way up the other.)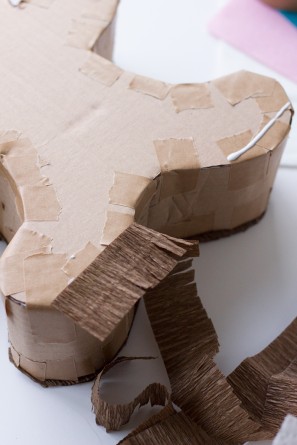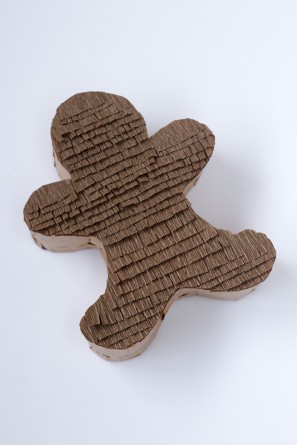 How about we add some personality to this guy!? I cut some ric-rack style strips of felt to fit each arm and leg of his, and then I made a little bow tie.
Glue on your felt and gumball timings as desired using your hot glue gun. Look at how dapper he looks!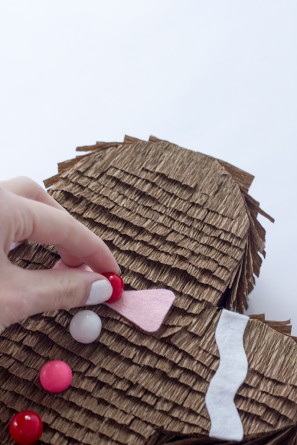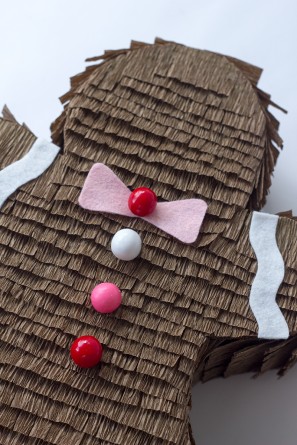 And now he's ready to make his Christmas debut! What a showstopper this little guy is, no?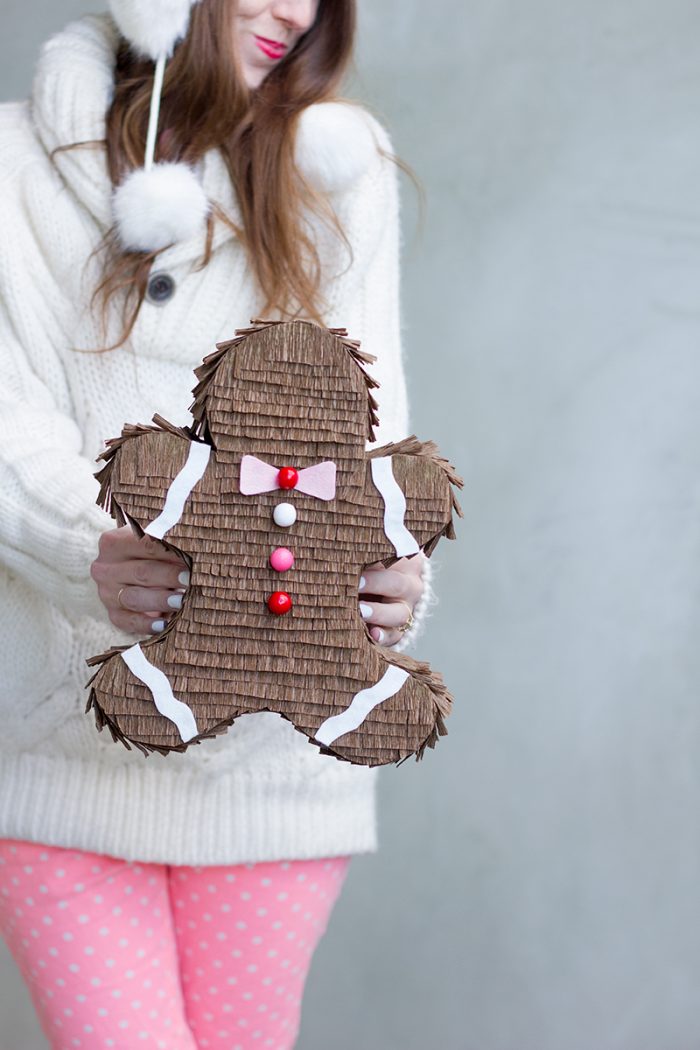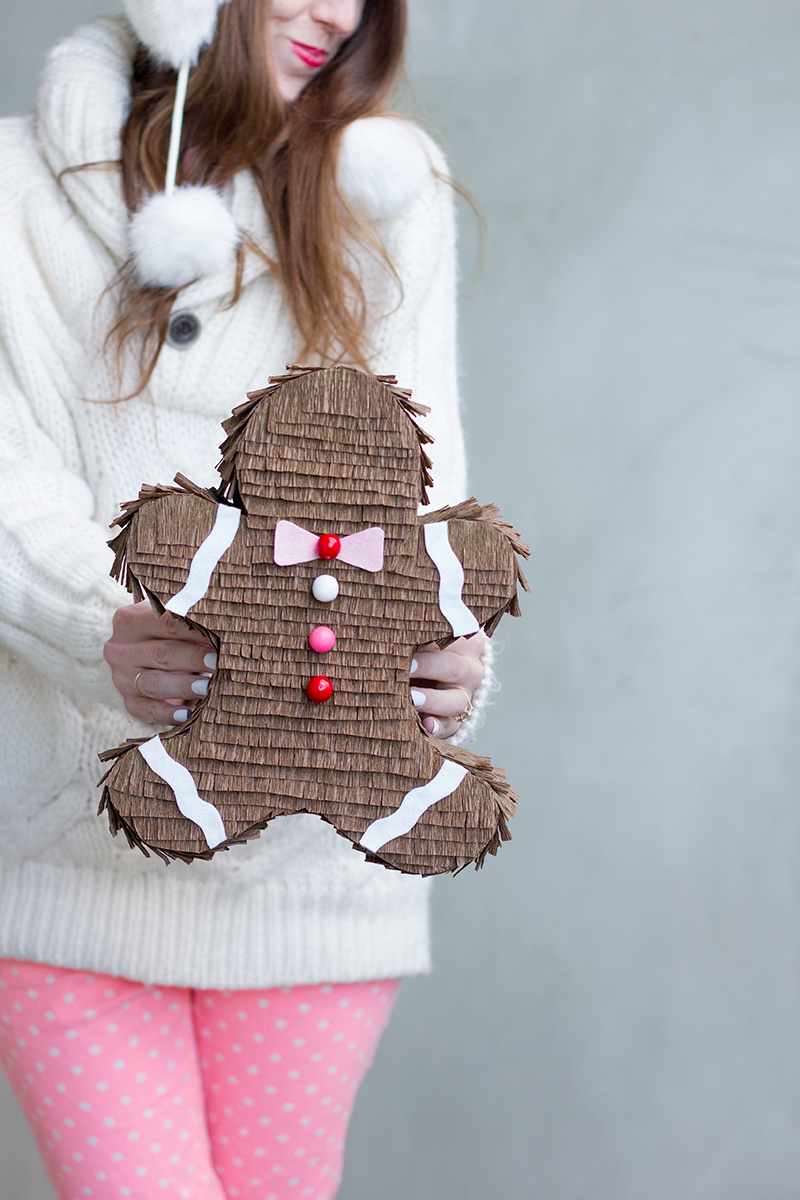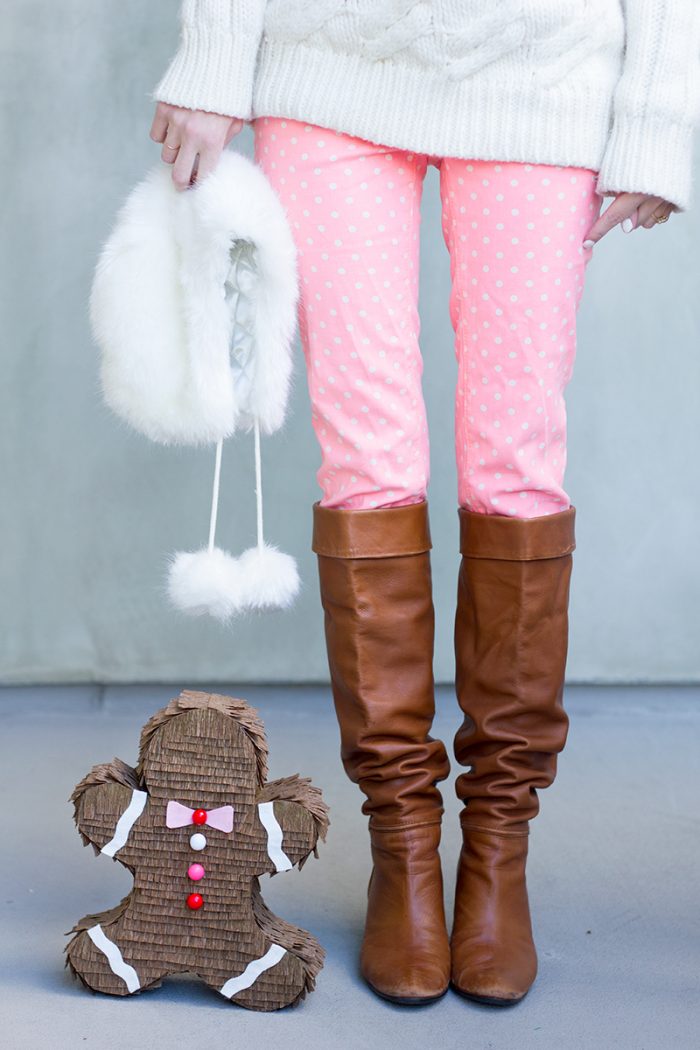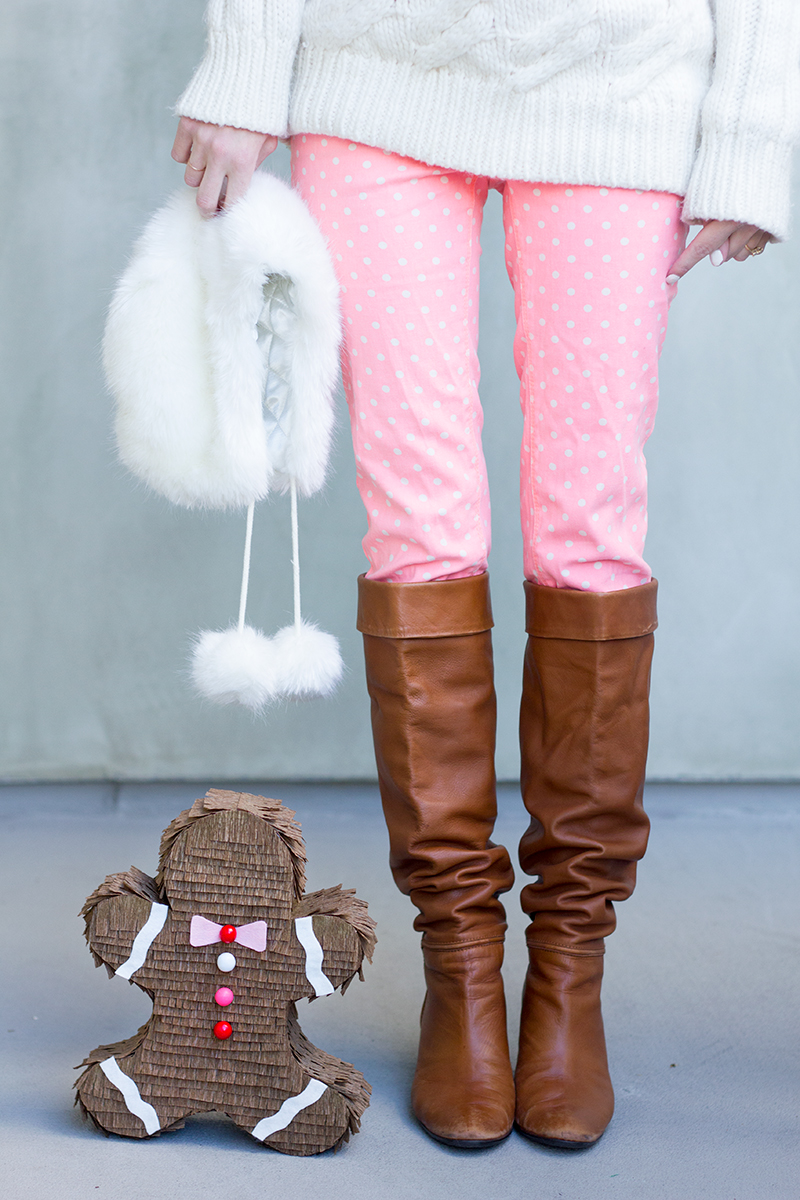 All Photos by Studio DIY
Yay for Christmas piñatas! Remember last year's ornament ones? Hope this guy brings a little cheer to your holiday!
For more Christmas DIYs, head over here!
24 Merry Days Giveaway Alert! Head on over to COCO/MINGO to win a Max Wanger print (I want this SO BAD.), Mer Mag to win a Little Goodall lion coat and Sugar & Cloth to win a $100 gift card to Artsy Modern!