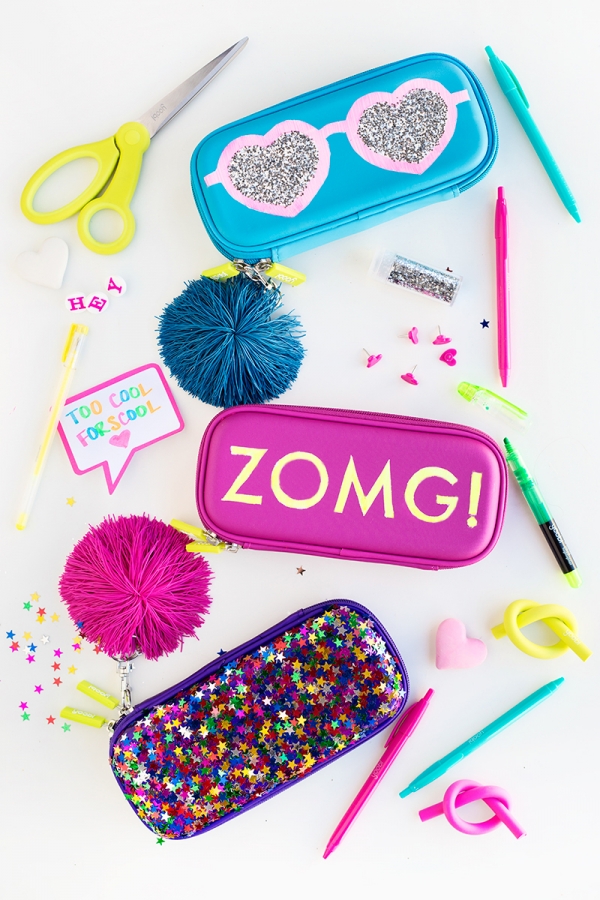 One of my big personal goals for 2015 was to be able to give back. Giving back was a huge part of my upbringing and Jeff and I have been working on making it a #1 priority in our marriage. I was so SO excited to be introduced to Yoobi when they reached out to work together because they are doing such AWESOME THINGS! Yoobi sells all sorts of amazing, bright, FUN school supplies and for every item you purchase, they donate another Yoobi item to a classroom in need. HELLLO! What a fantastic idea, right?
Yoobi sent over a bunch of their awesome goodies for me to play around with and help spread the word about their efforts and we. had. a. BLAST. We decided to get our glitter on and decorate some pencil cases with fun graphics, phrases… the works! Now who's ready to decorate some pencil cases!?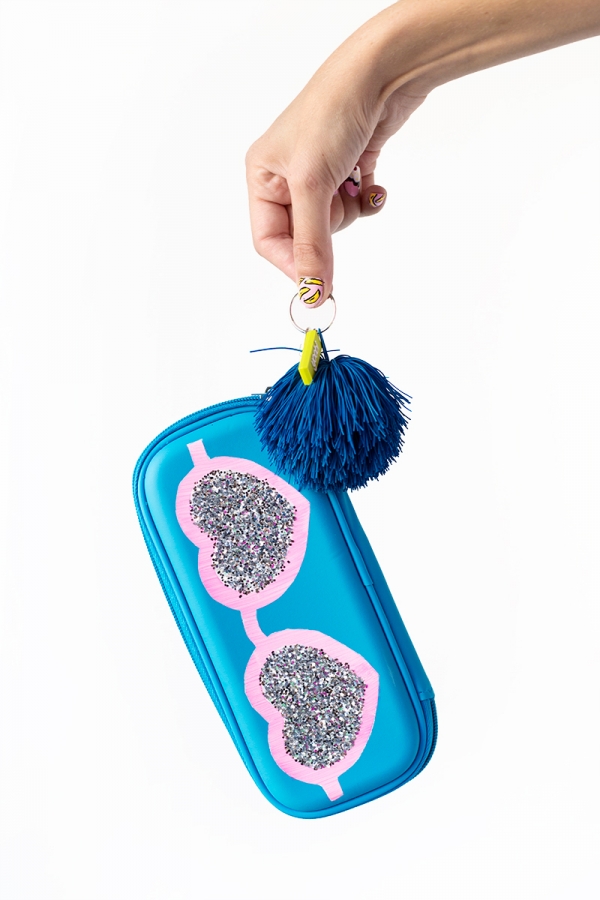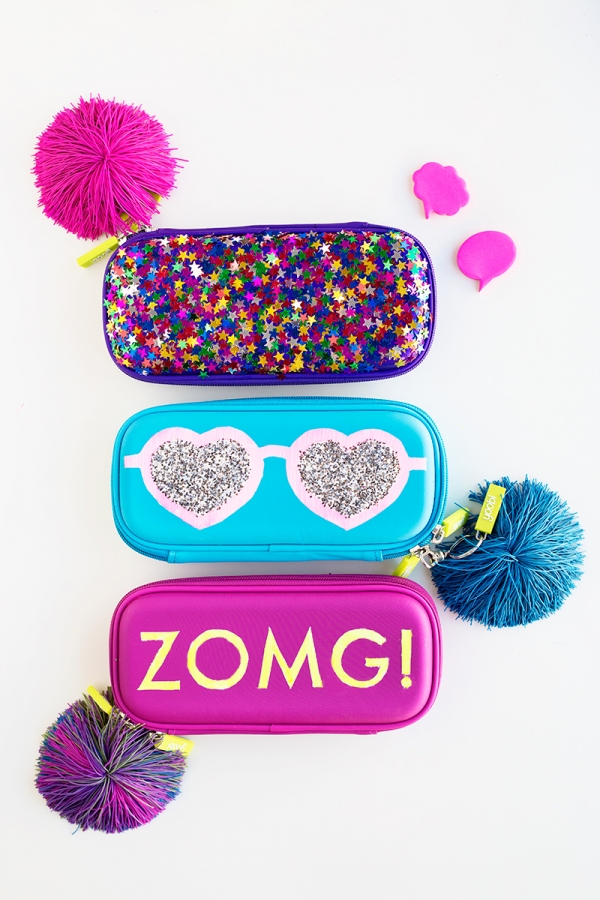 Pencil Cases
White Paint + Colored Paint of Your Choice (We used neon!)
Paint Brush
Label/Adhesive Paper
Scissors or Craft Knife
Mod Podge
Glitter
Confetti
Printable Stencils (Click HERE to download!)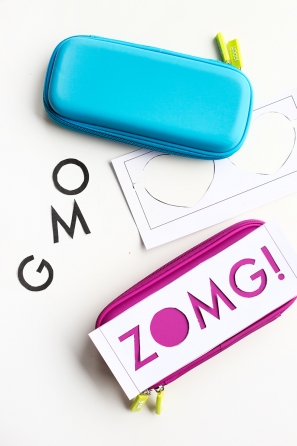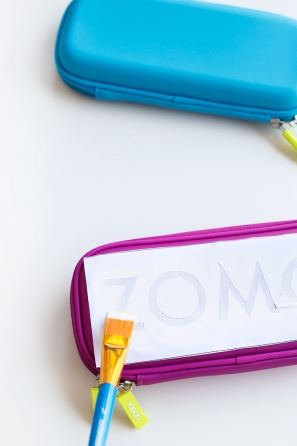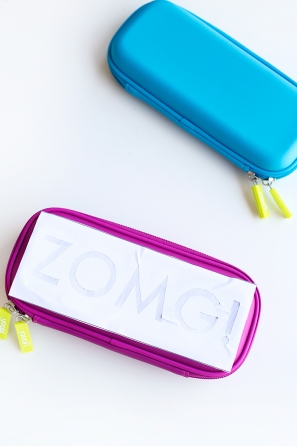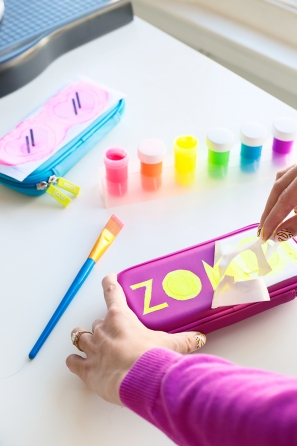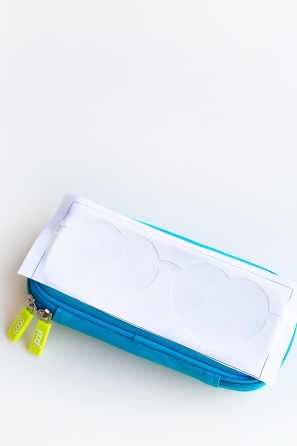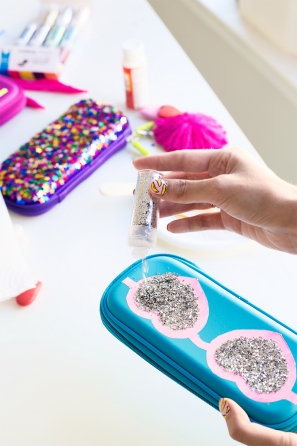 1. Print out the stencil templates (or other design of your choice!) on adhesive label paper and cut out the black shapes/letters using scissors or a craft knife (be really careful!). Be sure to save the hearts from the inside of the glassse and the center of the "O" from ZOMG.
2. Peel the backing off the stencil and adhere to the pencil case where desired.
3. Paint over the stencil with white paint to act as a primer. Let dry completely.
4. Paint with your color of choice and let dry, then peel back your stencil! If any paint seeped through, clean up the edges with a thin paint brush.
5. For the sunglasses: Adhere just the outline of the hearts to start and paint white. Let dry. Then put the "lens" cutouts that you saved on top of the white paint. (If the adhesive backing is super sticky, stick it onto your hand first to dull down some of the adhesive.) Then paint with the color you'd like and let dry. Remove the stencils. Lastly, paint mod podge over the remaining white heart shapes and sprinkle with glitter. Let dry, then seal with a final layer of mod podge over top the glitter!
6. Fort the confetti case: Paint the entire side of the case with mod podge and sprinkle with confetti. Let dry. If necessary repeat with a second layer, otherwise seal the confetti on with a final layer of mod podge.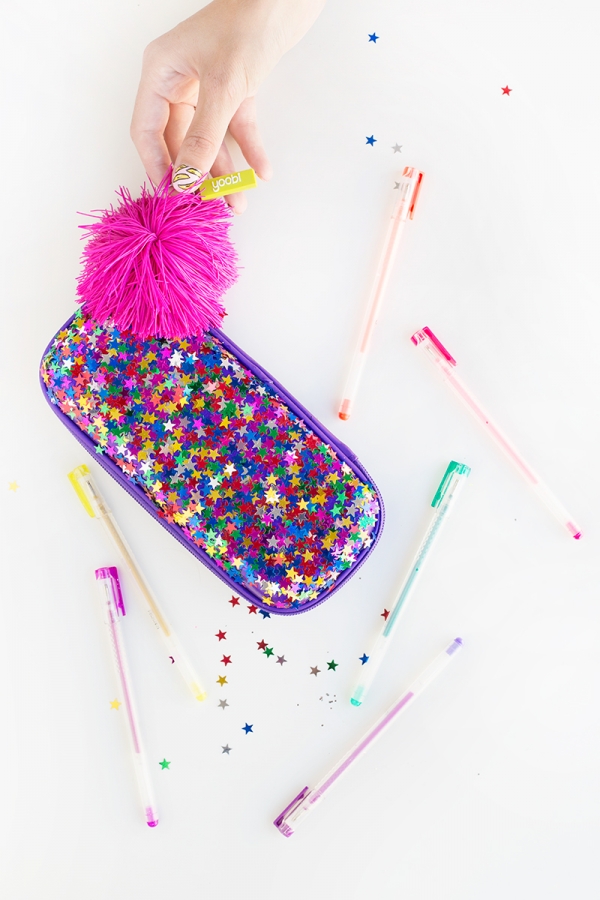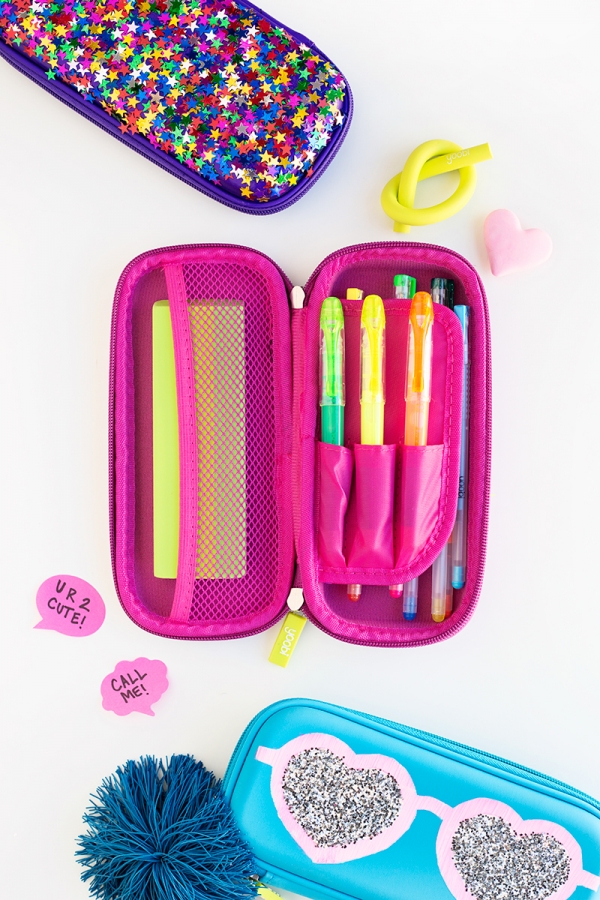 Photos by Jeff Mindell
For those of you curious about all the products pictured:
Pencil Cases | Pom Pom Keychains | Glitter | Confetti | Scissors
Pens | Highlighters | Gel Pens | Heart Erasers | Jumbo Eraser
Letter Push Pins | Heart Push Pins | Sticky Notes
Working on this project made me want to go back to school… if for nothing else than to buy color coordinated supplies!!! I am BEYOND obsessed with those pom pom keychains. And the confetti!!! Luckily I can use that school or no school. 😉 For those of you who are in need of some new goodies to kick off the year, I can't encourage you enough to check out Yoobi! Follow them on Instagram to learn more about how they're giving back and to see more of their bright, colorful supplies! You can shop their products online or at Target (BAM!) and remember, for every item you buy they'll be donating an item to a classroom in need right here in the U.S.! That's what I call a win win.
This post was created in partnership with Yoobi, All content and opinions are that of my own! Thank you for supporting the sponsors that keep the Studio DIY party going! Read more about my editorial policies here.