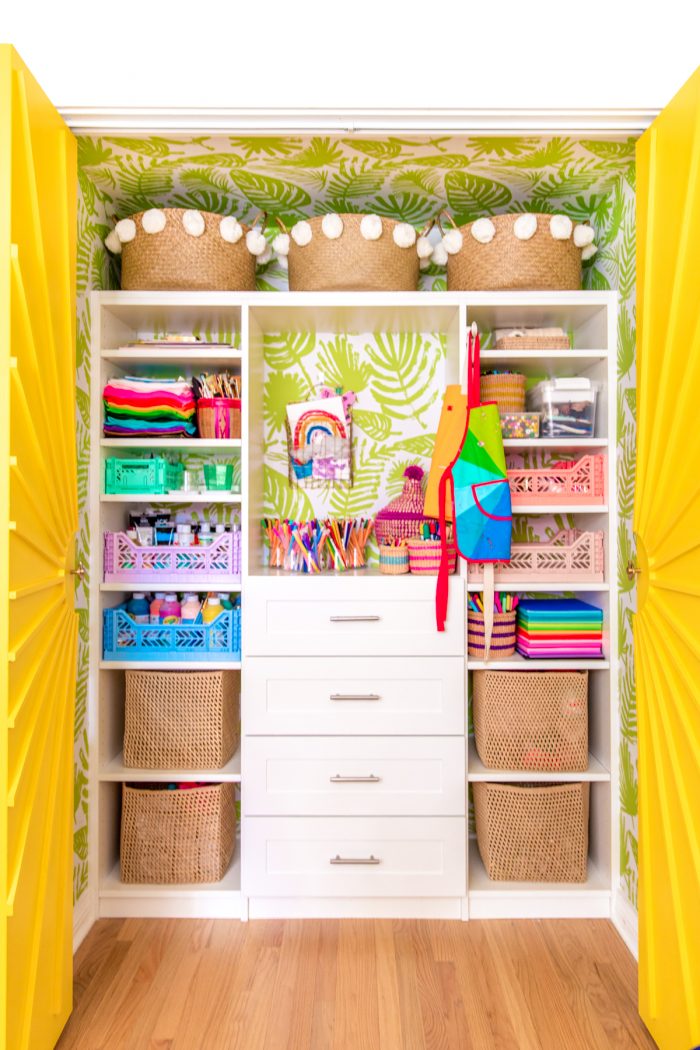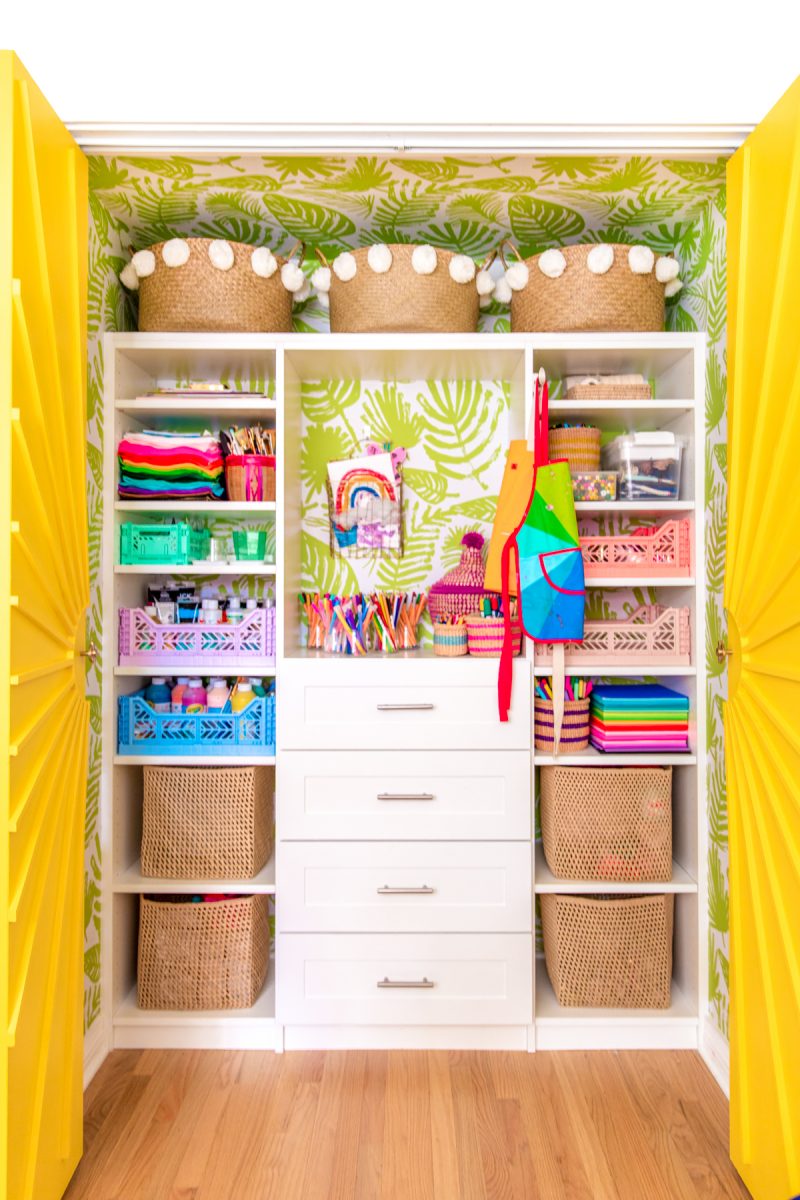 We recently (temporarily) converted a closet in our home into a craft closet, so that we had a spot for all our craft supplies to live! It's been awesome having everything all in one place, and a few spots specifically dedicated to kid-friendly and kid-accessible supplies. Today I'm sharing all of my favorite kids craft supplies, including what we love most and how we use them!
I try to buy craft supplies that can be used for multiple different purposes and give us the most bang for our buck, and you'll see that reflected here! I divided everything into sections by category, followed by a few tips for storing, organizing and clean up.
My list is quite extensive, because crafting is my job, but I wanted to include everything I love so that you can pick and choose what would work best for you and your family!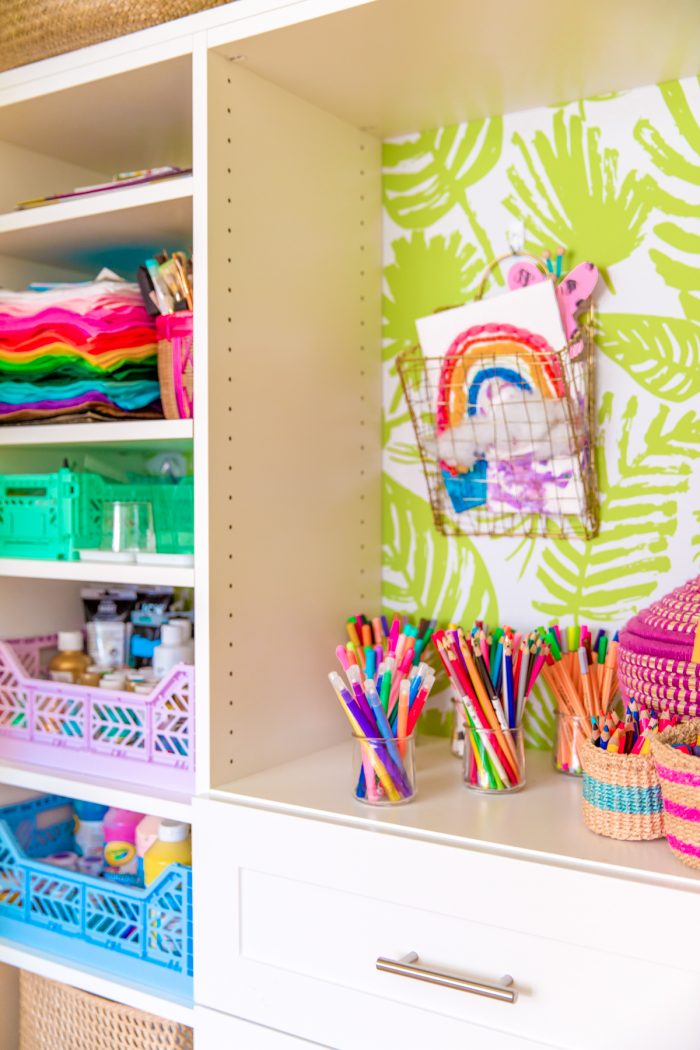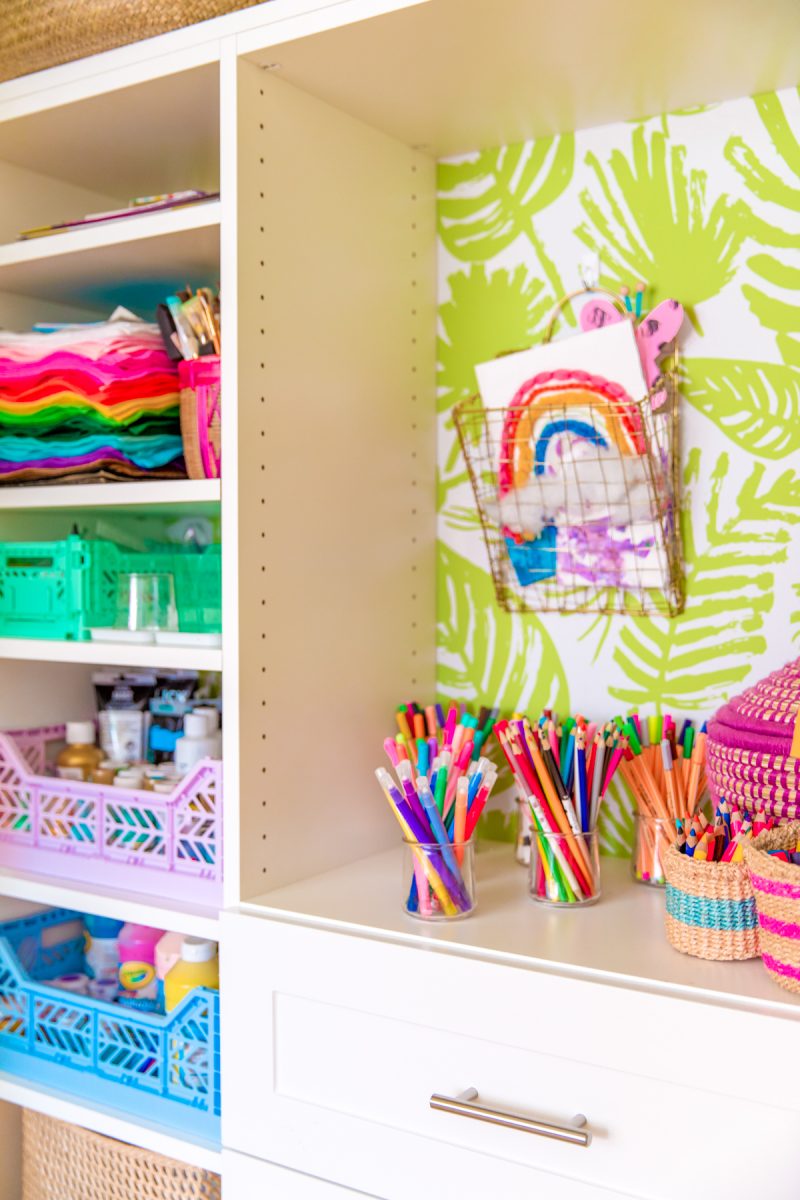 Paint + Paint Supplies
Watercolor Paint – Watercolors are so great because they are so much more compact than other paints. If we're trying to do a quicker (and less messy) paint project, I always reach for these!
Washable Craft Paint – I'm a big fan of washable paint for obvious reasons, it's definitely not 100% perfect with the washability factor, but I find it's all around much easier to clean up!
Craft Paint + Acrylic Paint – If we are doing a project where we really want some good colors, we'll go for the acrylic paint. My favorite is without a doubt the Martha Stewart craft paint, but we also have some of the big bottles of basic acrylic paint that we like!
Puffy Paint – Puffy paint will never not be fun, enough said!
Food Coloring – *FOOD COLORING STAINS EVERYTHING* Proceed with caution, but sometimes we'll do some projects where we mix it with water for various sensory or craft ideas and it's without a doubt a toddler favorite for some reason!
Jars or Cups – I always keep a few jars or cups on hand that I use just for paint water.
Spray Bottle – We love to do "spray" painting where we put some drops of paint on a canvas and then spray it with a spray bottle filled with water.
Paint Brushes – I don't have any specific paintbrushes that I love, we have a collection of ones that have just somehow ended up in our home. I recommend some sort of variety in sizes, but any brush works for kids!
Paint Palettes – I love to use plastic or metal lids from jars we've saved as paint palettes, but we also have a few of these. If you have older kids who can handle something nicer, I'm in love with the ceramic ones from Sugar House Ceramic Co. (Scroll down and you'll see all the different options) and hope to own one some day. It's something you'd have forever!
Easel – We have this portable easel and use it often when we paint outside to hold up canvases, or to prop up paper against it for "spray" painting.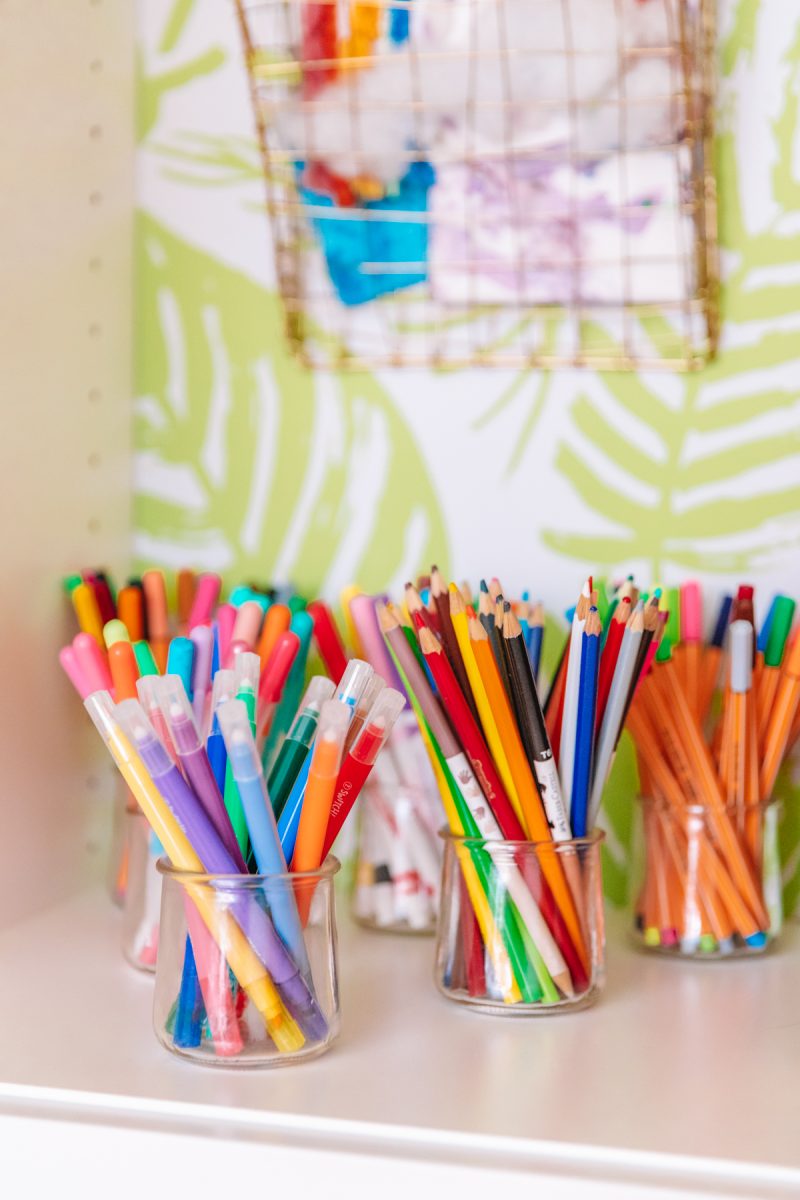 Markers, Crayons + More
Washable Markers – We have this set and it's great!
Color Changing Markers – We have a blast with these, guessing what color will turn into what, making different patterns, etc!
Chunkies Paint Sticks – These are so fun! Kind of like a giant paint/crayon/marker combo. They're big so super easy to hold and very gratifying for kids who just want to go to town with color!
Crayons – Good old fashioned crayons never disappoint, there are also recycled crayon sticks and these skin color crayons that are great options.
Colored Pencils – We have and love this roll-up colored pencil set, they're easy to hold for little hands and easy to take on the go, too. We also have and love this set of skin-tone colored pencils that blend to create a wide range of different skin tones.
Glue + Adhesives
School Glue – We love gold ol' school glue here!
Glue Sticks – Much cleaner than school glue and definitely a kiddo staple!
Mod Podge – Mod podge is great for sealing projects you want to keep for a while.
Hot Glue Gun – *NOT FOR KID USE* but my hot glue gun is the one craft supply I couldn't live without. I use it for everything, including gluing together various pieces during our kids craft projects.
Washi Tape – Washi tape is fun for art projects, and for other activities where you want to temporarily tape items onto something!
Painter's Tape – We have textured walls, so if we want to temporarily tape anything up on our wall, painter's tape works way better than washi tape for us!
Clay
Model Magic – I'm a huge fan of model magic. It's great for projects you want to make to last or gift since it dries hard but lightweight. But it's also great for just playing with over and over, just be sure to seal it up well in-between play!
Modeling Dough – I'm not a huge fan of traditional play-doh since it gets almost impossibly ingrained into our rugs, but I do like the more natural versions. We recently got these scented doughs and really love them!
Cookie Cutters – We have a set of old cookie cutters that we use for clay and it's so fun! We make all sorts of "cookies" and things with them for our "restaurants." If you don't have any old ones to use, this shop has some fun shapes!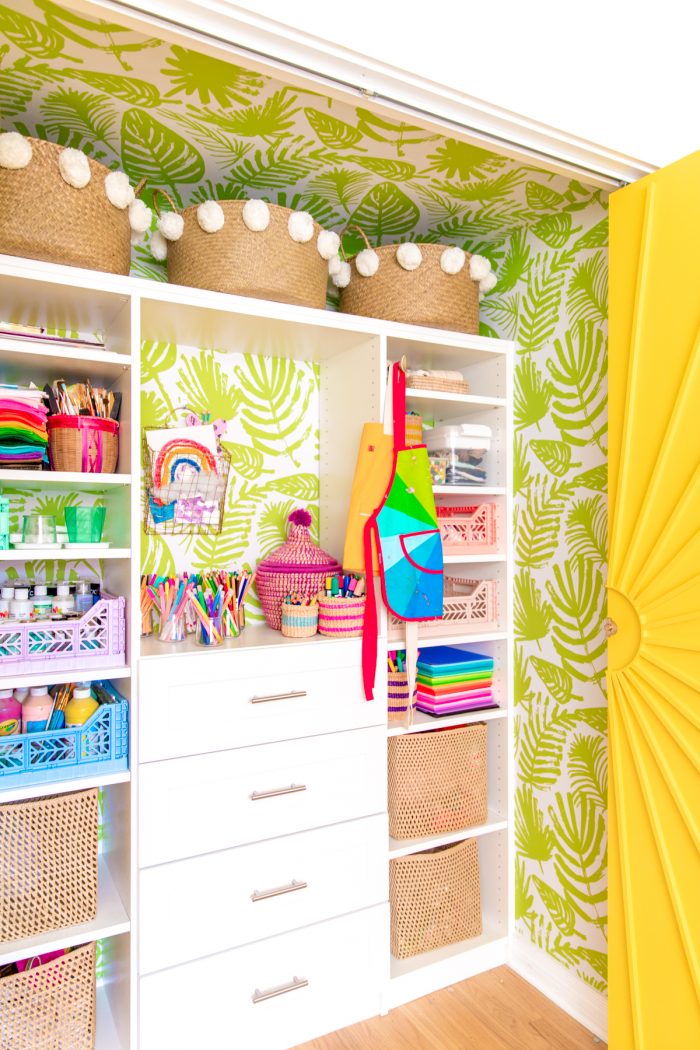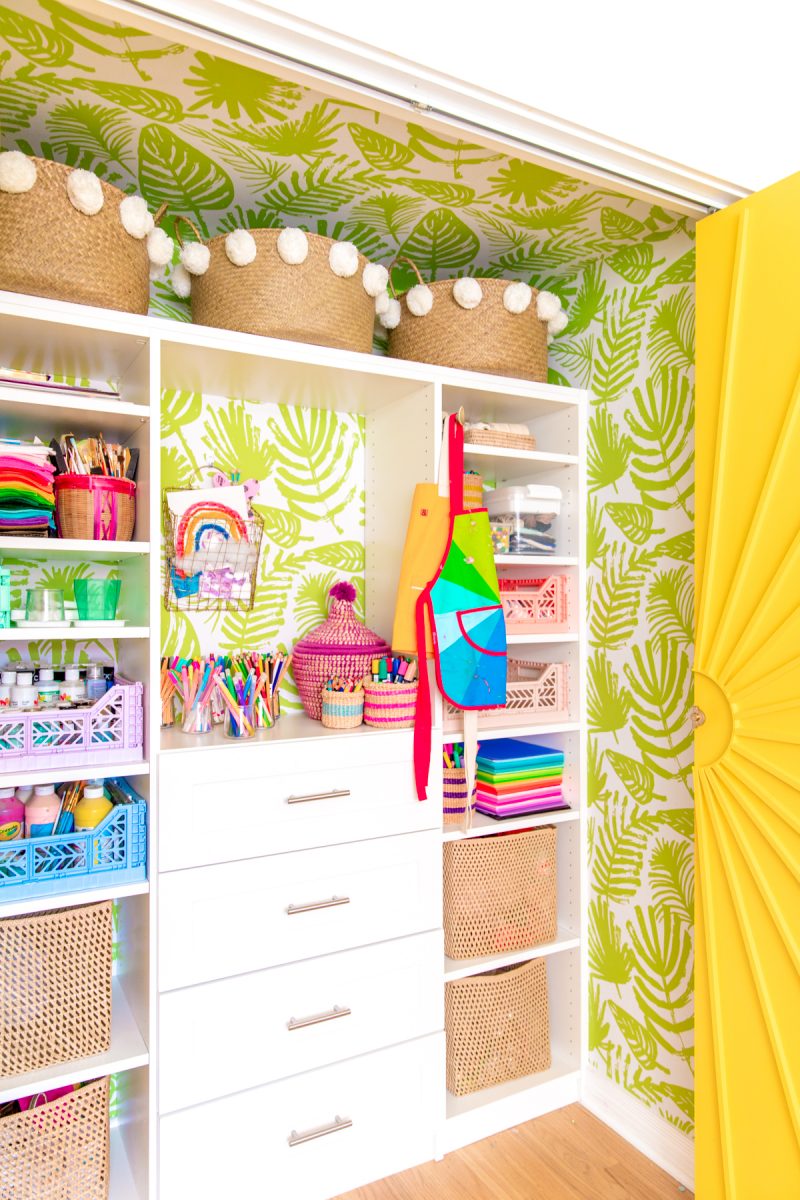 Paper + Surfaces
Cardboard – I save any and all forms of cardboard for art projects – shipping boxes, toilet paper rolls, tissue boxes! They always come in handy for a variety of projects, or to use in place of paper for just drawing or painting!
Cardstock – I tend to keep colorful cardstock on hand, instead of construction paper, because I like the thickness of it (great for turning into cards) and I can use it for "adult" projects too!
Watercolor Paper – Every paint ends up being watercolor in our house since water is just so enticing. Watercolor paper comes in handy for that. If we ever do more art together with the intention of hanging it in our home, I may splurge on some of this rag paper that Justina recommended because it looks so beautiful!
Mini Journals – I bought a huge pack of mini journals that I keep in one of the drawers. I love them because you can grab one for on the go, and they become kind of a little art time capsule! I have several saved to look back on later, and also keep one in our toddler busy clutch.
Canvases – Since we use washable paint, we'll often paint a few canvases and then I'll wipe them down and we'll reuse them again! Works like a charm and is less wasteful. I'll pull out a new canvas when we want to do a kiddo project that we'll hang in our home, like the pieces we have in our bedroom, painted at age 18 months or so!
Blank Cards – I usually end up turning cardstock art pieces into cards myself, but for slightly older kids, having a set of blank cards and envelopes is great for birthdays and holidays! A homemade card is the best kind.
Sunprint Paper – We love collecting items on our "nature walks" and they're perfect for turning into sun prints with this fun paper! I love these because the color is so bold and the prints would look great framed in a gallery wall.
Paint Swatches – After doing 1,000 paint projects in our house, we always have tons of paint swatches around. They make great craft supplies! We love to cut them up and make scrap or collage art.
Magazines and Newspapers – I love to use magazines for collage projects where we're learning colors, and they are great (along with newspapers) for paper maché too!
Blank Puzzles – These make great homemade gifts! You can color, draw or paint to create your own puzzle!
Adhesive Magnets – I'm always looking for ways to turn kid art we've made into other things, and these adhesive magnets are perfect for that. Attach to a piece of artwork and it's perfect for a grandparent's fridge!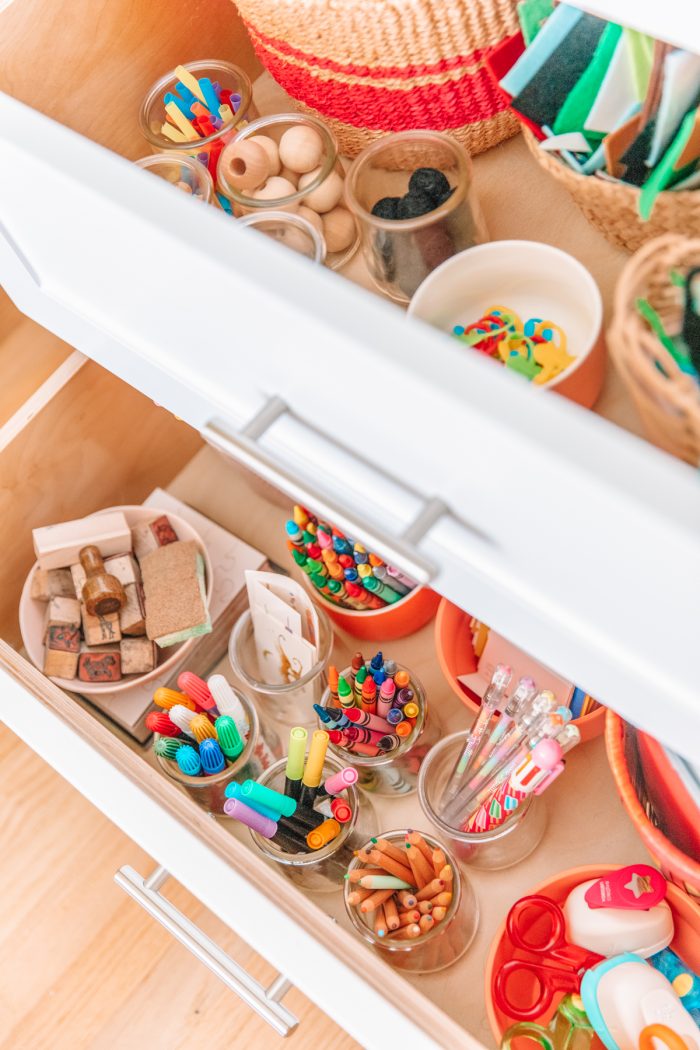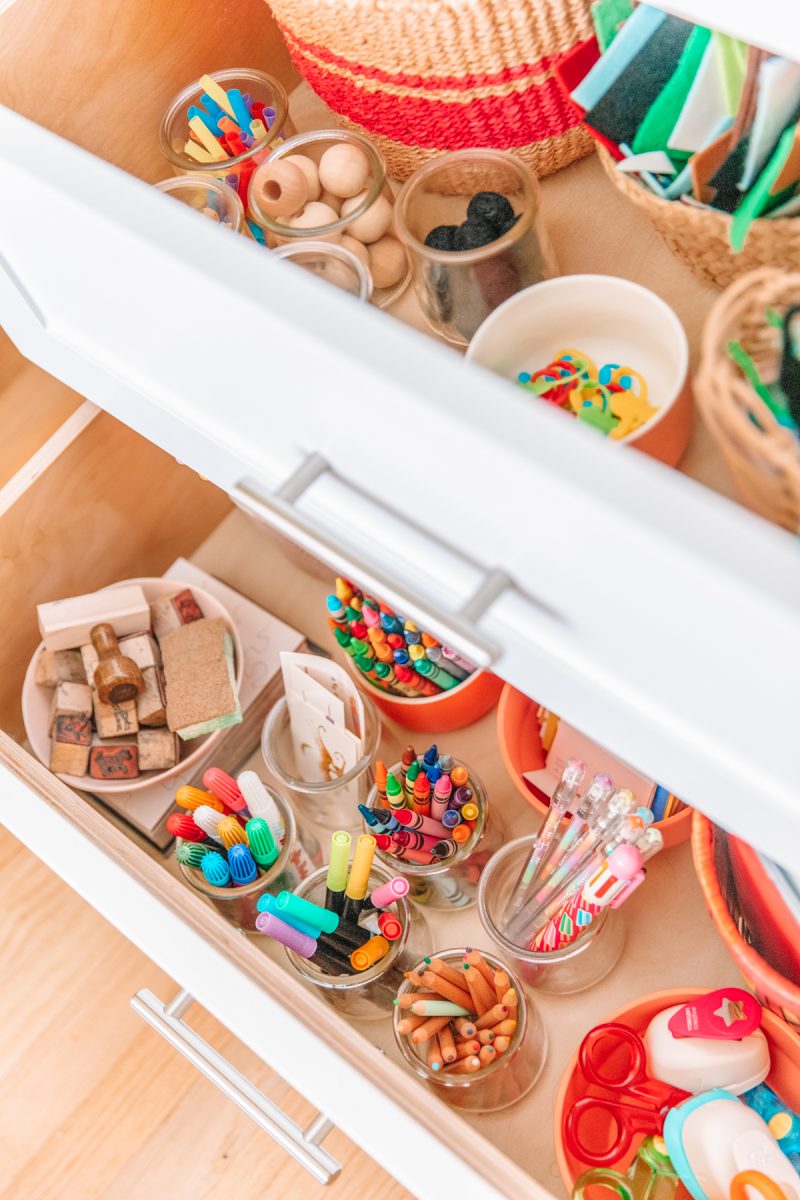 Wooden Items
Wood Beads – Our wood beads get so much use! They're fun to paint, they're fun to string together, they even often get turned into all sorts of animal crafts and imaginary play items.
Unfinished Wood Items – I love grabbing seasonal unfinished wooden items to paint, like houses (See our DIY Christmas village!) or trees (And our DIY holiday forest!). Other shapes like circles, eggs, squares and stars are great to have on hand too.
Popsicle Sticks – We love building with popsicle sticks! Houses, ice cream stands, ornaments, and you can use them to turn any sort of art into a puppet too! I use the regular size and the jumbo size.
Dowels – Popsicle sticks get way more use for us, but I've reached for wooden dowels a few times in our projects, to make cars, for our Dumbo ride, and more!
Fabric, Felt, Pom Poms + More
Felt – We use felt a LOT! I have such a huge stock of the cheap stuff, but the wool/wool blends (linked) are so much more beautiful. We make a lot of felt portraits where I cut out shapes of a favorite item or character and he assembles them with glue.
Fabric Scraps – Another great collage material, save any fabric scraps you have! Or check out this awesome resource that's helping reduce textile waste.
Yarn + Rope – Yarn and rope are great for making dimensional art projects (like drawing a line in a shape and having them glue the yarn to match) or for making pom poms, bracelets and more! Find beautiful dyed wool yarn here and my favorite very thin/fine yarn here.
Pom Pom Makers – We love making pom poms together, though it involves an adult doing 99% of the work! These are without a doubt my favorite Pom Pom makers, and I've tried 'em all.
Pom Poms + Felt Balls – While we keep pom poms and felt balls in our craft closet, they get more use in sensory and imaginary play! We make felt ball tunnels, we stack and hide them in things, the works!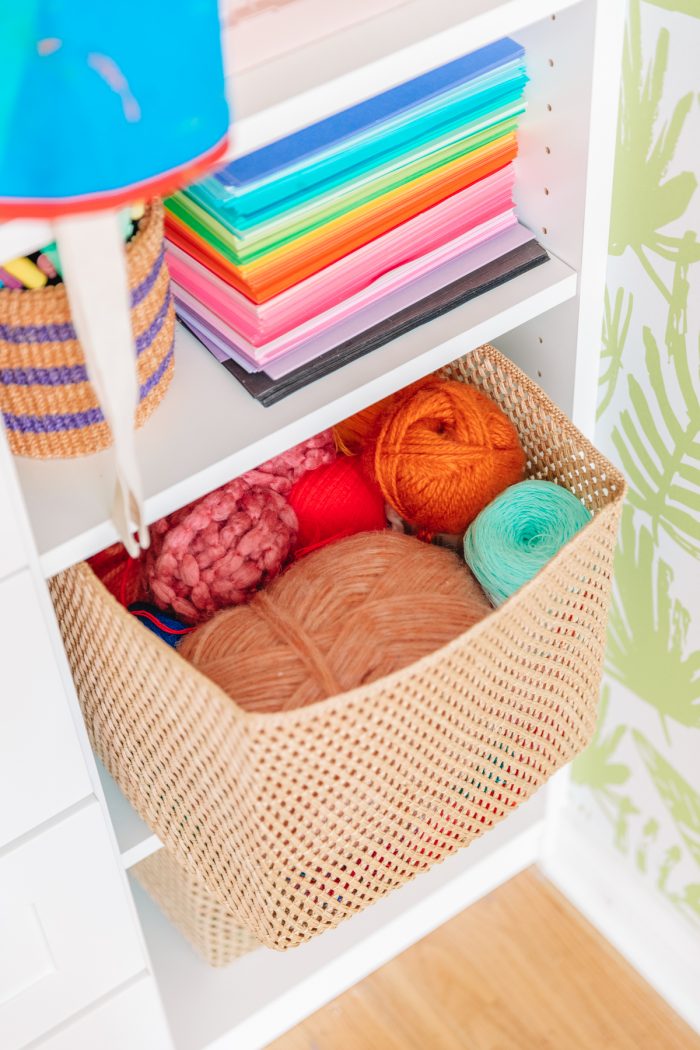 Other Go-To Craft Supplies
Pipe Cleaners – Pipe cleaners are great for stringing beads and keeping them from flying everywhere, they're also great for "sculpting" and creating all sorts of animals and critters! Such a kids craft supply staple.
Googly Eyes – Googly eyes make every project more fun. We add them to all sorts of felt portraits and drawings.
Rubber Stamps – We haven't delved too much into the world of stamps yet but the ones we do have are a huge hit.
Paper Punches – I was surprised at how easily little hands could use these paper punches. Great for keeping them busy, and turning the punch outs into collage material!
How To Store Kids Craft Supplies
I love to store kids craft supplies in crates I can easily pull and bring to our art area, baskets that I can fill and hide things in, and smaller jars, bowls and recycled items that I can make kid-accessible. Here are a few of my favorite storage items:
Baskets – I'm a huge fan of baskets for storage. I love these colorful striped ones that come in all sizes, and these square ones too. You can see my favorite basket sources here.
Recycled Jars and Cans – I keep jars and cans for storing small items that are easily grab-able by little hands!
Small Bowls – Same with small bowls, they're great for both storage and for using during a craft project to hold your chosen supplies!
Colorful Crates – I keep all our paint in a crate so I can just grab the whole crate and bring it to our craft area. So convenient, and they come in the best colors!
Easy Clean Up Supplies for Kids Craft Projects
Setting yourself up for easy-clean up when it comes to craft projects is key. Sometimes the dread of the clean up makes us not even want to break out the kids craft supplies, right!? Here's what we have in our stash to make things easy, and keep the rest of the house clean while we're at it!
Gathre Mat – We love using a gathre mat to cover our surface or to work on outside in the grass because materials can't soak through them! They are wipeable, but acrylic paint will not come off of them (in my experience at least) so keep that in mind! We have one that we designated for messy projects (and just let it get messy), and others that we only use if it's an easy clean up.
Old Tablecloths – Old tablecloths are great for work surface cover up too but beware because paint and things can bleed through these!
Old Towel – As a result of the above, we often layer an old towel underneath if we're doing a super messy project! I wash and keep everything in a basket in our craft closet.
"Paint Clothes" – If you have a kiddo who doesn't like being naked (*raises hands*) we keep a basket full of paint clothes that are just old stained clothes that we put on and don't care if they get totally messy!
Apron – Not going to lie, we rarely make it to the "putting on an apron" stage in our craft projects, but these mini ones we have are so cute and so is this color wheel one!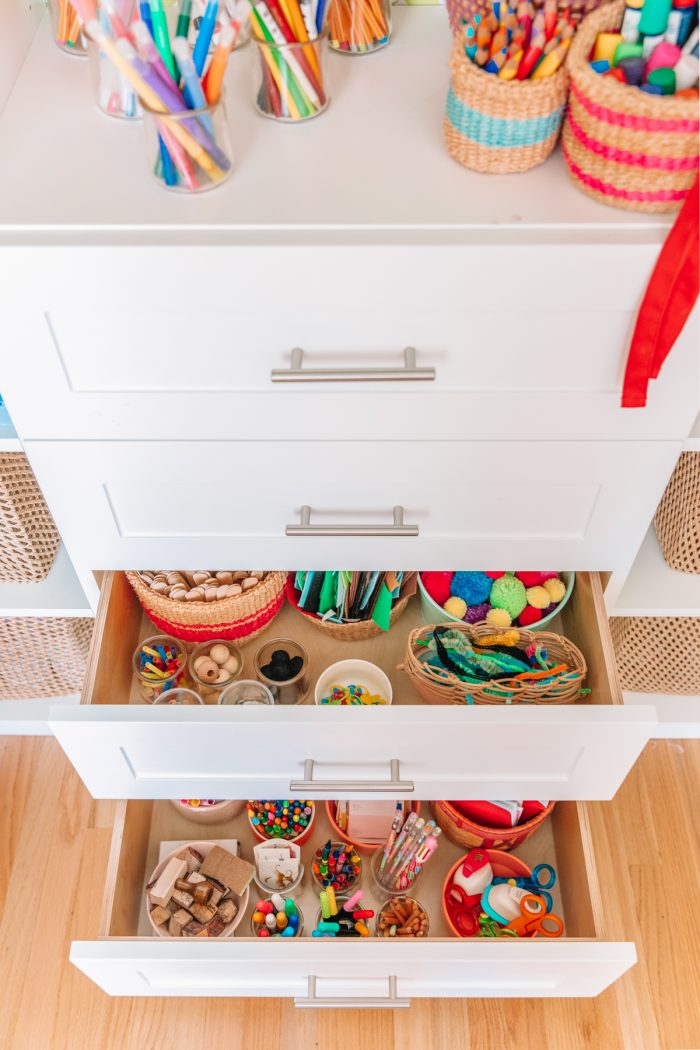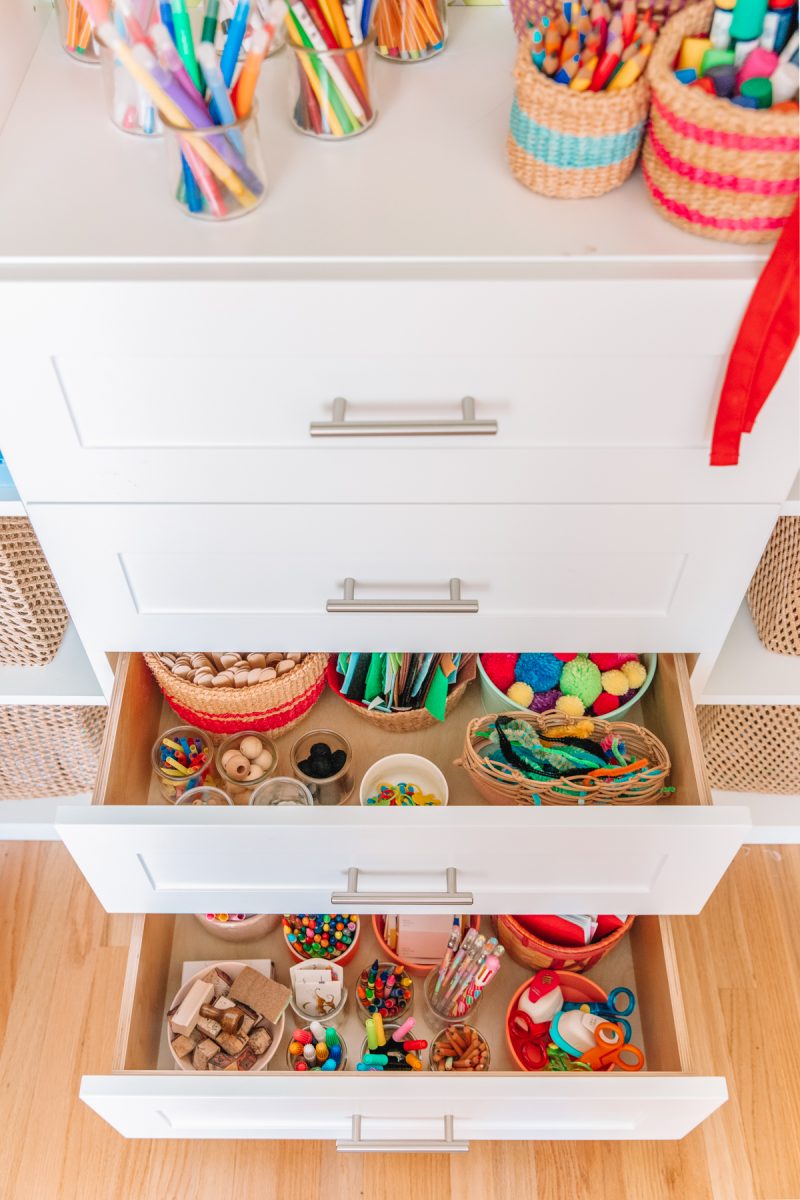 Making Kids Craft Supplies Accessible
I think autonomy is so important in creativity, so while I keep craft supplies that need adult help out of reach, I filled two drawers with lots of little jars and containers of kid-safe supplies so that our little dude could pop in there and grab whatever he wanted on his own. It's a HUGE hit, and he feels so proud when he comes out with his chosen craft supplies.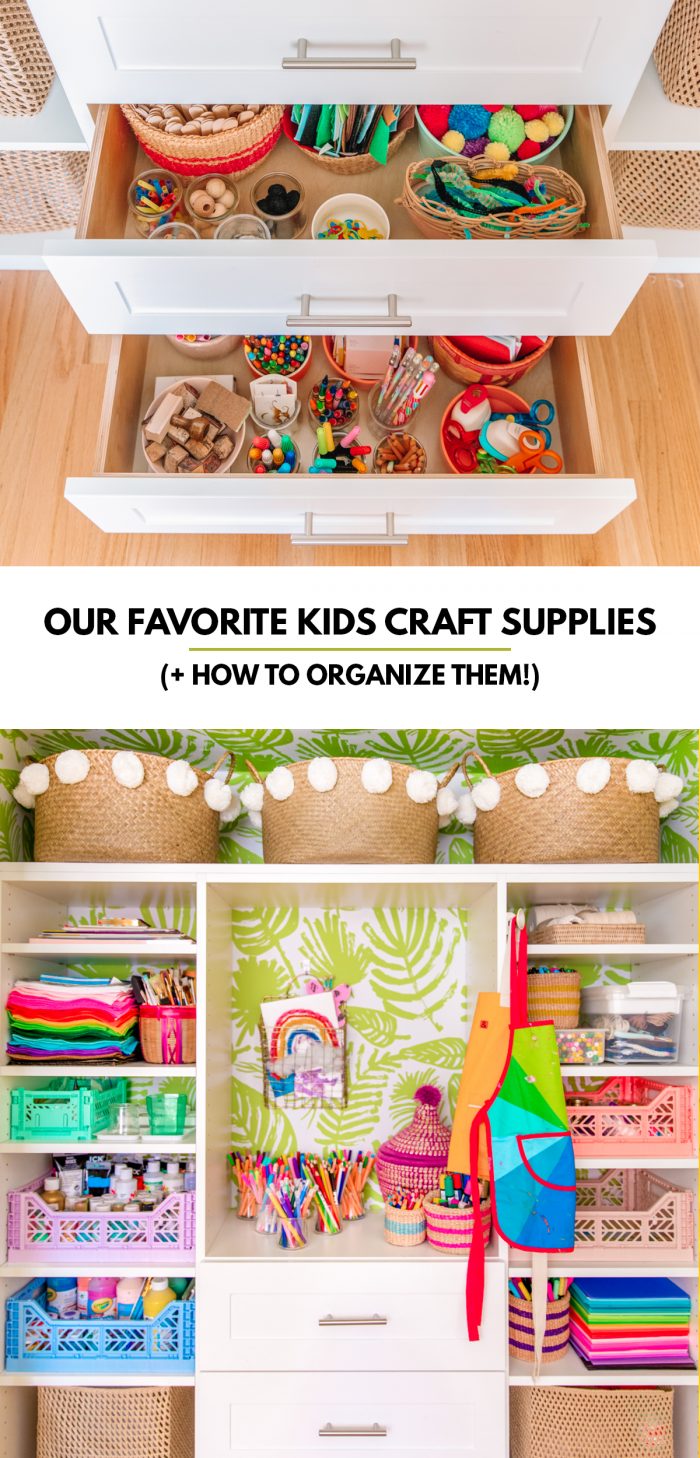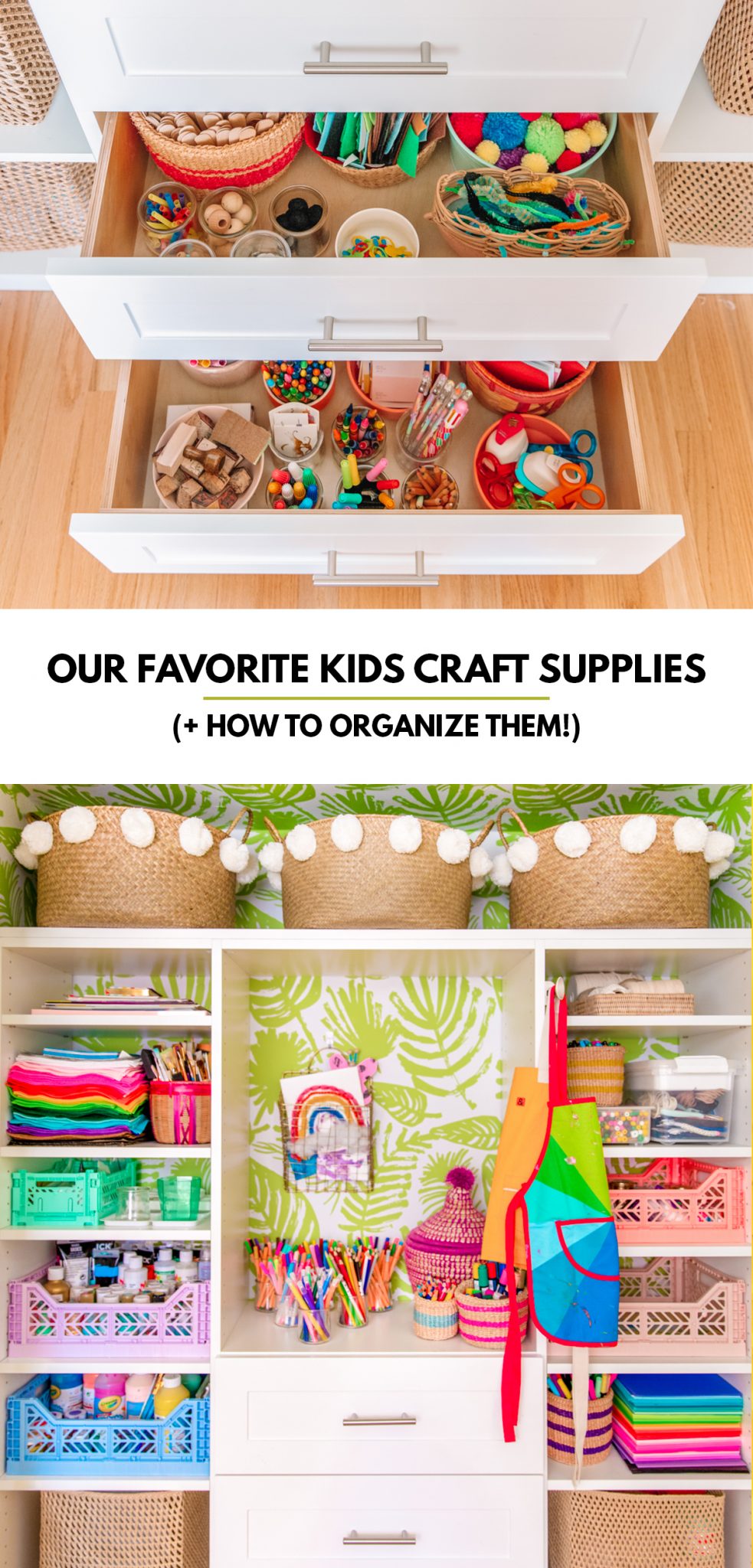 I hope this list helps give you some direction on what kids craft supplies to add to your craft closet, shelf or drawer so you're family can get creative together!
Closet Decor Sources
Built In Drawers, Hardware, Shelves and Hanging Rod: Tailored Living*
Wallpaper: Chasing Paper*
Paint Color: Dunn Edwards 'Radiant Sunshine'
Find the tutorial for the sunburst closet doors here!