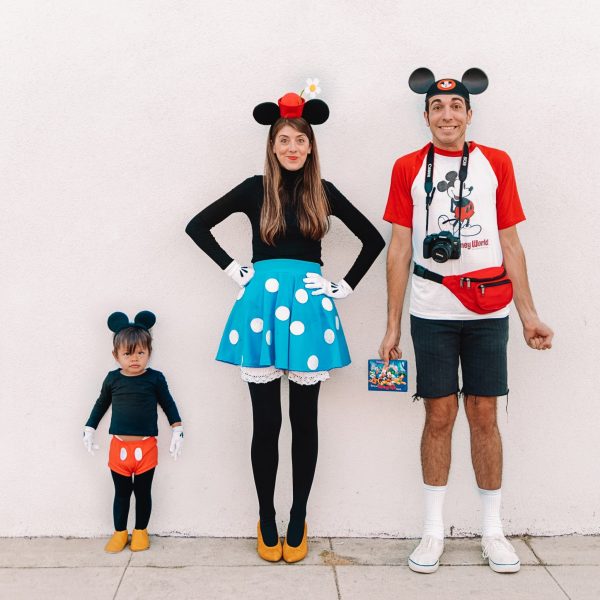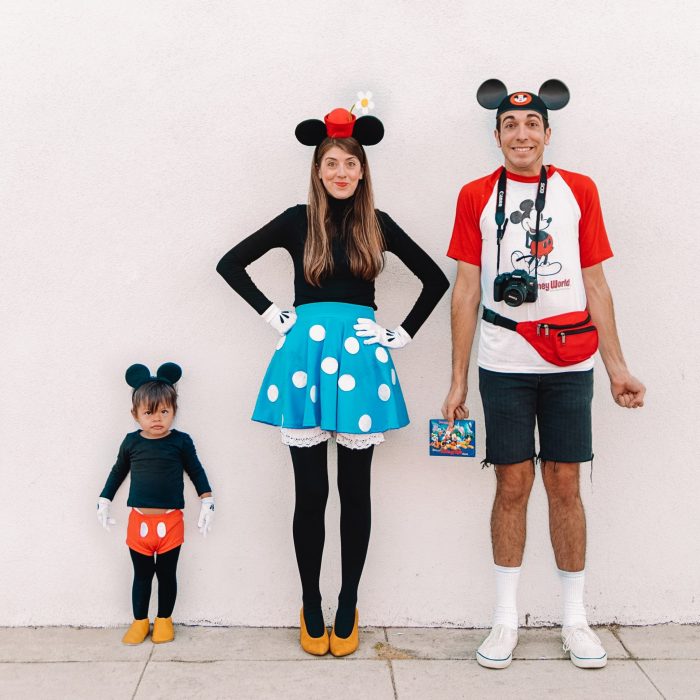 These costumes are so near and dear to my heart!! Last Halloween, Arlo was deep in his Mickey obsession (still is) and so we decided to do a Mickey and Minnie Mouse family costume!! Jeff was Mickey's #1 fan and it was the perfect complement to a Mickey and Minnie mommy and me! I thought I'd share the products we used and the easy DIYs I did to make this happen! It was honestly the easiest costume ever!!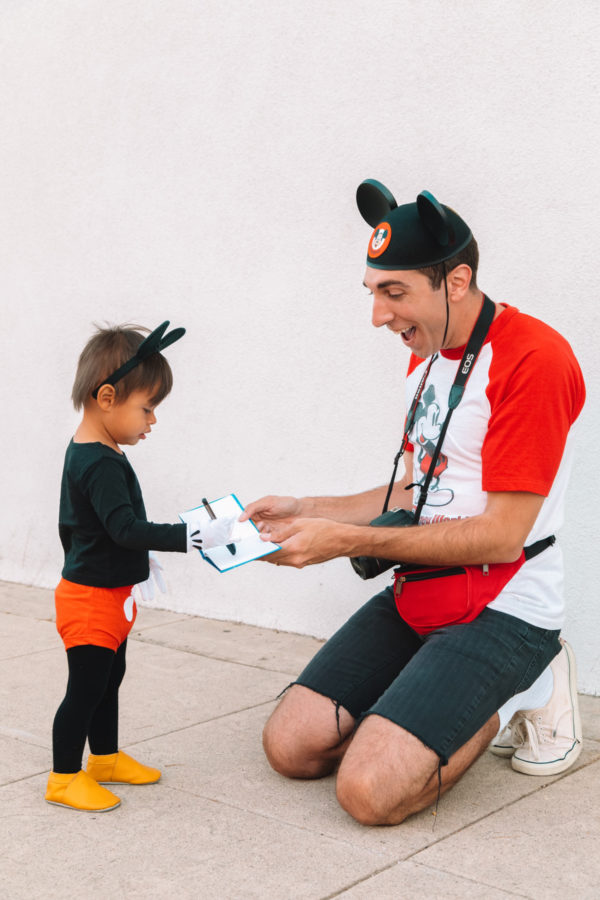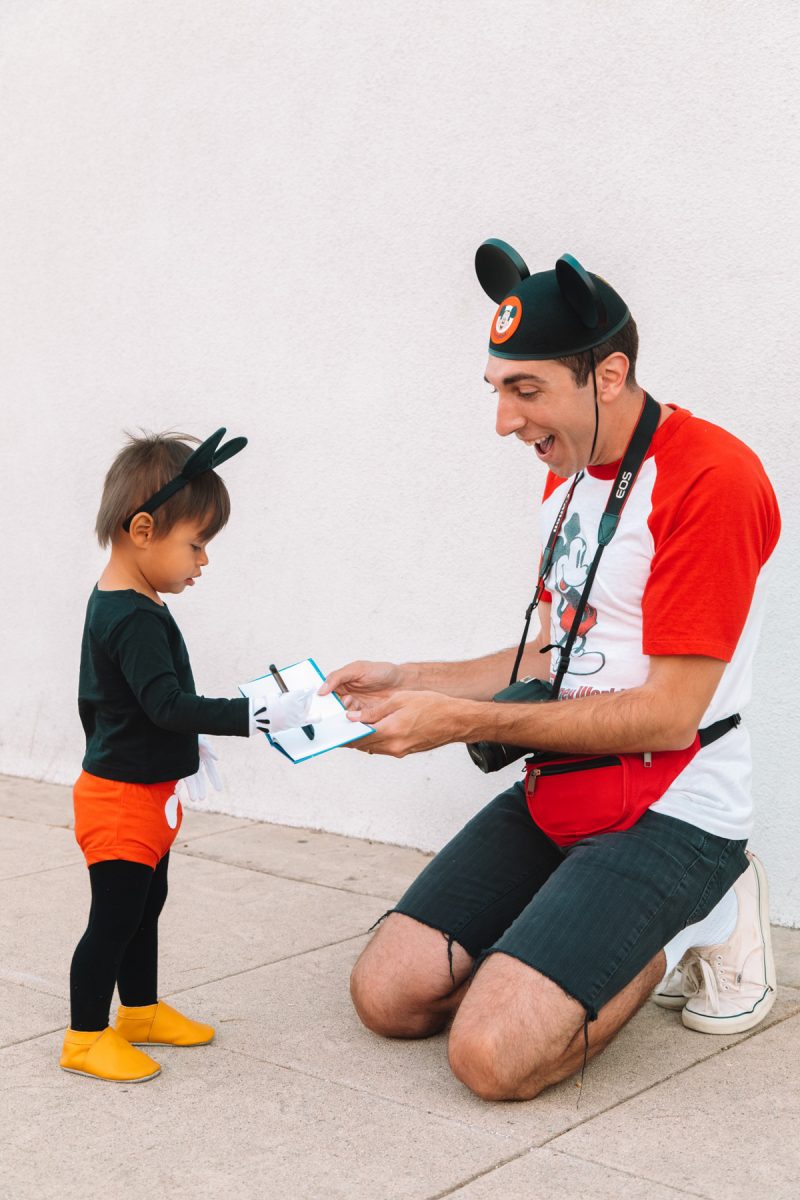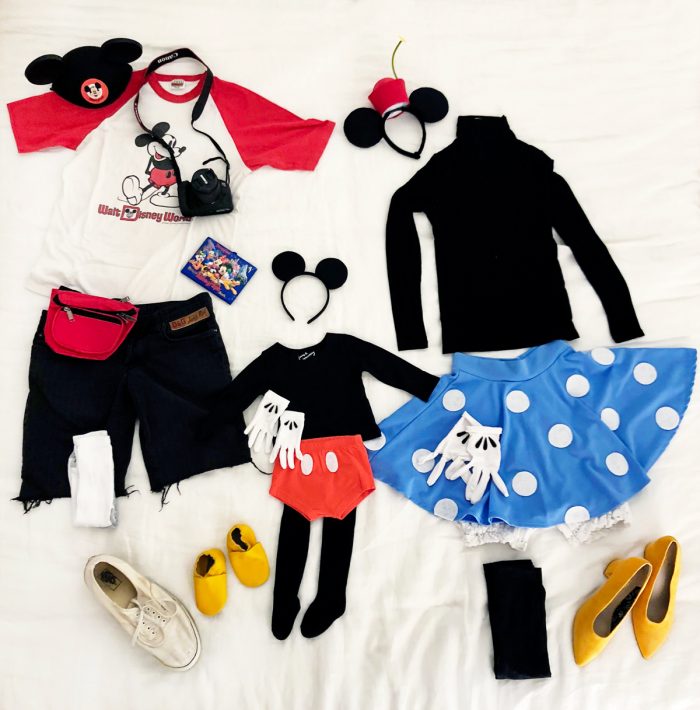 DIY Mickey and Minnie Mouse Family Costume
Total Time:
Supplies
Mickey Mouse:
Black Shirt
Red Shorts (A few options here and here!)
Black Tights (A few options here or here!
Yellow Moccasins or Sneakers
Mickey Ears
White Gloves
White Felt
Hot Glue
Minnie Mouse:
Black Shirt
Bloomers
Blue Skirt
Black Tights
Yellow Pumps
Mickey Ears
White Gloves
Foam Half Sphere + Red Paint
Faux Flower (You can either get a white flower and just use that, or get any flower and just use the stem + make your own felt flower like I did!)
Red, Black, White + Yellow Felt
Mickey's #1 Fan:
Mickey T-Shirt
Shorts
Mickey Ears
Fanny Pack
Autograph Book
Camera
Socks + Sneakers
Directions
For Mickey Mouse:
1. Cut out two white ovals and hot glue them onto the front of the red shorts.
2. Cut out six small black tear drop shops and hot glue them (three each) to the white toddler gloves.
3. Assemble outfit!
For Minnie Mouse:
1. Paint half sphere red and let dry.
2. Hot glue a felt "rim" around the sphere to creat the hat.
3. If you're making a felt flower, cut out from white felt and add a yellow center. Hot glue the flower stem on top of the sphere.
4. If the hat you made is too wide to fit between the Mickey ears you bought, you can cut the material (NOT the actual hard headband, just the fabric) and separate the two ears slightly. Then glue the hat in place!
5. Cut out a bunch of white felt polka dots and hot glue them to the blue skirt.
6. Cut out six elongated black tear drop shops and hot glue them (three each) to the white gloves.
7. Assemble outfit!
For the Mickey fan, all you need to do is assemble the outfit. Easy peasy!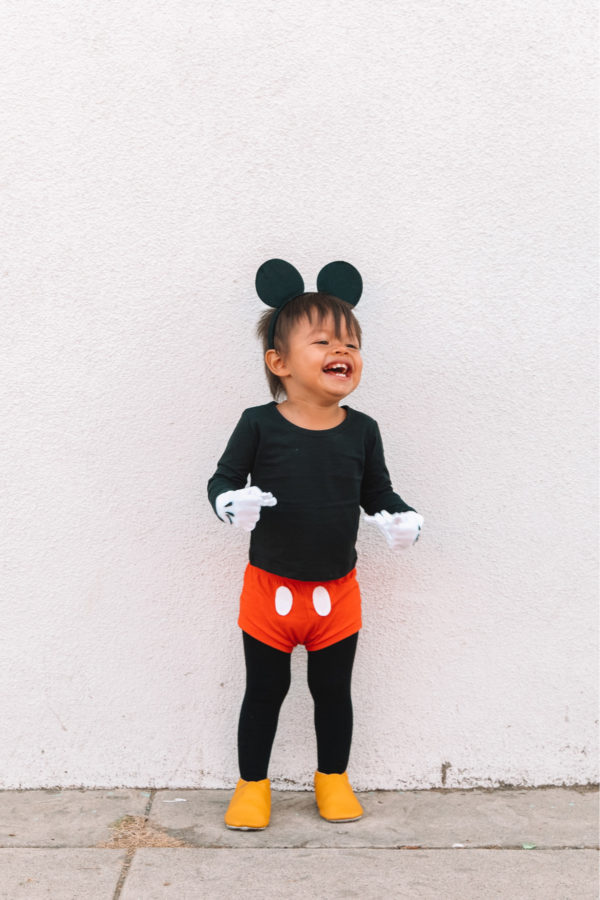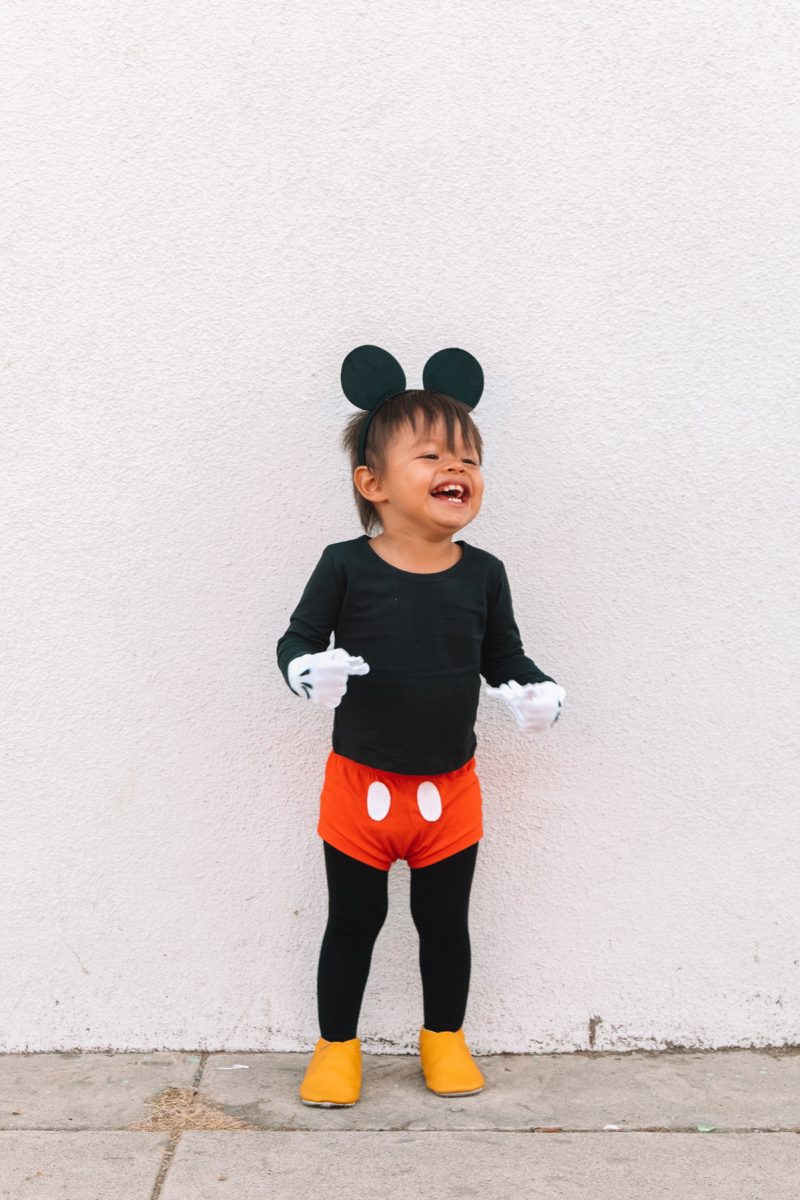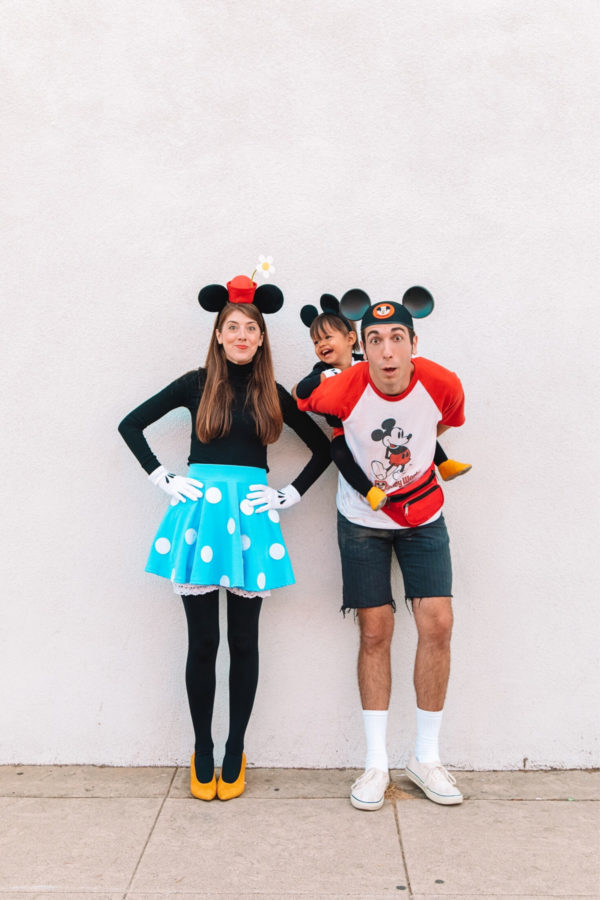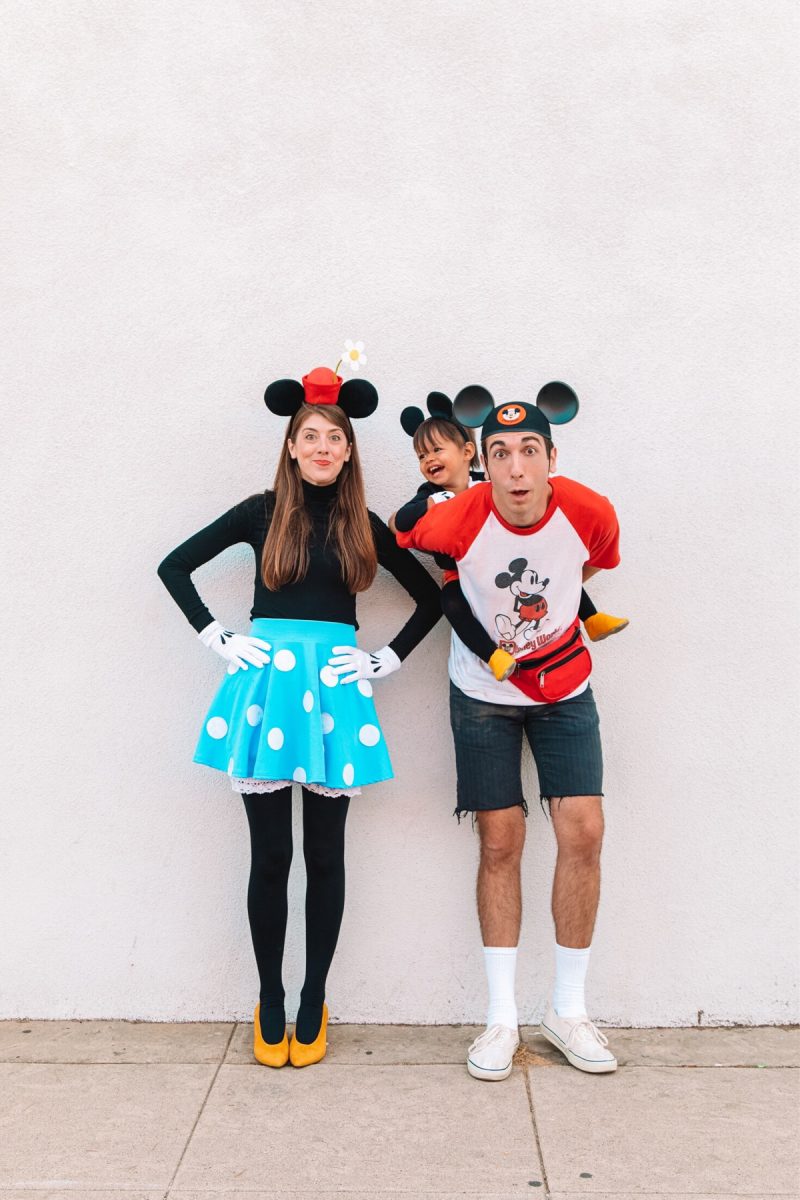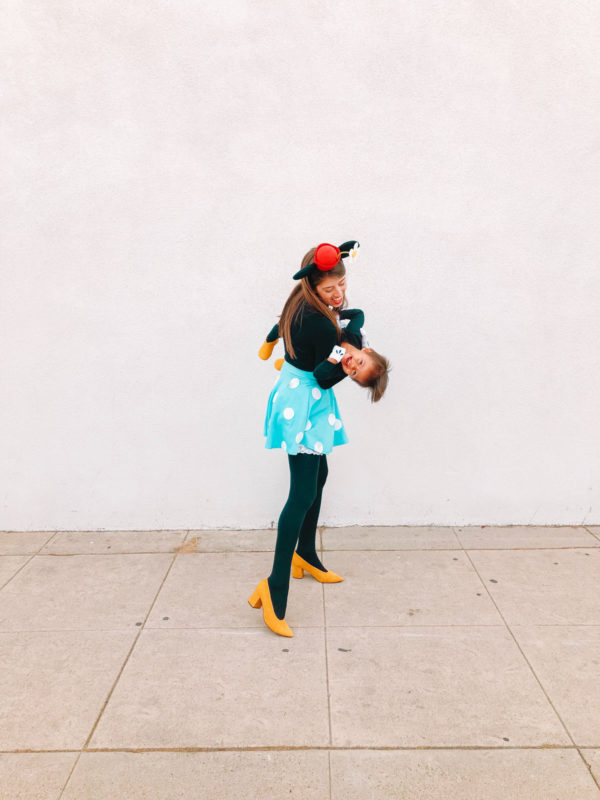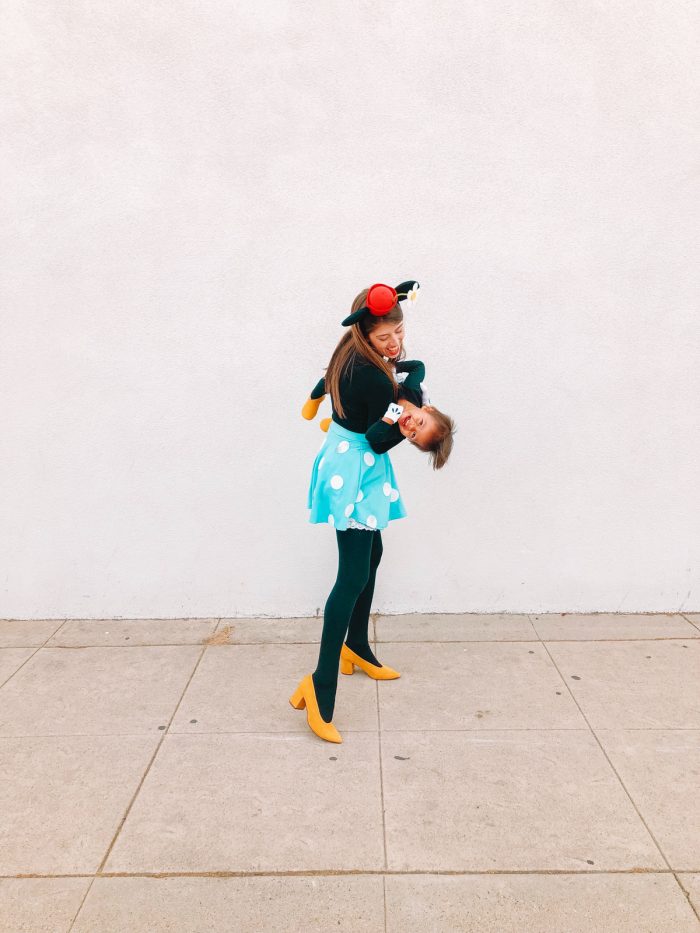 Photos by Jeff Mindell
I was so so happy with how these turned out! Hope you recreate it for your Mickey or Minnie loving little one!!! Remember, if you do, be sure to share a picture and tag #studiodiyincostume on Instagram!!