Today's DIY is actually a great example of two past DIYs of mine getting together and having a really cute Valentine's Day baby. Last year, I made some mini (conversation) heart piñatas and I experimented with mailing a piñata-gram, too. This year, I combined the two to make a piñata love-gram! Oh my goodness, wouldn't you just die to get a piñata Valentine in the mail!? Yeah, I thought so. Whoever sent that.. that's true love right there. This is a no-box-required craft, you just ship the piñata as is, filled up with treats for the sweet recipient on the other end!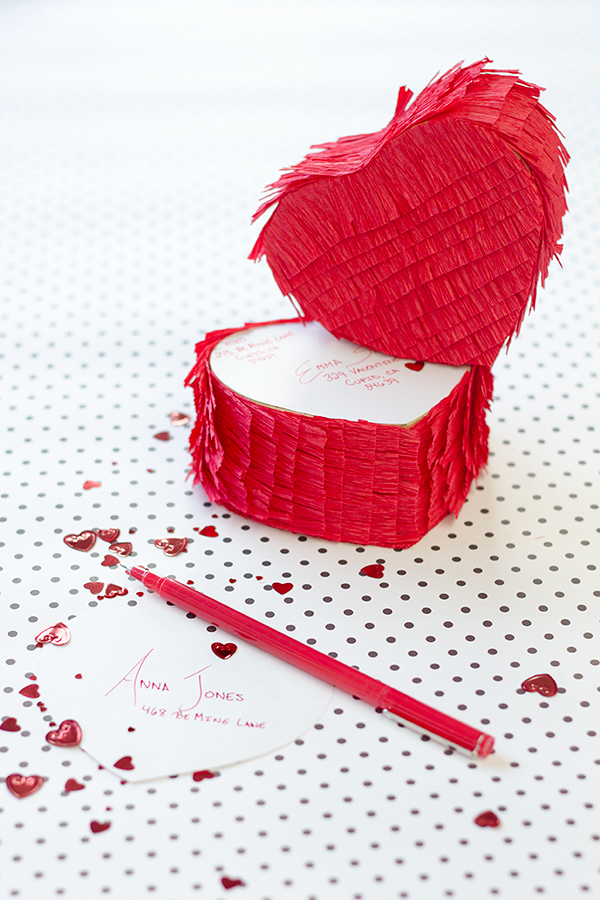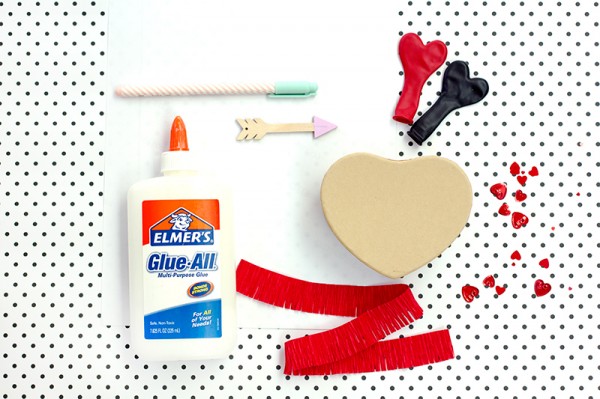 Paper Mache/Cardboard Heart Box (You can find them at your local craft store, or by them by the dozen here.)
Crepe Paper (The heavy crepe paper is best for this, if you really are mailing it. Thin crepe like streamers won't hold up as well.)
Scissors or Fringe Scissors
Adhesive Label Paper
Pen
White School/Craft Glue
Goodies for Stuffing!
Trace the bottom of your heart box on the back side of your label paper and cut out. Write your address (and return address!) on the label and then adhere it to the bottom of your box. Fill up your box with treats!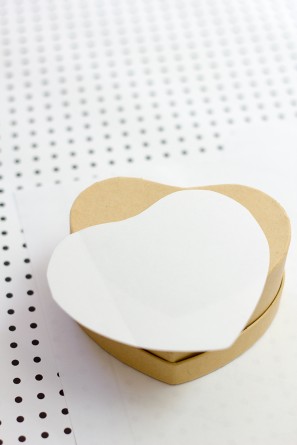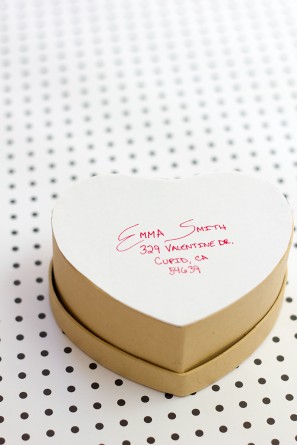 Cut about 1″ wide strips off the bottom of your crepe paper roll. Then cut skinny fringe along one edge of each strip. Then start fringing up your box! Starting at the point of the box lid, run lines of white glue and adhere strips of fringe, spacing them about 1/4″ – 1/2″ apart and moving up the lid. to the top. Let the fringe hang over on the sides until it's dry.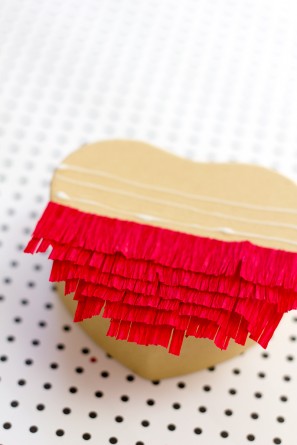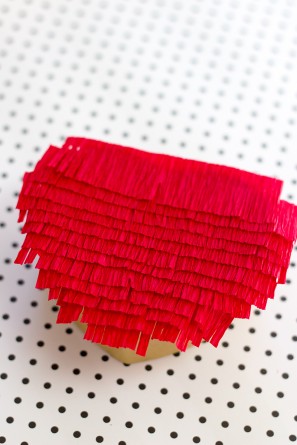 Then trim off the edges so you can see the heart shape! Now fringe up the sides. This actually will hold your box/lid together. Start at the bottom point on one side and work your way up to the "dip" in the heart at the top, using the same method you used for the front. Then repeat on the other side, again starting at the bottom point. Trim any fringe hanging off the edges.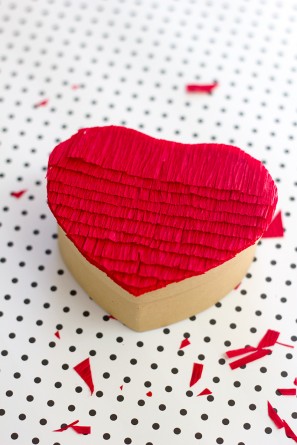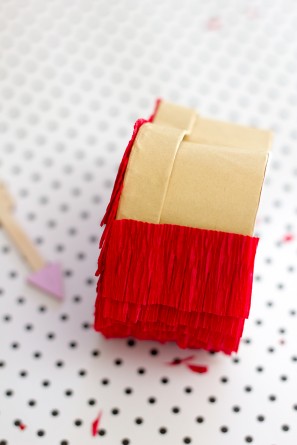 Take it to the post office to send it on it's way! No box required! A few notes… The Post Office may think your crazy. They may even say no at first! But they are wrong, it is possible. Be persistent folks. As long as the label is adhered so it won't fall off, you can ship just about anything! When you're writing your address on the label make sure to leave enough room for the postage label (or a bunch of stamps). A few of you asked about how much it cost to ship in the last Piñata-gram post. Unfortunately, this really depends on what you put in the piñata, as the cost depends on weight.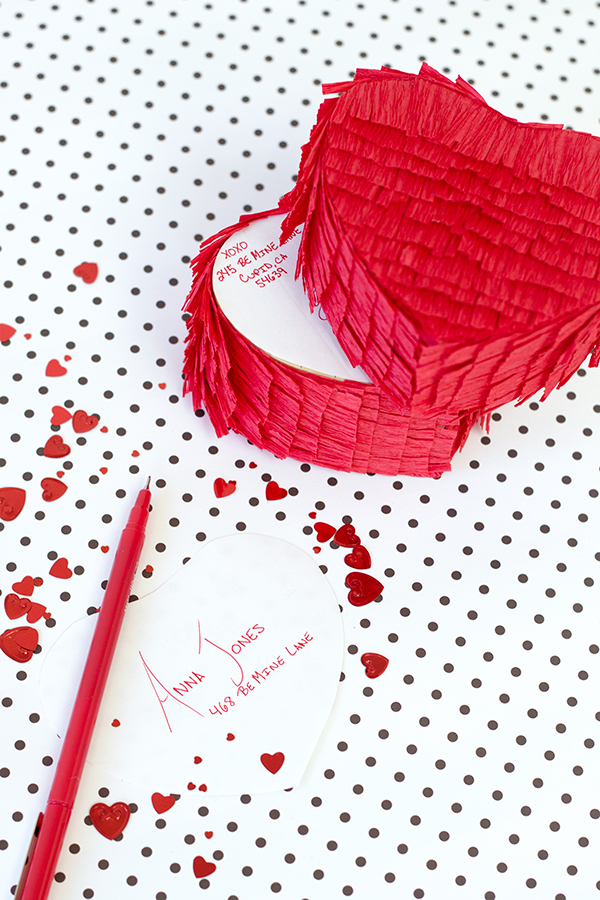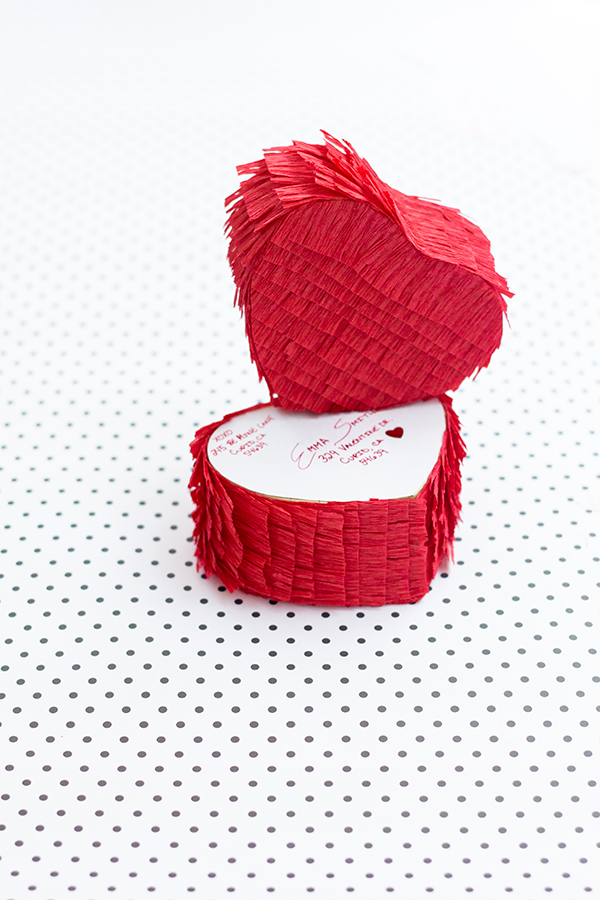 All Photos by Studio DIY
Of course, you don't have to mail these. They'd also make super cute Valentine's delivered in person. But, getting mail is always SO much more fun, isn't it!?
For more Valentine's Day DIYs, click here!