As a final dose of DIY Valentine's Day inspiration I'm going to throw a lot at you… in a good way! There's nothing better than finding multiple uses for something and with today's printable I've found three! Hip hip, hooray! I guess I have a thing for candy conversation hearts this year (See here) and if you do too you're going to love this DIY Valentine! Not only are these printables printed with those pastel hearts but I have a little tutorial for making candy heart inspired balloons, and wrapping everything up in one adorable package too! Check it out and then keep scrolling for two bonus ways to use this colorful and festive download!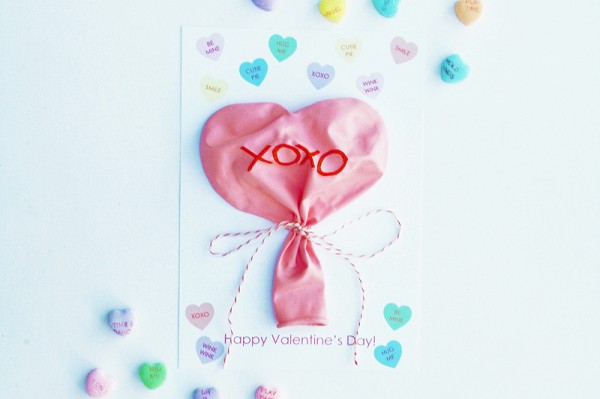 Now, about these balloons. They're perfect for these Valentines of course, but they'd also be great as a balloon bouquet at a school Valentine's Day party. You could even write each child's name on the balloon in place of the fun phrases. But now, back to the printables…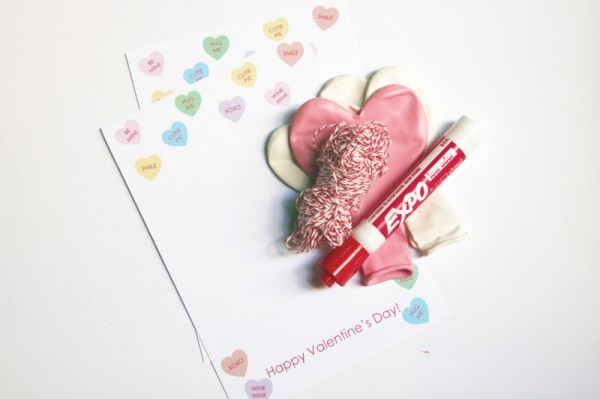 Supply List:
Free Conversation Heart Printable
Latex Heart Shape Balloons (You should be able to find these at your local party store)
A Red Dry Erase Marker with a wide/chisel tip (NOT, I repeat NOT a Sharpie)
Baker's Twine or Embroidery Floss
To Make:
Blow up your balloon and and tie it temporarily with a piece of twine (or whatever else you have handy to keep it inflated without knotting it). Use your dry erase marker to write your phrases on the balloons. IMPORTANT!! Only write in one layer, do not continually go over and over your letters making them darker and/or thicker. One line is plenty, I promise. If you make the writing too thick it will warp when you deflate the balloon for your card and you'll risk the ink peeling off.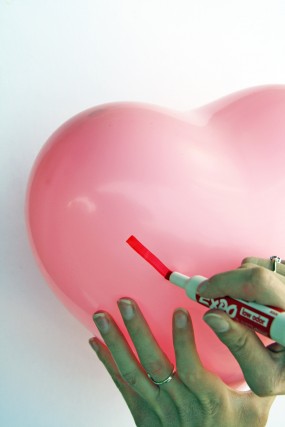 Deflate your balloon and watch the lettering shrink along with it, fun!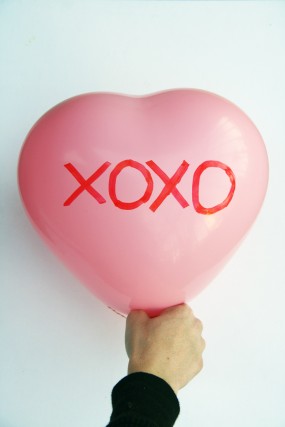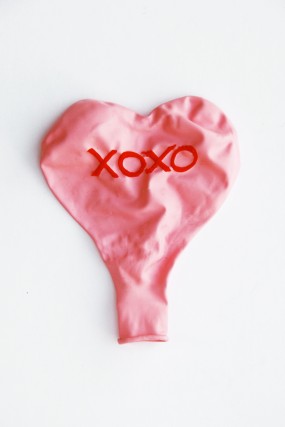 Now you need to poke two holes about 1/2″ apart from eachother where you want to tie your balloon onto your card. String your baker's twine or embroidery floss through the holes.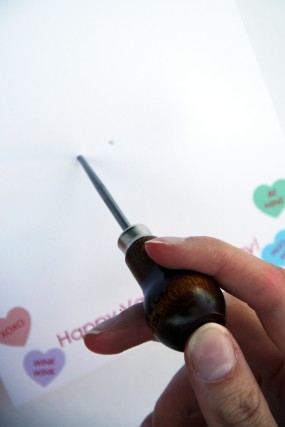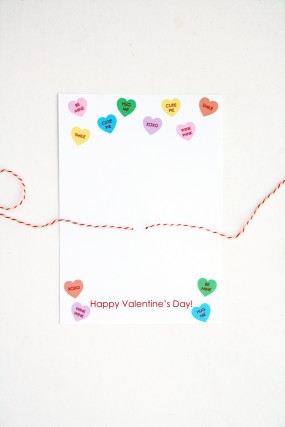 Put your balloon in place and tie a pretty bow around it and they're ready to go! I happen to think these balloon valentines would be just as cute without the phrases written on the balloons if you want to skip that step. I mean, I don't know what kid (or adult) wouldn't be excited to get a balloon in their Valentine regardless, and it's a great alternative to the sugar staples of late…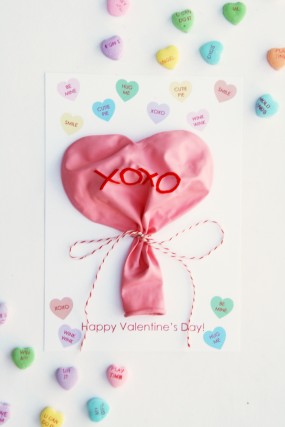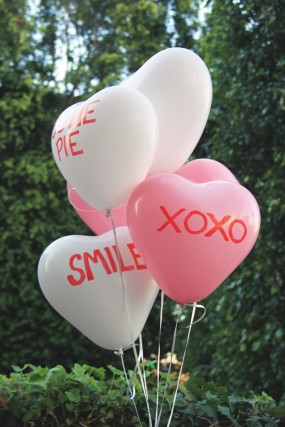 But if it's those sugary treats you (and your kids) crave, I've got ideas for those too! Here come the two BONUS ideas for using these printables!
First up, conversation heart tic tac toe! Now these will work best for Valentine's Day parties rather than actual Valentines. All I did was make a little tic tac toe board out of pink washi tape right on the printable. Then I separated out my candy heart colors and put them in mini glassine bags (you can purchase these at your local craft supply store), closing each with another piece of washi tape. You can either hand each child a bag or lay a bunch out on a big table with the boards and kids can pick and choose. Then let the game playing begin!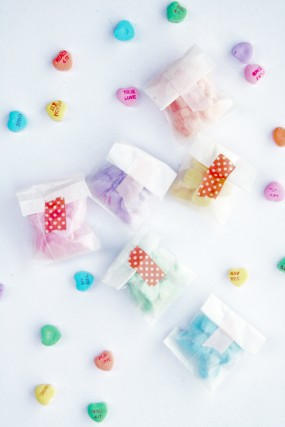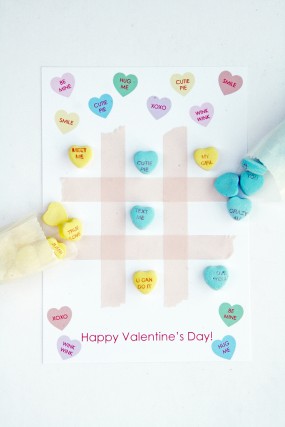 Now for a final, super simple way to use these cards. If you want to forgo the balloon idea (or can't locate them last minute) never fear! Just pick up a bag of candy hearts and make little baggies for each valentine. Tape or tie them on and there you have it. A candy heart extravaganza!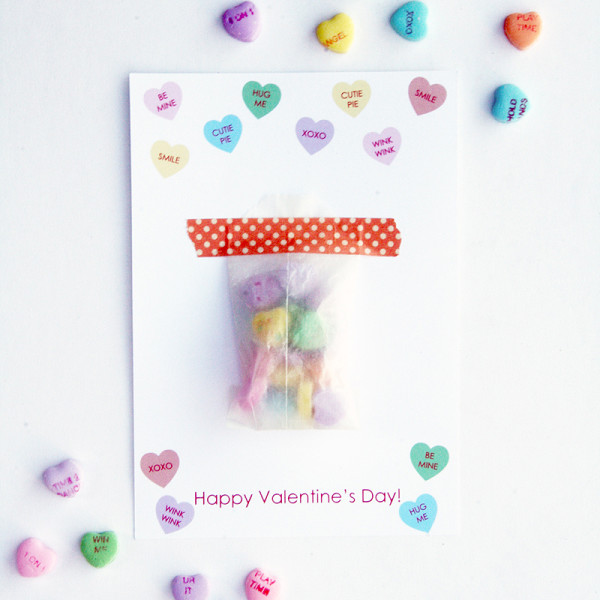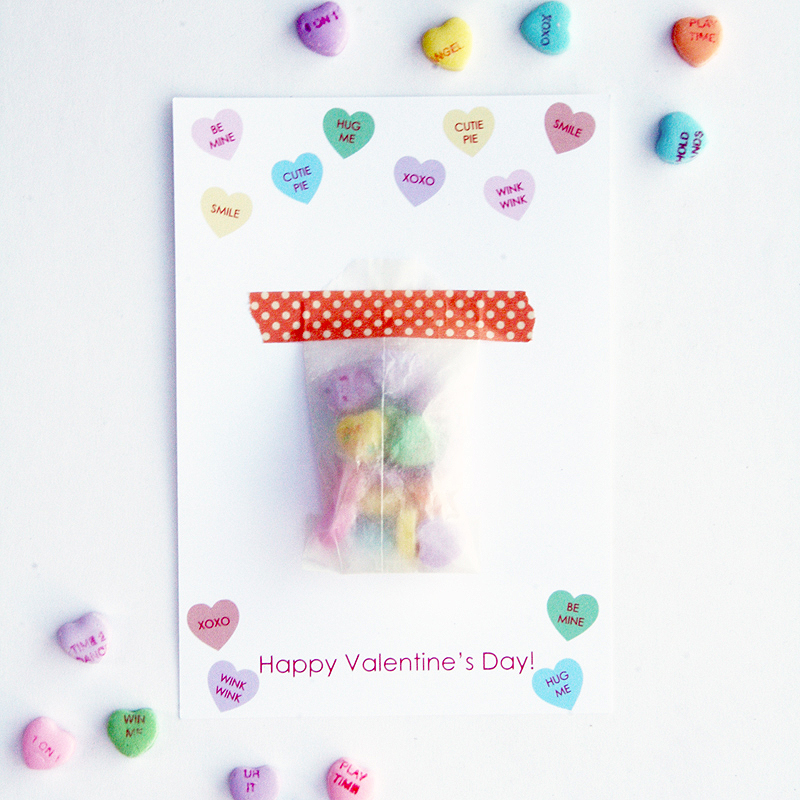 All Photos by Jeff Mindell Photography
Now how's THAT for a multitasking printable? Which idea was your favorite!? If you can't choose… just throw a candy heart party! Make these streamers in pastel colors, tie the balloons to the chairs, play a little tic tac toe and gift the printables (with balloons or candy hearts) as favors. Then, invite me and you're all good to go! =)
A very special shout out to Jihan of Geronimo Balloons for providing me with the perfect heart balloons for this craft. If you're like me and a little balloon obsessed then you may just go into cardiac arrest checking out her version of Valentine balloons. No, I'm not kidding.
Looking for more free printables? Check out the Free DIY Downloads section right here!