When we made our gumball costume with Savers we just couldn't quit so we made a pumpkin gumball machine to match!! YEP! That's a pumpkin up there. BELIEVE IT! After all, I'm a part of Savers Ultimate Halloween Party on Pinterest and if you ask me, you can't have a Halloween party without some PUMPKINS! Let's do this.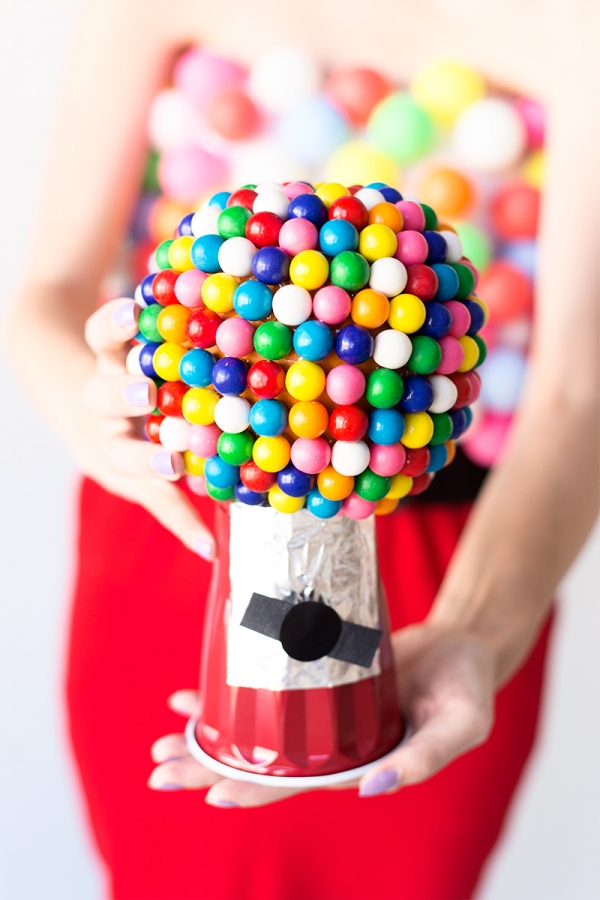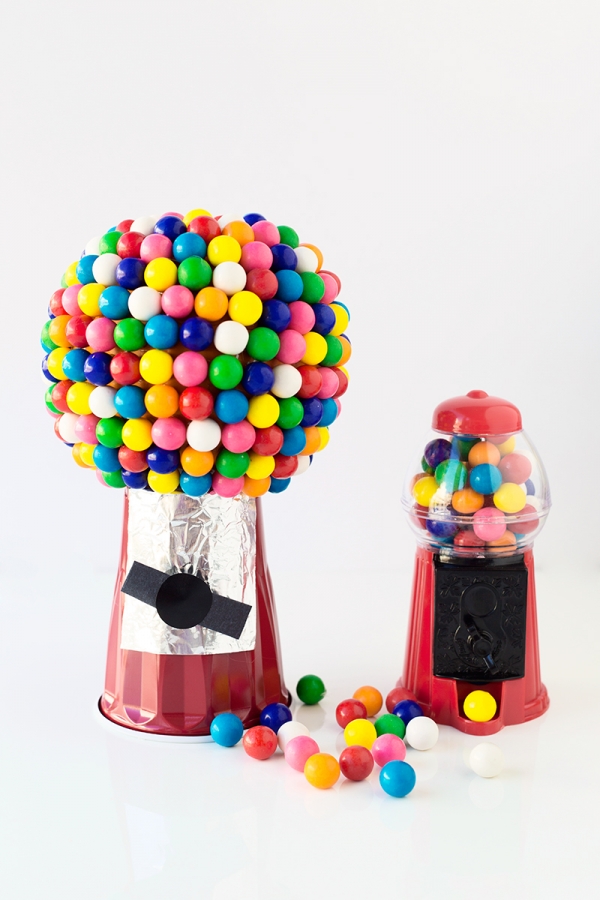 Small Round Pumpkin with a Short Stem (We used a sugar pumpkin!)
Gumballs
Edible Adhesive or Candy Melts (So that the gumballs remain edible!) or Hot Glue (If you are just using it as a decorative piece)
Red Plastic Cup
Foil
Double Stick Tape
Craft Knife
Black Cardstock or Construction Paper
Pencil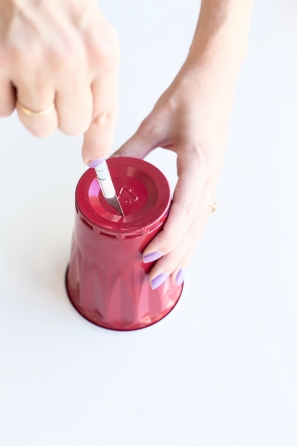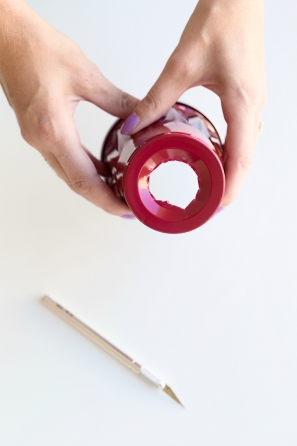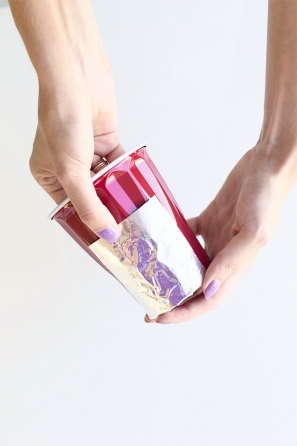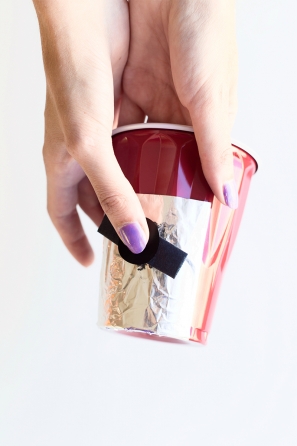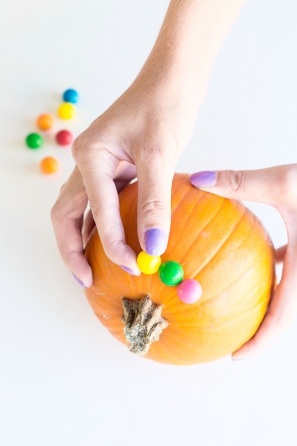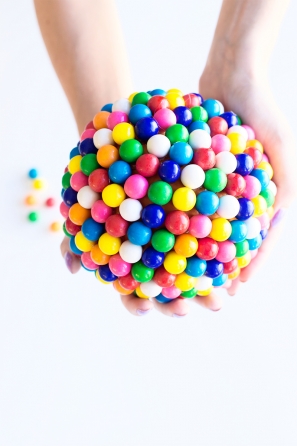 1. Use a craft knife to remove the inner circle from the bottom of the cup so the stem of the pumpkin can fit inside.
2. Cut a piece of foil that's about 2.5″ x 3″. Adhere to one side of the cup, as shown, with double stick tape.
3. Cut out a rectangle and a circle from black cardstock and tape together to form the crank. If you want it to look 3D like ours, hot glue a ball of foil behind the crank and then glue it to the silver piece on the cup.
4. If you want to use the contents of the pumpkin, empty out the pumpkin before continuing. Replace the top back on the pumpkin and place the pumpkin upside down on top of the cup and mark where the cup hits the pumpkin with a pencil. Remove the pumpkin and begin "gluing" (with edible adhesive OR hot glue*) around the line you drew.
5. Continue gluing gumballs all around the pumpkin until it's completely covered. Set the gumball covered pumpkin back onto the cup and secure with glue.
*The gumballs are only edible if you use the edible adhesive. If you use hot glue to adhere the gumballs they should NOT be eaten.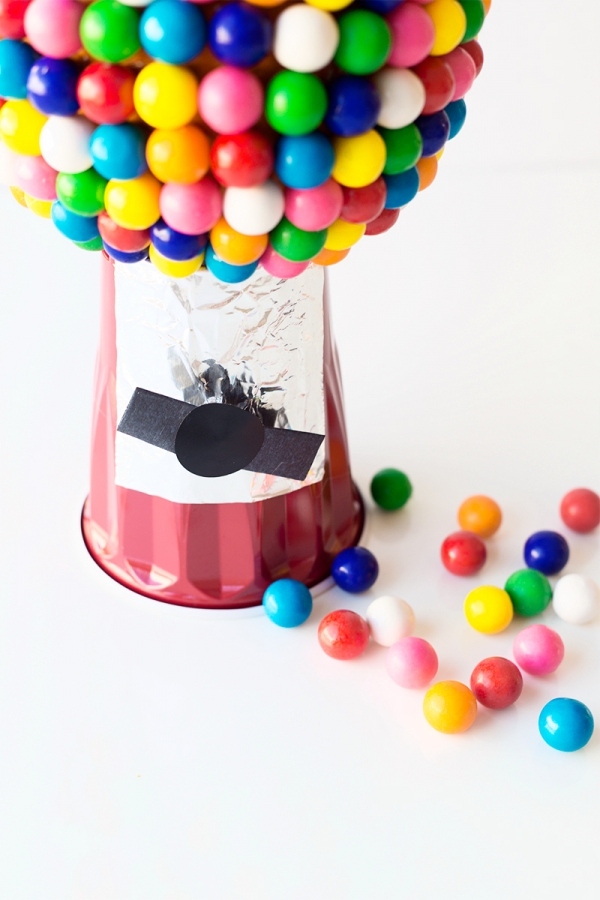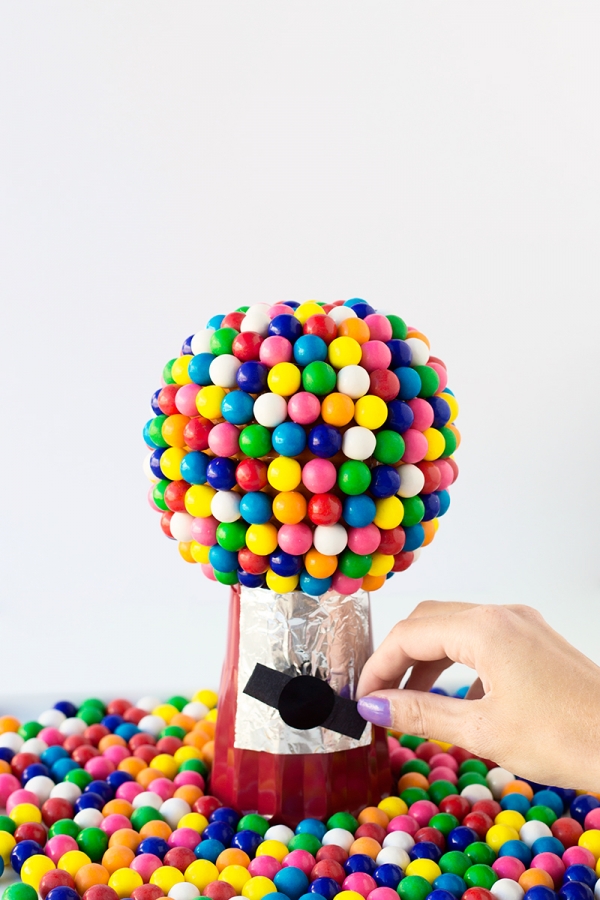 Photos by Jeff Mindell
Now that you've got your costume and your pumpkin ready, check out the rest of Savers' Ultimate Halloween Party on Pinterest to round out that Oct. 31st bash of yours! Woot woot!
This post was created in partnership with Savers, All content and opinions are that of my own! Thank you for supporting the sponsors that keep the Studio DIY party going! Read more about my editorial policies here.