Hmm, this project looks awfully similar to the grab box advent calendar… but with a whole other layer of fun on top!! I took a clue from the classic Punch a Bunch game on The Price Is Right (Why yes, I am an 85 year old woman.) and turned a punchboard into a punchbox, the added a bunch of advent goodies and a dash of holiday cheer! Shazam! A punch box advent calendar with 24 prizes hiding in 24 holes and a big ol' bonus prize hiding under that giant bow for the final day of advent.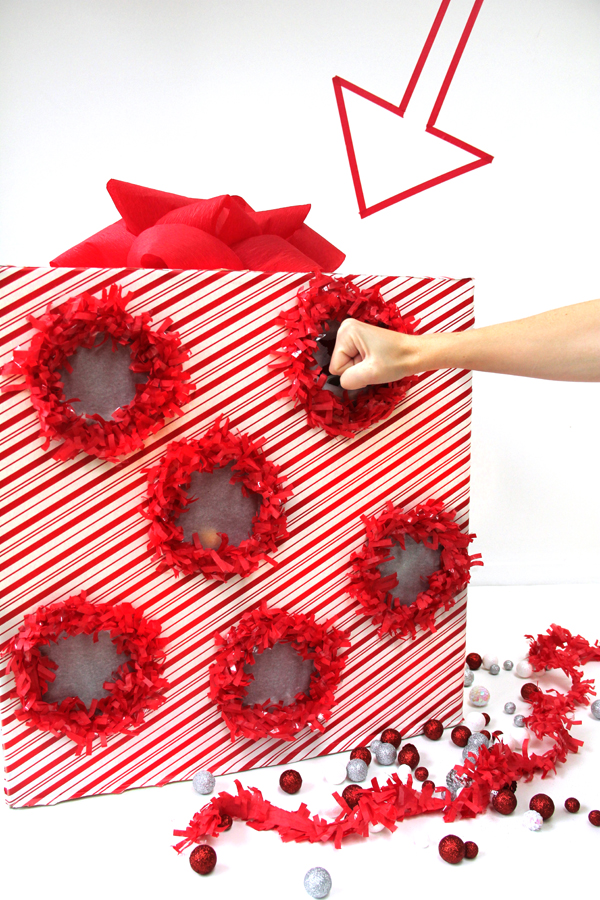 Supply List:
Everything on the list for the grab box advent calendar, plus…
Plastic or paper bowls
Tissue Paper
Double Stick Tape
Fringe garland or other trim
To Make:
Follow all the steps in the grab box tutorial, being sure to leave the bottom of your box OPEN and not wrapped. Cut 24 holes, just smaller than the opening of your plastic bowls, in your box (That's six on each side!). You can vary their placement or make them in perfect lines. Turn the box upside down, and place a bunch of double stick tape on the sides of the box, between the holes. This is to adhere your tissue paper to.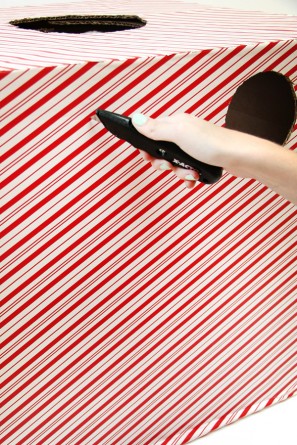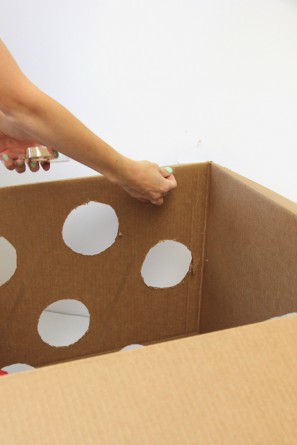 Take a sheet of tissue paper and carefully adhere it to your double stick tape. If it's wrinkly that is ok. It's getting punched, after all! If you want it to be less see through, repeat wiht a second sheet of tissue paper on top. Divide out your special prizes into each bowl. Carefully run a line of hot glue around the rim of your bowl and adhere it to the inside of the tissue covered holes, with the prize inside.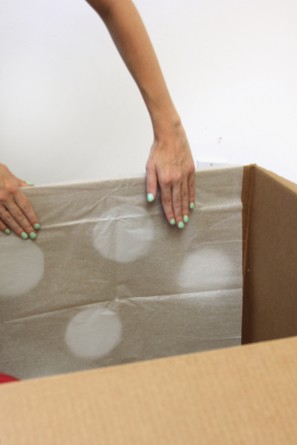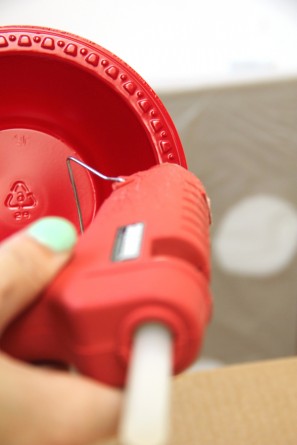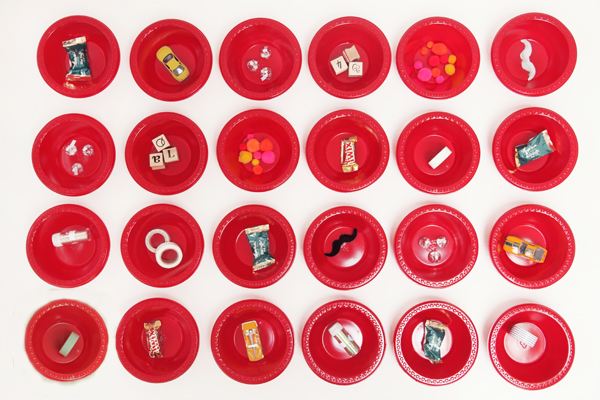 Do this to all 24 holes. Remember, the prizes need to be inside the bowls when you glue them to the box, otherwise you can't get the goodies in there!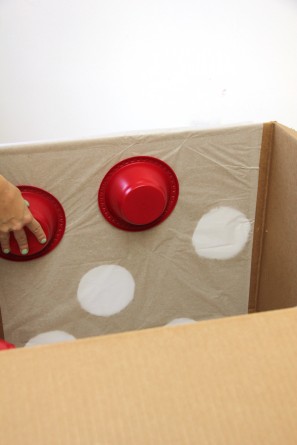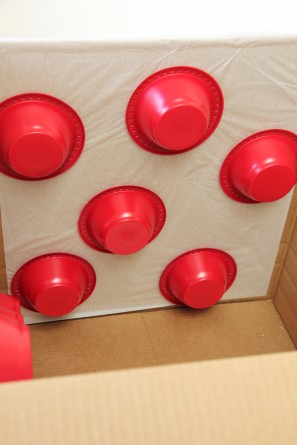 Stick a bigger prize inside the box through the top hole, or repeat what you did on the sides with tissue and a bowl to hide a prize there. Cover it up with your giant bow. To mask the inevetable jagged edges from cutting out all those holes, hot glue some fun fringe-y trim or tinsel around each one.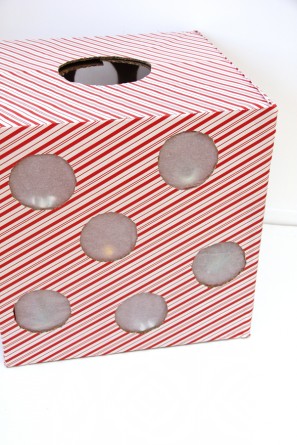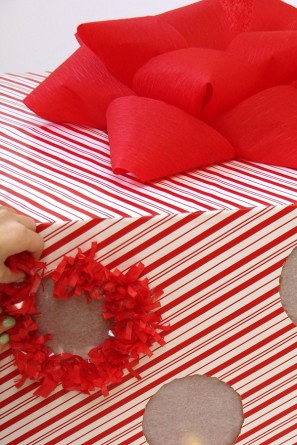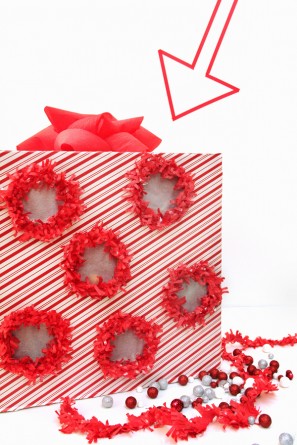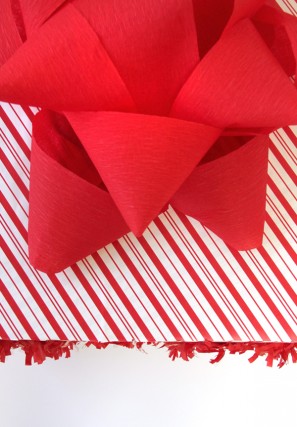 Punch away!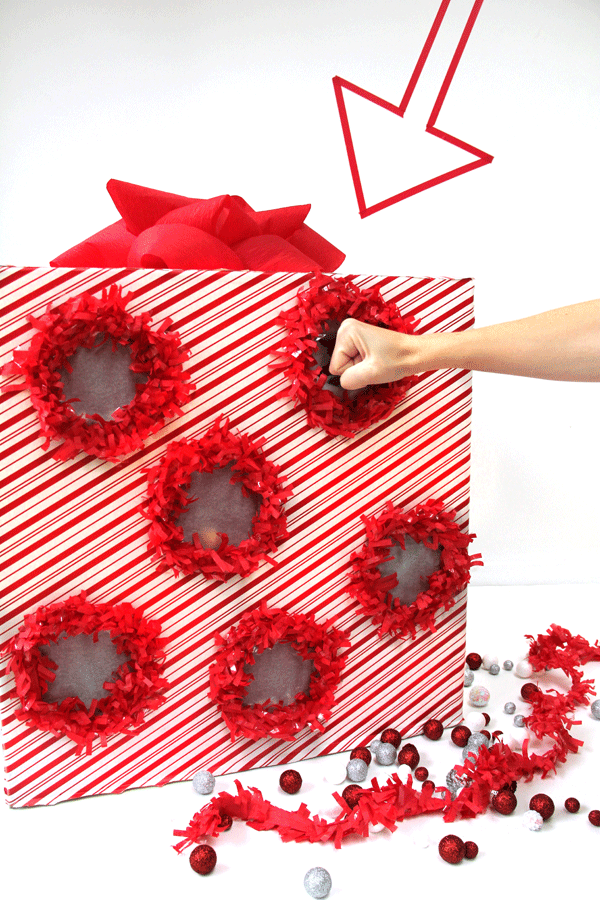 All Photos by Studio DIY
Looking for more DIY projects? Check out the full project gallery here and get your full DIY holiday fix here.

psst.. Have you entered the holiday giveaway yet!? There's still time!