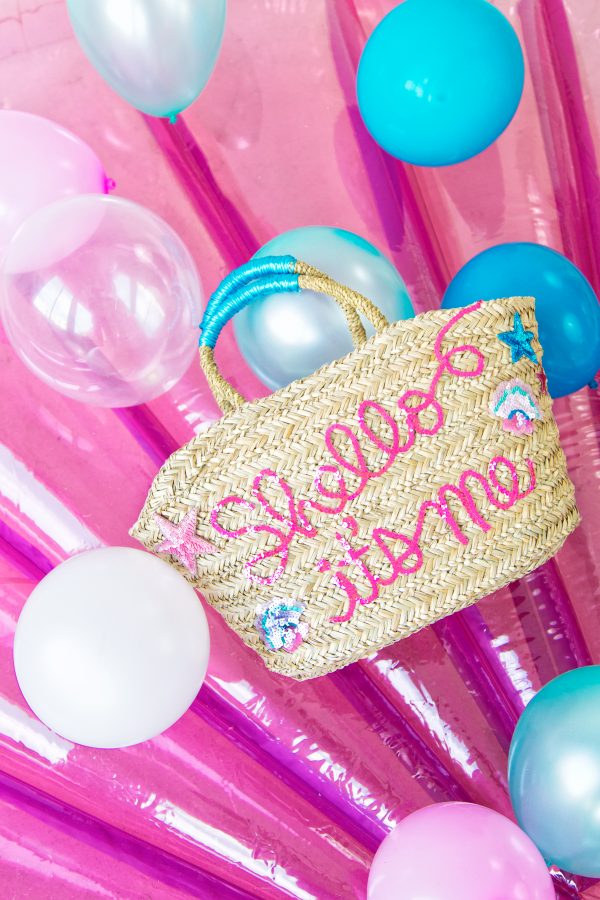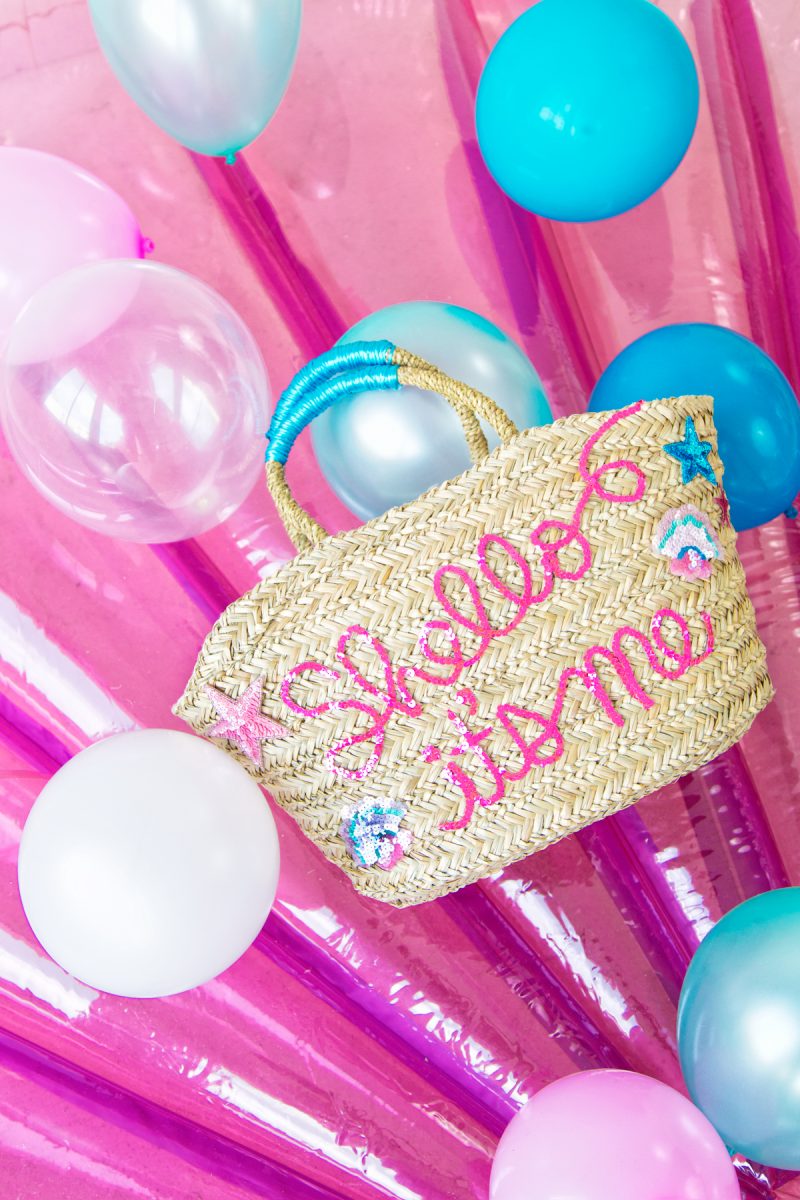 Shelloooooooo, it's me. I was wondering if after all these years you'd like to meet? 😉
I think we've all seen those AHmazzinggggg sequin hats, right? Well we're takin' the trend to your bag today with this DIY sequin beach bag! This started out as a plain ol' straw bag and we jazzed it up and gave it a mermaid vibe. It's another super simple way to personalize your summer goods!
DIY Sequin Beach Bag
Total Time: One Hour
Supplies
Beach Bag (We just removed the tassels!)
Sequin Trim
Sequin Patches (Shell, Light Pink Star, Hot Pink, Blue Star)
Satin String or Cord (Optional, for the handle)
Hot Glue
Scissors (and X-Acto Knife, optional)
Computer Paper
Sharpie
Directions
1. Sketch out the phrase you want on a piece of computer paper. If you're handwriting isn't stellar, you can print off a script font you like instead! Then, cut along the lines you just drew, to create a stencil as seen above.
2. Place the stencil on top of the bag where desired and trace the words onto the bag using a sharpie.
3. Run your hot glue, in small sections, along the glue line and hot glue sequin trim in place, forming the words. Do all the letters that are connected first and then go back and cross "t's" dot "i's", etc.
4. Decide where you want the sequin patches placed and glue those on using hot glue as well.
5. If desired. Use a bead of hot glue to secure the end of your satin string to the handle and wrap the handle to add another pop of color. Secure with a final bead of hot glue at the end.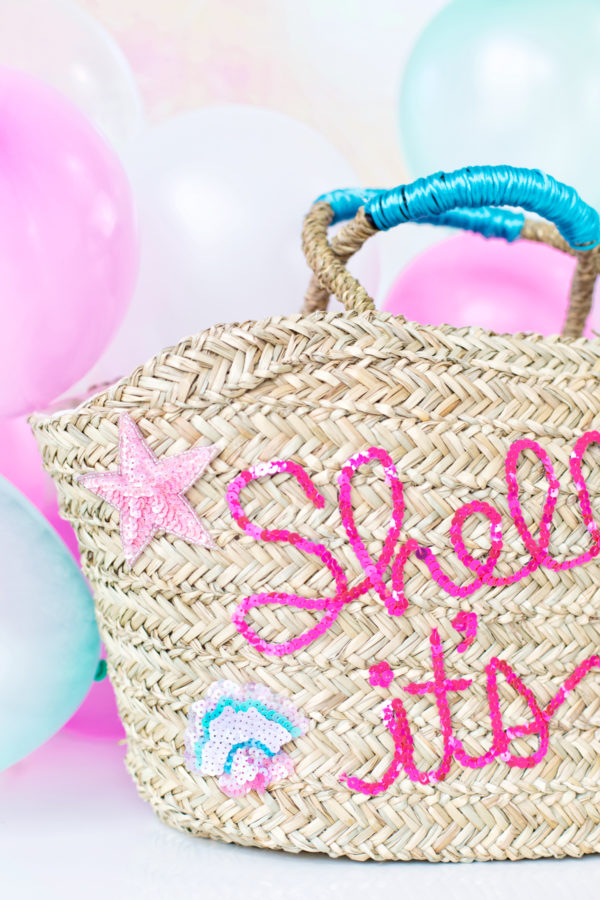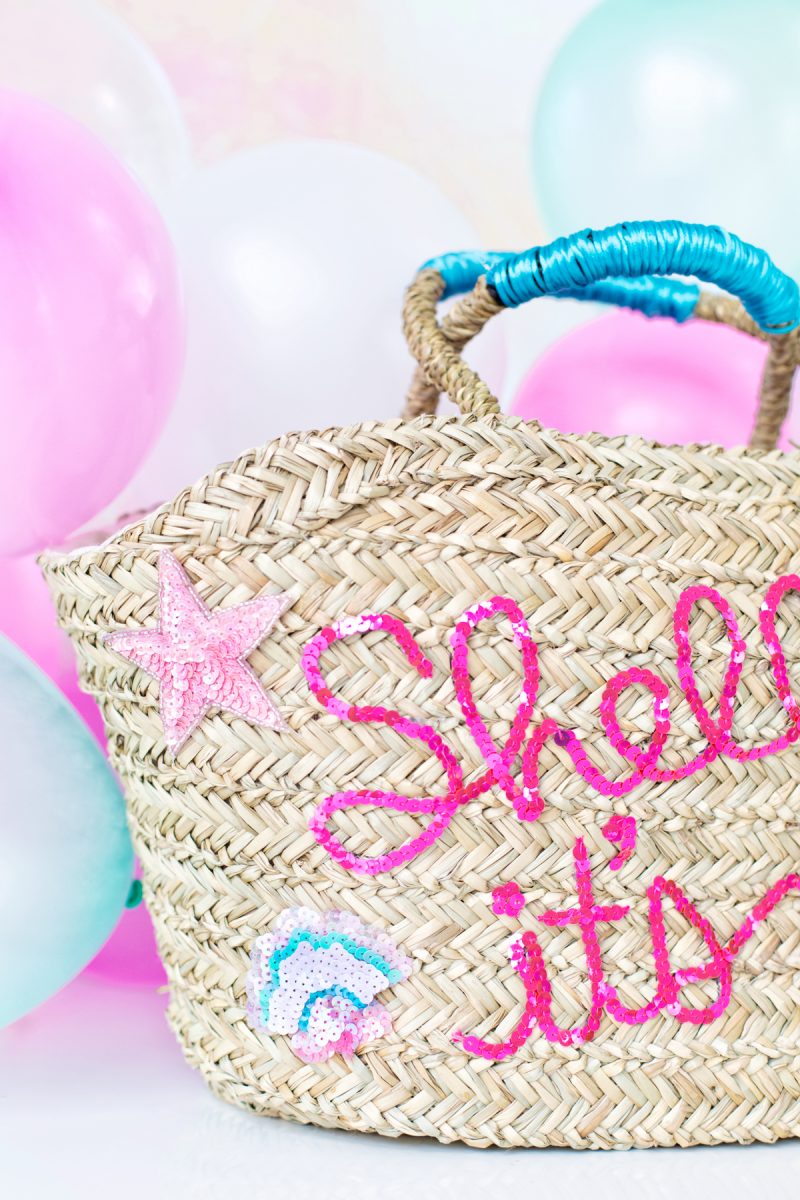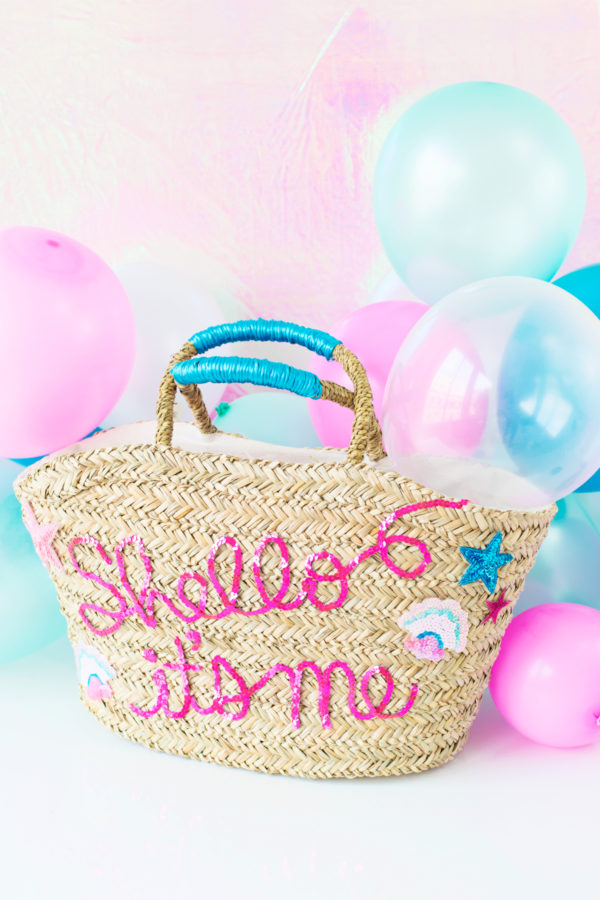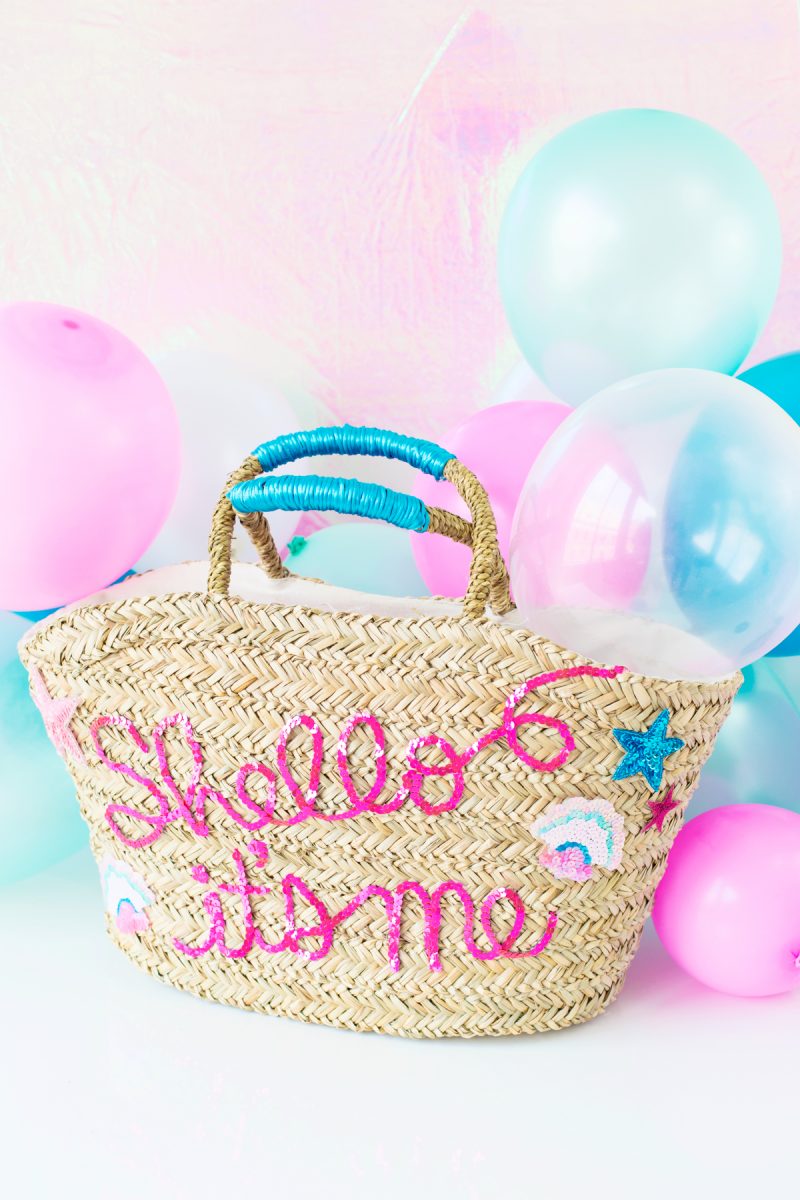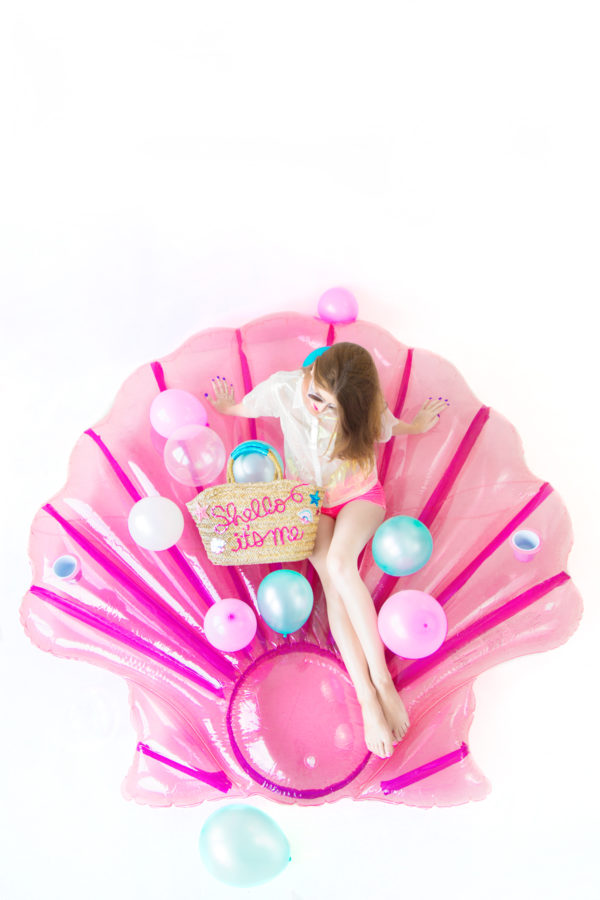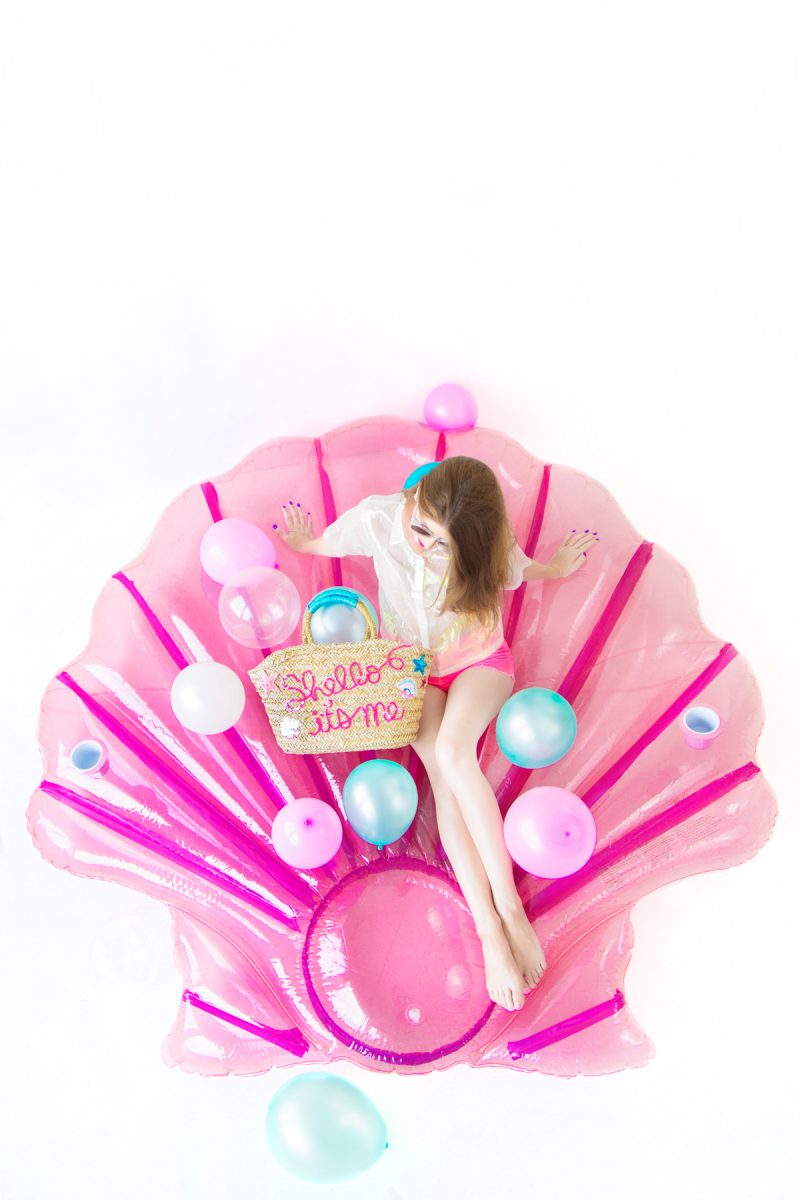 Photos by Jeff Mindell | Craft Production by Annie Steward | Creative Direction by Kelly Mindell
The shell float is from here!
I hope you are all with me in having that song stuck in your head now. You're welcome? Haha! It's worth it for this bag though!!!!!! Really feeling this color palette right about now, by the way. How about you!?
Remember, if you make your own version, be sure to tag #troopstudiodiy when you share on Instagram!