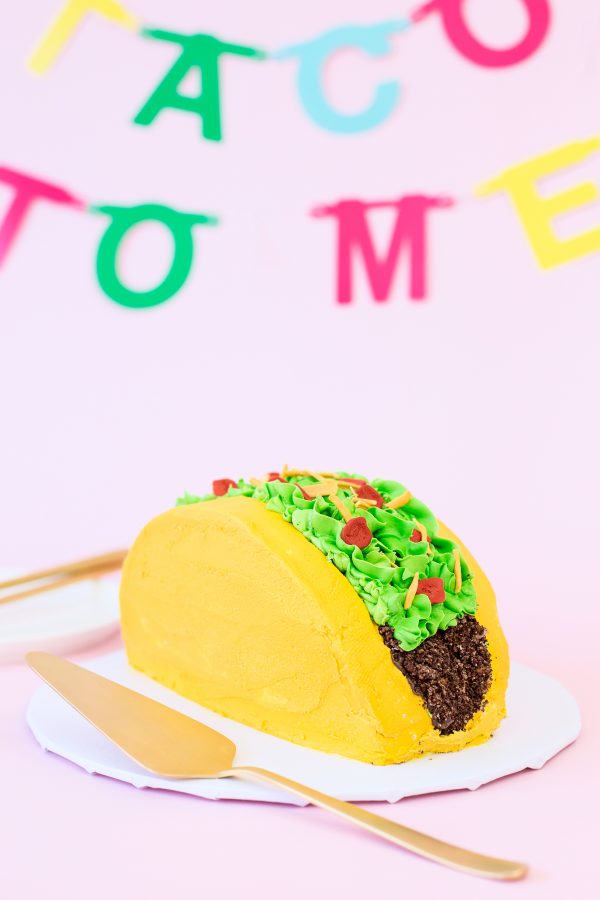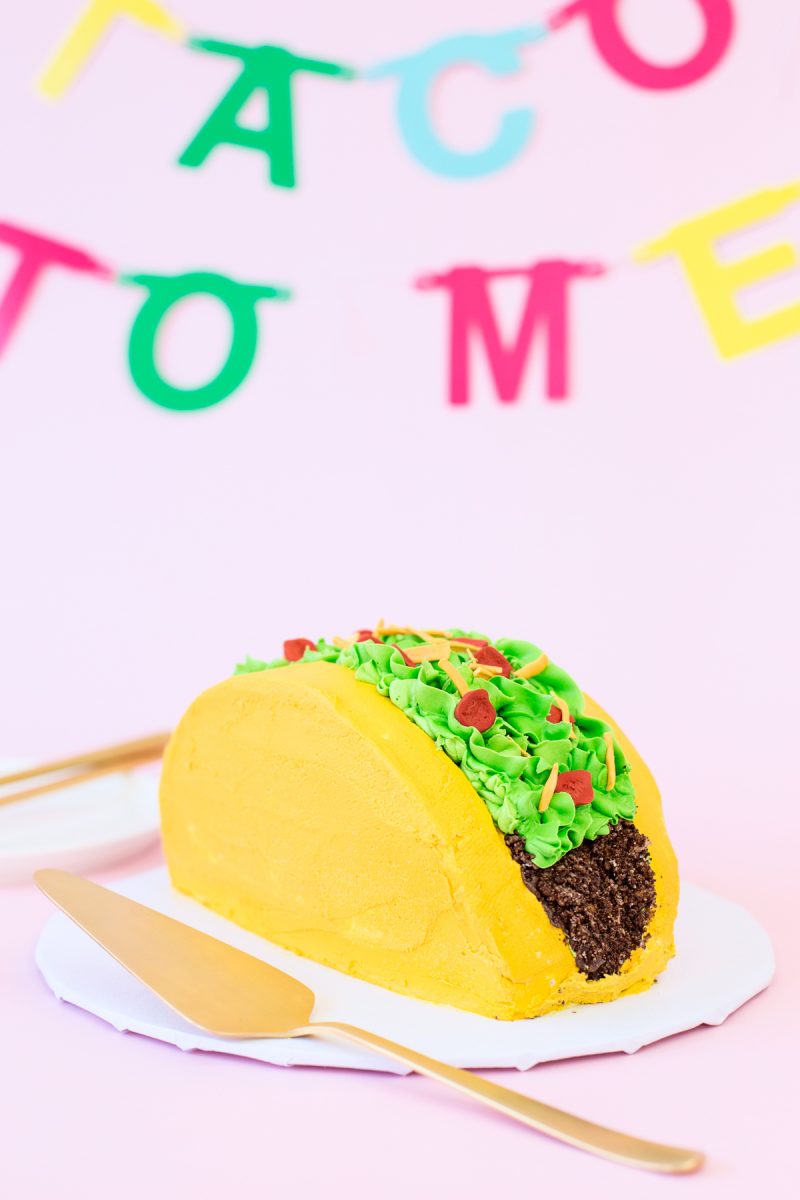 You know what happens when you fold a regular ol' round cake in half? You get a TACO CAKE! We've been having so much fun with these cake hacks, like the pop tart and the cereal bowl cake. And with National Taco Day coming up on October 4th… this one only seemed natural. Though truly any day is a good day for a taco cake! Ready!?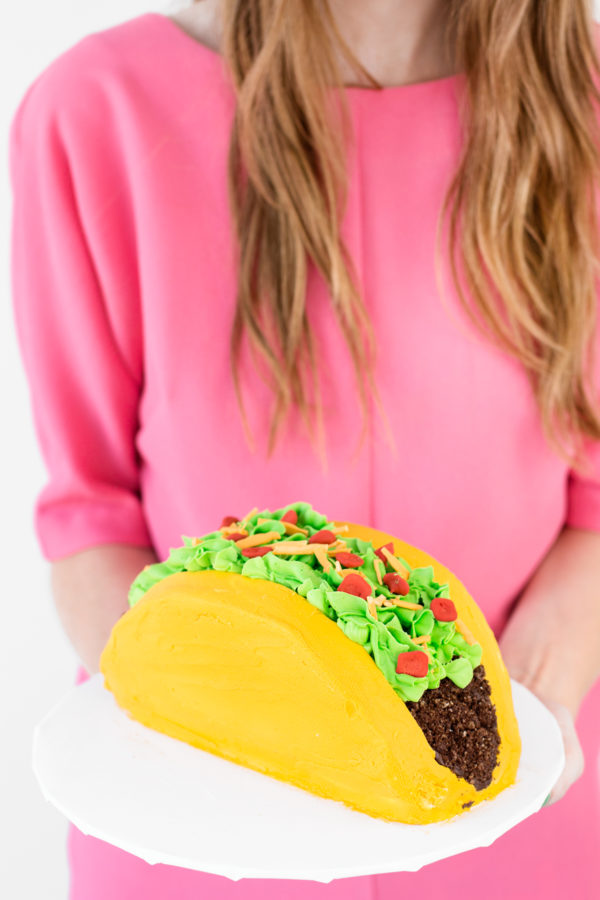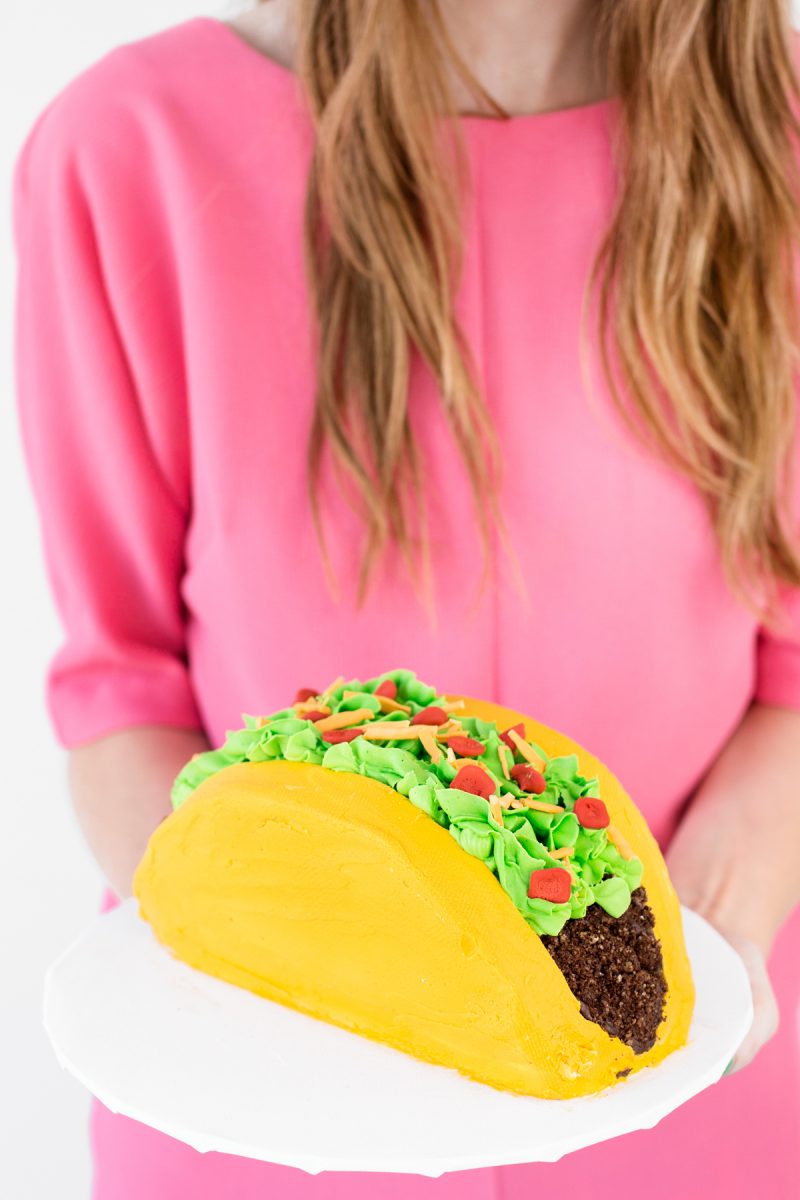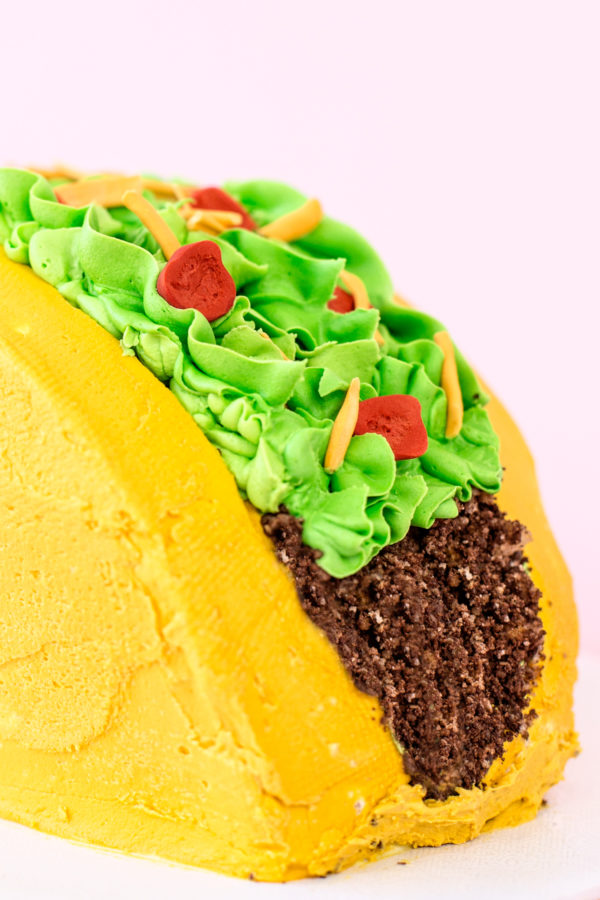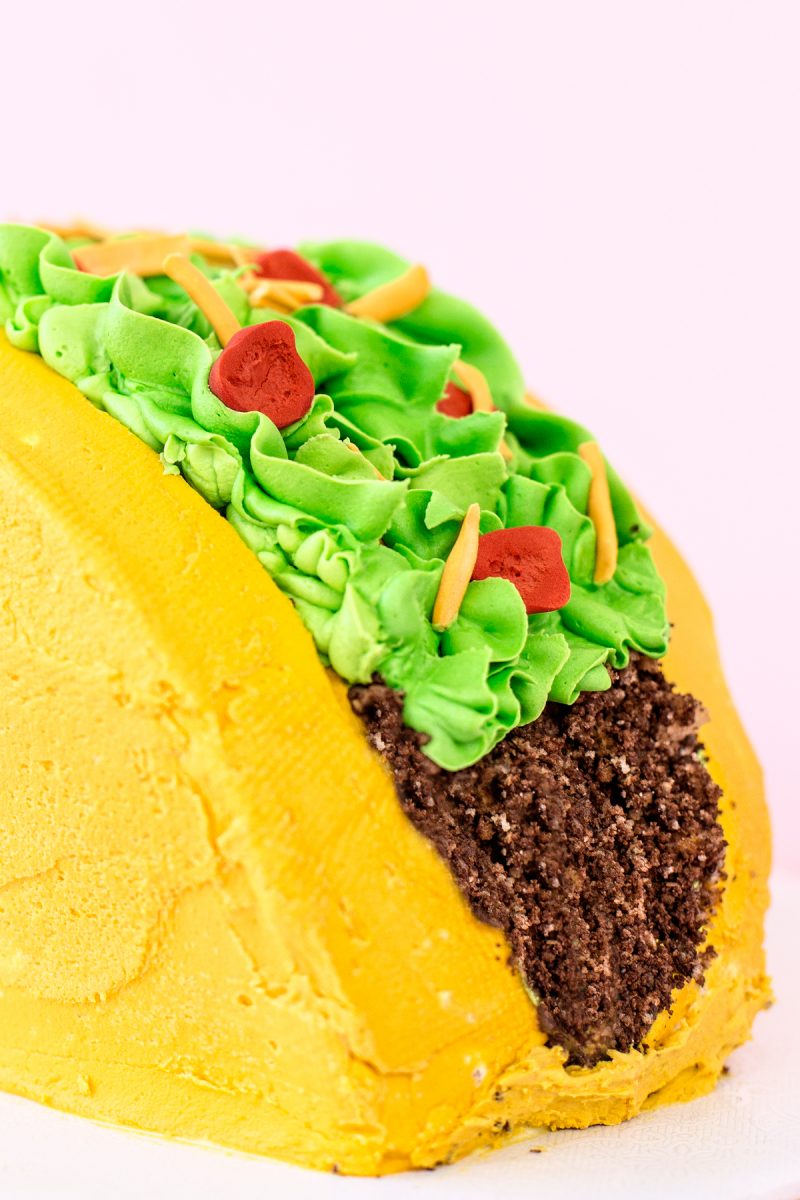 DIY Taco Cake
Ingredients
For the Cake

<br>

One 8-inch Round Cake

Batch of Your Favorite Buttercream

6-

inch

Chocolate Cake OR Crushed Oreos

Food Coloring

<br>

For the Cheese and Tomatoes:

<br>

3

tablespoons

meringue powder

4

cups

powdered sugar

5

tablespoons

warm water
Instructions
Cut one 8-inch round cake in half to make 2 half circles.

Spread about 1/3 cup of buttercream over one of the half circles. Place the other half directly on top, lining up the edges and sides. You should now have one thicker (2-layer) half circle.

Spread a thin layer of buttercream along the flat edge of the cake. This will act as the glue that secures the cake to your cake board or plate.

Flip the half circle onto a cake board or plate, flat edge down. Cover the cake with a thin crumb coat of buttercream and chill for at least 30 minutes.

Frost the entire cake in yellow buttercream.

You want to place the taco "fillings" along the curved edge of the cake, leaving a 1/2 inch yellow border all the way around the curved edge. For the taco "meat", frost small even sections on either side with brown buttercream and then press crumbled chocolate cake or crushed Oreos into the brown buttercream.

Use green buttercream in a piping bag fitted with a large leaf tip (Wilton 366) to create the lettuce. 8. Finish off with a sprinkle of the royal icing cheese and tomatoes. To make: Combine all ingredients in the bowl of a stand mixer and mix on medium high for 7 to 10 minutes.

Divide the icing into 2 bowls. Color one a yellow orange color for the cheese and the other red for the diced tomatoes. Place the icings into 2 piping bags fitted with small round tips.

On a large sheet of parchment paper, pipe a bunch of 1/2 inch red square shapes. With the cheese color, pipe long lines onto the parchment. Let set till hardened and gently peel off from the parchment paper. Break up the long lines into pieces the size of shredded cheese. Place on top of the cake!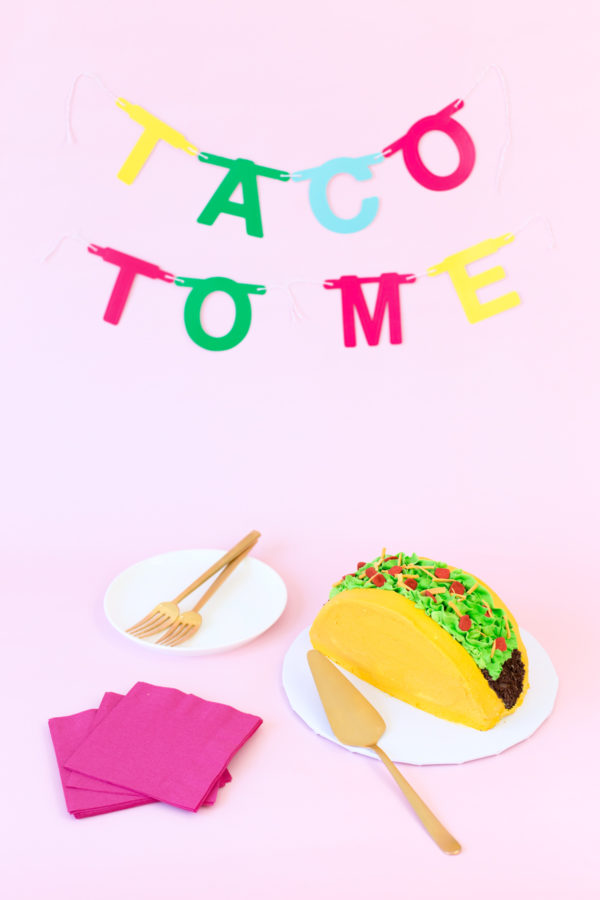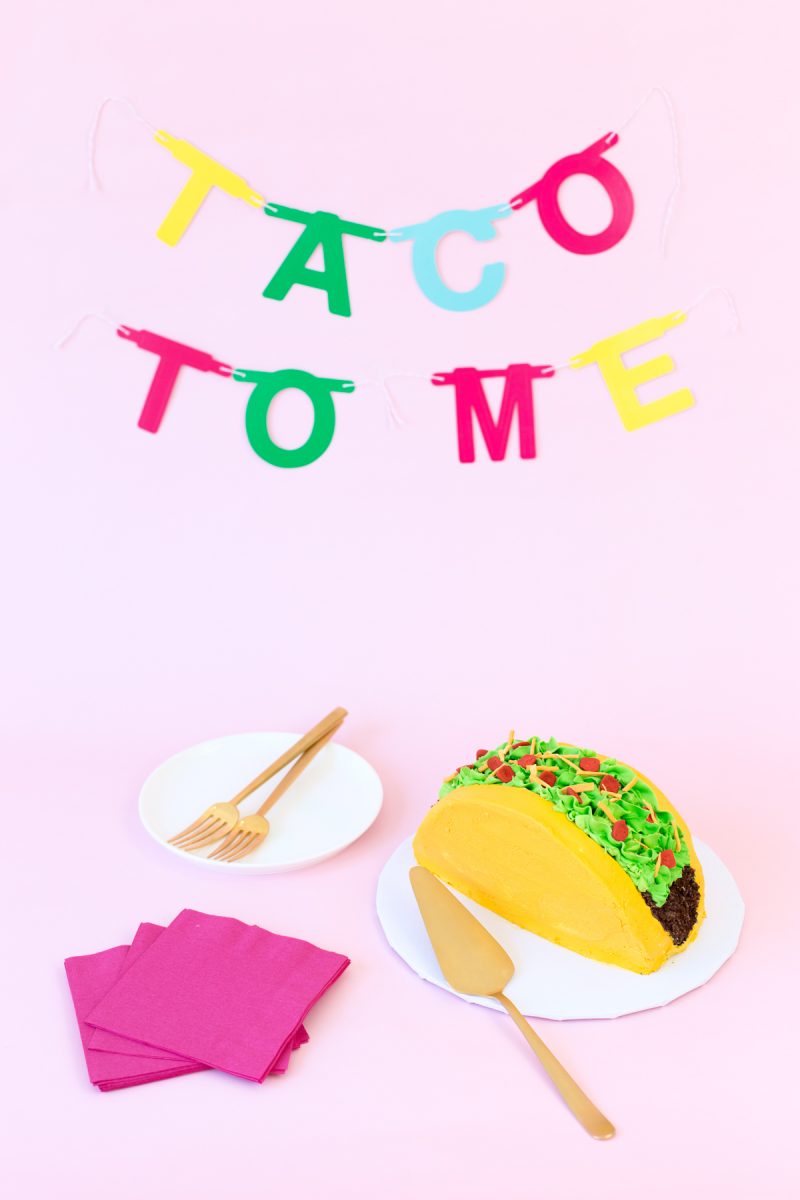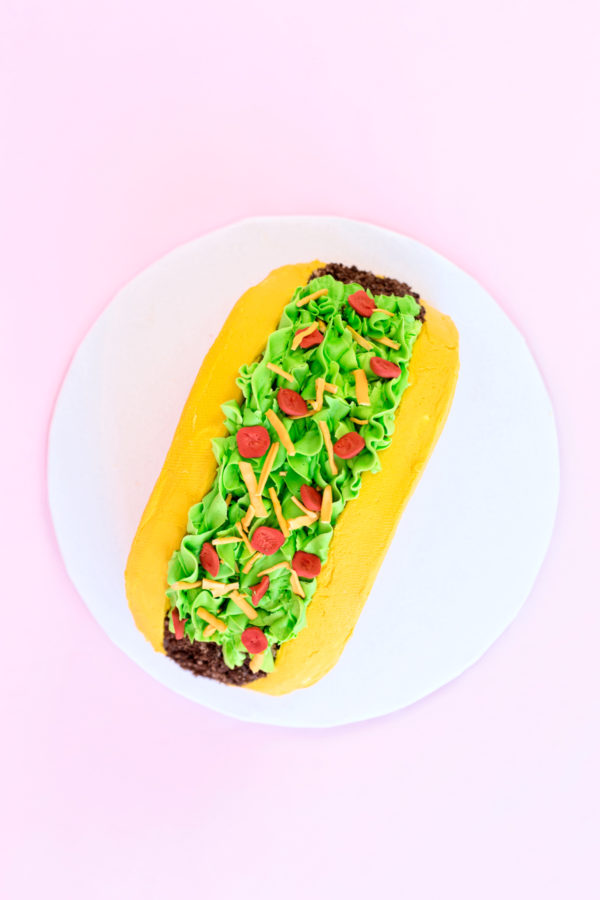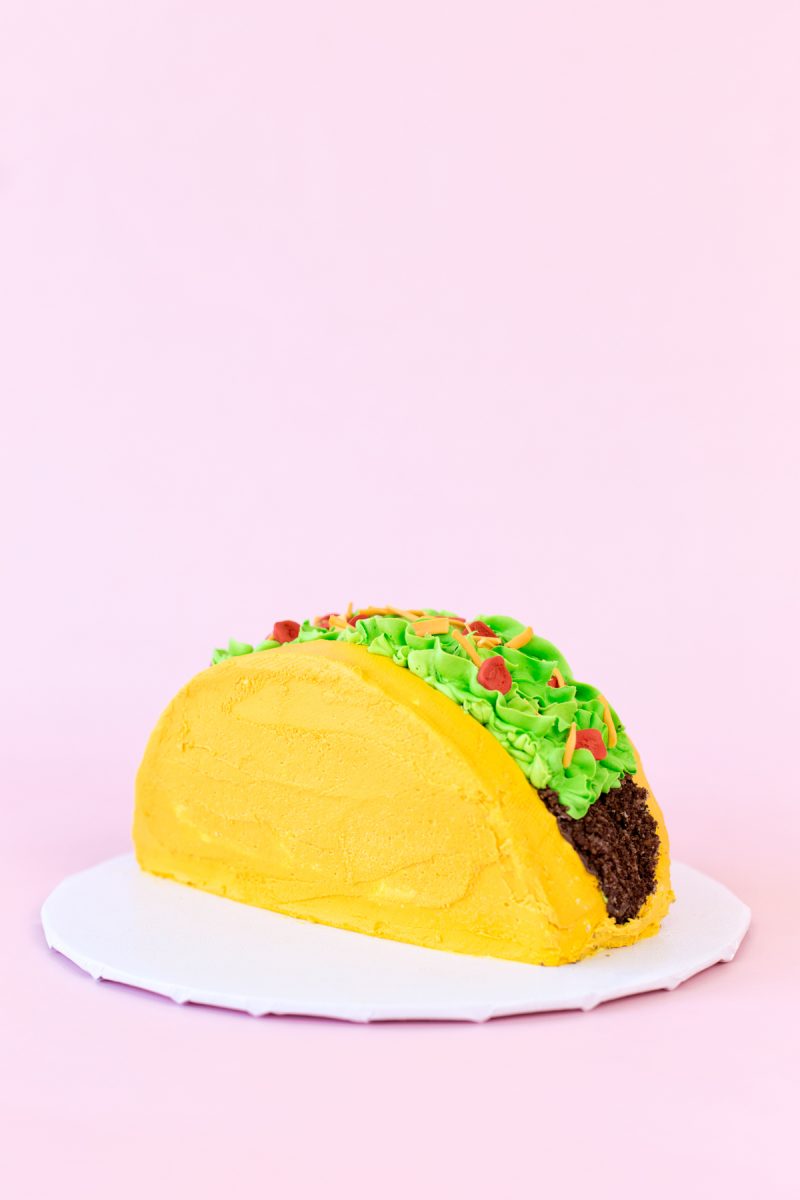 Photos by Jeff Mindell | Recipe by Theresa Rountree
Anything else you guys would like to see turned into a cake!? Tell me below!!!!
p.s. DIY Taco Piñata!