I like to think of costume DIY-ers in five different types. Let's examine them, shall we?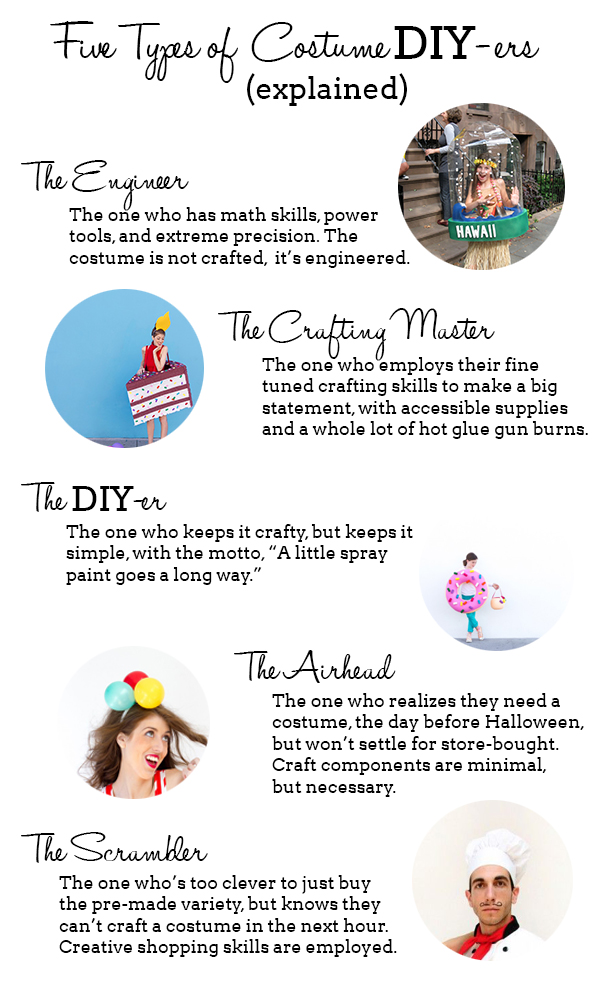 The Engineer: DIY Snow Globe Costume by Joel Potischman / The Crafting Master: DIY Birthday Cake Costume by Studio DIY / The DIY-er: DIY Donut Costume by Studio DIY / The Airhead: DIY Airhead Costume by Studio DIY / The Scrambler: DIY French Chef Costume by Jeff, to go with my DIY Crocumuche Costume
Now I've covered the middle three quite well on Studio DIY. That's my range right there. The Engineer? I like to leave that to awesome people like Joel Potischman. His creations for his kids are insane-amazing. Check all of them out here. And now… for you scramblers… who are probably just looking at this blog now. Hello! Here's a few last minute ideas for you that will keep you out of the costume line at the party store, and make everyone laugh while you're at it.
Be a Blank Canvas…. white shirt or dress and some fabric markers. BAM!
Or the King of Pop… a bucket of popcorn and a store-bought crown. BAM!
Or the Most Important Food Group… all you need is this donut shirt. Yes, that is a food group. BAM!
Or a Smart Cookie… a cookie and some nerdy glasses. BAM!
Or how about a Balloon Animal… get a single balloon at the grocery story, and throw on some animal ears. BAM!
So we've got all five categories covered now, eh? Any other ones you can think of that I forgot? Which category do you see yourself in? Jeff is most definitely a scrambler. He'll be asking me for a costume idea for work in five, four, three, two…. one.
Oh! And if you scramblers are willing to do a little crafting. This pineapple costume is calling your name! Happy Halloween-Eve everyone!!!!