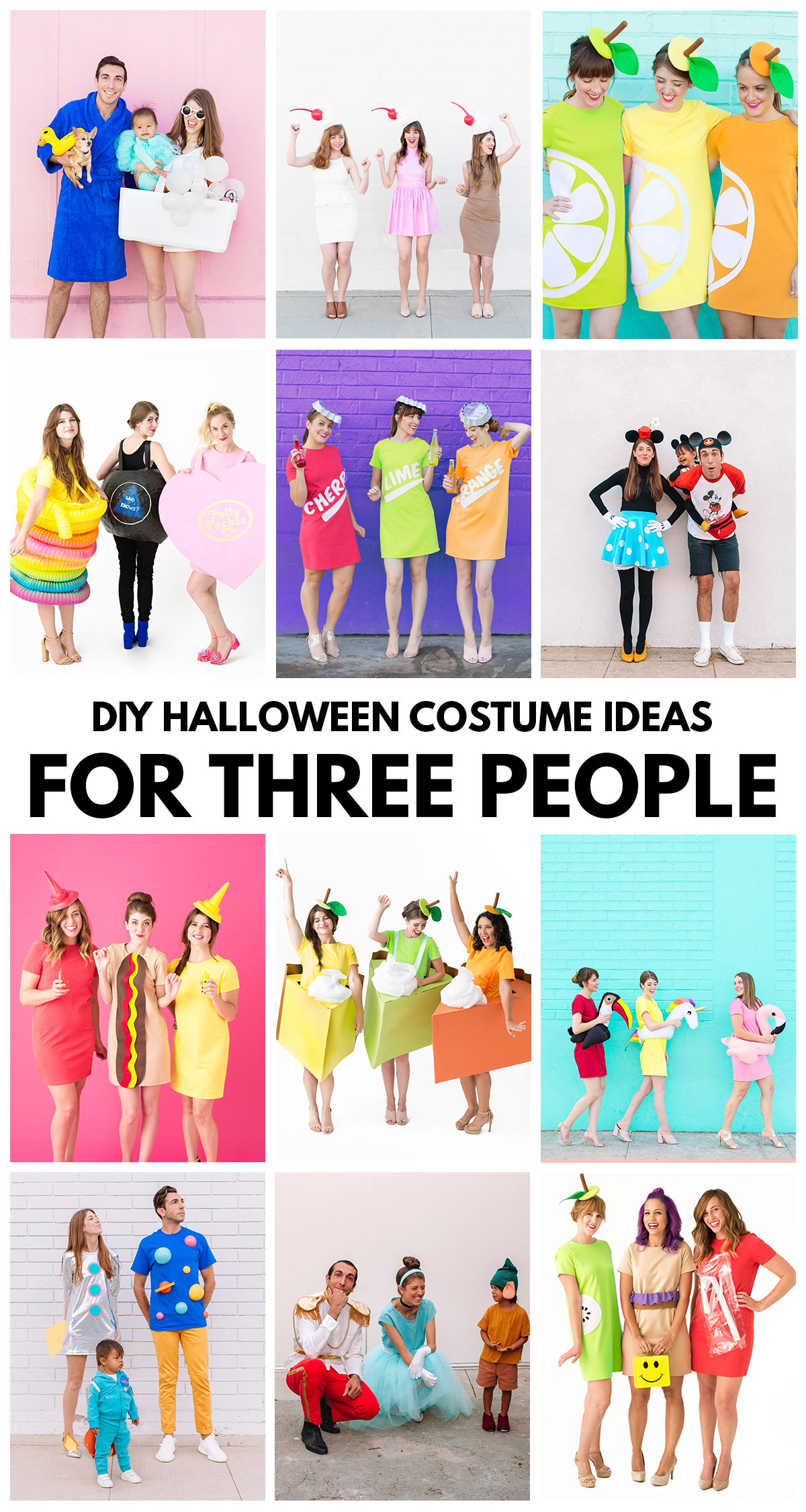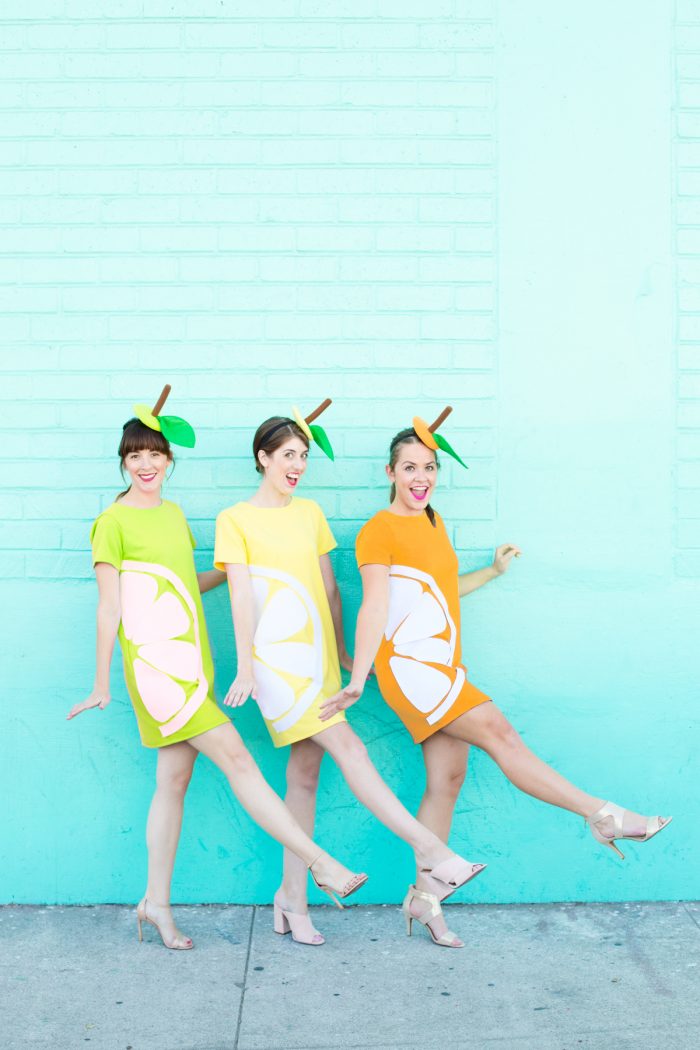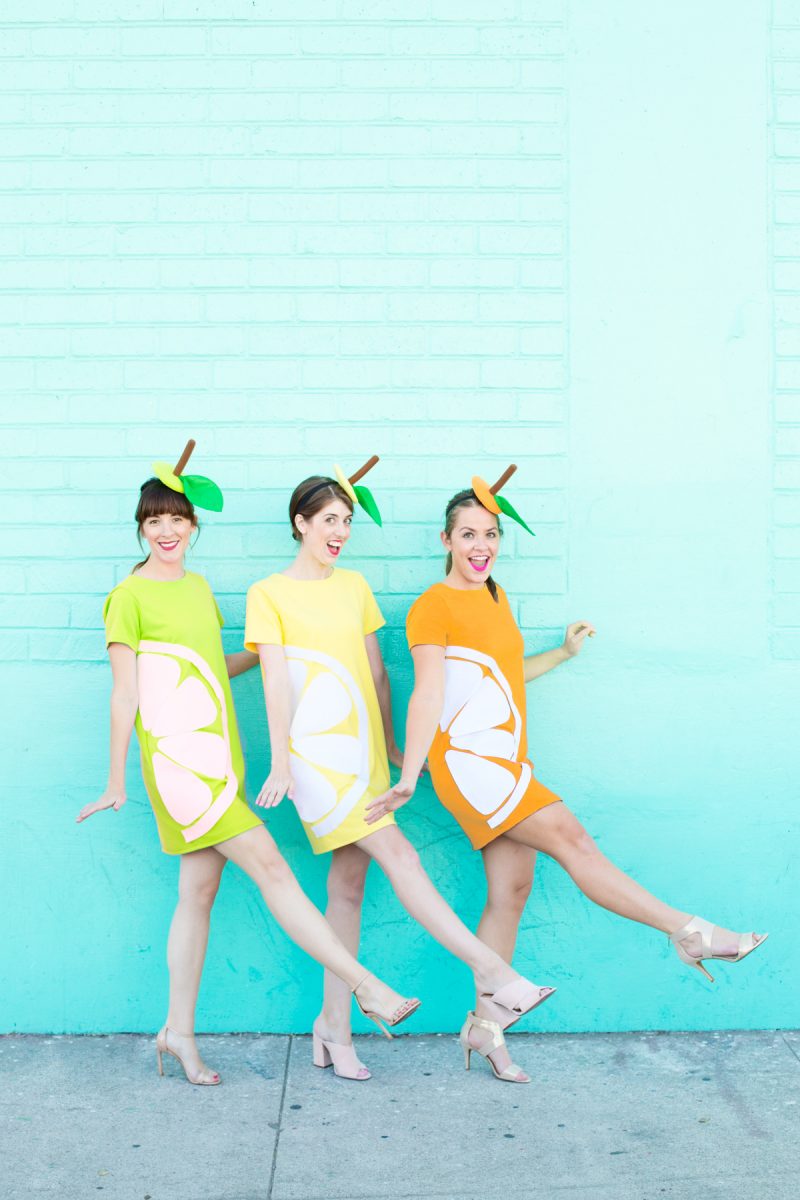 I've talked a lot about couples costumes, but what about Halloween costumes for 3 people? Whether you're a trio of friends or co-workers or a family of three, I've got a ton of unique, recognizable and easy DIY Halloween costumes for you!
You can start early and get crafty with cardboard or a sewing machine, or go for a simple last minute option that just requires a quick project and an outfit from your closet! The only thing more fun than making and wearing a Halloween costume, is making a group costume together!
Check out my favorite trio Halloween costumes and get inspired!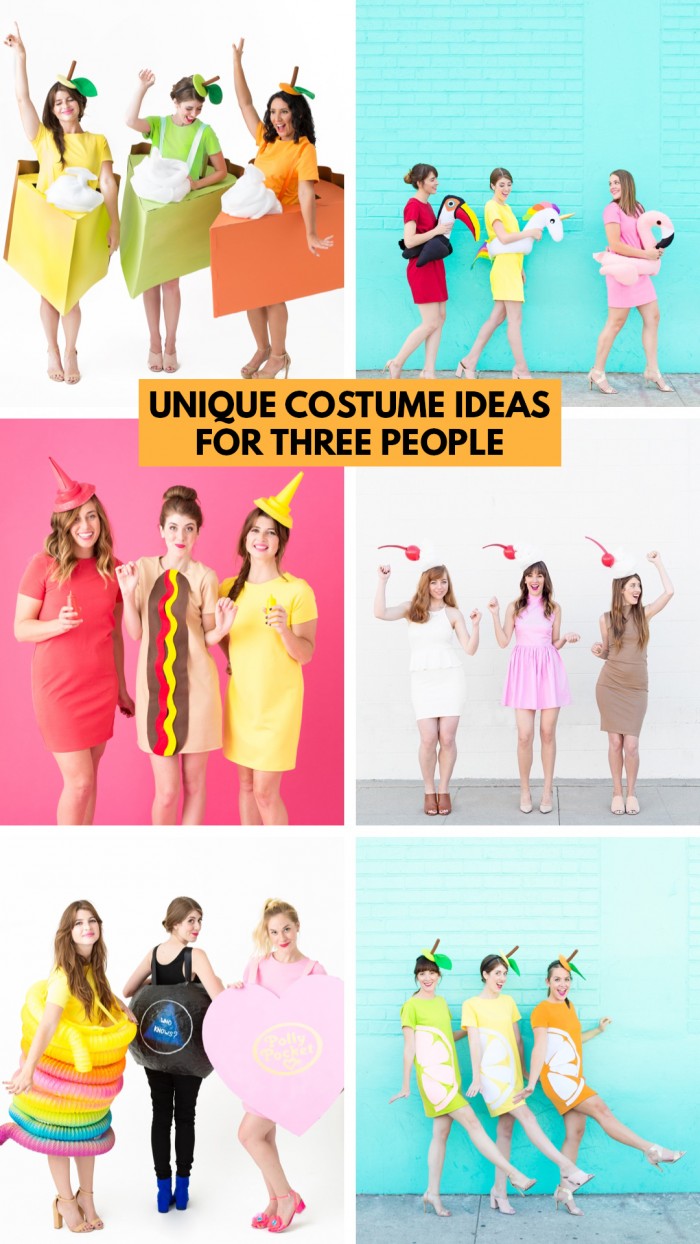 Food Costumes for 3 People
Food costumes are so recognizable. As a result, they make the perfect group costume. With a food theme, there's so many options for trios to each be their own themed ingredient, dish or flavor!
Take a look at these food trio costumes that ensure you'll be one (or three…) of a kind!
Hot Dog, Ketchup & Mustard Costumes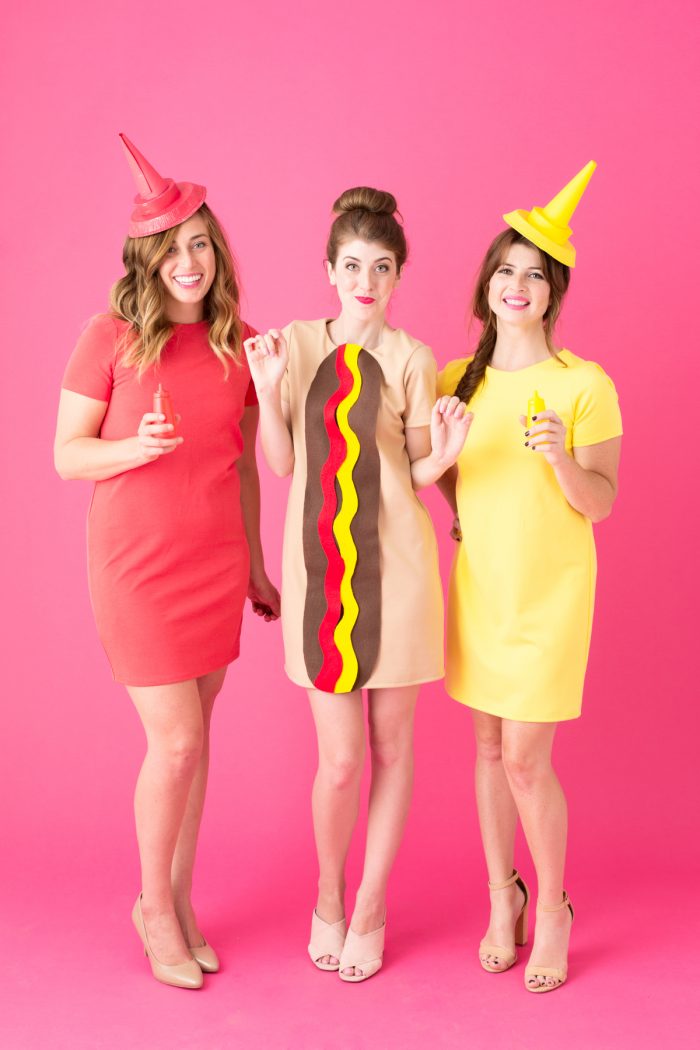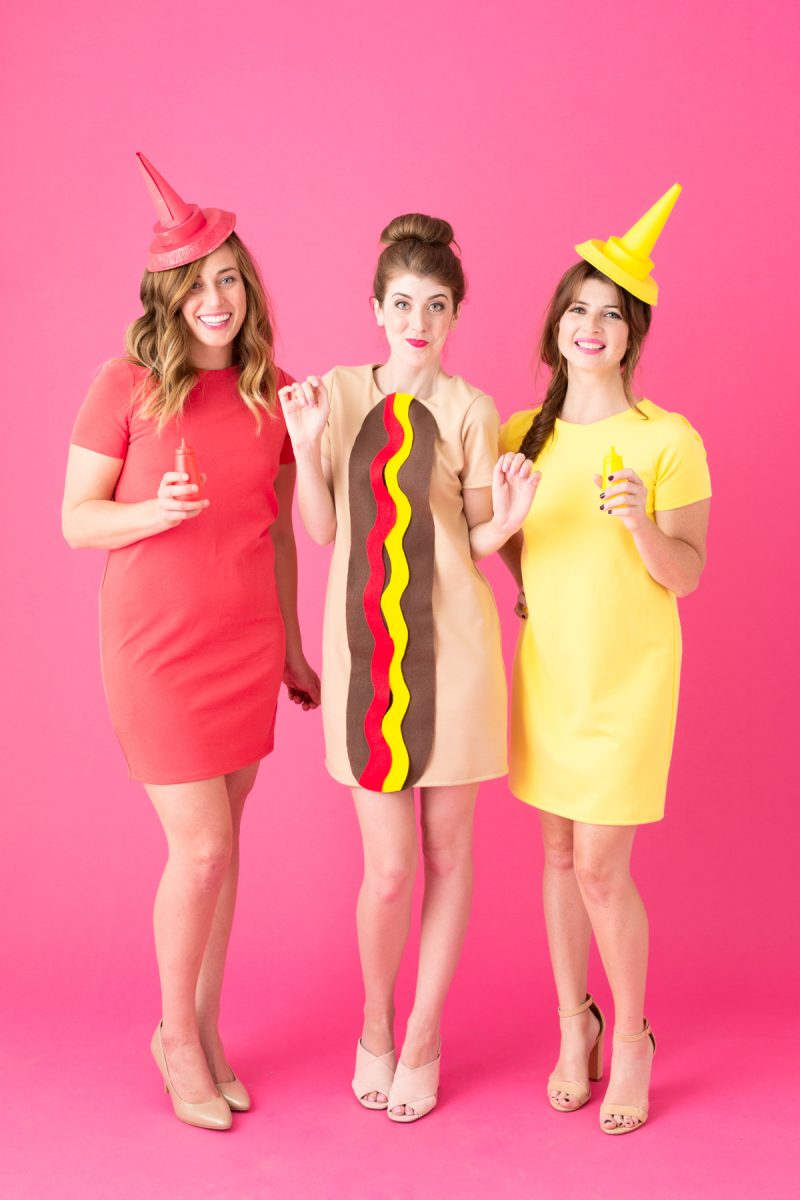 The perfect trio that always goes together. All you need are three dresses and a few DIY accessories!
DIY Milkshake Costumes
With these milkshake costumes, each person can go classic with strawberry, chocolate and vanilla… or switch it up with any fancy milkshake flavor you like!
Lock, Shock & Barrel Costume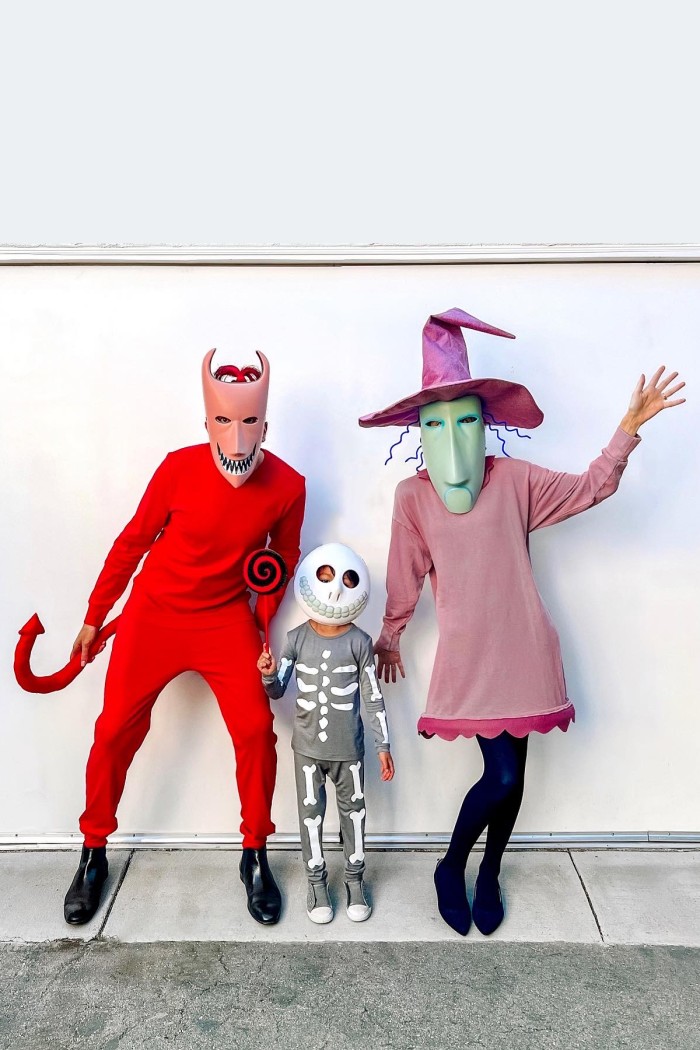 Everyone's favorite trick-or-treating trio from the classic Nightmare Before Christmas is a fun and easy costume to make!
School Lunch Trio Costume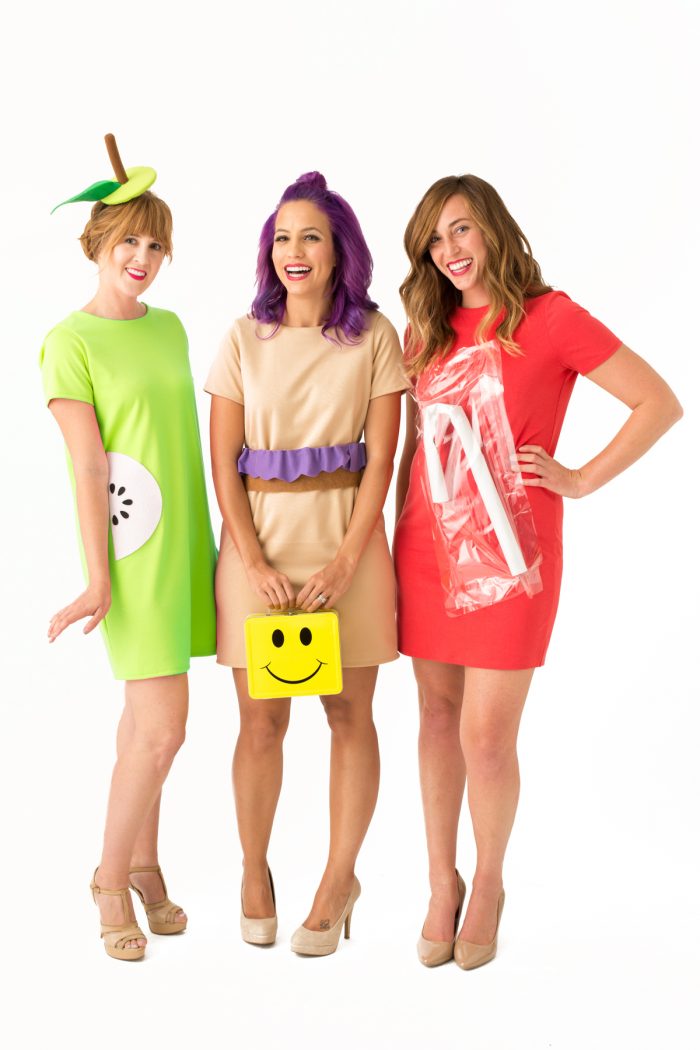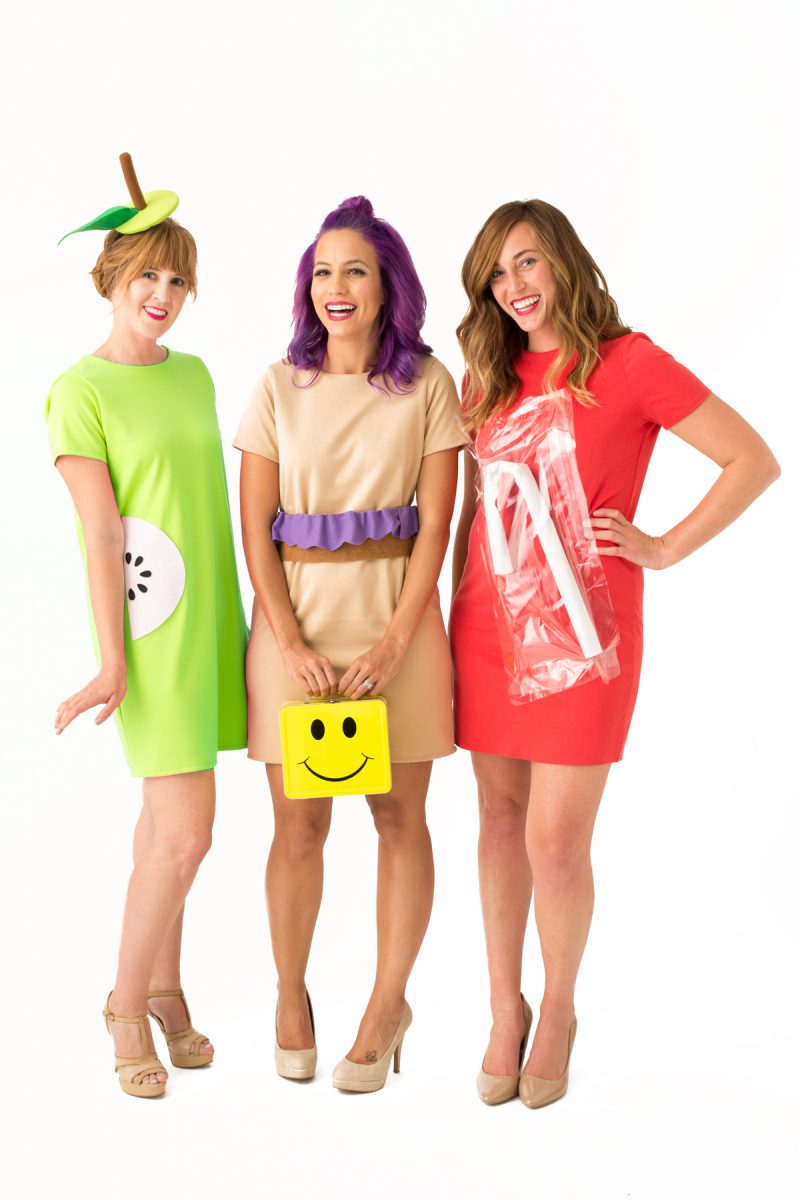 The classic school lunch staples: pb&j, an apple and a juice box. The question is… which one school lunch costume will you be!?
DIY Citrus Slice Costume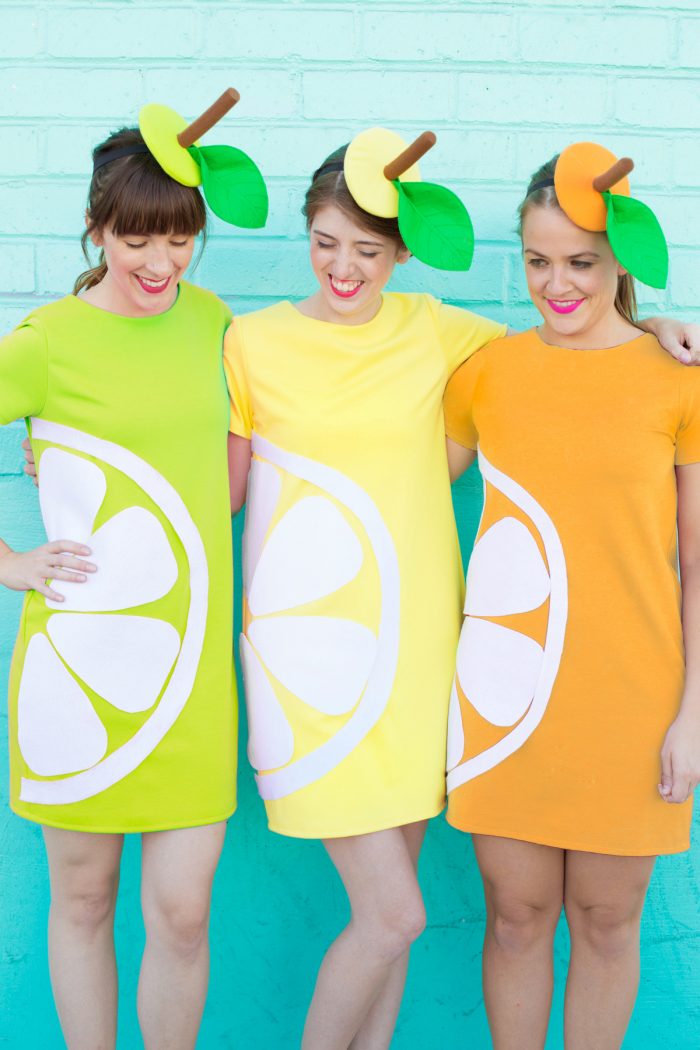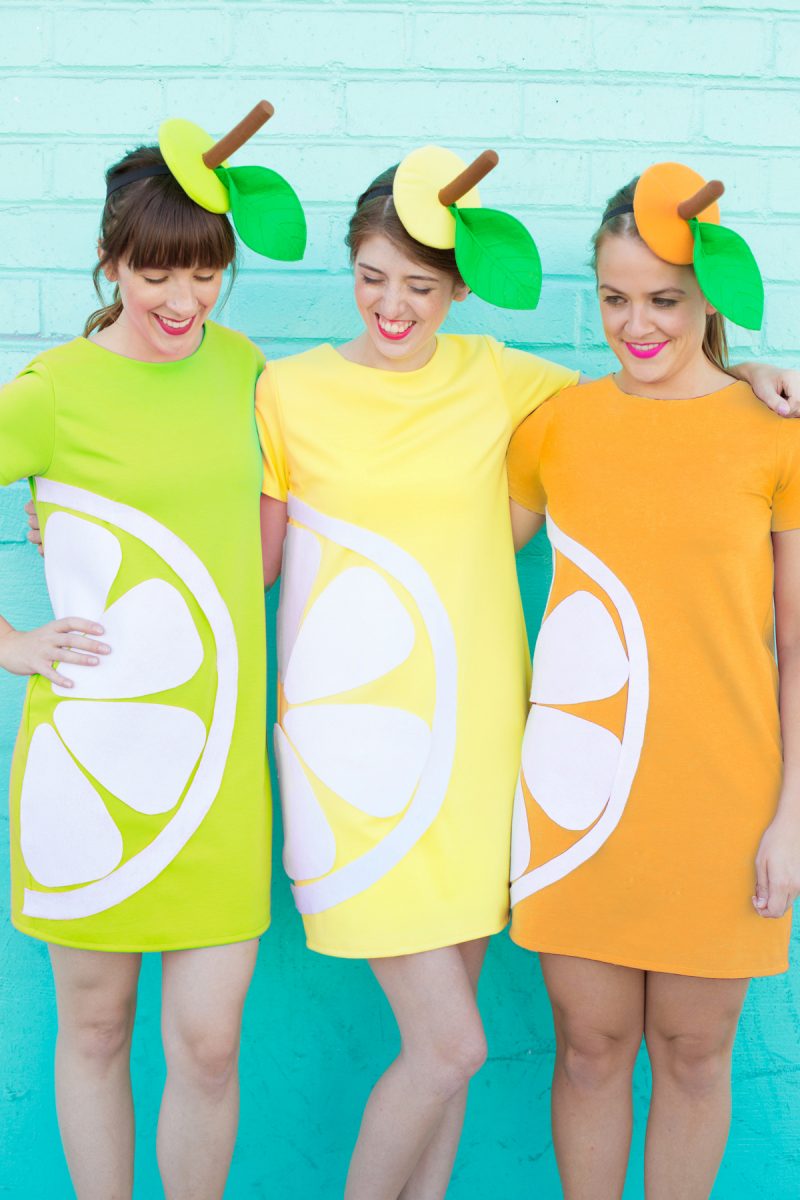 Three favorite citrus flavors make three citrus slice costumes! Not into the slices? Just make the headbands and go as the fruits instead!
Diner Trio Costume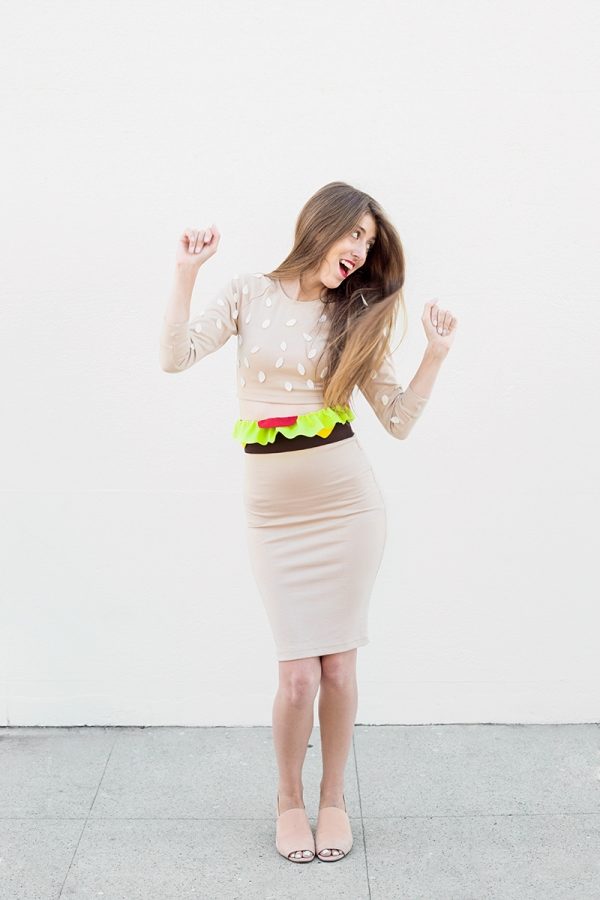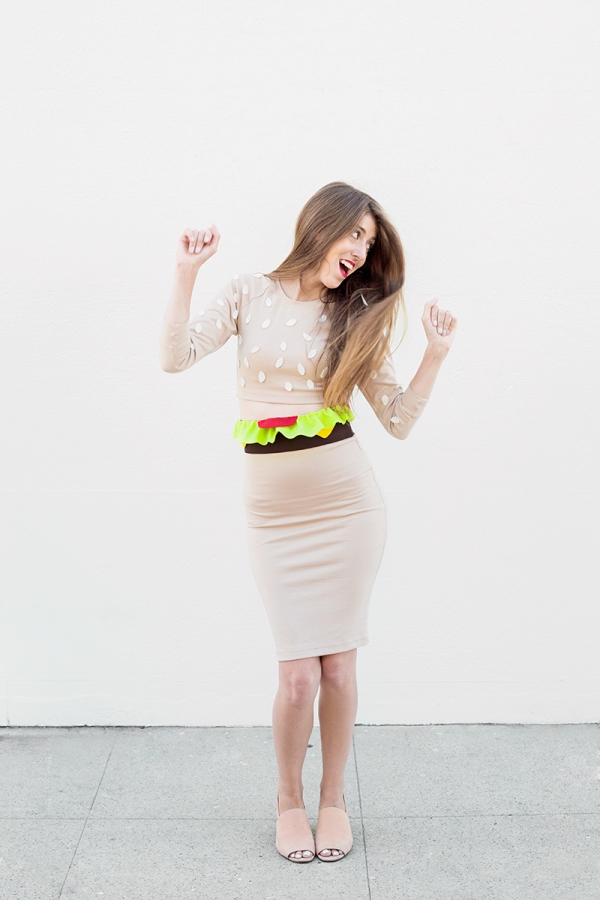 Hailing from New Jersey where there's a diner on each corner, this diner trio costume is right up my alley! Have a 4th person? They can be the soda jerk!
Soda Bottle Costumes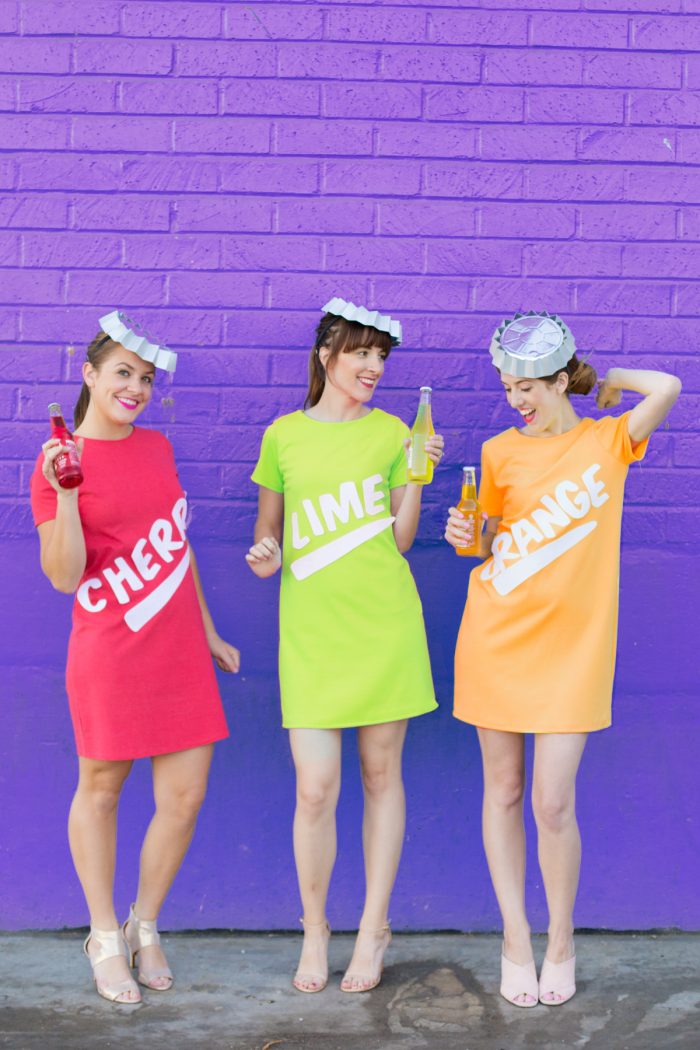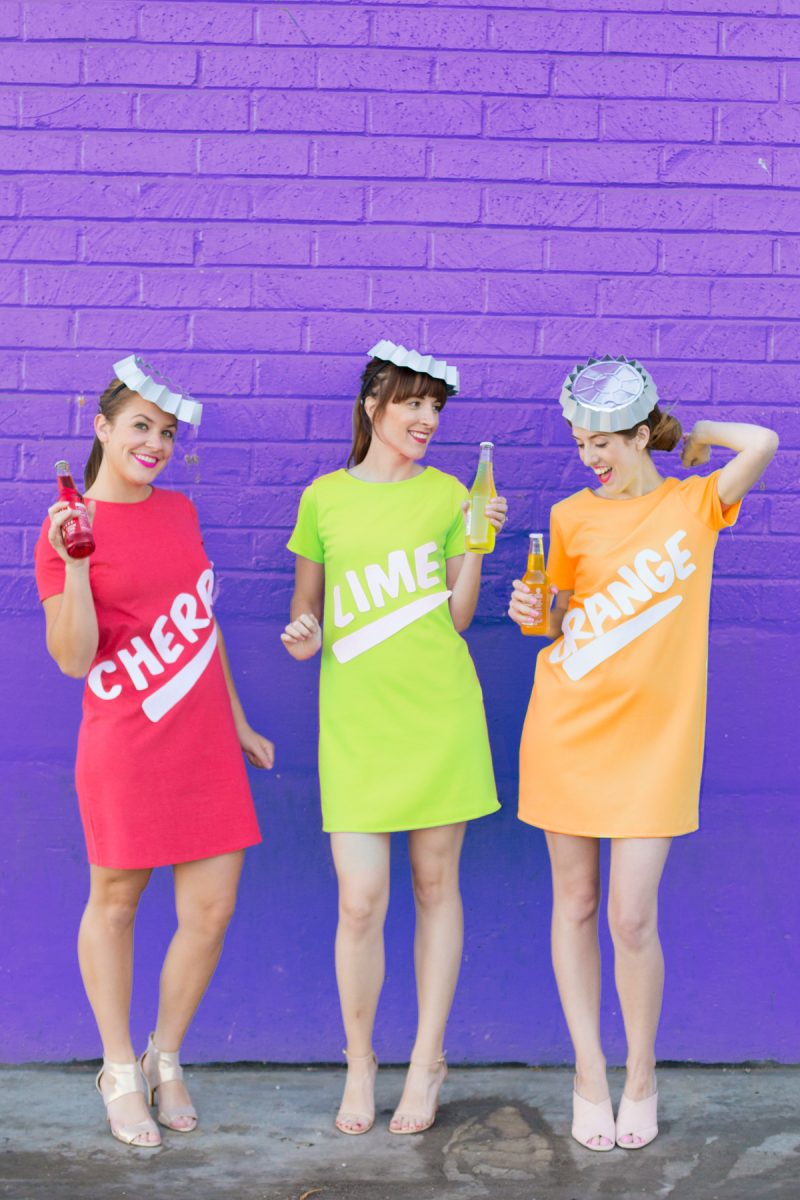 The options are endless with soda bottle costumes. Everyone can choose their favorite flavor!
Pie Slice Costumes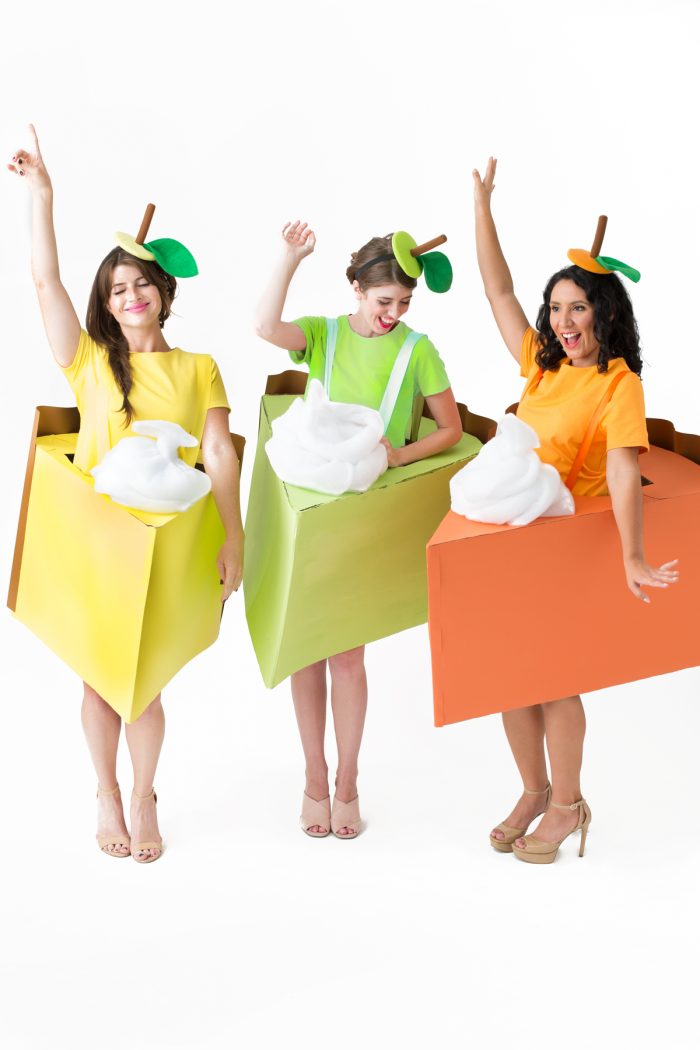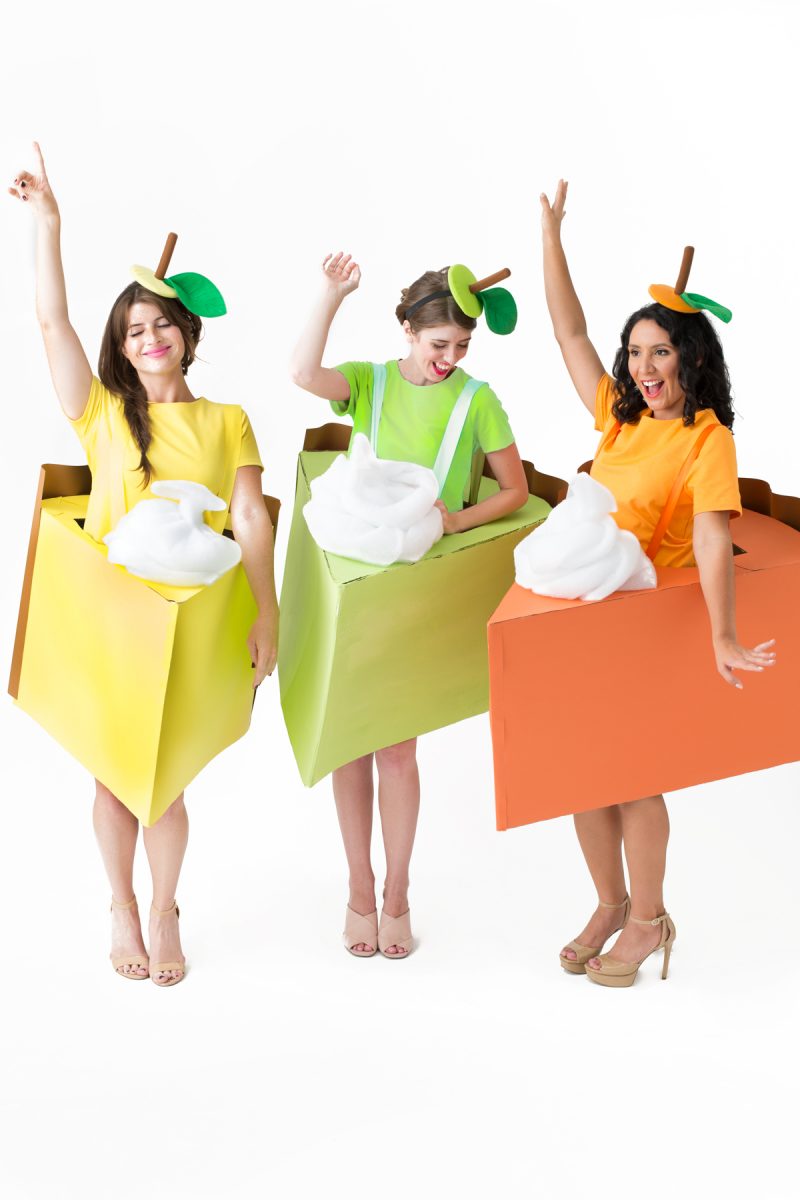 Save up those old shipping boxes and turn them into these pie slice costumes! Complete with a dollop of whipped cream each!
Vacation Themed Trio Costumes
Who doesn't want to escape to paradise, especially in the middle of fall or winter!? These DIY Halloween costumes for three all pull inspiration from those sunny, poolside days of summer!
Palm Springs Trio Costume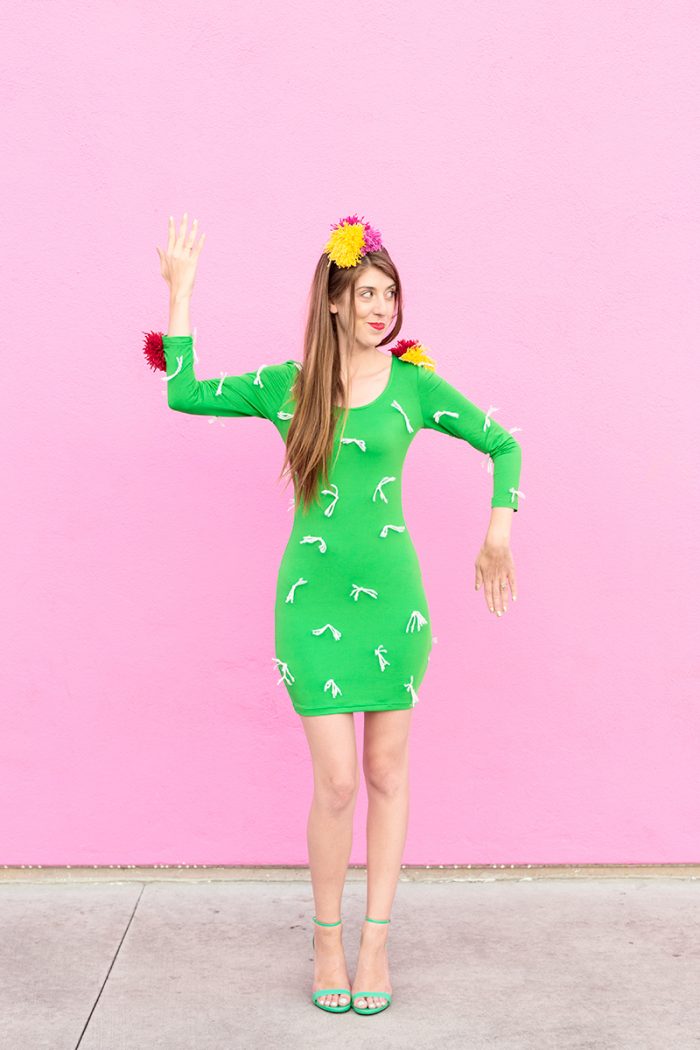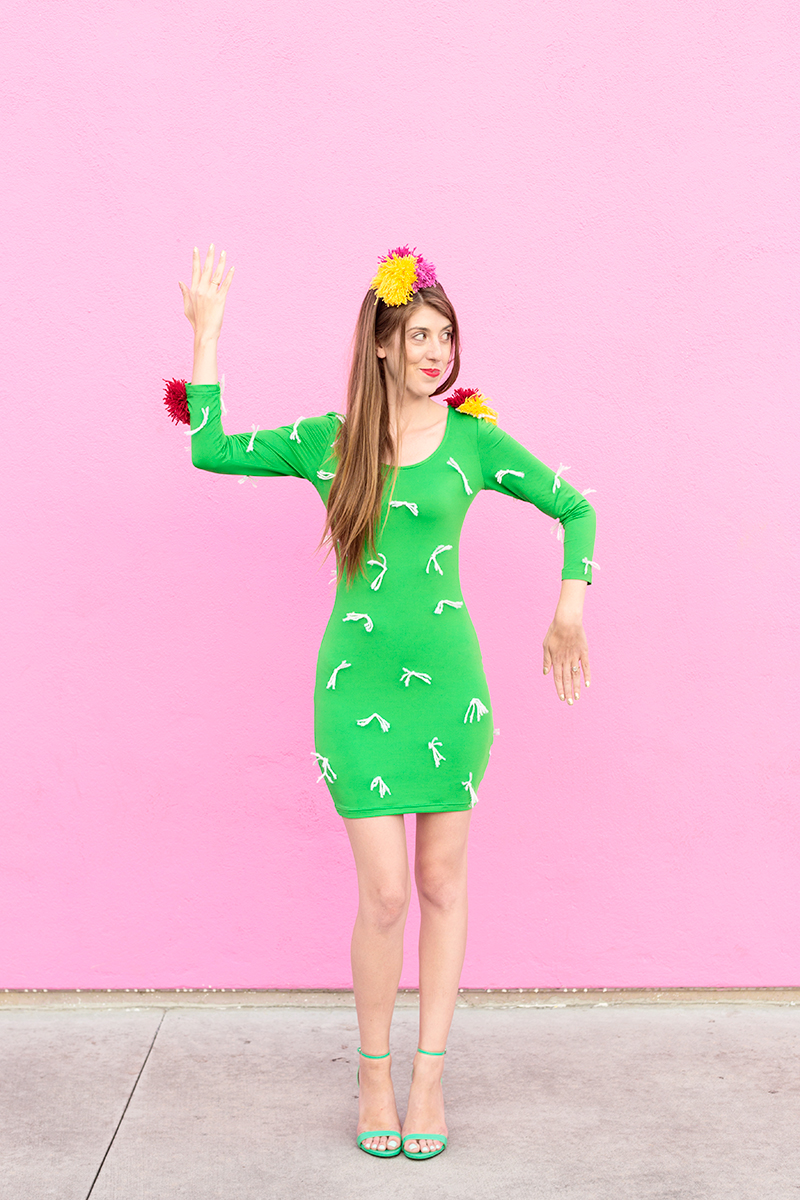 Do you and your friends love Palm Springs? Let that be your costume inspiration! Cactus, sun and that classic midcentury architecture!
Pool Float Costumes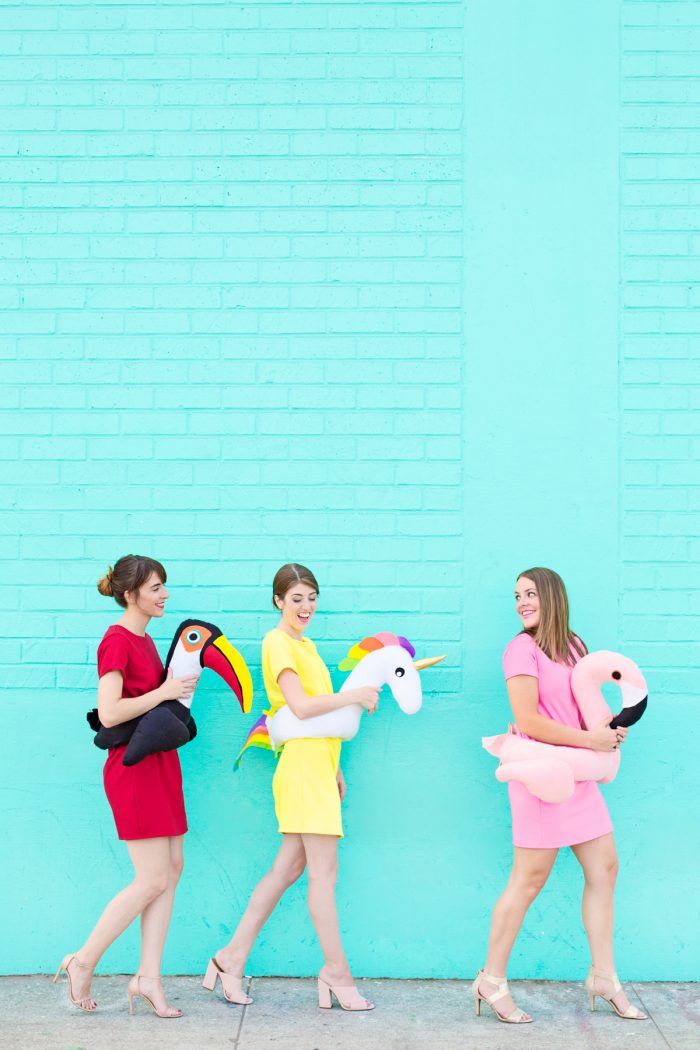 Know your way around a sewing machine? Whip up these pool float costumes for you and your pals!
It's 5 O'Clock Somewhere Costume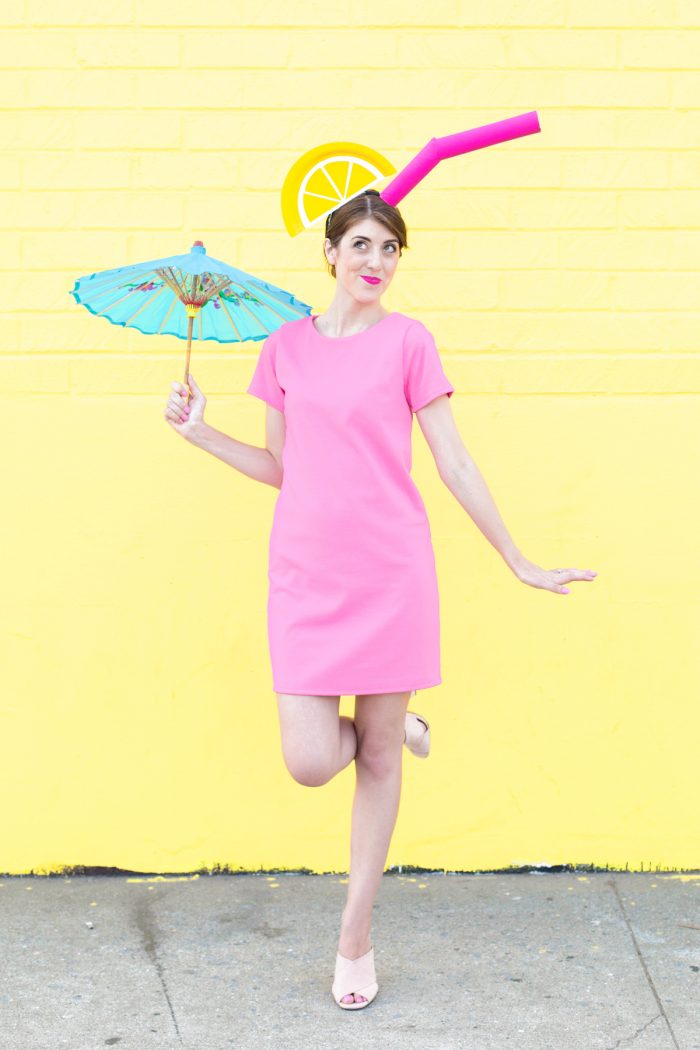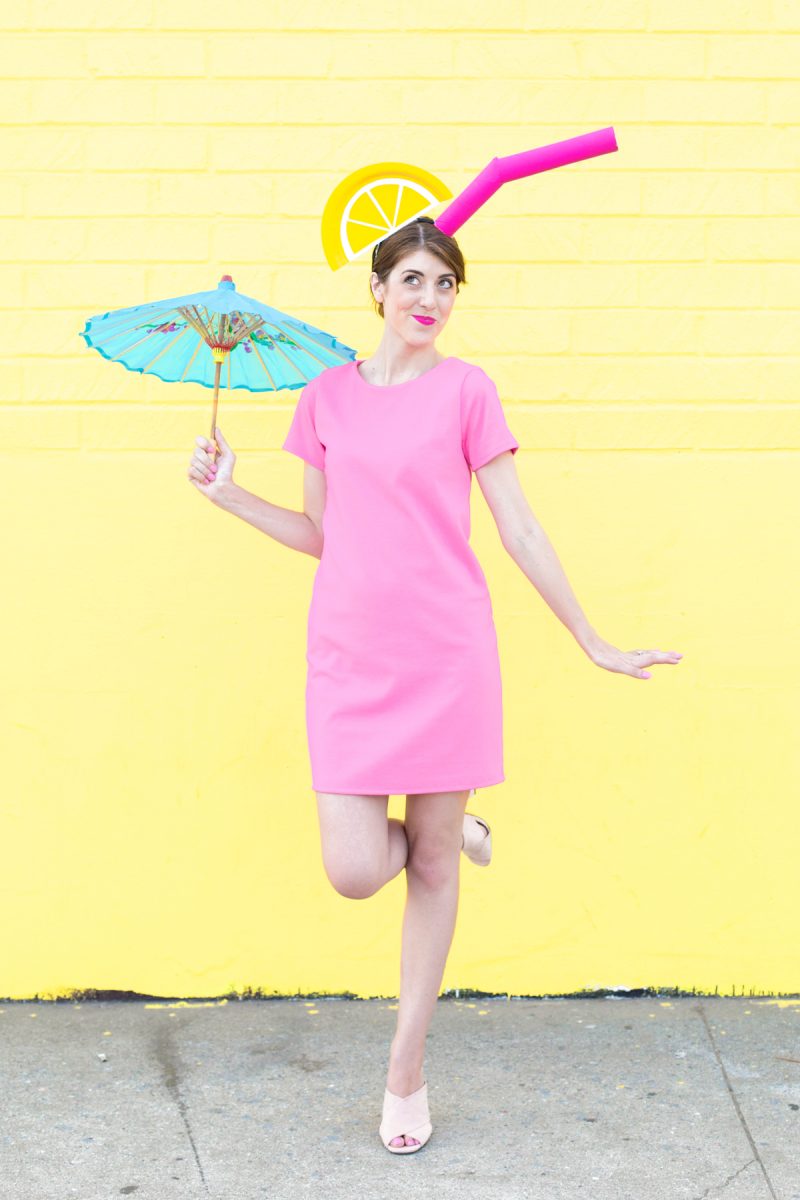 Poolside or beachside, this grouping of tropical costumes will have you pretending you're basking in the sun!
Throwback Trio Halloween Costumes
Try looking back on your childhood favorites for costume inspiration and check out these nostalgic DIY Halloween costumes for 3 people!
90s Toy Costumes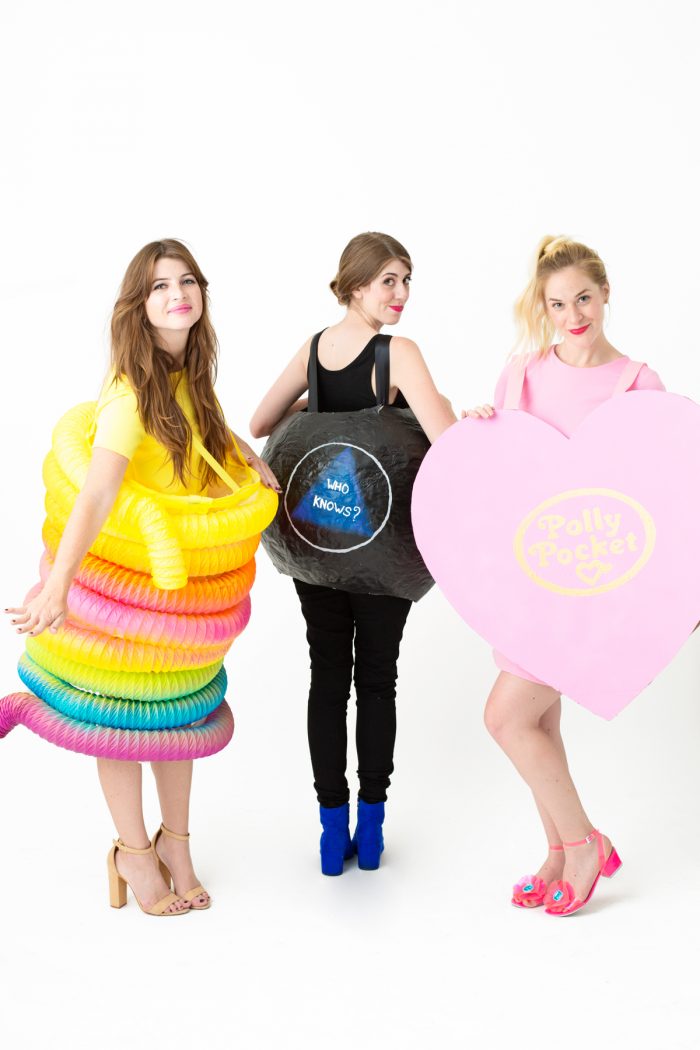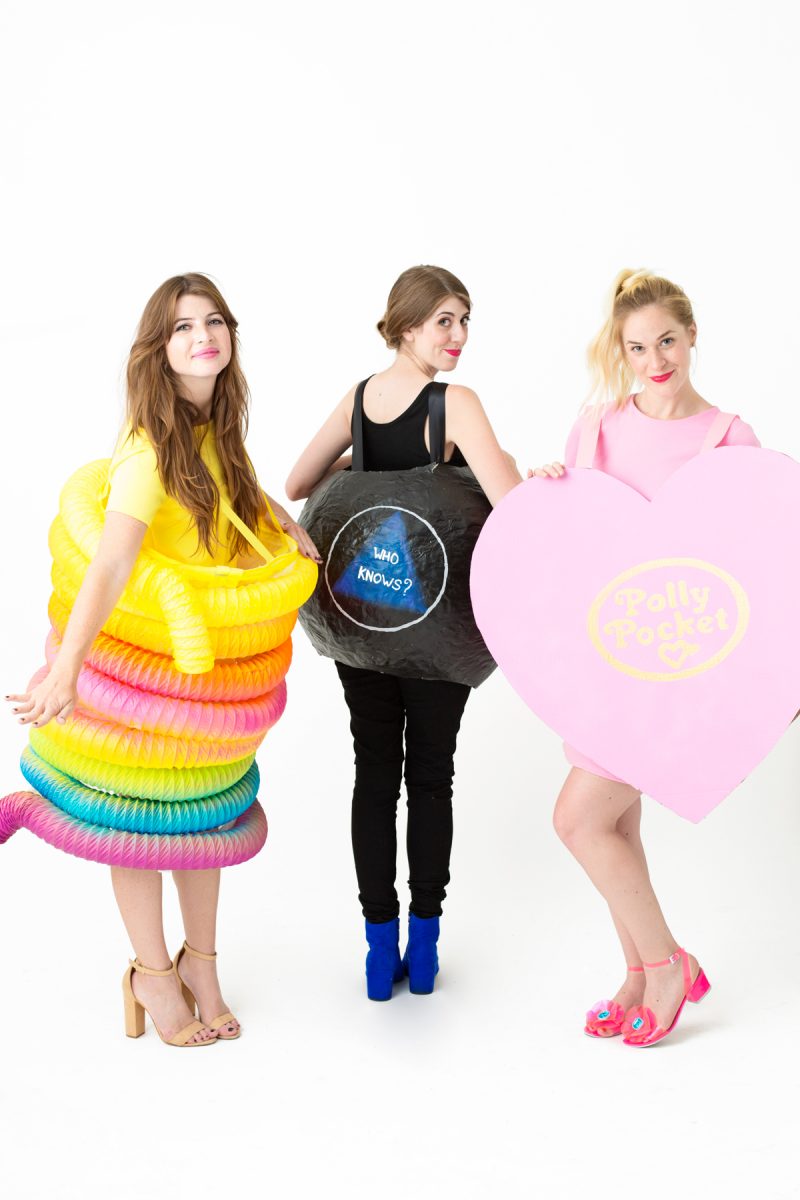 The 90s and 2000s were filled with some pretty great toys: slinkies, magic 8 balls, beanie babies, Polly Pocket and more. Get the tutorial for all of them above and everyone can choose their favorite!
Throwback Treat Costume Trio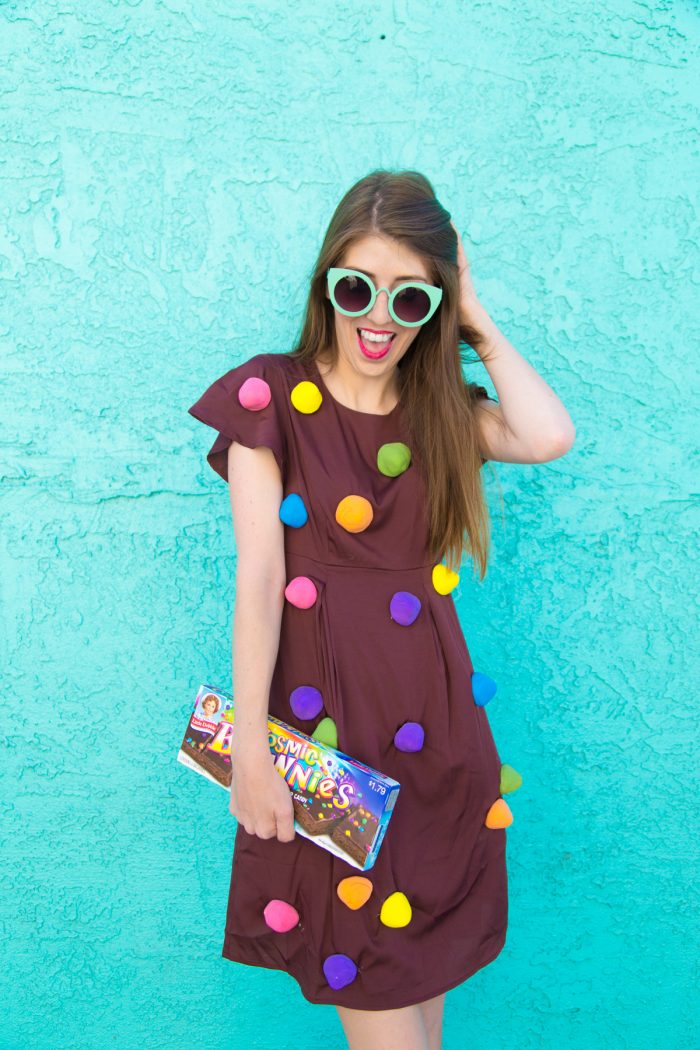 Which sprinkle (or colorful chip!) covered treat was your top pick? If you all answer animal cookies… be three different animals!
Troop Beverly Hills Costumes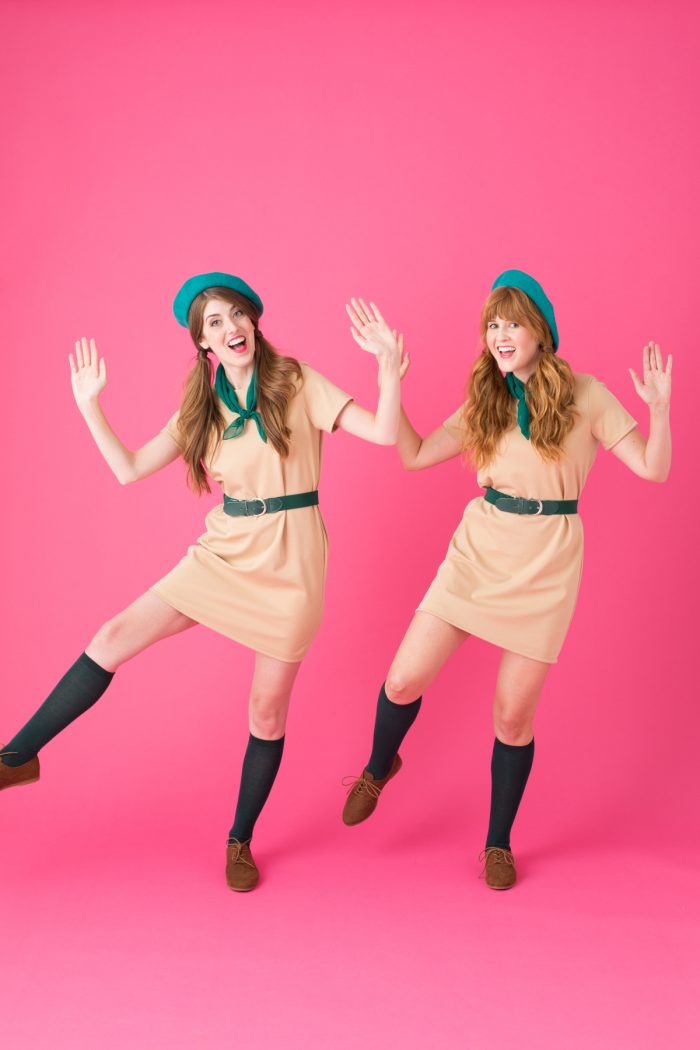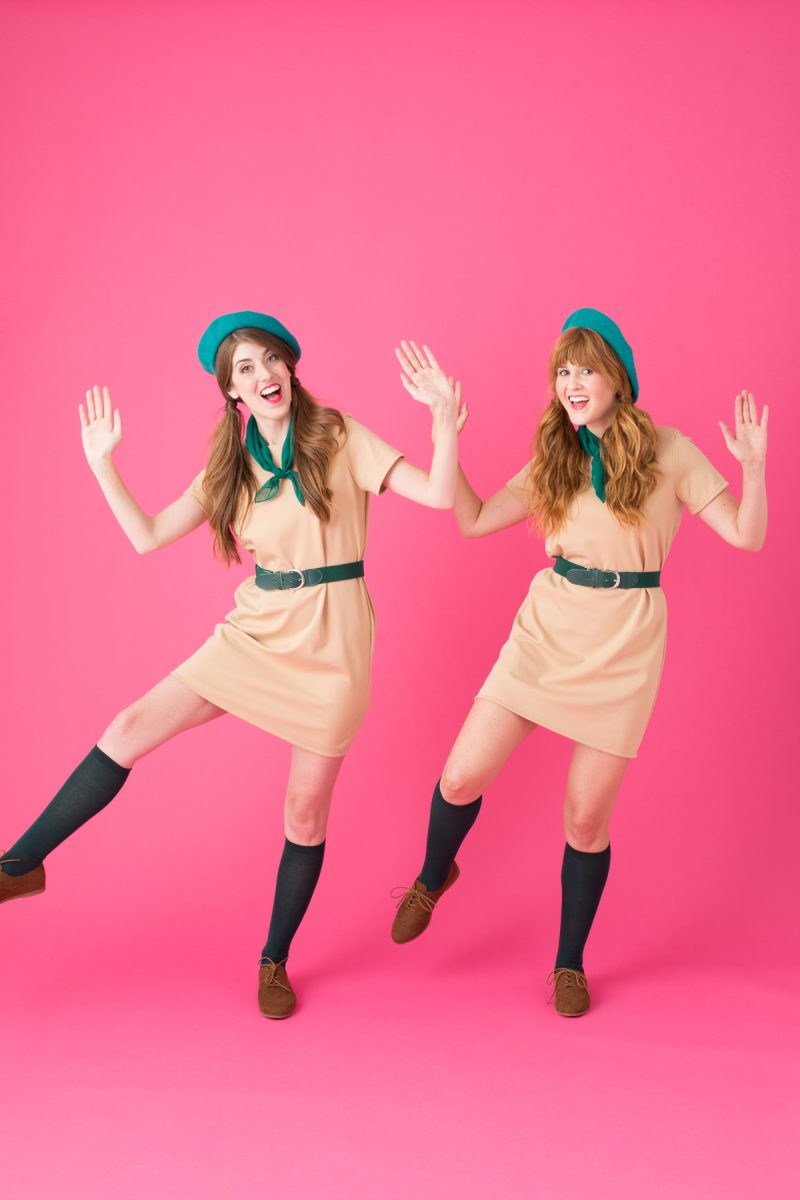 Troop Beverly Hills works as a costume theme for 2, 3, 4 or as many friends and co-workers as you can gather!
Childhood Candy Costumes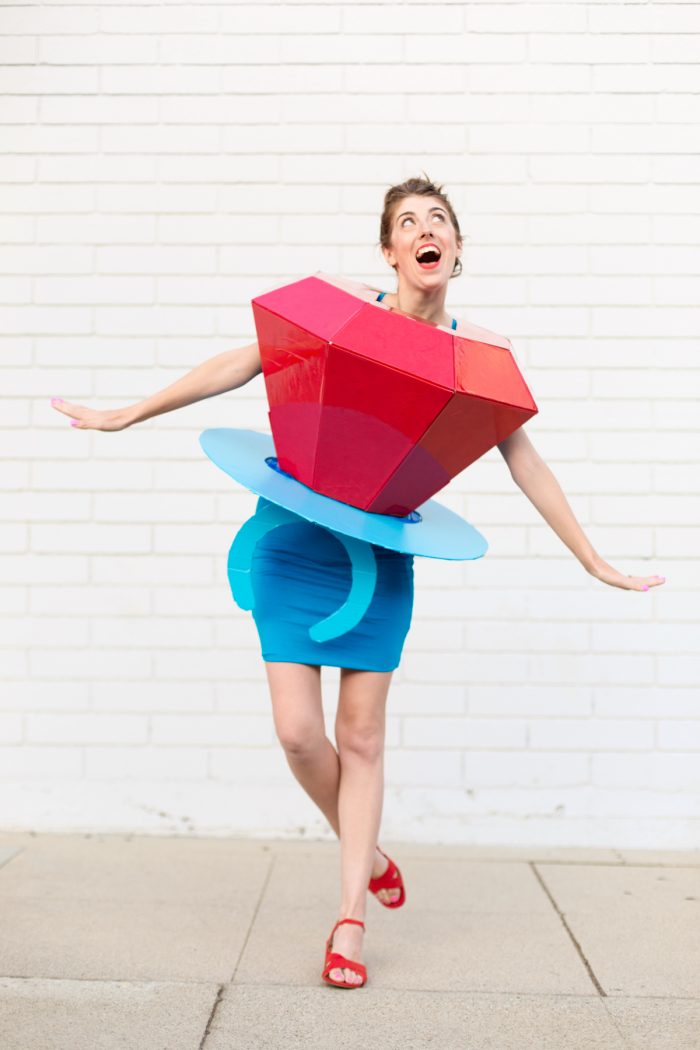 Candy is a Halloween necessity after all! Candy story staples turned costumes with a little paint and glue gun action! Don't forget to grab a basket full of the actual candy to pass out alongside it.
Monster Cereal Costumes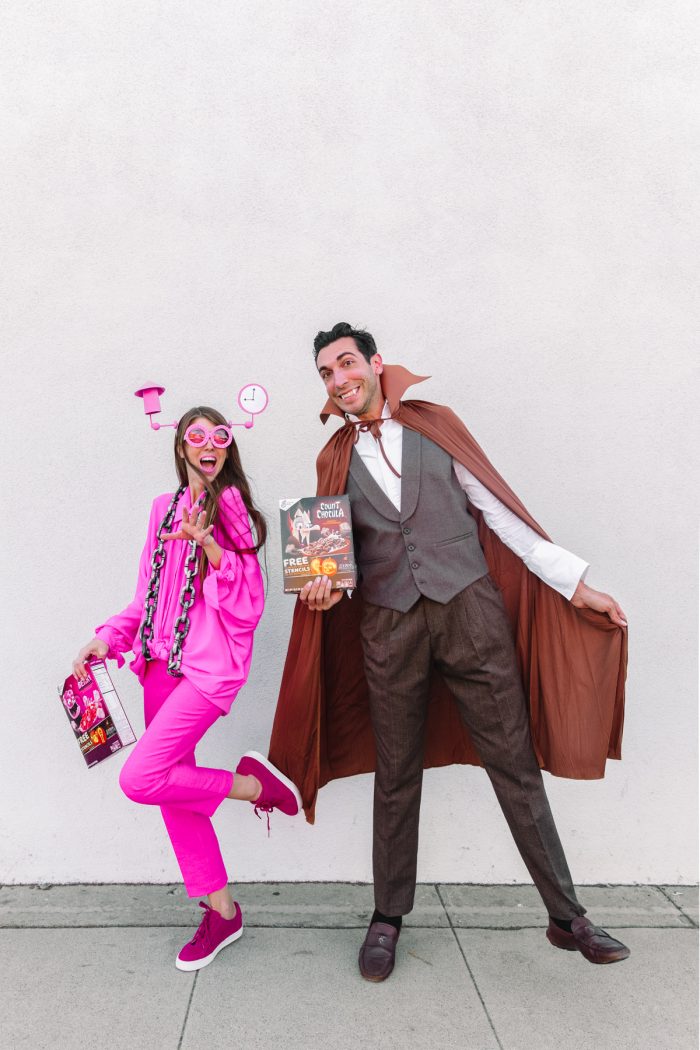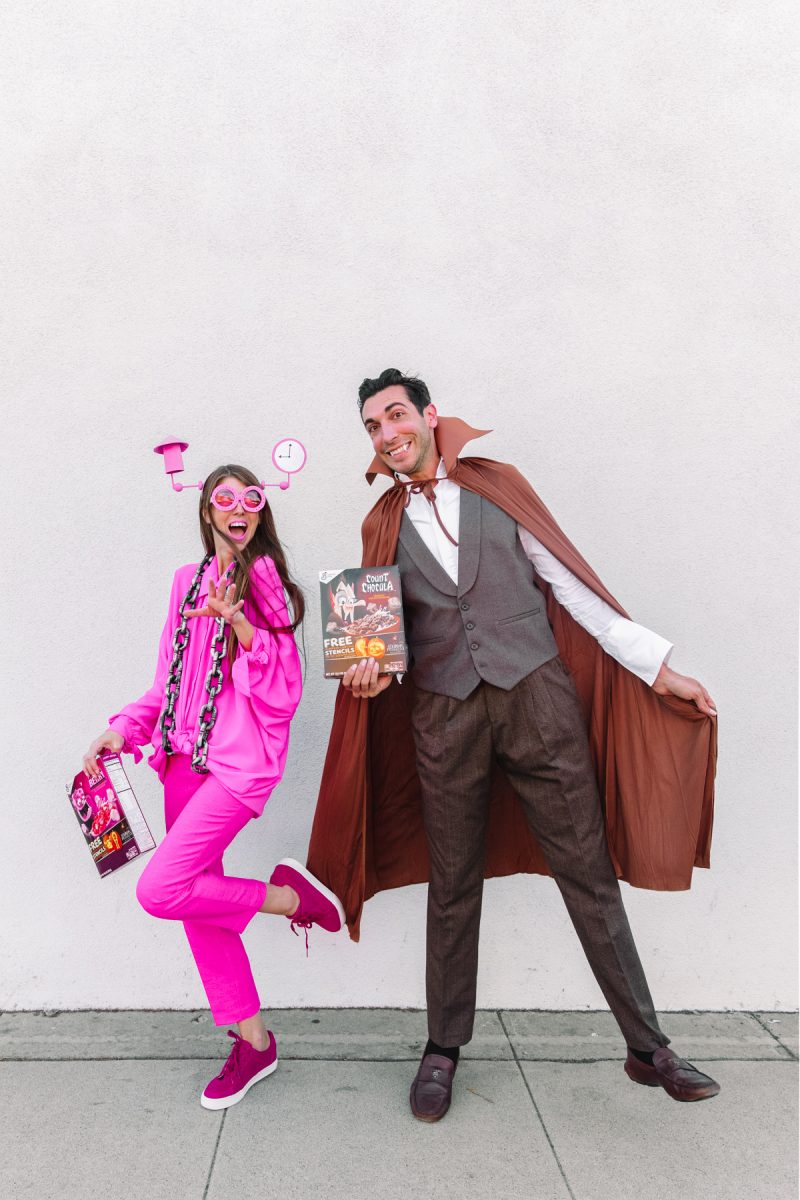 We all grew up eating one of these Halloween cereals, yes? Franken Berry, Count Chocula and Boo Berry are just begging to be costumes!
Trio Costumes for Families of 3
Look for a Halloween costume for your family of three? Look no further! From Disney favorites to new twists on classic themes your child will love!
Family Cinderella Costume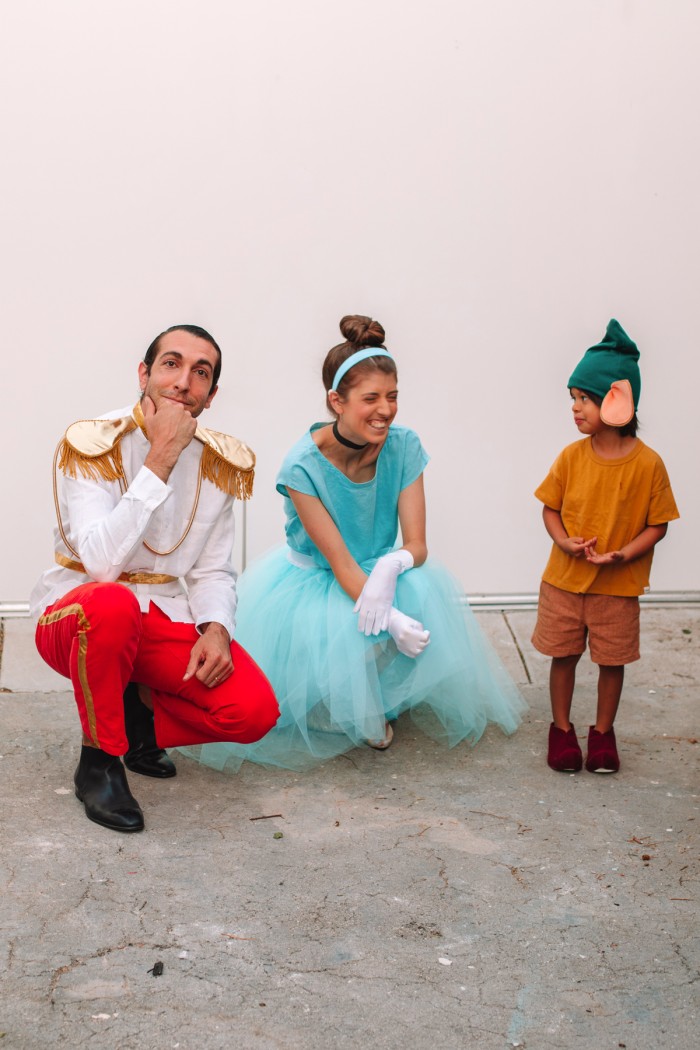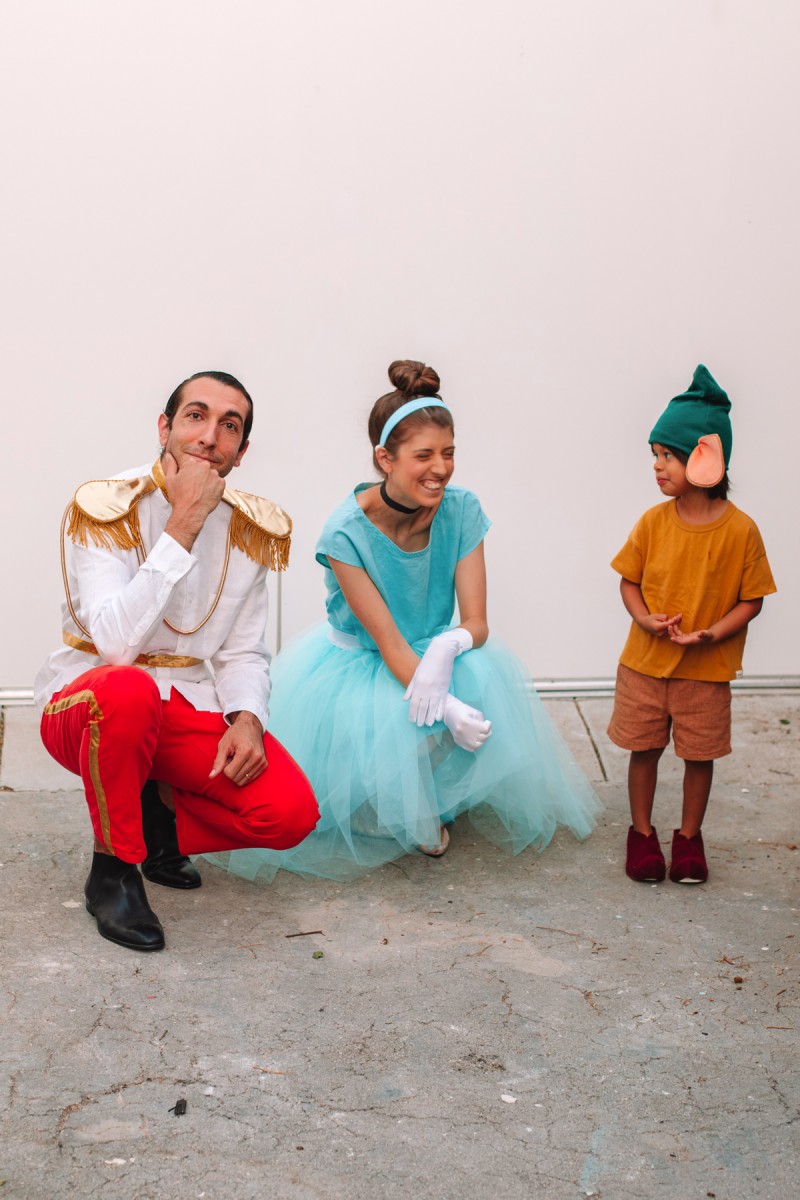 Prince Charming, Cinderella and her favorite mouse friend Gus Gus couldn't be a cuter as a trio family costume!
School Supplies Family Costume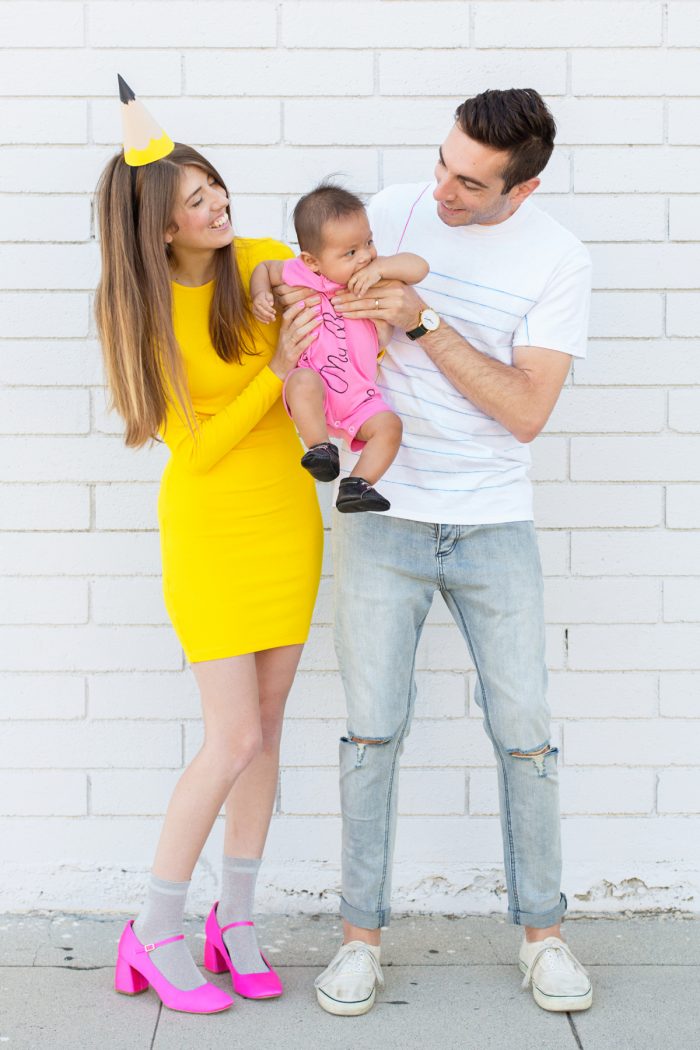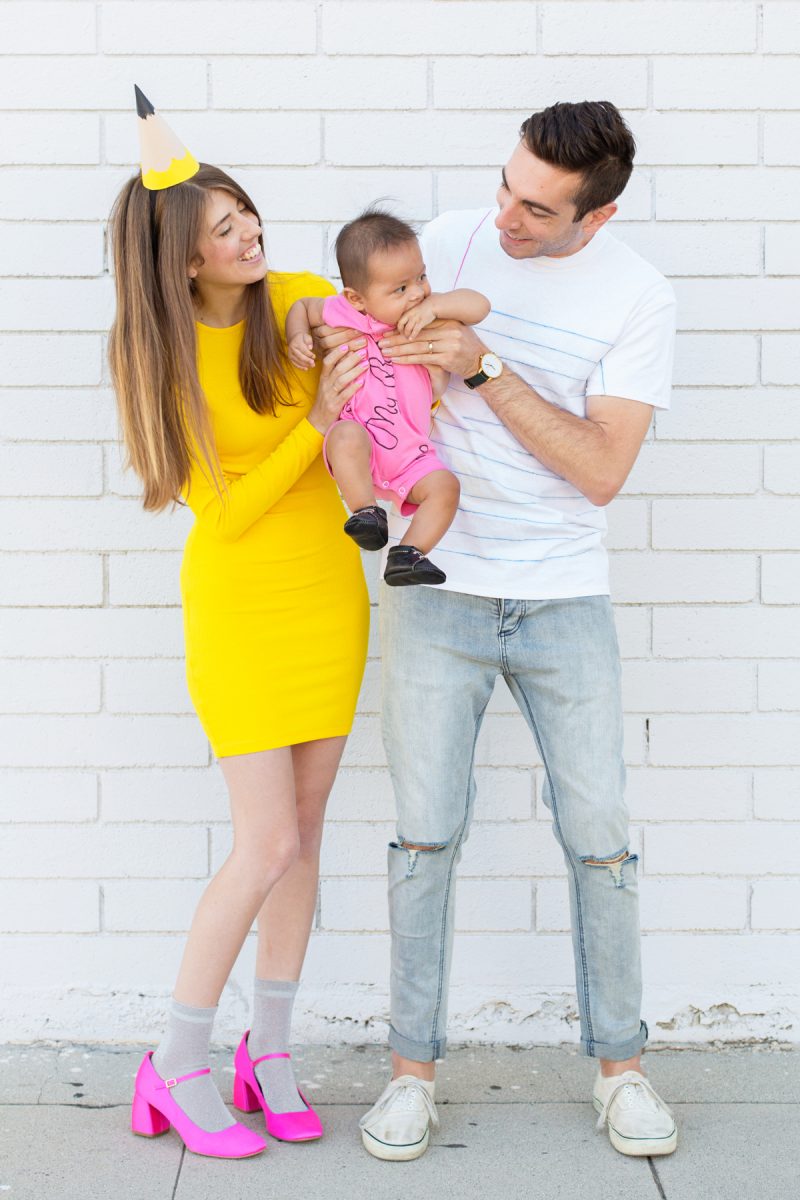 If you need a simple or last minute family costume, school supply inspired costumes are where it's at! There's nothing cuter than a baby eraser!
Family Space Costume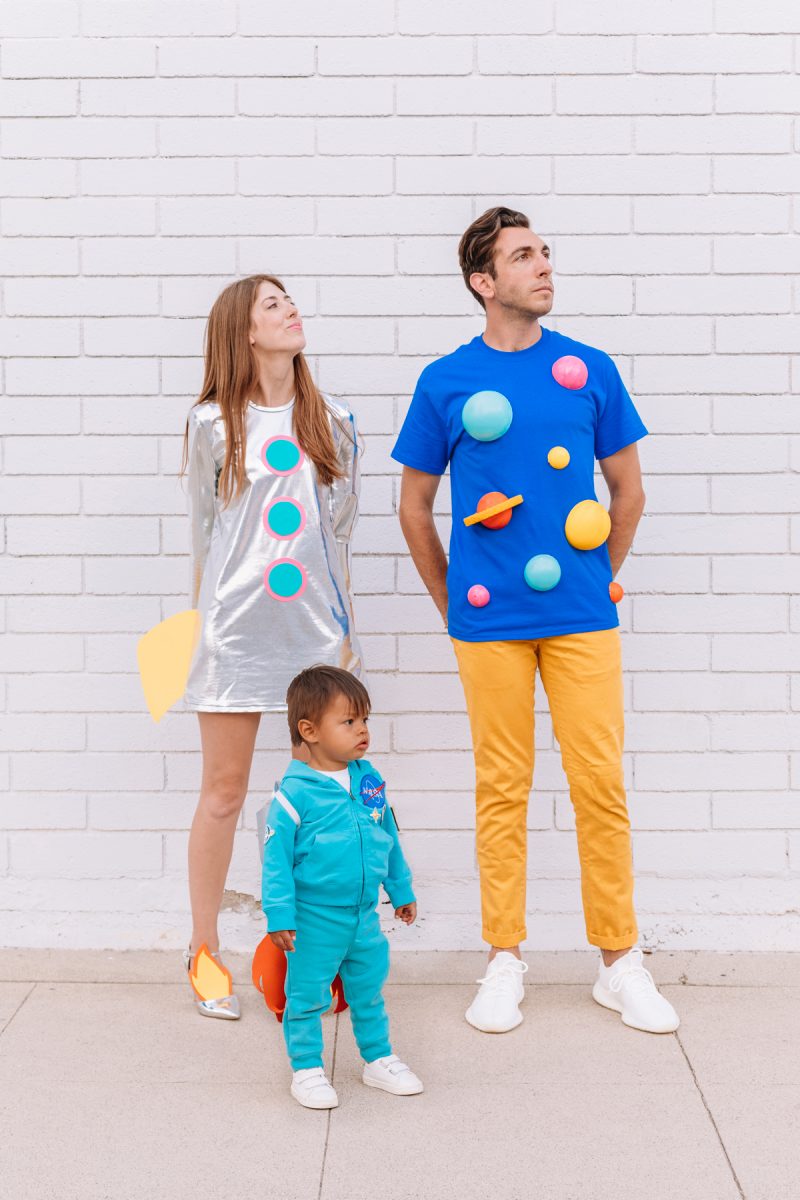 What child doesn't want to be an astronaut? Parents, you're on duty as the solar system and rocket ship to get him or her there!
Mickey, Minnie & Mickey's Biggest Fan Family Costume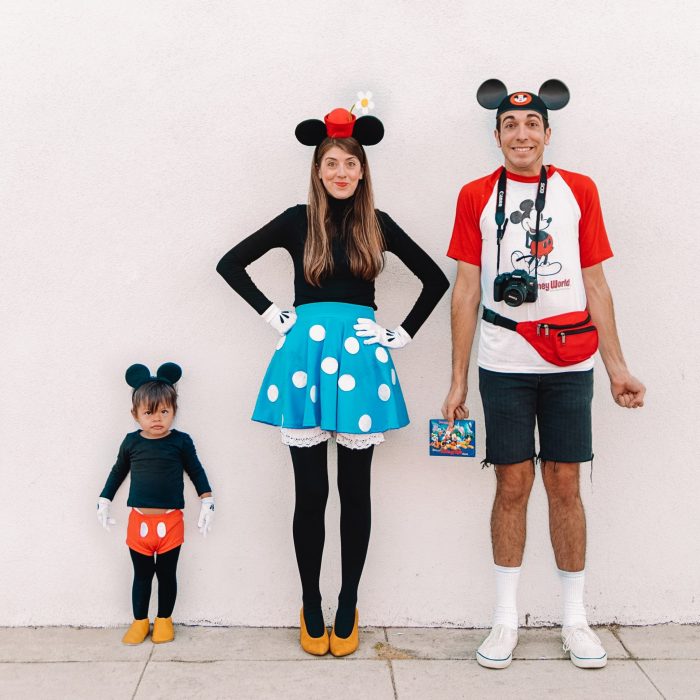 The three mouseketeers! Mickey and Minnie are a classic mommy and me costume, but add on Mickey's #1 fan to make it a trio!
Family Bubble Bath Costume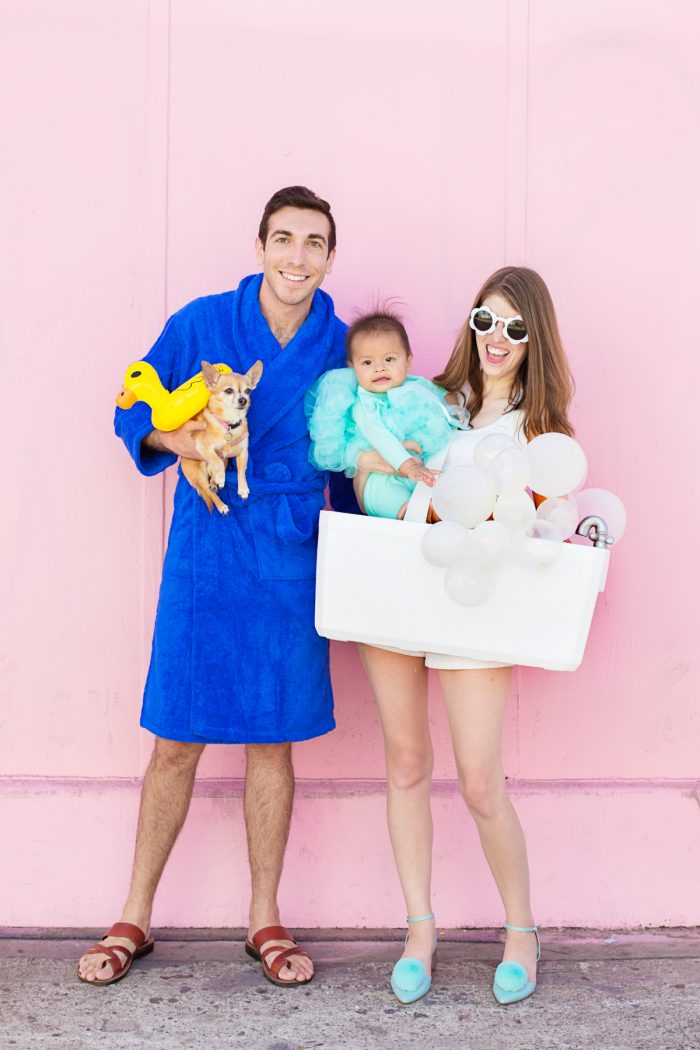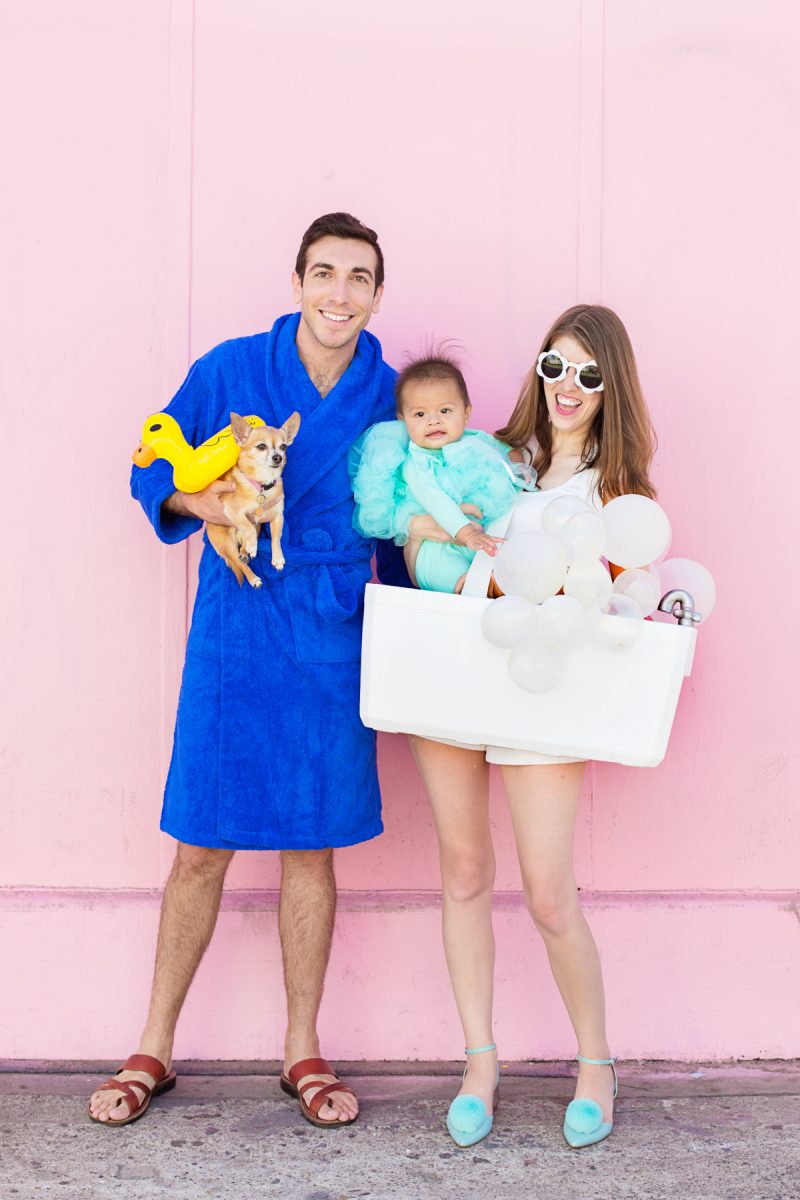 An old styrofoam cooler turned bathtub and a baby turned loofah!? The third person to complete this adorable trio Halloween costume just needs a cozy robe!
Family Weather Costume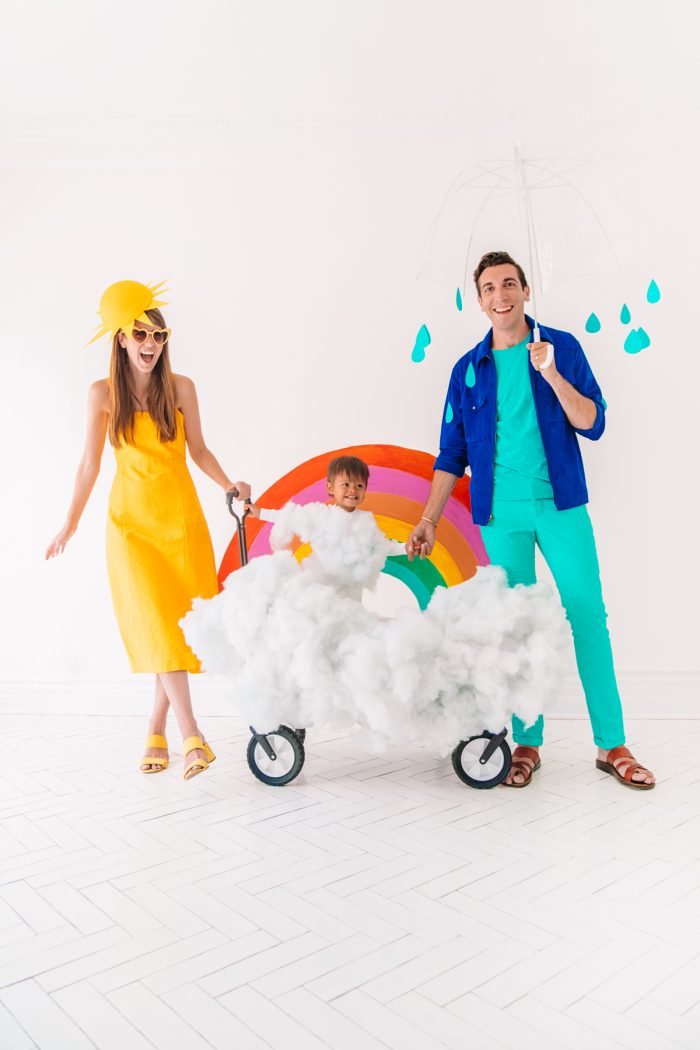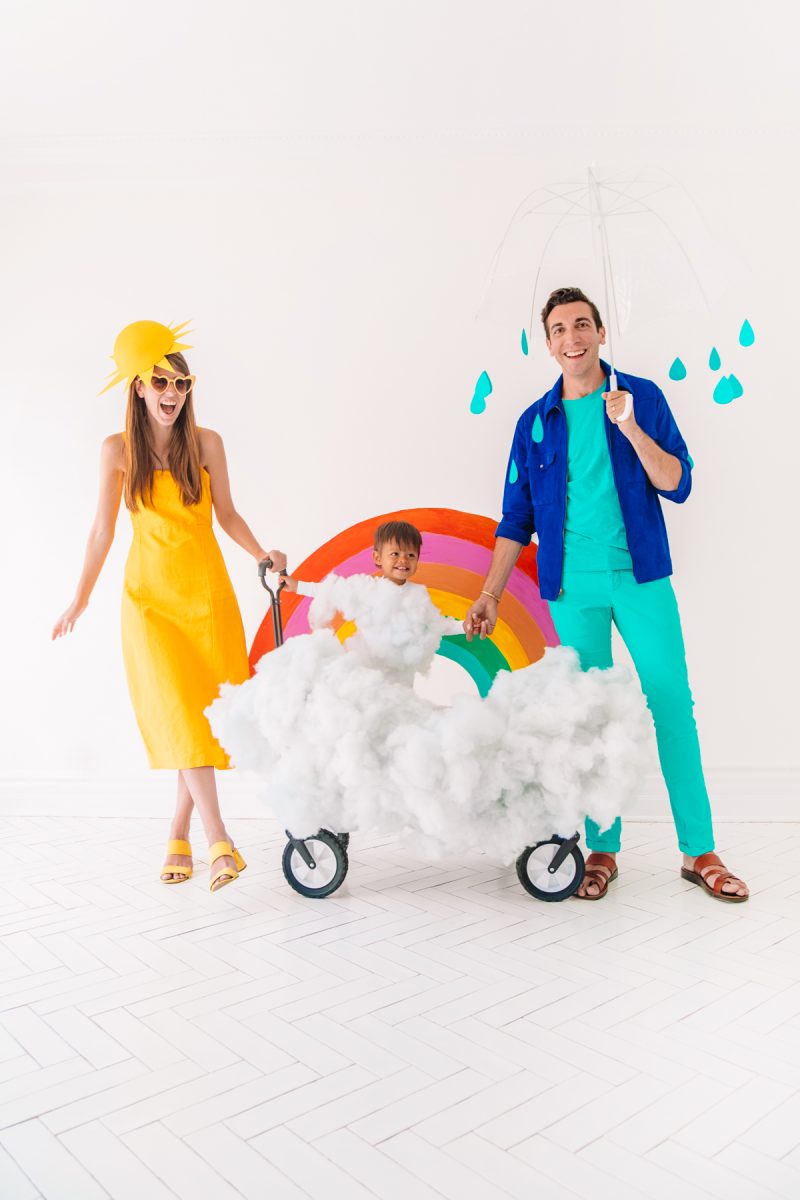 Wagon costumes are great for the not-yet-walking set. Let the wagon become a rainbow with a cloud, sun and rain by it's side!
There are so many options for Halloween costumes for 3 people, and I hope these inspired you! Happy Halloween!